By Gazette Staff Writer — Wednesday, April 25th, 2012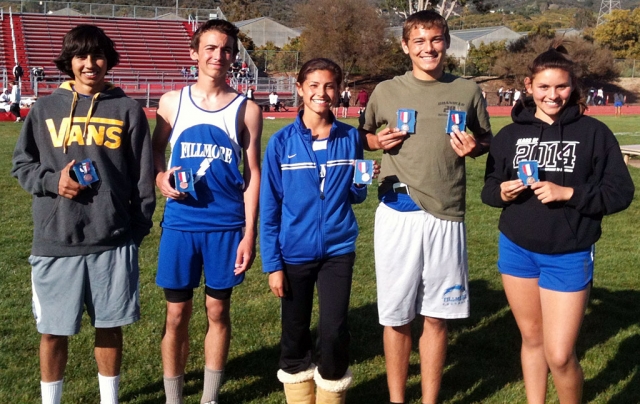 Fillmore High School Medalists at the 93rd Russell Cup Invitational (L to R): Frank Chavez took 3rd place medal in the 400m with a tim e of 55.28 seconds, Joey Orozco won the Triple Jump with a jump of 15 feet 23.75 inches crushing his personal record by over a foot, Kiana Hope won three medals on Saturday which included 4th place in the 800m (2:31.07), 4th place in the 1600m (5:39.62) and 3rd place in teh 3200 m (12:04.73), Daniel Flores brought home two medals: 2nd place in the 110m Hurdles, 18.64 and 2nd place in the 300m Hurdles, 43.34 and Jessica Mayhew took 4th Place in the discus- 83 feet 4 inches, a personal best. Way to go Flashes!
Enlarge Photo
By Gazette Staff Writer — Tuesday, April 17th, 2012
This past Saturday, the Fillmore Flashes Track and Field Team attended the 93rd Annual Russell Cup Track and Field Invitational. This year the team took 38 athletes to participate in the invitational. On this day Fillmore high school brought home eight medals and eighteen athletes earning personal records.
In the frosh-soph girls division, sophomore Kiana Hope, came home with three medals in the distance events placing 4th in the 800 meters with a time of 2:31.07, 4th in the 1600 meters with at time of 5:39.62 and 3rd in the 3200 meter with a time of 12:04.73. Sophomore Jessica Mayhew a first time track and field participate this year brought home a medal as well as a personal record throwing the discus 83 feet 4 inches. Sophomore Jordyn Vassaur ran her personal best in the 800 meters with a time of 2:42.01, and freshman Alexis Tafoya brought down her time in the 3200 meters running 12:35.10.
In the frosh-soph boys division freshman, Daniel Flores jumped his way around the track where he earned two second place medals in the 110 meter hurdles with a time of 18.64 seconds and 300 meter hurdles om 46.34 seconds setting two personal records. In the jumps, sophomore Joseph Orozco brought home a first place finish in the triple jump with an outstanding mark of 38 feet 9 ÂĽ inches, shattering his personal record by over a foot. Teammate and freshman Demetriouz Lozano set a personal record as well in the triple jump with a mark of 35 feet. Our sprinters and mid-distance runners for the day were sophomore Frank Chavez who ran the 400 meters in 55.28 seconds, bringing home a 2nd place finish in the event and teammate Damien Gonzalez with a personal record in the 800 meters with a time of 2:17.60. The distance runners sophomore Nico Frias and freshman Francisco Erazo competed in both the 1600 meters and the 3200 meters. Both athletes set personal records in the 3200 meters, Nico with at time of 10:45.60 and Francisco 11:17.57.
Our Varsity also had some impressive personal records for the day. Girls Varsity athlete, junior Maria Villalobos set two personal records in the 800 meters running 2:36.83 and in the 1600 meters running 5:55.02. For the boys in the throws, a new athlete as a senior, Tony Sanchez set a personal mark in the shot put throwing 37 feet, 3 Âľ inches. In the hurdles, junior Tyler Hackwork ran an impressive 18.16 seconds in the 110 m high hurdles. In the distance group, juniors Hugo Valdovinos ran the 800 meters setting a personal record of 2:07.57, junior Adrian Mejia ran the 3200 meters in a time of 10:12.41 followed by teammate junior Jose Almaguer in the 3200 meters with a time of 10:14.62.
The participation of Fillmore athletes more than doubled at the Russell Cup Invitational this year. We are very proud of all the athletes that competed. This season has been filled with many personal records being broken over and over. We credit these accomplishments to our athletes and would like to acknowledge their continuous efforts.
We would like to invite the Fillmore community to our next home meet on Thursday April 19th.This will be our second Frontier League meet where we will compete against Malibu, Santa Paula, Santa Clara, Villanova, and Grace Bretheren. Hope to see you there!
By Gazette Staff Writer — Wednesday, April 11th, 2012
By Gazette Staff Writer — Wednesday, April 11th, 2012
By Gazette Staff Writer — Tuesday, April 10th, 2012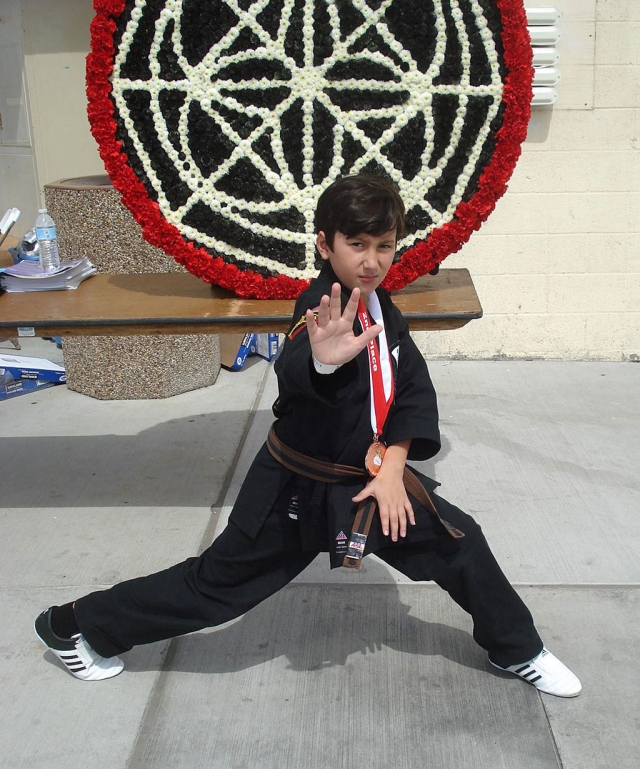 Perce's kenpo karate studios Blake Boren competes in Bob White Invitationals in Huntington beach. All proceeds went to benefit the Royal Family Kids Camp. Results: 9 years old brown and black belt kata, 3rd place and 9 years old brown and black belt sparring, 2nd place.
Enlarge Photo
By Gazette Staff Writer — Wednesday, April 4th, 2012
By Gazette Staff Writer — Wednesday, March 28th, 2012
Registration will be held at the Boys and Girls Club 565 First St. on Saturdays April 7 & 28 and Wednesday May 30th. Volunteers are needed for coaches, referees and board members. For more information please contact Leidy Topete 368-6445, Darren Rosten 551-4239, Greg Aguilar 217-8364, Homer Martinez 421-3361, Kathy Rosten 551-4238.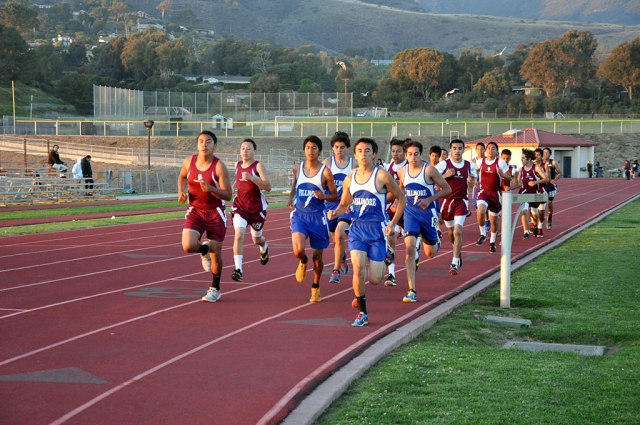 Boys 3200 meters lead by Jose Almaguer followed by teammates Anthony Rivas, Alexander Gonazalez and Alexander Frias.
Enlarge Photo
By Gazette Staff Writer — Tuesday, March 27th, 2012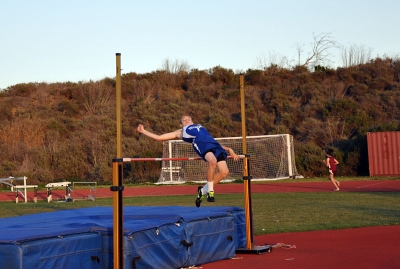 Hayden Wright
Enlarge Photo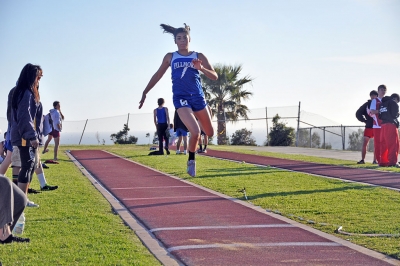 Ashley Coert
Enlarge Photo
Last Thursday the Fillmore High School Track and Field team traveled to Malibu High School to compete in their first league meet. After last year's sweep in the Frontier League, the team was anxious and excited go after another league title. This year brought a lot of new faces into the track season. Most of our team is composed of underclassmen which is promising for the future. Those that are upperclassmen have helped to bring the new athletes into the track culture and have been instrumental in helping to get the athletes prepared for the season. The training has been a holistic effort that undoubtedly is the result of the athletes putting in the time and effort.
The Junior Varsity Girls level was one of our biggest challenges to fill in numbers. Currently team is composed of seventy percent of boys and only thirty percent girls, so balancing between the Varsity and JV levels has been a task. In the distance category, freshman Alexis Tafoya finished first in both the 1600m with a time of 5:51.35 and 3200m with a time of 12:40, where she ran her personal best in both races. Freshman Sofia Gallardo placed second in both races with personal bests. In the 1600m her time was 6:31.38 and 14:15.69 in the 3200m. In the throws both sophomores Jessica Mayhew and Gissel Uriostegui placed first for the flashes. Jessica Mayhew won the girls shot put with a mark of 24 feet 2 ½ inches and took second in the discus throwing 60 feet, 11 ½ inches. Gissel Uriostegui won the discus throwing 67 feet, 7 ¾ inches and a third place finish in shot put, throwing 21 feet, four inches. In the hurdles, sophomore Jaylene Ortiz won the 100 meter hurdles with at time of 20.12 seconds her teammate sophomore Vanessa Perez in second place with a time of 24.02.
The boys' frosh-soph division is the largest group of athletes. Winning the high jump was sophomore Alexander Banales with a jump of 5 feet four inches. In the long and triple jump returning sophomore Joseph Orozco won the triple jumping 37 feet 3 ½ inches and taking second in the long jump with 17 feet 1 inch. Sophomore Frank Chavez won both the 200 meters in 24.92 seconds and the 400 meters in 54.93 seconds in the sprints. The distance performances were outstanding for the division placing first through eighth in the 1600 meters lead by sophomore Nico Frias with a time of 5:04.15. In the 3200m, freshman Francisco Erazo placed first with at time of 11:21.30. In the hurdles division, Daniel Flores took first place in both the 110 meter and 300 meter hurdles. Rounding out the boys frosh soph division, in the thows, Ricardo Gutierrez took first in the shot put with a throw of 37 feet 11 inches and Adael Mejia won the discus throwing 97 feet 6 inches.
The Girls Varsity division was lead by senior Ashley Coert who scored fifteen points for the lady flashes winning the triple jump, high jump and 100 meter hurdles. In the distance category, sophomore Kiana Hope won both the 1600 meter with a time of 5:28.54 and the 3200 meters with a time of 12:20.65. Junior, Andrea Robles took first in the 400 meters with a time of 68.3 seconds. In the throws, senior Alejandra Amezcua took second in the frontier league meet with a throw of 80 feet 8 inches, while teammate, senior Nenetzin Herrera had a throw of 24 feet 4 ½ inches finishing third place for the lady flashes. Rounding out the meet, the girls' 4x400 meter race which included Kiana Hope, Andrea Robles, Ana Morino and Banely Arevalo took first in an impressive battle in the end against school rival Santa Paula.
The Varsity Boys division was lead by the distance group in the 1600 meter and 3200 meter races. In the boys 1600 meter Fillmore took the first seven spots lead by junior Hugo Valdovinos with a time of 4:43.15 and in the 3200 meters, junior Jose Almaguer finish first with a time of 10:19.74, a personal best set by him and his teammates that placed in the next five spots. In the sprints, senior Daniel Cruz flashed out in the 100 meters winning the race with a time of 11.62 seconds. In the relays, the boys 4x100 meters took first which included seniors Daniel Cruz, Juan Mariscal, Adrian Gutierrez and Alberto Fernandez.
To sum up the first Frontier meet, the athletes looked amazing. The whole team worked as a team, they were prepared for their races and they all had great attitudes during competition. Congrats Fillmore High Track and Field in a successful meet.
By Gazette Staff Writer — Wednesday, March 7th, 2012
By Gazette Staff Writer — Wednesday, March 7th, 2012
The Fillmore Little League would like to invite you to opening day ceremonies. Please join us for a fun day of baseball and a celebration of our nations greatest past-time.
When: Saturday, March 17, 2012
Time: 10am to 1pm
Where: Fillmore Little League Field - 2nd Street and Shiells Dr.
More information: http://www.fillmorelittleleague.com/
By Josh Overton — Tuesday, March 6th, 2012
The Fillmore High School Men's Volleyball season is underway! The Flashes, led by team captains Nathan Zavala and Jorge Ruiz, travelled to Oxnard to challenge the Pacifica Tritons on Tuesday, February 28th. The boys spread 60 points over three matches, but were unable to come away with a win. Cameron Reilley powered the offense with some fantastic kills thanks to the excellent setting ability of junior Micah Chumley. The JV squad looked to be in mid-season form as they took two of three matches – and the win – to start their season. Standouts for the JV squad include hard-hitting Eddie Vergara with four spikes and consistently solid serves from co-captain Jordan "Turbo" Carillo.
On Wednesday, February 29th, Pacifica paid the Flashes a visit in return, and promptly beat the Varsity Flashes in three straight matches. The boys played extremely well, but were unable to block some powerful spikes from one of the talented Tritons. Saul "Twitch" Lopez looked good hitting and blocking for the Flashes, and James Farr showed some hustle getting to some difficult balls. The Pacifica JV team returned the favor to our JV boys, beating them by the same score the Flashes hung up on them. It was an extremely exciting finish, but the JV Flashes dropped the third and deciding match, 15-13.
Our third match of the week pitted our beloved Flashes against the hard-hitting boys from Channel Islands High. Our varsity squad entered the game filled with confidence. Why shouldn't they? Even though they were 0-2 coming into the game, the varsity Flashes looked very polished and focused. Unfortunately, that confidence vanished after a few unforced errors pushed the boys into an unexpected loss, 25-17 in the first match. The boys rallied gamely, but were unable to muster much more over the following two matches, and dropped to 0-3 on the season. The junior varsity boys kicked it back into gear, providing a spark for Fillmore that promises for a very fun season. Blaine Aviles shined bright for our squad, getting a few kills and showing off a deceptively strong serve.
The Fillmore Flashes Men's Volleyball squad hits the road the week of March 5-9, bringing some tough competition to Carpinteria on Tuesday and Oaks Christian on Thursday. Your next opportunity to come cheer for our boys will be March 13th when Bishop Diego pays us a visit, and March 15th as Nordhoff tests our mettle. The boys would love to have a throng of cheering fans behind them as they faced these teams, so come to the gym! JV games start at 5pm with varsity to follow. Let's go Fillmore! Let's go Flashes!
By Joe Woods — Wednesday, February 29th, 2012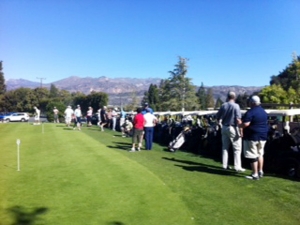 Friday February 24th was the first annual Fillmore High School Sports Hall Of Fame Golf Tournament at Elkins Ranch Golf Course in the great town of Fillmore. We had sixty seven golfers play at the tournament in a four person Texas Scramble. That is when you have a team of four, or in one case for us a team of three golfers all take a shot, but you play the best shot from the team. It makes it great for the not so good golfers to still have a great time.
This was the first time The Hall Of Fame had a golf tournament. The people that played all had one great day of
fun and golf. We had Hall Of Famers play. Jim Schilemer class of 1946, Roger Palmer class of 1955, Mike Marostica
class of 1965, Steve Dann class of 1975, Kirk Richter class of 1977, Kevin Gross class of 1979, David Pillado class of 1979, David Miller class of 1980, Steve Hope class of 1983, Chad VanWinkle class of 1990, Jamie Arundell-Latshaw class of 1993, and Chris Goodenough class of 1996.
The golfers all came together at Elkins Golf Ranch at 9:30 a.m. to check in and get warmed up on the driving range and the putting greens. They were greeted in the parking lot by the young men and women of The Fillmore High School Sports Hall Of Fame Club. At the check in table the golfers received a goody bag of nice things donated to The Hall Of Fame. They had a chance to buy tickets for a raffle, and for a chance for a two year lease on a new Chevy Volt car donated by Wm. L. Morris in Fillmore, if they could make a hole in one on
the seventh hole. Nobody made the hole in one by the way.
Then it was time for golf! The golfers climbed into their carts and took off to their starting spots. It was a great sunny day for golf, with some mild wind to deal with. They good times were on all the faces of the golfers on the course. The ones that knew each other, it was like a family reunion with golf. But by the end of the day we all made new friends, and we had a chance to catch up with the old ones.
At the end of the day of golf, the players and some guests were served a great tri-tip dinner with all the fixings. Cooked up by the fine folks at Elkins Ranch. We raffled off some great door prizes from businesses here in Fillmore.
The winners of the First Annual Fillmore High School Sports Hall Of Fame Golf Tournament were: In third place the team of Steve Dann, Mike Dann, Kirk Richter, and Chris Goodenough. In second place the team of David Pillado, Josh Bonds, and David Miller. The first place team was Kevin Gross, Bob Boldig, Kent Stawick, and Tony Bagaczk. We also had a Closest-to-the-pin contest that Bob Boldig won, and a Longest drive contest that was won by Chris Goodenough.
We could have never had such a great tournament without the sponsorship of Harrison and Sons from Ventura, and Lexicon Consulting Co. of Fillmore. The many businesses of Ventura, Ojai, Santa Paula, and the great town of Fillmore that donated door prizes and Tee- Sponsors for the Hall Of Fame.
It just goes to show you folks, give a person a golf club, fun people around you, a great course to play on, a tri-tip dinner, and maybe a cold one or two, and you will always have a great time. We the Committee of The Fillmore High School Hall Of Fame, thank all that played golf and helped to make it a big fundraiser and a great time had by all.
By Gazette Staff Writer — Wednesday, February 29th, 2012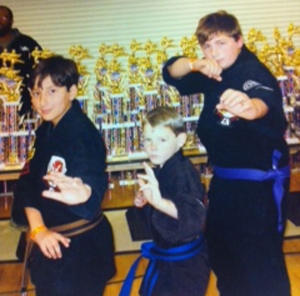 Perce's Kenpo karate studio in Fillmore competed in the 19th Annual Bryan Hawkins All American Kenpo Karate Tournament in Granada hills on February 18, 2012. There were over 300 competitors from Southern California.
Three students competed in kata (forms), weapons, and sparring division. The results for kata 9 yrs. Old and under brown belt: 1st place Blake Boren, sparring 9 yrs. Old and under brown belt: participation Blake Boren. 6-7 yrs. Old purple-green belt: 2nd place Ty Morris. 10-12 yrs. Old purple-green belt: katas and sparring divisions participation Michael Morris.
All the students who competed from Perce's Kenpo karate did an excellent job, we are proud of your participation and support. For more information contact Perce's Kenpo karate at 524-6870.
By Gazette Staff Writer — Wednesday, February 29th, 2012
Save the Date: Sunday, March 11, 2012. Friends of the Carpenter family will be hosting a co-ed softball tournament in memory of Wes Carpenter.. The event will take place at Shiells Park in Fillmore, with a starting time of 8 a.m. The price is $150 per team, with a limit of 20 teams. Money will be due by Monday, March 5. All proceeds will go to the Carpenter family. Even if you're not playing, donations and/or support are welcome. We'd love to see you out in the stands! Please email wessoftball@gmail.com if you have any questions or are interested in getting a team together.
By Gazette Staff Writer — Tuesday, February 28th, 2012
SANTA BARBARA, CA - After sewing up the Golden State Athletic Conference women's basketball regular season championship last week, Westmont Women's Basketball has received numerous awards from the conference.
Junior Tugce Canitez of Izmir, Turkey has been named the GSAC Player of the Year while head coach Kirsten Moore has received GSAC Coach of the Year honors. Joining Canitez on the All-GSAC team are senior captains Katie Kittle of Colusa, California and Lisa Peterson of Citrus Heights, California. Junior Jillian Wilber of Fillmore was named a GSAC Scholar-Athlete.
"I've always said that individual awards are representations of a team's success," said Westmont head coach Kirsten Moore. "All of these awards are indications of the success we have had as a group. Every person has added to what we are doing for those honors to be given."
Canitez led the GSAC in scoring, tallying 560 points (19.3 points per game). She was second in rebounding - averaging 10.3 per game - and fourth in field goal percentage at 50.4 (192 of 381). Canitez also ranked seventh in free throw percentage in the conference at 75.5 (163 of 216).
"Tugce possess so many different skills, which enables her to have the success she does on the floor," said Moore. "She is not just a scorer; she is also an incredible rebounder and passer. She makes those around her better, she's a good defender and she has a high basketball IQ and understanding of what is going on with the game. I believe the completeness of her game is why she was honored as the Player of the Year."
In the Westmont record book, Canitez' point total and scoring average ranks first in the Warriors' season records. She also ranks first in free throws made (163), total rebounds (299) and rebounding average (10.3). She is currently second in field goals made, but needs just four more to tie Ali Mooty's record of 196 set in 2006-07.
Canitez is the first Warrior from women's basketball to receive Player of the Year honors.
Moore, who is in her seventh season at the helm of the women's basketball program, led the fifth-ranked Warriors to a 26-3 record so far this season and a 16-2 mark in conference play. Her current career and Westmont coaching record is 138-73 (65.4%). This is the fourth time Moore has recorded at least 20 wins in a season and marks the fifth time she will lead the Warriors to the NAIA National Tournament.
"The coach of the year award is a tribute to our entire team of coaches," said Moore." I had such great help this year from Selena Ho who has been an Xs and Ox guru. Meghan Gnekow and Dani Russell have been such a great support for the athletes as well as supporting me in the things I need as a coach. I have been really blessed to have had an incredible staff this year."
Moore is the second Westmont coach to receive the GSAC honor. Gregg Afman was named the GSAC Coach of the year for the 2000-2001 season.
Lisa Peterson was the second most accurate shooter in the GSAC, making 53.2 percent of her shots (125 of 235) from the floor and 83.8% of her shots from the free throw line. The post player was also fourteenth in scoring (11.7 points per game) and twelfth in rebounding (6.3 boards per game).
Peterson holds the Westmont record for career field goal percentage at 53.2 percent (248 of 466) and career free throw percentage at 83.6% (168 of 201).
"I couldn't be more thrilled for our seniors to both be recognized," said Moore of Peterson's and Kittle's honors. "They have put in an incredible amount of hard work beginning with the offseason in preparation for this year. They have performed on the court and have been incredible leaders both on and off the court. They have represented the best of who we are at Westmont and what we want to be about - their attitudes, sportsmanship, work ethic and unselfishness for the sake of the team. I am so happy they are being recognized as leader by being named to the All-GSAC team."
Kittle ranks twenty-fourth in the GSAC in scoring at 8.7 points per game and eleventh in steals at 1.59 per game. The guard, who appears in the top-10 in 18 of 24 career record categories, joined the 1,000 point club on February 5 against San Diego Christian and has a current tally of 1,064 points - ninth best in Westmont history.
Jillian Wilber, a history major, was named a GSAC Scholar-Athlete. The honor requires a 3.5 GPA and is awarded only to those who are juniors or above in academic standing. Wilber holds a GPA of 3.56.
"I think one of the hardest awards to win at Westmont is to be named a GSAC Scholar-Athlete," said Moore. "To have above a 3.5 GPA at Westmont while you are a student-athlete is an incredible challenge. Jill, who is our third captain, has been leading us both on and off the court. She is most deserving of that honor."
The Warriors open GSAC Tournament play on Wednesday evening when they host the Mustangs of The Master's College (12-18, 5-13 GSAC). Tip-off is scheduled for 7:30 p.m.
By Gazette Staff Writer — Wednesday, February 22nd, 2012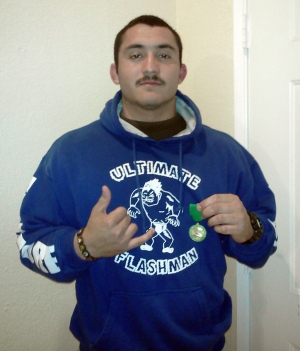 Sammy Orozco
Sammy Orozco, a Fillmore High School wrestler, qualified for CIF. Orozco competed at Canyon Springs High School in Moreno Valley on February 17-18 and was the only one who qualified for the Masters Tournament that will be held in Temecula on February 24-25. Orozco placed fourth at 220 lbs. with a record of 4-1 in the Southern Section Central Division. It has been fourteen years since a Fillmore wrestler has made it to the Masters Tournament.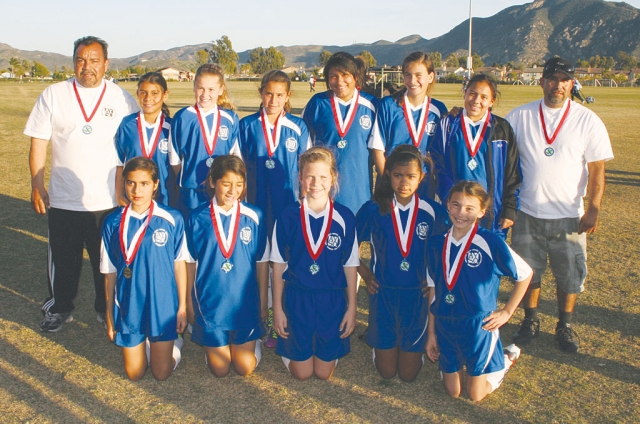 Top Row: Head Coach Gonzalo Martinez, Tereliz Martinez, Torri Villegas, Emily Gaibay, Salma Gomez, Amanda Villa, Olivia Ruiz and Assistant Coach Filiberto Magana Bottom Row: Stephanie Magana, Janellie Rojas, Ashlyn Lindsay, Luz Ruiz and Yanellie Cobian
Enlarge Photo
By Gazette Staff Writer — Wednesday, February 15th, 2012
Congratulations to the Fillmore AYSO 12-U All Stars who reached the Championship game in Camarillo's Area 10W All-Stars Soccer Tournament on Sat, Feb 4th. Fillmore was narrowly defeated by Santa Barbara in an over time shoot out, 3-2 after beating out ten other teams to reach the finals. In reaching the Championship game, Fillmore along with Santa Barbara advance to State Sectionals which will be held in Bakersfield in early March. Both teams will be representing Ventura and Santa Barbara Counties. Way to go girls and good luck!
By Gazette Staff Writer — Wednesday, February 15th, 2012
Last Thursday, February 9th, the Flashes played against Carpinteria. Fillmore held them to a 0-0 game and beat them in overtime. Fillmore's Patricia Vasquez scored the only goal with the assistance of Veronica Lauriano, with in the first 2 minutes of the game. Fillmore will advance to the first round of play-offs. They played Nipomo Wednesday, February 15. Score was not available at press time.
By Gazette Staff Writer — Monday, February 13th, 2012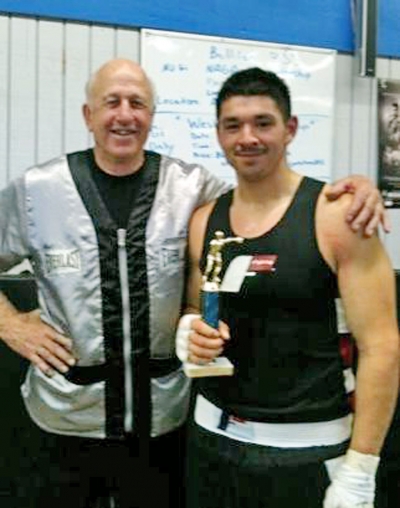 Richie Cardenas with with Ventura County Hall of Fame boxer/trainer Ray 'Windmill' White
Enlarge Photo
The Fillmore Boxing Club's Richie Cardenas competed at the Ventura KO Boxing Club's Warzone Boxing Show in Rancho Cucamonga on Saturday Feb. 11th 2012. Cardenas made his heavyweight boxing debut a victorious one as he defeated Jorge Solis who entered as an "Unattached" fighter. Cardenas won the three round amateur bout via unanimous decision. Fillmore Boxing Club is a member of USA Boxing and conducts group classes for children and adults on Tuesday afternoons from 4:00 - 6:00 pm at Body Image Gym. For more information call: 805-443-8501 or 805-524-0891, or email: fillmoreboxingclub@yahoo.com.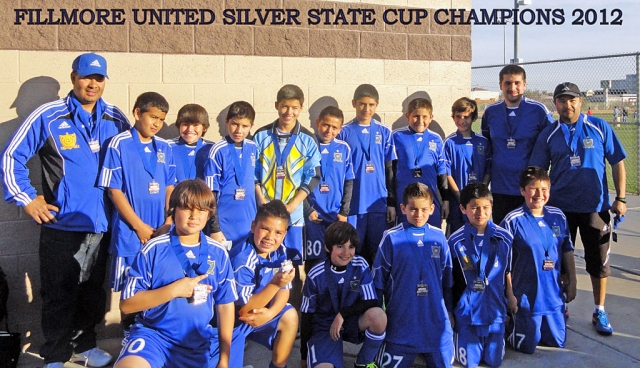 (r-l) Assistant Coach Octavio Hernandez, Jose Valdez, Cristian Rosales, Edgar Rea, Saul DelaRosa, Alejandro Rodriguez, Enrique Gutierrez, Michael Garcia, Ethan Aguilera, Assistant Coach Javier Candelario, Coach Ignacio Calderon. Bottom row: Julian Calderon, Christian Hernandez, Jaime Gonzalez, Brendan Verano, Joel Garza, Cristian Candelario. Not in picture team moms Alyssa Calderon and Lebe Candelario.
Enlarge Photo
By Gazette Staff Writer — Wednesday, February 8th, 2012
On January 28th and 29th Fillmore United Soccer Club participated on the Silver State tournament, Las Vegas' longest running Soccer Tournament. The final game was played against the 3 time defending champions from Nevada with a score of 1 to 0. Others teams in our division that also participated were from Colorado, Arizona, Nevada, Oregon and California. We are proud to say that Fillmore United won the championship undefeated without a single score against them. Coaches and team administrator would like to thank the player's parents for their support and efforts to make this successful trip possible. Fillmore United would like to invite players under 12 years of age that would like to be part of Fillmore United Soccer club to the open tryouts on Monday February 13th please call (805)746-2911 for more info. We are all proud of our boys for their excellent behavior and sportsmanship during the tournament. JOB WELL DONE BOYS!!!!!! One more in the bag.