By Gazette Staff Writer — Wednesday, January 11th, 2017
By Gazette Staff Writer — Wednesday, January 11th, 2017
Flashes Boys Soccer
by Coach Javier Alcaraz
On Friday December 6th, Fillmore Boy's Soccer team had it's first league match against Grace Brethren High J.V. and Won 7-1 and Varsity Won 2-1 with goals were made by Joel Garza and the wining goal was by Moe Gutierrez assisted by Roland Cabrera. The Frosh team had a game against Royal High and Lost 1-0. Fillmore will be playing away at Cate on Friday December 13.
Fillmore High School Boys Basketball
by Coach James Cummings
Both the JV and Varsity Boys Basketball teams won their opening league games against Grace Brethren. The JV won by a score of 50-29 and the Varsity won 77-51. Aries Vega led all scorers with 17pts. Daniel Gonzalez had 16pts and Aric Diaz finished with 12pts. The Flashes play their first home league game against Thacher on January 11th at 5:30pm and 7:00pm for Varsity, and will play away at Cate on Friday January 13th.
By Gazette Staff Writer — Wednesday, January 4th, 2017
By Gazette Staff Writer — Wednesday, January 4th, 2017
BOYS VARSITY SOCCER (BUENA TOURNAMENT)
by Coach Javier Alcaraz and Coach Christian Andrade
Wednesday December 28th Fillmore competed at the Buena Soccer Tournament, below are the scores for the overall tournament: Wednesday results: Fillmore 2-1 over Buena. Goals were scored by Jessie Ballesteros and Alex Rodriguez. Fillmore 0-6 loss vs. Pacifica High Thursday results: Fillmore 0-0 in regular time, but got the Win on PK 5-4 final over Rio Mesa. Shooters were Ruben Rodriguez, Everardo Magaña, Jose Valdez, Rolando Cabrerra, Diego Garcia, and Cristian Candelario made the final and winning goal. Played for 5th place where Fillmore Lossed 2-4 to Santa Barbara. Goals were scored by Everardo Magaña and Rolando Cabrerra.
GIRLS SOCCER
by Coach Omero Martinez
Fillmore Soccer program hosted it's annul alumni game on Friday 12-23-16, Final score 3-3. Thank you to Arnold Munoz, Jose Ruiz , Fernando Magdaleno who volunteered to ref. Both girls and boys games. Thank You to all the alumni who came to support the program.
BOYS BASKETBALL
by Coach James E Cummings
Both of Fillmore High School's Frosh/Soph and the JV won Consolation Championships at the Nordhoff tournament last week. The Frosh/Soph beat Santa Paul 44-40. Junior Maldonado lead all scorers with 23 points. The JV also defeated Santa Paula in the consolation game 57-50. Leading the way was Gregory Kraft with 20 points and Jaysson Carrillo 14 points.
By Gazette Staff Writer — Wednesday, December 21st, 2016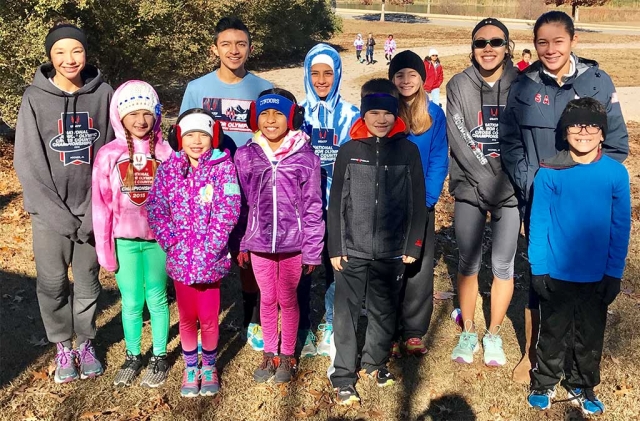 (l-r) (back row) Vanessa Cabral, Rey Laureano, Lindsey Ramirez, Audrey Cunningham, Jordyn Walla and alumni Nevaeh Walla (front row) Leah Barragan, Paola Estrada, Niza Laureano, Joshua Estrada, and Diego Feliz.
Enlarge Photo
By Gazette Staff Writer — Wednesday, December 14th, 2016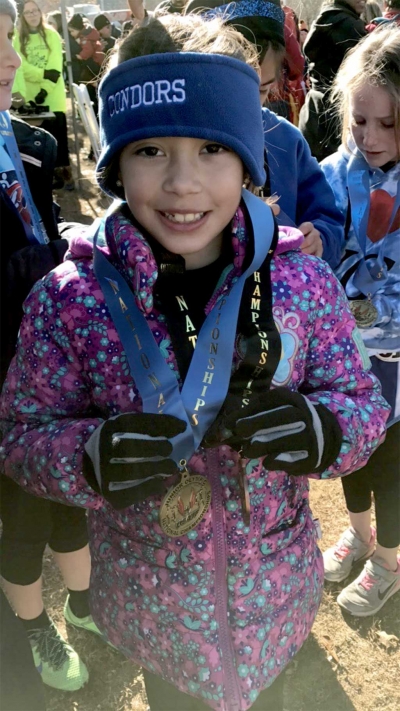 Seven year old Paola Estrada received medals for placing 9th out of 120 runners in the 8 & under division in Alabama.
Enlarge Photo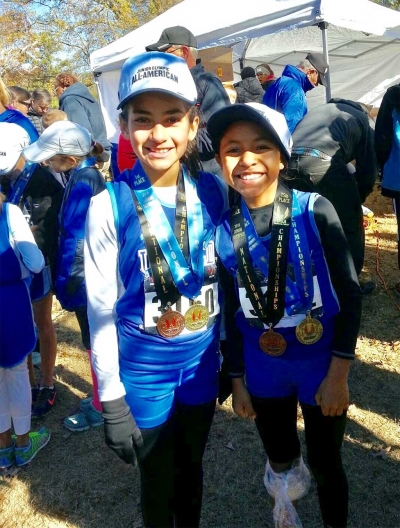 Lindsey Ramirez placed 14th and teammate Niza Laureano placed 15th out of 341 runners in the 9 & 10 year old division
Enlarge Photo
The Fillmore Condors Youth Cross Country team concluded their 2016 season by participating in the USA Track and Field Junior Olympics National Cross Country Championships on Saturday, December 10th. Fillmore Condors Cross Country is a non-profit organization under Heritage Valley Blazers Inc. Ten local athletes from Fillmore, Santa Paula and Oxnard ranging in ages 7-13 traveled across the country to the cold winter 30 degree temperatures of Hoover, Alabama to compete at the scenic Veterans Park. The cross country runners began their course races on a spacious open park before winding down between the tall wooded trees. The younger runners raced over a long bridge alongside a beautiful lake before coming through the finish line. The older runners entered the oak-brown forest racing through a tight, hilly and whinny dirt trail surrounded by trees as spectators waited patiently for runners to come out of the woods.
The athletes qualified for the event by finishing in the top eight of the Valley Youth Conference and finishing in the top 25 individually or being a member of the top three teams of the USATF Jr. Olympics Region 15 Championship race that was held on November 20th in Kit Carson Park, Escondido. The Condors joined other area runners to form Valley United Striders. Condor representatives were Leah Barragan, Vanessa Cabral, Audrey Cunningham, Paola Estrada, Joshua Estrada, Diego Felix, Niza Laureano, Rey Laureano, Lindsey Ramirez, and Jordyn Walla.
The team's highest honors this season were won by Paola Estrada, who earned a ninth place finish and title of "USATF Jr. Olympic All American" in the National Championship which included 120 runners in her division. She was the number two runner for her team and earned a 1st place team championship along with her teammate Leah Barragan. The girls 8 & under divisions ran 1.24 mile (2,000 meter) races.
First time runner Lindsey Ramirez was Valley United Striders top runner to cross the finish line with a 14th place finish. Her teammate Niza Laureano who was the girls 9 & 10 years old Valley Youth Conference Champion was right behind her with a 15th place finish. Both girls earned a 1st place team championship and the title of "USATF Jr. Olympic All American" in the National Championship which included 300 runners in their division. Diego Felix also a first time runner and teammate Joshua Estrada both helped their "B" team snag a 6th place team finish with 341 runners in their 9 & 10 year old division's. Both groups ran 1.86 mile (3,000 meter) races.
In the girls 11 & 12 year old division, Audrey Cunningham not only fought off her opponents but also a stomach virus to help her teammates earned 3rd place team medal. She ran 1.86 mile (3,000 meter) in a race of 389 runners. Condor Michael-Camilo Torres also made the "A" team but unfortunately could not participate at Nationals due to an ankle injury.
375 runners were in the girls 13 & 14 year old division with Fillmore representatives Vanessa Cabral and Jordyn Walla. The largest group competing that day, was the boys 13 & 14 division where Rey Laureano found himself in a stampede of 429 runners. Both groups ran 2.48 mile (4,000 meter) races. These three Condors are aging out this season to begin their high school running careers; Remember to run with purpose!
The Condors are coached by Jared Perez, and Brothers Rafael and Temo Laureano who stated, "We are very happy and proud to be able to continue to help mold these kids and accomplish great things. They are all winners in our eyes. Months of training were well worth the sweat and tears." The Condors Team President Erika Arana would like to thank the parents for helping daily throughout the season and the following for sponsoring the Condors and making the team's dreams become reality: Taft Electric Company, Sunny Smiles Dental, Gigante Trucking Inc., Fro-Yo, Fillmore Lions Club, Fillmore Rotary Club, and Heritage Valley Blazers Track & Field.
By Gazette Staff Writer — Wednesday, December 14th, 2016
Written By Coach Javier Alcaraz & Coach Christian Andrade
Last week on Wednesday 12/7, Fillmore High School Soccer played at home against Foothill Tech. JV final score was tied 2-2 Vs. Foothill Tech. Varsity Boys won with a score of 5-1 vs. Foothill Tech. Varsity goals were scored by three of the players, 1 goal by Alex Rodriguez, 2 goals by Alex Gutierrez, And 2 goals by Enrique Gutierrez. Assists were by Joel Garza, Rolando Cabrera, and Enrique Gutierrez.
Monday December 12, Fillmore Soccer played Rio Mesa at home. All teams participated. Frosh/Soph boys took a loss with a final score of 5-0 in favor of Rio Mesa. JV boys took a victory against Rio Mesa 2-0. Varsity boys lost against Rio Mesa 3-1. Our only goal was scored by Ruben Rodriguez in a penalty kick at the Fifty-third minute.
By Gazette Staff Writer — Thursday, December 8th, 2016
By Coach James Cummings
Final Score-64-44. Aries Vega was the leading scorer with 26pts. Angel Velez and Aric Diaz both finished with 13pts each. Nick Posada took 3 charges in the game. The Varsity team is now 1-4 moving into the Fillmore tournament which begins Thursday December 8th at 7pm and runs through Saturday the 10th.
By Gazette Staff Writer — Thursday, December 8th, 2016
Written By Coach Javier Alcaraz & Coach Christian Andrade
Boy's Soccer results vs. Oxnard high Nov. 30, 2016 - On Nov 30, 2016 Fillmore High School Soccer played against Oxnard High School. Frosh-Soph battled it out but unfortunately lost 4-0 along with JV losing 3-1. Varsity took the win 3-2 with 3 goals from Enrique Gutierrez which included the game winner goal; a free kick with seconds left in the game. Also, Jose Valdez had one assist to tie the game with less than 2 minutes left in the second half. Boys fought till the last minute. On Monday December 5, 2016 Fillmore High School JV and Varsity Soccer took on Alemany Warriors and won. Varsity won 3-0, with goals made by Jose Valdez. JV boys took the win 3-2 with goals made by Alex Gutierrez and Enrique Gutierrez.
By Gazette Staff Writer — Wednesday, November 23rd, 2016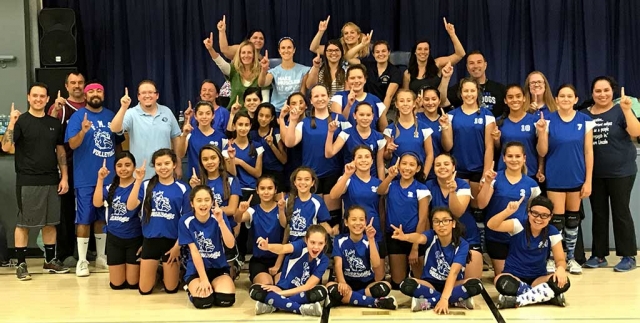 Fillmore Middle School held their annual "Lady Bulldogs Volleyball Teams Vs. Staff" game on Monday. Thank you to an awesome staff for supporting your three teams! Go Bulldogs! Photo by Kelly Myers.
Enlarge Photo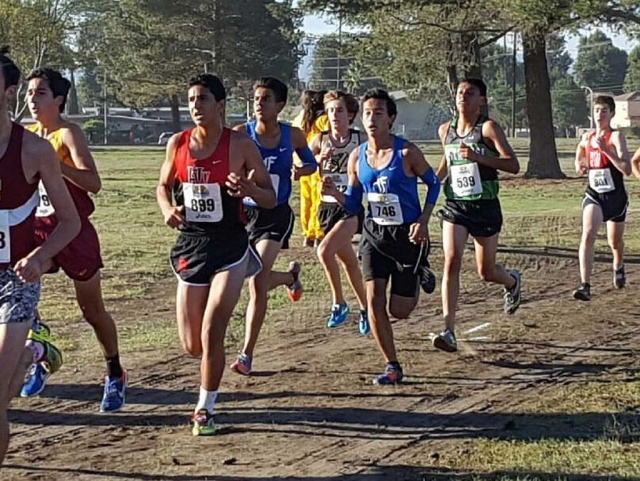 Flashes picking up the pace for the final stretch of the race.
Enlarge Photo
By Kim Tafoya — Wednesday, November 23rd, 2016
On Saturday, November 19th both Boys and Girls Varsity Cross Country Teams competed at the CIF Southern Section Division 4 Cross Country Finals. This championship meet was held at the Riverside City Golf Course. The course was relatively flat, dusty and very cold in comparison to last Friday's warm weather. The top 24 teams in the Southern Section competed with the goal of placing among the top 7 teams and earning a berth into the California State Meet to be held in Woodward Park in Fresno on November 26th.
The boys ran the first race of the day at 7:45 a.m. They were led by Senior Johnny Martinez who finished in 32nd place in 15:58.6, he was followed by Adrian Orozco 58th in 16:13.2, Sergio Perez 61st in 16:14.1, Everardo Garcia Magana 73rd in 16:22, Jonathan Ordaz 94th in 16:33.9, Michael Sanchez 107th in 16:47.2, and Nick Villela 135th in 17:12.3. Thirty five seconds separated the first runner from the fifth scorer, an excellent team gap. However, the team finished in 10th place out of the top 24 divisional teams in Southern Section and did not qualify for State Finals.
The girls were led by Carissa Rodriguez who was the top place finisher among both Fillmore teams. Carissa finished in 18th place in a time of 18:11.9, just missing a individual qualifying placement into State Finals. She was followed by Vanessa Avila who finished in 71st place in a personal best time over a 3 mile course of 19:19.7, Diana Perez 91st in 19:38.5, also a personal best time, Andrea Marruffo 115th in 20:15.7, Anahi Pascual 117th in 20:22,4, Jacqueline Chavez 121st in 20:28.1, and Lauren Magdaleno 143rd in 21:06. The girl finished in 15th place out of 24 teams.
This concludes the 2016 season for our Cross Country team. We are very proud of our many accomplishments and our wonderful young athletes, especially the growth they have made in so many areas as young men and women. We would like to thank all those who have supported us throughout the season especially our parents, staff and extended community.
By Gazette Staff Writer — Wednesday, November 23rd, 2016
By Gazette Staff Writer — Thursday, November 17th, 2016
Sophomore Carissa Rodriguez placed third at the CIF Prelims in Riverside this past Friday.
Enlarge Photo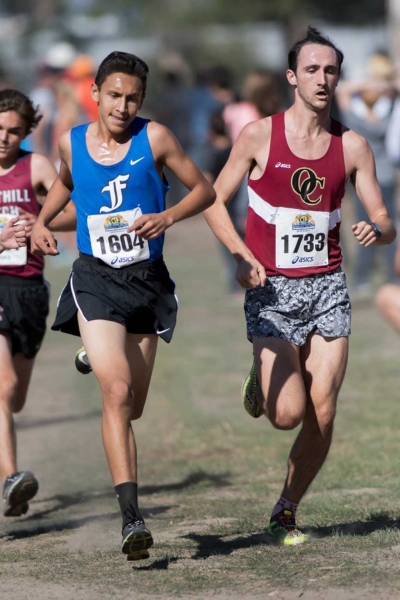 Junior Everardo Garcia Magaña at the CIF Prelims this past Friday.
Enlarge Photo
On Friday, November 11th the Boy and Girls Cross Country teams traveled to Riverside, California and competed in the CIF Southern Section Division 4 Prelim meet. The course was predominantly flat, dusty and dirty with temperatures in the high eighties with intense sunlight and little relief. Both teams had to finish in the top 20 in order to advance to Finals next Saturday. Both teams met the challenge and will compete against the other qualifying team for a coveted placement into State Finals.
The first race of the day found the boys competing against 20 teams, 7 of them ranked among the top teams in Southern Section. Most of the boys had a great race and propelled the team to a fifth place finish. Sophomore Sergio Perez led the charge by placing 19th in 16:33 and edging his teammate, Johnny Martinez 20th in 16:33.3. They were followed by Jonathan Ordaz 26th in 16:38.7, Everardo G. Magana 40th in 16:49.7, Adrian Orozco 58th in 17:17.2, Michael Sanchez 68th in 17:30.1, and Nick Villela 78th in 17:37.8.
The girls team followed and competed against 21 teams, 6 of the teams currently ranked in the Southern Section. The Flashettes were led by Carissa Rodriguez who finished in 3rd overall in 18:24.1, Andrea Marruffo followed 37th in 20:13.4, Diana Perez 56th in 20:44.5, Vanessa Avila 57th in 20:45.6, Anahi Pascual 59th in 20:52.2, Jacqueline Chavez 61st in 20:57.9, and Lauren Magdaleno 70th in 21:22.8.
Both teams ran well and delivered on a day that was both very competitive and challenging. Now we look to next week, CIF Finals. The goal here is to run well enough to place among the top 7 of the 24 teams that advanced from Prelims and thus earn a birth to the big dance, The CIF State Meet.
By Gazette Staff Writer — Thursday, November 17th, 2016
By Gazette Staff Writer — Thursday, November 17th, 2016
By Ram Medina — Thursday, November 17th, 2016
Congratulations to our Gremlin and Bantam teams for winning the Jim Thornton Tournament championship this past Saturday at John Burroughs High School. The Gremlins came from behind late in the 4th quarter to win the championship. Sam Bennett Sr and his staff have done a great job in coaching our 6 and 7 years this year by winning 7 games!!! Our Bantam team dominated the Moorpark team from start to finish. Key plays by Christian Hernandez and Jo Jo Moore led the way for our bantam team of 10 and 11 year olds. Cameron Bennett and staff did a great job this year. In just 3 years the Bears have captured 3 tournament championships and the Midget team reached the quarterfinals this year in the Superbowl bracket.
By Ram Medina — Thursday, November 17th, 2016
Two Fillmore Bears teams have been chosen to play in the Rosebowl on Sunday November 20th. The day after the UCLA and USC game is played on Saturday the Bears senior team will play at 12:30 and the Bears Midget team will play at 1:30. The Bears are excited to send two teams to the Rosebowl and have an opportunity that very few will ever have to play in the "Grand Daddy of them all" The Rosebowl in Pasadena California. Admission is free and just like your typical college and pro games tailgating will be available. We hope to send our senior team every year, especially with high school coaches watching in person will give them an opportunity to showcase their talents.
By Gazette Staff Writer — Thursday, November 10th, 2016
Flashes are now the 2016 undefeated Frontier League Champions
By Lolita Wyche-Bowman — Thursday, November 10th, 2016
October 25, 2016 was the last match of the season for the Fillmore Flashes varsity tennis team held at the beautiful campus of Laguna Blanca in Santa Barbara. Fillmore's number one player, Michaela Boniti held her own winning two out of her three round robin matches scoring the two points for Fillmore with set scores of 0-6, 6-3, and 7-6. Michaela won numerous matches throughout the season scoring continuous points for the Fillmore team.
Fillmore's number two player Lizzie Castaneda was on the sidelines during this last match, due to an "off the court" injury. The final score was Fillmore 2, Laguna Blanca 16.
Rounding up this season, I am delighted to have taken on the task of coaching the tennis team. Introducing this new sport for a majority of the team was a great pleasure. I know that competing against other schools on the tennis court empowered their self esteem and confidence which is what we all want for our girls in Fillmore.
I witnessed smiles after good shots, and proud reactions as they won against seasoned players.
Next season will sneak up on us for sure as I am hoping new and more players with great attitudes, will come out of the woodwork. I know the city of Santa Paula offers tennis clinics to the public, so if there are new girls interested in being on the team next year, I am highly encouraging them to get out there on the tennis court to learn or improve their tennis game.
Thanks again to my team for a fun season. Til' next year.
By Gazette Staff Writer — Thursday, November 10th, 2016