By Kim Tafoya — Tuesday, October 11th, 2011
The team traveled to Fresno this weekend to preview the State course and came away with an impressive showing. The 33rd annual Clovis invitational hosted the team as the boys varsity finished 8th out of 29 in their divisional race and the girls varsity was 14th out of 23. The boys junior varsity was unscored. On the strength of their results the boys have moved up to the 5th ranked division 4 team in southern section.
For the boys varsity Jose Almaguer was once again the leader with a 16:42 mark on the 5km course to finish 29th out of 208. For those unfamiliar with the metric system that is roughly 5:23 a mile. In 31st place and mere feet behind Jose was Anthony Rivas with a clocking of 16:43. Anthony gave it his all and sprinted to the finish just barely being edged out at the line by the 30th place finisher. Alexander Gonzales finished 44th with a time of 17:00 even. In 52nd was Adrian Mejia recording a time of 17:09. Rounding out the scorers was Isaac Gomez who completed the course in 17:26 for a 68th place finish. This provided a time spread of 44 seconds first to fifth finisher and the top 4 were a mere 27 seconds apart. the strength of the team is truly it's team spread. Keeping the spread going Hugo Valdovinos placed 71st with a 17:27 and Jordan Mendoza was 80th with a 17:36 to bring the total team spread 1st to 7th to a scant 54 seconds. Excellent job boys.
The ladies stepped up to the competition as well. Kiana Hope sporting a new hair style still left rubber on the road as she powered to a 12th place finish with a clock reading of 19:20. Charging in next for the girls was Jordyn Vassaur with a time of 21:18 and a place of 72nd. In 88th place with a time of 21:52 was Maria Villalobos. Lucia Diaz drove through the chute in 22:06 for 92nd place as Alexis Tafoya returned from an injury to complete the course in 22:45 to finish 114th. Amanda Vassaur was 136th in 23:55. There were a total of 168 competitors in the race.
The boys junior varsity team was led by Jaime Magdaleno who was 82nd in 17:57. Jovani Oregon was next for a 135th place finish in 18:35. Justin Beach gave his all as he breathlessly placed 142nd in an 18:30 clocking. Christian Rodriguez zoomed to an 18:33 finish for 148th overall. Sammy Martinez sped to a 179th place bid in 18:49. Vincent Chavez and Frank Chavez completed the squad with respective times of 19:06 and 19:26. Vincent was 206th while Frank was 234th. There were a total of 443 runners in the race.
Up next for the Flashes is the mid season TVL meet. The team will travel to La Reina to challenge the rest of the league on the mountain that is La Reina's course. Action begins at 3:30pm on Thursday.
By Jeremy McMahon — Wednesday, October 5th, 2011
The first of three tri-valley league meets was held on Tuesday September 27th at Arroyo Verde Park in Ventura and the Boys took home dual 2nd place finishes as the girls sped to 3rd in varsity and 4th in junior varsity action. Both boys' teams lost to Oak Park (ranked 8 in the state for Division 3) and the girls barely got passed by Oak Park and La Reina. Oaks Christian also slipped by the junior varsity girls. The other teams in the League are Nordhoff and Saint Bonaventure. As of Monday the 3rd there are now 3 teams in the league in the top ten for their division and 2 for the girls. Fillmore is the only school with teams in both genders. The Flashes are 10th for division 4 in southern section.
On to individual results! Juan Mariscal took the lead this week as he strained up the mountains to finish 4th overall in 17:46. 15 seconds later Anthony Rivas finished 12th overall in 18:01. Adrian Mejia was hot on his heels to finish 14th in 18:10 and Jordan Mendoza crossed the line a scant 17 seconds behind that to finish in 18:27 at 16th. Isaac Gomez rounded out the top five with an 18:41 finish at 18th. Rounding out the team and denying valuable points to Nordhoff's 4th and 5th runner was Jose Almaguer and Alexander Gonzalez. Jose was 19th in 18:58 and Alexander was 20th in 18:49. The truly phenomenal aspect was the differential between the first Fillmore runner and the 7th. A scant 1:03 past between the time Juan crossed the line and the time Alexander finished. It was truly an impressive display of team running!
For the ladies Kiana Hope finished 4th with a time of 20:44. Laura Garnica powered through the hilly terrain to complete the course in 22:34 and finish 15th. Maria Villalobos traveled the beaten path with a surge at the end for a 23:22 to finish 18th. Lucia Diaz was 20th after taking out her frustrations on the packed earth in an impressive 23:23. Jordyn Vassaur, with a grim look of determination and a no nonsense charge, took 22nd to complete the course in 23:48. Securing the 3rd place finish was Amanda Vassaur with a 32nd place finish at 25:04.
In junior varsity results Amber Wilmot placed 21st to get a photo finish of 25:32. Finishing 39th, 40th and 41st were Carla Pizano was 39th with a time of 26:58; Sofia Gallardo was in at 26:59 and Deanna Lomeli completed the course in 27:02. In 51st was Dalila Ortiz at 28:24. Justine De La Rosa and Denise Hernandez completed the top 7 lady flashes for junior varsity. Justine was 62nd in 30:03 and Denise was 64th for a time of 30:10.
The junior varsity boys featured Hugo Valdovinos and Jaime Magdaleno in the top 5. Hugo was 2nd in 18:47 and Jaime was an impressive 4th in 18:59. Christian Rodriguez was 11th in 19:21. The fourth scorer was Justin Beach in 19:55 to finish 13th. Jovani Oregon was 16th to run through the chute in 20:06. Frank Chavez achieved a 21st place finish of 20:16. Eddie Baez completed the course in 20:31 for a 27th place finish and locked down the2nd place team effort.
This is a terrific league start for the Flashes.
By Gazette Staff Writer — Wednesday, October 5th, 2011
By Gazette Staff Writer — Wednesday, October 5th, 2011
Anthony Rivas competes and finishes the course in 16:53. Rivas set a new personal best on the course.
Enlarge Photo
By Gazette Staff Writer — Wednesday, October 5th, 2011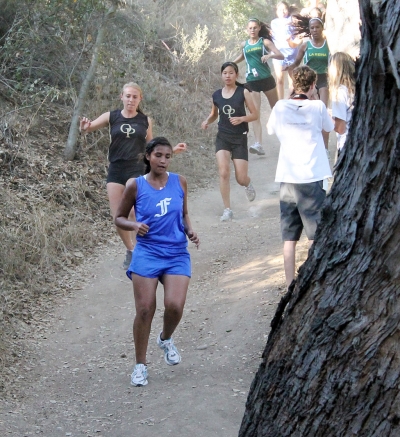 Justine DeLa Rosa competes against Oak Park and La Reina during league last week.
Enlarge Photo
In a phenomenal race the flashes traveled to UCSB's Lagoon course to take on Ventura, Dos Pueblos, San Marcos, Lompoc, Nordhoff, Saint Bonaventure and Carpinteria. The boys took home first place and the girls were 4th behind Dos Pueblos, San Marcos and Ventura.
Jose Almaguer, returning to the front spot, was 8th overall in 16:37. This is a new personal best by over a minute and the third fastest time for a Flash on the course. The real story of the win came from the next four finishers who rounded out the five scorers and finished one after the other to lock down the win. Finishing 12th through 15th were Adrian Mejia in 16:51 finish, Anthony Rivas in 16:53, Juan Mariscal in 16:58 and Alexander Gonzalez in 17:02. Adrian and Anthony both set new personal bests on the course. Hugo Valdovinos and Isaac Gomez were the remainder of the top 7. Isaac was 19th in 17:10 and Hugo was 27th in 17:32.
With a 17 second improvement over last year, Kiana Hope finished in 4th at 19:27. Laura Garnica was 10th in 20:10 with an astounding 1:10 course improvement. Jordyn Vassaur was 23rd in 21:32. The 25th finisher Maria Villalobos charged through the chute in 21:41 and Lucia Diaz was the fifth flash for a 31st finish. Alexis Tafoya was hot on her heels with a 32nd place finish in 21:59. Amber Wilmot was 60th with a time of 23:22.
The team will next travel to Clovis for the Clovis invitational on Saturday the 8th for what the team hopes will be a preview of the State meet.
By Juan Carlos Toledo — Monday, October 3rd, 2011
Pro Sports News
Just three years after going 0-16, the Detroit Lions are 3-0 and tied for first place in the NFC North. The Buffalo Bills just snapped a 15 game losing streak to the New England Patriots and are 3-0 in sole custody of first place in the AFC East. Even a casual football fan has to be taken aback by the absurdity of my previous statement, and the fact that it's true is even more surprising.
The season so far has been loaded with surprises, both good and bad (well that depends on who your team is). Although professional sports are virtually unpredictable, unless you travel to the future and return with a Sports Almanac (1980s Michael J. Fox movie reference), this season in the NFL has been anything but predictable. Only 3 weeks into the season and the league seems nothing like it was one year ago.
The Indianapolis Colts are 0-3 and in last place in the AFC South. More importantly, however, the saga of Peyton Manning's return is only getting more and more confusing. At this point in his rehab, there is a chance Manning may be done for the season, and there are those who are calling for him to retire. Could we have seen the last of Peyton Manning in a Colts' uniform? Without Manning at the helm, where will the Colts go from here? With only one Super Bowl ring, will Manning be among the elite QBs we've seen? Are all these questions way to soon?
Cam Newton, the guy who was labeled not ready for the NFL, and who scouts said had a weak arm and poor mechanics. Yes, that guy, has already thrown for over one-thousand yards and has 4 TD passes on the season. Although his yardage decreased dramatically in Week 3, there are a few important statistics to note after this past game: Newton did not throw a single interception, he was not sacked once, and he led his team to a win (the most important stat of all). Could the emergence of Cam Newton really happen this quickly? Are we seeing a star rising or is this just a flare up that will fizzle soon?
The Buffalo Bills are in first place in the NFC East and doing so with a QB and RB who didn't play football for an FBS team. Their QB, Ryan Fitzpatrick played college ball at Harvard (Although I am indoctrinated to loathe Harvard, as a fellow Ivy Leaguer I must admire Fitzpatrick for representing the Ivy League in the NFL), and Fred Jackson, their leading rusher, played football at Coe College (I had to look it up on google also), a Division III program. More importantly, they were able to defeat the Tom Brady led New England Patriots to make a statement that they are for real in the division (Still doubtful though). Are we seeing a new top dog in the AFC East? Are the Bills for real? Are the Patriots on their way out?
The Detroit Lions are also 3-0 and tied for first place in the NFC North, and have done so with a blueprint that should be revered and labeled extremely smart and strategic. What is the key to their success? The answer is quite simple but takes time to develop: Good drafting. Their core is centered around a plethora of former first round draft picks who now play impact roles on the field including: WR Calvin Johnson (2007), OT Gosder Cherilus (2008), QB Matthew Stafford (2009), TE Brandon Pettigrew (2009), RB Jahvid Best (2010), DT Ndamukng Suh (2010), and DT Nick Fairley (2011). The Lions are a very young team and they should only get better as their talent matures (This Blueprint could make Jay-Z jealous). The only thing standing in their way of ascending to the top of the NFC North is the team that all still must bow down to; the Aaron Rodgers led Green Bay Packers. Is this the new power struggle in the NFC North? Are the Lions for real?
Don't have heart attacks people, there may a lot of crazy surprises this year in the NFL, but there is still a lot that we did expect, and the league hasn't completely 180'd just yet. The defending Super Bowl Champs are 3-0 and still the team to beat. Quarterbacks like Aaron Rodgers, Tom Brady, and Drew Brees are still setting the standard for the elite leaders of their respective teams. The NFC East is once again going to be the most competitive division in the NFL, and we may not know the clear favorite until the last week or two. There are still numerous players getting fined for illegal hits (then complaining about it in postgame interviews, or twitter). Wes Welker is still the Slot Machine, hauling in more receptions than anyone else; still the blue-collar productive player who never complains and always comes through when you need him to (and the only player in the NFL who is shorter than the person interviewing him after games). And, of course, the name "Ochocinco" can still be read on the back of a jersey (sizzling bacon action, this is ESPN).
However, there is one thing that we can all agree on and rest assured in, and that is that we're still only 3 games into the 2011 season, and there is no way we can predict what will happen from here on out.
By Gazette Staff Writer — Wednesday, September 28th, 2011
Fillmore Wins 59-30
By Gazette Staff Writer — Wednesday, September 28th, 2011
Fillmore, 56 - Frazier Mountain, 0
Friday night the offense and the defense played an amazing game. On Offense fillmore had 7 different players scoring for the team lead by sophmore running back Eddie Cardenas who scored twice on runs of 25 and 35 yards.
Adam Jimenez opened the game up with his first and only carry going for a 50 yard TD on the very first play of the game for the offense. The very next offensive series Andrey Sanchez raced 45 yds for a touchdown on his only carry of the night. Other offensive touchdowns came from Chuy Mendoza, Justin Coert, Damien Gonzalez, and Daniel Flores. On Defense the flashes held the visiting Falcons to negative yards.
Fillmore was able to force 3 turnovers on defense. The defensive line did a great job of putting pressure on Falcon's offense the entire night. The Defensive line lead by Brendon Gonzalez, Gil Sandoval, Joseph Gonzalez, Chuy Mendoza, and Andy Vasquez.
By Gazette Staff Writer — Wednesday, September 28th, 2011
The cross country team traveled to Lake Casitas in Ojai for the 24th annual Ojai Invitational. With a cool breeze and an early morning run the team traversed the hills and dells of the Lake for a tremendous performance. The event was split into a small school boys' race and small school girls' race and medaled the top 20 for each school class: freshman, sophomore, junior, and senior. For full results of all the Flashes go to the website: https://sites.google.com/site/fillmorecrosscountry/
For the girls, Kiana Hope once again led the charge with Laura Garnica, Jordyn Vassaur, Lucia Diaz and Alexis Tafoya all medaling in their respective grade levels. The five were also the top Lady Flashes finishers. Maria Villalobos and Amanda Vassaur displaced other teams' scorers to round out the top seven. Sophomore Kiana finished 6th overall at 20:04 just behind two seniors, two juniors and another sophomore. Junior Laura completed the 3 mile course in 20:26 at 12th and had a course best of 1:25. Jordyn and Lucia finished together at 48th and 49th respectively. Sophomore Jordyn earned a 21:57 and Junior Lucia had a course accomplishment of 22:00. This was 1:03 better than last year. Freshman Alexis crossed the line in 22:11 for 53rd place. Maria ran for 22:48 and 72nd place. Amanda had a blazing improvement of exactly 4:00 from last year to finish at 23:27 and 93rd place. There were a total of 197 runners in the race.
The boys also had a standout day as Jose Almaguer blasted through the finish chute in 16:51 to earn 11th place. Anthony Rivas was 16th in 16:59 to have a 54 second PR versus last year. Adrian Mejia also had a course PR, his was 35 seconds and he ran 17:13 to finish 25th. Juan Mariscal was 31st in 17:23. Conquering the course at 39th overall was Isaac Gomez who garnered a time of 17:37. The top five flashes boys also earned class medals and the juniors took home 20% of the junior medals. This time was good enough for a 1:46 improvement over last year. Alex Gonzales was hot on the heels of Isaac with a finish of 17:38 in 41st place. Jordan Mendoza was 44th with a time of 17:42. This time also earned him a new personal record of 48 seconds. There were 293 runners in the race.
Also having great PR's on the day were Justin Beach with a 2:54 improvement to finish in 18:10 and earned a medal. Sammy Martinez finished in 18:36 for a 34 second improvement. Vincent Chavez had a huge improvement of 1:40 as he strove for an 18:45 accomplishment. Frank Chavez took a stretch for 2 seconds better this year as he leaned for an 18:56 and snagged a medal. Ricardo Gutierrez completed the course in 19:19 which was 3:19 faster than his 2010 time. Nick Johnson also was more than 3 minutes faster than previous as he improved 3:28 to reach for a time of 19:50. Javier Rodriguez had a critical hit with a 37 second bettering of his previous time to burn through the chute at 19:52. Julian Garcia ran a 20:09 which is 2:25 faster than last year. Jaime Valdovinos had a slightly better increase with a 2:38 speed increase from last year as he crossed the line at 20:11. Robbie Munoz also burst the 2 minute mark as he sped for a 2:07 bettering to clock a 20:40.
The big improvement for the second week in a row, however, was Nico Frias with a phenomenal speed increase of 5:10 on the course versus last year. His virtually unheard of increase left him with a new best of 18:58 on the course and a finish in roughly the top third of the race. This improvement was more than enough to earn a medal as well.
Earning medals for the freshman were Jaime Vargas and Fransisco Erazo with respective times of 19:50 and 20:19.
The team next travels to Arroyo Verde Park in Ventura for the first tri-valley league meet of the season versus Saint Bonaventure, Nordhoff, Oaks Christian, La Reina and Oak Park. This will be worth one-fourth of the league title. Action begins at 3:00 pm on Tuesday, September 27th.
Alumni News If you, or anyone you know, is a former Fillmore cross country runner then we want to hear form you! Let us know how things are going and we will even post the news! Still running? Having a baby? Getting married? All this and more is fair game for the Alumni News. Email Coach Tafoya at ktafoya@fillmore.k12.ca.us or Mr. Mac Mahon at jmacmahon@fillmore.k12.ca.us to report the news.
WEBSITE
There is also a cross country website! Go to: https://sites.google.com/site/fillmorecrosscountry/ for all the latest and greatest in Flashes Cross Country.
By Gazette Staff Writer — Wednesday, September 21st, 2011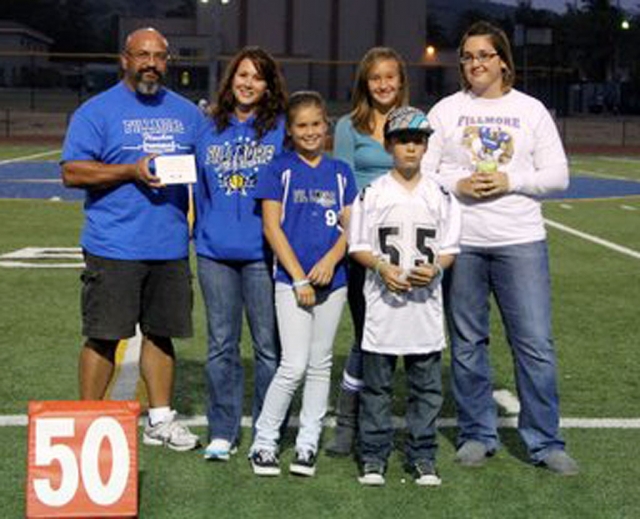 Max Pina Jr. presents a thank you plaque to the family of Walker Kozar at the beginning of Friday night's varsity football game. The plaque will be hung in the BBQ area by the stadium snackbar, honoring Kozar's years of barbecuing for the games.
Enlarge Photo
By Gazette Staff Writer — Wednesday, September 21st, 2011
By Gazette Staff Writer — Wednesday, September 21st, 2011
Week 3
By Kim Tafoya — Wednesday, September 14th, 2011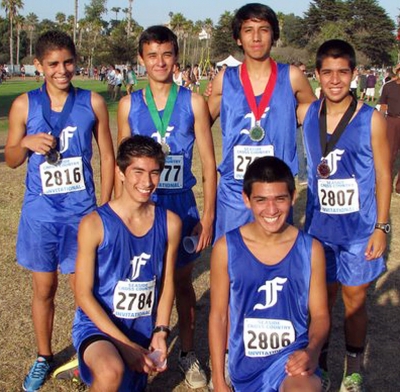 (l-r) Fillmore High School's Junior boys: back row: Anthony Rivas, Jose Almaguer, Isaac Gomez, and Adrian Mejia. Front row: Vincent Chavez and Sammy Martinez.
Enlarge Photo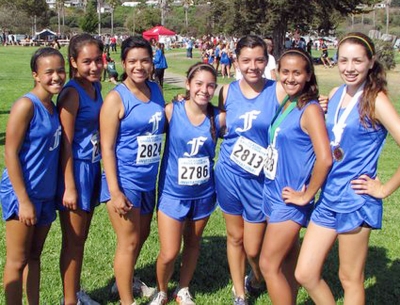 (l-r) FHS Junior girls: Amber Wilmot, Carla Pizzano, Amanda Vassaur, Dalia Ortiz and Laura Garnica.
Enlarge Photo
The Fillmore Cross Country team crashed onto the beach at the 22nd annual Seaside Invitational in Ventura on Friday with a resounding boom. The Fillmore Flashes garnered 10 medals in the grade and gender divided races and the junior boys nabbed 5th in their race. The team showed that they are absolutely prepared for the 2011 Season.
For the girls, sophomore Kiana Hope continued to be a force to reckon with as she finished 7th in her race, earning a medal, setting a personal course record (PR) and staying the fastest Lady Flash to run at Seaside for 2011, this time as a sophomore. Her time was a blazing 18:55 for 3 miles, or roughly 6:18 per mile. A trio of juniors also ran the course ragged as Laura Garnica, Maria Villalobos and Lucia Diaz all set personal records for the course. Laura in 19:35, Maria in 20:56 and Lucia in 21:02. Laura and Maria earned medals and Laura and Lucia improved upon their previous time on the course. Dalia Ortiz set a new personal best on the course as well. A fierce rivalry was also ignited as the Vassaur sisters pitted themselves against the course where sophomore rookie and former cheerleader Jordyn Vassaur conquered the course in 21:18, good enough to earn her the 5th fastest slot for the Varsity girls from Fillmore. Not to be outdone by her little sister, Amanda Vassaur ran an amazing time of 22:33. The fastest freshman racer of the day for the girls was breakout freshman Alexis Tafoya's remarkable showing of 21:39 earning her both a medal and the 6th girls spot for the Fillmore Flashes Girls Varsity team.
The boys also came to race as senior Juan Mariscal earned both a medal and a personal record with a time 16:33. Jordan Mendoza powered in at 17:03. Robbie Munoz also had a significant personal record on the day, running in 19:21. The junior boys stole the spot light on the day, finishing 5th place as the only Division 4 team behind powerhouse programs in State Title contention. The squad was led by Jose Almaguer and Anthony Rivas mere seconds apart as Jose finished in 16:10 and Anthony finished in 16:12, both of them blew away their previous times on the course by over a minute. They became the two fastest boys to run at Seaside in any grade and both earned medals. Also in the junior boys' race were Isaac Gomez and Adrian Mejia who finished as the 3rd and 4th fastest Fillmore juniors to run the course in for Fillmore. Isaac finished in 16:39 and Adrian passed the line at 16:52 to set a new PR. Vincent Chavez and Sammy Martinez also set junior course bests with Vincent at 17:52, and Sammy at 17:56. The boys' sophomore sensation for the day was Justin Beach who raced his way to a medal and with a time of 17:42. Joey Orozco also had a standout day with a new personal record of 18:54, a close to one minute improvement. Two freshmen also had an amazing race day, Francisco Erazo ran a 19:16 and Jaime Vargas ran a 19:22.
Many other highs were to be found on the day and in the future this publication vows to print all the PR achievements when they happen! Our next meet will take place Saturday September 17th the team travels to Lake Casitas for the Ojai Invitational.
By Gazette Staff Writer — Wednesday, September 14th, 2011
By Gazette Staff Writer — Wednesday, September 14th, 2011
Week 2
By Gazette Staff Writer — Thursday, September 8th, 2011
By Gazette Staff Writer — Wednesday, September 7th, 2011
By Mark Ortega — Tuesday, September 6th, 2011
Hello F.H.S. Alumni! It's hard to believe that students are heading back to our Alma Mater already. Where did Summer go? The Alumni Association wishes to thank all our alumni who supported our organization this past School year. In June we presented Scholarships to 10 Graduating Seniors, and in July, we awarded 11 "Continuing Ed Grants" to past scholarship winners still in college. THANK YOU!
On Friday, September 16th, 2011 the Alumni Association, in conjunction with the High School "Sports Hall of Fame" committee will host the first annual Sports Hall of Fame Football Game. The game is against Morro Bay High, and will be played at the F.H.S.Football Stadium. In 1945 the Fillmore High Football team won the Ventura County Championship, and they will be honored at the game. (Picture Above). Also being honored at the game will be the 2011 Hall of Fame inductees. Bill Mayhew, class of 1918; J.C. Taylor, '45; Buck Basolo, '46; George Garnica, '50; Phil Rice, '52; Dick Frederiksen '54; Eugene Reyes, '59; Joe Cook, '61; Tom Hayes, '64; Booty Sanchez, '72; Tim Grove, '72; Jeff Fauver, '79; David Miller, '80, Roy Alsup, '81, Brad Edmonds, '89; Danielle Stines, '95; April Kozar, '97. The Sports Hall of Fame ceremony will take place on Saturday, Sept 17th at the High School starting at 7:00pm. Please call High School for more info. 524-6100. Please come to the game and support your Alma Mater. Don't forget to check out our new Alumni Web-Store. www.fhsalumni.gigabitprint.com You'll be able to find all kinds of F.H.S. Alumni souvenirs for that special Fillmore Flash. T-Shirts, Sweatshirts, totes, cups, mugs, Bath mats, etc, all with different Fillmore High Alumni logos. GO FLASHES!!
By Gazette Staff Writer — Thursday, September 1st, 2011
By Gazette Staff Writer — Wednesday, August 24th, 2011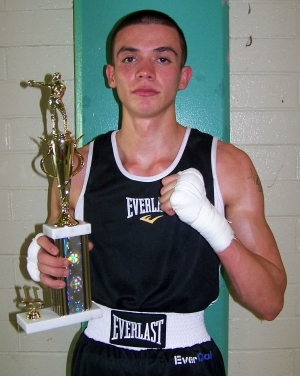 Rodrigo Garnica
The Fillmore Boxing Club's Rodrigo Garnica competed on the weekend of the 13th at the Eddie Heredia Boxing Show at Obregon Park in Los Angeles in the 120 lb. weight class. His debut match was three rounds of two minute duration. The Fillmore Boxing Club is a member of USA Boxing and offers adult and youth boxing classes at Body Image Gym. For more information call 524-0891 or (805) 443-8501 or E-mail: fillmoreboxingclub@yahoo.com.