Fillmore Cross Country Team Competes at UCSB Lagoon
By Kim Tafoya — Wednesday, September 6th, 2017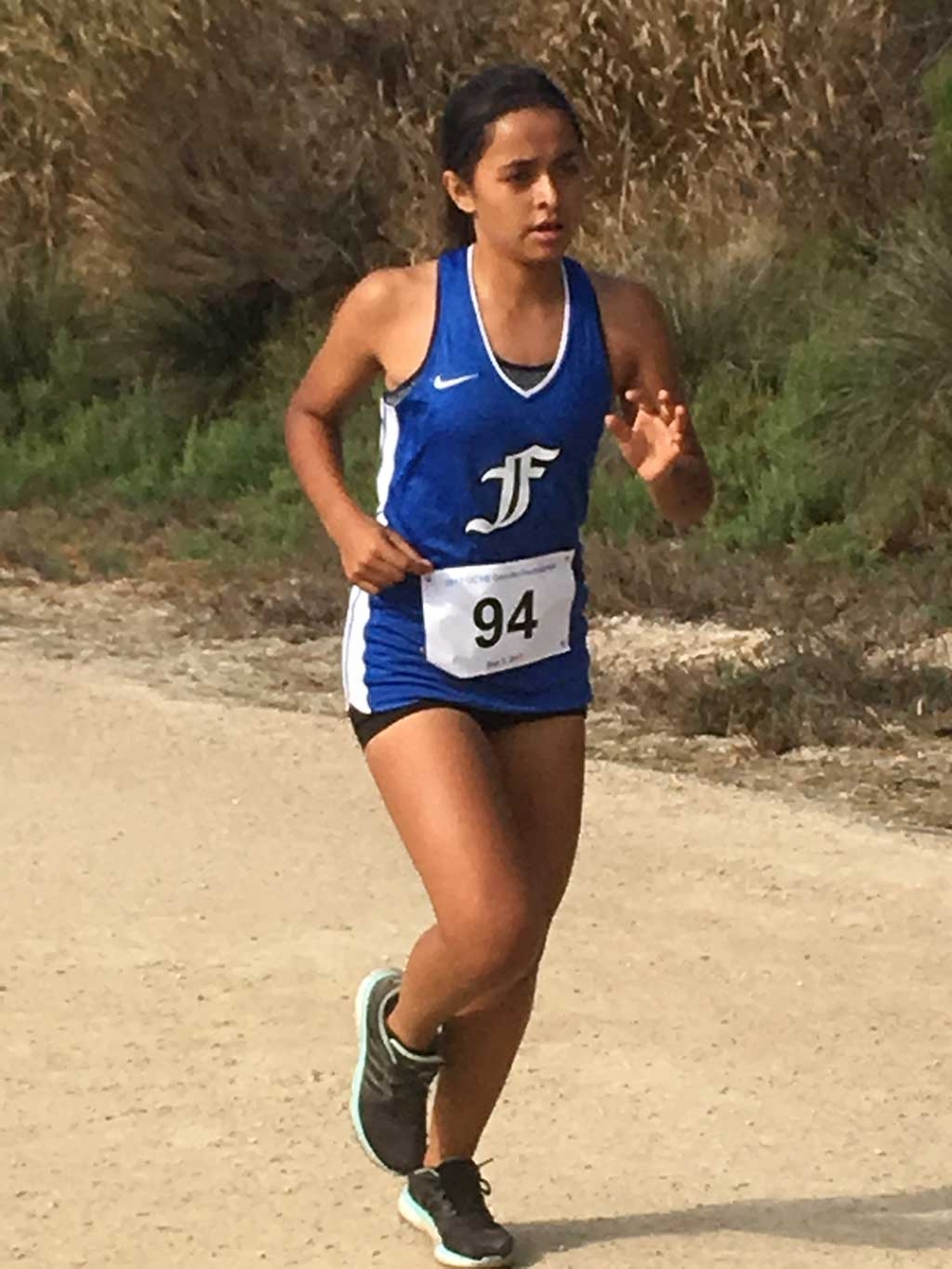 Junior Cecilia Cisneros who placed 64th in 22:47.51 at the UCSB Gaucho Invite. Photo Courtesy Kim Tafoya.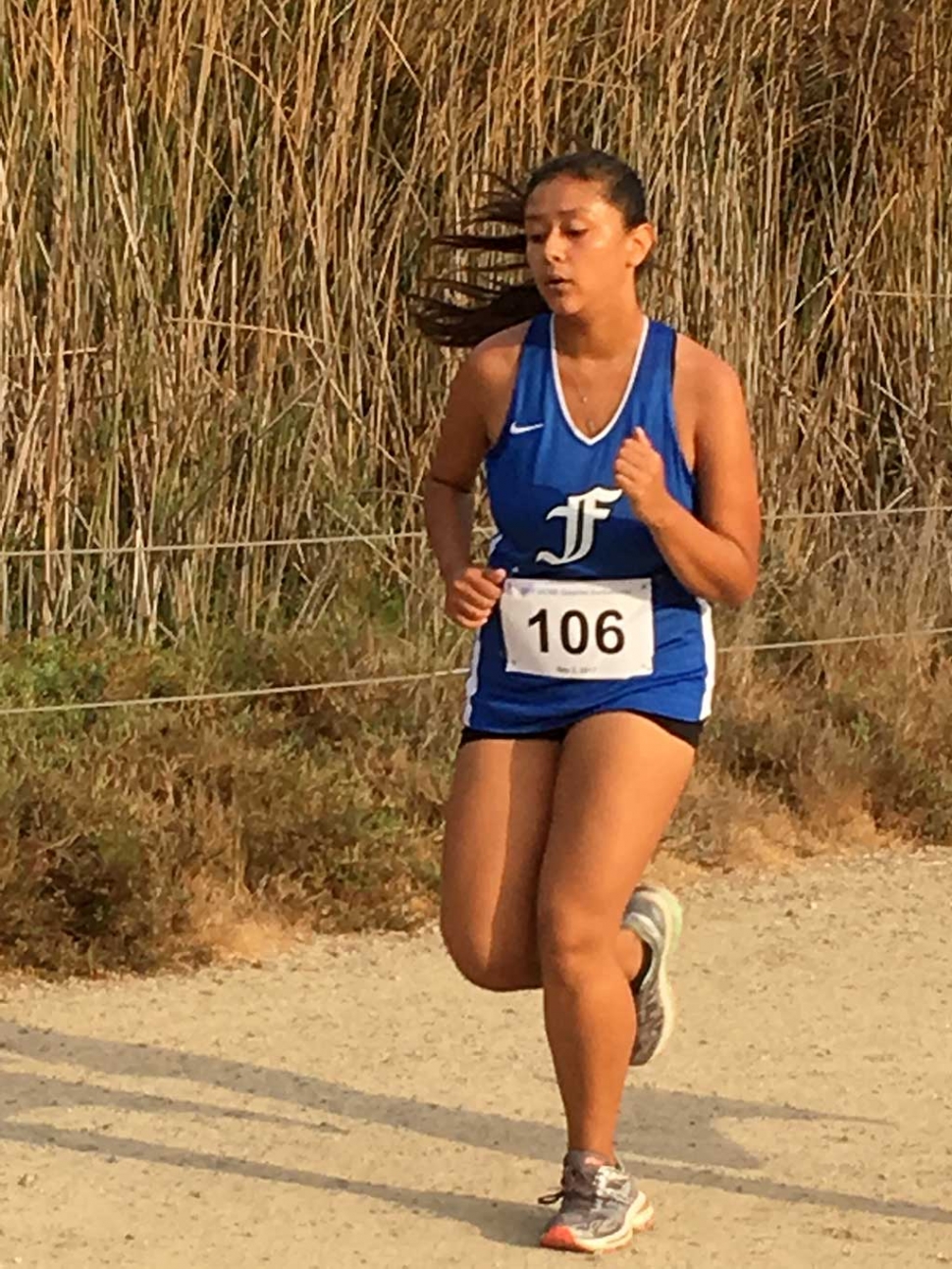 Freshman Emma Ortiz who placed 87th in 13:07.87 at the UCSB Gaucho Invite. Photo Courtesy Kim Tafoya.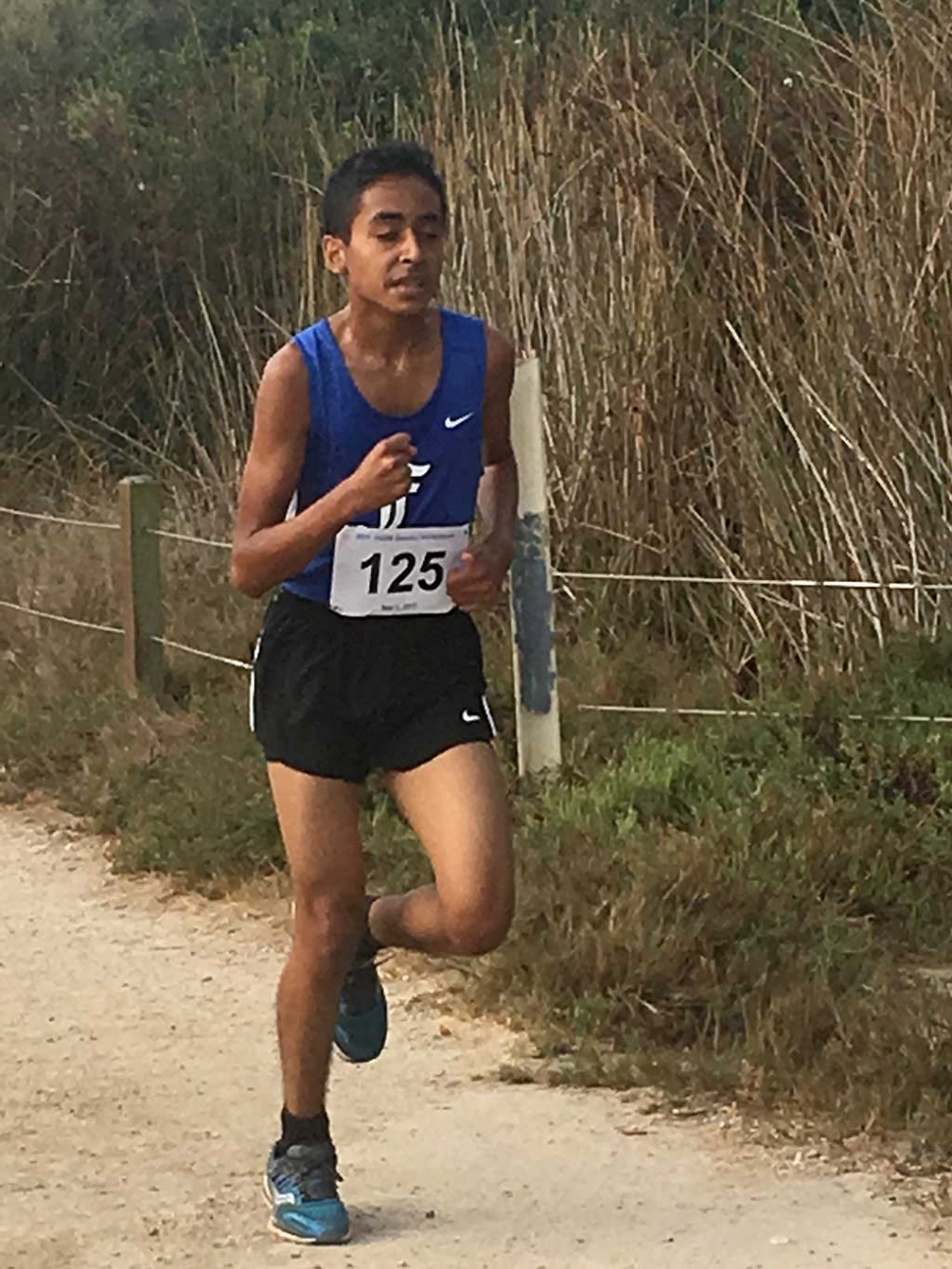 Freshman Andres Gonzalez at the UCSB Gaucho Invite. Photo Couresty Kim Tafoya.
On a hot day, Fillmore's Cross Country teams competed in their first meet of the season at the UCSB Gaucho Invitational. Runners competed in one of two distances, a short course of 1.43 miles for the novice runners and a longer 2.99 course.
Fillmore girl newcomers started out the morning running the short course and finished well. They were led by Isabela de la Cruz 21st in 10:53.58, followed by Paulina Fernandez 31st in 11:04.51, Aliyah Heredia 62nd in 12:05.23, Soraya Negrete 63rd in Liliana Felix 69th in 12:22.62, Emma Ortiz 87th in 13:07.87 and Marisol Ramos 95th in 13:47.92.
In the longer girls race, the Flashes were led by Giselle Perez who finished in 44th place in 21:34.19, followed by Allison Recancoj 54th in 22:12, Nicole Gonzalez 59th in 22:27.12, Cecilia Cisneros 64th in 22:47.51, Emma Orozco 77th in 23:30.79, Jacqueline Chavez 83rd in 24:01.66, and Michele Reyes 103rd in 25:06.43.
In the boys short race, Fillmore finished in 9th place. Top finisher was Matthew Munoz 18th in 8:50.1, followed by Erick Gutierrez 47th in 9:36.98, David Bustos 59th in 10:03.17, Jesus Cadena 67th in 10:23.81, and Andres Gonzalez 84th in 12:17.77.
The final race of the day was run over the long course. Top performer for the Flashes was freshman Rey Laureano, who recorded a 42nd place finish in a time of 17:54.6. He was followed by Davis Flores 59th in 18:34.01, Jess de la Cruz 63rd in 28:40.91, Sergio Perez 72nd in 19:01.89, Jesse Martinez 91st. in 19:31.67, Antonio Villalobos 92nd in 19:32.91, Alex Manzo 94th in 19:36.02, Joseph Magdaleno 108th in 19:55.84, Alex Recancoj 117th in 20:10.71, Andrew Otineru 129th in 20:21.81, Eric Hernandez 133rd in 20:33.51, Gustavo Valdez 135th in 20:35.38, Jorge Acevedo 146th in 20:50.91, Juan Ramirez 172nd in 21:46.89, Sam Kafka 178th in 22:37.85, and Daniel Cruz 189th in 24:33.03.
The Flashes will next compete on Friday 9/08 at the Rosemead Invitation.