By Gazette Staff Writer — Wednesday, September 21st, 2011
Week 3
By Kim Tafoya — Wednesday, September 14th, 2011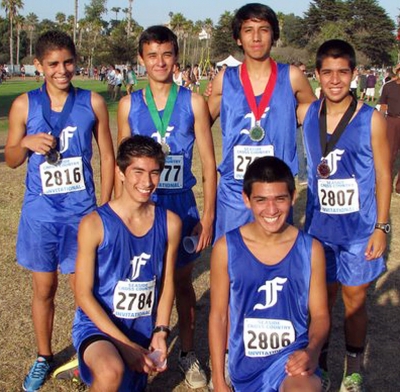 (l-r) Fillmore High School's Junior boys: back row: Anthony Rivas, Jose Almaguer, Isaac Gomez, and Adrian Mejia. Front row: Vincent Chavez and Sammy Martinez.
Enlarge Photo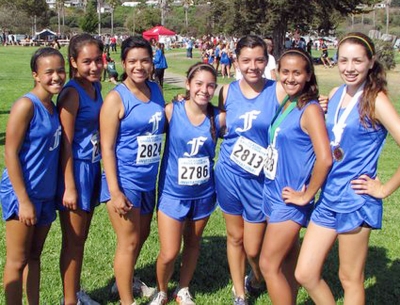 (l-r) FHS Junior girls: Amber Wilmot, Carla Pizzano, Amanda Vassaur, Dalia Ortiz and Laura Garnica.
Enlarge Photo
The Fillmore Cross Country team crashed onto the beach at the 22nd annual Seaside Invitational in Ventura on Friday with a resounding boom. The Fillmore Flashes garnered 10 medals in the grade and gender divided races and the junior boys nabbed 5th in their race. The team showed that they are absolutely prepared for the 2011 Season.
For the girls, sophomore Kiana Hope continued to be a force to reckon with as she finished 7th in her race, earning a medal, setting a personal course record (PR) and staying the fastest Lady Flash to run at Seaside for 2011, this time as a sophomore. Her time was a blazing 18:55 for 3 miles, or roughly 6:18 per mile. A trio of juniors also ran the course ragged as Laura Garnica, Maria Villalobos and Lucia Diaz all set personal records for the course. Laura in 19:35, Maria in 20:56 and Lucia in 21:02. Laura and Maria earned medals and Laura and Lucia improved upon their previous time on the course. Dalia Ortiz set a new personal best on the course as well. A fierce rivalry was also ignited as the Vassaur sisters pitted themselves against the course where sophomore rookie and former cheerleader Jordyn Vassaur conquered the course in 21:18, good enough to earn her the 5th fastest slot for the Varsity girls from Fillmore. Not to be outdone by her little sister, Amanda Vassaur ran an amazing time of 22:33. The fastest freshman racer of the day for the girls was breakout freshman Alexis Tafoya's remarkable showing of 21:39 earning her both a medal and the 6th girls spot for the Fillmore Flashes Girls Varsity team.
The boys also came to race as senior Juan Mariscal earned both a medal and a personal record with a time 16:33. Jordan Mendoza powered in at 17:03. Robbie Munoz also had a significant personal record on the day, running in 19:21. The junior boys stole the spot light on the day, finishing 5th place as the only Division 4 team behind powerhouse programs in State Title contention. The squad was led by Jose Almaguer and Anthony Rivas mere seconds apart as Jose finished in 16:10 and Anthony finished in 16:12, both of them blew away their previous times on the course by over a minute. They became the two fastest boys to run at Seaside in any grade and both earned medals. Also in the junior boys' race were Isaac Gomez and Adrian Mejia who finished as the 3rd and 4th fastest Fillmore juniors to run the course in for Fillmore. Isaac finished in 16:39 and Adrian passed the line at 16:52 to set a new PR. Vincent Chavez and Sammy Martinez also set junior course bests with Vincent at 17:52, and Sammy at 17:56. The boys' sophomore sensation for the day was Justin Beach who raced his way to a medal and with a time of 17:42. Joey Orozco also had a standout day with a new personal record of 18:54, a close to one minute improvement. Two freshmen also had an amazing race day, Francisco Erazo ran a 19:16 and Jaime Vargas ran a 19:22.
Many other highs were to be found on the day and in the future this publication vows to print all the PR achievements when they happen! Our next meet will take place Saturday September 17th the team travels to Lake Casitas for the Ojai Invitational.
By Gazette Staff Writer — Wednesday, September 14th, 2011
By Gazette Staff Writer — Wednesday, September 14th, 2011
Week 2
By Gazette Staff Writer — Thursday, September 8th, 2011
By Gazette Staff Writer — Wednesday, September 7th, 2011
By Mark Ortega — Tuesday, September 6th, 2011
Hello F.H.S. Alumni! It's hard to believe that students are heading back to our Alma Mater already. Where did Summer go? The Alumni Association wishes to thank all our alumni who supported our organization this past School year. In June we presented Scholarships to 10 Graduating Seniors, and in July, we awarded 11 "Continuing Ed Grants" to past scholarship winners still in college. THANK YOU!
On Friday, September 16th, 2011 the Alumni Association, in conjunction with the High School "Sports Hall of Fame" committee will host the first annual Sports Hall of Fame Football Game. The game is against Morro Bay High, and will be played at the F.H.S.Football Stadium. In 1945 the Fillmore High Football team won the Ventura County Championship, and they will be honored at the game. (Picture Above). Also being honored at the game will be the 2011 Hall of Fame inductees. Bill Mayhew, class of 1918; J.C. Taylor, '45; Buck Basolo, '46; George Garnica, '50; Phil Rice, '52; Dick Frederiksen '54; Eugene Reyes, '59; Joe Cook, '61; Tom Hayes, '64; Booty Sanchez, '72; Tim Grove, '72; Jeff Fauver, '79; David Miller, '80, Roy Alsup, '81, Brad Edmonds, '89; Danielle Stines, '95; April Kozar, '97. The Sports Hall of Fame ceremony will take place on Saturday, Sept 17th at the High School starting at 7:00pm. Please call High School for more info. 524-6100. Please come to the game and support your Alma Mater. Don't forget to check out our new Alumni Web-Store. www.fhsalumni.gigabitprint.com You'll be able to find all kinds of F.H.S. Alumni souvenirs for that special Fillmore Flash. T-Shirts, Sweatshirts, totes, cups, mugs, Bath mats, etc, all with different Fillmore High Alumni logos. GO FLASHES!!
By Gazette Staff Writer — Thursday, September 1st, 2011
By Gazette Staff Writer — Wednesday, August 24th, 2011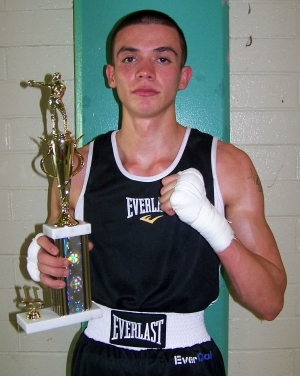 Rodrigo Garnica
The Fillmore Boxing Club's Rodrigo Garnica competed on the weekend of the 13th at the Eddie Heredia Boxing Show at Obregon Park in Los Angeles in the 120 lb. weight class. His debut match was three rounds of two minute duration. The Fillmore Boxing Club is a member of USA Boxing and offers adult and youth boxing classes at Body Image Gym. For more information call 524-0891 or (805) 443-8501 or E-mail: fillmoreboxingclub@yahoo.com.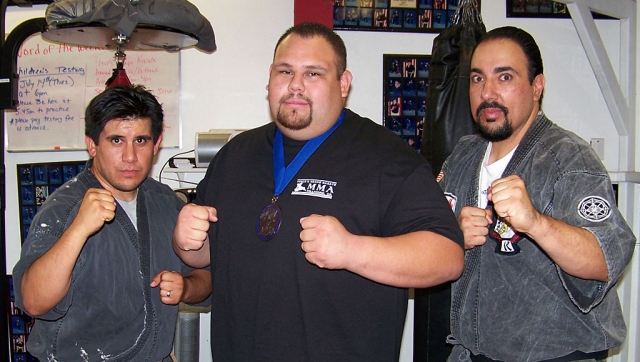 Robbie Aguilar (center) with instructors Michael Torres (left) and Sifu Paul Perce (right)
Enlarge Photo
By Gazette Staff Writer — Wednesday, August 24th, 2011
Fillmore resident Robbie Aguilar competed recently at the "Best of the West Submission Grappling Championships" in Long Beach, CA. Aguilar trains in Mixed Martial Arts at Perce's Kenpo Karate Studio and earned a third place bronze medal in the heavyweight division.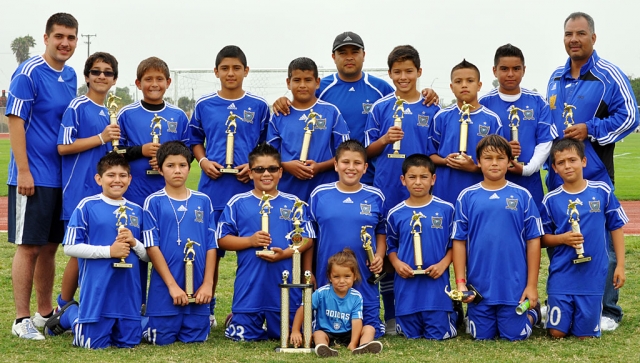 Top row: Coach Javier (Bofo) Candelario, Jesus (Big JJ) Hinojosa, Michael (Mickie) Garcia, Enrique Gutierrez, Jose Valdez, Coach Ignacio Calderon, Saul (Ochoa) Santarosa, Ivan Zepeda, Luis Posada, Coach Octavio Hernandez. Bottom row: Christian Rosales, Edgar Rea, Cristian (Kiki) Hernandez, Cristian (Cris) Candelario, Joel (Chavalala) Garza, Julian (Ju) Calderon, Alejandro (Alex) Rodriguez, and water girl Isabella (Bella) Calderon. Not pictured: Jaime (Little JJ) Gonzalez, Team Mom Alyssa Calderon and Team Mom Libby Candelario.
Enlarge Photo
By Gazette Staff Writer — Wednesday, August 24th, 2011
On Sunday August 14th, Fillmore United Boys U11 won the Oxnard PAL summer soccer league. This will make a total of 3 soccer league championships in the history of the club along with multiple short tournament titles. Fillmore United is the first Fillmore soccer team to win titles in all three competition levels (bronze, silver and gold). We are extremely proud of our boys and we would like to thank their parents and coaches for their support throughout the season. This fall, Fillmore United will be participating in the Coast soccer league tournament competing against teams with a higher level of skills but we are sure that our team will do their best to bring this title to our town of Fillmore.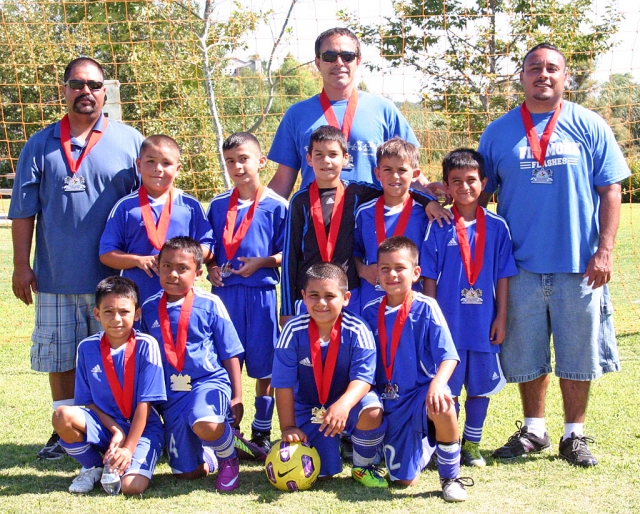 Front row (l-r) Adrian Martinez, Javier Mendez, Damian Magana, Anthony Magana. Second row Jesus Calderon, Sergio Becerra, Damon Villa, Odin Rosten and Mike Garibay. Coaches Damian Magana, Frank Garibay and Omero Martinez.
Enlarge Photo
By Gazette Staff Writer — Wednesday, August 24th, 2011
Congratulations to the Fillmore Dream U-8 Boys team, who finished second in the State Games of America. The State Games of America are similar to the Junior Olympics. Forty-two states were represented in the games, which were held August 5th-7th in San Diego.
On Friday evening the team walked along with thousands of athletes from different sports in Qualcomm stadium, which had 20-30 thousand cheering fans. They had live entertainment, including BMX riders, dancers, and the Navy Seals who parachuted into the stadium.
They had two wins and a tie, which put the Fillmore Dream boys in the final playoffs. They lost a close game (3-2) to Aztecs from San Diego. Great work, we are very proud of you!!
By Gazette Staff Writer — Monday, August 22nd, 2011
Fillmore Girls Softball Board meeting on Tuesday September 6th at 6:30 pm in the Memorial Building. We will be accepting nominations for Board Members. Join us in organizing he 2012 softball and t-ball season.
By Gazette Staff Writer — Wednesday, August 10th, 2011
This year the Fillmore High School Cross Country Mammoth Lakes Summer Camp participation was at an all time high. For more than six weeks during the hot summer days over forty runners kicked off their season of running to prepare for the upcoming season. As a result and the combined efforts of coaches, parents and supporters, we were able to invite twenty seven high school runners to the 4th annual Mammoth Lakes Summer Camp for an intense running week. These athletes were put to the test of high altitude training over a course of six days. Every morning the team rose bright and early to run anywhere between four and ten miles on various types of terrain in the Inyo National Forest. The Fillmore High School athletes had many opportunities to test their running ability up hills, across mountains and through large meadows. In addition, the athletes had many bonding moments of which friendships, team bonding and the sense of team were heightened. A memorable moment occurred during a hike up to Crystal Lake where in the summer time they were able to have a full on snow ball fight. An unexpected element caught them by surprise and turned into a moment of a new experience, and a moment of laughter that resonated through the entire team. As a result, this year's camp stood out over all the rest, for one the numbers greatly increased but more importantly it stood out because this large group came together as a team and learned how to work together to accomplish their goals.
Prior to the Mammoth Summer Camp, the athletes had a base of six weeks of training, three of which were mandatory and three of which they had to train on their own. The runners started fundraising for the trip back in June where they held two car washes. In addition friends, family and various businesses came through and sponsored the athletes. We would like to thank the following businesses for their support, Farmer's Insurance, State Farm Insurance, La Plaza Market, William L. Morris, La Unica, The Fillmore Water Store, 7-Eleven, 99 cent store, NV Sports, F.G. Bryce and Associates, Patterson Hardware, Vons, AM Pet, Fillmore Animal Hospital, La Fondita, La Michoacana, Re/Max, Vallarta's, Victor's Market and all the parents, families and friends for making possible this great opportunity for these runners. I would like to extend a special thanks to our parents who volunteered to chaperone the trip, Joel and Kathy Frias, Bill and Hope Chavez and Anthony Tafoya. We appreciate all the support and dedication you constantly give to the team. Thank you for the great meals and the security of knowing you are there to support the runners and coaches in the program. Our mission this year for the cross country program is to prepare for the expected difficult year ahead of us. Our program is built on dedication, desire and discipline. The runners have set goals for this season, and are working hard every day to prepare for the upcoming season. We are really excited this year and believe this summer program and camp has helped our team grow both individually and as a team. Please join us at our first race at the Seaside Invitational located at the Ventura State Beach on September 9th at 2:00pm, as we kick off our cross country season. Hope to see you there.
By Gazette Staff Writer — Monday, August 8th, 2011
Dear Parents and Students:
The Fillmore High School Athletic Boosters are determined to make this the best year ever for our Athletes. Our goal is to make this year's Sports Program the best Fillmore High School has ever experienced. To succeed, we need your help.
The Fillmore High School Athletic Boosters is an organization run completely by unpaid volunteers, which include board members, parents, coaches and many other adults who donate their time. Everyone is dedicated to the advancement of Fillmore High School Sports at all levels of play. The Athletic Boosters meet the First Monday of every month at 6:30PM in the High School Hall of Fame. This year the Athletic Booster Board has asked all coaches to delegate a "Parent Representative" to speak for their sport at meetings. If you are interested in that position, please contact your students' coach.
Financial support for the "Fillmore Flashes Football and Fall Sports Program" will come this year partly through dedications made by parents, grandparents and friends of our athletes. By completing the enclosed form, your dedication will be printed in the 2011 Program. Price of the dedications are $20.00 for a business card size "AD". For an additional $5.00 you can also enclose a picture to be printed.
Please return the enclose form with payment no later than August 25th. The Booster Club looks forward to a great, successful year for you and your student athlete.
Sincerely,
Susan Golson -Program Coordinator 805-216-4013
The following needs to be returned to the STUDENT STORE at Fillmore High School. Each dedication must be paid for in advance. Please make CHECKS payable to FHS Boosters.
DEADLINE WEDNESDAY, AUGUST 25th
Message will be 1/8 Page (Business Card Size)
Each Dedication is $20.00
Pictures are $5.00
By Gazette Staff Writer — Monday, August 8th, 2011
Dear Business Owner:
Believe it or not it's that time again "FILLMORE FLASHES FOOTBALL AND FALL SPORTS". This is the time of year when we start to look to our community to help us make this a successful year for the Sports Program at Fillmore High School. The Fillmore High School Athletic Boosters is an organization run completely by unpaid volunteers, which include board members, parents, coaches and many other adults who donate their time. Everyone is dedicated to the advancement of Fillmore High School Sports at all levels of play.
We are starting early this year on the Football Program and that is why we need your help. We are seeking local businesses that would be interested in placing an "AD" in this years "FILLMORE FLASHES FALL SPORTS PROGRAM".
The program fees for this year are as follows:
1/8 Page (Business Card) $ 30.00
1/4 Page $ 50.00
1/2 Page $100.00
Full Page (8-1/2X11) $150.00
Inside Front ("Limit 1) $200.00
Inside Back Cover (*Limit 1) $200.00
Back Cover ("Limit 1) $300.00
*lnside front/back cover will be first-come-first serve.
Please complete the attached form and return it with your payment and "Ad Layout". Should you need help with the design of your "Ad" or if you have any questions, please feel free to contact Susan Golson 216-4013.
Here's looking to another successful year at Fillmore High School.
Sincerely,
Susan Golson, Program Coordinator
Athletic Booster Club
Please complete this form and email your ad, along with this form to golsons90@aol.com no later than August 18, 2011
Company Name:
Address:
Contact Name: Phone:
"AD" Size:
□ Our "Program AD" is attached/enclosed, If POSSIBLE please email ad to golsons90@aol.com in "JPEG or PDF" form. Thank you.
□ Please design an "AD" for me. (I have included "logo" and "ideas") you may also email too.
Payments may be mailed to Susan Golson c/o Fillmore Athletic Booster Club 1149 Shady Lane Fillmore CA, 93015.
Please note: Ads that are being built must be accompanied with payment, or the ad will not be built. If you send the ad please have payment attached. If payment is not received by the deadline, the ad will not be placed. Please make copy of this document for your records.
â–ˇ Payment is enclosed for $
By Gazette Staff Writer — Wednesday, July 27th, 2011
Christian Conaway, 18 of Fillmore, traveled to Goldendale, Washington to compete in the largest gravity race of the year. 225 competitors from 14 countries traveled to the International Gravity Sports Association's 2011 Maryhill Festival of Speed Event promoted by Volcanic Productions. Christian competed in Street Luge and Classic Luge. He was the second fastest qualifier of all the disciplines this year. He qualified second fastest in Street Luge and also second in Classic Luge. XX racers from X countries competed in Street Luge. X-Game Gold Medalist Bob "The Wizard" Ozman competed as did 2009 Street Luge World Champion Yvon Labarthe. Kyle Castaneda, also of Fillmore, competed in both street and classic luge.
After establishing his qualifying time Christian raced on Saturday night in the Street Luge King of the Hill race. The King of the Hill Race pits the fastest 6 street luge racers against each other, with the winner earning bragging rights as King of the Hill. Christian won the King of the Hill race in 2010 after one racer was charged with dangerous racing which caused the wreck of Germany's Mattias Lang. Using his fast start ability Christian lead the top six street lugers down the 2.2 mile course for approximately 1.9 miles. He was drafted by Mike McIntyre who passed him prior to Seismic's Cowsers Corner, a fan favorite vantage point. Christian took an outside line and was passed by 2009 World Street Luge Champion Yvon Labarthe midway through the tough right hand corner. Conaway came in third place in the King of the Hill Event.
After four days of practice and tuning, the main race was held on Sunday, July 3rd. Conaway used his ultra-fast starts to jump out in front and cleanly marched his way up through the heat races to place himself in the Street Luge Finals. Kyle Castaneda was also making his way through the heat races until he was involved in a race collision with fellow racer Justin Tolman. Sadly both Tolman and Fillmore native Castaneda were cleanly in transfer spots to advance prior to the collision. Competing in the Street Luge finals were: Mike "Big Mac" McIntyre from Glendora, Ca, 2009 World Street Luge Champion Yvon Labarthe from Switzerland, Kolby Parks from Canada, Christopher Hicks from New York, Will Condon also from Canada and Fillmore native Christian Conaway. Christian once again took a sizable lead at the top of the hill and led the racers down Maryhill Loops Road. McIntyre once again worked his way through the pack and built up speed as he headed to the bottom of the mountain. He passed Christian at about the same location as in the King of the Hill Race. Christian took an inside line at Seismic's Cowsers Corner which would ultimately force Labarthe to make a late pass attempt on Christian as they headed to the finish line. Labarthe made an outside pass and just inched by Conaway to take a 3' lead at the finish line, which earned Christian a 3rd place trophy, prize money, and gear.
In Classic Luge Final Christian scrubbed going through a repeater turn which caused him to lose speed. He finished in 4th place in Classic Luge. Castaneda was the fastest qualifier in Classic Luge after the first day of qualifying.
Christian is sponsored by: Honey Skateboards, TRS, Khiro Bushings, Nitro Bearings, Seismic Wheels and Ronin Trucks.
Street luge is a specialized gravity luge ridden with racers laying on their backs, feet first. Like a skateboard, luge racers use their body to turn at high speeds. Racers brake using their feet as the luge does not have mechanical breaks or steering devices. Depending on the race course, speeds of 60 mph are easily achieved through aerodynamic riding positions, racers ability. Racing is very tight with racers often within inches of each other as they race for position laying on their backs 1" off the road. All racers are required to wear full face helmets, full racing leathers and protective gloves. Street lugers will affix tire rubber to the bottom of their shoes to aid in stopping. It's not uncommon to burn through ½" of rubber in 5 practice runs which stopping a luge at 60 mph leaving skid marks and blue burnt rubber smoke lingering in the air.
By Gazette Staff Writer — Wednesday, July 20th, 2011
By Gazette Staff Writer — Wednesday, June 29th, 2011
A student at Perce's Kenpo Karate Studio in Fillmore recently earned his Black Belt. Samuel Hernandez tested on June 11, 2011 for his 1st degree black belt in American Kenpo Karate. Samuel has been training for over 4 years at the Karate studio. He is a recent graduate of Fillmore High School and plans to attend Ventura College in the Fall and major in History. He has been a very dedicated student at Perce's Kenpo Karate. "He has incorporated the 6 principles of a black belt in his life which are: modesty, courtesy, integrity, self-control, perseverance, and indomitable spirit," said owner/instructor Paul Perce. Samuel is looking forward to teaching more at the karate studio and learning more to achieve his 2nd degree black belt. His family, friends, and the karate studio are very proud of Samuel's accomplishments. Congratulations Sammy.
By Gazette Staff Writer — Wednesday, June 29th, 2011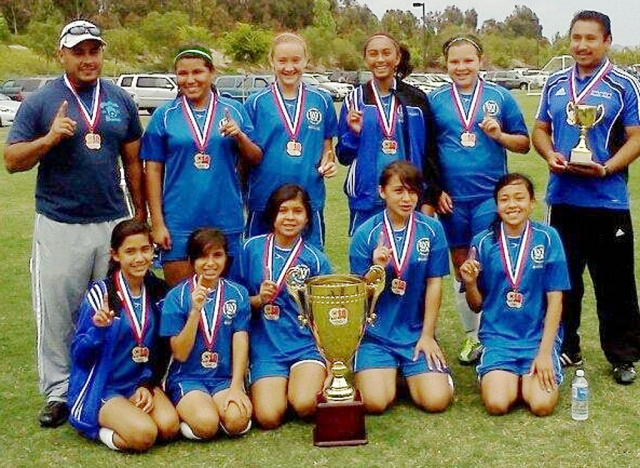 Congratulations to the U12 Girls All-Stars team for participating at the AYSO Section 10 Cup in Camarillo on Fathers Day weekend bringing the championship to Fillmore, CA. AYSO Region 242. Top row: Coach Omero Martinez, Salma Gomez, Ryan Nunez, Reylene Martinez, Calista Godfrey-Vaca, Coach Arnold Munoz. Bottom Row: Grace Topete, Stephanie Magana, Jocelyn Munoz, Lily Uribe, Yuliana Magana, not in picture Jada Avila.
Enlarge Photo