By Gazette Staff Writer — Wednesday, December 1st, 2010
November 28th, 2010 thru February 21st, 2011
To commemorate 86 years of Santa Paula High School football and 100 games between the Santa Paula. Cardinals and the Fillmore Plashes, one of the oldest high school football rivalries in California, the California Oil Museum presents its newest exhibit Red, White and Rivalry: A History of Santa Paula High School Football. Former players, cheerleaders and fans have loaned their personal photographs, jerseys, medals and memories to provide a nostalgic look back at not only the history of Cardinal football, bat the history of high school football itself!
Whether you are a Cardinal, a Flash, or just a football fan, you will be reminded of your love for the game!
LOCATION: 1001 E. Main Street, Santa Paula, CA. 93060.
HOURS: 10 a.m. to 4 p.m. Wednesday thru Sunday.
PRICE: ADULTS $4, SENIORS $3, YOUTH (6-17) $1
By Gazette Staff Writer — Monday, November 29th, 2010
By Gazette Staff Writer — Wednesday, November 24th, 2010
By Gazette Staff Writer — Friday, November 19th, 2010
If you didn't get your Longsleeve white shirt, sweatshirt or even the program, we still have some left. Please contact Susan Golson 216-4013 or Lynn Cole at 805-524-8491
By Gazette Staff Writer — Wednesday, November 17th, 2010
Varsity lose 27-30, JV wins 38-20
By Gazette Staff Writer — Wednesday, November 17th, 2010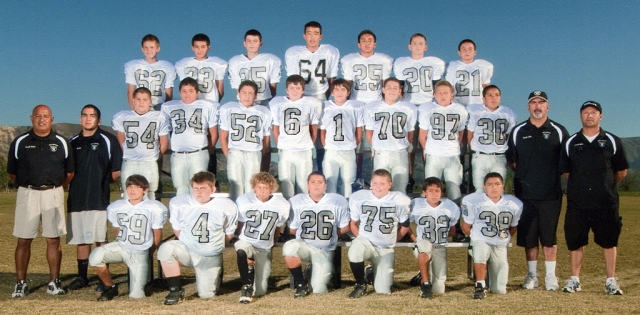 The Fillmore Raiders J-1 Black team continued their success on Saturday with a 36-28 win over Simi Valley Vikings in the semi-finals. With the victory, Fillmore advanced to the GCYFL Superbowl where they'll face the Valley Panthers. Fillmore J1 standings 10-1 . The game will be at Westlake High School and kickoff is at 3:00 PM. We'll need the entire Fillmore family to show up and provide energy for the team by showing support! I want give thanks to my J1 coaches & parents and team for a awesome year and tremendous support. Players: #62 Vincent Whittaker, #23 Marco Villa, #35 Eric Corona, #64 Marcus Gonzalez, #25 Moy Pedroza, #20 Anthony Morales, #21 John John Gonzalez, #54 KiKi Christopher Espinosa, #34 Jared Alvary, #52 Jr Sandoval, #6 Johnny Grove, #1 Bryce Farrar, #70 Cody Isaacs, #97 David Vargas, #30 Christian Torres, #4 Tyler Bode, #27 Matthew Wilmot, #26 Ray Luna, #75 Justin Long, #32 Anthony Cardoza, #38 Damian Alvarez.Coaches: John Ortiz, Nathan Page, Eddie Ortiz, Mike Rivera, Vince Corona, John Grove, Rick Myers, Ronnie Ortiz,Tony Cortez,Team Mom: Daisy Corona.Special thanks to our J1Cheer Coaches: Jasmine Gongora, Angelica Richardson, Ashley Gongora, Cheerleaders: Abreyyana Molina, Alyssa Luna, Alana Gonzalez, Katalina Barrajas, Diana Cardoza, Annaniah Richardson, Liliana Contreras, Anabel Herrera, Kiana Valenzuela.
Enlarge Photo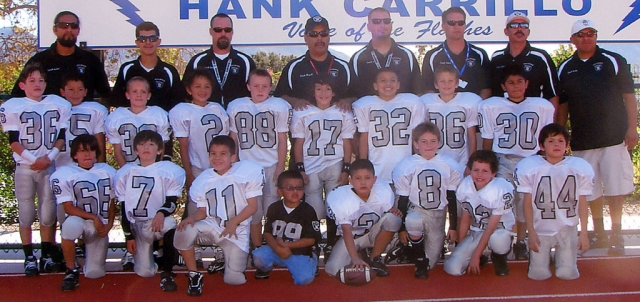 2010 Mighty-Mite Silver: Pictured above: Head Coach: Miguel Lagunas; Assistant Coaches: Hugo Virto, Louie Rodriguez, Hector Sierra, JT Wyand, Eric Crawford, Rudy Alcantar, James Reiman, Kevin "Chalupa" Brock and Alfred Jimenez. Players: #2 Joseph Sierra, #3 Justin McElroy, #7 Anthony Campos, #8 Ty Wyand, #11 Jimmy Carlos, #15 Eduardo Jimenez, #17 Joshuah Lagunas, #22 Ryan Gonzalez, #30 Nicholas Jimenez, #32 Hugo Virto, #33 Reese Satterfield, #35 Gavin Gunter, #36 Christian Alcantar, #44 Dylan Sierra, #66 Michael Rodriguez, #86 Connor Reiman, #88 Dylan Crawford. Team Mascot: #99 Nico Virto. Mighty-Mite Silver Cheer: (not pictured) Coaches: Rebecca Ibarra, Bandi Hill, Gabi Sandoval; Cheerleaders: Olivia Lagunas, Angelina Delgadillo, Hennassy Marquez, Makenna Ozuna, Desiree Almazan, Siobhan Sandoval, Arissa Ramos, Alena Castaneda, Angelina Mynatt, Madyson Bishop and Linique Aguilera. The Fillmore Mighty Mite Silver Raiders are advancing to the Gold Coast Youth Football League Superbowl to be held at Westlake High School 9 am November 20, 2010. This is after an exciting victory score of 20-14 against the Moorpark Packers. This is a hard working, dedicated team of 6, 7, 8 year olds, who went 9-1 for the 2010 season. Good Job Boys! Please show your Fillmore spirit and come out and support these boys!
Enlarge Photo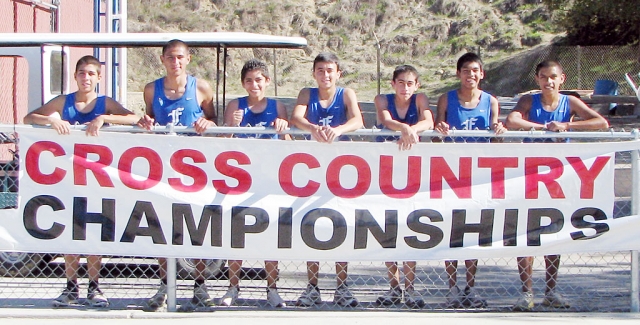 (l-r) Adrian Mejia, Hugo Valdovinos, Anthony Rivas, Jose Almaguer, Alexander Frias, Alexander Gonzalez and Jordan Mendoza. Alternates (not in photo) are Jovani Oregon and Ruben Cruz.
Enlarge Photo
By Gazette Staff Writer — Monday, November 15th, 2010
After struggling to get into CIF from the Tri-Valley League, our Boys Cross Country team went even further and advance into the CIF Finals. Two weeks ago it was a matter of placing second at league finals to get into CIF prelims and after last Saturday they proved they belong at CIF. Prior to the league finals it was an unsure destiny if the Flashes were even going to compete at CIF. After placing 4th twice in the first two leagues meets the varsity boys cross country team upset Oaks Christian, placing 2nd which qualified the team for CIF prelims. This past Saturday the team placed 5th in their heat to advance on to the CIF Finals Championships. They will compete on Saturday November 19th at Mt. San Antonio College in Walnut, California where they will compete to move the State Championships in Fresno, California.
By Gazette Staff Writer — Wednesday, November 10th, 2010
By Gazette Staff Writer — Wednesday, November 10th, 2010
By Gazette Staff Writer — Wednesday, November 10th, 2010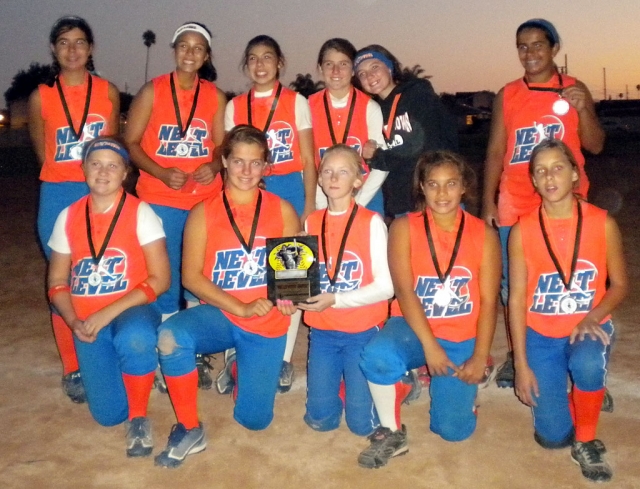 Local 12U fastpitch travel team NEXT LEVEL took 2nd Place at the Halloween Havoc Tournament, a USSSA World Series Qualifier, in Oxnard this past weekend. The team is now qualified for the USSSA World Series in 2011. Pictured (back row) Bailey Huerta, Marissa Ramos, Leah Meza, Tatyanah Castillo, Ciara Vente, Sierra Huerta; (bottom row) Karissa Ibarra, Macie Wokal, Tayor Brown, Arianna Rivas, Sonya Gonzales.
Enlarge Photo
By Gazette Staff Writer — Wednesday, November 10th, 2010
Fillmore Athletic Booster Club would like to thank Alta Quality Farm Services, Inc. (Lupe Martinez) and Citrus Harvesting, Inc. (Ozzie Minero & Manuel Barragan) for their sponsorship of a dinner recognizing football players from both Santa Paula and Fillmore teams. The dinner celebrates the beginning of a week of hard work, all in anticipation of the 100th meet game to be held on Friday, November 12th. The dinner was held on Sunday and included dignitaries from both communities. The Booster's Club would also like to thank Joe Ricards, Rigo Landeros, Sespe Creek Organics (John Wise), The Garden Market (Victor & Maria Almazan), Otto & Son's Nursery (Scott Klittich), Denise Camarillo, Sam Orozco and Fillmore FFA officer team. Best of luck to both teams, and again thank you to those of you who have made this possible!
By Gazette Staff Writer — Friday, November 5th, 2010
By Gazette Staff Writer — Friday, November 5th, 2010
The 100th game between Santa Paula High School and Fillmore High School is SOLD OUT!
There's just no getting around it: the 100th meeting between Santa Paula and Fillmore is the hottest ticket in Ventura County. This much anticipated historic event between two of California's oldest rivals will be played on Friday, November 12th . Unfortunately the game is SOLD OUT and there will be NO TICKETS AVAILABLE AT THE GATE.
Fillmore High School will open their gates at 3PM and the JV Game match-up will begin at 4PM, followed by a LEGENDS CEREMONY which will begin at 5:30PM. Both schools will honor football record holders as well as some of the oldest players, which are known as "legends of football". Kick-off Time for the Varsity Game will be 7:30PM.
Parking will be available at Fillmore Unified School District Offices, Sespe Elementary School, Fillmore Middle School as well as Fillmore High School and all surrounding side streets. Fillmore residents are encouraged to walk to the game. For those that have tickets and would like to ride the train, Fillmore & Western Railway will depart Santa Paula Train Depot at 4PM. Tickets can be purchased by calling #805-524-2546. Stadium Way and 2nd Street, near the stadium will be "closed" to traffic. Only handicap guest will be allowed to park in the stadium parking lot.
By Gazette Staff Writer — Wednesday, November 3rd, 2010
Flashes Cross Country team does well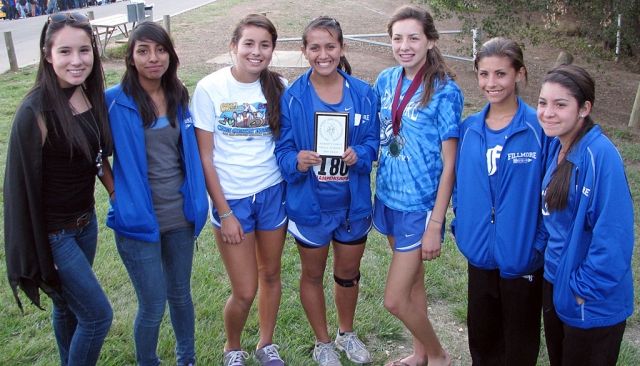 Above, third place winners are: (l-r) Corina Silva, Iruma Trujillo, Anissa Magdelano, Maria Villalobos, Laura Garnica, Kiana Hope and Lucia Diaz.
Enlarge Photo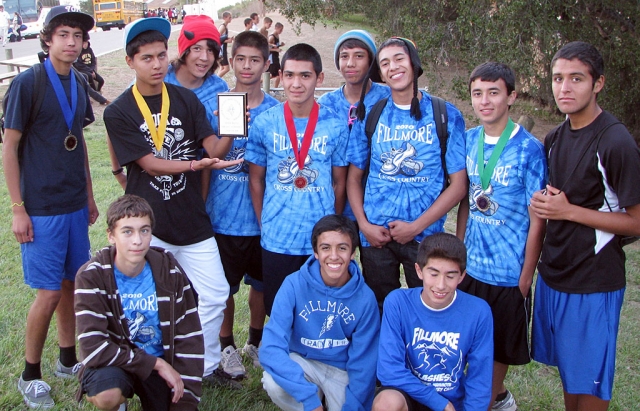 Boy's sophomore team took second in the small school division. Pictured (l-r) top row: Jovani Oregon, Lucio Trinidad, Javier Rodriguez, Armando Vidal, Sammy Martinez, Isaac Gomez, Jonathan Minero, and David Enriquez. Bottom row: Tyler Hackworth, Anthony Meraz, and Vincent Chavez. Varsity boys, Alexander Frias, Alex Gonzalez, Jordan Mendoza, Hugo Valdovinos, Adrian Mejia, Anthony Rivas and Juan Mariscal, finished third in the Small Schools division. Freshman Boys, Nicolas Frias, Anthony Larin, Nicholas Johnson, Frank Chavez, Joseph Orozco, Ricardo Gutierrez, Adael Mejia and Khristian Felix, and Jaime Valdovinos, finished second.
Enlarge Photo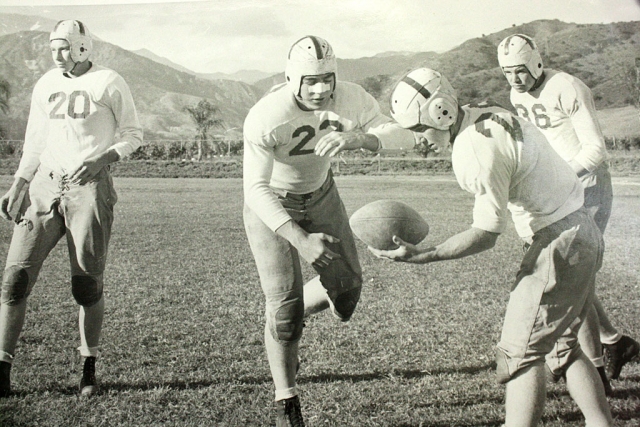 In this weeks Alumni Picture, Flashes Football players, Class of 46, Hoyt Brodesson, Buck Bassolo, Neil Kennedy, and George Potter.
Enlarge Photo
By Gazette Staff Writer — Wednesday, November 3rd, 2010
This week we've been told that the 100th game between Fillmore High and Santa Paula high has been sold out. Just to be sure, you may want to call the High School yourself to confirm. 805-524-6100. One thing that is not sold out yet is the DVD Documentary, "Nine Miles" produced by the Alumni Association. Although Pre-orders are going swiftly. Before they sell out at the game, you may want to call the the Alumni Assoc to guarantee your DVD. 805-524-0416. By calling now, you can confirm your DVD, and pay for it when you pick it up either at the big game, or starting on Monday Nov, 15th with extended hours at the Alumni office. The office will be open from 9:00AM to 6:00pm on Monday, Wednesday, and Friday, November 15th, 17th, and 19th, so you can pick up your DVDs. Make a note, the office will be closed for lunch from 12:00 noon to 1:00pm on those days. Tuesdays and Thursdays the office is closed. There is much excitement surrounding the Football game on November 12th. Time Warner Cable will be taping highlights of the game, and producing a story about this historic rivalry. It will be aired on their "High School Sports Rewind" show on Tuesday, November 16th at 7:00pm on their Time Warner Cable SoCal Channel 101. The show will also be available on their Local Video on Demand service. To find their sports programming just go to Ch. 1, Select LOCAL, SoCal Sports, then HS Sports Rewind. On November 13th, the first Hall of Fame Induction ceremony will take place at the High School. Coaches, Athletes, and Championship teams will be inducted. Here are a few of the inductees. Coaches, Mr. J.W. Gastrich who was the principal at Fillmore High and started the Sports program in 1914. Eugene Kennedy, Bruce Dempsey, and Epi Torres. Some of the Teams that will be inducted include the 1926 Boys Basketball Team, the 1935 Boys Football Team, The 1977 Boys Football Team, and the 1991 Girls Cross Country Team. There will be 82 Athletes inducted in this first Hall of Fame induction. Here are a few of them. 1933 Toolie Palmer, 1938 Vernon (Slim) Johnson, 1942 Bill Pearson, 1944 Gene Wren, 1949 Don Burroughs, 1955 Roger Palmer, 1961 Bruce Gibby, 1967 Jim Ruiz, 1972 Joel Mozley, 1977 Rosa Aparicio, 1985 Greg Baldwin, 1991 Tory Cabral, 1996 Julie Arundell. The Alumni Association wishes to thank all those involved in making this evening one to remember for all the inductees. "All Hail to our Alma Mater, May her fame live long"
By Gazette Staff Writer — Monday, November 1st, 2010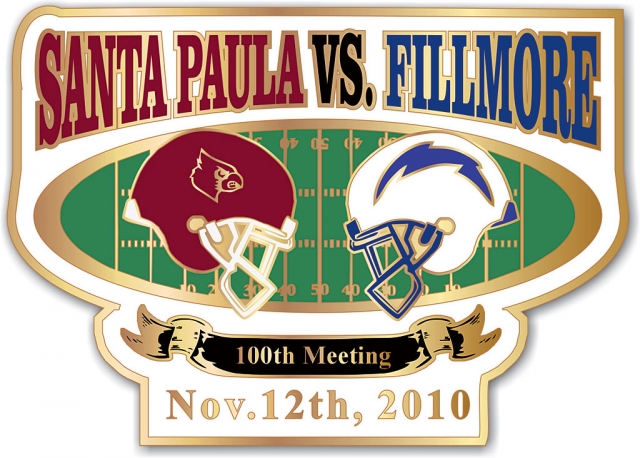 The Junior Class from Fillmore High School is selling Collector Sports Enamel Pins for the 100th Santa Paula vs. Fillmore Football Game. Each pin is $4. Contact Taelor Burhoe at 805-421-6813 to pre-order. Please help us Fundraise for PROM!
Enlarge Photo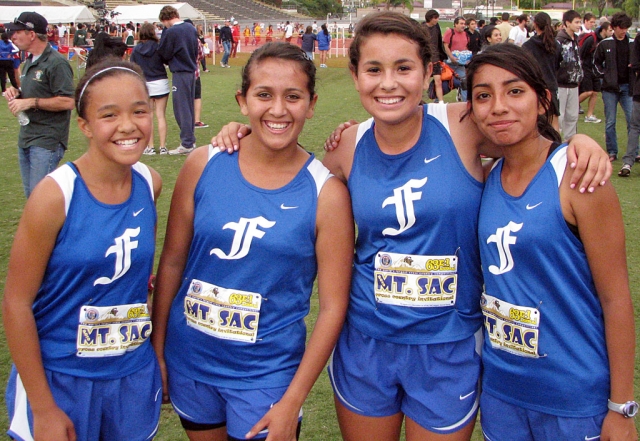 (l-r) Amber Wilmot, Maria Villalobos, Anissa Magdaleno, and Iruma Trujillo
Enlarge Photo
By Gazette Staff Writer — Thursday, October 28th, 2010
It was a perfect racing day for the Fillmore High School Cross Country team last Friday afternoon. The athletes were all excited and nervous at the same time as they participated in the world's largest cross country meet at Mt. San Antonio College. Fillmore High School athletes went above and beyond in their races. The sophomore boys took first place in their division. The boys' results from this race include 2nd place Jose Almaguer, 7th place Sammy Martinez, 18th place Isaac Gomez, 19th place Vincent Chavez, 23rd place David Enriquez, 24th place Javier Rodriguez and 39th place Tyler Hackworth. These boys along with the sophomore's on the Varsity will be a team to watch over the next few years. The freshmen boys finished 5th place with Frank Chavez leading the Fillmore flashes placing 3rd in this race with a time of 18:06. The Varsity boys also ran extremely well placing third in their division. The team was lead by sophomore Alexander Frias who ran a personal best of 16:46, sophomore Hugo Valdovinos running 16:56, sophomore Anthony Rivas running 16:59, sophomore Adrian Mejia running 17:25, senior Ruben Cruz running 17:43, sophomore Jovani Oregon running 17:58 and junior Alex Gonzalez running 18:01. Our lady flashes also had a great race day at the Mt. Sac Invitational, freshman Kiana Hope ran her personal best for the year running 18:51 earning a 4th place medal. Sophomore Laura Garnica placed 29th with a time of 20:44, sophomore Lucia Diaz ran a 21:35, senior Iruma Trujillo ran a 23:05, sophomore Maria Villalobos ran a 23:54, junior Anissa Magdaleno ran a 24:02 and sophomore Amber Wilmot ran a 24:11. The runners all had a great race day, many runners were able to shatter their times from last year when they ran at this event. The next race will be the Ventura County Cross Country Championships which will take place at Lake Casitas, Ojai.
By Gazette Staff Writer — Thursday, October 28th, 2010
By Gazette Staff Writer — Thursday, October 28th, 2010
By Gazette Staff Writer — Thursday, October 28th, 2010