By Gazette Staff Writer — Wednesday, March 20th, 2019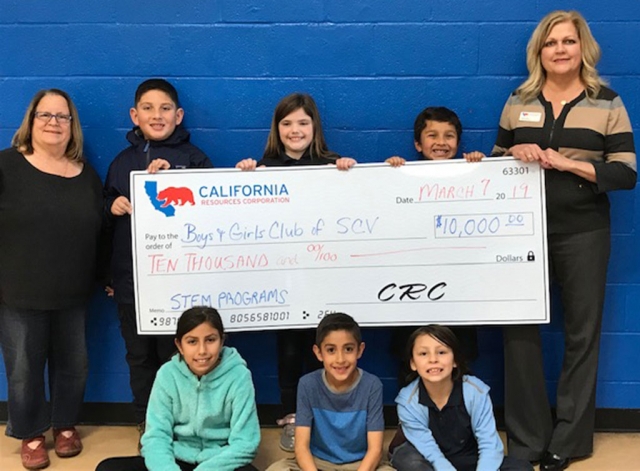 California Resources Corporation (CRC) is pleased to support the Boys & Girls Club of Santa Clara Valley (BGCSCV) with a $10,000 STEM grant. CRC has been a strong supporter of the BGCSCV for seven years and values the delivery of high quality STEM programs. CRC also participates in our annual Kids STEM Day. Pictured is CRC Public Affairs Manager and BGCSCV Board President, Amy Fonzo and BGCSCV CEO, Jan Marholin, with BGCSCV members. Thank you California Resources Corporation for investing in our youth. Photo courtesy Jenae Quintana.
Enlarge Photo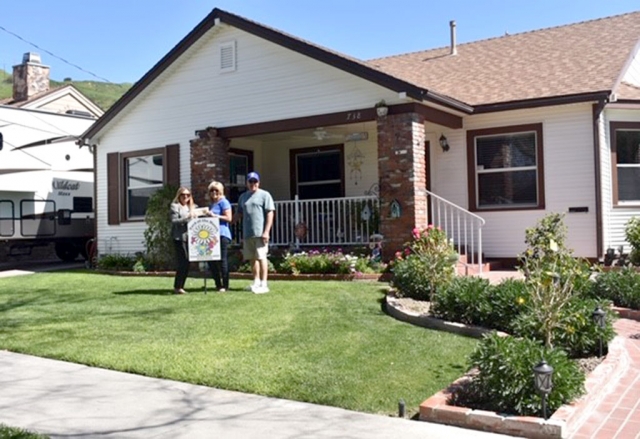 (l-r) Ari Larson of Fillmore Civic Pride presenting Janet Schrock and Rod Schrock with their certificate of $40 for winning March 2019 Yard of the Month. Photo courtesy Miranda Alonzo.
Enlarge Photo
By Gazette Staff Writer — Wednesday, March 20th, 2019
Old Home is New Home for March Yard of the Month Family
Congratulations to Rod and Janet Schrock on being awarded the March 2019 Yard of the Month designation. Janet Schrock grew up in the home located at 738 Mountain View. Her parents purchased the home in 1960. Fast forward to May 2018 when Janet and Rod purchased the home from Janet's mother. According to Janet the yard is very similar to the way it was in 1960, with a few minor upgrades. They replaced the 50+ year-old hedges surrounding the winding walkway with bush daisies and yellow hibiscus trees. They also, added ficus trees, agapanthus, mums and petunias to the geranium and daisies already in the front planters. They added potted geraniums and ranunculus, just in time for Spring. They kept many of the yard decorations that Janet's mom accumulated over the years. "They are meaningful to us and she still enjoys them when she comes to visit. We love our new, older home and neighborhood. It is the perfect spot to retire," said Janet. The Schrock's were awarded a $40 gift certificate courtesy of Otto & Sons Nursery. The Yard of the Month program is sponsored by Fillmore Civic Pride. For more information on the upcoming 100th Anniversary Fillmore Flower Show on April 13th & 14th please go to www.fillmoreflowershow.org or to nominate a front yard in Fillmore please contact Ari Larson 805.794.7590 or email: petenari55@hotmail.com
By Gazette Staff Writer — Wednesday, March 20th, 2019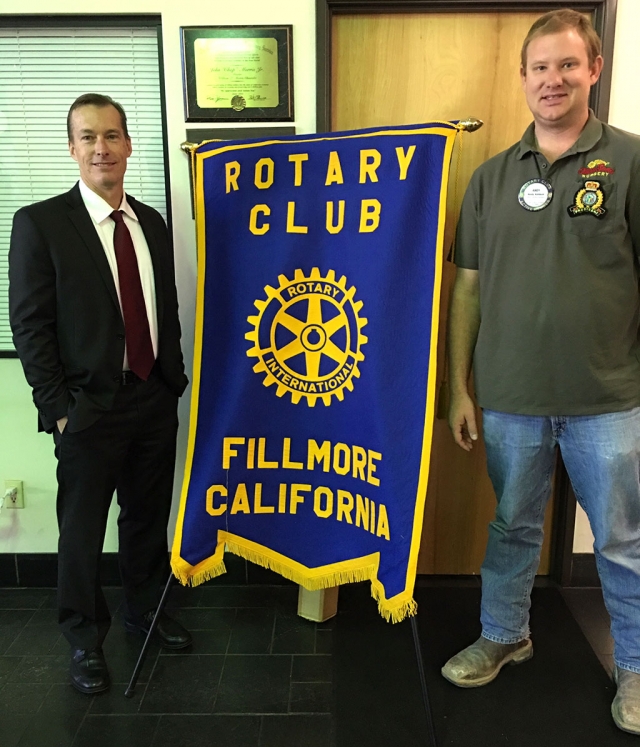 Kimo Hildreth, Investigator for the DA's office and part of the Cyber Crime and Cyber Security Division, was the speaker at Fillmore Rotary. He talked about all kinds of scams including phone, mail, and internet; many of them coming from Nigeria. With the internet scam, people meet online, become friends, and the victim may even send money. Some advice from Hildreth; if you can't meet for coffee with this person, it's a scam. It could be anyone, any age, talking to you. If you receive an email or letter asking for money, with many misspellings, especially the use of the little "i", it is a scam. Using free wifi can lead to problems also. You should use more than one password and it should have 15 digits. Be careful and be aware! Photo courtesy Martha Richardson.
Enlarge Photo
By Gazette Staff Writer — Wednesday, March 13th, 2019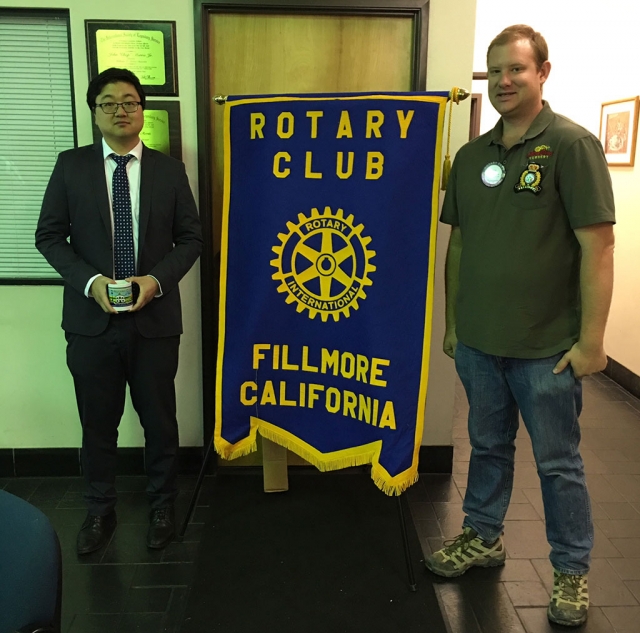 Fillmore Rotary Club Learns Cannabis Laws. Danny Lo, Ventura County Deputy District Attorney and Prosecutor on Cannabis Law, is pictured with Rotary Club President Andy Klittich, right. Lo presented to Rotary Club the rules and regulations for growing, buying, and selling marijuana. He also stated that the prescription Cannabidiol has not yet been approved by the FDA. Fillmore has banned the selling of cannabis, but it can be purchased in other cities in the county. Photos courtesy Martha Richardson.
Enlarge Photo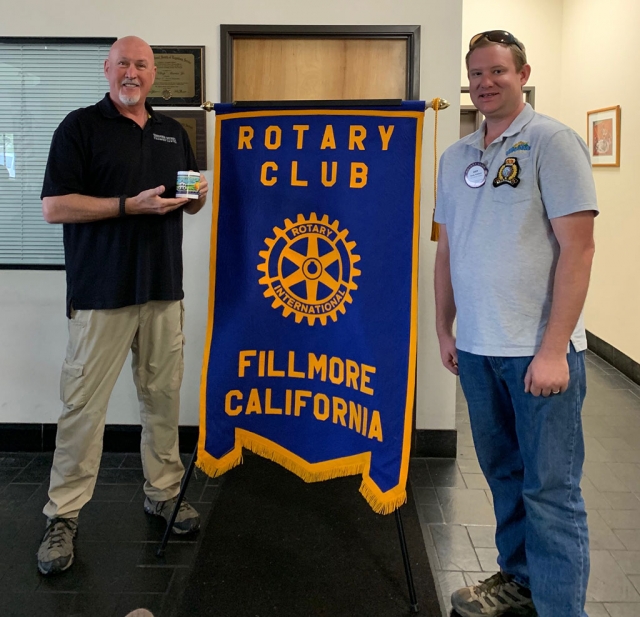 Mike Rowan, from the Trigger Burst Training Center, presented a very interesting program. He was with the Department of Corrections for 32 years and now he trains on proper use of firearms, pepper spray, concealed weapons and more. He is an instructor for FBI, VC Sheriff, NRA Law Enforcement to name few. With more inmates being released early there is more concern for safely. He gave some needed advise: always lock your car and house doors even when you're there, don't go to known bad parts of town or places, lock doors when you're getting gas as opportunists are waiting to open doors and steal your purse, etc. and always be aware of your surroundings. He talked about awareness colors White is when the person is not aware off surroundings at all-daydreaming, looking at phone etc., Yellow is when the person is looking around being aware of who's coming and going, know where your exits are and Orange is high alert, taking action, something critical is happening now! By being aware of our surroundings we are more likely to be safe.
Enlarge Photo
By Gazette Staff Writer — Wednesday, March 13th, 2019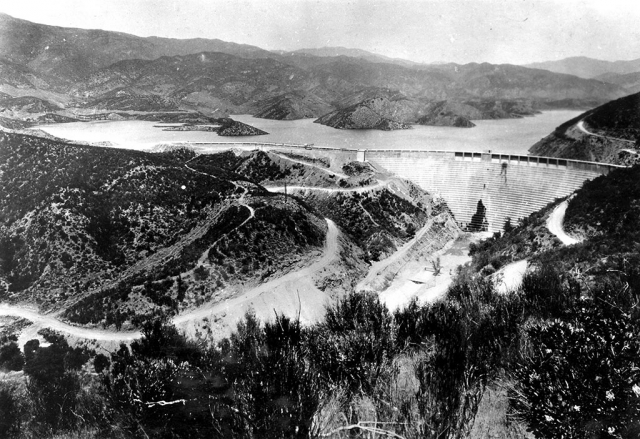 In commemoration of the anniversary of the St. Francis Dam Disaster (March 12/13, 1928), the Fillmore Historical Museum will be presenting a program on the disaster on March 23, at 1 p.m., in the Depot. This was the worst man-made disaster of the 20th Century and had a devastating impact on the community and valley. If you did not get a chance to see the presentation last year, now is your chance.
Enlarge Photo

Pictured above is the Fillmore Historical Museum where the Board of Directors hosted their annual membership meeting to elect their board of directors. Photo courtesy Martha Gentry.
Enlarge Photo
By Martha Gentry — Wednesday, February 20th, 2019
Submitted By Martha Gentry Executive Director of the Fillmore Historical Museum
Fillmore Historical Museum held its Annual Meeting of the membership on Saturday, February 16, 2019. Martha Gentry, Jack Stethem, Joanna Michel and Robert Morris were re-elected to the Board. Executive Director, Martha Gentry, reported that during 2018, 24 volunteers had been active donating over 2,000 hours of their time to the Museum.
After the Annual Meeting, the board of directors met and elected Martha Gentry, President; Jack Stethem, Vice-president; Beverly Hurst, Secretary; and Nancy Bowlin, Treasurer.
Museum volunteers lead school tours, welcome guests during weekly open hours and on Saturdays. They also maintain the collection and do historical research. Additionally they have presented programs about the Saint Francis Dam disaster and Rancho Sespe to schools and civic organization. It is the dedication of these volunteers that allows the Museum to keep its doors open.
The museum volunteers would like to invite members of the community to visit the museum and learn more about the history of Fillmore, Piru, Sespe, and Bardsdale. Museum hours are from 9 a.m. to noon and from 1 p.m. until 4 p.m. on Tuesday, Wednesday and Friday; 1 p.m. until 4 p.m. on Thursday; and from 10:00 a.m. until 3:00 p.m. on Saturday. The museum is located at 350 Main St. in Fillmore.
By Gazette Staff Writer — Wednesday, February 20th, 2019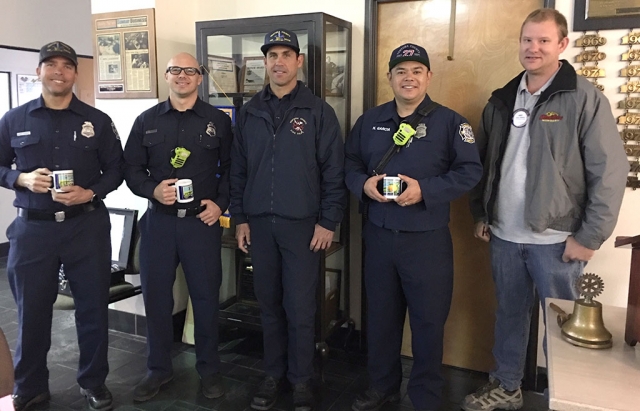 Pictured far right is Fillmore Rotary President Andy Klittich presenting a Rotary mug to the firemen who spoke at last week's meeting about the new County Fire Station, currently in progress. This station will have six bays for trucks, fire and rescue, sleeping room, kitchen and a training room. They will be able to hold all of their training and drills there instead of having to travel to other stations. It will also have available space for staging in case of a large fire. When they do move from the Old Telegraph Road station they will lease it to the Forest Service. Photo courtesy Martha Richardson.
Enlarge Photo
By Gazette Staff Writer — Wednesday, February 13th, 2019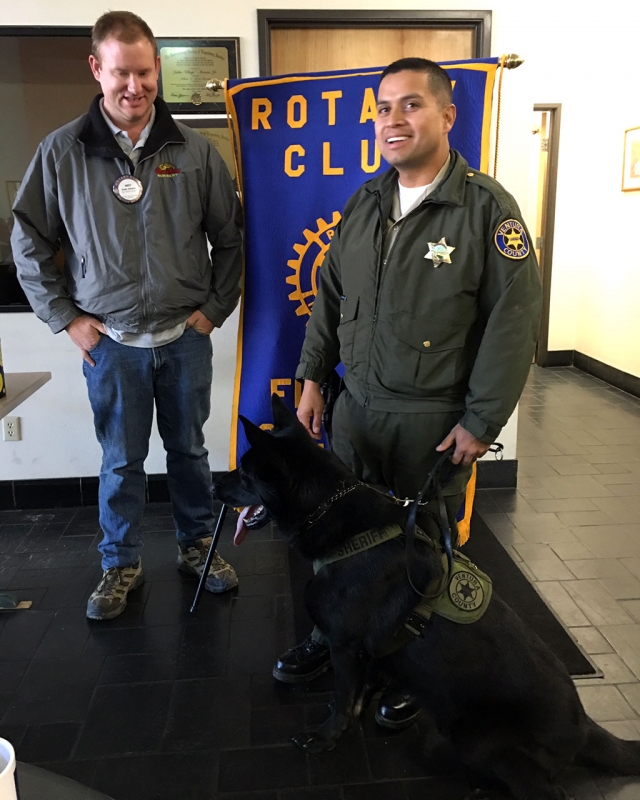 Pictured is Fillmore Rotary President Andy Klittich with Deputy Javier Rodriguez and his K-9 Jago. Deputy Rodriguez shared with the group that he has been with the Department for 13 years and has been a handler for six months. The group learned there are only six K-9's in the county and all have been hand-picked in Germany. Specific dogs are chosen for the area they will be working in. Each handler must train their dog and pay for all the dogs expenses, but do receive some help from the K-9 nonprofit Foundation. Jago is 19 months old and a German shepherd. He will be a working dog for 6-7 years before he is retired. Photo courtesy Martha Richardson.
Enlarge Photo
By Gazette Staff Writer — Wednesday, February 13th, 2019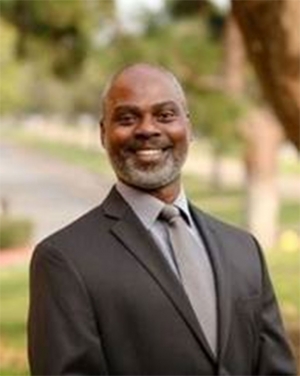 Derrick Wilson
The Ventura County Public Works Agency (VCPWA) has named Derrick Wilson as Strategic Operations Manager to lead the newly formed division within the Central Services Department (CSD) concentrated on planning, execution, analysis and knowledge (PEAK) management for VCPWA.
Prior to serving as VCPWA's Strategic Operations Manager, Wilson began his career with VCPWA's Water and Sanitation Department managing staff and services in the Integrated Waste Management Division. Wilson's new role will focus on agency-wide organizational excellence and continuous process improvement. He will oversee a variety of agency-wide activities which include implementation of the agency's strategic plan, tracking and reporting performance metrics, leading the Business Quality Council, and assisting departments with completing, documenting and reporting process improvements.
"Our new strategic Operations Manager is by far one of VCPWA's most important roles. Our agency operations require our full team working together with great expertise and passion to keep our communities safe, through all of our many public works projects and our immediate response to emergencies through our five departments," said Jeff Pratt, Director of VCPWA. "Derrick's key position will keep us extremely efficient and cost effective as we work on behalf of Ventura county. The safety and quality of life of our community is paramount to VCPWA."
With a combined 27 years in public service, 10 years at the County of Santa Barbara and 17 years with the County of Ventura, Wilson has successfully led teams and completed enterprise-level initiatives employing process improvement, business process redesign, change management and project leadership skills.
By Gazette Staff Writer — Wednesday, February 6th, 2019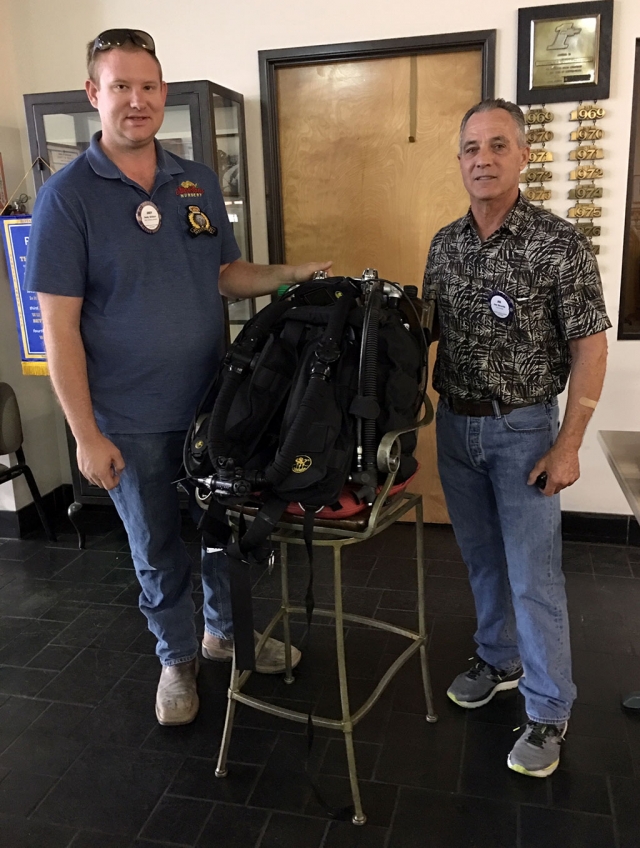 Pictured is Rotary President Andy Klittich with Rotary Member Joe Ricards who presented to the club about being a certified scuba instructor in several specific areas. He brought along his most recent equipment, a rebreather which allows him to stay underwater for up to three hours at 130 feet. He described his dives and places he has gone, and his passion for the sport. Photo courtesy Martha Richardson.
Enlarge Photo
By Gazette Staff Writer — Wednesday, January 23rd, 2019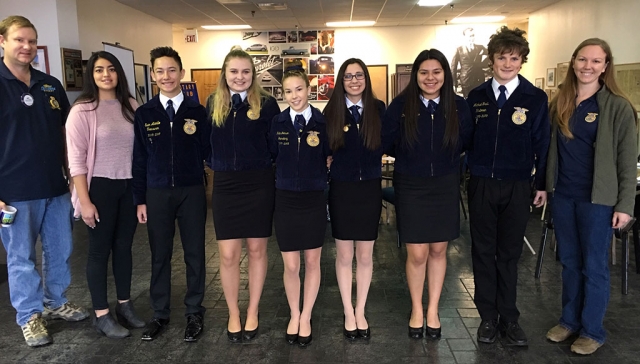 The Rotary program watched a presentation given by Ag teachers Veronica Lemos, Pam Klittich and the FFA Officers. Each student described various FFA activities and events to go with the slides they shared with the club. Some events like Ventura County Fair, Farm Day and the 91st FFA National Convention have passed already this year, but they are looking forward to a Plant Sale Mother's Day weekend and various competitions. The most exciting event will be the new two story Ag building which will begin construction in Fillmore in the summer. Photo courtesy Martha Richardson.
Enlarge Photo
By Gazette Staff Writer — Tuesday, January 8th, 2019
Free Rides Offered to Somis Passengers during First Month of Service
The Ventura County Transportation Commission (VCTC) will begin offering bus service to Somis via its East-West Connector bus route on Jan. 14, 2019. This marks the first time that Somis, a community in unincorporated Ventura County between Camarillo and Moorpark, has been served by public transit.
To celebrate the milestone, VCTC will offer free bus rides to all passengers who board or exit at the Somis stop during its first month of service, Jan. 14-Feb. 15.
"We are thrilled to be able to provide regular, convenient transit service to Somis for the first time in the community's history," said Linda Parks, VCTC Board Chair and Supervisor to Ventura County's second district, which includes Somis. "It gives people in this more rural area an opportunity to leave their cars at home and take the bus."
The new Somis stop is located at Somis Rd. and Rice St. The stop is served by VCTC's East-West Connector, a bus line linking Simi Valley and Moorpark with Somis, Camarillo, Oxnard and Ventura. All VCTC buses include bicycle accommodations for cyclists. To view the full East-West Connector schedule, visit https://www.goventura.org/home-2/upcoming-schedule-changes/.
The addition of the Somis stop is one of several schedule and fare changes that will go into effect Jan. 14. More information about upcoming service changes is available at www.goventura.org.
About the Ventura County Transportation Commission
The Ventura County Transportation Commission is the regional transportation planning agency committed to keeping Ventura County moving. Program information is available at www.goventura.org.
By Gazette Staff Writer — Wednesday, December 26th, 2018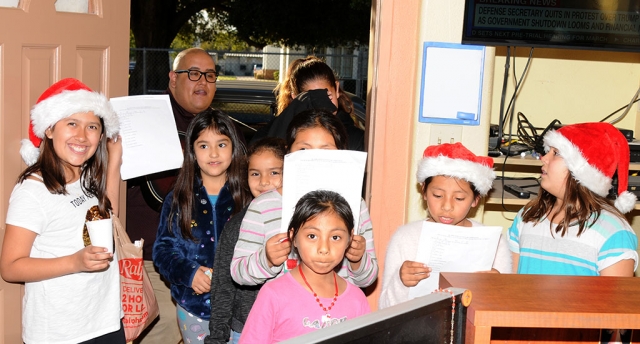 On Thursday, December 20th at about 3:30pm a group of Christmas carolers from the Boys and Girls Club stopped by the Fillmore Gazette and sang some classic Christmas songs for the entire office to enjoy. Their goal was to walk around to the local businesses and bring them Christmas cheer.
Enlarge Photo
By Gazette Staff Writer — Wednesday, December 19th, 2018
By Gazette Staff Writer — Wednesday, December 19th, 2018
A huge thanks to all who participated in the down town trees! We really have such an extraordinary community here in Fillmore. A few years ago I was up in Sonoma for the holidays, and hearing they had trees down town, I thought I would see their event. Every tree was gorgeous, perfectly coiffed and lit spectacularly...it was really something to see in all its perfection, yet I walked away from it with an odd feeling of 'huh?'....
But walking down the street the other day I finally figured out what was bothering me then...as I passed the trees in our down town, each unique, most homemade, all put up with obvious joy...I realized what made ours different then the Sonoma production...our trees beauty came from our hearts, and to the hearts of our community!
The only 'rules' for our tree tradition are no glass, no electricity, and no flocking- and if you can make the ornaments homemade all the better...but recycling is also honored! Then it is keeping your tree 'spruced up' until they come down around New Years. This tradition had never been about the money, only the heart. I talked to Marie Wren to get the history of the Christmas trees downtown and up until 1950 there were two giant trees put on both sides of downtown- right in the middle of the intersections. But then someone crashed into a tree, so after that the Chamber of Commerce started the trees down the side walks. Some time in the early 1970s they just disappeared.
A few years back some friends were reminiscing at a FHS Alumni Banquet about 'the old days' and we wondered what happened to this tradition...so it was decided to get it up and going again. Every year it gets bigger and bigger in heart and in number of trees- so we hope to see more clubs, classrooms, churches and individuals participating next year!
A special shout out to Moon Nursery in Piru, who loans us the trees, drops them off and picks them up too- we couldn't have done it without your generosity! To Otto and Sons Nursery who is always there to help the details! And to Bank of Sierra who is always the first to take a tree, and also copies all the flyers for us. And to all of you who brought smiles to so many with a tree you decorated- you are why the community of Fillmore is so beloved!
Have a beautiful Christmas!
Regina Stehly
By Gazette Staff Writer — Wednesday, December 19th, 2018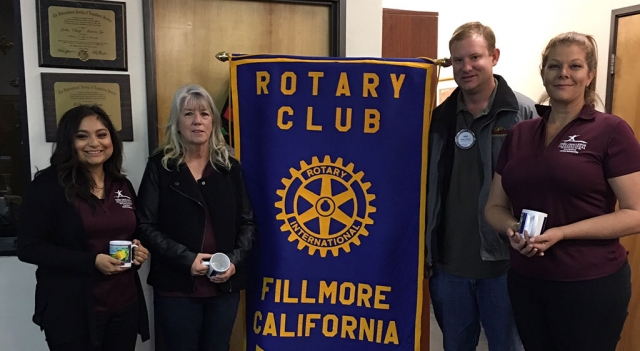 Teen Challenge presenters Katie, Director Rosie Weir and Ashley gave an informative program to Fillmore Rotary Club last week. They are pictured with Rotary president Andy Klittich. Teen Challenge is a one year residential program in Ventura for women 18 and up. The program helps people become mentally sound, emotionally balanced, physically well and spiritually alive. Photo courtesy Martha Richardson.
Enlarge Photo
By Gazette Staff Writer — Wednesday, December 19th, 2018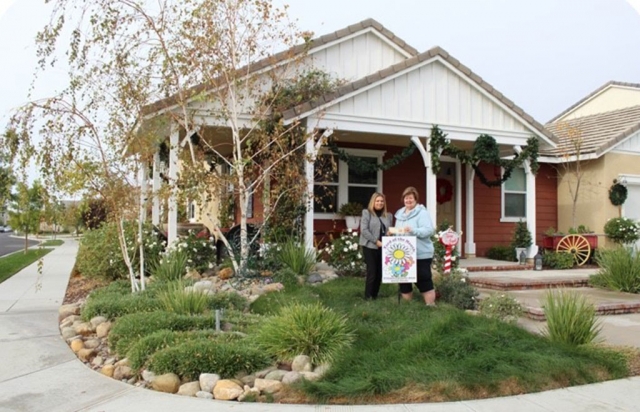 Their "inspiration was to landscape to match the outside of the farmhouse look," said Debra. They used white birch trees, white lettuce roses, bottlebrush bushes, and freeway daisies for ground cover. They brought in rock to give it a look of a creek. "We also added no mow grass to give the look of wild grass growing on the hills," added Debra. The Tharpe family received a $40 gift certificate courtesy of Otto & Sons Nursery (1835 East Guiberson Rd. Fillmore) from Ari Larson representing Fillmore Civic Pride. For more information on Fillmore Civic Pride and meeting times please contact Ari at 805.794.7590 or email; petenari55@hotmail.com
Enlarge Photo
By Gazette Staff Writer — Wednesday, December 19th, 2018
Students for Eco-Education and Agriculture (SEEAG) has expanded its board by adding three new members.
Named to the board are Heidi Whitcomb, CEO of Ventura Rental Party & Events, Melinda Beardsley, president of Beardsley & Son and Bradley Dykes, branch manager of Morgan Stanley in Oxnard.
For Whitcomb, the decision to join the board was easy. "I have a passion for children and believe in SEEAG's mission to educate and excite children about where their food comes from," says Whitcomb. "Making healthy food choices will benefit students and their families."
The nonprofit organization helps young students and the public in general gain a better understanding of where their food comes from. Students take part in classroom presentations and free farm field trips as part of SEEAG's Farm Lab. SEEAG's new Ventura County Child Wellness Initiative educates and inspires children to eat healthy by adding locally grown Ventura County specialty crops to their diet through its Farm Fresh Mobile Classroom. SEEAG's STEM Careers in 21st Century Agriculture shows middle and high school students the diverse job opportunities available in today's agricultural industry.
Beardsley is the fourth generation in a family involved in Ventura County farming. "Agriculture is an important part of all our lives," says Beardsley. "Being a part of an organization focused on educating and encouraging the appreciation for agriculture is a privilege."
Dykes agrees, "SEEAG's work introducing thousands of students to farms, farming and the origins of their food, has a positive impact on our community and will change young lives along the way."
Mary Maranville, SEEAG's founder and CEO, says adding to the board was necessary. "Board members will be responsible for helping guiding SEEAG as it expands its educational reach further into Southern California," says Maranville.
SEEAG also hosts Ventura County Farm Day each year in November. It is a day when the public is invited to visit farms throughout Ventura County.
For more about SEEAG, go to www.seeag.org.
About SEEAG
Founded in 2008, Students for Eco-Education and Agriculture (SEEAG) is a nonprofit organization that aims to help young students understand the origins of their food by bridging the gap between agriculture and consumption through its agricultural education programming. SEEAG's "The Farm Lab" program based in Ventura County teaches schoolchildren about the origins of their food and the importance of local farmland by providing schools with classroom agricultural education and free field trips to farms. Through this and other SEEAG programs, over 25,000 elementary school students in Southern California have increased their understanding of the food journey. For more information, visit www.seeag.org or email Mary Maranville at mary@seeag.org
By Martin Farrell — Wednesday, December 19th, 2018
Joseph Kern passed away this past Tuesday, December 11.
Among other things, he was a Fillmore attorney for more than 60 years, and City Attorney for 19 of those years. His public achievements were many. But Joe was also a personal friend to me, and a major reason for the Fillmore Gazette's success during the past 30 years. He defended us through a multitude of spuriously brought legal challenges and was always there when he was needed - which during the earlier years was frequently. He was always generous with his time and advice.
Joe invited me to several special events at St. Thomas Aquinas College; most memorable, a speech by the late, great, Supreme Court Justice Antonin Scalia, and another visit by a celebrated expert on Dante's Divine Comedy. The former visit permitted me to take notes and write a short piece on Scalia's talk.
Joe always seemed to have time to meet with me over some question, legal or otherwise, though I'm sure he had better things to occupy that time. An impatient person myself, I envied his patience. I remember one special, beautifully drafted legal document he prepared for me. He was a notably gifted legal draftsman as well.
I will always remember Joseph Kern as a devout Catholic, trusted friend and confidant.
Thank you Joe; may your soul rest in peace.
By Gazette Staff Writer — Wednesday, December 12th, 2018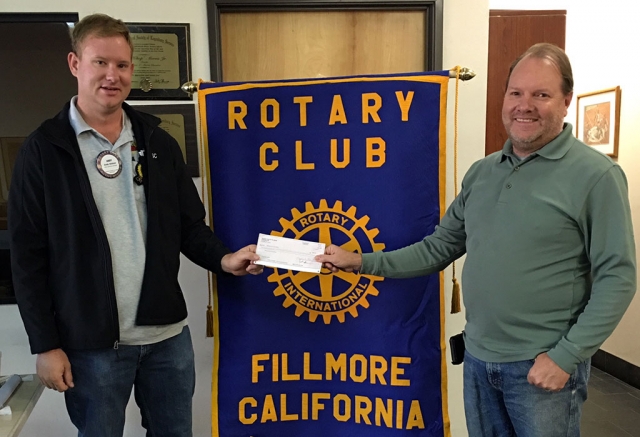 Fillmore Rotary Club donated $500 to the Fillmore Fire Foundation. Scott Beylik accepted the check from Rotary president Andy Klittich. Photo courtesy Martha Richardson.
Enlarge Photo