By Gazette Staff Writer — Monday, July 21st, 2014
Four works of art by Fillmore artist, Wana Klasen are included in a group exhibit sponsored by the Ventura County Arts Council shown in the Atrium Gallery of the Hall of Administration, Ventura County Government Center located 800 S. Victoria in Ventura. The exhibit is entitled "Art Saves Lives" and highlights the healing powers of the arts, a concept long held by Klasen, a retired Registered Nurse.
Klasen's work reflects the joy of healing through artistic expression, and centers on the energetic, colorful images of her Earthsong Collection as well as other water color and mixed media works. Wana teaches water color class at the Fillmore Senior Center on Thursday mornings..
The exhibit runs now through August 27, 2014, and can be seen 8-5, Monday through Friday. Call 658-2213 for further information.
"Art speaks to the rhythm of life and the connectedness we share in the human spirit!" (Wana)
By Gazette Staff Writer — Thursday, July 17th, 2014
Sierra Bancorp (NASDAQ: BSRR), the holding company of Bank of the Sierra, announced the signing of a definitive agreement to acquire Santa Clara Valley Bank, N.A. (OTC: SCVE) of Santa Paula, California for aggregate cash consideration of $15.3 million. The consideration consists of $12.3 million or $6.00 per share to common shareholders and cash consideration of $3.0 million to preferred shareholders to retire outstanding preferred stock and associated warrants. Included in the $12.3 million consideration, Sierra will pay $700,000 to cash out existing in-the-money warrants.
James C. Holly, Chief Executive Officer of Sierra Bancorp, commented, "This is an exciting opportunity for Bank of the Sierra. The Santa Clara Valley is a strong agricultural region in close proximity to our primary market, the Southern San Joaquin Valley. The market is very similar to the region we already serve and this opportunity is a natural extension for us. In addition beyond the Santa Clara Valley, we believe that we can serve the commercial and residential communities of Ventura, Oxnard and Santa Clarita" Mr. Holly added, "We look forward to welcoming Santa Clara Valley Bank's customers and employees to Bank of the Sierra."
The consideration per share represents approximately 109% of Santa Clara Valley Bank's tangible book value as of March 31, 2014. Sierra Bancorp expects the acquisition to be immediately accretive to earnings per share, and will yield a tangible book value earnback of less than 3.5 years and an IRR in excess of 20%.
Kevin J. McPhaill, President CONTINUED »
By Gazette Staff Writer — Thursday, July 17th, 2014
The Assessor is slated to mail 244,000 annual secured Roll value notices to real estate property owners over the next two weeks totaling more than $112.5 billion in value and $3.6 billion in exemptions. As these value notices start appearing in mail boxes, it is important that property owners review them carefully. It is important owners are aware of how their assessed value is determined and contact the Assessor's office or check the Assessor's Website if they need additional information.
Most property owners will receive a "Proposition 13 Factored Value Notice" notice showing the property assessment increasing by 0.454% (about one half of 1%). Proposition 13 provides for an annual adjustment of assessed values by an inflation rate not to exceed 2%, and this year the rate as determined by the California Consumer Price Index was less than 2%.
Assessor Goodwin notes that, about 55,000 owners of properties that previously received a temporary reduction under the "Decline in Value" program will receive a "January 1 Value Notice" this year showing an increase in assessed value to fully or partially restore their Proposition 13 value. Assessed values of properties identified below the proposition 13 limits in the "Decline in Value" program have been steadily increasing in the last three years consistent with the recovery of the real estate market.
Prior year "Decline in Value" assessments are reviewed annually, to determine their market value as of January 1 each year. Staff appraisers complete individual comparative sales analysis for each property. Owners who feel the assessed value exceeds the market value are encouraged to contact the Assessor's staff for an informal review of the comparable sales. Increases in assessed value of propertied in the Decline Value Program cannot exceed the proposition 13 limit which is shown on each assessed value notice.
Those disagreeing with the effective date January 1, 2014 assessment have until September 15, 2014 to appeal by filing an Application for Changed Assessment with the Clerk of the Assessment Appeals Board.
If you have any further questions, additional information can be found on the Assessor's website at assessor.countyofventura.org or you may also contact the Assessor's Office by phone at (805) 654-2181.
By Gazette Staff Writer — Thursday, July 17th, 2014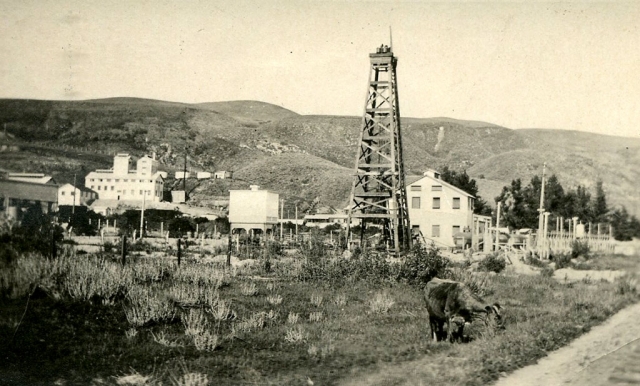 The attached photo is of the refinery in about 1920.
Enlarge Photo
By Gazette Staff Writer — Thursday, July 17th, 2014
What was it like to grow up on the grounds of the Fillmore Refinery? How large was the oil industry here? Visit the Fillmore Museum at 340 Main Street (In the two story bunkhouse building) to see photos and information regarding the Refinery, the local oil industry and its historic relationship to our city.
We are open Tuesday , Wednesday, and Friday from 9 a.m. to 12 noon and 1 p.m.-4 p.m., Thursday from 1p.m.- 4 p.m. and Saturday from 10 a.m. – 3 p.m.
The museum also contains hundreds of photos and stories of local pioneers, farmers and businesses.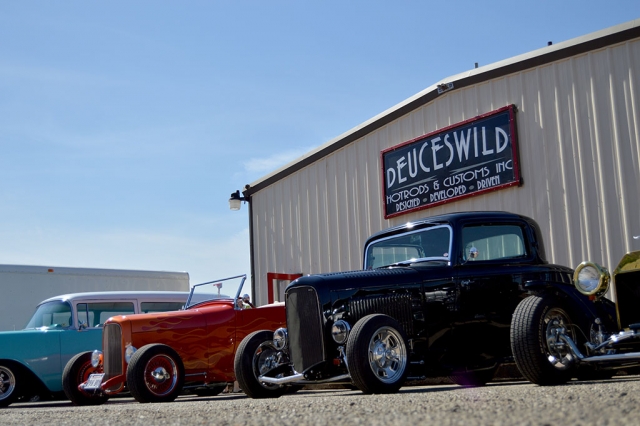 Deuces Wild HotRods & Customs
Enlarge Photo
By Gazette Staff Writer — Thursday, July 17th, 2014
Deuces Wild HotRods & Customs, Inc. opened their doors, Saturday July 11th, for the Ventura Vintage Rods Car Club to showcase the new shop facility. Deuces Wild recently moved to their new location on the highway next to El Dorado Family Park from there prior location on Orange Grove Avenue. Deuces Wild HotRods provided the club with snacks, drinks, and lunch for the day, along with inviting the wives out to take a tour of surrounding businesses in the Fillmore area. Deuces Wild has been opened at their new location for just over 3 months and has taken great pride in being a part of the Fillmore Community for the past 5 years.
Owner John Meadows, of Fillmore, gave the club a tour of the shop and explained the various builds that are being worked on currently in the shop. They have everything ranging from classic muscle cars, custom trucks, and some autocross/ pro-touring vehicles. John, who has been in the industry for 20+ years, shared his experiences working in the industry and explained to the club what he has learned from his time being associated with hot rods and how he thinks Deuces Wild HotRods can help improve the car community.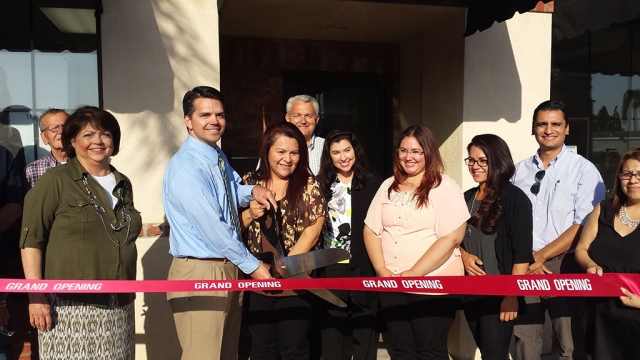 Celebrating their Grand re-opening in style on May 29, 2014 Heritage Valley Eye Care Optometric Center (pictured Dr. Luekenga, office manager Monica Hernandez,Carina Ruiz and Maria Barraragan, Fillmore mayor Manny Minjares and Fillmore Chamber president Irma Magana
Enlarge Photo
By Gazette Staff Writer — Thursday, July 17th, 2014
Settled into their new location at 414 Central Ave. in Fillmore, Dr. Luekenga/Heritage Valley Eye Care Optometric Center welcomed more than seventy five well wishers to their newly redecorated office on Thursday, May 29, 2014 for their grand re-opening. Included among the guests was his wife Nicole, children and visiting from Idaho were his parents.
Heritage Valley Eye Care has been in the community for over 20 years. Prior to their retirement Drs. Bartelson and Ikeda worked with Dr. Luekenga for just under 10 years. In addition Dr. Lowry and Dr. Poultney have been with the practice for one year, after practicing for several years in Ventura County.
The center takes care of all eye problems and has resources to the best network of eye surgeons in California. They also work with a very comprehensive optical including contact lenses you don't feel and designer eyewear from top brands.
Heritage Valley Eye Care Optometric Center is one of the largest and most successful optometry practices in the county. For all of your eye care needs, they provide doctors with state of the art knowledge, training and equipment. Exceptional care delivered with an old-fashioned touch.
By Gazette Staff Writer — Monday, July 14th, 2014
July 29, 2014
Oxnard, CA - Osteoporosis, gradual bone loss that affects 28 million American men and women, will be the focus of a free seminar Community Memorial Health System is holding on Tuesday, July 29.
David Crownover, M.D., a local obstetrician/gynecologist, will conduct the seminar that will be held from 6 to 8 p.m. in the Santa Monica Room of the Courtyard by Marriott, located at 600 E. Esplanade Drive in Oxnard.
Gradual bone loss is part of the aging process and can begin as early as 35 years of age. For people with osteoporosis, the rate of bone loss increases, making hip and spine fractures more likely, with women over 50 at the greatest risk. Dr. Crownover will discuss what people can do to prevent and treat osteoporosis.
Dr. Crownover received his medical degree from the University of Arkansas for Medical Sciences in Little Rock, Ark. He completed his residency at Barnes-Jewish Hospital in St. Louis. Dr. Crownover is a member of the Community Memorial Hospital medical staff.
Registration is free but reservations are required. Call 1-800/838-3006, or visit cmhshealth.org.
Future scheduled educational seminars include: Advances in Robotic Surgery on Aug. 19; Joint Pain, Athletic Injuries and Arthritis on Sept. 9; Matters of the Heart: What Everyone Needs to Know to Maintain a Healthy Heart on Nov. 4; and Cataract Surgery: The State of the Art on Dec. 9.
Community Memorial Health System is a not-for-profit health system, which is comprised of Community Memorial Hospital, Ojai Valley Community Hospital, and 12 family-practice health centers entitled Centers for Family Health. The health system is located in Ventura County, California.
By Gazette Staff Writer — Wednesday, July 9th, 2014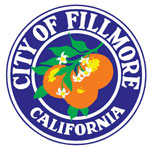 City of Fillmore
Fillmore citizens seeking nomination as a candidate for the Fillmore City Council may obtain and file nomination papers at City Hall until August 8th at 4 p.m. If an incumbent (current) person in a seat does not file, the nomination period for that seat would be extended to August 13th at 4 p.m. only for non-incumbents.
Nomination papers may be obtained in the City Clerk's office in Fillmore City Hall between the hours of 8:00 a.m. to noon and 1 p.m. to 4 p.m. Monday through Thursday and every other Friday. Nominees must obtain between 20 to 30 signatures of registered voters of the City to qualify to be on the ballot. Candidates must also be registered voters of the city and must be 18 years of age at the time they take office. There is no cost to pull nomination papers or to file, although candidates wishing to publish a candidate's statement in the sample ballot pamphlet will be required to provide a deposit covering the cost of their statement.
Two seats on the City Council and one City Measure will be on the November 4th ballot. All seats have four-year terms.
Interested persons are urged to contact Deputy City Clerk Diana Impeartrice at (805) 524-1500 ext 211, for further information or visit www.fillmoreca.com
By Gazette Staff Writer — Wednesday, July 9th, 2014
The 2014 Ventura County Fair invites participants for this year's Ventura County Fair Parade. This year's parade is themed "A Country Fair with Ocean Air", and takes place on Saturday, August 2nd at 10:00 am in Downtown Ventura.
Divisions for this year's entries are:
Color Guards
Bands (Elementary & Middle School, High School, and Other)
Equestrian
Floats
Antique Automobile (over 50 years old)
Classic Automobile (under 50 years old)
Miscellaneous
Deadline for entries for the parade held on Saturday, August 2nd is July 12th. For a complete list of guidelines or to apply, visit the Ventura County Fair's website at www.venturacountyfair.org.
WHO: Ventura County organizations (Youth or Adult), Color Guards, Bands, Equestrian groups, antique or classic automobile owners (individuals or clubs), Ventura County businesses
WHAT: The 2014 Ventura County Fair Parade
WHEN: Saturday, August 2nd at 10:00 am
WHERE: Downtown Ventura
WHY: To showcase your organization and to be a part of the 139th Ventura County Fair!
By Gazette Staff Writer — Wednesday, July 9th, 2014
VENTURA COUNTY, CA - In an effort to curb illegal dumping on County roads, the Ventura County Public Works Agency is urging the community to use caution when disposing ofhazardousand non-hazardous waste.
The VCPWA Transportation Department and Integrated Waste Management Divisionare finding that businesses and the general public whogenerate hazardous and non-hazardous waste often find the process of disposal to be complicated, time-consuming, and expensive. These difficulties have led them to risk fines by illegally dumping or abandoning hazardous and non-hazardous waste in the trash, down the drains, or onto County roads. Such careless actions endanger the health and safety of sanitation workers and the general public,as well as pollute community water supplies.
"Ventura County Public Works is taking steps to prevent businesses from disposing of questionable waste and keeping our roadways clean," said Raul Gallo, Roads Engineer for Ventura County Public Works Agency Transportation Department. "Raising awareness and creating programs that assist the community to save time and money to safely dispose of waste is our main focus."
Businesses that generate more than 220 pounds (approximately 27 gallons) of hazardous waste per calendar month, or no more than 2.2 pounds of acutely hazardous waste in that calendar monthare considered a Conditionally Exempt Small Quantity Generator (CESQG). These businesses are invited to bring their hazardous wastes on the 4th Saturday of each month to the County's Business Hazardous Waste Collection Event.
"The County's website has a wealth of information on the types of hazardous and large non-hazardouswaste, such as furniture, tires, oil, and paint, and the safe ways to dispose of them, as well as available waste disposal facilities in the County," explains Gallo.
For more information on VCPWA's Integrated Waste Management Division servicesand its waste-disposal facilities, visit http://pwa.ventura.org/water-sanitation-department/integrated-waste-mana....
By Gazette Staff Writer — Tuesday, July 8th, 2014
VENTURA COUNTY, CA - California Women for Agriculture's (CWA) Ventura County Chapter will host the organization's monthly meeting on Tuesday, July 15.
The meeting will be led by CWA Ventura County Chapter President Bonnie Weigel, who also serves as President and CEO of Ventura County's regional food bank, FOOD Share. The meeting is open to the public and will welcome special guest speaker Nancy Low, HR Director and Safety Director of the Oxnard Lemon Company. Low will discuss Oxnard Lemon Company and Good Agricultural Practices (GAP) Policy.
California Women in Agriculture's Ventura County Chapter is a founding chapter for the agricultural organization whose mission is to promote a strong industry in California. For more information, visit its Facebook page.
Meeting Details:
Who: The Ventura County Chapter of California Women for Agriculture meeting
When: Tuesday, July 15, at 5:30 p.m.
Where: Rhumb Line Restaurant, 1510 Anchors Way Dr., Ventura, Calif. 93001
About Bonnie Weigel:
Bonnie Weigel's servant-based leadership style has provided the foundation for the collaborative results-based partnerships that she is known for. She has 15 years of experience in the corporate and nonprofit sector centered in sustainable strategic fund, resource, and organizational development.
Under Weigel's leadership FOOD Share has grown to serve 63 percent more people in need—now at over 74,500 people monthly—with the help of 180 partner agencies, a team of 40 staff members, 320 volunteers and 15 Volunteer Board of Directors who provide over 3,000 hours monthly of volunteer service.
Current and notable projects include a collaborative between Ventura County Together and the Grameen Social Business Institute at CSUCI focused on developing best practices to move those into poverty towards a self-sufficient future.
Weigel is a Governor appointed Director of the 31st California Agricultural District, President California Women For Ag – Ventura County and serves as Board of Director for the Ventura County Community Foundation and El Concillo.
Weigel has received the Top 50 Women In Business Award every year from 2008-2014 as well as the Rotary International Paul Harris Service Above Self Medal, 2012 Woman of the Year, Oxnard Chamber.
By Gazette Staff Writer — Tuesday, July 8th, 2014
Are You Ready To Stand Up For A Child Who Needs You?
Find out how at our next Informational session:
Thursday, July 31
6:30-8 pm, Camarillo
CASA is the only volunteer organization that empowers everyday citizens as officers of the court. In an overburdened social welfare system, abused and neglected children often slip through the cracks among hundreds of current cases. CASA volunteers change that. Appointed by judges, CASA volunteers typically handle just one case at a time—and commit to staying on that case until the child is placed in a safe, permanent home. While others may come and go, CASA volunteers provide that one constant that children need in order to thrive.
CASA needs more volunteers! Currently there are over 40 children in Ventura County that have been assigned to the program but are on a waiting list because of the lack of volunteers. Please consider attending the next CASA Informational Session on Thursday, July 31st to prepare for the upcoming 30-hour training session. For more information about the upcoming CASA Informational session please contact Bernadette Cardenas, at (805) 389-3120 or Bernadette@casaofventuracounty.org.
To reserve a seat call 805.389.3120
After you have registered, you will receive location information by email or phone call.
By Gazette Staff Writer — Wednesday, July 2nd, 2014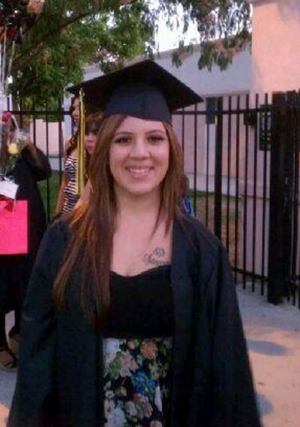 Scholarship winner Chelsey Fitzgerald
The Fillmore Women's service Club is pleased to announce the recipients of the Fillmore Women's Service Club Scholarship. On June 11th at Sierra High School Chelsey Fitzgerald received a Community Scholarship. The Fillmore Women's Service club is proud to have been able to award scholarships to help our graduates achieve their dreams and aspirations. You can be a part of the dream by supporting out Fireworks Booth located south west of town.
By Gazette Staff Writer — Wednesday, July 2nd, 2014
VENTURA COUNTY, CA - 2014—Gold Coast Transit (GCT) bus passes are now available for purchase at the Ventura County Government Center's Hall of Administration. Passes are available in 31-day, 15-ride and day-pass quantities for adult, youth, and reduced-fare riders.
GCT riders may also take advantage of the transit system's new Trip Planner feature on its website. Supported by Google Transit, this tool provides passengers the opportunity to plan their upcoming trips with GCT on Google by inputting their desired travel date, time and destination. The module will give a suggested travel route, linking to available transit, including the intervals at which the bus arrives and departs.
GCT is committed to providing safe, efficient, quality public transit service for western Ventura County. For more information on GCT, including route information and pricing for bus passes, visit www.goldcoasttransit.org.
By Gazette Staff Writer — Wednesday, July 2nd, 2014
Kentucky bound Pony Clubbers receive donation from Mimi Burns representing the Fillmore Women's Service Club to help towards their expenses in this exciting adventure.
Bailey Brantley and Jillian Morris, of Fillmore, are members of the Kings Corner Pony Club Riding Center and qualified through the Camino Real Region to compete at the United States Pony Club National Championships in Lexington, Kentucky. The The National Championships are held every three years at the famous Kentucky Horse Park, and approximately 3,000 Pony Clubbers attend from all over the country.
Bailey, 16, will be competing in the Eventing discupline on her horse Boys Knight Out. Eventing consists of three phases over three days, Dressage, Cross Country and Stadium Jumping.
Jillian, 11, qualified for the Quiz Competition, and will spend 4 days answering questions about feeds, equipment, safety, veterinarian care, parts of the horse, rules for competitions, and much more. Some questions are oral, written and some are hands on.
The Camino Real Region is sending over forty Pony Club members from the region which extends from Long Beach to Santa Ynez. And from the coast to Las Vegas. Each Pony Clubber had to meet National and Regional qualifying requirements in order to make the teams. The Camino Real Region are sending teams in Show Jumping, Dressage, Eventing, Quiz and Tetrathalon.
We wish them all a successful journey and enjoy this wonderful educational experience.
By Gazette Staff Writer — Tuesday, July 1st, 2014
Ventura County, CA - To reduce overcrowding at Ventura County Animal Services (VCAS) adoption centers, VCAS has discounted the adoption fee on all shelter animals, dogs, cats, rabbits and more, from now through July 11. In addition, 85 animals have had their adoption fees waived, thanks to sponsorships provided by Paw Works, Inc., a nonprofit organization dedicated to helping VCAS maintain its no-kill status.
"It's critical that we free up some kennel space at our adoption centers before the busy 4th of July weekend," said Tara Diller, VCAS director. "We encourage anyone who has been thinking about adding a new pet to their family to take advantage of this great deal."
VCAS offers pet adoption services at their Camarillo and Simi Valley adoption centers seven days per week from 11 a.m. – 6 p.m. Although VCAS adoption centers will be closed to the public on July 4, officers will be on duty from 8 am – 4 pm to answer phones and in the field and at VCAS adoption centers all day to receive stray animal drop-offs, facilitate animal reclaims and respond to emergencies.
When adopted, all VCAS dogs and cats come with a certification of surgical sterilization, preliminary vaccinations, their first rabies vaccine, a Ventura County animal license, an implanted trovan microchip and a certificate for a free health exam at any Ventura County veterinarian's office. In addition, dog adoptions include a free 6 week obedience class.
For more information or to view photos of VCAS adoptable animals online, go to: www.vcas.us
By Gazette Staff Writer — Tuesday, July 1st, 2014
The City of Fillmore celebrates its 100th anniversary this year. In honor of this milestone, The Artists Guild of Fillmore has designed a unique exhibit of small image artwork to be shown at Diamond Realty and Investment located at Central Avenue and Santa Clara in the heart of Fillmore. The show is open to the public during regular business hours July 1 through August 31, 2014.
The ten artists of the Guild have created a wide range of post card sized pieces depicting local scenes of Fillmore past and present including its focus on agriculture, as well as general landscape and abstract compositions. All are presented anonymously and identified only after purchase by the signature on the back of the piece and the accompanying printed bio of the artist.
The post card size of the art harks back—perhaps even to early Fillmore—to a time before texting, emailing and instant messaging when a brief message was written on a card with a picture and posted through the mail. Each piece is a one of a kind original—watercolor, acrylic, collage, mixed media, oil--available for purchase to begin or add to an art collection. Small image fine art is featured in many galleries including London's "Secret Post Card " sale at The Royal Academy of Art.
Diamond Realty owner, Theresa Robledo along with the Artists Guild of Fillmore invite the community and friends to enjoy this artistic celebration of Fillmore's 100th anniversary. Office hours are Monday through Friday, 10 am to 5pm and Saturday, 1pm to 4pm. A reception hosted by the Guild is set for Friday, August 15, 5-7pm.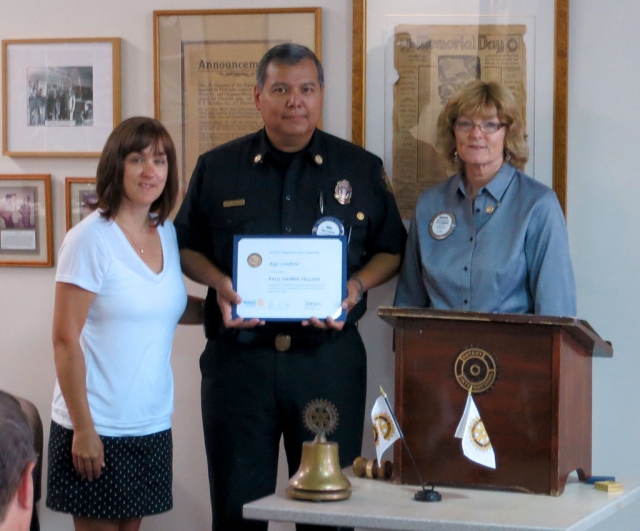 (l-r) Laura Landeros, Rigo Landeros, President of Fillmore Rotary and recipient of the Paul Harris Award and Martha Richardson.
Enlarge Photo
By Gazette Staff Writer — Tuesday, July 1st, 2014
The Paul Harris Fellowship was established to honor the founder of Rotary, Paul Harris, in 1957. It was awarded to Rigo Landeros, Fillmore Rotary President, because his life exemplifies the humanitarian and educational objectives of The Rotary Foundation. Martha Richardson, Rotarian, had the honor of presenting this award, on behalf of the Club, and Rigo's wife, Laura, presented him with his Paul Harris Pin.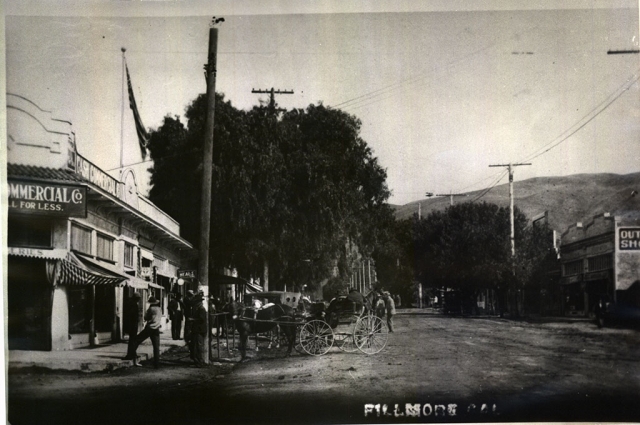 Fillmore c. 1914.
Enlarge Photo
By Gazette Staff Writer — Tuesday, July 1st, 2014
The Fillmore Historical Museum is happy to report the recent receipt of a $4,500.00 grant from Chevron Corporation for programming, accessioning and display purposes in support of the Fillmore Incorporation Centennial Events. The Museum is a 100% volunteer organization and appreciates the support given by businesses and individuals in the community. If you should want to know more about the history of Fillmore, Piru, Sespe and Bardsdale please come to visit your local Museum.
Our goal is to preserve and display the history of our four local communities. Visit the museum to see artifacts from Fillmore's early days including many pictures of the city as it was 100 years ago. The Museum is open Tuesday, Wednesday, and Friday from 9-12 and 1-4, and on Thursday afternoon from 1-4. We are also open from 10:00 to 3:00 on Saturday.
Please join us on July 10th at the Museum's Southern Pacific Depot for a reception from 4:00 pm until 6 pm jointly hosted by Chevron Corporation and the Fillmore Historical Museum to celebrate the 100 years since incorporation.
Martha Gentry
Executive Director