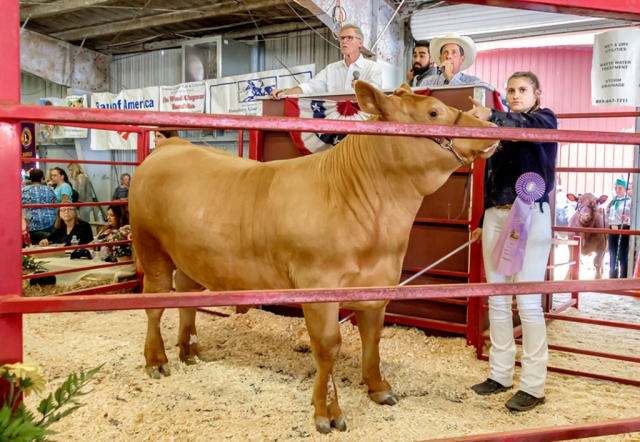 Pictured is Erin Berrington from Fillmore, who raised a 1,252 pound FFA Reserve Champion steer named Keegan, that fetched $5.00 a pound at the 2019 auction. Photo Courtesy Bob Crum.
Enlarge Photo
By Gazette Staff Writers — Thursday, August 4th, 2022
Ventura County Fair 2022 Up-and-coming ranchers and future farmers in the Ventura County 4-H, Grange, FFA and individual youth programs have spent the better part of a year raising, grazing and tending to market animals for exhibition and sale in the Toyota Livestock Area at the 2022 Ventura County Fair, August 3-14.
Everyone including community members and businesses are encouraged to bid on and buy the locally raised lambs, hogs, goats, poultry and beef in support of local youth at the Ventura County Fair Junior Livestock Auction, Friday, August 12.
If you have never attended an auction, we encourage you to attend, The expert auction staff will be on hand to answer any questions you may have and walk you through the process.
When you buy an animal, you can stock your home freezer with top-quality meat, great to have for that backyard barbecue or block party, you can share it or give a one-of-a-kind gift to a friend, family member or to FOOD Share to show your community support.
Participants follow quality production practices in nutrition, health, care and handling of their livestock to assure the meat meets high quality standards. The 4H, Grange, FFA and individual livestock projects are valuable tools for teaching life skills and responsibility to youth, who dedicate their own time and resources to care for an animal and learn a sustainable business practice. As exhibitors graduate and conclude their livestock showing careers, they use the skills learned and the connections made at the show into college and their professional careers.
Interested bidders can register at the auction. There will be a new buyer registration table in front of the Clark Pavilion. There is no registration fee. Once registered, you are given a buyer card. All buyers can park in the main lot and there will be shuttles to take eyou to livestock. The auction begins at 9am with lunch being served from 11am-2pm. All champions will be auctioned at noon.
To bid, simply raise your hand as the exhibitor leads their animal into the auction arenaand a spotter will call on you. The spotter will go back to them and ask if you want to raise the bid if another buyer is bidding against you.The highest bidder buys the animal.
The Ventura County Fair Junior Livestock Auction, presented by Gold Coast Toyota Dealers, will begin at 9AM on Friday, August 12. For more information visit www.venturacountyfair.org
By Ventura County Sheriff Department — Monday, August 1st, 2022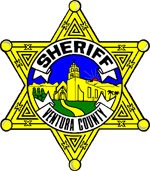 Ventura County Sheriff's Department
Fillmore neighborhoods are invited to participate in National Night Out, on Tuesday, August 2, 2022 from 6 pm to 8 pm. This is an opportunity to engage in relationship building with deputies and other selected representatives.
National Night Out is an annual crime prevention event and community-building campaign that promotes police-community partnerships and neighborhood camaraderie that make our neighborhoods safer all year round. National Night Out is a community building campaign that promotes police-community partnerships.
"National Night Out is a great opportunity for residents to meet and greet different team members assigned to various Sheriff's Specialized Units for an evening of activities," said Fillmore Police Chief Garo Kuredjian. "Community policing is more critical than ever before. It's important for our residents and students to engage with our team in a positive environment and know that we are truly here to serve them and keep them safe."
The City of Fillmore, Ventura County Sheriff's Office and Fillmore Police Department is committed to maintaining the safety of all residents by continued community partnership.
The Fillmore Police Department invites the community to come out and ask questions, get crime prevention advice, and get to know the officers in your neighborhood. Together, we are making communities safer, more caring places to live.
To learn more about National Night Out in the City of Fillmore, contact Sergeant Will Hollowell at the Fillmore Police Department, 805-524-2233.
Prepared by: Sergeant Will Hollowell
Approved by: Captain Garo Kuredjian, Fillmore Police Chief
By Gazette Staff Writers — Wednesday, July 27th, 2022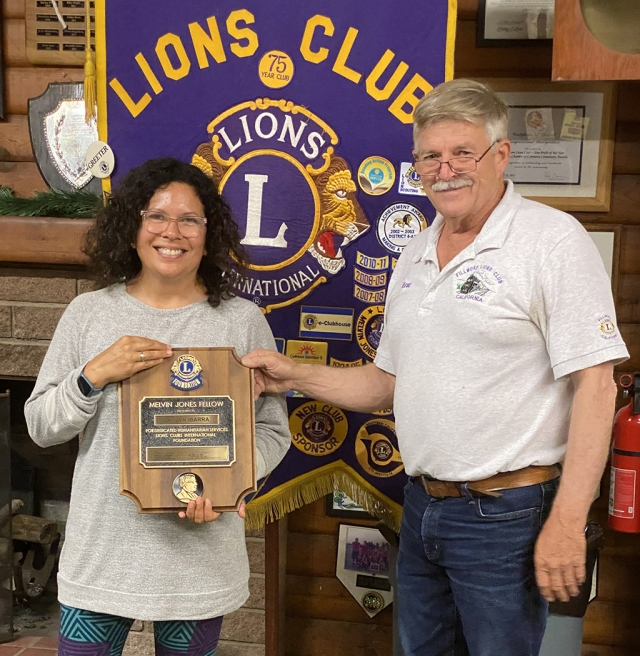 Fillmore Lions Club honored Jaclyn Ibarra, as recipient of the prestigious Melvin Jones Fellow. Mrs. Ibarra is the Fillmore Lions Club and foundation secretary, among other hats. She was honored for her dedication and services to the community. Melvin Jones was an early pillar of Lions, also a secretary-treasurer. He was known for years of dedication and service and was for his saying, "You can't get very far until you start doing something for somebody else. " MJ 1920. The award was presented by Fillmore Club President Stephen McKeown. Photo credit Fillmore Lions Club.
Enlarge Photo
By Gazette Staff Writers — Wednesday, July 20th, 2022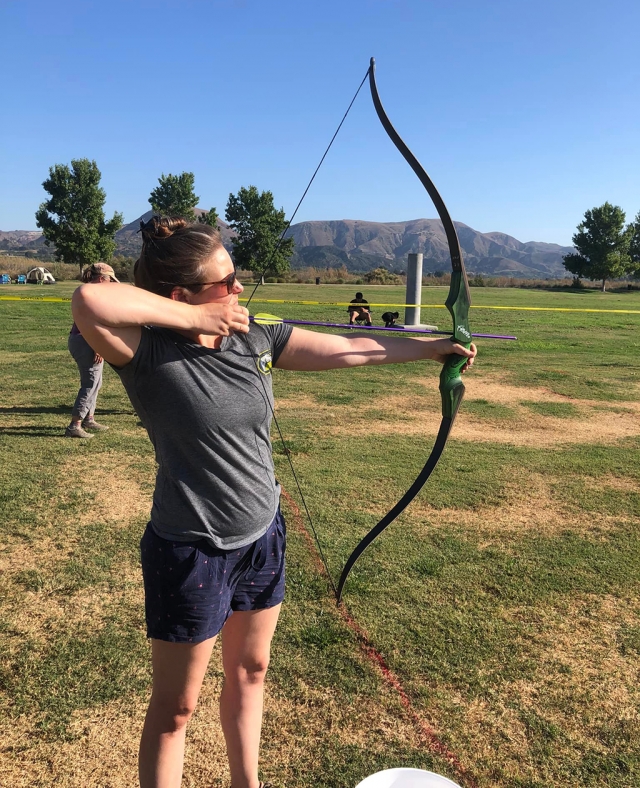 On July 16th and 17th The City of Fillmore Parks and Recreation Department hosted the Great American Campout at Two Rivers Park. From 5pm to 7 pm kids were able to try Archery activities hosted by City of Fillmore Parks and Recreation and US Fish & Wildlife. From 7pm – 8pm a Fire Safety Demonstration was done by the Fillmore Fire Department they also had S'mores and a movie at 8pm for all to enjoy. Photos courtesy https://www.facebook.com/cityoffillmore.
Enlarge Photo
By Ventura County Sheriff Department — Wednesday, July 13th, 2022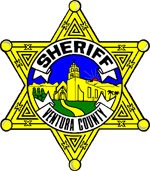 Ventura County Sheriff's Department
A 33-year-old Santa Paula resident was arrested for stealing approximately 80 feet of telecommunication copper wires from Southern California Edison utility poles.
On July 6, 2022, at about 3:00 PM a resident witnessed three suspects cutting the telecommunication copper power lines flanking the roadway of South Mountain Road near Balcom Canyon Road in the unincorporated area of Ventura County near Fillmore and called the police.
Patrol deputies and station detectives immediately responded to the scene. One suspect, Sergio Vasquez Gutierrez was detained, and he was positively identified as the suspect seen cutting down the wires. In addition, Gutierrez was in possession of approximately 100 feet of copper telecommunication wire, cutting tools, and a ladder. Evidence photographs attached.
Further investigation revealed several sections of telecommunication copper wire had been cut from Southern California Edison utility poles. The two other suspects fled and were not located at this time.
Thieves who steal wire containing copper recycle the stripped metal for money at recycling centers. Approximately 5,000 feet of cable has been stolen from this area over the recent months.
Gutierrez was booked at the Ventura County Main Jail for violations of Grand Theft, Criminal Conspiracy, Felony Vandalism, and Possession of Burglary tools. Gutierrez is currently on probation for theft related crimes. Gutierrez remains in custody and he is not able to post bail due to a probation violation hold. His court date is set for July 8, 2022.
Anyone with information pertaining to this crime or any other crimes are urged to contact The Fillmore Police Station @ (805) 524-2233 or the below listed detective. The reporting party may remain anonymous.
The Ventura County Sheriff's Office has established a secure database to log information about who has security systems. If you would like to register your system and allow authorities to contact you, should a crime occur in/or near where your cameras are installed we ask that you email the Fillmore Police Department at fillmorePD.CameraShare@ventursa.org.
Join us in the fight on crime by following us on Twitter @fillmoresheriff, Facebook, Instagram @VCSHERIFF, and with Nixle by texting your zip code to 888777 to receive local law enforcement and public safety alerts and advisories.
Nature of Incident: Suspect Arrested for Grand Theft of Copper Wire
Report Number: RB# 22-89375
Location: Balcom Canyon/South Mountain Road, Ventura County
Date & Time: July 06, 2022 @ 3:00 PM
Unit(s) Responsible: Fillmore Patrol Services, Fillmore Detective Bureau
(S)uspects, (V)ictims, (P)arty, (D)ecedent City of Residence Age
(A) Sergio Vasquez Gutierrez Santa Paula, 33
Prepared by: Sergeant Will Hollowell
Approved by: Captain Garo Kuredjian
Ventura County Crime Stoppers will pay up to $1,000 reward for information, which leads to the arrest and criminal complaint against the person(s) responsible for this crime. The caller may remain anonymous. The call is not recorded. Call Crime Stoppers at 800-222-TIPS (8477).
By Gazette Staff Writers — Wednesday, July 6th, 2022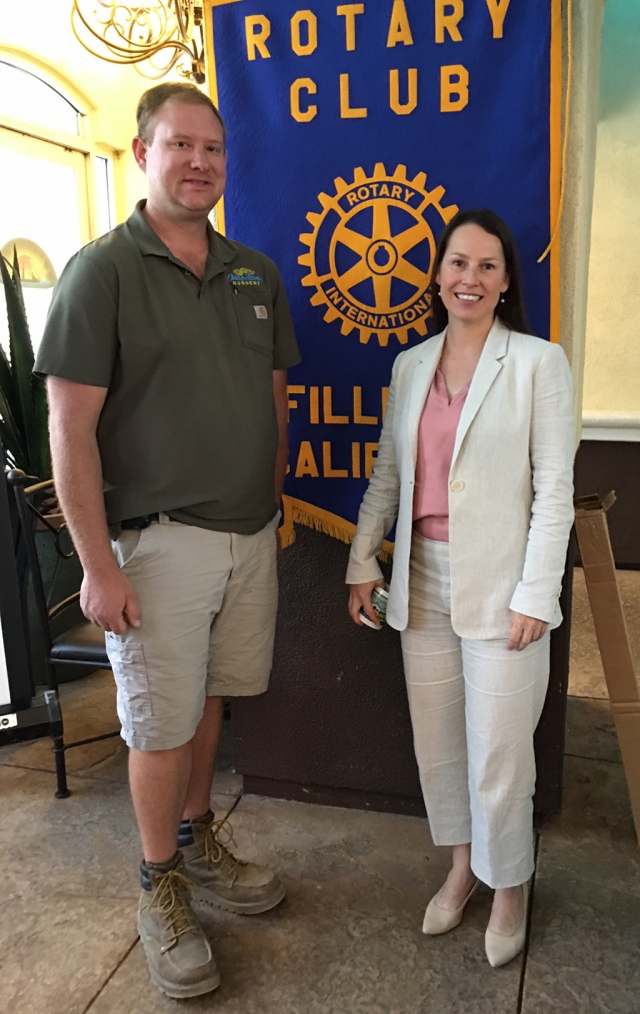 Pictured right is Rotary President Andy Klittich and Twyla Atmore, from Fillmore, who is a Deputy District Attorney for Ventura County. She was the guest speaker at the Rotary Club of Fillmore. The District Attorney assigned her the Sexually Violent Predator cases. She discussed what is involved and how she handles these cases. Photo credit Rotarian Martha Richardson.
Enlarge Photo
By Gazette Staff Writers — Thursday, June 30th, 2022
Courtesy Mark M. Alvarado
I met Lang Martinez in April of 2019. I was employed by the City of Oxnard as a Homeless Services Coordinator. At that time, Martinez was introducing himself during the public comment period at the Oxnard City Council meetings. He was fresh from a drug recovery program. After years of being homeless and addicted to drugs, he was facing another turn at sobriety. It was clear that his comments during the City Council meetings were set up to challenge the City's efforts for addressing homelessness.
After I resigned from my position in 2019, Martinez and I stayed in contact. Over the last three years I've learned more about Lang's personal journey. He suffers from sexual abuse that was inflicted upon him as a child. Factor in years of smoking crystal meth and cocaine. I now have a better understanding of why he became homeless and a convicted criminal. I also have deeper knowledge of the complexities behind homelessness. Today, the amount of trauma and mental health problems inside chronic homelessness is irreversible in its totality. But on a case-by-case basis with personal determination and the appropriate support, a person can recover.
Lang Martinez has a compelling story to tell. It carries all the elements of a broken life with a ray of light for salvation. Yet, it is a story that yearns for redemption. It also explains and contributes to the why and how of the decisions he makes when advocating for the homeless in Ventura County.
Lang prides himself on being a resident homeless advocate. But with little formal education, Lang can be a bull in a china shop. He can be impulsive, abrasive and vexed.
But these negative traits are often a reflection of the trauma he has endured on the streets and from being in prison. Lang has built an unreasonable reputation. Is it only because he does not accept no for an answer when seeking resources for the homeless? He can often lock horns when people disagree with him. That reputation follows him wherever he goes. To say Lang Martinez is a little rough around the edges is an understatement. But to say he's compassionate, determined and witty would be just as accurate.
Today, he lives to free himself from the living hell that once coated his life. Understanding Lang is a work in progress. It can be an unnerving experience for anyone on the opposite end of his advocacy. But this is what we get with a survivor like Lang. His social well- being was destroyed as a minor and what's left of him is trying to recover. He continues to work with a therapist to help him manage his attitude and decision making and he visits with his pastor regularly for spiritual guidance.
Now after finding sobriety for the third time and in an odd and unorthodox manner, Lang Martinez has become an unofficial public figure in Ventura County. His knack for staying involved and showing up, welcomed or not to homeless related activities has been a bit of a show. His activism has exhausted his relationship with some homeless officials. But surely, he has grabbed their attention due to his persistent attitude.
Publicly, he's been able to publish aspects of his life on the Ventura County based Citizens Journal website. He participated in an Oxnard citywide homeless summit in 2018 and soon after appeared in a homeless documentary produced by students at Cal State Channel Islands. He's also been interviewed twice on Stop Child Abuse Now Internet Radio, produced by the National Association of Adult Survivors of Child Abuse. Unfortunately, when he was arrested last year, KTLA News published an outdated mugshot of Lang with a report of all the charges he was facing. It's safe to say a lot of people know about Lang.
I caught up with Lang after KTLA published his arrest. An ex-girlfriend pressed charges against him in December of 2021 for suspicion of felony domestic violence, assault with a deadly weapon, robbery, criminal threats, burglary, and possession of a firearm. On May 4, 2022 the charges were dropped by Judge Rocky Baio in Ventura County Superior Court. Due to his prior criminal record, Martinez was looking at a sentence that would have probably sent him to prison for the rest of his life.The charges were dismissed pursuant to penal code 1385, which allows a judge to dismiss a case "in furtherance of justice." This outcome is the backdrop that drapes Lang's recovery and survival for full vindication. The charges could have sunk his sobriety, but his personal conviction won out. He remained sober throughout the entire ordeal. This alone was a victory for Lang.
Days before the case was dropped, Martinez was buying cigarettes for a friend at a Ventura strip mall. As he sat in his car, he closely watched a homeless man dig through a trash can. Martinez could not help but think about the charges against him and his former life as a homeless person strung out on crystal meth. He lived like a pariah, rejected, and wounded to the core.
I asked Lang how he felt after seeing the homeless man digging through the trash can. He became quiet and his breathing became more rapid. It is apparent that he is triggered by his own trauma and experiences. He has lost 37 years of his life due to crime, drug addiction and homelessness.
"I'm him. I'm also his advocate because I can identify with his life. Society is no better than him and we have no right to judge him and I often feel like nobody knows but me."
Lang's recovery began eight months before he started speaking at the Oxnard City Council meetings. In the summer of 2017 and in critical condition, he was found in a parking lot in downtown Oxnard by the Oxnard Police Department. He was suffering from exposure, chronic drug abuse and close to death. He was eventually transported to Ventura County Medical Center where his life was saved.
"I used to come to work every morning and see Lang behind my office passed out and foaming at the mouth," says former downtown Oxnard merchant Ron Freeman. "I seriously thought I would come to work one day and find him dead."
Martinez speaks with a rough gravel in his throat, he often wonders aloud how his life had shifted and was turned upside down at the age of 17. His parents were still in their teens when he was born. His mother, Anglo, and his father, Chicano, divorced. His mother remarried but Lang did not have a great relationship with his stepfather. It was in 1980, a junior at Westchester High School in West LA, when Martinez entered the world of cocaine trafficking. He was selling cocaine for an employer and it came with a ticket straight into the dark side of Hollywood. Lang says his mother went above and beyond to try and rescue him from the LA drug scene. Unfortunately, she could not save her son. Now 58 years old, the once teenage BMX racer living just miles from the beach, ended up a strung- out street person. He traces his downfall to when he met his drug induced predator, who Martinez says sexually assaulted him as a minor.
According to Martinez, he sold directly to Hollywood stars, nightclubs and specifically at the popular underage dance club, The Odyssey.
"The Odyssey in Hollywood was all about drugs, hustling, sex and violence and it was promoted well," says Eric Hamm.
Hamm is a 55-year-old survivor of the teenage scene in Hollywood, a former punk rocker who now drives for Uber and cares for his elderly mother in Ventura County.
"I know half a dozen kids who died from being a part of that scene, some just disappeared," says Hamm.
In the 1980's, the infamous Odyssey, which burned down in 1985, was considered ground zero for underage drug use and sexual predators. Dr. Lois Lee is the world's leading expert in rescuing child sex trafficking victims. She is the founder of the LA nonprofit Children of the Night. Since 1979, her organization has saved thousands of teenage lives from prostitution. She says teens were victims of prey at the hands of adult pedophiles. She knows adults had unabated access to underage clubs like the Odyssey. She was in the thick of it, working tirelessly on the streets of Hollywood saving as many children as she could.
"Lang is a survivor. Many of the kids from that period are either dead, had contracted HIV or are in prison," says Dr. Lee.
According to Dr. Katherine Emerick, a Clinical and Forensic Psychologist in Ventura County, there is a reasonable basis to believe that Martinez was subjected to childhood sexual abuse when he was in his late teens. After meeting and interviewing Martinez, Dr. Emerick concluded in a written certificate of merit, that Martinez' memory of being sexually assaulted was discovered after intensive regression therapy in 2020.
Martinez says once he turned 18, he was no longer needed as a drug runner and that is when the sexual abuse stopped. However, the madness in his life only intensified.
"In therapy is when I realized what had happened to me, I finally understood what my pain was all about and why I had suffered through multiple drug relapses and incarceration. My pain left me frozen. I have now received the help of professionals and I have a responsibility to help others. I have a story to tell. I am a courageous survivor because I did not let the monsters kill me," says Martinez.
Now after 41 years of living a broken life. He's often stuck thinking about his drug abuse, a failed marriage, incarceration and homelessness. Martinez is now in full recovery. He has been sober and off the streets for four years this July. He is committed to his recovery and wants his story to be known. He believes there are more victims like him who have lived in fear, shame and silence.
"I must show society that today I have taken responsibility for my life. I made a promise to God that I can forgive myself for the damage I have caused and live a life to help others who suffer from homelessness, drug addiction and other traumatic experiences," says Martinez.
At the height of his addiction to crystal meth, Martinez caused a major shutdown of a Crescenta Valley neighborhood in January of 2011. According to a report in the Los Angeles Times, he got into a car chase with the California Highway Patrol after stealing power tools from an Orchard Hardware store. As he got away, he caused a car accident and fled on foot into a residential area. This forced law enforcement to shut down a major intersection for three hours. Officers on foot and by helicopter searched for him. He was able to escape after stealing a bike. Two weeks later he was caught and charged for stealing electronics from a Target store in Burbank and was also charged with robbery of the Orchard Hardware store and evading officers in Crescenta Valley.
He atoned for the havoc he caused the community of Crescenta Valley 11 years ago. In 2021, he reached out to the Crescenta Valley News, who also covered the story. They published an apology from Martinez to the people of that community.
"I'm sorry," he stated. "I'm so sorry when I learned I had hit an elderly couple." Martinez told the Crescenta Valley News that he did not realize what had happened during both incidents.
Combining through the memory of the havoc he caused in Crescenta Valley with the recent felony domestic violence charges filed against him, Martinez looks at his life with this understanding.
"Looking at the seriousness of the crimes I've committed when I was on drugs and the recent false charges against me, I am just putting it all behind me. I now realize that I have become the cause for my future, rather than the effect of my past."
Today, Martinez' purpose is being built around his rogue homeless advocacy in Ventura County. He is a staunch believer in mental health, alcohol and drug abuse recovery before providing permanent housing to homeless persons. His strong voice in Ventura County towards supporting the homeless has cemented his name among homeless service providers. He has been persistent, advocating for the lives of those experiencing chronic homelessness and believes that if he can recover, others can too.
As a downtown business owner in Oxnard, Ron Freeman knows first-hand how Martinez' independent approach has had an impact providing outreach to homeless individuals with results.
"I can't say that Lang has done anything to help the overall homeless problem in Oxnard, but I can tell you that he has had a significant impact on helping individuals with immediate needs due to their homeless situation," says Freeman.
Freeman was forced to shut down his office where he provided independent financial services in downtown Oxnard due to the pandemic but has stayed in contact with Martinez.
"I've seen Lang help homeless people directly. He knows the resources available and he has helped a lot of people who were in crisis. He would bring homeless folks into my office and ask if he could use the phone to call for help," says Freeman. "Lang would go into Plaza Park and pull people off the streets and find them help. His peer-to-peer approach can be effective."
Martinez recently assisted a 49-year-old homeless woman in Oxnard. She was struggling to get off drugs, he helped her to find an emergency shelter. She is now sober and living in a supportive housing environment with resources, and she has also enrolled at Ventura College.
Assisting this Oxnard woman is a fitting example of how Martinez helps others struggling on the streets. But it is his own struggle and journey that will resonate with others who are child victims of sexual abuse. What is contrasting is that success had run deep in his family. Lang is the grandson of Horacio Martinez, who was the pioneering executive director for the leading Los Angeles Spanish newspaper, La Opinion. As well his maternal grandfather, Tom Barrett, who worked for President Roosevelt as a secret service agent in the 1940's.
Today, Martinez says he often sits alone digging through the trash that still lives inside him. He thinks about the nasty puzzle that represents the life he has lived. He admits that his story is hard to believe. But a person needs just five minutes with him. The level of hurt and trauma he has suffered will come to life. Martinez knows that he is fortunate to be alive. This alone gives him the motivation to try and help others.
"Lang is a resilient person, but he makes mistakes," says Bill Murray of the National Association of Adult Survivors of Child Abuse. "He's always trying to help people and that's a big part of his recovery."
From his childhood and up to today, Lang Martinez has faced situations in life the average person would never imagine. The long-term effects of being a crystal meth addict can be debilitating, but he is recovering as a true survivor. He strongly believes his story will set him and other victims of sexual assault free from a living hell wrought with silence, guilt and pain.
"I now realize that this is what I had to go through to get to the other side, a place of healing in order to help others like me," says Martinez. He says that his life's journey is just the way it is, that after being lost for so many years, he cannot expect immediate freedom once in recovery.
Sobriety sits at the core of his life today. His ongoing commitment to stay sober and to find a way to circulate his story drives his desire to help others. He believes that if his ongoing advocacy can also reach those who are victims of sexual assault, he could establish a platform for resources and support that links homelessness, drug addiction and incarceration with being a victim of sexual violence. This is Lang's vision. But he knows it depends on his ability to maintain his recovery.
"It's a lifelong process, living life on life's terms is a life struggle and it's not easy," says Martinez. "My recovery must believe that God is everything or it is nothing at all. My past will always be a part of me. It is the key but not the lock."
By Gazette Staff Writers — Wednesday, June 29th, 2022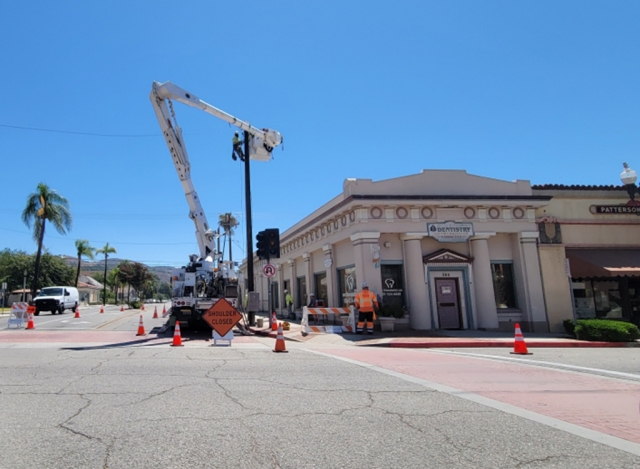 On Friday morning to midday, on June 24th, Edison workers had road work signs up at Central Avenue and the Sespe intersection to work on the power lines, (maybe) preparing for the summer heat ahead.
Enlarge Photo
By Gazette Staff Writers — Wednesday, June 15th, 2022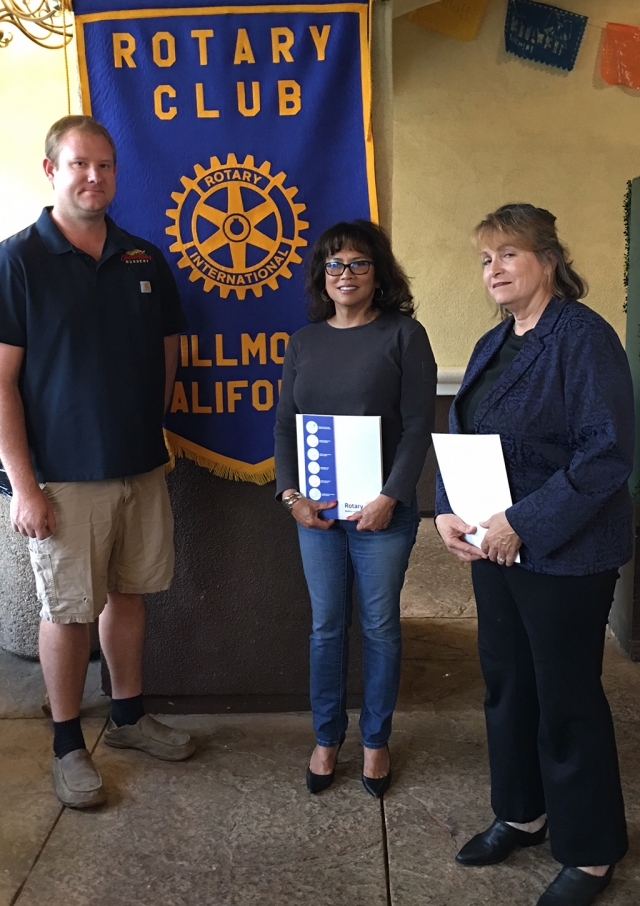 Pictured is Rotary President Andy Klittich inducting two new members into the Rotary Club of Fillmore: Carina Forsythe and Anna Reilley. Photo credit Rotarian Martha Richardson.
Enlarge Photo
By Gazette Staff Writers — Wednesday, June 8th, 2022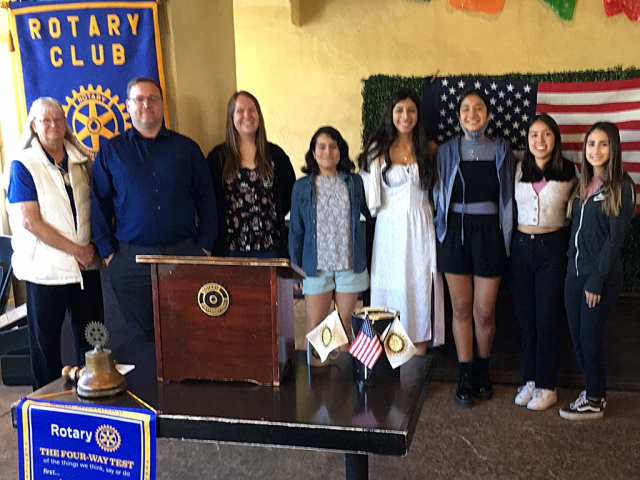 Fillmore Rotarian Cindy Blatt and FHS Interact Club Advisor Jeremiah McMahn introduced six Interact Club members who visited Fillmore Rotary last week. They were Emma Myers, Melissa Higuera, Jimena Cortes, Gabriela Herrera, Brianna Camacho and Nathalia Magana. Interact Clubs bring together young people to develop leadership skills while discovering the power of Service Above Self. The Club plans projects to help their school or community and participates in Rotary projects as will. Rotary Club sponsors, mentors and guides Interactors as they carry out their projects and develop leadership skills. Photo credit Rotarian Martha Richardson.
Enlarge Photo
By Gazette Staff Writers — Wednesday, June 1st, 2022
Join us, the Friends of California Condors Wild & Free and more Ventura County outdoor recreation groups, at Sheills Park in Fillmore, for the first ever Condor Country Nature Fest next Saturday, June 4th from 11:00am to 3:00pm.
Condor Country covers over 10,000 square miles in Southern California, across so many wonderful nature areas that we can all go out and enjoy; and oh, and how many great ways there are to get outdoors and enjoy our environment!
The Condor Country Nature Fest will help connect you to local outdoor recreation and education opportunities in Ventura County
from hunting and fishing to habitat restoration and of course all things Condor. You'll even be able take a shot at archery,
a great non-lead hunting option, with the Hopper Mountain National Wildlife Refuge Complex.
By Gazette Staff Writers — Wednesday, June 1st, 2022
On May 18, 2022, Nova Storage received unanimous Planning Commission approval to expand its self-storage facility in Fillmore by 16,500 square feet, or about 60%. The two-story addition will feature at grade entrances on both floors and 14 drive up units. This project will represent Nova's second expansion in Fillmore.
The existing storage facility is a conversion of a 1947 fruit packing plant. The new building will incorporate a 'saw-tooth' roof feature to tie together the two buildings architecturally. The project will also include upgrades to the adjacent bike path. The expansion is expected to open in Spring 2023.
"Nova Storage would like to thank the Planning Department for their support of this project." said Andrew Rankin, President of Nova Storage.
About Nova Storage: Headquartered in Mission Hills, California, Nova Storage offers Safe, Clean, Well-Lit and Secure self-storage to over 7,000 tenants. Founded in 1982, Nova is locally owned and operated, with ten locations across Los Angeles, San Bernardino and Ventura Counties.
Nova Storage Fillmore is open for business, and customers can reserve their own secure space by visiting NovaStorage.com or calling (805) 944-1392.
By Gazette Staff Writers — Thursday, May 26th, 2022
Man Arrested for Domestic Violence, ADW, Robbery, Criminal Threats, Burglary & Felon in Possession of a Firearm - 12/12/2021 EDITION FILLMORE GAZETTE
UPDATE: On May 4, 2022 all misdemeanor and felony charges were dropped against Lang Martinez.
By Gazette Staff Writers — Thursday, May 26th, 2022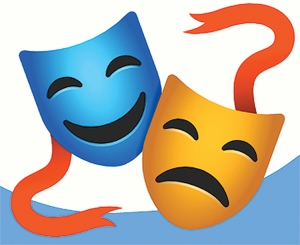 Where: Fillmore High School Drama Room – right across from the Memorial Building
When: June 1st at 6pm
We are a culturally rich community, but we have been missing a vital part of our artistic core – live theatre. It's time we pushed for return of this much-loved art form that has been such a vital part of our community – our culture – for decades. It's time for The Sespe Players.
After a challenging couple of years (due to the pandemic), your local community theatre troupe, The Sespe Players, Inc., are gearing up for the upcoming season. Our first production is in the planning stage and the rest of the performance schedule is yet to be established. We could sure use your input!
On June 1st, at 6pm, The Sespe Players will meet in the Drama Room at Fillmore High School (directly across the street from the Memorial Building). We will be discussing the upcoming jukebox musical (woohoo!), available performance spaces, future productions, and welcoming our new and returning members (YOU!). Every performance troupe needs actors, of course, but we would welcome any and all with the desire to help with set construction, lighting design, costuming, prop handling, directing, stage managing, accounting
 you name it, we could use your talents!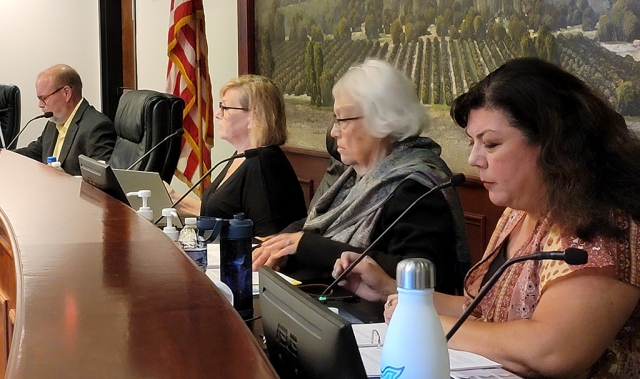 Fillmore City Council
Enlarge Photo
By Gazette Staff Writers — Thursday, May 26th, 2022
All following items approved by unanimous voice vote:
6-C City Council, consistent with the recommendation from the Mayor, appointed Dr. Giselle Teller to fill the position on the Parks and Recreation Commission through June 30, 2026.
6-D The City Council memorialized the authorization to use electronic signatures when allowed by law.
6-E The Contract Services Agreement for 2022-23 Engineering Consultant Services with David Burkhart was approved.
6-F Council approved the second reading to adopt an Ordinance entitled "An Ordinance of the City Council of the City of Fillmore, California, Updating Portions of the City's Animal Control Regulations in Title 9 of the Fillmore Municipal Code."
New Business
7-A The attached Second Amendment to the Implementation Agreement for the NPDES Ventura Countywide Stormwater Quality Management Program Implementation Agreement was approved unanimously.
7-B Staff requested the City Council hold a Public Hearing and adopt the attached resolutions approving the Engineer's Annual Report for FY 2022-23 ("Engineer's Report") and ordering the levy and collection of annual assessments for the City of Fillmore Landscape and Lighting District No. 2 ("LLD 2") and Heritage Valley Landscape and Lighting District 2007-1 ("LLD 2007-1"), respectively. Council approved unanimously.
7-C Staff requested that the City Council conduct a Public Hearing and adopt Resolution No. 22-3884 Confirming the Annual Budget and Ordering the Levy and Collection of Assessments for the Storm Drain Maintenance Assessment Districts for FY 2022/23. Resolution approved unanimously.
7-D Staff requested that the City Council approve the third amendment to the contract with Willdan Engineering Services, Inc. (Willdan) for contract city engineering services. Approved unanimously.
7-E City Council approved a proposal for the preparation of plans, specifications and estimates for the FY2021/22 Annual Street Resurfacing project and authorize the City Manager to issue a task order to Willdan Engineering as authorized under the Third Amendment of the Contract Services Agreement for City Engineering Services. Approved unanimously.
7-F Staff requested that the City Council adopt Resolution Number 22-3889 setting the GANN Appropriation Limit for Fiscal Year 2022-23. Approved unanimously.
7-G Staff recommended that the City Council approve an amendment to Title 16 of the Fillmore Municipal Code ("FMC") to allow specified circumstances in which the Director of Finance, or in the Director of Finance's absence, the City Manager can allow payment plans for customers with overdue bills when those customers have household income which is less than 200% of the federal poverty line. Approved unanimously.
By Gazette Staff Writers — Thursday, May 26th, 2022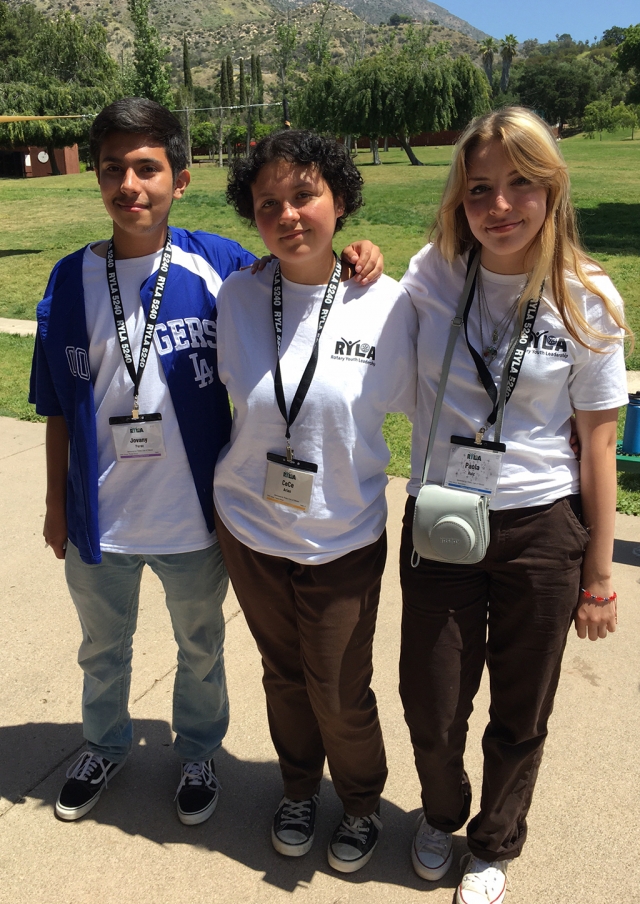 The Rotary Club of Fillmore sent three FHS Juniors to RYLA Rotary Youth Leadership Awards camp in Ojai. The goal is Building Tomorrow's Leaders through Leadership, Citizenship and Personal Development. The three students were (l-r) Jovany Perez, Cecelia Arias and Paola Ruiz. They talked about their experiences, meeting new people and being part of a team and working together. The ropes course was the scariest challenge; they had to rely on their teammates. On Sunday, at closing, Jovany received a Valor Award for helping someone, who was scared, succeed to the end. Photo credit Rotarian Martha Richardson.
Enlarge Photo
By Gazette Staff Writers — Thursday, May 19th, 2022
In observance of the Memorial Day holiday, employees of Santa Clara Valley Disposal will be taking the day off on Monday, May 30. As a result, Fillmore residential customers will have their trash, recycling and yard/organic waste collected on Saturday June 4, one day later than usual.
The regular Friday collection schedule will resume the following week.
Harrison Industries serves the cities and surrounding unincorporated areas of Ventura, Ojai and Camarillo as well as the unincorporated areas of El Rio, Somis, Ojai Valley, the Channel Islands beach communities and the city of Carpinteria as E.J. Harrison & Sons; Fillmore and surrounding unincorporated areas as Santa Clara Valley Disposal; and the unincorporated areas of Newbury Park as Newbury Disposal. For more information, visit www.ejharrison.com
By Gazette Staff Writers — Wednesday, May 11th, 2022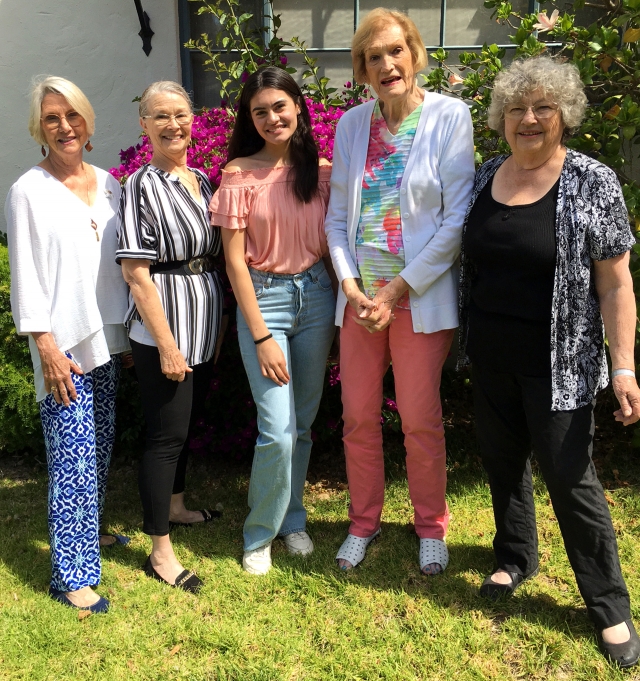 The Fillmore Philanthropic, Education, Organization (PEO) Chapter GY presented the 2022 Education Award to Emilia Magdaleno. Also pictured are PEO committee members Carolyn Diaz, Jan Lee, Pat Morris and Joanne King who presented Emilia with her award. Photo courtesy Martha Richardson. "Women Helping Women Reach for the Stars."
Enlarge Photo
By Gazette Staff Writers — Wednesday, May 4th, 2022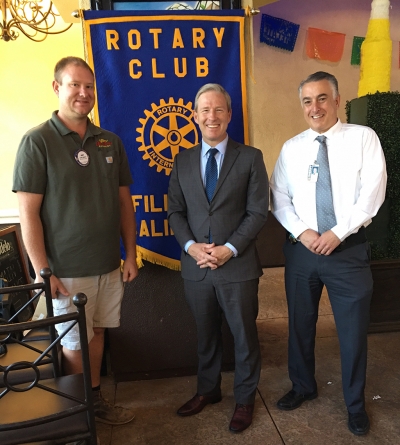 (l-r) Rotary President Andy Klittich, District Attorney Erik Nasarenko, and Fillmore Police Chief and Rotarian Garo Kuredjian. Photo credit Rotarian Martha Richardson.
Enlarge Photo
Erik Nasarenko, District Attorney for the County of Ventura, was the Fillmore Rotary speaker last week. He is a Rotarian and Paul Harris Fellow. Before he became the District Attorney he was a prosecutor for domestic violence and sex crimes. Since he became the District Attorney, he has hired 15 prosecutors; one is a Fillmore woman, Twila Atmore, daughter of Clark and Shelley Johnson. One of his goals has been to get grants from the Department of Justice to form a Cold Case Department, to test DNA samples and solve more crimes.
By Gazette Staff Writers — Wednesday, April 27th, 2022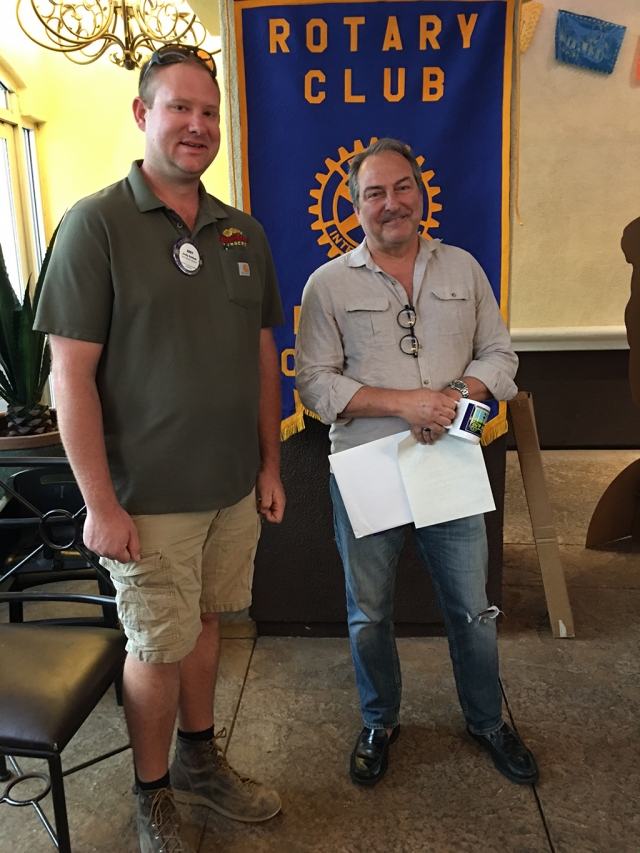 Rotary President Andy Klittich, left, inducted new member Greg Agostinelli into the club last week. Greg is the Arts Commissioner, and is involved locally in music, proposing the Film Festival concept. Photo credit Rotarian Martha Richardson.
Enlarge Photo