By Gazette Staff Writers — Friday, March 24th, 2023
President Dave Anderson inducted Fillmore Police Chief Eduardo "Lalo" Malagon as a new Rotary Club member Congratulations, Eduardo! Courtesy Rotarian Martha Richardson.
By Gazette Staff Writers — Wednesday, March 15th, 2023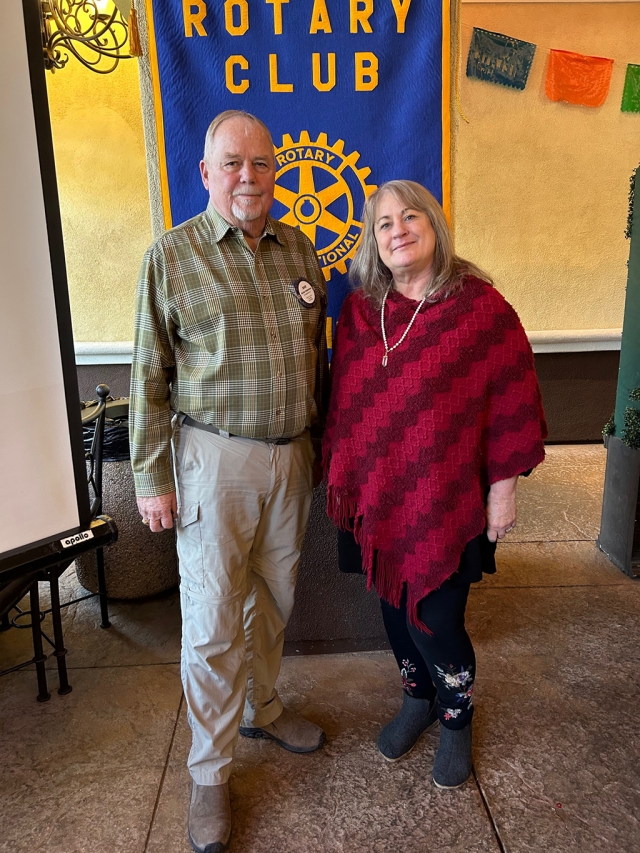 Kyle Wilson gave a special presentation of the Paul Harris Fellow Awards to Renee Swenson and Dave Andersen. Paul Harris was the founder of Rotary in 1905 and he started the Rotary Foundation in 1957. To be recognized for this award $1,000 is donated to the Foundation. It can be donated by the recipient or given in that person's name. If more than $1,000 is donated the pin will have a special stone such as a Sapphire for each $1,000. Congratulations Renee and Dave! Pictured (l-r) is Dave Andersen and Renee Swenson. Photo courtesy Rotarian Martha Richardson.
Enlarge Photo
By Gazette Staff Writers — Wednesday, March 15th, 2023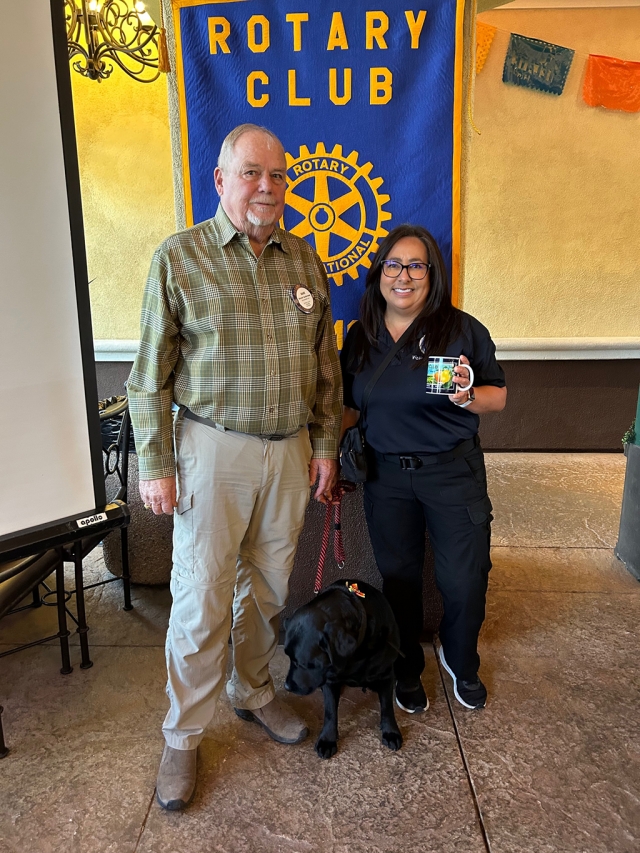 Carrie Broggie introduced Andrea Stewart, D.A. Victim Advocate, with the Courthouse Dog Program. Andrea is part of the Victim's Assistance Unit located at the Hall of Justice. Her dog's name is Star, one of several which are trained to support and comfort victims. They may sit by the victim in the courtroom, or during initial interviews. The victim may pet the dog, or the dog may lay at their feet. This is especially comforting to children. This Program offers Camp Hope, a week of fun for children after all they've gone through. Pictured (l-r) Rotary President Dave Andersen, Andrea Stewart and Star.
Enlarge Photo
By Peggy Kelly — Wednesday, March 15th, 2023
By Peggy Kelly
Santa Paula Times
It has been 29 years and a handful of days since a popular 21-year-old Ventura subscription salesman was shot down after leaving a friend's Santa Paula-Ojai Road area apartment in Santa Paula early on March 7, 1994, and Eric Velasquez's mother still is hoping for justice.
Velasquez was killed by a single shot to the chest, fired by an unknown gunman standing in the parking lot. Velasquez died at the scene, leaving behind grief-stricken relatives and friends and baffled police.
The murder has remained a cold case, but one that received an infusion of funds when the state set a $50,000 reward to find Velasquez's killer.
Velasquez was described by family and friends as devoted to his family, his girlfriend, and his work as a subscription salesman for the Los Angeles Times.
"I think whoever did this is sure suffering in some way or another," Susan Ventura, Velasquez's mother, said at the time. "But it's all over the city — not just in Los Angeles. They can't control the guns."
Many residents of the apartment complex said they were unaware of the incident until later in the morning; one who said he heard a strange noise found Velasquez's body lying in the carport and called police.
Other witnesses told Santa Paula police investigators that the gunman may have been a man who was involved in an argument with Velasquez earlier in the evening when he arrived at the complex to visit a friend. The man who Velasquez was seen arguing with was a friend of a man who lived in the apartment complex.
The two exchanged words and, reportedly, Velasquez said something related to the other person threatening him with a gun in Ventura, but the two shook hands after the man de nied he had pulled the weapon.
Velasquez had been student at UC Santa Barbara for one semester before taking leave because he and his family could no longer afford the tuition. But he found a job he seemed to be made for — selling subscriptions to the Los Angeles Times door-to-door, every weekday from 4 to 9 p.m.
Most months, he was the top salesman or at least second from the top, taking pride in his work and success in selling subscriptions.
His family and friends described Velasquez as outgoing, gregarious, and persuasive — perfect traits for a job in sales.
To save money, Velasquez lived with his parents, baby-sat his 10-year-old brother in the afternoons, and on the weekends drove to La Puente, where he had attended high school, to visit his high school girlfriend, a romance that never waned.
He was returning from La Puente the evening that he stopped off in Santa Paula to see a friend and subsequently was killed.
Velasquez's mother, Susan Ventura, set up a $1,000 reward out of frustration in September 1995.
"I want justice to be served in my son's murder," Ventura said then. "I want his killer off the streets."
In October 2022, Gov. Gavin Newsom offered a $50,000 reward for information leading to an arrest and conviction for the murder of Velasquez. The reward was part of a $200,000 allotment made to spur leads in four cold cases.
At the time, the Governor's Office noted: "The Santa Paula Police Department has exhausted all investigative leads and requested that a reward be offered to encourage anyone with information about this murder to contact Detective S. Virani at 805-525-4474. The victim's family has also offered a $1,000 reward and rewards are offered by Crime Stoppers and We-Tip."
Had he not been killed, Eric Velasquez would now be 50 years old.
By Mark Ortega — Thursday, March 9th, 2023
Calling all FHS Alumni from the great class of 1973! A 50 year Class Reunion is planned at the Fillmore High Alumni Dinner Event on Saturday, June 10th, 2023.
What a celebration this will be. Each year the Alumni Association invites all our Alumni and their guests to attend this wonderful evening event in downtown Fillmore in front of City Hall/City Park. Lately, many Class reunions have taken part in the annual dinner, and the great class of 1973 will mark their spot as they celebrate 50 years at their reunion. We hope all Alumni and their guests will make plans to attend this years Dinner. Catering this years dinner will be award winning Cater DJ's California Catering from Ventura. Included with your payment to the event will be delicious Appetizers (For the early arrivals), Included with Dinner is Dessert, Water, Coffee, and Tea. There will also be four Bars for mixers, Beer, and Wine. This year we have two DJ's along with a Live Band for your evening dancing and listening pleasures. In addition to the class of '73's reuion, many other classes are planning to attend their class reunions so we encourage Everyone to pay for your reservations as soon as possible. THE EVENT HAS SOLD OUT in recent years and we expect another sell out this year. Please go to www.fillmorehighalumni.com
By Gazette Staff Writers — Thursday, March 9th, 2023
Oaks Christian High School student recognized for superior academic achievement by The National Society of High School Scholars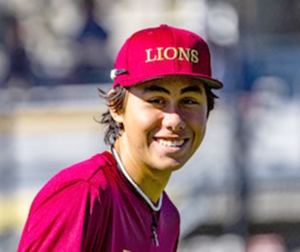 Fillmore's James Latshaw
The National Society of High School Scholars (NSHSS) today announced student James Latshaw from Fillmore, CA, has been selected to become a member of the esteemed organization. The Society recognizes top scholars who have demonstrated outstanding leadership, scholarship, and community commitment. The announcement was made by NSHSS Co-founder and President James W. Lewis.
"On behalf of NSHSS and our co-founder Claes Nobel, a member of the family that established the Nobel Prizes, I am honored to recognize the hard work, passion, and commitment that James has demonstrated to achieve this exceptional level of academic excellence," said Lewis. "James is now a member of a unique community of scholars — a community that represents our very best hope for the future."
"We are proud to provide lifetime membership to young scholars to support their growth and development," stated Lewis. "We help students like James build on their academic success by connecting them with learning experiences and resources to help prepare them for college and meaningful careers."
NSHSS members automatically become lifetime members at the time of their initial membership. Each step along the way — from high school to college to career — NSHSS connects outstanding young scholars with the resources they need to develop their strengths and pursue their passions.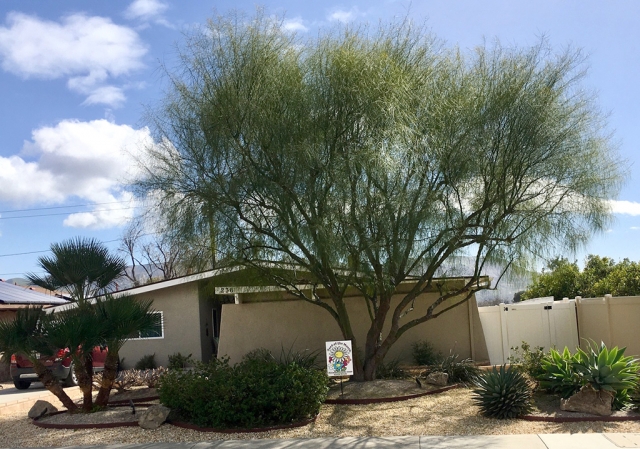 Fillmore Civic Pride Volunteers have selected the 2023 March Yard of the Month winners, John and Carol Ramos, whose beautiful home pictured above sits on Second Street in Fillmore. Photo courtesy Linda Nunes.
Enlarge Photo
By Linda Nunes — Wednesday, March 1st, 2023
Civic Pride Volunteers have selected the yard of month John & Carol Ramos at 236 Second Street for the March, "Yard of the Month", award. Otto & Sons Nursery has generously supported this program since the beginning & now awards a $50 gift certificate to the nursery.
John & Carol lived on Fourth Street in the early 1980's, then moved to the Central Coast for work & returned to Fillmore in 1989 because they liked the community. They purchased the home on Second Street which was surrounded by shrubs, at the time.
After their work slowed down, in 2014-2015, they hired Landscape Architect, Taryn Tree from Camarillo to design a drought tolerant landscape that complimented the architecture of the home & worked with her in choosing the plants.
The focal point is a beautiful Palo Verde tree in the back center, with red yucca plants behind, large aloes of different varieties to the right, a large circle of variegated lantanas in the front, a spreading, Mexican Fan Palm on the left, and dormant Red Bird of Paradise (Caesalpinia pulcherrima) bushes professionally pruned, ready for Springtime.
Lining the driveway are a row of dormant Crepe Myrtles with aloes beneath them. Near the entry, are rosemary bushes.
The yard has been designed for low maintenance & water conservation with weed barrier, covered by rock & contained planted areas. It is now beautifully maintained by a local gardening company, Joe Anderson, Landscaper.
By Gazette Staff Writers — Monday, February 6th, 2023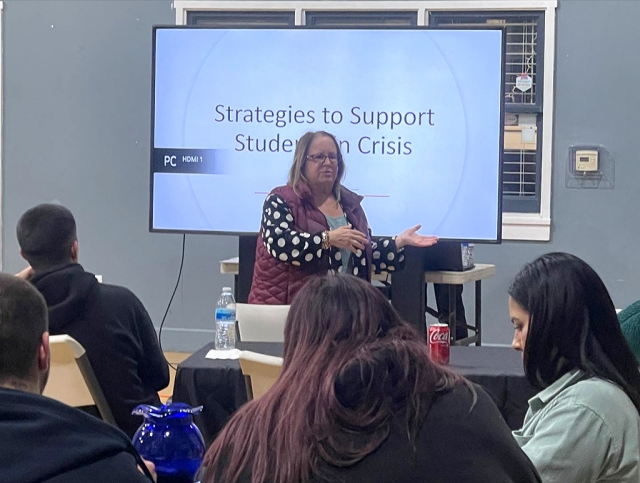 Many thanks to Trina Tafoya from FUSD and her awesome team of Special Education Coordinators and Counselors! Last week they gave a training on Strategies to Support Students in Crisis to the Boys & Girls Club of Santa Clara Valley. It is our goal to equip our staff with the tools and strategies for success, always growing and learning. Inset, is Jan Marholin Chief Executive Officer of Boys & Girls Club of SCV. *Special bonus – Former Club Alumni and former YOY, Nancy Luna was part of the presenting team. Courtesy https://www.facebook.com/bgclubscv
Enlarge Photo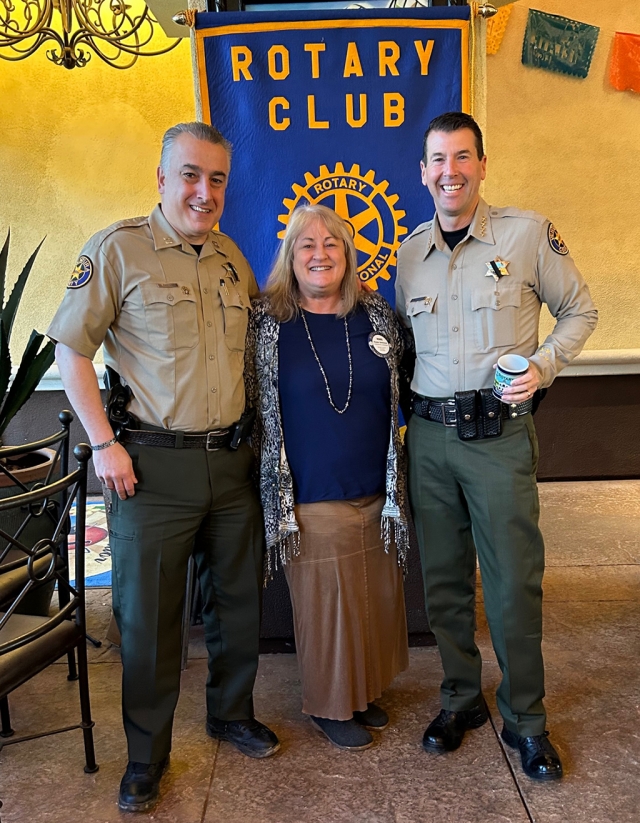 (l-r) Rotarian and Fillmore Chief of Police Garo Kuredjian, past Club President Renee Swenson, and the new Ventura County Sheriff, Jim Fryhoff. Courtesy Rotarian Martha Richardson.
Enlarge Photo
By Gazette Staff Writers — Thursday, January 26th, 2023
Rotarian and Fillmore Chief of Police Garo Kuredjian informed the Rotary Club that he has been promoted to Commander and will be overseeing pre-trial detentions in the City of Ventura, thus leaving Fillmore. We will miss him and all he has done in the community! Garo also introduced new Ventura County Sheriff, Jim Fryhoff. Fryhoff related all the positions he has held and the experience he has had in his career to date. He informed the Club that there are 750 Deputies in the county. One of his goals is to promote positivity amongst the officers and to motivate them to make their communities better. He explained that Fillmore is a contract city with the Sheriffs Department, which means we have full use of their resources such as the Crime Lab, Air Unit, Search & Rescue, and SWAT to name a few.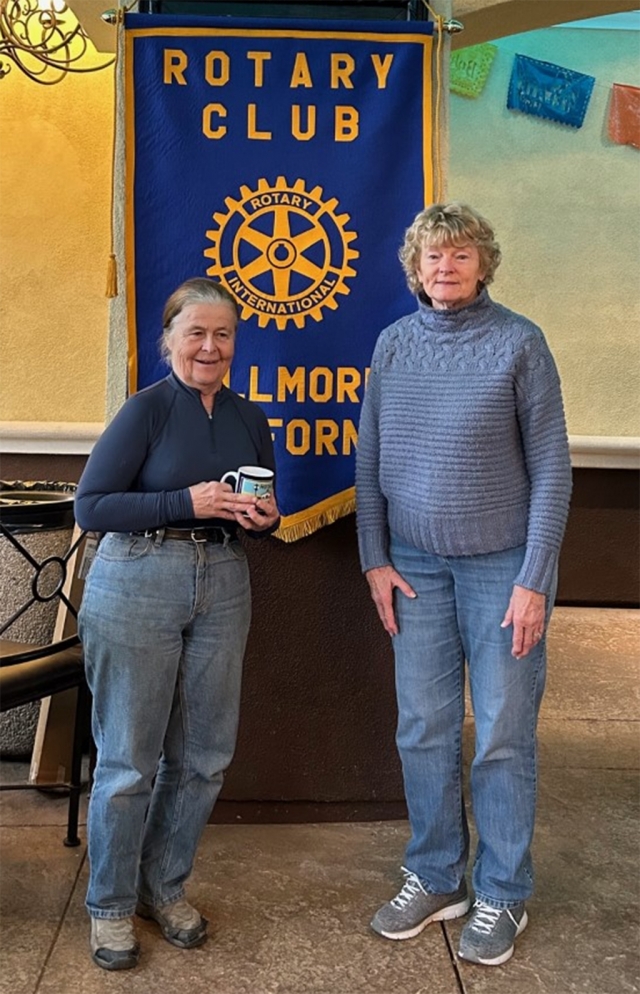 Pictured right is Rotarian Barb Filkins, last week's speaker, and Rotary Past President Martha Richardson.
Enlarge Photo
By Gazette Staff Writers — Thursday, January 12th, 2023
The guest speaker last week was Rotarian Barb Filkins. She grew up on the East Coast and moved to California to attend Pomona College. Later she attended Harvey Mudd College and got her private pilot license. After graduation she was homesick so returned east and taught flying for Empire Airlines. In 1978 she got a job in California and she and her fellow pilot, Dale, moved here and were married. They were flying and working at the National Test Pilot School. She taught in the cockpit as well as in the classroom. Her passion is to teach and inspire each student to be the best and to inspire others. Courtesy Rotarian Martha Richardson.
By Gazette Staff Writers — Friday, December 30th, 2022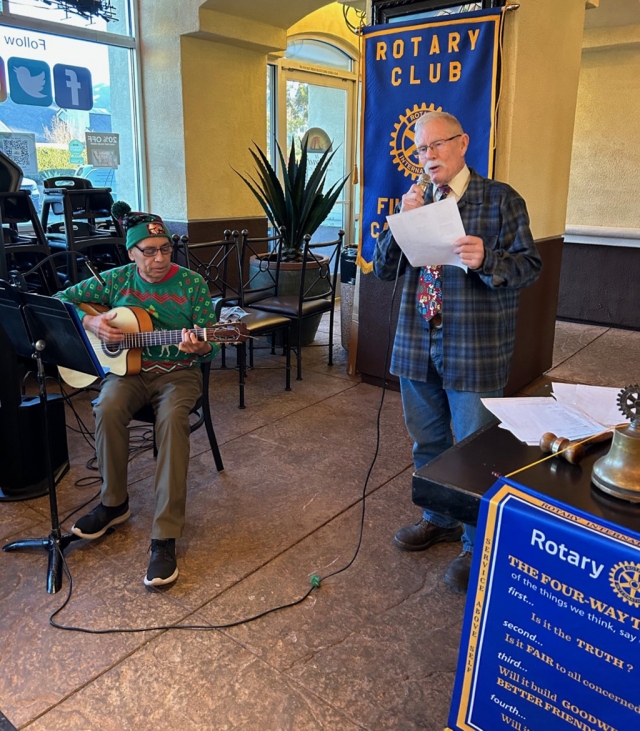 Pictured are Rotarians Joe Aguirre and Bob Hammond who donned their Christmas clothes, guitar and mic, and led everyone in Christmas Carols at last week's Rotary Club meeting. It was very entertaining and got everyone in the Christmas Spirit. Photo credit Rotarian Martha Richardson.
Enlarge Photo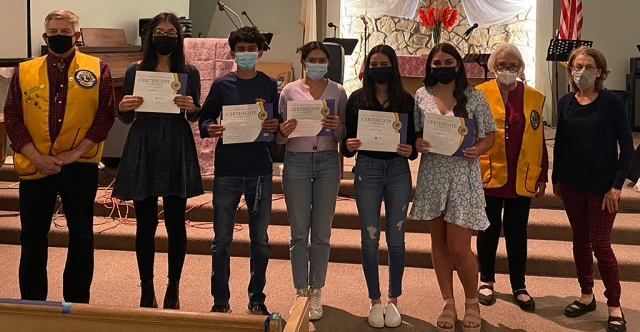 Pictured are Club President Steve McKeown, and all five participants from last year's competition: Jimena Cortes, Camilo Torres, Carmen Ibarra, Jessica Videgain and Alanna Garcia, who was the 1st place winner for the 2022 Contest. Also pictured are Lions Club members Lynn Edmonds and Gaylynn Brien. Photo credit Jaclyn Ibarra.
Enlarge Photo
By Gazette Staff Writers — Thursday, December 22nd, 2022
The Fillmore Lions Club has announced the 2023 Student Speaker Contest topic, "Social Media: Connects Us or Isolates Us?" This year's contest will be held February 6th, 2023. Deadline to apply is January 23rd, 2023—see contest details in article.
This topic is very important and relevant in our world today. The contest will be held on Monday February 6th, 2023 at 6:45pm at the One Step A La Vez located at 421 Sespe Ave. Parents, students, educators and the general public are invited to attend. The contest is open to all Fillmore area students of high school age regardless of the school of attendance (including home taught, those attending outside of the district and foreign exchange students). The deadline to apply by is Monday, January 23rd, 2023. More information about the contest and how to sign up can be found at www.fillmorelionsclub.org
The winner will receive $100 and all qualified participants will receive $25 providing their speech is at least 5 minutes but no longer than 10 minutes. The winners of each stage of competition will receive a financial award and be invited to the next level of the contest. The ultimate winner will receive a total of $21,000 in scholarships to a school of their choice. Students interested in participating can contact Gaylynn Brien at 360- 521-5647 or Mr. Overton at Fillmore High School at 805-276-6070.
Students should start early to enter the contest and writetheir speech because it takes time to research and prepare. Additionally, the number of students entering the contest may be limited.
By Gazette Staff Writers — Thursday, December 22nd, 2022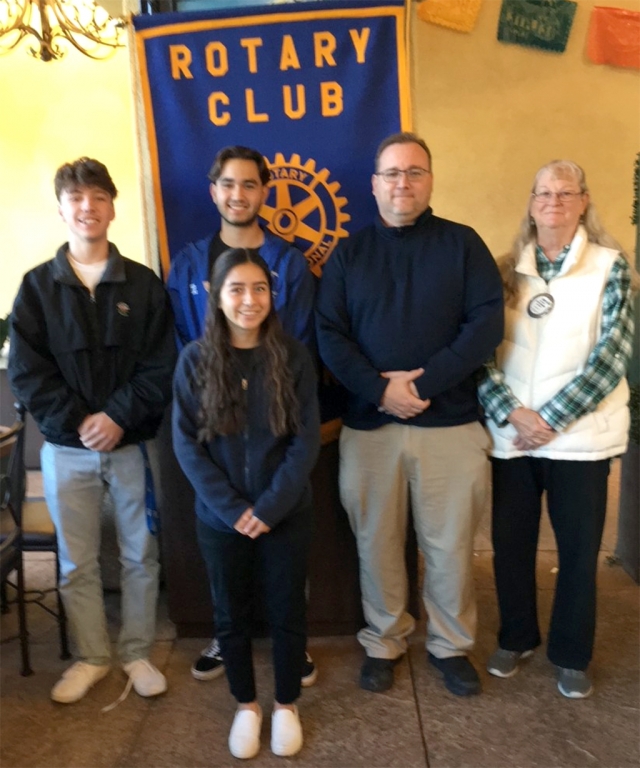 Guests from last week's Fillmore Rotary meeting were introduced by Rotarian Cindy Blatt. Jeremiah MacMahon is the Interact Club Advisor. The Interact Club is the High School version of Rotary. They work on community service projects like making paper cranes for Peace Day, Trunk or Treat, decorating a Christmas tree downtown, and help us on our projects such as Josh the Otter. Three of their officers attended the meeting, Club President Andrea Laureano, Vice President Jack Morris and Secretary Sebastian Landeros. Pictured are this week's guests Jack Morris, Sebastian Landeros, Jeremiah MacMahon, Advisor Cindy Blatt and pictured front, Andrea Laureano. Courtesy Rotarian Martha Richardson.
Enlarge Photo
By Gazette Staff Writers — Thursday, December 15th, 2022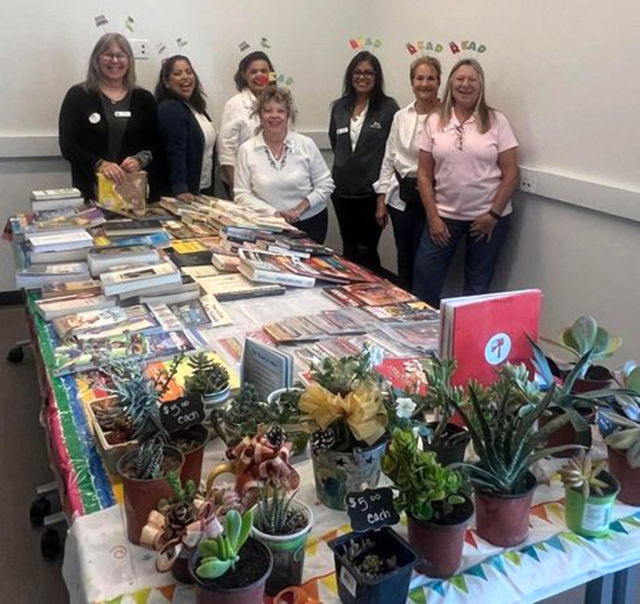 You too could be part of this fun group 
 we are the Fillmore Friends of the Library nonprofit organization that helps support library programs (with a couple of folks not pictured). Our meeting this month was Tuesday, December 13th, at 12:30pm at our beautiful newly renovated library. Come join us to see how you can be involved! Fillmore Friends of the Library Facebook page.
Enlarge Photo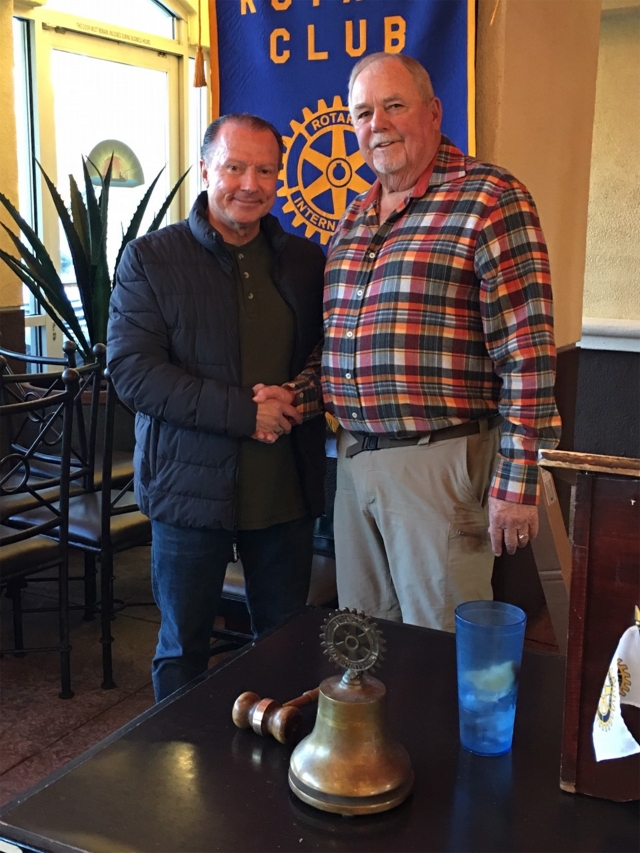 (left) Film Producer Danny Haro and Rotary President Dave Andersen. Photo Courtesy Rotarian Martha Richardson.
Enlarge Photo
By Gazette Staff Writers — Wednesday, December 7th, 2022
Our program last week was presented by Danny Haro, Executive Producer of Higher Ground Entertainment. He related a story about a young man who came to America for a better life. He started as a farm laborer, went to night school, on to college and finally became a brain surgeon. Dr. Q, his nickname, wanted to give back so be began Mission Brain, where he could perform brain surgery all over the world for free. The doctor will be going to Mexico City on Dec. 17th to perform brain surgery, and Danny Haro will be going along to make a documentary film of the surgery. This will be used to inspire young people to get involved in medicine and STEM. Courtesy Rotarian Martha Richardson.
By Gazette Staff Writers — Saturday, November 19th, 2022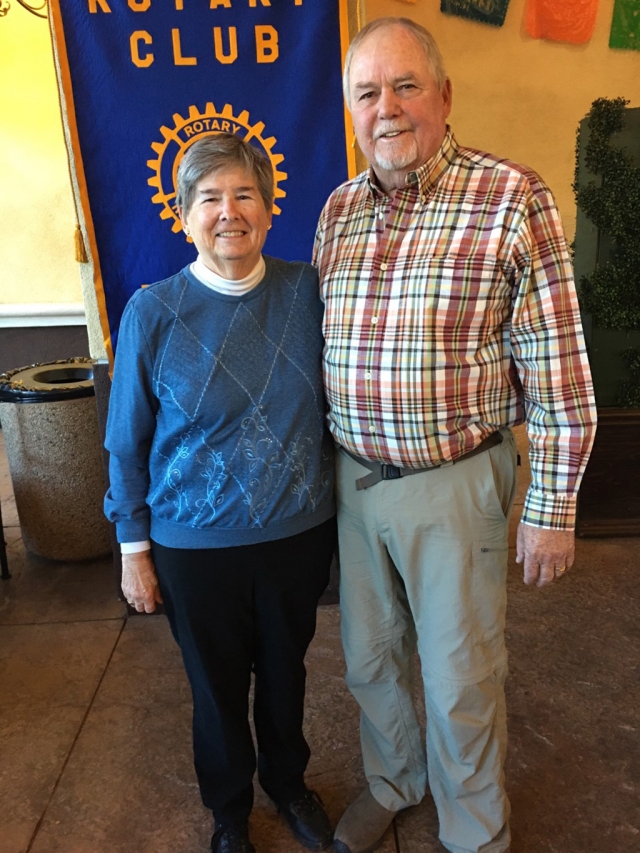 Martha Gentry, Museum Director, gave an informative talk to Fillmore Rotary about the Fillmore Historical Museum. It began in 1970 by a retired Spanish teacher Edith Moore Jarrett. She had written the Spanish textbook, El Camino Real which was used all over the USA. Initially she rented the ground floor of the Masonic Temple Building on Central Avenue. When word went out that she was looking for items for the museum she was overwhelmed and needed more space. In 1974 she was pleased to buy the depot building for $1.00 plus 5 cent tax. She petitioned the City for a lot on Main St., moved the depot and that was the beginning of what is there now. 50 years later it also consists of a 1905 bungalow-Hinckley house, 1919 Rancho Sespe bunkhouse, 1960 caboose, Bardsdale post office and more. Christmas decorations are up and the Poinsettia sale is in progress. If you would like to purchase a red poinsettia contact the Museum by Nov. 18, 805-525-0948. Museum is open Wed.-Fri. 9 am-12 -1pm-4, Sat. 10-3 and closed Sun.-Tues. Pictured l-r is Martha Gentry & Rotary President Dave Andersen. Photo Credit Rotarian Martha Richardson.
Enlarge Photo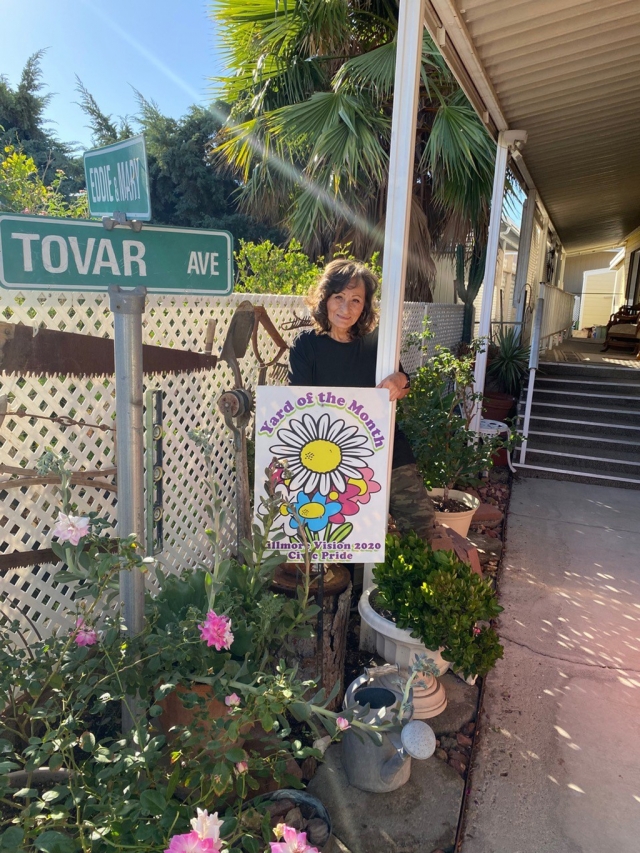 On November 4th, 2022, Fillmore Civic Pride Volunteers' "Yard of the Month" winner was Candi Tovar, pictured above in her garden; she received a $50 gift card from Otto and Sons Nursery. Photo credit Linda Nunes.
Enlarge Photo
By Gazette Staff Writers — Friday, November 11th, 2022
By Linda Nunes
Candi Tovar, of 342 Palm Drive in El Dorado Estates, was chosen the Civic Pride Volunteers' "Yard of the Month" winner for November. Candi has lived in Fillmore for 15 years, after growing up on a ranch in Newhall; her family still owns that ranch. She gathered many vintage farm implements and interesting items like wagon wheels, and old saws from her father's barn to display on her fence and boulders, and rocks to arrange next to nine or more old roses and pots of cacti and succulents. Among the plants were scented rose geraniums, blooming epiphytes, asparagus fern, several Crassula and Kalanchoe varieties, Echeveria in bloom, and a large unusual grey cactus that we couldn't identify. Candi expressed over and over how much she "loves her yard" and was delighted to tell the stories behind specific plants. As she talked, she touched her plants like "old friends" and was so happy to receive the $50 gift card from Otto and Sons Nursery to add to her collection. Civic Pride Volunteers appreciate the generosity of Otto & Sons Nursery which has provided the awards since the beginning of the Yard of the Month project. The next award will be for holiday decorations in December.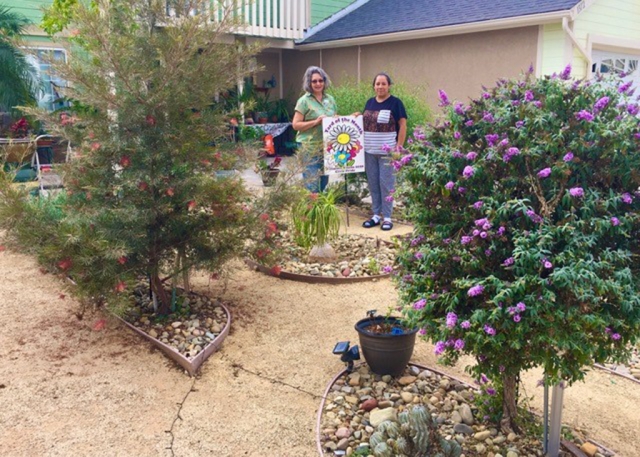 Fillmore Civic Pride named Lilia and Marco Martinez's yard on Waterford Lane as Yard of the Month for October. Photo credit Fillmore Civic Pride Volunteers.
Enlarge Photo
By Gazette Staff Writers — Thursday, October 27th, 2022
By Linda Nunes
Civic Pride Volunteers have chosen Lilia and Marco Martinez's yard at 1372 Waterford to receive the $50 "Yard of the Month" award, generously given by Otto & Sons Nursery.
The family has lived at this location for about 20 years, but never had visited the nursery, so they will enjoy the amazing park-like setting while they shop.
Marco wisely designed and installed, a drought tolerant yard using decomposed granite pathways with weed barrier cloth and river pebbles in circles of varying sizes. They were planted with purple flowering, Buddleja davidii or Summer Lilac (Butterfly Bush), Ponytail Palm (Elephant's Foot), and a Grevillea tree as the focus of the circles. Beneath these are succulents like Stapelio gigantea known as Carrion plant because of the rotted flesh smell of the unusual flowers. Their plant has two large buds ready to open. Blue agave and other cacti, Milk Weed, Acacia Saligna, Lemon Grass, Red Crown of Thorns and Salvia add interest.
We were surprised and pleased to see a native bee condo from our Fillmore Flower Show boutique in the middle of the Salvia bush!
For vertical balance, they had Epiphytes and three types of Passionflower vines growing up a trellis and the fence.
Drive past their yard and see how attractive a drought tolerant landscape can be.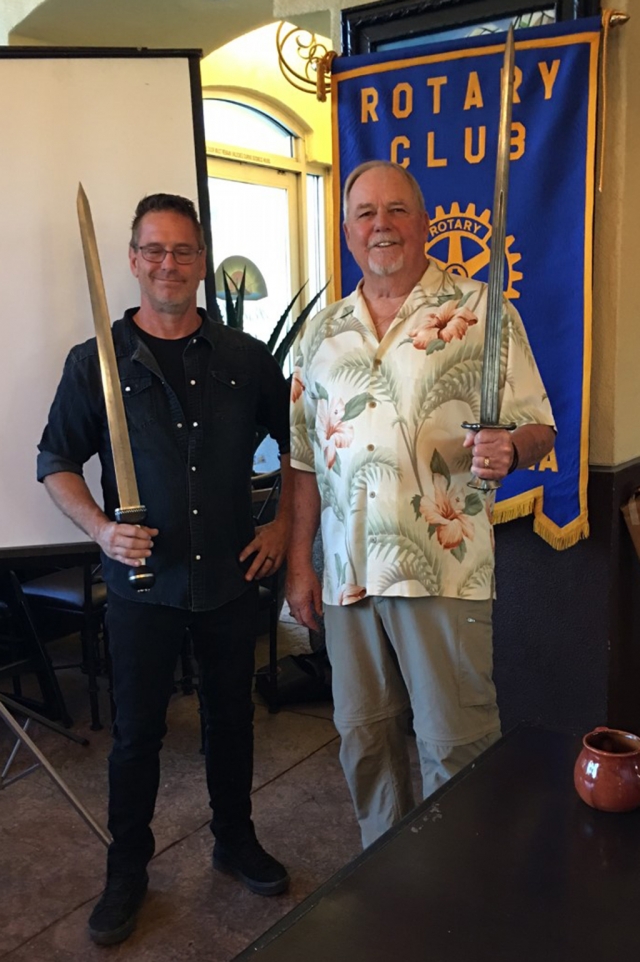 (l-r) Nicholas Cochiolo and Rotary President Dave Andersen. Photo credit Rotarian Martha Richardson.
Enlarge Photo
By Gazette Staff Writers — Thursday, October 27th, 2022
Last week the Rotary Club speaker was Nicholas Cochiolo, a swordsmith who has been featured on the History Channel. He began in Martial Arts when he was young and in time became fascinated with Medieval Martial Arts, swords, helmets and armor. He is an artist and welder and taught himself how to make replicas of dueling swords and helmets. A helmet may take 70 hours to perfect and the weapons and sword's from 40-100 hours. Each sword has a specific purpose and are balanced to perfection.
By Gazette Staff Writers — Wednesday, October 5th, 2022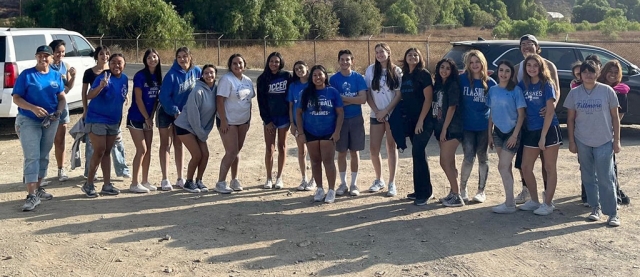 Congratulations to the Class of 2024 for completing the chalking of the "F" this past Saturday, October 1st. You did an awesome job! This class missed out on the tradition when they were Freshman due to COVID, so they were given the opportunity now. Thanks to Quality Ag for transporting the material, parents, and Junior class advisors. To the Freshman Class of '2026, you're up! See you in May! Photos courtesy FHS Alumni Association Facebook page.
Enlarge Photo