By Tenea Golson — Wednesday, March 5th, 2014

Video was taken at the end of the levee at 1409 Goodenough Road, Fillmore, CA. 93015. Map: 34.418021, -118.924885
By Gazette Staff Writer — Wednesday, March 5th, 2014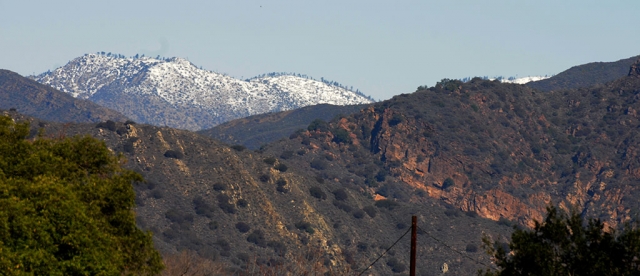 A weekend of rain brought some relief to a dry county, along with a little snow in the Los Padres Forest mountain range.
Enlarge Photo
By Gazette Staff Writer — Wednesday, March 5th, 2014
Vision 2020, Civic Pride Committee, will host the sixth annual Fillmore Flower Show since it was revived in 2009. The show will be held on April 12-13, 2014, at the Fillmore Senior Center, at 533 Santa Clara Street, Fillmore, California. In commemoration of Fillmore's centennial celebration, the theme is "100 Years of Flowers".
The event is open to the public both days from 1:00pm-4:00pm and it is FREE.
The Civic Pride Committee will be cooperating with the Soroptimists to hold a book reading and seed planting event at the Fillmore Library on March 12 from 4-4:30pm. The Boys/Girls Club will be bringing a group of young children and this opportunity will be also open to any other interested children in the community.
Another opportunity for learning, that is more focused, on Flower Show entries, will be held at the Boys/Girl's Club on First St., Tuesday, March 25th from 2-3pm.
This time will be a practical, "hands- on" workshop about making an arrangement or "team effort" arrangement that could be entered in the Flower Show. Supplies for practice will be provided and brochures with entry rules available.
All youth entries are free for the show and either a team of two or more or an individual, living within the Fillmore Unified School District( includes Piru, Bardsdale and some areas west of Fillmore) may enter for competition. The team or individual must bring all their supplies (flowers, dried material, picture, etc.) to the show on Saturday, April 12 between 7:30am and 10:00am. Young people will make their arrangement during that time, showing their own creativity.
Questions? Please contact, Linda Nunes at 805-524-3021.
By Gazette Staff Writer — Wednesday, March 5th, 2014
You've probably seen a little purple electric car running around town. It is the brainchild of Milan Boyanich, who is the inventor and engineer of the Auburn Speedster, Jr., electric car. Mr. Boyanich is also the owner of A Street Self Storage, which also houses Body Image Gym, and Hair Gallery salon. Mr. Boyanich will go into production manufacturing the Auburn Speedster, Jr., this year. He attracts a lot of attention when driving his little Auburn Speedster, Jr. Students from Mrs. Becky Goldner's Fillmore Middle School class were outside for recreation and noticed the little purple car and immediately ran over to the fence inquiring about it. Mrs. Goldner, a sixth grade teacher, stopped Mr. Boyanich to ask him about the electric car. She said they are studying renewable and nonrenewable resources in her Earth science class. The students are learning about how we will run out of fossil fuels and we need to turn to clean energy like: wind, solar, and water power.
By Gazette Staff Writer — Wednesday, March 5th, 2014
FREE Event: Open to children K-6th
Date: Wed. March 12, 2014 Time: 4pm-4:30pm
Location: Fillmore Library 502 Second St. Fillmore
Book: The Tiny Seed by Eric Carle
From Seeds to Flowers! We have the Power!
Find out how you have the power to keep our city beautiful! We will be reading the book The Tiny Seed by Eric Carle, which follows the journey of a group of seeds through various scenarios. We will be making a seed ball to plant at home and reading and signing a pledge to remind us of our promise to help keep Fillmore clean! After this event you might be inspired to submit an entry to the Fillmore Flower Show on April 12 & 13th! Presented by: The Fillmore Civic Pride/Fillmore Flower Show in conjunction with Soroptimist International of Fillmore and the Fillmore Friends of the Library. For information contact: Ari Larson 805.794.7590/petenari55@hotmail.com
By Gazette Staff Writer — Wednesday, March 5th, 2014
A new Leo club came to Fillmore on February 22 when charter members celebrated the organization of their new Walt Taylor Leo Club at the Lions District 4A3 Cabinet meeting held at the Fillmore Memorial Building. The Fillmore Lions Club sponsored the new club for young people.
Raquel Aguilar of Fillmore has been elected to serve as the first president of the new club, and Jessica Mayhew also of Fillmore will serve as the first club secretary. The Walt Taylor Leo Club plans to become involved with existing Lion's Club projects. Members will also this year undertake Fillmore High School (FHS) beautification, raised bed gardening, disabled student and younger/elder co-mentoring initiatives as well as a Fillmore oral history project.
According to Erick Cadena, club membership VP, "We are excited to give back to our community. Through our important L-eadership E-xperiencing O-pportunity (LEO) work, MUCH will be accomplished in our schools and neighborhoods." Club Treasurer Jaime Valdovinos is keen to see what remains of his budget well spent before the end of the academic year.
The Walt Taylor Leo Club meets every 2nd and 4th Tuesday of the month at 12:20 pm at FHS in room 62. Norm Anderson and Gerald Fitzgerald are the current Leo club advisors. Young people, grades 9-12 who would like more information about the Walt Taylor Leo Club can contact LEO Membership VP Erick Cadena at (805)421-7527 or Lion Gerald at (805)625-4365 or at geraldmf09@gamil.com
Lions clubs sponsor approximately 5,800 Leo clubs in 140 countries. While helping others in their community, Leos develop leadership skills and experience teamwork in action. For more information about the Leo Club Program, visit the Youth Programs section of the Lions Web site at www.lionsclubs.org.
By Gazette Staff Writer — Wednesday, March 5th, 2014
Fillmore Athletic Boosters
Fillmore Athletic Boosters will be holding their 4th annual casino night on Saturday, March 15th at Britt Park from 6PM until midnight. All proceeds benefit student athletes and the athletic programs at Fillmore High School. Tickets are $30 and include funny money, beer, appetizers, raffle, DJ, and a no host bar. For more information please contact Jennie Andrade at 340-3601. We appreciate our community's support towards a great cause!
By Tenea Golson — Wednesday, March 5th, 2014
By Gazette Staff Writer — Wednesday, March 5th, 2014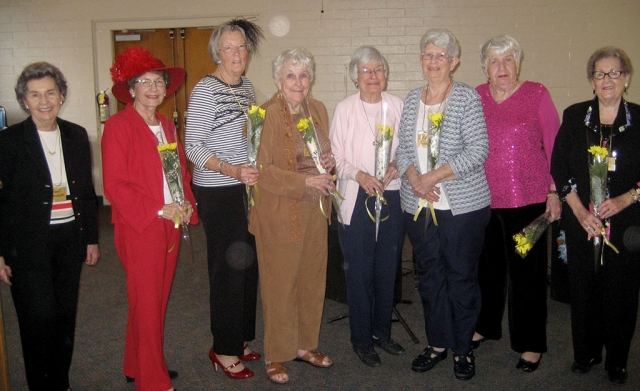 Fillmore Ebell Club Past Presidents were honored on February 25th. The organization is celebrating their 100th year. Pictured are Janet Howarth, who presented each past president with a Flower, Mary Ford, Charlene Smith, Donna Zaelke, Lorraine Finch, Fay Swanson, Marlene, Schreffler, and Wanda Haynes.
Enlarge Photo
By Gazette Staff Writer — Tuesday, March 4th, 2014
Applications are now available for the Fillmore Women's Service Club Educational Scholarships. Any graduating High School Senior going to a Public or Private School, who RESIDES within the Fillmore Unified School District and is continuing on to a College, University or Trade School can apply. Applications are available at Fillmore High School or by telephoning Susan Banks at 524-2020. Deadline is Friday April 4th, 2014
By Gazette Staff Writer — Tuesday, March 4th, 2014
Applications are now available for the Fillmore Women's Service Club Educational Scholarship for Adult Women returning to College or Trade School. Applicants must reside within the Fillmore School District and be 25 years of age or older. For information and an application form please telephone Susan Banks at 524-2020. Deadline is Friday April 4th, 2014.
By Ray Dominguez — Tuesday, March 4th, 2014
January-February 2014
A message from Detective Ray Dominguez:
Farm Watch readers, things have slowed down considerably since I last wrote about the agricultural burglary/theft series we had been experiencing over the past several months. I believe this is due in part to search warrants served in connection with the cases being investigated, and the incarceration of suspect(s) associated with this crime series on other unrelated cases.
As a reminder, these suspect(s) had been targeting storage facilities; particularly conex storage containers. They were stealing irrigation equipment, including brass sprinkler heads, valves, and aluminum irrigation pipe and taking it to recycling centers. I later discovered that these same suspects began targeting farm buildings and workshops where they stole various hand tools, power tools, and welding equipment.
While conducting follow-up investigation related to these cases, I successfully identified several victims and recovered some of their property. However, I still have property seized by way of a search warrant that has not been identified. Among the items seized are miscellaneous hand tools, power tools, and welding machines. Again, the problem is the items seized are not uniquely marked for identification and some victims had no record of the serial number information for their property.
If you have property that was stolen, but have not been contacted by the Sheriff's Office, please contact me directly at (805) 384-4726 to discuss this matter. These cases are still being investigated and evidence collected at the various crime scenes is being processed. I'm seeking arrest warrants for suspects linked to these cases and arrests are pending.
On another note, I'm pleased to announce that several arrests have been made by deputies working in the unincorporated areas surrounding Fillmore and Santa Paula. Deputies have been diligent in their efforts to stop avocado thefts and will continue to patrol these areas looking for suspicious subjects. Kudos to the deputies working at Fillmore PD!
The following advice is always wise if you suspect illegal activity on your property:
・ Call the Sheriff's Office immediately at 911.
・ Be a good witness
・ Note suspect descriptions such as age, height, weight, facial hair, clothing, and shoe type.
・ If a vehicle is involved, obtain a license plate number and note vehicle color, body damage, bumper stickers, camper shell, after market tires and wheels, etc.
・ Provide the dispatcher with information about the time and last known direction of travel.
If you are not sure of how to address the problem or would like additional crime prevention tips please contact your local Sheriff's Office substation or me directly at (805) 384-4726 or by email at ray.dominguez@ventura.org.
Contacts:
Camarillo Detective Gene Martinez gene.martinez@ventura.org
Fillmore Detective John Fox john.fox@ventura.org
Ventura Detective Dennis Smith dennis.smith@ventura.org
Agricultural Crimes Detective Ray Dominguez ray.dominguez@ventura.org
Be alert and stay safe! Ray
Geoff Dean - Sheriff
John Crombach and Gary Pentis - Assistant She
By Gazette Staff Writer — Tuesday, March 4th, 2014
Ventura, CA – Treasurer-Tax Collector Steven Hintz today announced the opening of the first East County satellite office which will be located in the East County Sheriff's Patrol Station.
The Treasurer-Tax Collector's Office will be open on Monday, March 31, 2014 through Thursday, April 10, 2014 from 9:00 A.M. to 4:00 P.M. located at 2101 East Olsen Road, Thousand Oaks, CA 91360.
The Treasurer-Tax Collector will collect and process 2103-14 tax payments at this new location. This pilot program will test the effectiveness of bringing the services to the East County residents. It will reduce the number of vehicle trips to the main Ventura Office required by East County residents.
Hintz stated, "We are excited to have formed this partnership with the Sheriff's Office to bring these services to the East County. East County residents will have easy and safe access to the services without having to spend the time and expense driving to the Ventura main office. If the pilot program is successful, we plan to bring the heavy tax collection services in November-December and March-April each year."
By Gazette Staff Writer — Monday, March 3rd, 2014
The March 15 event's theme is "The Irish thru the Ages"
The annual Ventura County St. Patrick's Day Parade will march down Main Street for the 26rd time in downtown Ventura on Saturday, March 15, beginning at 10 a.m. The theme is "The Irish Thru the Ages."
The whole county will be turning out for the wearin' of the green on Main Street. Horses, clowns, car clubs, marching bands and the Biggest Green Pig in the World will be there with all of the hoopla and shenanigans that make St. Patrick's Day a fun day for all.
Presented by the Ventura Elks Lodge 1430, the parade will have oodles of entries and will make its way down Main Street from the old Mission San Buenaventura, past the reviewing stand at Chestnut Street and on to the end of the parade route on Fir Street.
Judges for the parade have the difficult job of choosing who are best qualified to win trophies in many categories such as best Auto Club, Best Marching Band and the coveted Arnold Hubbard Memorial Trophy for Best in Show. Judges are Trudy Arriaga, Ventura Unified School District Superintendent; James Lockwood, Ventura County Fair Grounds director of Public Relations and a St. Patrick's Day Parade Committee member; Joe Schroeder, CEO Ventura County Credit Union; Doug Wood, general manager of Crowne Plaza Ventura Beach; Ed Summers, president/CEO Ventura Chamber of Commerce; and Connie Stahl, representing the Elks Lodge 1430.
Dr. Richard Rush, president of California State University Channel Islands, is the grand marshal. He said he is proud of his Irish heritage and his involvement within Ventura County since he became president of the university 10 years ago.
Children from all over Ventura County will march in the parade this year. They will be representing the Buena High School Marching Band, Girl Scouts of America, Claddagh School of Irish Dancing, Ocean View Senior High School, Sacred Heart School, Boys and Girls Clubs, Thousand Oaks High School Cheerleaders, Dance with Aloha, Oxnard High School Air Force Jr, ROTC and the Rio Mesa High School Band.
For more information, call 643-4275 or visit www.venturastpatricksdayparade.com.
By Gazette Staff Writer — Wednesday, February 26th, 2014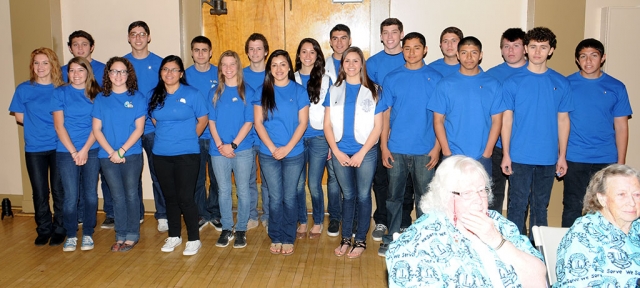 This past Saturday at the Fillmore Memorial Building, the Fillmore High School LEO CLUB founding membership enrolled by District Governor Margaret Dunlevy in the Lions International NGO. The LEOS and their families were acknowledged for their previous and future contributions to community service in Fillmore. Pictured are LEO Officers Raquel Aguilar, Erick Cadena, Jessice Mayhew and Jaime Valdovinos and 20 other Fillmore High School prospective leaders who were inducted.
Enlarge Photo
By Gazette Staff Writer — Wednesday, February 26th, 2014
Fillmore's Boot Scootin' Ball "Celebrating 100 Years of Fillmore"
We Proudly Honor Our Community Citizens!
Friday March 7th, 2014
Time: 5:30-6:30pm Social hour ~ 6:30pm Dinner & Program
BAND: Common Ground 5:30-6:30pm & 9:30-11:30pm
Western Attire (Optional)
Location: Fillmore Veterans Memorial Building ~ 511 Second Street
Tickets: $30/per adult & $15/under 17 years
Call Chamber office for more details: (805) 524-0351
By Jessica Manginelli — Wednesday, February 26th, 2014
On Saturday, February 22, Fillmore FFA held the Tractor Contest, an event that has been going on for decades. This is a regional event where members compete in six different events demonstrating their knowledge and skill in tractors and their operations. The events included Springtooth: where participants demonstrated how accurately they could use a plow, the 3-Point Hitch: that tested speed and accuracy when attaching implements to tractors, Trailer Backing: an event where members had to successfully back up a trailer in an allotted time, Skip Loader: students had to use precision while trying to pick up a basket ball, Row Crop: participants drove a Row Crop Tractor in a straight line while trying not to damage the plants in the middle, and finally a quiz on the various parts of a tractor. There were members from all over the Region including Bakersfield and Morro Bay. There were over 80 members who came and competed. Fillmore took home 1st overall in the Advance Category, and many individuals placed independently.
Jessica Manginelli
Fillmore FFA Reporter
By Jessica Manginelli — Wednesday, February 26th, 2014
On Wednesday, February 19, Fillmore FFA competed in the Public Speaking Contest at Camarillo High School. Five different schools came including Carpinteria, Santa Paula, Camarillo, Ventura, and Fillmore. 24 Fillmore FFA members participated including eight who placed and got metals. Carolina Lopez received 4th in Creed Speaking, where you recite the FFA Creed. Jessica Manginelli received 2nd and Jane Ramos got 4th in Extemporaneous Speaking, a contest where you write a speech in 30 minutes on a randomly picked topic that you research prior to the contest. Chris Berrington was awarded 5th, Jaylene Ortiz got 4th, and Hellena received 1st in Impromptu, where you answer A.G. and FFA related questions on the spot. The Fillmore FFA team got 2nd place as a team in the CO OP Quiz and in individual awards Nick Johnson got 3rd and Felicity Zavala received 5th. In Job Interview Timmy Klittich was awarded 5th and Hellena Ripolgole received 4th. A handful of the participants get to move on to the regional level where they will compete against the South Coast Region, and if successful, get to move on to the State, and the National Level.
Jessica Mangonelli
Fillmore FFA Reporter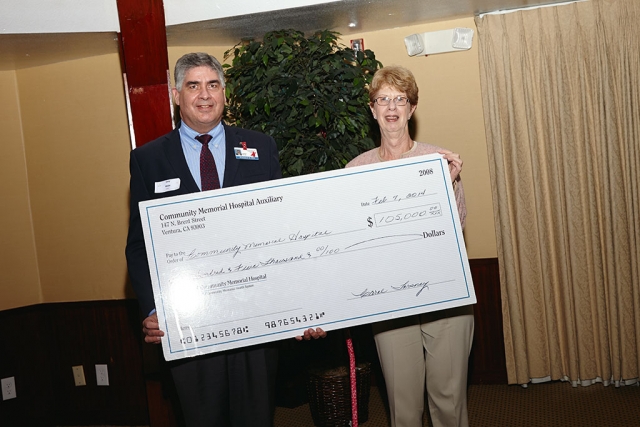 CMHS President & CEO, Gary Wilde receives a $105,000 donation check from CMH Auxiliary Treasurer Carol Torsney.
Enlarge Photo
By Gazette Staff Writer — Wednesday, February 26th, 2014
Community Memorial Hospital and nearly all of its Auxiliary members honored 63 women and men who together have donated thousands of hours of service to hospital patients and their families.
Volunteers who have reached levels ranging from 100 hours to 40 years over the course of their years of service for CMH were celebrated at the annual Auxiliary Meeting and Awards Luncheon on Feb. 7 at the Four Points Sheraton Hotel in Ventura. This year's theme was "Volunteering Lights Up My Life."
Special honors went to Mary Jane Wallace for 40 years of volunteer service, Phyllis Blankenburg for 30 years of service and Arleen Brooks and Katie Weldon for 20 years of service.
Beverly Brown, Angelina Hall and Katie Weldon was recognized for giving over 10,000 hours over years of service; Marjo Gardner for 9,000 hours; Shelby Bauer and Edie Marshall for 8,000 hours; Kay Willingham for 7,000 hours; Ann Warnagieris for 6,000 hours; Ann Simonitch for 5,000 hours; Trudy Cook for 4,000 hours; Linda Brown and Vivian Mould for 3,000 hours; Charlotte Bell, Ike Brown, Marlene Charton, Rosemary Icardo, Marjorie Ovens, Lynn Pratt, Fred Soprano and Aldine Venable each for 2,000 hours; and Marsha Batelaan, Peggy Dolan, Lee Esposito, Virginia Gallegos, David Howard, Nancy Jones, Maria Kapp, Anna LoPiano, Sue McDonald, Linda Pettit, Evon Rubenstein, Carol Torsney, Mary Wdowicki and Lola Wilson for each giving 1,000 hours.
In addition, seven other volunteers were recognized for giving at 500 hours and another 18 volunteers were honored for giving 100 hours.
The Auxiliary members at CMH, including teens in the Junior Volunteers Program, perform a variety of tasks such as discharging patients; stocking supplies; delivering books, flowers, mail and medications; staffing the front and back desks; assisting in Maternity, Pharmacy, the Emergency Department, Same Day Surgery, Ambulatory Services and Post-Anesthesia Care Unit, as well as cuddling premature infants in the Neonatal Intensive Care Unit.
Auxiliary members also raise money from souvenir birth certificate sales, fundraisers and gift shop sales. At this year's luncheon, the Auxiliary presented CMHS President and CEO Gary Wilde with a check for $105,000 from earnings in the last year. Since 1962 the Auxiliary at CMH has donated $3,375,164.89.
New Auxiliary Board Members were installed: Katie Weldon, President; Sandy Frandsen, 1st Vice President; Trudy Cook, 2nd Vice President; Mary Wdowicki, Corresponding Secretary; Carol Torsney, Treasurer; Ann Howard and Charlotte Bell, Directors; Edie Marshall, Juniors; Judy Miller, Parliamentarian; and Ruth Downey, Past President.
Among those attending the luncheon included: Gary Wilde, CMHS President & CEO, Gary Wolfe, CMHS Board of Trustees past chair; Diany Klein, Vice President, Human Resources; Michael Ellingson, Vice President, Marketing & Development; Barbara Reynolds, Tri-Counties Area Council immediate past president; CMH Auxiliary incoming president Katie Weldon.
For more information about joining the CMH Auxiliary go to www.cmhshealth.org/volunteer, call 805-652-5043, or pick up an application form at the front desk of CMH, located at 147 N. Brent St. in Ventura.
Community Memorial Hospital is a member of Community Memorial Health System, a not-for-profit health system, which is comprised of Community Memorial Hospital, Ojai Valley Community Hospital, and eleven family-practice health centers entitled Centers for Family Health. The health system is located in Ventura County, California.
By Gazette Staff Writer — Monday, February 24th, 2014
The California Department of Public Health (CDPH) has received reports of 15 confirmed measles cases in California residents so far this year. Cases have occurred throughout California. This time last year, only two measles cases had been reported.
"Immunization is the best defense against measles, with 99 percent of persons developing immunity after two doses," says Dr. Ron Chapman, Dr. Ron Chapman, state health officer and director of CDPH. "With an outbreak in the Philippines and measles transmission ongoing in many parts of the world outside of North and South America, we can expect to see more imported cases of this vaccine-preventable disease." Imported cases can spread to the community, especially among unvaccinated persons, including infants too young to be vaccinated.
High immunization rates CONTINUED »