By Gazette Staff Writer — Wednesday, June 21st, 2017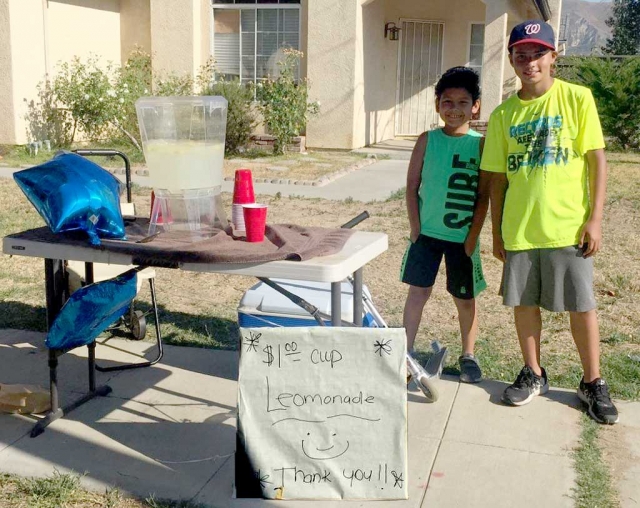 There is nothing better than some fresh lemonade on a hot summer day. Two friends (l-r) AC, 10, and Albert, 11 opened a lemonade stand this week at the corner of River and Central. Just doing their part to help people stay cool during this summer heat wave.
Enlarge Photo
By Gazette Staff Writer — Wednesday, June 21st, 2017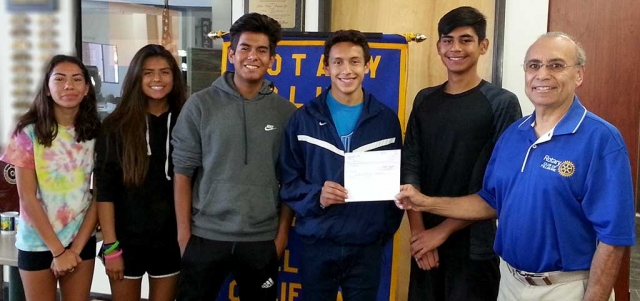 Members of the Fillmore High School Cross-Country Team were presented with a check for $150 by Joe Aguirre of the Fillmore Rotary Club for their win in the Heritage Valley 5K Team Challenge. Pictured (l-r) are Diana Perez (11th), Vanessa Avila (10th), Sergio Perez (11th), Everardo Garcia Magana (12th), and Nick Villela (11th), Joe Aguirre. Photo Courtesy Cindy Blatt.
Enlarge Photo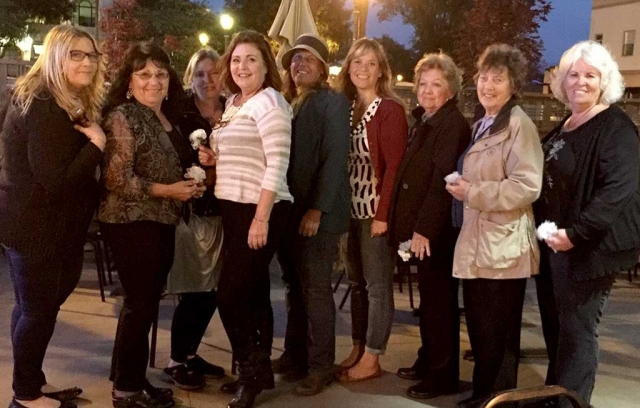 Fillmore Women's Service Club hosted their Installation Dinner, where they presented outgoing President Susan Banks with a gift to show their appreciation for all her hard work over the past years. Pictured (l-r) Daneille Quintana, Mimi Burns, Charmaine Delgado, Kelly Towy, Taurie Banks, Kristie Neal, Marilyn Griffin, Susan Banks and Pam Smith.
Enlarge Photo
By Gazette Staff Writer — Wednesday, June 21st, 2017
The Fillmore Women's Service Club held their Installation Dinner at the Genmai Japanese Restaurant on Central Avenue. A good time was had by all and our thanks to Genmai for the good food and service in making this a wonderful evening.
Susan Banks, outgoing President was presented with a gift and a beautiful scrap book depicting articles and photos of the 2016-2017 year. Susan thanked the club for their hard work and support of all the projects completed and for all the good ideas for the future.
Pam Smith conducted the installation of the new board of officers. Danielle Quintana, President, Mimi Burns, First Vice, Charmaine Delgado, 2nd Vice, Fundraising, Kelly Towry, 3rd Vice, Membership, Taurie Banks, 4th Vice, Youth, Pam Smith, Recording Secretary, Kristie Neal Corresponding Secretary, Susan Banks, Parliamentarian. and Marilyn Griffin, Secretary.
The Fillmore Women's Service Club is starting a Young Women's Group, open to girls 14 to 21. The program will include volunteer work, guest speakers, and building general self esteem. Any girl wishing to join can contact Taurie at 551-9244.
The Club will be having the Fireworks Booth fund raiser, west of Saint Franics Church in the Dollar General Parking lot. (look the the pink signs). Please support our scholarships and community service.
Any woman, 21 years of age or order are welcome to come visit us, and help make a difference to the lives of people in our community.
By Gazette Staff Writer — Wednesday, June 14th, 2017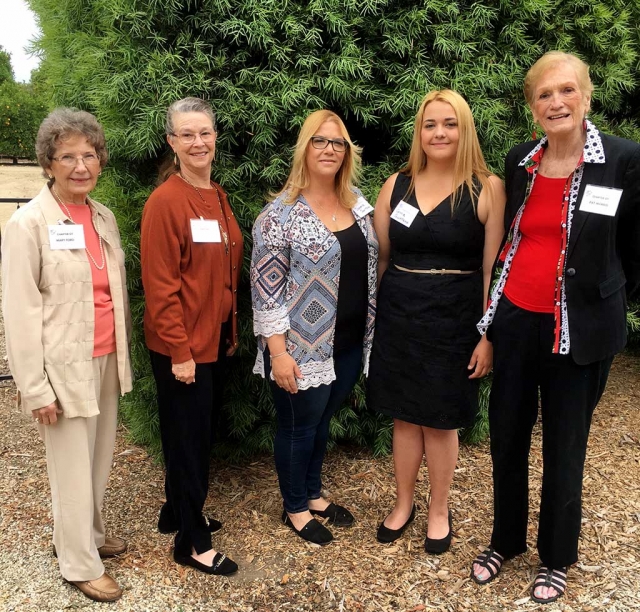 The Fillmore PEO Chapter presented Connie Quintana with the PEO (Philanthropic Education Organization) Education Award. Pictured l-r Mary Ford, Jan Lee, Danielle Quintana Mother, Connie Quintana, and Pat Morris. Photo Courtesy Martha Richardson.
Enlarge Photo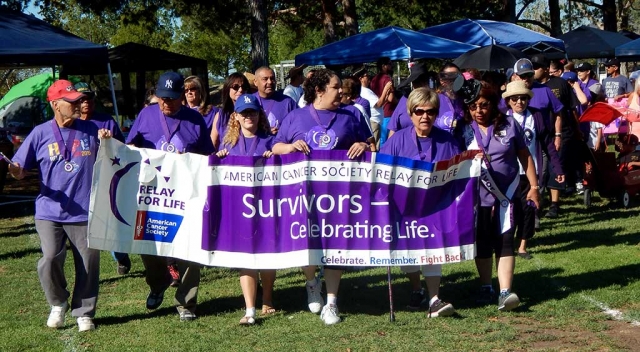 Pictured is a group from Relay for Life 2016 starting the Survivor lap, which kicked-off last year's relay. Photo Courtesy Relay for Life Fillmore-Piru.
Enlarge Photo
By Gazette Staff Writer — Wednesday, June 14th, 2017
The Relay for Life of Fillmore-Piru would like to welcome the community to come participate in a series of forums over this summer for the Fillmore-Piru communities to learn more about the American Cancer Society and Relay for Life.
Over the Summer we will be hosting three community forums: free and open to anyone!
1. Hotel Partnerships- June 19th, 2017
2. National Cancer Information Center/ Cancer.org- July 24th, 2017
3. Survivor Speaker Kymmer Crookston- August 21st, 2017
All forums will begin promptly at 7pm and will end around 8pm at the Active Adult Center in Fillmore. (533 Santa Clara St, Fillmore CA)
On June 19th, the American Cancer Society representative Caitlin Barringer will be speaking on our local hotel partnership agreement with Brighton Management. Where local hotels partner with the American Cancer Society by providing complimentary rooms for visiting cancer patients utilizing our incredible local doctors, hospitals, and treatment centers. We will discuss qualifications, and how to use these services.
American Cancer Society would like to give a special thanks to the following hotel management firm and hotels for joining us in the fight against cancer and providing one less thing that a patient needs to worry about! Brighton Management, Ventura Beach Marriott, Sheraton Four Points Ventura Harbor, Holiday Inn Express Ventura Harbor, Courtyard Oxnard, Residence Inn Oxnard, Holiday Inn Express Port Hueneme, Hampton Inn Channel Islands.
Relay for life of Fillmore-Piru will be happening September 23rd-24th, 2017 from 9am-9am at Shiells Park in Fillmore. For more information on the Relay for life of Fillmore-Piru, please visit www.relayforlife.org/fillmoreca, or contact Caitlin Barringer (805)644-4237.
Relay for Life of Fillmore-Piru will also be holding their first ever corn hole tournament at the Relay for Life event; from 12pm-5pm Saturday September 23rd. For more questions or to register please email Charissa McLain at charissa.mclain@gmail.com. First place prize will be (4) Southwest One Way Domestic Flight E-Passes.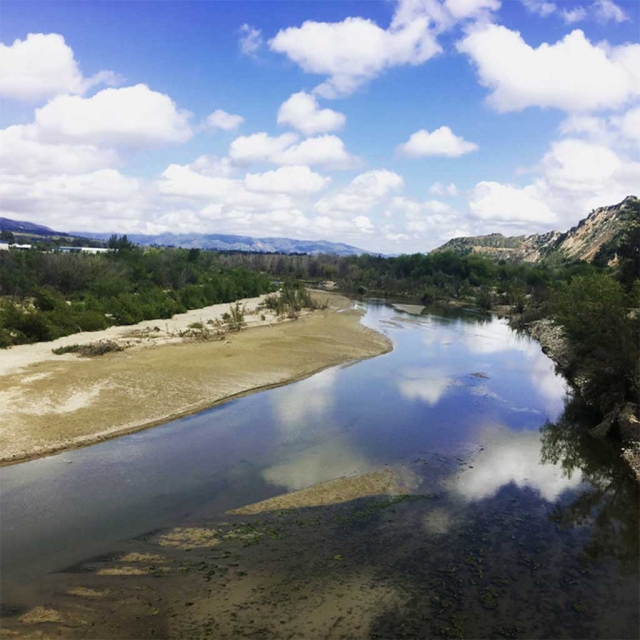 Santa Clara River main stem at 12th street bridge. Photo courtesy Candice Meneghin.
Enlarge Photo
By Gazette Staff Writer — Wednesday, June 14th, 2017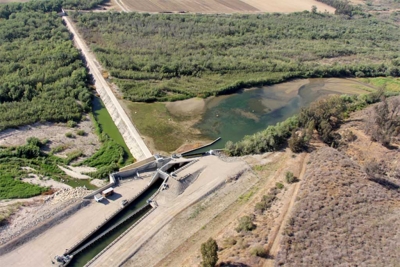 Vern Freeman Diversion. Photo courtesy Mike Weir.
Enlarge Photo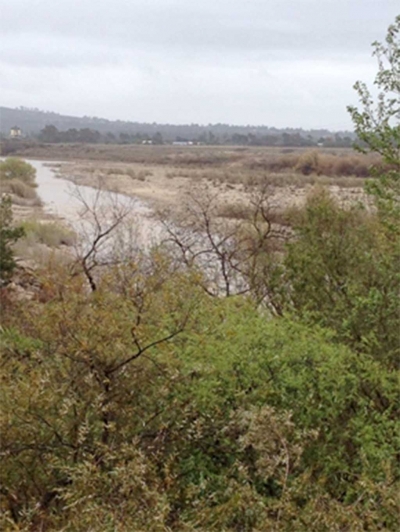 Santa Clara River Downstream of Freeman Diversion, Photo courtesy Nina Danza.
Enlarge Photo
Story courtesy California Trout Project
Southern steelhead need unobstructed passage throughout the length of the Santa Clara River, from the ocean to the upstream areas of tributary creeks, to complete their lifecycle and reproduce. Experts on fish and water issues will explain how much flow is needed to provide minimum depth for fish when they migrate, and how to restore passage at man-made barriers that impede fish movement, at 'Water Talk: Designing for Fish Passage and Instream Flow' on Jun 29, 6:30pm at Patagonia (235 W. Santa Clara Street, Ventura).
"Half of the ocean-going anadromous salmon species in California are on the road to extinction within the next 50 years," reports Candice Meneghin, CalTrout Conservation Manager, "Our recent report SOS II: Fish in Hot Water (http://caltrout.org/sos/) reveals dams are a major problem because they disrupt the historic pattern of in stream flows as well as block fish migration." In the Santa Clara River, operation of Pyramid and Santa Felicia Dams (on Piru Creek) and Freeman Diversion (downstream of Santa Paula on the Santa Clara River mainstem) change the timing, magnitude, duration and frequency of historical stream flows. Flow release and capture at these water utilities, especially during average or low water years, need to fit with natural rainfall occurrences so minimum in stream depth occurs for fish passage.
The first speaker at the Water Talk will be Bill Trush, Co-Director of the Humboldt State University River Institute presenting scientific results on what hydrological changes have occurred in nearby southern California Rivers and why these now threaten steelhead populations. A second speaker will be Tom Hicks, a California water law and conservation attorney with special expertise in stream flow enhancement, who will discuss water transfers and explain case studies used to increase in stream flows. The Santa Clara River Steelhead Coalition will also be showcasing their outreach video Restoring Resilience that introduces member and participant organizations, the steelhead habitat restoration actions underway on the watershed, and how this promotes connectivity from the headwaters to the ocean for steelhead recovery.
Program attendees will understand more about designing projects on the Santa Clara River for fish passage, including restoring minimum flows, locations of existing impediments that block migration, and tools and programs available to help integrate steelhead recovery into multi-benefit projects that support fish, water and people. The program is an excellent opportunity for students, residents and advocates to learn from science-based, solutions-oriented professionals involved with environmental protection and sustainability.
All Water Talks are free, open to the public and hosted by the Santa Clara River Steelhead Coalition whose mission is to protect and restore wild Southern steelhead and its habitat in the Santa Clara River watershed. The Coalition is chaired and coordinated by California Trout, a nonprofit organization dedicated to ensuring resilient wild fish in healthy waters for a better California.
For more information contact Nina Danza, California Trout Project Coordinator at ndanza@caltrout.org.
By Gazette Staff Writer — Wednesday, June 7th, 2017
Submitted By Rotary Club of Fillmore
The annual Heritage Valley 5k-10K Race, Fitness Walk, Fun Run was once again a success. Over 225 runners & walkers entries were received this year – up from 202. The race is sponsored by the Rotary Club of Fillmore with partners Fillmore Unified School District and Santa Clara Valley Explorer Post 2958. Runners & walkers of all ages enjoyed good weather. After the race the participants, family members and friends enjoyed the sunshine on the lawn of FUSD administration waiting for final results. Booths included Clinicas Del Camino Real and Norma Moreno, massage.
Overall female winner of the 5K was Kiana Hope in 19:50.3 and overall male winner was Everado Magana in 17:22. Overall female winner of the 10K was Niza Laureano, age 10, in time of 41:52.4 and overall male winner was Oscar Orozco in 35:55.7. These winners received a gift certificate from Inside Track in Ventura and local fruit bag. Medals were presented to the top three places in each age group/gender.
Teams participated for the opportunity to win funds for their favorite charity. The first place team in the 5k was FHS Cross Country Team and second place team was Condors Youth Cross Country. The first place team in the 10K was Santa Clarita Runners. They also were the team with the most participants.
The Rotary Club of Fillmore would like to thank all of those who participated and supported this event. We'd like to thank our sponsors and supporters with special acknowledgement to our Gold, Silver & Bronze Sponsors & Fitness Fans. Gold Sponsor: Union Bank. Silver Sponsors: Gold Coast Embroidery, Bank of the Sierra, Fillmore Piru Citrus Association. Bronze Sponsors: Dick & Martha Richardson, Edward Jones Financial, Fillmore Search & Rescue, HANDS-On Consultations, Heritage Valley Blazers, Piru Petroleum Club, Quality Ag, Inc., Western Yosemite Insurance Services. Fitness Fans sponsors: Ari Larson, Diamond Reality, Aguirre Financial, and Jan Marholin.
There were many, many donations of raffle items and in-kind donations: Water Store generously donated water and ice for our water stops for runners. 7-Eleven & Sparkletts & Julie Latshaw donated bottled water. Subway donated two sandwich trays. Super A donated boxes of fruit. Ed McFadden donated fruit for runners and raffle baskets. Additional raffle donations came from: Adrian Rangel Photography, Aguirre Financial, Andy Klittich, Ari Larson, Bank of the Sierra, Bennett's Honey Farm, Beylik Farms, Bright View Tree Company, Chivas Skin Care, Cindy Blatt, Martha Richardson, Don & Ruth Gunderson, Edward Jones, El Pescador Resturant, Elkins Ranch Golf Course, Fillmore & Western Golf Course, Fro-yo, Baskin Robbins, Inside Track, Jan Marholin, Kate English, Mountain View Golf Course, Norma Moreno, Renee Swenson, Rotary Club of Fillmore, Sandra Lupercio, Union Bank, Vallarta's.
Thank you to all our volunteers: Santa Clara Valley Explorers Post, Fillmore Search & Rescue, Epi Torres, Joe Martinez, Daisy Palma, Fernando Vancini (PYS), Stephen McKeown, Paige McKeown, Diane Wareham, Kim Tafoya and members of FHS cross-country, Josh Cox and members of the FHS Interact Club. (Our apologies to anyone we missed!).
Proceeds from this event help fund Fillmore/Piru Youth Programs, FHS Athletic programs and other Rotary projects like: FHS & Sierra H.S. scholarships, dictionaries to all third graders, RYLA (youth leadership camp), Condor Cross Country, Cub Scout Pack 3400, Piru Youth Sports, FHS X-country, FHS swim team, FHS Mock Trial, just to name a few.
By Gazette Staff Writer — Wednesday, June 7th, 2017
This summer Camarillo Hospice will offer a four week summer film and grief support group for children on Tuesday evenings 5:30 to 7:00 pm. Children will view the following films and participate in a support group discussion regarding grief and loss.
● Lion King June 27th
● Up July 11th
● Frozen July 18th
● Big Hero 6 July 25th
The Good Grief Club designed for children ages 6 to 11 and provides children with opportunity to engage in grief related discussion and activities designed to help express feelings, problem solve, and develop effective coping mechanisms.
To register for a support group, please contact Stacia Sickle, LCSW, at 805-389-6870 ext. 25 or ssickle@camarillohospice.org.
Ongoing Support Groups
Young Widow and Widowers Support Group Tuesdays 5:30 to 7:00 pm
Healing after the Loss of a Loved One: Bereavement Support Group Wednesdays 1:00 to 2:30 pm and Thursdays 6:00 to 7:30 pm
Survivors of Suicide Support Group 1st and 3rd Wednesday of every month 6:30 to 8:00 pm
Adult Loss of Parent Support Group 1st and 3rd Thursday of every month 6:30 to 8:00 pm
Reinvesting in Life after Loss 2nd and 4th Thursday of every month 3:00 to 4:30pm
Camarillo Hospice also offers a 10 week Understanding Your Grief Support Group
All Camarillo Hospice support groups are committed to maintaining an open, accepting, confidential atmosphere. The groups are free of charge and are held at 400 Rosewood Avenue, Suite 102, Camarillo. Reservations are required.
For more information on Camarillo Hospice visit www.camarillohospice.org or contact us at 805-389-6870.
By Gazette Staff Writer — Wednesday, June 7th, 2017
Written by the United Water Conservation District
In a proactive move on Friday, June 2, United Water Conservation District (UWCD) General Manager Mauricio E. Guardado, Jr., called for the emergency water quality release of some 15,000 acre feet (AF) from the Santa Felicia Dam's Lake Piru in an effort to combat rising nitrate levels in UWCD's wells at its El Rio facility. The announcement came during UWCD's special board meeting held at the Santa Felicia Dam, which was attended by General Managers and Board of Directors from several neighboring water districts, including Casitas Municipal Water District in Ojai, Calleguas Municipal Water District in Thousand Oaks and Camrosa Water District in Camarillo, as well as representatives from Ventura County Watershed Protection District, the Santa Clara River Watershed Committee, and legislative representatives.
"The release of 400 cfs here at Santa Felicia Dam will result in the diversion of high quality water at our Freeman Diversion facility, recharging the aquifer and, ultimately, offsetting the increasing nitrate levels in our wells at El Rio. By taking action before the situation is critical, we are confident in our ability to ensure the public's safe drinking water as we move into the dry, warm days of summer," stated Guardado in making the announcement. He was also encouraged by the participation of neighboring water districts, adding that "Through our collaborative efforts and preparation, we are able to take advantage of opportunities such as the purchase of Article 21 State Water, which helps all of us manage, protect, preserve and enhance our water resources."
The emergency water quality release coincides with the release of 10,000 AF of Article 21 State water from Castaic Lake, purchased by UWCD in April from Northern California under the California Department of Water Resources' (DWR) State Water Article 21 program. UWCD, the special district tasked with managing, protecting, conserving and enhancing the water resources of the Santa Clara River Valley and Oxnard Plain, purchased 10,000 AF of Article 21 State water for the purpose of replenishing groundwater basins throughout the District.
The additional Article 21 water was stored at Castaic Lake for eventual release, extending the benefit of additional water recharge to all of UWCD's basins. The release of this State Water was timed and executed at a flow rate determined to maximize benefits to all of the District's basins, in particular, riverbed infiltration for the upper basins (Piru, Fillmore, Santa Paula) and recharge in Saticoy and El Rio facilities benefitting the Oxnard Forebay, Mound, Oxnard Plain and Pleasant Valley basins.
The release, which will continue over the next two weeks, also affords the public a rare opportunity to enjoy weekend access to whitewater kayaking below the Santa Felicia Dam in lower Piru Creek. Individuals interested in accessing lower Piru Creek on the weekends of the release period must request access 24 hours in advance by contacting Lake Piru Senior Park Services Officer Clayton Strahan at (805) 525-4431 extension 148 or by emailing him at claytons@unitedwater.org
About DWR's State Water Project
California State Water Project (SWP or Project) is the nation's largest state-built water and power development and conveyance system. Planned, designed, constructed and now operated and maintained by the California Department of Water Resources (DWR), this unique project is comprised of 34 storage facilities, reservoirs and lakes; 20 pumping plants; 4 pumping-generating plants; 5 hydroelectric power plants; and about 701 miles of open canals and pipelines, providing supplemental water to approximately 25 million Californians and about 750,000 acres of irrigated farmland. Its main purpose is to store water and distribute it to 29 urban and agricultural water suppliers in Northern California, the San Francisco Bay Area, the San Joaquin Valley, the Central Coast, and Southern California. Of the contracted water supply, 70 percent goes to urban users and 30 percent goes to agricultural users. The Project is also operated to improve water quality in the Delta, control Feather River flood waters, provide recreation, and enhance fish and wildlife.
Funds from the sale of general obligation and revenue bonds have provided about 78 percent of financing for construction of the State Water Project. Full repayment of these bond funds is being made by Project beneficiaries, rather than by the general taxpayer. Other funding sources have included tideland oil revenues, investment earnings, legislative appropriations for recreation, federal flood control payments, and water contractor advances. Currently, short-term financing is obtained by commercial paper notes which are replaced periodically by long-term revenue bonds.
Annual costs include the salaries of a diversified team of engineers, biologists, specialists in water development and power generation, hydroelectric plant technicians, and civil maintenance workers, as well as expenses (equipment, supplies etc.) required to operate and maintain SWP facilities. Annual costs also include power purchases, exchanges and sales.
The 29 water contractors repay all water supply related costs of the SWP. These represent about 94 percent of the annual costs for operation and maintenance of SWP facilities. The remaining costs are funded by the federal government for joint operation of San Luis facilities (3 percent) and State general funds for recreation and fish and wildlife enhancement (3 percent).
Contractors also repay with interest about 89 percent of SWP capital expenditures made through 1995. Repayment of the remaining 11 percent comes from the federal government for flood control (2 percent), the State general funds for recreation and fish and wildlife enhancement (5 percent), and the rest from miscellaneous sources.
All contractors pay the same rate per acre-foot for the cost of constructing and operating facilities which store and convey the SWP water supply. In addition, each contractor pays a transportation charge which covers the cost of facilities required to deliver water to its service area. Thus, the contractors more distant from the Delta pay higher transportation charges than those near the Delta. For more information on the DWR's State Water Project, visit http://www.water.ca.gov/swp/
About United Water Conservation District (UWCD)
Since 1927, United Water Conservation District, situated in central Ventura County, has distinguished itself as a leader among water agencies by conserving and enhancing the water resources of the Santa Clara River and Oxnard Coastal Plain, while working to protect the environment's natural attributes. The District conserves runoff from all major tributaries of the Santa Clara River within its boundaries, including Piru, Hopper, Sespe, and Santa Paula Creeks. Without these efforts, much of this valuable water would simply flow out to sea.
Committed to managing the area's water supplies through groundwater replenishment and through the construction and operation of efficient water supply and delivery systems, today the District serves as the conservator of groundwater resources that are utilized by the cities of Oxnard, Port Hueneme, Ventura, Santa Paula, and Fillmore, as well as several mutual water districts and numerous farms and individual pumpers. It also provides surface water for agricultural irrigation and provides treated drinking water to the cities of Oxnard and Port Hueneme. For more information, visit http://www.unitedwater.org
By Gazette Staff Writer — Wednesday, May 31st, 2017
We have a Centenarian among us in Fillmore!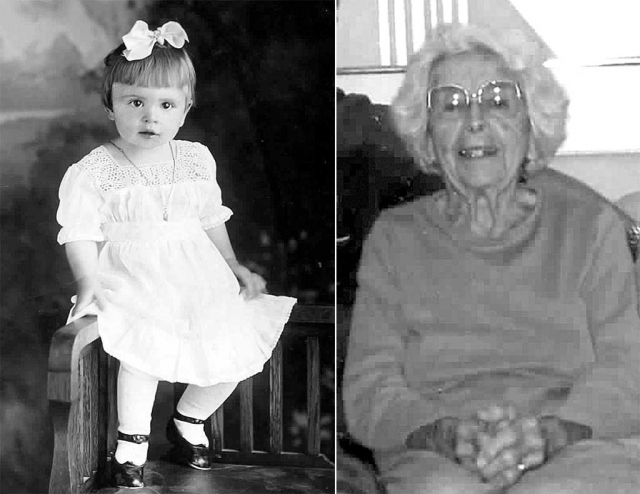 Anyone who knows Floreine please send birthday wishes to 403 Blaine Avenue, Fillmore, CA 93015.
Enlarge Photo
By Gazette Staff Writer — Wednesday, May 31st, 2017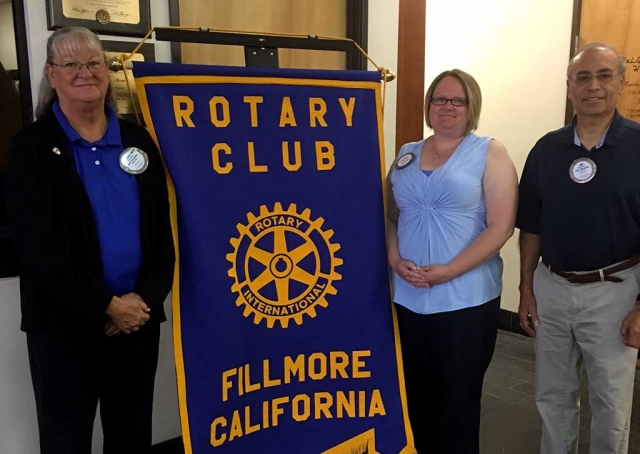 Fillmore Rotary Recognizes Members: Fillmore Rotary's Heritage Valley 5/10K Run Fundraiser was a huge success this year. The Run was hosted during the Fillmore May Festival on May, 20th. The turnout for this year's run was great, thanks to the hard work of Rotary members Cindy Blatt, Alicia Hicks, and Joe Aguirre. Photo Courtesy of Martha Richardson.
Enlarge Photo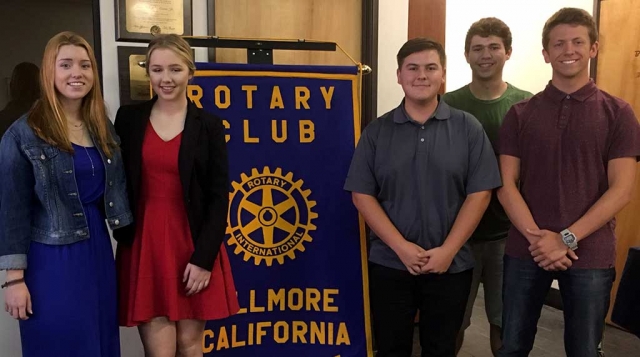 Rotary Honors High School Seniors: Fillmore Rotary Club honored local seniors with Scholarships. Recipients were Chloe Richardson (Grace Brethren High School), and Sarah Stewart, Colton Farrar, Onofre Jauregui, and Luke Myers (Fillmore High School).
Enlarge Photo
By Gazette Staff Writer — Wednesday, May 31st, 2017
By Gazette Staff Writer — Wednesday, May 24th, 2017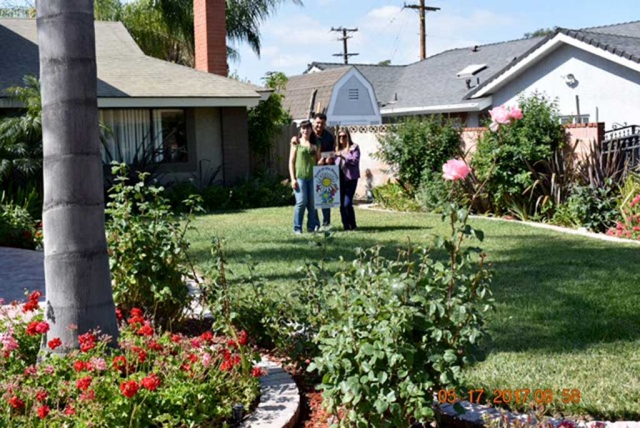 (l-r) Norma Gil, Jose Gil, and Ari Larson. The May 2017 Yard of the Month was presented to Jose and Norma Gil along with a $40 gift certificate (courtesy of Otto & Sons) by Ari Larson (representing Fillmore Civic Pride). Some of the pleasing landscape features include, roses, Arum Lily, Lantana, ferns, palms garden sage, geraniums and formio. The home is located at 254 Casner Way. For more information on Fillmore Civic Pride please call Ari at 805-794-7590.
Enlarge Photo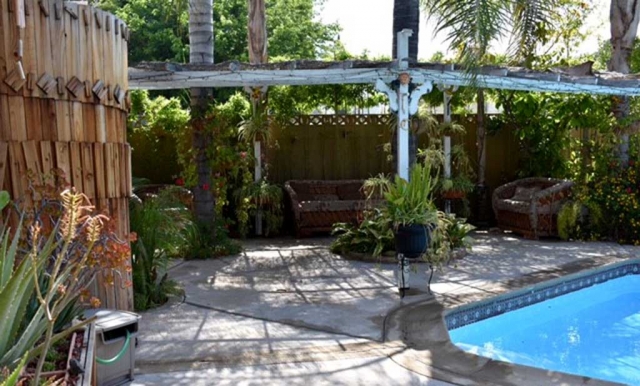 Backyard of the Gil house.
Enlarge Photo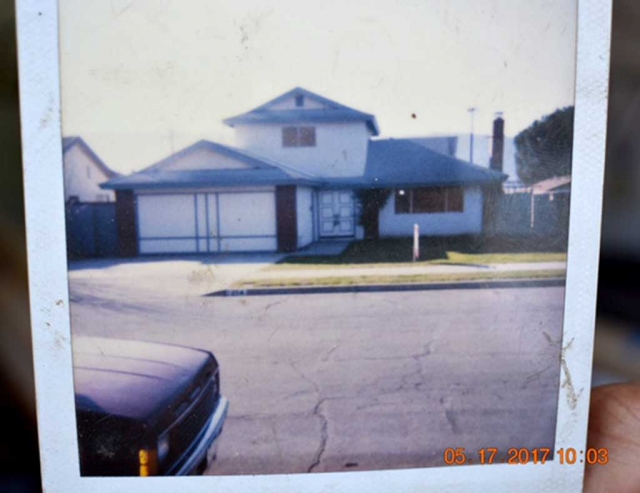 Photo of the way the house looked before.
Enlarge Photo
By Gazette Staff Writer — Wednesday, May 24th, 2017
By Gazette Staff Writer — Wednesday, May 24th, 2017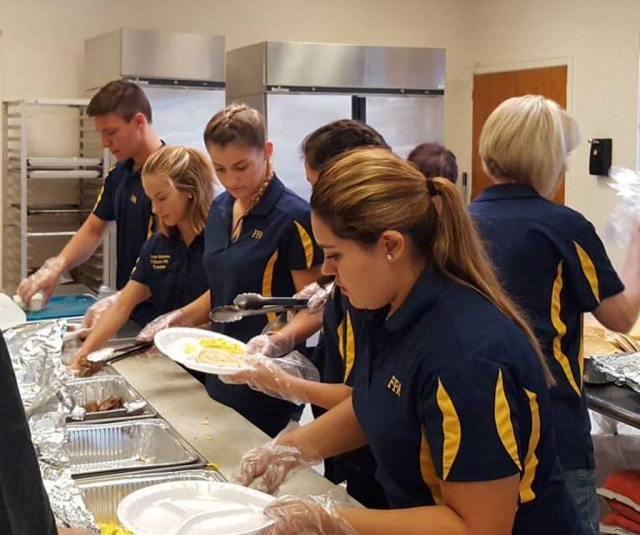 On Saturday, May 20th Fillmore FFA hosted their Annual May Festival Pancake Breakfast at the Veterans Memorial Building. Pictured above are FFA Students working hard the kitchen during their annual fundraiser.
Enlarge Photo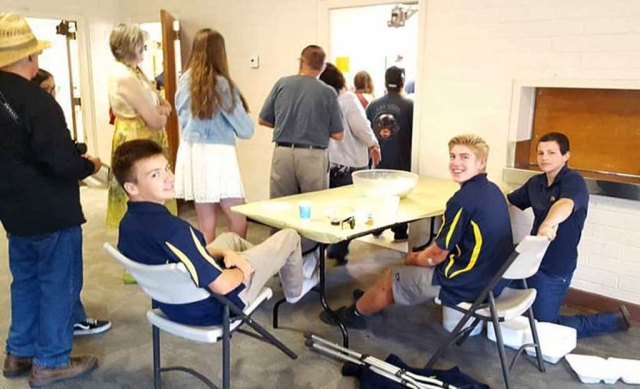 FFA Students smiling as they collect tickets as people lined up to get their breakfast. The Pancake Breakfast is one of the biggest fundraiser FFA hosts all year.
Enlarge Photo
By Gazette Staff Writer — Wednesday, May 24th, 2017
On Sunday, June 11, from 4:00-7:00 PM, Rancho Camulos Museum invites you to explore their recently restored 1920 Spanish Colonial Revival style adobe that was originally the Camulos Ranch Office and ranch manager's residence. The event will mark the grand opening of the museum's research library and reading room.
Visitors can also see a special exhibit of Camulos archival documents and artifacts and hear guest speaker Marc Appleton, author of "Ranches, Home on the Range".
This is a non fundraising event for friends of Rancho Camulos. Margaritas and munchies will be served. RSVP to 805-521-1521 / info@ranchocamulos.org. Rancho Camulos National Historic Landmark is located on Heritage Valley's historic Highway 126, one mile East of Piru, and is open for docent-led tours on Sunday's at 1:00, 2:00, and 3:00. Details at www.ranchocamulos.org
By Gazette Staff Writer — Wednesday, May 24th, 2017
Submitted by Lynda Edmonds
The Bardsdale Cemetery will hold it Memorial Day Ceremony on Monday, May 29th at 11AM.
The Ceremony will start with a fly-over by the 805th Navion Squadron.
Featured speaker this year is Richard Diaz who was a Sergeant in the US Marine Corp and is a member of the Cemetery Board.
The Rev. Bob Hammond will give the Memorial Service and special music will be provided by the Bardsdale Methodist Youth Choir along with Cub Scout Pack 3400.
Also assisting in the ceremony will be VFW Post 9637, Boy Scout Troop 406, Cub Scout Troop 3400 and Bob Thompson. The Boy Scouts will put out the flags on Friday, May26th and they will be picked up by the Bardsdale 4H on Tuesday, May 30th.
A special thank you to Garcia Mortuary for furnishing the doves to conclude the service and to the P.E.O. for furnishing cookies.
The Board of Trustees of the Cemetery District: Scott Lee, President, Lynda Edmonds,
Secretary, Rita Rudkin, Gabriel Asenas and Dick Diaz would like to invite the community to this special event.
By Gazette Staff Writer — Wednesday, May 24th, 2017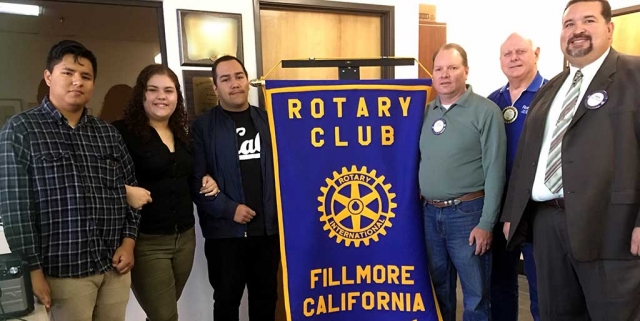 Fillmore Rotary Scholarship Winners: Fillmore Rotary Club presented three Sierra High School seniors Rotary scholarships. The scholarship winners pictured above are Jose Mejia, Sarai Vargas, Cornelio Garcia along with Fillmore Rotary committee members Scott Beylik, Dick Richardson, Adrian Palazuelos. Photo courtesy of Martha Richardson.
Enlarge Photo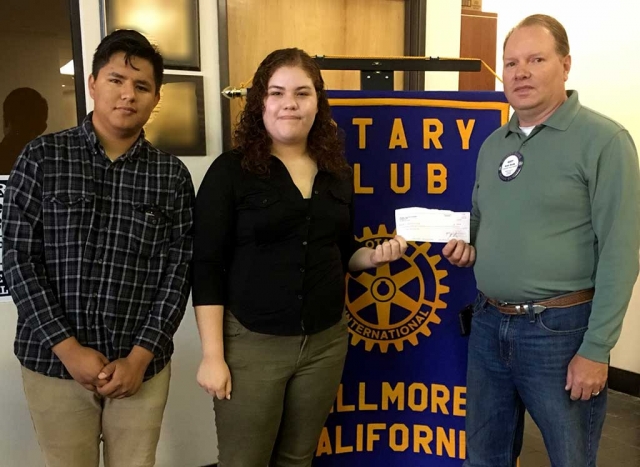 Rotary Donates $550 to Sierra High School ASB: Fillmore Rotary's Scholarship Committee Chairperson Scott Beylik (right) presented a check for $500 to ASB member Jose Mejia and Sarai Vargas, ASB Vice President for the Sierra High School graduation ceremony. Photo courtesy of Martha Richardson.
Enlarge Photo
By Gazette Staff Writer — Wednesday, May 24th, 2017
The role of a hospitalist will be the focus of a free seminar Community Memorial Health System is holding on Wednesday, June 7.
Christina Desai, M.D., a hospitalist physician specializing in internal medicine, will lead the discussion during the seminar to be held from 6 to 8 p.m. in the eighth-floor Nichols Auditorium at Community Memorial Hospital, 147 N. Brent St.
Chances are, patients admitted to the hospital recently weren't taken care of by their usual doctor. Instead, a doctor they didn't know and had never seen before was in charge of their care. Dr. Desai will explain what a hospitalist is, the role the hospitalist plays in their care, and the many advantages of having one to oversee the treatment patients receive during a hospital stay.
Dr. Desai received her medical degree from Albert Einstein School of Medicine and completed her residency at Montefiore Medical Center in New York. Dr. Desai is a member of the Society of Hospital Medicine, and she is affiliated with Pacific Inpatient Physicians, the hospitalist provider for CMH.
Registration is free but reservations are required. To secure reservations visit cmhshealth.org/rsvp or call Brown Paper Tickets at 800-838-3006.
Future Speaker Series events are: Being Mortal Free Film Screening on June 22 at the Museum of Ventura County; and the Women's Health Symposium on June 24 at the Ventura Beach Marriott.
Community Memorial Health System is a not-for-profit health system, which is comprised of Community Memorial Hospital, Ojai Valley Community Hospital, along with the Centers for Family Health serving various communities within and located in Ventura County, California.
By Gazette Staff Writer — Wednesday, May 17th, 2017
Back Stacks Books sponsored by the Friends of the Blanchard Community Library in Santa Paula will have the 1st Saturday book sale June 3, 2017, from 10 AM to 2 PM, featuring 1,000's of used books from 50 cents to $2, as well as collectible books from $4 and up.
The special for June 3, 2017 is Father's Day Specials; 50% OFF a variety of books. When you get to the sale, ask a volunteer to direct you to sale items.
Located at 119 North 8th Street, Santa Paula, enter via the north parking lot, thru the roll-up door in the back. Normal weekday hours also continue: Wed. 12-4, Thu. & Fri. 12-2.
For more information: spfotl@gmail.com.