By Gazette Staff Writer — Monday, November 7th, 2011
JV FOOTBALL GAME start time has been changed to 4PM.
By Juan Carlos Toledo — Thursday, November 3rd, 2011
College Sports News
If you're a USC Trojan fan please do me a favor: stop reading right now (no, seriously, I'm about to go in). The highlight of this weekend was not the Cardinals beating the Rangers for their 11th World Series Title, nor was it Philadelphia's 34-7 beat down of the Dallas Cowboys (they really did get manhandled by a smaller, less physical team). Even then, the REAL highlight of this weekend was the Stanford Cardinal beating the USC Trojans 56-48 in a 3OT thriller in the Los Angeles Memorial Coliseum. This game culminated in Stanford's Junior QB, Andrew Luck, running toward the Coliseum tunnel with both arms thrust skyward. There is no doubt that his heart must have still been pounding after all that happened Saturday night in Southern California—a season's worth of drama compounded in one night.
Statistically, Andrew Luck went 29/40 for 330 yds, and finished with 3 TDs, and one interception with a rushing TD to boot. Stepfan Taylor carried the ball 23 times for 99 yds and two TDs, while both Luck and Tyler Gaffney added 36 yds each. On the Trojan side, Matt Barkley went 28/45 for 284 yds, 3 TDs and one interception. Curtis McNeal was the star for USC, carrying the ball 20 times for 145 yds and 2 TDs.
This was definitely not the prettiest Stanford victory, but at the end of the night, they emerged victorious, nonetheless. The backbone; the bread and butter of this offense has been the running game, even with Heisman favorite Andrew Luck at the helm. This offense is blessed with a stable of backs who can get in the open field and take off, including Stepfan Taylor and Tyler Gaffney. Coming into this game, the Cardinal offense was averaging over 215 rushing yards per game, and against the quick SC defense, they were able to rush for only 185 yds, which added pressure to Andrew Luck to perform and take over. In Stanford's first 7 games this season, Luck was sacked only twice, and against SC he was sacked as many times. An offensive line heralded as one of the best in the country looked slow against the speedy Trojan front four. To add to the ugliness of this victory, late in the 4th quarter Luck threw a 30 yd interception return for a touchdown to SC defensive back Nickell Robey with only 3:08 left in the game. After the kick off, though, Luck gathered himself and was able to guide the Stanford offense down the field with the help of an unnecessary roughness flag against the SC defense. With 38 seconds left in the game, Stepfan Taylor ran from 2 yds out for the game-tying touchdown. After the Trojans failed to drive down the field and with time expiring, the two teams prepared themselves for overtime.
In overtime, the intensity continued (really, this could have been in a movie). In the first overtime Jeremy Stewart ran the ball in for the Cardinal TD, to take the lead 41-34. The Trojans answered right back and after a Barkley to Robert Woods 15 yd TD, the game was tied 41-41. In the second overtime, Matt Barkley again connected with one of his receivers, this time from 12 yds out to take the lead 48-41. Andrew Luck answered right back connecting with 6'8'' Tight End Levine Toilolo to tie the game up. According to NCAA rules, once the game reaches its 3rd OT, upon scoring a TD teams are no longer allowed to kick the extra point, they must attempt a two-point conversion each time they score. With the ball first, the Cardinal offense had no problem scoring, courtesy of a Stepfan Taylor 5 yd run. Forced to go for two, Andrew Luck took the snap from the shot gun spread formation, and with poise hit Coby Fleener in the back of the end zone to successfully convert and take the lead 56-48.
Now the game was in Matt Barkley's hands (dum, dum, dum
). The Trojans drove on the Cardinal defense, and were about to get into the end zone. On first and goal from the Cardinal 4 yd line, Barkley handed the ball to running back Curtis McNeal. Up until this point, McNeal had been carrying the Trojan offense. (I put the team on my back though) McNeal ran towards the opening in the line, and solid contact and instincts by Stanford's Terrence Stephens forced the ball from McNeal's hands and into the end zone. Stanford line backer AJ Tarpley quickly leapt onto the ball to seal the game.
After such a long night of good football, and more heart-pounding moments than my cholesterol level could take (I was turning red, which is probably not a good sign), the game ended on a fumble recovery in the end zone. There was no Hail Mary; no Statue of Liberty followed by a proposal to the girlfriend (cheesy much?); no defensive stop on the one yd line on 4th and goal—no, none of these moments. Instead, there was an anticlimactic fumble recovered in the end zone. Perhaps it's appropriate that a game like this ended the way it did. I mean, had some crazy ending taken place I may not have been able to survive that night (my heart may not have made it).
In the game of football, you live and die by fundamentals. Whether it be something as simple as the proper mechanics when taking a 5 step drop, or something as complicated as pulling as a guard and recognizing which defender is your blocking assignment, you win and lose by how well you do the little things, and how they come together as a whole. In this case, the running back who was not protecting the ball properly was beaten by the defensive lineman who recognized that and stuck his paw in to pop the ball out. Clearly, the better team won (take that Trojan fans!).
By Gazette Staff Writer — Wednesday, November 2nd, 2011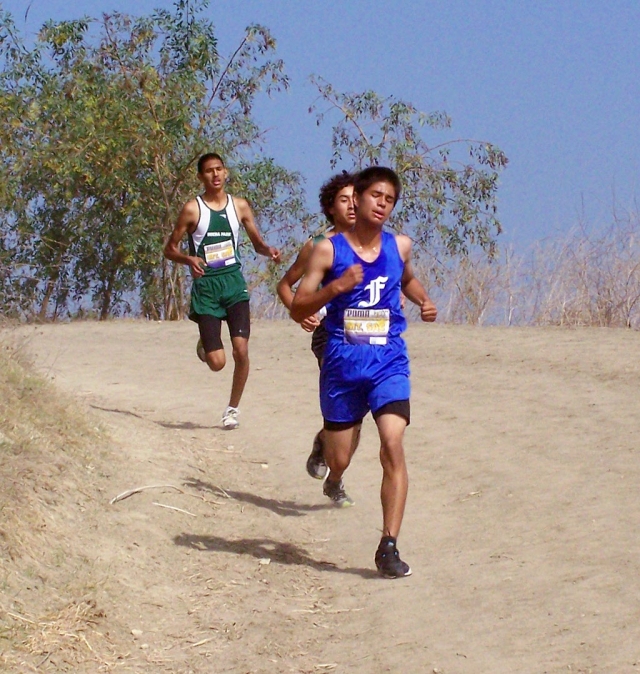 With a time of 18:19, Armando Vidal was a "true standout" on the team at the Mt. Sac Invitational.
Enlarge Photo
By Kim Tafoya — Tuesday, November 1st, 2011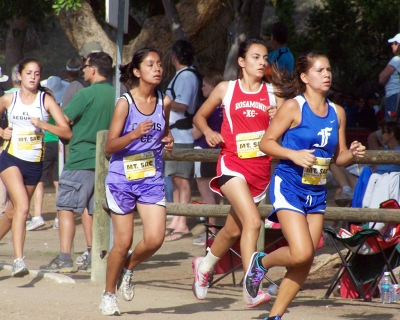 Jordyn Vassaur, a sophomore has been out best newcomer to the Girls Varsity team.
Enlarge Photo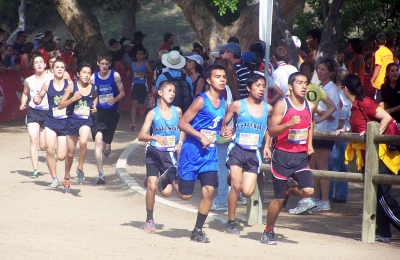 Jaime Vargas, a freshman ran an amazing time of 19:02 in his debut at Mt. Sac.
Enlarge Photo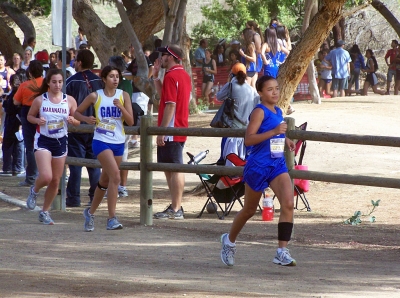 Amber Wilmot, a junior proves her spot is on the varsity team.
Enlarge Photo
In an amazing race day at what is probably the world's largest high school cross country meet, the team stepped up to the pressure and put on a show. The boys' varsity was once again the highlight as they finished 9th in their invitational race to maintain the 5th ranking in Southern Section Division 4 and 9th in division 4 for the state. The girls were third in their race. The boys 'junior varsity team was also in the front as they placed 5th in the junior varsity national championship race.
Finishing in 30th for the varsity boys was Jose Almaguer with a time of 16:30 on the 3 mile course. Alexander Gonzales was next in 42nd place with a time of 16:41. Anthony Rivas flew in at 16:48 for a finish place of 48th. Finishing just over seventeen minutes was Adrian Mejia at 17:01 to be the 57th boy through the chute in that race. Isaac Gomez, Hugo Valdovinos and Jaime Magdaleno ran as a pack with respective placings of 81, 82, and 83. Isaac finished in 17:23 while the other two boys both came in at 17:24. This was good enough to beat out 56 other competing teams for division 4 boys' varsity.
For the girls varsity Kiana Hope once again resumed the lead as she finished 5th in her race with a time of 20:02. Laura Garnica wasn't far behind as she crossed the line in 20:42 to place 13th in the race. In 23rd was Jordyn Vassaur who com-pleted the course in 21:22. This was also Jordyn's first time running the course and competing against so many other schools. Maria Villalobos placed 34th with a clock reading of 22:03. Finishing just behind her was Lucia Diaz with a 36th chute finish at 22:08. Alexis Tafoya beat out 60 other girls to finish 70th overall with a time of 23:54 on her first attempt at the course. The seventh runner for Fillmore was Amanda Vassaur who finished 82nd with an electronic finish of 24:25.
In the junior varsity boys' national championship race, Jordan Mendoza was 2nd overall in the race with a clocking of 17:19. Justin Beach was lucky number 13 as he hit ht e chute at 17:53. Jovani Oregon was 32nd in 18:16 and Sammy Martinez completed the course in 18:26 to finish 37th. Brothers Frank and Vincent Chavez finished within mere seconds of each other as Frank was 55th and Vincent was 59th. Frank had a time of 18:57 which just edged out Vincent's time of 19:03. Christian Rodriguez recorded a 19:09 to finish 63rd to help the team to its 5th place accomplish-ment.
For the regular junior varsity race Armando Vidal was a true standout, he braved the switch backs, conquered poop out hill, and sped down reservoir hill to build to a kick along the airstrip and finish in 18:19 to finish in 32nd place. Julian Gar-cia was 39th with a recorded time of 18:31. David Enriquez thundered to a 54th place finish with a result of 18:49. In 59th was Tyler Hackworth at 18:54. Eddie Baez completed the course in 19:17 to earn the 73rd spot. Javier Rodriguez found himself in the 79th spot as he raced for a 19:23 mark. Rounding the 9th place in their race team was Robert Munoz as he rocketed to a 19:45 and placed 89th. There were 200 athletes in the race.
The junior varsity girls finished 8th in their race and 13th overall amongst division 4 competitors as Amber Wil-mot was 30th in her race with a time of 23:31. Carla Pizzano was 39th with a 24:00 chute finish. Dalila Ortiz was 56th as she powered through the course in 24:46. In 89th place was Ashley Morino who garnered a 26:13. The final scorer for the girls was Sarahi Pascual in 114th place with a result of 26:58. There were 199 people in the race.
The dynamic duo for the freshmen girls finished dead even with Sofia Gallardo finishing a scant few inches ahead of Justine De la Rosa. The girls were 75th and 76th with respective times of 25:05 in the 190 person race. Denise Hernandez was 146th in the division 4 sophomore girls' race of 188 contestants with a time of 28:55
Three freshmen boys ran on the day for Fillmore with Jaime Vargas barreling in at 19:02, Francisco Erazo racing for 20:33 and Isai Bolanos charging in at 27:36. They finished in 15th, 39th and 143rd respectively.
A true highlight among the lower classmen however was the boys' sophomore team which completed the course in 4th place for their heat and 7th place among all sophomore teams competing. Nico Frias led the pack with a 15th place finish in 18:54. Nicholas Johnson smiled his way to 29th with a 3 mile run of 19:25. Ricardo Gutierrez surged for a finish in 20:08 and placed 46th. Joey Orozco achieved a 56th place finish with a finish time of 20:24. In 58th, Mario Gaspar ran a 20:25. Completing the course in 20:28 and 60th place was Omar Ponce. 95th was Anthony Larin with a clocking of 21:18. In 107th was Jaime Valdovinos with a course conquering 21:35. Gilberto Acevedo rounded out the junior varsity with a 112th placing at 21:44. Up next for the team is the Tri-Valley League Championships on Thursday at Oak Canyon Park, race times begin at 3:30 pm.
By Gazette Staff Writer — Wednesday, October 26th, 2011
By Gazette Staff Writer — Wednesday, October 26th, 2011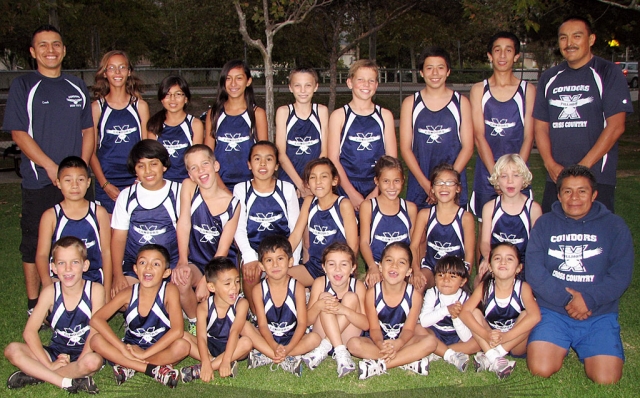 Back Row (l-r) Coach Rafael Laureano, Eden Hahn, Marisol Ramirez, Irma Torres, Garrett Medley, Colin Richter, Andrew Strader, Alan Marquez, Coach Victor Rodriguez. Middle Row (l-r) Juan Carlos Laureano, John Chavez, Aidan Richter, Daisy Martinez, Carissa Rodriguez, Naveah Walla, Jordyn Walla, Niles Gerlach. Bottom Row (l-r) Mark Richter, Rey Laureano, Diego Rodriguez, Camilo Torres, Jessica Servin, Aleena Castaneda, Niza Laureano, Andrea Laureano, Coach Temo.
Enlarge Photo
By Gazette Staff Writer — Wednesday, October 26th, 2011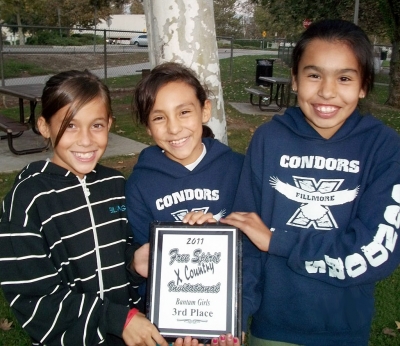 Pictured (l-r) Bantam Girls: Naveah Walla, Carissa Rodriguez, and Daisy Martinez.
Enlarge Photo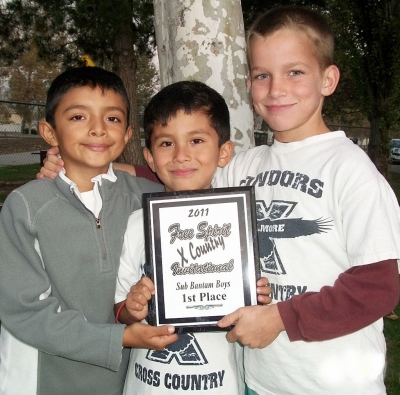 Pictured (l-r) Sub Bantam Boys: Rey Laureno, Camilo Torres, and Richter.
Enlarge Photo
The Fillmore Youth Condors Cross Country team competed at Mt. SAC College. A tough and well recognized hilly course, but the Youth Condors did not have a problem running those hills, the sub-bantam division won 1st place. The team was lead by Mark Richter, Rey Laureano, Camilo Torres, and Diego Rodriguez. The bantam girls placed 3rd, lead by Nevaeh Walla, Carissa Rodriguez, and Daisy Martinez. The coaches were very happy by the results and proud of their team as they competed with about nine-hundred athletes from all over Southern California. Also, congratulations to all the athletes that competed in all the divisions and did very well. The Youth Condors are looking forward to do well in their conference finals on October 29th, in Central Park in the City of Santa Clarita and qualify for Nationals in Orlando, Florida on December 3rd. Condor's favorite quote is "Pain is temporary and pride is forever". If you would like to learn more about the Fillmore Youth Condors, please visit their website at www.fillmorecondors.org.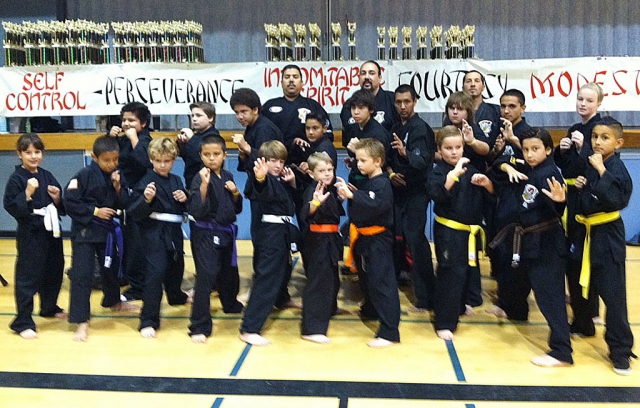 Perce's Kenpo Karate Studio of Fillmore had its annual karate tournament October 8, 2011 at Fillmore Middle School.
Enlarge Photo
By Gazette Staff Writer — Wednesday, October 26th, 2011
Perce's Kenpo Karate Studio of Fillmore had its annual karate tournament October 8, 2011 at Fillmore Middle School. The Karate Tournament had over 125 students competing from Ventura County. The results from Perce's Kenpo Karate students are as follow: forms divisions: 7 to 8 yrs. white-yellow belt 1st place Joey Stewart, 1st place Austin Gunter. 7 to 8 yrs. white-yellow belt 1st place Karmendee Rodriguez, 2nd place Zack Addison, 5th place Aubrey Stewart. 8 to 11 yrs. white-yellow belt 2nd place Estevan Molina, 3rd place Gabriel Meza. 12 to 14 yrs. 3rd place Michael Morris, 4th place Samantha Gunter. 4 to 6 yrs. Orange-Purple belt 1st place Ty Morris, 3rd place Ty Weeks. 7 to 8 yrs. Orange-Purple belt 5th place Justice Rodriguez. 8 to 9 yrs. orange-purple belt 3rd place Erasmo Salazar. Jr. brown belt 5th place Blake Boren. 12 to 14 yrs. blue-jr. brown 5th place Israel Brooks 10 to 13 yrs. Jr. brown-black 1st place Andy Topete, 2nd place Samuel Hernandez, 4th place place Anthony Murray, Self-defense divisions: Teen-Adult self-defense 1st place Samuel Hernandez. Sparring Divisions: 6 to 7 yrs. white-yellow belt 5th place Karmendee Rodriguez. 12 to 16 yrs. white-yellow belt 3rd place Michael Morris. 8 to 10 yrs. purple- blue belt 2nd place Justice Rodriguez. 9 to 10 yrs. green-brown belt 3rd place Blake Boren. 10 to 12 yrs. white- yellow belt 1st place Estevan Molina. 12 to 13 yrs. green-brown belt 1st place Angel Rodriguez. Adult all ages: 2nd place Javier Rodriguez. For more information on training call Perce's Kenpo Karate at 524-6870.
By Juan Carlos Toledo — Tuesday, October 25th, 2011
College Sports News
Let's turn our attention away from the National Football League this week, because quite honestly not much happened this weekend that was really all that interesting, except for maybe the Detroit Lions dropping their second straight game (should have knocked on wood, but oh well). It's October! This month is coming to a close and that means that the world of college football is more than halfway through its regular season, and that can mean only one thing: upsets. Every season has its fair share of underdogs upsetting ranked teams and shaking up the BCS, changing the race for the national championship. This past weekend was loaded with upsets, and three in particular are very worth noting (even among so many great games).
There was a lot of hype behind Brian Kelly's Notre Dame team coming into this season. Coming off of an 8-5 2010 campaign culminating in a win in the Sun Bowl over the Miami Hurricanes, Kelly's team was expected to have a strong season in 2011 and compete for a spot in a BCS bowl game. After losses in their first two games, the Fighting Irish bounced back and won four games in a row including a convincing 31-13 win over the Michigan State Spartans. All this led up to this past Saturday's meeting with the USC Trojans, led by junior QB Matt Barkley and head coach Lane Kiffin. The Trojans jumped out to an early 17-0 lead via passing touchdowns by Barkley in the first quarter and a field goal in the second; although the Fighting Irish would come back an bring the score to 17-10 by the half, the Irish never held a lead the whole game, an 80 yd fumble recovery and run by Jawanza Starling for a USC touchdown sealed the victory for the Trojans, with the final score being 31-17. Barkley finished 24/35 for 224 yds and 3 TDs, with no interceptions. With the Jeweled Shillelagh on its way back to Southern Cal, the Trojans have won 9 of the last 10 meeting between the two teams and have shut the door on Brian Kelly's chances of cracking the BCS with three losses.
A picture perfect heave to the heavens, a mistimed jump, and a receiver being in the right place at the right time, along with the suspense of the review, all led to a Michigan State victory over the top ten ranked Wisconsin Badgers. With time expired, tied 31-31, rolling to his right, Kirk Cousins, the Spartan QB, threw a Hail Mary towards the end zone (it's safe to say this Hail Mary was not full of grace), and after a tip, WR Keith Nichol must have been surprised that the ball was landing in his arms ("look what I found"), with a stretch, and a the right call after a review by the officials, Nichol had stretched just far enough for the game winning 44 yd touchdown. The favorite in the Big Ten, the Wisconsin Badgers, now have one loss, and with that loss the Badgers may no longer be in the national picture title. Including going a perfect 4/4 on the game-winning drive, Michigan State senior QB, Kirk Cousins, finished the game 22/31 for 290 yds and 3 TDs, and most importantly no interceptions. Except for a stumble against Notre Dame, the Spartans of Michigan State now control their own destiny in the Big Ten and if they can win out, including winning the Big Ten Championship, they will be playing in their first ever BCS bowl game.
Beyond the theatrics, this past weekend's most notable upset was the 41-38 win by the Texas Tech Red Raiders over the #3 ranked Oklahoma Sooners, a game played in Norman, OK, ending the Sooner's 39-game home winning streak. It appears as though any national title dreams of head coach Bob Stoops, or seniors Ryan Broyles and Travis Lewis have been struck down. All night the Oklahoma defense had to answer for the Texas Tech offense, which scored in every quarter. Most notably, the Sooner defense could not stop the middle screens and all-around game of Red Raider junior WR Alex Torres, who finished the game with 4 receptions for 94 yds and 3 TDs for an average of 23.5 yds per reception. The Sooner defense looked confused, and reacted far too slowly as Texas Tech QB Seth Doege picked them apart, going 33/52 for 441 yds and 4 TDs, with no interceptions. Led by QB Landry Jones, the Sooners rallied in the fourth quarter, cutting the lead from 41-24 to 41-38, but were unable to recover an onside kick, which sealed the victory for the Red Raiders. Overall, Tommy Tuberville's Texas Tech squad was way too much for Bob Stoops and the Sooners to handle. A team considered the national title favorites in the preseason, the Oklahoma Sooners now must win out and hope that another top 5 team can lose, giving them hope of achieving a high enough BCS rating to make the national title game.
Thank God it's October, and frankly, I can't wait to see what November has in store for college football. I expect there to be further upsets and monumental performances, and I can't wait to see how the BCS unfolds. As a yearly bandwagon hopper (I have no shame), I can only hope that my Stanford Cardinal and QB Andrew Luck keep winning, and win the Pac 12 to compete for a national title, but who knows, maybe they will also be upset (crosses fingers, knocks on wood, puts a horseshoe in back pocket, quickly prays).
By Gazette Staff Writer — Monday, October 24th, 2011
Registration forms available for Youth Basketball Monday, October 24, 2011 through Thursday, November 10, 2011. The program is open to boys and girls grades 1-9. Registration will be accepted at the City Hall, Recreation Department Monday – Thursday between 8:00AM-5:00PM.
League play is scheduled to begin Saturday, December 10, 2011 and continue through February 25,2012. Cost for registration is $85 per person (price includes t-shirt, picture package and trophy).
For additional information please contact the Recreation Department, 524-1500 X216.
By Gazette Staff Writer — Wednesday, October 19th, 2011
By Gazette Staff Writer — Wednesday, October 19th, 2011
By Gazette Staff Writer — Tuesday, October 18th, 2011
The team traveled to the very hilly La Reina High School campus course on Thursday October 13thfor the mid season TVL league meet. The boys maintained their position as number 2 behind Oak Park for both varsity and junior varsity. The girls had a rough meet falling to 4th in the varsity and 5th in the junior varsity. The girls however are rebounding quickly and are eager to regain their previous spot in the doubly weighted League Finals. In related news the boys team is now ranked 10th in the State for southern section division 4 after their performance at La Reina.
For the girls it was Laura Garnica in 22:45 and 10th place overall who spearheaded the team. Kiana Hope was the second scorer at 23:41 to finish 18th. In 24:40 was Maria Villalobos who snagged a 25th place finish. Alexis Tafoya was the 28th place finisher in 25:26 while Amanda Vassaur was 32nd in 26:04. Lucia Diaz clocked a 26:56 to complete the mountainous terrain in 35th place.
The boys varsity had many place changes throughout the race but finishing first for the flashes was Adrian Mejia stepping up to the front for the first time in competition. Adrian was 8th overall in 18:23. Alexander Gonzales was 9th in 18:25. Hugo Valdovinos finished in 18:23 for a 12th place. Anthony Rivas powered to a 14th place finish with a time of 18:39. In 18:48 was the fifth scorer Jose Almaguer who garnered a 16th place finish. That means for the first five the spread was 25 seconds. Only four runners managed to squeeze in between the first scorer and the last scorer. For sixth and seventh runners it was Juan Mariscal in 19th at 19:06 and Issac Gomez in 23rd for a time of 19:35. One cross country pundit commentated that it was terrific seeing a team that had the possibility of all seven runners being able to step up and earn the top scoring spot. The depth of the team is truly its strongest spot.
For the junior varsity girls Amber Wilmont finished in 26th place with a time of 26:03. In 39th place was Justine De La Rosa with a time of 27:22. Sofia Gallardo came barreling down the mountain in 27:34 for a 41st place finish. Teammate Deanna Lomeli was 46th with a time of 28:00. Carla Pizano was 57th with a time of 29:03. Rounding out the team of seven was Dalila Ortiz and Sarahi Pascual. Dalia finished in 59th with a time of 29:12 and Sarahi was 68th with a recorded time of 31:10. Ashley Morino was 71st with a time of 31:23. Denise Hernandez came in 72nd with a 32:58 and Alexandra Vasquez was 76th with a clocking of 35:25. There were 78 runners.
The boys' junior varsity race had 107 runners. In 4th place overall was Jaime Magdaleno with a time of 19:18. Justin Beach was 11th with a time of 20:21. Jovani Oregon was 13th with a time of 21:21. The fifth Flash was Christian Rodriguez who was 14th through the chute in 20:31. Just behind him at 15th was Frank Chavez who recorded a 20:32. David Enriquez was 21st overall with a time of 20:54. Jordan Mendoza was 29th overall in 21:15. Due to space considerations the table below lists the remaining 19 jv boys runners.
33 Armando Vidal 21:23.8 69 Nick Johnson 23:39.2
35 Sammy Martinez 21:33.4 75 Roberto Munoz 23:59.8
36 Julian Garcia 21:33.6 77 Omar Ponce 24:17.6
37 Nicolas Frias 21:40.8 78 Francisco Erazo 24:20.1
38 Javier Rodriguez 21:42.6 86 Gilberto Acevedo 25:08.7
40 Jaime Vargas 21:45.4 87 Tyler Hackworth 25:12.7
45 Mario Gaspar 21:58.8 90 Jaime Valdovinos 25:22.4
47 Vincent Chavez 22:17.8 103 Anthony Larin 26:39.8
64 Andre Alvarez 23:13.9 104 Joseph Orozco 27:01.4
67 Ricardo Gutierrez 23:28.6
Up next the team travels to Mt. SAC for what is most likely the largest cross country meet in the world. They will take on thousands of teams in two day long staggered race competition. The action begins on Friday October 21st!
By Juan Carlos Toledo — Tuesday, October 18th, 2011
Pro Sports News
After obsessing with the Midwest for the past three weeks, I feel it is only appropriate that I finally show some love to California, and one of the most storied franchises in the history of the NFL, the San Francisco 49ers. (Not the Raiders, sorry Fillmore) First year coach Jim Harbaugh has guided the 49ers to an impressive 5-1 record in the NFC West, a division won by a sub .500 team last season. (Why do we have divisional play again?) Sunday, the 49ers added another impressive win against the undefeated Detroit Lions, a team that I've been praising as of late. (Please stay off my back, I'm writing this one for Cali) More impressive is probably the fact that the 49ers are being led by a first year coach, and are just one win away from matching their win total for the 2010 season. Aside from the post-game shoving match between Harbaugh and Lions coach Jim Schwartz, this game was an impressive statement for San Francisco.
There was both hype and doubt when Jim Harbaugh made the decision to leave Stanford University and Heisman candidate Andrew Luck to coach in San Francisco. There was no doubt that Harbaugh's no BS, no prima donna system worked at Stanford, where student athletes depended on their athletic scholarships to stay in school and were willing to do anything for the possibility of entering the draft. Many, however, doubted that this system would transfer to the NFL, where the players sometimes are paid more than the coaches, and salty multi year veterans may not have much of a tolerance for a first year coach. Whatever Harbaugh is doing, he needs to continue doing so. At their current rate, the 49ers will run away with the division and earn their first playoff berth since 2002. (knocks on wood)
San Francisco is playing great football in what was supposed to be a rebuilding and reassessing year. With a new coach, new system, and a multitude of new players, no one saw the 49ers having a 5-1 record. Bringing his run first, I formation system from Stanford, Harbaugh decided to use one of his strongest offensive weapons, Frank Gore to get the running game going. With a productive running game, (Gore is averaging close to 100 yds per game) the 49ers have been able to get the passing game going. Alex Smith has a QB rating of 104.1, and has been able to spread the ball out to his many offensive weapons, including TE Vernon Davis and WR Michael Crabtree.
Defensively, the 49ers have done more than keep their offense in the game; they have been cruel to opposing offenses, punishing their running game. This defense has one of the best linebacker corps in the NFL, led by arguably the best linebacker in the NFL, Patrick Willis. (I would argue that along with Troy Polamalu, Willis is one of the best defensive players in the league, bar none)
In a division dominated in recent years by Seattle and Arizona, the 49ers are reasserting themselves as a dominant player in the West. The 49ers are also blessed with a favorable schedule, with 5 of their last 10 regular seasons games against NFC West teams, none of whom are above .500. Probably their toughest games left are at home to the Pittsburgh Steelers and the New York Giants, and on the road against the Baltimore Ravens.
Since the departure of such names as Jim Plunkett, Joe Montana, Jerry Rice, Rich Gannon, professional football has been somewhat silent in our great state. The Chargers have provided some recent playoff appearances, but those postseason berths have been disappointing, at best. With the Chargers and Raiders at 1 and 2 in the AFC West, respectively, and the 49ers in first in the NFC West, it's safe to say that NFL football in the Golden State is on the rise. (Now if only we could take care of the NFL team situation in LA, or lack thereof)
By Gazette Staff Writer — Wednesday, October 12th, 2011
By Gazette Staff Writer — Wednesday, October 12th, 2011
By Gazette Staff Writer — Wednesday, October 12th, 2011
By Juan Carlos Toledo — Wednesday, October 12th, 2011
Pro Sports News
The power that sports possess is something truly astounding. Professional Sports have been for decades a method by which we cope with other problems or issues. In turbulent times we will always have our teams to give us an outlet, an escape from everything that is troubling us. (Unless there is a lockout, thanks David Stern/NBPA) I know that when I feel like I need something to lean on, I have the purple and gold; I have the Boys in Blue. As individuals we can do this, but when an entire city does so, we truly are witnessing something miraculous; something beautiful.
Detroit: "Rock City," "Motown," "Motor City," "the 313," is a city that is still recovering from troubling times. For years Detroit was the center of the American auto industry, and boomed as more and more jobs opened up. However, economic downturns, gasoline shortages, and outsourcing have had disastrous effects on the city. These problems led to a high rate of crime, rampant drug use, and population migration out of Detroit, a 10% decrease from 2000 to 2010. Within Detroit are entire neighborhoods abandoned, empty. What motivates those who stay to continue to labor? Why are those who stay becoming more and more united? What is fueling Detroit's recovery?
It would be a complete stretch of the truth to say that sports are responsible for all this. (I'm not that foolish) However, we cannot deny that sports have the ability to serve as motivation for recovery; sports can help us cope with our problems. Sports are not the reason why Detroit is recovering, but they do play a role and are helping fuel this recovery. From the Red Wings (a Detroit sports constant) to the Tigers, the Lions, and the Pistons, Detroit has been blessed with resilient sports franchises, and although they have seen their fair share of lows, these teams continue to fight, much like the citizens of Detroit.
The Detroit Red Wings are the city's professional hockey team, and are one of the most celebrated franchises in the history of the National Hockey League, have won 11 Stanley Cups, 4 since the 96-97 season. The Red Wings have made the playoffs 25 times in the past 27 seasons, including 20 in a row as of the 2010-2011 season. This team truly has blessed the city of Detroit with a constant. The Red Wings have in many ways been the rock for professional sports in the city of Detroit. For all hockey fans in the city, this franchise has not let them down. The city's other professional sports teams, however, have had much rockier histories.
The Detroit Pistons, the city's representative in the NBA, are one of the most interesting franchises in the history of basketball. The most notable Pistons teams are those of the Bad Boys era, led by Isiah Thomas, Bill Lambier, and the likes of Dennis Rodman and John Salley. During this era the Pistons won two NBA Championships. The Pistons rose again to title contention in the early 2000s, and won an NBA championship in 2004. Since then however, the Pistons have slipped out of playoff contention, with the bottom feeders of the NBA. Now regrouping and rebuilding, the Pistons are poised and looking forward to the future.
In 2003 the Detroit Tigers suffered the worst regular season in the history of Major League Baseball. Just three years later, however, with a new manager, and a new lineup, the Tigers won the AL Pennant, and have regularly been contenders in the AL Central, winning the division and although currently down 2-0 in the ALCS to the Texas Rangers, the Tigers will never give up.
More recently, one team has served as a symbol for how resilient the city of Detroit. The Lions, the team's NFL representative. In 2008 the Lions suffered the worst record in the history of the NFL, at 0-16. The Lions went "O-fer" (Pronounced like gofer without the g), the first and only team in the history of the NFL to do so. Like the city of Detroit, the Lions reached a low like never before; they had no reason to be happy; no silver lining to look at. The Lions hung tough, they did not give up, and today the Lions are 5-0, tied for first place in the NFC North with the Green Bay Packers, and one of only two unbeaten teams currently in the NFL.
The parallels between the city of Detroit and the Lions are truly something special. Sports are a very great way to spend free time, and they offer us a good method by which to stay in shape. On a much deeper level, however, sports can give us something that we need. Sports can give us the only thing that will keep us from giving up. Sports can give us hope.
By Kim Tafoya — Tuesday, October 11th, 2011
The team traveled to Fresno this weekend to preview the State course and came away with an impressive showing. The 33rd annual Clovis invitational hosted the team as the boys varsity finished 8th out of 29 in their divisional race and the girls varsity was 14th out of 23. The boys junior varsity was unscored. On the strength of their results the boys have moved up to the 5th ranked division 4 team in southern section.
For the boys varsity Jose Almaguer was once again the leader with a 16:42 mark on the 5km course to finish 29th out of 208. For those unfamiliar with the metric system that is roughly 5:23 a mile. In 31st place and mere feet behind Jose was Anthony Rivas with a clocking of 16:43. Anthony gave it his all and sprinted to the finish just barely being edged out at the line by the 30th place finisher. Alexander Gonzales finished 44th with a time of 17:00 even. In 52nd was Adrian Mejia recording a time of 17:09. Rounding out the scorers was Isaac Gomez who completed the course in 17:26 for a 68th place finish. This provided a time spread of 44 seconds first to fifth finisher and the top 4 were a mere 27 seconds apart. the strength of the team is truly it's team spread. Keeping the spread going Hugo Valdovinos placed 71st with a 17:27 and Jordan Mendoza was 80th with a 17:36 to bring the total team spread 1st to 7th to a scant 54 seconds. Excellent job boys.
The ladies stepped up to the competition as well. Kiana Hope sporting a new hair style still left rubber on the road as she powered to a 12th place finish with a clock reading of 19:20. Charging in next for the girls was Jordyn Vassaur with a time of 21:18 and a place of 72nd. In 88th place with a time of 21:52 was Maria Villalobos. Lucia Diaz drove through the chute in 22:06 for 92nd place as Alexis Tafoya returned from an injury to complete the course in 22:45 to finish 114th. Amanda Vassaur was 136th in 23:55. There were a total of 168 competitors in the race.
The boys junior varsity team was led by Jaime Magdaleno who was 82nd in 17:57. Jovani Oregon was next for a 135th place finish in 18:35. Justin Beach gave his all as he breathlessly placed 142nd in an 18:30 clocking. Christian Rodriguez zoomed to an 18:33 finish for 148th overall. Sammy Martinez sped to a 179th place bid in 18:49. Vincent Chavez and Frank Chavez completed the squad with respective times of 19:06 and 19:26. Vincent was 206th while Frank was 234th. There were a total of 443 runners in the race.
Up next for the Flashes is the mid season TVL meet. The team will travel to La Reina to challenge the rest of the league on the mountain that is La Reina's course. Action begins at 3:30pm on Thursday.
By Jeremy McMahon — Wednesday, October 5th, 2011
The first of three tri-valley league meets was held on Tuesday September 27th at Arroyo Verde Park in Ventura and the Boys took home dual 2nd place finishes as the girls sped to 3rd in varsity and 4th in junior varsity action. Both boys' teams lost to Oak Park (ranked 8 in the state for Division 3) and the girls barely got passed by Oak Park and La Reina. Oaks Christian also slipped by the junior varsity girls. The other teams in the League are Nordhoff and Saint Bonaventure. As of Monday the 3rd there are now 3 teams in the league in the top ten for their division and 2 for the girls. Fillmore is the only school with teams in both genders. The Flashes are 10th for division 4 in southern section.
On to individual results! Juan Mariscal took the lead this week as he strained up the mountains to finish 4th overall in 17:46. 15 seconds later Anthony Rivas finished 12th overall in 18:01. Adrian Mejia was hot on his heels to finish 14th in 18:10 and Jordan Mendoza crossed the line a scant 17 seconds behind that to finish in 18:27 at 16th. Isaac Gomez rounded out the top five with an 18:41 finish at 18th. Rounding out the team and denying valuable points to Nordhoff's 4th and 5th runner was Jose Almaguer and Alexander Gonzalez. Jose was 19th in 18:58 and Alexander was 20th in 18:49. The truly phenomenal aspect was the differential between the first Fillmore runner and the 7th. A scant 1:03 past between the time Juan crossed the line and the time Alexander finished. It was truly an impressive display of team running!
For the ladies Kiana Hope finished 4th with a time of 20:44. Laura Garnica powered through the hilly terrain to complete the course in 22:34 and finish 15th. Maria Villalobos traveled the beaten path with a surge at the end for a 23:22 to finish 18th. Lucia Diaz was 20th after taking out her frustrations on the packed earth in an impressive 23:23. Jordyn Vassaur, with a grim look of determination and a no nonsense charge, took 22nd to complete the course in 23:48. Securing the 3rd place finish was Amanda Vassaur with a 32nd place finish at 25:04.
In junior varsity results Amber Wilmot placed 21st to get a photo finish of 25:32. Finishing 39th, 40th and 41st were Carla Pizano was 39th with a time of 26:58; Sofia Gallardo was in at 26:59 and Deanna Lomeli completed the course in 27:02. In 51st was Dalila Ortiz at 28:24. Justine De La Rosa and Denise Hernandez completed the top 7 lady flashes for junior varsity. Justine was 62nd in 30:03 and Denise was 64th for a time of 30:10.
The junior varsity boys featured Hugo Valdovinos and Jaime Magdaleno in the top 5. Hugo was 2nd in 18:47 and Jaime was an impressive 4th in 18:59. Christian Rodriguez was 11th in 19:21. The fourth scorer was Justin Beach in 19:55 to finish 13th. Jovani Oregon was 16th to run through the chute in 20:06. Frank Chavez achieved a 21st place finish of 20:16. Eddie Baez completed the course in 20:31 for a 27th place finish and locked down the2nd place team effort.
This is a terrific league start for the Flashes.