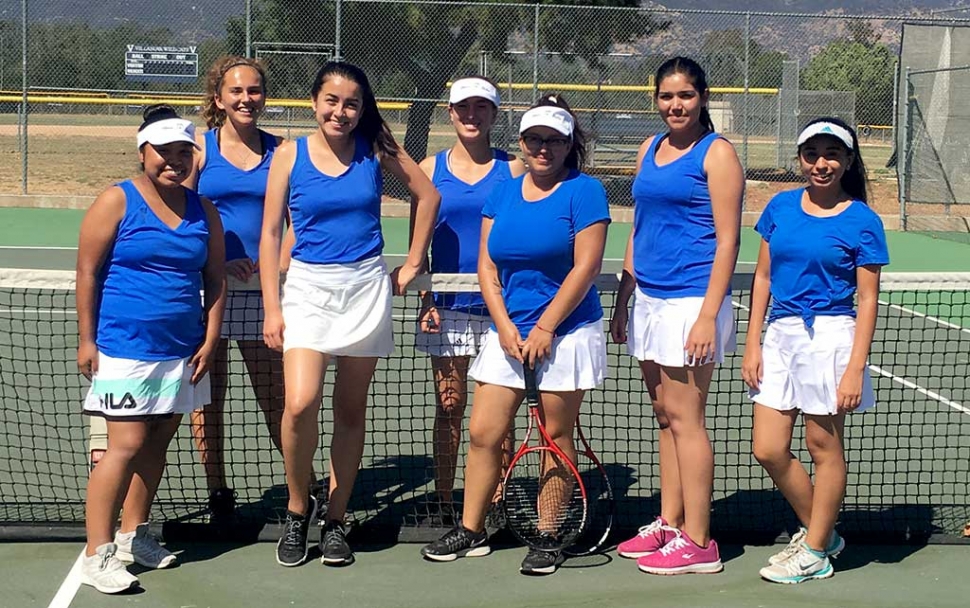 (l-r) Jessica, Maria, Marisa, Briana, Karime, Amariani and Ashley at Villanova Prep school in Ojai California.
By Gazette Staff Writer — Wednesday, September 13th, 2017
Submitted by Coach Tanya Gonzales.
Last Thursday, September 9th Fillmore hosted Carpinteria to kick off the first league match of the season. Fillmore's Frosh team defeated Carpenteria in 2 sets final scores: 25-23 and 25-11; JV team won in 2 sets final scores: 25-13 and 25-17; Flashes Varsity lost to Carpinteria in 4 sets. Final scores were 25-21, 22-25, 19-25, and 23-25. All very close games, but Fillmore fell short. Fillmore's standout players were Kasey Crawford with 4 serving aces, 11 digs, and 5 kills. Lindsey Brown had 12 digs. Tori Gonzales had 11 assists, 2 serving aces, 7 digs and 3 kills. The Flashes will host Thatcher on Thursday, September 14th for their second league game of the season.
Tuesday September 12, Fillmore hosted Malibu. Frosh team won 25-16 and 25-23. JV team won 25-18 and 25-20. Varsity lost in 3. 4-25, 18-25, and 18-25. Strong players for the evening were Kasey Crawford with 1 serving ace, 8 kills with some strategically placed hits. Lindsey Brown had 9 digs, 1 serving ace, and 1 kill. Tori Gonzales had 4 kills, 2 serving aces, a few balls saved on defense and 12 assists.