By Gazette Staff Writer — Wednesday, April 6th, 2011
Raiders Youth Football and Cheer will be holding one last registration, Wednesday, April 13th, from 6-7 at Mountain Vista Elementary School.
By Gazette Staff Writer — Wednesday, April 6th, 2011
By Gazette Staff Writer — Wednesday, March 30th, 2011
Athletes participated from Santa Paula, Malibu, Bishop Diego, and Santa Clara
By Gazette Staff Writer — Wednesday, March 30th, 2011
By Gazette Staff Writer — Wednesday, March 23rd, 2011
By Gazette Staff Writer — Wednesday, March 16th, 2011

Congratulations to the Fillmore High School JV Boys soccer team. They captured the Tri Valley League championship. With an impressive record of 11 wins and 1 loss this season. The Tri Valley League is a very competitive league, with the likes of Oaks Christian, Santa Paula, Carpinteria, Oak Park and Malibu. After losing most of last year's starters, it did not take them long to come together and have a fantastic season. Thank you to coaches Javier Alcaraz and Emerio Manzano and the support of Jose Luis Lomeli. (l-r) Top Row: Coach Emerio Manzano, Alex Magana, Alexis Barajas, Isai Valencia, Adolfo Rodriguez, Eduardo Gomez, Fransisco Zepeda, Ricardo Gutierrez, Ismael Avila, Edgar Mendez, Rogelio Santa Rosa, Juan Diego Rodriguez, Coach Javier Alcaraz. Bottom Row: Marco Mora, Alexis Paniagua, Jaime Magdaleno, Miguel Salgado, Franky Chavez, Jaime Valdovinos, Valente Ayala, Isaiah Martinez, Jaime Gallegos, Jorge Esparza, and Daniel Regalado. Not pictured Fransisco Vasquez.
Enlarge Photo
By Gazette Staff Writer — Tuesday, March 15th, 2011
Fillmore Youth Football and Cheer will be having Sign-Ups for the 2011 Season on Saturday, March 26th – 10AM-2PM, Tuesday, March 39th and Thursday, March 31 from 6-8PM. All Registrations will be conducted at Mountain Vista Cafeteria. Costs: Football $230 Cheer $75. For questions please contact John Holladay at #805-797-6804.
By Gazette Staff Writer — Wednesday, March 9th, 2011
By Gazette Staff Writer — Wednesday, March 9th, 2011
By Gazette Staff Writer — Wednesday, March 9th, 2011
Perce's Kenpo Karate Studio in Fillmore competed in the 18th Annual Bryan Hawkins All American Kenpo Karate Tournament in Granada Hills on February 26, 2011. There were over 300 competitors from Southern California. Three students competed in Kata (forms), weapons, and sparring divisions. The results for Kata 8-9 years old purple-green belt: 2nd place Blake Boren, sparring 8-9 years old purple-green belt participation: Blake Boren, Katas 10-12 years old brown and black belts: participation Tyler Bode, Forms 16 & up brown belt division: 3rd place Anthony Murray, 16 & up Weapons brown belt division 3rd place: Anthony Murray. All the students who competed from Perce's Kenpo Karate did an excellent job, we are proud of your participation and support. For more information contact Perce's Kenpo Karate at (805) 524-6870.
Enlarge Photo
By Gazette Staff Writer — Wednesday, March 9th, 2011
By Gazette Staff Writer — Wednesday, March 2nd, 2011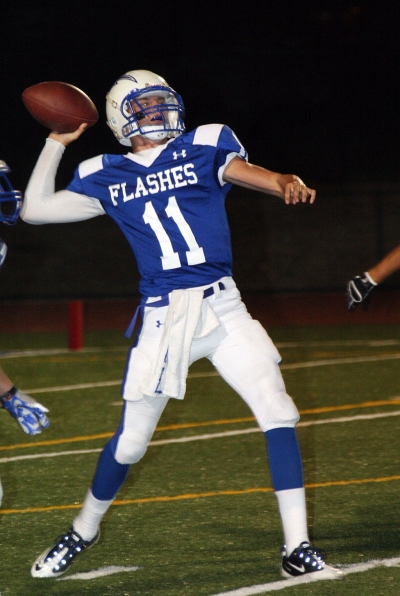 Corey Cole
Enlarge Photo
St. Paul Minnesota, Concordia University, head football coach Mark Mauer has announced that Fillmore High School's Quarterback Corey Cole has officially signed with the Golden Bears. Coach Mauer commented on the team's overall recruiting class, "We are excited about our incoming class; we filled our position needs while bringing in a very talented group of young men."
Corey will be the backup quarterback to Senior Spencer Ohm for the 2011 Season. He will be joining an elite group of athletes which for the 2010 season finished 8-4 overall. The Golden Bears finished with the third ranked passing attack in their conference and the offensive line protected it's skill position players to the point where the offense committed only 13 turnovers in 12 games. Only nine teams in the nation (151 teams) committed fewer turnovers on the season than Concordia football.
An All-CIF Quarterback, All-County MVP, Team Captain and Team MVP, Corey has been invited to play in this year's All-County Football Game in June. He will leave for Concordia in July to join the Golden Bears as they prepare for their upcoming season. Corey is the son of Craig and Lynn Cole and the younger brother of Concordia's starting offensive guard Curtis Cole.
By Steve Conaway — Thursday, February 24th, 2011
Video Highlights from CIF competition. See match report following videos for full details.
Fillmore Wrestling CIF Conaway's First Match

Fillmore Wrestling CIF Orosco's First Match

Fillmore Wrestling CIF Zavala Second Match

Fillmore Wrestling CIF Conaway's Third Match

By Gazette Staff Writer — Wednesday, February 23rd, 2011
By Gazette Staff Writer — Tuesday, February 22nd, 2011
Dear Flashes Baseball Supporters:
My name is Matt Suttle and I am once again the Head Baseball Coach at Fillmore High School. I am extremely honored and privileged to return to this program that has such a rich baseball tradition. Fillmore has won 22 league titles, four CIF titles and countless Junior Varsity championships. I understand what it means to wear a Flashes' uniform having been a member of three league championship teams during the early 1980's. I am looking forward to carrying on this proud tradition at my alma mater. The success of our program on the field throughout the years has been a joint effort with our local community; together we've been a great team!
Budget cuts in our schools make it difficult for our program to operate. I believe in providing our athletes with the best safety equipment and supplies. I want our athletes to feel good about who they are and where they come from. Therefore, I am extending this invitation for your organization to join our sponsorship program. The sponsorship program will help defray the costs of equipment for more than 30 athletes in our program as well as facility upgrades.
The Diamond Club sponsorship program will allow your organization to directly sponsor one of our student athletes. A full player or position sponsorship is $75. Sponsors may purchase the full sponsorship or a partial sponsorship ($25). Each player may have up to four sponsors. The sponsor's name will appear in The Fillmore Gazette along with the name of the player and his position. Players of the week will be selected throughout the season. A picture of the player and their sponsors listed below them will appear in the local newspaper.
If you would like to participate in the Diamond Club sponsorship program please make your check payable to "Fillmore High School Baseball" and mail it to:
Matt Suttle
555 Central Ave
Fillmore, Ca 93015
For more information, please call me or leave a message at (805) 625-2639. On behalf of the entire Flashes Baseball program, I want to thank you for your time, your consideration and your generous support.
Thank you.
By Steve Conaway — Monday, February 21st, 2011
Flashes attend and participate in the CIF Southern Section Central Division Individual Wrestling Tournament this past weekend.
The host school was Colony High School in Ontario. The tournament was run extremely well with six mat of wrestling action taking place from 11 AM on Friday to 7 PM.
To advance to the Quarter, Semi and Finals on Saturday a wrestler would have to win three matches in the double elimination tournament. On average each weight bracket had about 30 wrestlers competing. By rough calculations that equates to 420 wrestlers participating in the tournament.
Flashes earning the right to represent their school were; Robert Bonilla, Mark Zavala, Kyle Castaneda, Jonathon Minero, Alex Rivera, Christian Conaway, Marco Vega and Sammy Orosco.
Wrestlers who had a bye the first round were; Minero, Rivera and Orosco.
Conaway won his first match by pin. The remainder of the Flashes lost their first match.
Zavala won his second match by injury forfeit. Orosco won his second round match by pin. Conaway wrestled the #1 seed and lost by pin, the remainder of the Flashes lost their second round matches.
Conaway won his third round match by pin in 25 seconds. Most of the other Flashes lost their third round matches and were eliminated from the competition.
Orosco and Conaway advanced to the 4th round. Conaway lost his fourth round match with less than 1 second remaining in the 1st period. Both Conaway and his opponent were wrestling like fighting snakes on the mat with each earning take down points, and back points and reversal points during the first period. The official questioned the timer to see if the pin call happened on the buzzer or after. It was ruled that the pin was at the buzzer which handed Conaway his fourth loss eliminating him from advancing further.
Orosco wrestled the #1 seed in his weight class for the fourth round. Sammy lost the match on points. Sammy went the full count with the #1 seed and wasn't pinned, which was an amazing feat.
Orosco advanced to wrestle on Saturday but was handed his second loss by points.
Hats off to Flashes Wrestling and the Wrestlers for having a vision all season and staying focused on their goal. While the outcome wasn't the dream finish some had hoped for they represented themselves with pride, wrestled full speed all year under a very aggressive 40 match season (not including League Finals or CIF ) and earned the respect of the Tri Valley League and beyond.
All of their success wouldn't have been possible if it were not for Coach Bob Calderon who donates so much of his time, talent and resources. He's coached Flashes Wrestling for 24 years and does so with passion for the sport and the kids. Coach Manual Ponce is the driving force for motivating and teaching the wrestlers. Coach Cal and Coach Manual work well together as can be verified by the number of dedicated wrestler who earned league championships.
Flashes CIF Video Match Highlights to be uploaded shortly.
Looking forward the Flashes will have their Wrestling Banquet and awards.
By Steve Conaway — Wednesday, February 16th, 2011
A select few Flashes Wrestlers will get an early start to their day Friday, February 18. Coach Bob will load up 8 Flashes that qualified to compete in the CIF Southern Section Central Division Individuals and will hit the road at 5:30 AM. The squad will travel to Colony High School in Ontario for the 8 AM sign ins, followed by the 9 AM weight check. Wrestling is scheduled to begin at 11 AM.
To prepare for CIF Individuals the squad has practiced with other Tri-Valley League elite wrestlers who will be competing at the event. Fillmore, Nordoff and Santa Paula have been working out together and running drill after drill to fine tune their skills. The workouts have been good for many as the new routines have caused them to rethink their norms and try new skills.
Coach Bob provided some clarity to the wrestlers during a brief break on Tuesday. With his squad of wrestlers gathered around him he said, "It's up to you, if you want it you have to have heart and go out and get it. That doesn't apply just to wrestling that applies to life in general". Well said Coach.
For the 2010-2011 season Fillmore Flashes Wrestling has stood up to make a statement about who they are and what they are capable of. This coming weekend the Flashes will be tested. As with physically demanding sports, an athlete's health can be a factor due to the length of the season, this may be the case this weekend. Win or lose, we know what is in the hearts of these young men.
Representing their League, their school and now themselves this weekend are:
Robert Bonilla
Mark Zavala
Kyle Castaneda
Jonathon Minero
Alex Rivera
Christian Conaway
Marco Vega
Sammy Orozco
Trivia. It's not uncommon to see military influence at large tournaments. Why would the Navy or Army have a presence at a wrestling tournament? During one conversation with an Armed Forces Representative it was gleaned that the members present were from elite sections of our military, Rangers and SEALS to reference a few. Sound strange? Their answer as to why they have a presence says it all. We know wrestlers are tough, they're physically fit, they are disciplined, they follow direction, they don't give up, they don't harbor ill will or linger on a loss, they get back up and try again and they do it over and over again. These are the same qualities that a successful Special Forces member must possess.
By Gazette Staff Writer — Wednesday, February 16th, 2011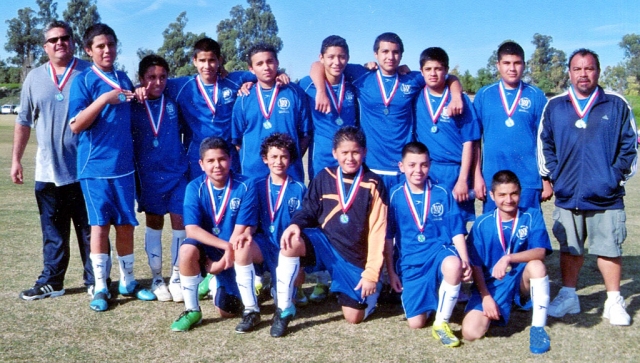 Congratulations to the Fillmore All-Star Boy's U-14, for winning the Championship for league All-Star Playoffs. The boys will now go to Bakersfield to represent Ventura/Santa Barbara County in March. Pictured above top row: Assistant Coach Cipriano Martinez, players: Ricardo, Govani, Andy Jr., Miguel, Jason, Luis, Juan, and Coach Gonzalo Martinez. Bottom Row: Jose, Rigo, Emilio, Cristobal, and Arturo. Good Luck!
Enlarge Photo
By Steve Conaway — Wednesday, February 9th, 2011
Lady Flashes control the mat
This week the focus is on our Lady Flashes Wrestlers. Female High School Wrestling is a sport recognized by CIF, in which female wrestlers can earn their Letter in. The sport is the great equalizer and the rules are the same for males as they are for females. Talent and ability is rewarded based upon the athletes performance. Today's video clips highlight some of the Lady Flashes at the Tri Valley League Finals. By all accounts female participating in the sport is on the upswing.
Alvarez vs Santa Paula Championship Match

F Zavala vs Santa Paula Championship Match

Rivera vs Nordoff Championship Match

By Gazette Staff Writer — Wednesday, February 9th, 2011
Sweep Camarillo Tournament defeating Ventura, Santa Barbara, Santa Paula, North Oxnard, and Camarillo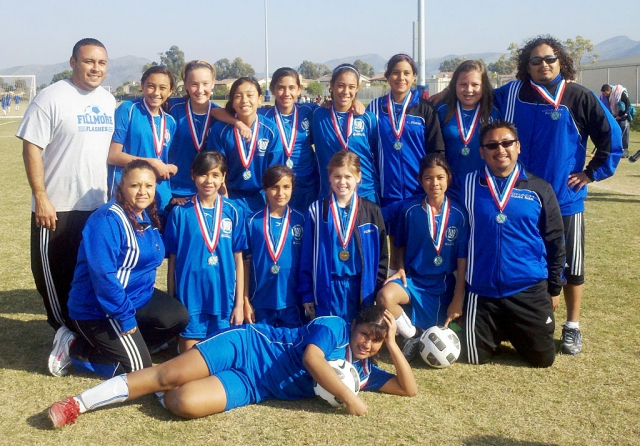 The Fillmore 12&U All-Star team did a great job in Camarillo. They competed against Ventura, Santa Barbara, Santa Paula, North Oxnard, and Camarillo. They won each game. The girls will continue on to Bakersfield for a chance to win the Region Championship. Pictured above Top row: left Grace Topete, Reylene Martinez, Alicia Olvera, Ryan Nunez, Jada Avila, Calista Vaca, Yuliana Magana. BOTTOM: Jocelyn Munoz, Stephanie Magana, Salma Gomez, Luz Ruiz and Tori Villegas. Thank you to coaches Arnold Munoz, Jose Vaca (Bubba), Omero Martinez (Homer).
Enlarge Photo