By Gazette Staff Writer — Wednesday, August 15th, 2012
By Gazette Staff Writer — Wednesday, August 8th, 2012
Palo Alto, CA - The USA Water Polo 2012 Jr Olympics - On July 28 through August 1, 2012, Fillmore resident Kyle Popp participated with the Buena Club Water Polo team in capturing 2nd place in the Bronze Division of the 14U Boys. The team played 7 games with the outcome of 1 tie, 4 wins, 2 losses. San Diego Shores 13-13 tie, SoCal Gold 15-9 loss, Sleepy Hollow 6-7 win, 680 2-13 win, Santa Barbara 11-12 win, Sleepy Hollow 7-8 win, Shores Solana 15-11 loss.
Also participating for Buena Club Polo were the Boys 18U and Girls 16U teams.
Congratulations to this outstanding group of young athletes!
By Gazette Staff Writer — Wednesday, July 25th, 2012
Believe it or not it's that time again "FILLMORE FLASHES FOOTBALL AND FALL SPORTS". This is the time of year when we start to look to our community to help us make this a successful year for the Sports Program at Fillmore High School. The Fillmore High School Athletic Boosters is an organization run completely by unpaid volunteers, which include board members, parents, coaches and many other adults who donate their time. Everyone is dedicated to the advancement of Fillmore High School Sports at all levels of play.
We are starting early this year on the Football Program and that is why we need your help. We are seeking local businesses that would be interested in placing an "AD" in this years "FILLMORE FLASHES FALL SPORTS PROGRAM".
If you are interested in advertising please contact Susan Golson at 805-216-4013.
By Gazette Staff Writer — Wednesday, July 18th, 2012
All procedes support the team traveling to Spokane Washington to represent Fillmore at Nationals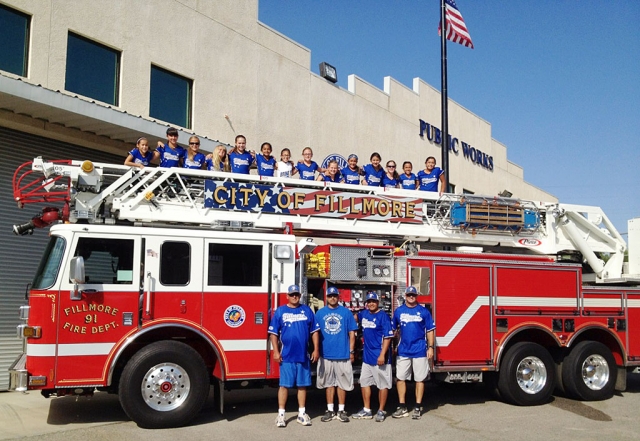 Fillmore Softball 10U Girls will be having a drive-thru Chicken Dinner, Wednesday July 25, 2012 from 5:00 pm to 7:30 pm. Dinner is $10 per plate and will include: Chicken, rice, beans, salad, dinner roll, salsa and a drink. Tickets may be purchased through one of the athlete's or simply drive on thru that night. All money raised will be going directly to those 12 young ladies who will be traveling to Spokane WA. the end of this month to represent Fillmore at Nationals. Thank you in advance!
Enlarge Photo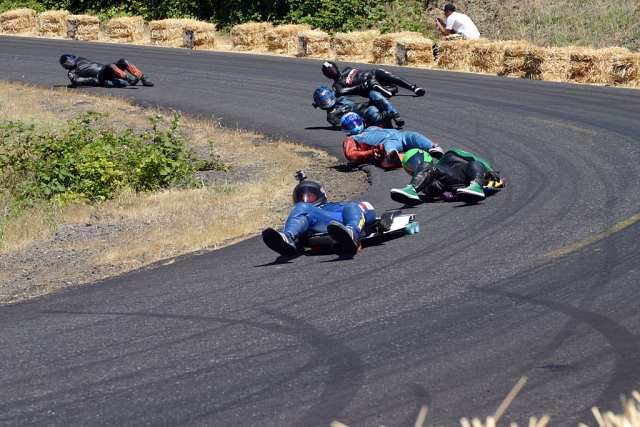 Christian Conaway (in blue and white leathers) and Kyle Castenada (black and green leathers) leading Chris Hicks, Kolby Parks, Will Myrvold and Frank Williams through Cowzers Corner.
Enlarge Photo
By Gazette Staff Writer — Wednesday, July 11th, 2012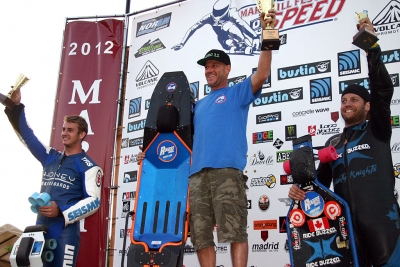 John Rogers, Christian Conaway, of Fillmore, and Kolby Parks on the podium.
Enlarge Photo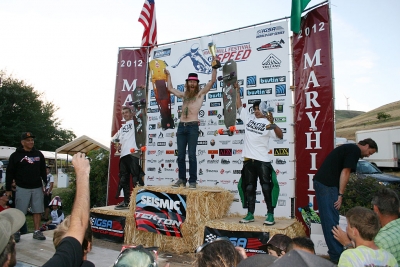 Jon Huey, Keith Henderson and Kyle Castenada, of Fillmore, on the podium for their Classic Luge results.
Enlarge Photo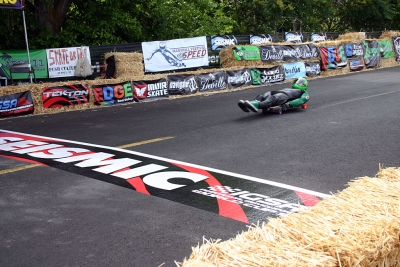 Kyle Castenada qualifying on his Classic Luge.
Enlarge Photo
Fillmore natives, Christian Conaway (18) and Kyle Castenada (19) traveled to Goldendale Washington to compete in the International Gravity Sports Association sanctioned 2012 Maryhill Festival of Speed race. 240 gravity racing athletes from over 14 countries gather together for this much anticipated race. Racers traveled from as far away as Europe, Japan, Brazil and Peru to race on the famous Maryhill Loops Road course.
On June 29th Christian Conaway pulled off "The Double" by setting fastest qualifying times in both Street Luge and Classic Luge with a time of 3:03.060 minutes down the 2.25 mile long course on his Street Luge and broke the course record for Classic Luge with a time of 3:11.140 down the course. Castenada earned a time of 3:11.168 setting the second fastest time in the Classic Luge class on the first day of qualifying.
The second round of time qualifications was held the following day. Conaway's time on his Classic Luge held throughout the day. Kolby Parks out of Canada set a blazing time of 3:03.010 and bested Conaway's first Street luge qualifying time. On his second qualifying attempt Conaway ran a 3:03.067, which was .007 of a second slower the second day.
With Conaway and Castenada both earning one of the top six fastest times in Street Luge they both qualified for the King of the Hill race on Saturday evening. The race was held late in the afternoon under rapidly darkening skies. Racers were reporting rain at the top of the course and wet track conditions at the starting line. Conaway jumped out front for an early lead heading into the first left hand corner, but due to slippery conditions slid out but avoided going into the hay bales. At that point the King of the Hill Race became a survival event. At the finish line all the racers crossed with a few seconds of each other with John Rogers earning the title King of the Hill. Castenada crossed the finish line in 5th place, with Conaway crossing in 6th place.
The Street and Classic Luge Finals were run on Sunday July 1. Conaway and Castenada quickly advanced through the heat races to seed themselves in the Street Luge and Classic Luge Finals. In the Street Luge Final race Conaway was passed by John Rogers and Kolby Parks after he took a corner a little wide. Conaway, in third place, took advantage of the last corner prior to the finish line and cut in on Kolby Parks for an inside left hand pass to take over second place at the finish line. Parks said "I couldn't see anything at the last corner as the sun was in my eyes when Conaway made the pass on me". When Conaway was asked what he saw when he made the pass on Parks he simply said "I saw 2nd place". After five days of practice and racing the 2.25 mile 17 corner and hairpin turns both Conaway and Castenada came home with trophies. Conaway took second place in Street Luge and came in 4th place in Classic Luge. Castenada took 3rd place in Classic Luge and 4th Street Luge.
Complete final results were as follows: Street Luge Classic Luge, 1st. John Rogers 1st Jon Huey, 2nd Christian Conaway 2nd Keith Henderson, 3rd Kolby Parks 3rd Kyle Castenada.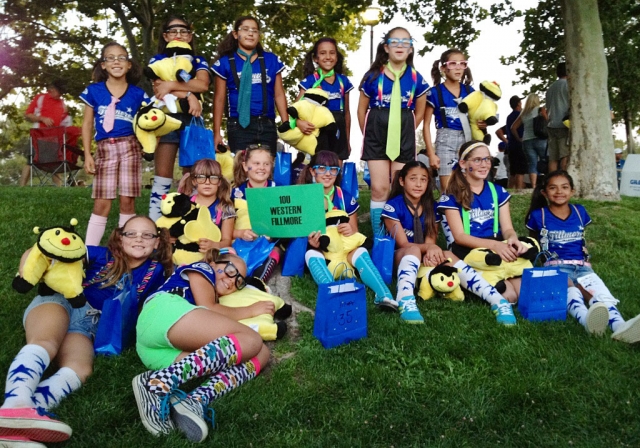 (l-r)(top row) Alyiah Golson, Isabella Ayalah, Lexi Garza, April Lizarraga, Nevaeh Walla, (bottom row) Alyssa Ibarra, Olivia Robledo, Addison Weeks, Jessi Fontes, Heaven Aparicio, Alexis Johnston and Julissa Montes.
Enlarge Photo
By Gazette Staff Writer — Tuesday, July 10th, 2012
Car Wash Fundraiser Saturday, July 14, Balden Plaza (next to Verizon) 9am-2pm
BIG Congratulations to our Fast Pitch Softball 10U Fillmore Girls All-Stars for their berth to Nationals in Spokane, Washington July 30 through August 5, 2012.
Our girls qualified in the DIstrict Tournament in El Rio June 25-27, leading them to a State Tournament July 6-8 in Lancaster where they lost their first game Friday and battled through the loser bracket in 90 degree plus weather. We faced off Sylmar in the final game for Nationals. Winner advances to Washington and losers to end their All-Star season. In the top of the second inning, the first run scores giving Fillmore the lead by 1-0. Sylmar comes back to score 2 runs in the third inning to take the lead by 1-2. In the sixth inning Fillmore scores to tie the game 2-2. We went into international tie-breaker in the top of the eight inning where Sylmar scores again to reclaim the lead 3-2. Fillmore scores a run in the bottom of the eight to tie it back up, 3-3. Our defense holds Sylmar from scoring in the top of the ninth inning. During bottom of the ninth, Nevaeh Walla sacrifice bunt moves Alyssa Ibarra our runner to third bases and Ollie Robledo hits to left field and Alyssa scores our winning run. Jessie Fontes picks up the win pitching the entire nine innings.
This is the first time in Fillmore history that a "B" Gold League has qualified for National Tournament to represent the City of Fillmore at the highest level of ASA Softball.
Please come out and support our Car Wash this Saturday July 14 at Balden Plaza, 502 W. Ventura St. next to Verizon in Fillmore from 9:00 am to 2:00 pm. Baldwin Plaza will be matching our fundraising earnings during this car wash.
We will also be having a Chicken dinner drive thru at the Fillmore Fire Station on Wednesday July 25, 2012 between 5:00 pm and 7:30 pm. Phone orders will also be available, contact Mario at (805) 766-2122 or Vanessa at (805) 824-7015 and our girls will deliver.
We are proud of these young ladies and their commitment. Good Luck girls and play your hearts out at Nationals!
Thank you Fillmore Girls Softball and to our City of Fillmore!
By Gazette Staff Writer — Wednesday, June 27th, 2012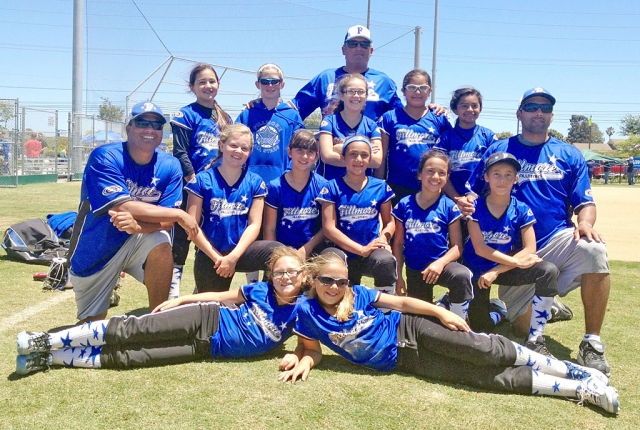 (l-r top row) Aliyah Golson, Alexis Johnston, Assistant Coach Jeff Fontes, April Lizarraga, Isabella Ayala, Julissa Montes. (middle row) Manager Mario Robledo, Addison Weeks, Jessie Fontes, Heaven Aparicio, Lexi Garza, Nevaeh Walla, Head Coach Louie Garza. (bottom row) Alyssa Ibarra and Olivia Robledo. (not pictured) Assistant Coach Ryan Weeks.
Enlarge Photo
By Gazette Staff Writer — Tuesday, June 26th, 2012
Congratulations to our 10U "B" Gold Division Fillmore Girls Softball All-Stars for qualifying for State Tournament in the ASA Western District Tournament this past weekend, June 22-24, 2012 in El Rio.
This is the first time in Fillmore history that a "B" league has qualified for a chance to win the State tournament in Lancaster, CA. on July 6-8, 2012. Competing against 72 teams, they will have a chance to advance to Nationals in Spokane, WA. Our "B" Gold league is the highest level of competition in ASA Softball All-Star Tournaments. We are so very proud of our team and all the commitment they have displayed in preparation for this level of competition. GOOD LUCK AT STATES!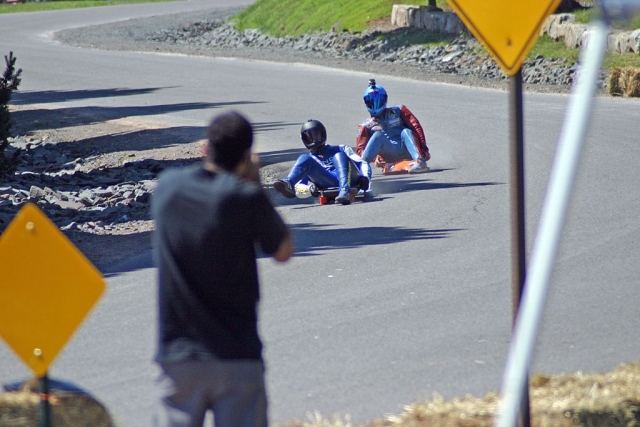 Conaway leading organizer and fellow racer Chris Hicks down the Windham race course and into Crash Corner.
Enlarge Photo
By Gazette Staff Writer — Tuesday, June 26th, 2012
Fillmore native Christian Conaway, 18, traveled to Windham, New York this past weekend to compete in the "I Love Downhill New York" Street Luge and Standup Speed Board race. Approximately 20 street luge racers entered the contest. Conaway racked up three 1st place heat race finishes and one 2nd place heat race finish. In the 4th round heat race Conaway made an inside pass on David Dean in Crash Corner and stayed in Dean's draft until he made his move for a toe to toe finish with Conaway besting Dean on the run by 6". Top racers from the heats advanced to the Street Luge Final race. In that event Conaway and fellow competitor David Dean jumped out in front of the rest of the pack. Conaway picked an inside line which would set him up for the next corner thereby hoping to build his lead over Dean. Conaway hit a pothole in the road and was unable to keep his luge from sliding, at which point the other finalists took advantage of the incident and passed Conaway. Conaway regained control and slowly picked off another racer further down the track to take the third place Bronze podium finish. Taking the Gold was David Dean, Silver Justin Crenshaw with Conaway taking Bronze. "The course was more technical then I expected and the competition was really good" said Conaway. This event was a good warm up for the Maryhill Festival of Speed which Christian will be competing in from 6/27/12 through 7/1/12 in Washington. Conaway has earned podium finishes in the last three events he's raced, which was 2011 Maryhill Festival of Speed (Bronze), IGSA US Nationals (Gold) and now I Love Downhill New York (Bronze).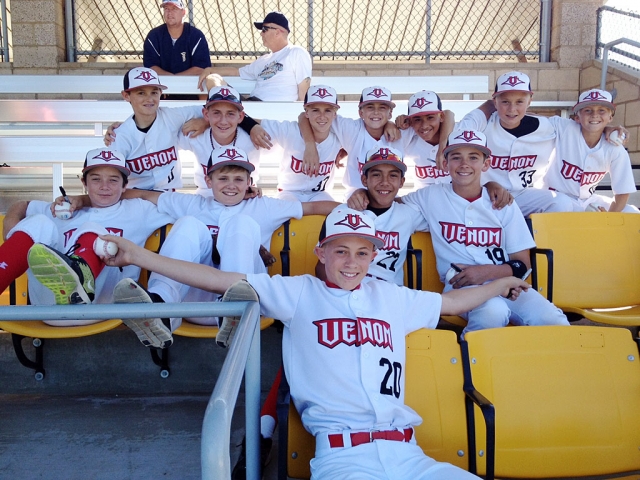 (l-r) Top row: Tripp Mitchell, Zack Caminkow, Shawn Cantrell, Johnny Mitchell, Rylan Thomas,Daniel Foldes. Middle row: Brandon Payne, Michael Erhart, Miguel Lagunas, Cameron Kisner. Bottom row: Owen Sharts. Coaches Not pictured Mike Mitchell, John Mitchell, Scott Sharts, and Sean Kisner.
Enlarge Photo
By Gazette Staff Writer — Monday, June 25th, 2012
Local Fillmore resident Miguel Lagunas will be competing with the Easton Venom of Ventura County in the prestigous American Youth Baseball Hall of Fame Tournament in Cooperstown, NY the week of June 30,2012 - July 6, 2012.
Games can be seen live at www.dreamsparktv.net
By Gazette Staff Writer — Wednesday, June 20th, 2012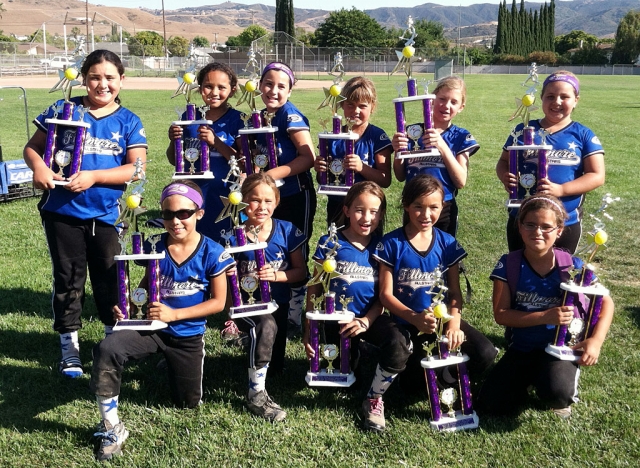 Congratulations to the FGS 8U All-Star team who came in 2nd place in the 9th Annual Amanda McPherson All-Star Tournament held in Simi Valley this past weekend. They played with a lot of heart and held their 4-0 record before being defeated in the Championship game against West Valley. They competed amongst 16 teams from all across Southern California. They will be playing in the District Tournament this weekend in El Rio. Special thanks to coaches Christy, Danny and Karen for all their hard work and dedication. Good Luck Fillmore! Pictured (Top row) Janeah Castro, Isabella Vaca, Siobhan Sandoval, Jamie Fontes, Jillian Morris, Jordan Blankenship. (Bottom:) Jordyn Walla, Emma Ocegueda, Precious Cervantes, Vanessa Cabral, Alyssa Ocegueda. (Not pictured) Aaliyah Arias
Enlarge Photo
By Gazette Staff Writer — Wednesday, June 20th, 2012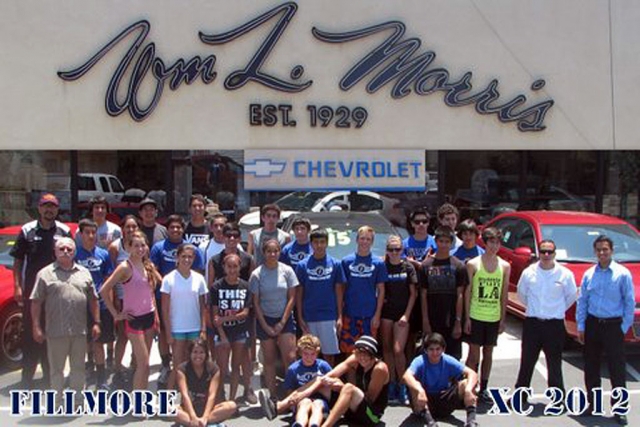 The Fillmore High School Cross Country Team would like to thank William L. Morris and staff for their continuous support. We appreciate your support. Photo Courtesy Joel Frias.
Enlarge Photo
By Gazette Staff Writer — Wednesday, June 13th, 2012
By Gazette Staff Writer — Wednesday, May 30th, 2012
Perce's kenpo karate studio recently competed in a Karate tournament in Oxnard. It was held on May 12th at St. Johns Lutheran church. There were over 110 Participates from all over Southern California. Kata divisions results were: 5 years old yellow-orange belt Participation Andru Medina.
6-7 years old green-Jr brown 4th place Justice Rodriguez. 7 years old purple-blue belt 2nd place Ty Morris, 4th place Zack Addison. 8-9 years old purple-blue belts 4th place Emiliano Pinedo. 8-9 years old blue-green belts Participation Austin Gunter.
9-10 years old Jr. Brown 3rd place Blake Boren. 10-12 years old purple-blue belt 2nd place Gabriel Meza, 3rd place Crystal Pinedo. 11-12 years old Jr. Brown belt 2nd place Faith Bustos. 12-14 years old purple-blue belt 1st place Michael Morris, 3rd place Samantha Gunter. 15-19 years old brown-black 3rd place Samuel Hernandez, 4th place Anthony Murray.
Jr. Self-defense 3rd place Emiliano Pinedo. Sparring division results: 8 years old green-brown belt 2nd place Dave Bustos Jr.. 8 years old green-brown belt 3rd place Justice Rodriguez. 9-10 years old Jr. Brown belt 3rd place Blake Boren. 13 years old blue-green belt 2nd place Michael Morris, 3rd place Angel Rodriguez, adult purple-black belt 1st place Javier Rodriguez. All the students did an excellent job. We are proud of your participation and support. For more information on training please contact Perce's Kenpo Karate Studio at 805-524-6870.
By Gazette Staff Writer — Wednesday, May 23rd, 2012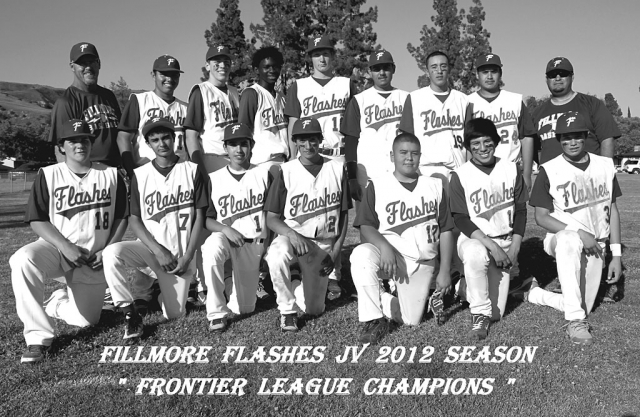 On May 8, the Fillmore Flashes J.V. Baseball team beat Bishop Diego 22-2. The win put them in first place and the Frontier League Champions. They had an overall league record of 7-2. Pictured above top row: (l-r) Coach Curtis Gardner, Steven Rodriguez, Carson McLain, Joseph Wilmot, Aaron Cronin, Ernesto Guzman, Ismael Avila, Pedro Corona, and Coach Randy Garcia. Bottom row: (l-r) Brendan Gonzalez, Freddie Hurtado, Danny Quintero, Gera Rodriguez, Albert Cantero, Christian Pech, and Michael Luna.
Enlarge Photo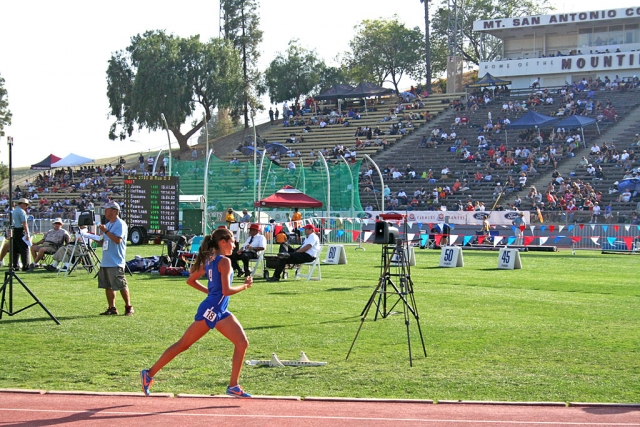 Kiana Hope in the CIF Finals at Mt. San Antonio College.
Enlarge Photo
By Gazette Staff Writer — Tuesday, May 22nd, 2012
Sets personal record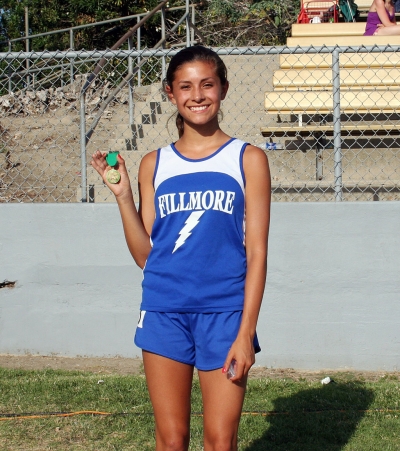 Kiana Hope sets personal record at CIF Finals.
Enlarge Photo
This past Saturday, Kiana Hope participate in the CIF Finals at Mt. San Antonio College. She was Fillmore High School's only competitor of the day running in the 3200 meters. Her time was a personal record of 11:32.84.
Fillmore High School has not had an athlete attend a CIF Finals competition in Track and Field since the year 2006. As a sophomore, Kiana placed 4th earning a medal and gaining four spots from her seeding in the race.
Congratulations Kiana on a great season.
By Gazette Staff Writer — Thursday, May 17th, 2012
Together with other participating Regions in AYSO Section 10, AYSO Region 242 – Fillmore, CA
Is pleased to announce its continued participation in the AYSO EXTRA Program in 2012
What
AYSO Extra is a competitive soccer program designed to provide a more challenging level of play for those players who possess the appropriate interest, skills and abilities and to enhance each player's experience and individual growth through the game of soccer while retaining the spirit, organization and six philosophies of AYSO:
1. Everyone Plays (Âľ play)
2. Balanced Teams (balanced through competitive bracketing)
3. Open Registration
4. Positive Coaching
5. Good Sportsmanship
6. Player Development
When
U10 Boys and U14 Girls Player tryouts on May 22nd 2012 5:30pm at Two Rivers Park and U16 Boys tryouts on May 24th 2012 5:30 pm at Two Rivers Park.
For more information please check our website http://aysofillmore.clubspaces.com, find us on Facebook AYSO-Fillmore-CA-Region-242, CA or contact:
Arnold Munoz
EXTRA Program Coordinator
munozsoccer@yahoo.com
(805) 906-9642
By Gazette Staff Writer — Wednesday, May 16th, 2012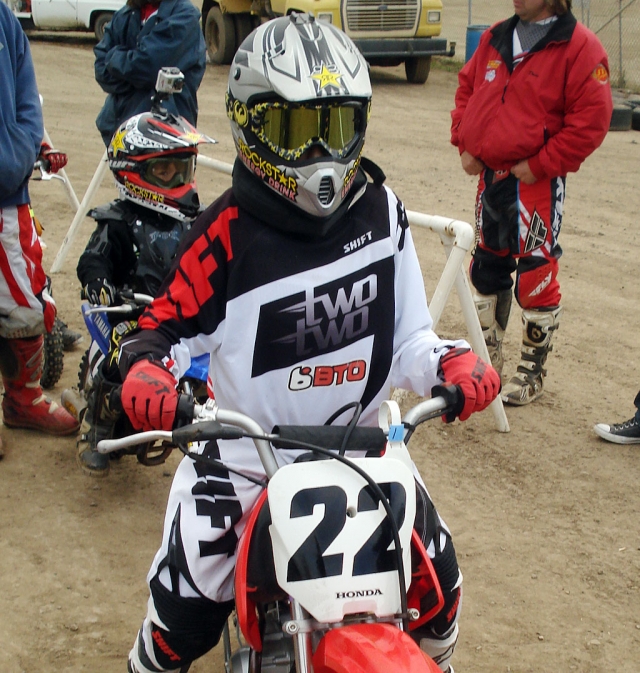 Fillmore's Blake Boren raced motocross at the ventura fairgrounds on may 12th in the 65cc kids 5-12 division. In Blake's heat, he placed 2nd. In the main race, Blake holeshots and ran 2nd for five laps and got caught up with a lap rider and placed 3rd for the night.
Enlarge Photo
By Gazette Staff Writer — Wednesday, May 2nd, 2012
This past weekend athletes from the Fillmore Track and Field team participated at the Ventura County Championships at Moorpark High School. The number of athletes that made the qualifying marks and qualified this year tripled from 2011. Starting the meet in the 4 x 800 meter relay was sophomore Frank Chavez, junior Alexander Frias, junior Anthony Rivas and senior Jordan Mendoza. They took 5th place winning each a medal and were acknowledged on the awards podium. The next event for our flashes was the 1600 meters. Sophomore Kiana Hope was the only individual runner to participate in the invitational race. She ran her personal best with a time of 5:21. Juniors Hugo Valdovinos and Jose Almaguer ran an impressive race. Hugo ran a 4:34.7, a personal record and took 3rd place in the race. Senior Juan Mariscal competed in the 400 meters with an impressive showing along with senior Daniel Cruz in the 100 meters. Fillmore had 5 athletes complete in the 3200 meter race. In the rated division freshman Alexis Tafoya ran an impressive time of 12:20 earning a personal record. Sophomore Kiana Hope also ran a personal best in the seeded division with a time of 11:39 earning a 2nd place medal. For the boys 3200 meter, junior Adrian Mejia had a goal to break ten minutes. He ran an impressive 9:56 crushing his personal record by 16 seconds. Teammates Jose Almaguer also ran a personal best of 10:01 and senior Alexander Gonazalez 10:07. The final race was the 4 x400 meters, in the relay were Senior Nathan Garnica, Senior Juan Mariscal, Sophomore Frank Chavez and Junior Hugo Valdovinos. In the field events, senior Ashley Coert competed in the High Jump where she cleared 4 feet 8 inches and earned a 3rd place medal. Senior Alberto Fernandez competed in the Long Jump where he jumped a best mark of the day with 19 feet 5 inches, earning a 4th place medal for the day. The county meet was a huge success with many personal records earned throughout the day. Way to go Flashes!
Our next track meet will be in Fillmore this Thursday where the Fillmore Flashes will compete in the Frontier League Championships. The races and field events will begin at 2:30 pm. Hope to see you there.
By Gazette Staff Writer — Wednesday, May 2nd, 2012
Fillmore Athletic Booster Club will be holding their election for the 2012-2013 school year on Monday, May 7th, 6:30 p.m. in the Student Store at Fillmore High School. We encourage any parent or community member who would like to participate in supporting our high school's athletic program to get involved! We would love to see new faces and new ideas! With the current budget issues our schools are facing it is more important than ever to help fund our school's program. Fillmore Athletic Booster Club's sole purpose is to support the athletic programs offered at Fillmore High School. If you have any questions please contact our President, Max Pina, at (951) 377-9332.