Congratulations California United U-11 Girls Champions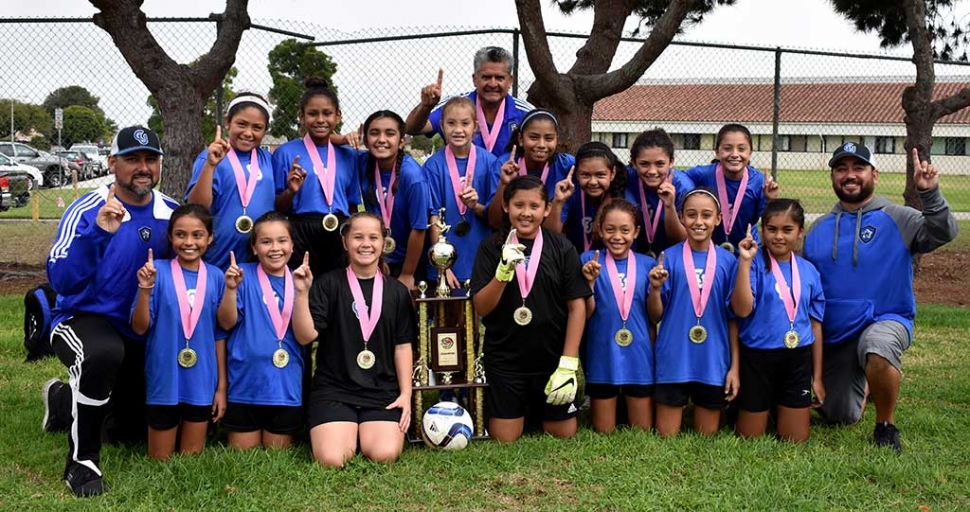 California United 11-U Girls defeated the Oxnard Waves in the Championship games this past weekend. Pictured are the Players left to right on top: Lexi Pina, Jadon Rodriguez, Isabel Hernandez, Brooke Nunez, Marlene Gonzales, Fatima Alvarado, Athena Sanchez, Jessica Rodriguez. Bottom row: Miley Tello, Kari Terrazas, Mikayla Mckenzie, Gaby Martinez, Tori Pina, Ashley Hernandez, Kim Manriquez. Coaches left to right: Junior Lomeli, Cipriano Martinez and Tony Hernandez. Photos Courtesy Evelia Hernandez.
By Gazette Staff Writer — Wednesday, August 30th, 2017
The Perfect Season for California United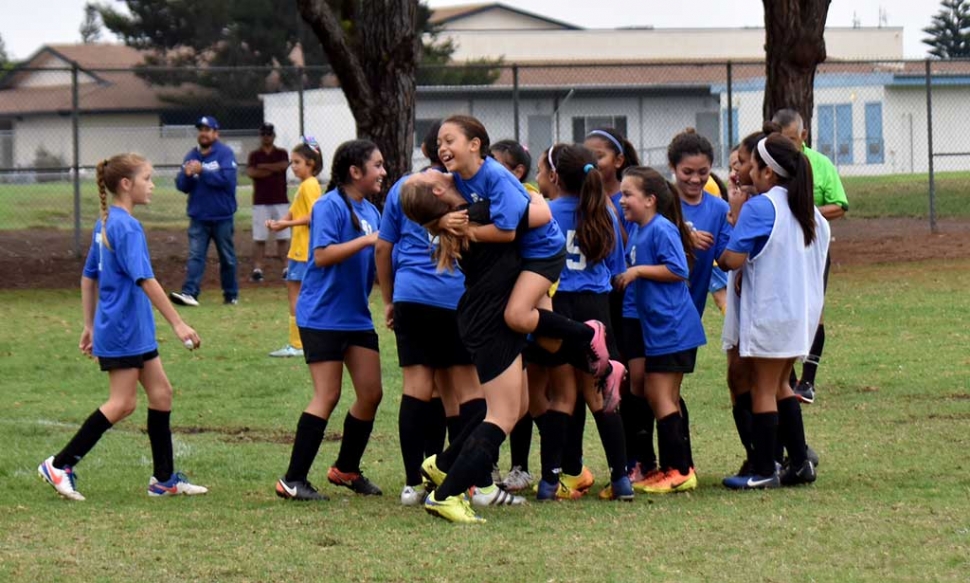 Victory – CU players experience the thrill of victory after the final whistle.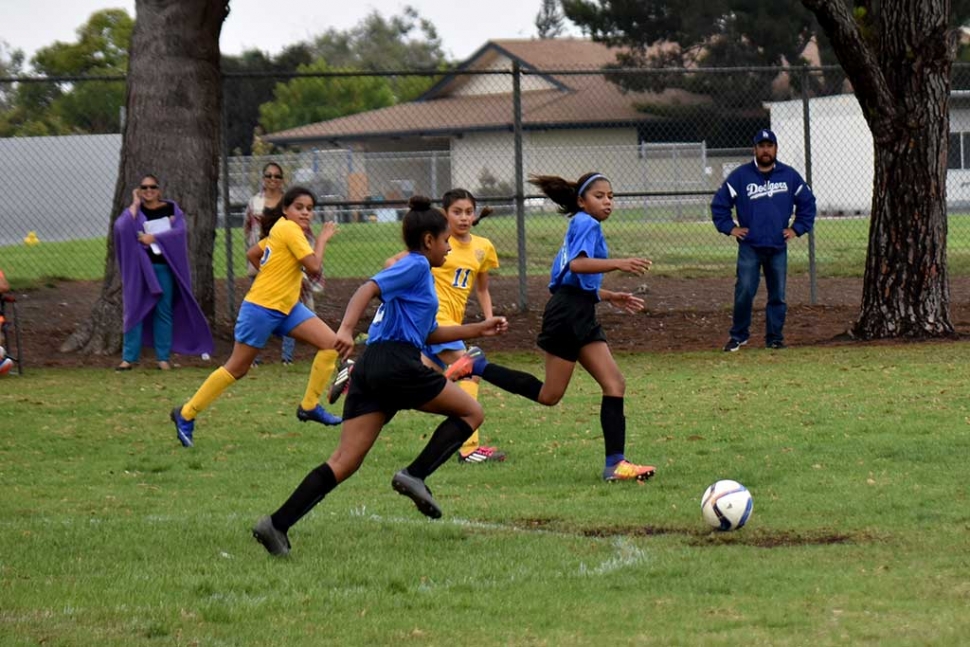 Speed – Speed kills, as our forwards and two top goal scorers for the season, Jadon Rodriguez (left) and Marlene Gonzales (right) put pressure on the Waves defenders.

Corner – The offense looks to make a play off a corner kick as they battle for position down in the box.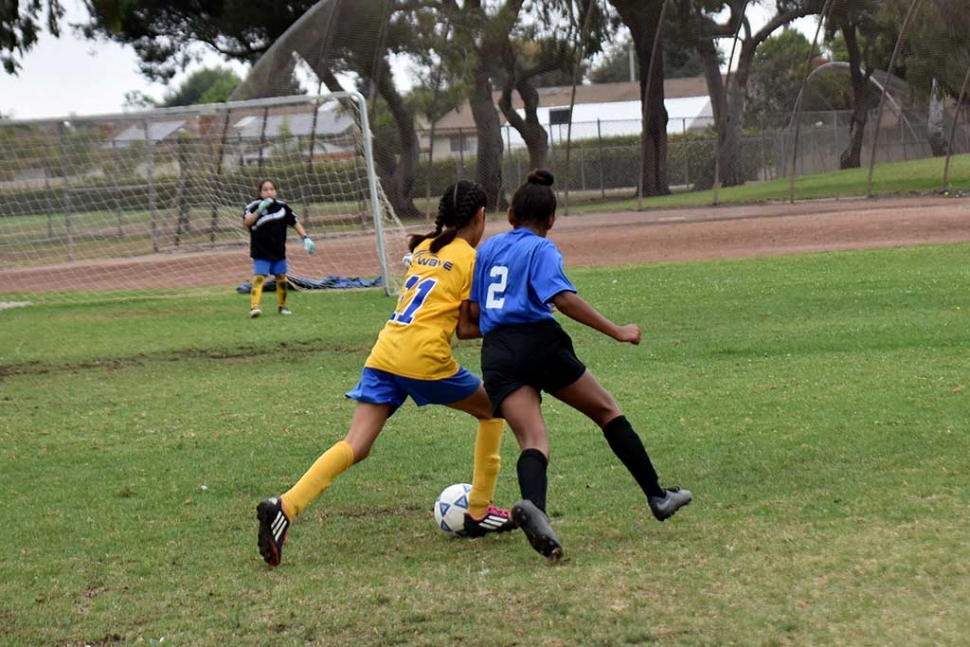 Battle – California United player Jadon Rodriguez leans in to the defender as she fights her way towards the goal.
[Submitted By Coach Tony Hernandez]
We are the Champions!
There was a lot of excitement in the air this weekend as two California United teams, the U-11 and U-13 girls, met in their leagues' Championship game.
The U-11 girls took on the Oxnard Waves in their Championship game. The competition was intense and at times got heated, with the California United players not backing down an inch. Forward Jadon Rodriguez scored the first goal of the game after a tough run to get in position for the shot which energized both her team and the crowd. The second goal of the game came off a big free kick from outside the box by Lexi Pina, getting it just over the goalies head giving California United a slight cushion. Those two goals proved to be more than enough for California United's great defense which stepped up with a huge shut out in this Championship game as Mikayla McKenzie stood in as goalie the entire game. The defense was both aggressive and worked together extremely well as a unit in order to get the job done. In the end, when the final whistle blew, the players jumped and yelled with joy as they had EARNED their Championship title after coming close so many times and all the hard work they have put in over the last couple of years. Not only was this California United's first league Championship but, also a perfect season with an overall record of 12-0-0, a truly great accomplishment that the entire team should be proud of.
The U-13 girls also had a Championship game this weekend but unfortunately lost 0-4 versus the Oxnard Waves. This California United team had a great season in which they grew together as a team and as a coaching staff. Hold your heads high ladies, we await big things from this team going forward, along with more Championship match ups.
A special thanks from the California United coaches and Board to our families, our sponsors Body Image Fitness Center, El Taco Llama, El Pescador and Portobello Pizza as well as the entire City of Fillmore for your encouragement and support. California United prides itself on being completely volunteer based and keeping the costs minimal for our players' families which could not be done without the help of the community and our sponsors. If you would like to get more information on how to register a player, coach a team or support the club in other ways, please email us at caliunitedfc@gmail.com or look for us on Facebook.