By Martin Farrell — Friday, October 19th, 2012
[Steve Conaway's statement at June 19, 2012 City Council Meeting]
By Martin Farrell — Friday, October 19th, 2012
[Editorial from Wednesday February 29th, 2012]
REALITIES
I missed last night's council meeting. After reading the Star's story, especially the comments from former failed Fillmore mayor (and non-resident) Gary "hothead" Creagle, appointed Mayor Gayle Washburn, and appointed Mayor Pro Tem Jamey "the preacher" Brooks, I thought all must be lost.
Au contraire! Justice may be glacially slow, but Fillmore seems to be sliding to a successful conclusion regarding the Owens & Minor tax case.
According to our outback political philosopher Creagle (didn't know he was a "retired sheriff's deputy") the 2003 tax contracts with two consultants are "a scam". That implies illegality. He finds the whole thing "...utterly disgusting". He thanked the council for bringing this matter (which has been litigated since 2009) "to light, so the citizens of Fillmore know why we have no money."
Oh – is that why we have no money?
And Washburn told the Ventura Star that "...the negatives [regarding this arrangement] have outweighed the positives". Really?
And, as for preacher Brooks (who once informed a stunned audience that he "has come to bring not peace, but a sword" -- those words have a familiar ring) the contract with Owen & Minor was "not my idea of good ethics".
All of this condemnation and criticism seems curious in light of the Superior Court's finding in the matter. The contract was found to be completely valid in the law, and without taint of wrongdoing or bad intent of any kind. The city merely exercised its constitutional right to make a contract, which was hugely beneficial to the City of Fillmore. That contract remains valid and enforceable, and was determined to be so when the city's demur was upheld in court.
According to City Attorney Ted Schneider, the city will not have to pay a penny for the Owens & Minor deal. It stands as agreed to. Mr. Schneider is also confident that the city will prevail in the O&M tax allocation dispute at the Board of Equalization. An agreement has been reached between the Board of Equalization staff and attorneys have agreed that from 2009 forward, sales tax generated by O&M belongs to Fillmore.
That decision is being appealed by the City of Livermore and the City of Industry administratively.
It is uncertain, however, that the city will be successful in the case of six other retailers (in addition to O&M) which are in reallocation proceedings with the Board of Equalization. Therefore, the city may lose some funds to reallocation, but the Board is escrowing sufficient money to cover any such reallocations in the event the city is unsuccessful in those six other cases.
The sanctimonious expression of outrage and disapproval from the Katzenjammers is just so much hypocrisy. On the one hand they strain to find fault with the former councils which approved the O&M contract. On the other, they crave that money to replace the millions they have squandered through waste and gross mismanagement, from the North Fillmore Specific Plan and Measures H and I, to the present. Include in that mismanagement the methodical deconstruction of staff, department heads, employees, and all of the foolish machinations of temporary and interim replacements.
This council, with the exception of Councilman Conaway, has been a total disaster.
By Martin Farrell — Friday, October 19th, 2012
[Los Angeles Superior Court Ruling]
By Martin Farrell — Friday, October 19th, 2012
[Story from Wednesday April 27th, 2011]
City Attorney "Appeals court ruling of minor importance"
Fillmore City Attorney Ted Schneider told the Gazette Wednesday that the recent appeals court ruling had little impact on the outcome of the Livermore-City of Industry lawsuit over sales tax revenue. Schneider stated that the court's ruling was "very technical, procedural" and in his view did not effect Fillmore's right to performance under the contract with Owens & Minor. The dispute arose over a 2007 contract permitting Fillmore to receive 15 percent of state sales taxes generated by Owens & Minor, a Fortune 500, Virginia based medical supply company. A sales office was opened in Fillmore but products are stored and distributed from the Cities of Industry and Livermore.
Fillmore collects about $1 million per year under the 20-year contract. Livermore and Industry claim the office and contract are a sham. Fillmore won its main case but, due to a technicality, must pay the other plaintiff's receipts from October 2007 to December 2008. Following this dispute, then Governor Schwartzenegger signed a law prohibiting such agreements. However, Fillmore's existing contract with Owens & Minor will stand, according to Schneider.
By Martin Farrell — Friday, October 19th, 2012
[Story from Wednesday, September 24th, 2008]
Sales Tax Revenue Sharing
"Sales Tax Revenue Sharing", the phrase is becoming a common one as things progress concerning the City of Fillmore's arrangements to split its share of the sales tax revenue rebate with three consultant firms contracted to bring new businesses into town. To recap, California cities are rebated 1% of all sales taxes collected in their cities. MTS Consulting LLC, Inspired Development LLC and Ryan and Co., retain agreements with the City of Fillmore to relocate retail businesses to our town in exchange for 85% of the 1% rebated dollars, generated by those businesses. The consulting firms then share their portion with the individual contracted businesses. Unanimously voted in by a previous City Council including Mayor Evaristo Barajas, Mayor Pro-tem Ernie Villegas, Cecilia Cuevas, Ken Smedley and Patti Walker, the City has benefited from this practice since 2003. It also has the endorsement of the present City Council and Administration officials. Nevertheless, Fillmore is the only city of record in the State to practice Sales Tax Revenue Sharing in this specific manner.
The issue was publicized this summer when the City of Livermore, after researching the cause for a substantial decrease in their sales tax rebates, filed complaints with the State Board of Equalization (BOE), against Fillmore. Livermore is home to one of four warehouse/sales offices in California; of Virginia based Fortune Five Hundred company Owens and Minor, a leading medical/surgical supplier. City of Industry, location of a second warehouse/sales office joined in the complaint. Both cities, declaring that business is going on as usual at their locations, take a position that the agreement between Fillmore, MTS Consulting and Owens and Minor is depriving their cities of their rightful taxes, by diverting sales through Owens and Minor's office in the Gurolla Building on Sespe Avenue.
On September 8, 2008, the Cities of Livermore and Industry took the issue a step further by filing a claim against the City of Fillmore and all members past and present of the Fillmore City Council beginning in 2000. Various past and present City officials; City Manager Tom Ristau, Finance Director Barbara Smith, Administrative Services Manager Steve McClary, Roy Payne, and others yet to be identified are included as well. The claim accuses the three consultant services and several affiliated businesses registered in Fillmore, of establishing sham sales/purchasing offices in Fillmore with the intention of diverting sales tax revenues from other cities. It should be noted that a claim, though a legal instrument, might or might not be a precursor to a lawsuit.
From its' inception in 2003 through 2007, the "Sales Tax Revenue Sharing" program alone has grossed $9,994,260 in rebated sales tax. The City's 15% share of these rebates, nearly $1,500,000, was appropriated to the Reserve General Fund, and earmarked for additional law enforcement services. Additionally, a portion of these funds will offset some construction expenses of the new 22-acre community park.
To date, the BOE has frozen that portion of Fillmore's 2008 sales tax rebate monies, reported and deposited by Owens and Minor, and six additional "consultant company contracted businesses", many that operate from consultant company offices where they are provided with on site management, legal, financial and accounting services. They include Twin Med LLC, Southwest Jet Fuel, Walgreen National Corp. (Walgreen Co.), Cal Fuel Purchasing Group, Linen Supply Services, Inc. and Hawaiian Gifts LLC (Hawaiian Air). The City has requested from the BOE, an extension of their decision, for time to respond. At the State level, a second draft of legislation has been introduced in the form of SB 697, designed to prevent future agreements of this type in other cities.
Sales Tax Revenue Sharing programs are not new in other cities or in Fillmore, in an effort to lure additional business into an area, therefore increasing the tax base. However, those agreements have been accomplished directly, and with retail companies that are identifiable, with advertised locations and visible and undeniable local points of sale.
As recently quoted, City Attorney, Ted Schneider said these agreements are "absolutely a legal arrangement". Ristau and Mayor Conaway as well, defend the legality of Fillmore's business and cite the substantial benefits to the community. They pledge to continue to defend them vigorously if the need arises, and are confident that Fillmore will prevail. They do not anticipate any effects on city projects and services. To paraphrase Councilmember Scott Lee, it is not unusual for cities to enter into sales tax rebate agreements however, they are mostly done with companies with one location. Councilmember Patti Walker declined to make a statement at this time, and Councilmembers Cecilia Cuevas and Laurie Hernandez, and several Administrative officials failed to respond to statement requests.
Prior to Livermore and Industry's accusations, Sales Tax Revenue Sharing has had a positive effect on Fillmore. But, some view it as overly innovative in the form it has taken in our town. The City will continue to discuss this issue and its' direction in Executive Session. In the meantime, one can only wait and see what comes from new legislation if passed, the decisions of the State Board of Equalization and the determination of the Cities of Livermore and Industry.
By Steve Conaway — Wednesday, October 17th, 2012
Response to Trinka Reynolds October 11, 2012 Letter to Editor
Trinka Reynolds states that when Washburn and Brooks were elected in 2008 there was $2 million in reserves, but no one could find where it went. What she means is that Washburn, Brooks and Walker could not find where it went. You want to know why? In 2008 after Washburn and Brooks were elected the City Manager chose to work elsewhere, the Finance Director promptly retired and the City's independent audit firm was axed. They then proceeded to hire an out of town interim City Manager (Larry Pennell), an out of town interim Finance Director (John Wooner), a new auditing firm and they completely revised the budget format. "The budget is too difficult to read" they said. Talk about a perfect storm! Based on this storm of mass confusion, on July 28, 2009 Pennell stated that in order to balance the General Fund budget he would need to cut $1.9 million. Pennell never produced the $1.9 million in cuts that he said were needed to balance the budget. In fact, the budget that Pennell presented to the City Council just a month later on August 25, 2009 and that Washburn, Brooks and Washburn adopted was $2.6 million greater than the General Fund budget of the prior year. So in less than a month the budget went from needing $1.9 million in cuts to an increase from the prior year's budget of over $2.6 million.
The 2008/09 independent audit report prepared by the new auditing firm, hired by the council, reported the General Fund budget for FY2008/09 prepared by City Manager Tom Ristau and Finance Direct Barbara Smith was balanced and ended the year with a $2,282,374 INCREASE in General Fund Reserves resulting in a general fund ending balance of $5,505,113. Mayor Walker confirmed that the Ristau/Smith budget was in good shape when she stated in a January 4, 2009 article in the Ventura County Star: "Fillmore's fiscal outlook in the face of the global economic downturn is a healthy one, city officials said. The city has been very conservative with its budgeting, and as a result it has healthy reserves it can tap into if need be, said Mayor Patti Walker. 'We are flush,' Walker said." Fillmore Finance Director Barbara Smith said the city has $1.8 million in reserves, "and for a small town like Fillmore, that's quite a bit of money."
The news was not so good a year after Washburn and Brooks were elected. Based upon the 2009/10 independent audit report prepared by the same accounting firm reported the General Fund budget for FY2009/10 prepared by interim City Manager Larry Pennell and interim Finance Direct John Wooner, approved by Washburn, Brooks and Walker, was OUT of balance by $4,502,913$2 resulting in a $2,410,323 DECREASE in General Fund Reserves.
It is also interesting to note that in November, 2011 the Washburn, Brooks, Walker led City Council adopted a City Ordinance (Ordinance 11-831) stating that "the City Council has maintained balanced budgets with healthy general fund reserves for over 10 years despite losing millions of dollars in State budget takeaways over that same time period".
The city has now looking for its 5th Finance Director in less than 4 years. Enough of the madness, we can't afford to go down this road again. A stable city hall won't be possible until we have a stable city council. It's time for change and time to stop trying to rewrite history.
Respectfully,
Steve Conaway
By Martin Farrell — Wednesday, October 17th, 2012
This is not a regular column. Several days have been spent preparing a large document in an attempt to answer many questions about my past editorials and the state of city hall. I have only 500 words here to introduce you to 5,000 words that will be posted here, in this Editorial section, on Friday October 19.
Our appointed Mayor Gayle Washburn and her political camp followers have criticized the Gazette and me personally for many years, claiming this small corner of the paper is responsible for a multitude of lies, distortions, and misrepresentations of fact.
At the center of the controversy are my opinions on the character and conduct of city council majority – Gayle Washburn, Jamey Brooks, and Brian Sipes. Washburn and Brooks (and Sandra Pella) are incumbent candidates in this November 6 election – together with their friend Clay Westling, city clerk. These four people, and former Mayor Patti Walker, compose the heart of the political group I call the Katzenjammers, a malevolent, energetically incompetent, agenda-driven cabal which has completely disrupted normal working conditions at city hall.
They have been aided in this activity by two loyal drama kings, Bob Stroh and (non-resident and former failed mayor) Gary Creagle for many years.
This group, beginning with Patti Walker, has been determined to stand city hall on its head and restructure everything [See Letter to Editor, page 9, Norma Amaro: "Four years ago, Gayle Washburn and Jamey Brooks were elected by 'We the People'. Their code, "Take Back City Hall" has been accomplished." (Ms. Amaro's letter was sent to the Gazette via Patti Walker's email account]. They will be remembered mostly for completely halting all residential construction in north Fillmore, by successfully promoting the passage of Measures H and I. This limited construction to no more than 350 units instead of the city-council and Planning Commission's recommended 700 homes. Anything less than 700 is economically unfeasible. H and I caused several foreclosures and the destruction of businesses.
This group is also notorious for their incessant, disruptive opposition to the new, expensive, sewer-water treatment plant, and for the bonding method chosen to finance its construction. Everyone is suffering from record-high sewer-water bills, particularly local businesses.
What these people never explain, however, is the fact that the state and federal government mandated that discharge into the Santa Clara River be purified to unreasonable standards, which could not reasonably be met using the old sewer plant. Many other new regulations had to be met as well.
Extraordinary efforts over several years were undertaken by Fillmore's then City Engineer, Bert Rapp to find the best solution. Much research was done to find the best technology, one that would last for years without subjecting the city to the draconian fines for any discharge not in compliance with the new, extremely high standards (which brought $10,000 per day mandated fines). The city still owes about $240,000 in fines, with interest, from the old plant's failures. This mega document should tell the truth about the story of our plant and excessive water/sewer rates. Please look it over and decide who has been telling the lies.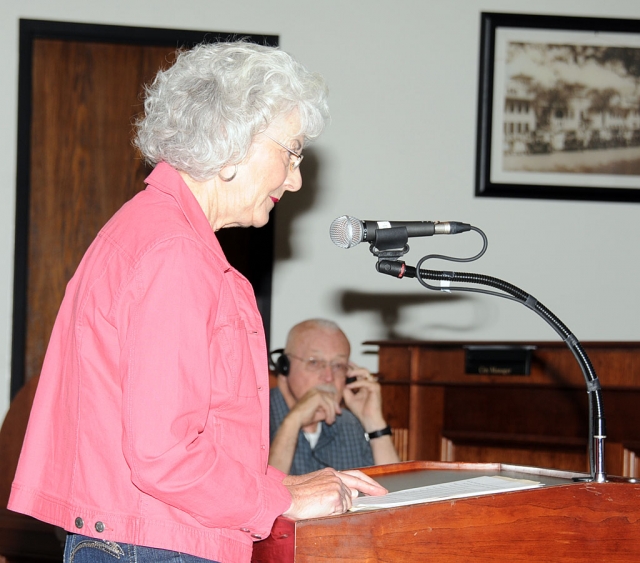 Jean Westling, speaking at the October 9, 2012 council meeting, with husband Clay Westling in background with headphones.
Enlarge Photo
By Martin Farrell — Wednesday, October 10th, 2012
Thanks to the time spent researching a number of issues since Tuesday's council meeting, I have only a few minutes to summarize.
First, congratulations to Sheriff's Deputy Jerry Peterson on his retirement. He's done a great job for the past 27 years. I've seen him at high school events and at horrendous automobile accidents. He's always been there for us.
Jerry, I wish you and your family the happy retirement you richly deserve. You made a real difference in our quality of life here in Fillmore.
***
Bob Stroh and Gary Creagle – I'm posting that laundry list of answers you have been crying for these many weeks. It was written last week, but due to a lot of research (which is ongoing) the posting is late. Look for it here on Friday 10/12/12 (fillmoregazette.com by the way has 30,000 unique viewers per month in a town of 14,000. Can't be too bad!).
***
The reason I'm posting a photo of Clay Westling's wife, Jean, is because so many in attendance at the last council meeting were against it, and she demanded that I not do so. She is no doubt a lovely lady but I'm sticking to my story about Clay's incompetence and political bias. Ask those who have dealt with him pre-election. I reserve my First Amendment rights to take photos of anyone at public meetings. We need a new city clerk, one without a personal agenda.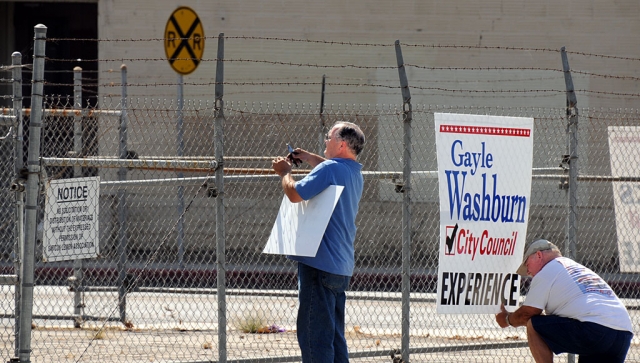 Council candidate Jamey Brooks and his Campaign Manager/Life Coach Gary Creagle posting unauthorized campaign signs last week. The property owner's posted sign is ignored.
Enlarge Photo
By Martin Farrell — Wednesday, October 3rd, 2012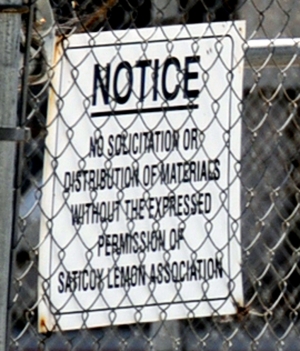 EDITED 10-4-12
This is a new one for me. Having promised answers to the laundry list of attack allegations made by Gary Creagle and Bob Stroh at last week's council meeting, I found myself finishing a very long editorial, too long for the print edition of the Gazette. I will, therefore, post it to fillmoregazette.com, and try to coble together some short comments here.
One purpose for Creagle's and Stroh's personal attacks on me is to distract from the coming election on November 6. I will try to focus on the election here, and finish answering their accusations online.
You hear this often, but it's never been truer today: This is the most important election in our country's history – and the same holds true with Fillmore's election for city council, city clerk, and city treasurer.
Clay Westling, our present city clerk, is campaigning with the other incumbents (see political signs). As sitting city clerk he should not cooperate in such a way. His position and duties are perceived to be more like a judge, independent and impartial. But he has proved to be a tool of the council majority, put in office through the efforts of Gary Creagle who remains closely associated with Westling and Jamey Brooks. It should be no surprise; his campaign manager last time around was Gary Creagle. He is inextricably bound to the (I must use this nickname again) Katzenjammer cabal.
Westling has proved to be a terrible city clerk. He's in charge of city elections and public notices. Yet he refused to provide candidate notice to the Gazette, the city's newspaper of record, or post that information in designated city areas. It was like pulling teeth to get him to finally send the official notice to the Gazette. Obviously he was resisting any public notice (except for a sheet of paper at the corner of his upstairs table in city hall) because he didn't want to have anyone else run against him. How easy it would have been for the incumbent to sail back into that office unopposed. Two weeks after he had filed his own papers he finally agreed (at the city manager's insistence and Gazette prodding) to have the candidate filing instructions published in the Gazette.
Westling also refused to accept candidate statements from Manuel "Manny" Minjares and Douglas Tucker until unnecessary changes were made. Instead of facilitating the election process, which was his responsibility, he seriously obstructed the process to his advantage. Westling is self-serving and far too close to the cabal to be an honest, independent, and objective city clerk. It is the city clerk who decides which public information will be released when requested. The Gazette has been trying to obtain information on one council person which is extremely important, and Clay Westling has, after four requests (FOIAs and RPIs)refused. This issue will be referred to the District Attourney's office very soon.
The main players (for years) in this cabal have been Gary Creagle, Bob Stroh, Jamey Brooks, Clay Westling, Gayle Washburn, Brian Sipes, and Patti Walker. A supporting cast of about 40 others stand at the ready.
To understand just how this group came to take over all city functions refer to Clay Westling's address to the city council on April 27, 2010, (see fillmoregazette.com) and ask yourselves what have they accomplished aside from confusion, acrimony, and deconstruction of the work of many previous city councils and city managers. This statement will also be posted separately online in the Gazette's "Politics" page.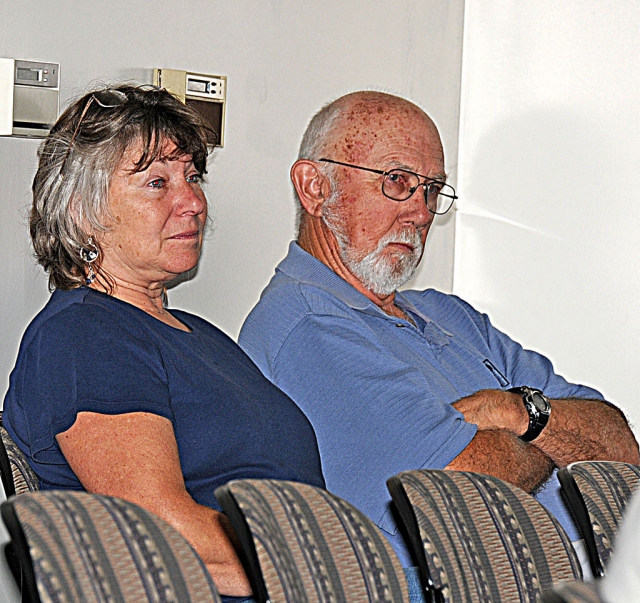 (l-r) Former Councilmember Patti Walker, sitting with Bob Stroh, offered to pay $500 towards the censur process of Councilman Steve Conaway. Walker is the only Councilmember to be censured in Fillmore's history. Conaway was not censured, but admonished.
Enlarge Photo
By Martin Farrell — Wednesday, September 26th, 2012
THIS EDITORIAL WAS EDITED ON 9-27-12, at 10:45 p.m.
What a night at the council! At times it seemed more like the Comedy Club. But at the same time it was very instructive about the character of our council majority, Washburn, Brooks, and Sipes.
It's Brooks and Washburn who are on the ballot this November. If they are defeated, and a new candidate replaces retiring councilman Steve Conaway, life in Fillmore will return to normal and the city's business can once again progress.
In the midst of city hall's confusion, we have seen our divisive city manager Yvonne Quiring quit and head for her new job in the City of Davis, where she was greeted by Steve Pinkerton her friend and Davis'city manager. The job had to have been lined-up long ago, but "no one knew" until the last minute. Our council is preparing, once again, to search for a good city manager. Let's watch closely to be sure they don't select just anyone who happens to be a friend of one of the selectors, as before. Quiring was an unmitigated disaster. Let's not let it happen again. Kudos to Rigo Landeros for doing a superb job as interim city manager. I can even actually hear him speak from the dais; no more mumbling.
By the way, we're also losing our Finance Director, who has done a good job.
I thought I had to speak at last night's meeting because the lies, innuendos, and misleading statements have been too thick lately. Bob Stroh and Gary Creagle are largely responsible. Next week I will, as promised, outline these distortions to clear the air.
Stroh is perhaps the most prolific blogger and speech giver in Gazette history. I finally had to block his emails, as I've blocked him from the website. Half-truths, which are Bob's specialty, are often worse than outright lies. They provoke suspicion and damage reputations by innuendo (which, by the way, can also be actionable as defamation). Bob loves to characterize honest mistakes as "lies". They are, of course, missing the central ingredient of intent to deceive. I have called him a tar baby in personal emails (as he happily related last night) because to respond to his infamous stream of half-truths gets to be sticky business, a major waste of time.
A few issues from last night: My previous caution about one council candidate (Pella) and her close relationship with incumbent candidate Brooks was characterized as a religious slur. It had more to do with group-think and quasi nepotism. No one has attempted to assist Fillmore's religious community more than I have during the past 24 years – at my expense. At great expense I've created and maintained a website which invites and promotes religious activity. The same is facilitated in the Gazette. I wish all our churches well. I am concerned, however, when an incumbent councilman (Brooks) who is seeking re-election, has as his running mate (Pella) someone who is both a personal friend and pastor of the same denomination (same church?). People may wish to have independent-thinking council members instead of possible clones. It's an issue. I would not want someone coming into the council who would begin, as did Brooks, with the announcement, "I have not come to bring peace, but a sword!". Would you? In any event one sword-wielder has been more than enough.
Next, the issue of disciplining a young student. Stroh calls this a lie. If Brooks agrees I will make an issue of it, which I would rather not do. Several principal persons involved spoke to me about the incident, and other witnesses as well. A lawsuit was feared, and one family pulled out of the school. Pastor Brooks, am I a liar here, as your friend Bob Stroh alleges? I challenge you to deny the truth of this story. The incident itself, in my opinion, was fairly insignificant except that it reveals a true lack of common sense, prudence, (as does his infamous "sword" proclamation).
I will have to review the Gazette's video of the meeting to accurately answer the other issues, and may post additional rebuttals online before the next issue of the Gazette. I've really had it with all of this posturing piety. The fictitious stories these Katzenjammers tell of water treatment plant history, business park acquisition, the cell tower, Planning Commission resignations, city manager performance, politics at city hall, the unlawful removal of our city attorney, attempts to end American Water contract, etc. need an honest re-interpretation.
The true rancor focused upon councilman Conaway by Washburn, Brooks, and Sipes, can be witnessed in living color by viewing Channel 10 (6:30). Though I doubt 50 people watch Channel 10, more than 30,000 may choose to watch it on fillmoregazette.com every month.
About the much-criticized phone poll, I knew nothing about its origins, the same for the fliers. But, I am shocked – shocked, that such strong criticisms could be expressed during an election campaign! What's this world coming to?
No one should miss the latter part of last night's council meeting on Channel 10. Conaway characterized it correctly as pure drama. He was threatened with censure by the Katzenjammer four, and Patti Walker had coiled-up the corner in anticipation. It was revenge time, worthy of Edgar Allen Poe's: "The Cask of Amontillado" "The thousand injuries of Fortunato [Conaway] I had borne as I best could; but when he ventured upon insult, I vowed revenge." Chilling!
Conaway was clearly comfortable in the crosshairs. It was time for the Katzenjammers to strike before the opportunity slipped away. Patti sprang from the north west corner of the chamber like Cleopatra's asp, slithered swiftly up to the microphone and hissed to her fellow Katzenjammers "I'll pay $500" for Conaway's censure investigation, then quickly returned to the corner to be consoled by long-time Katzenjammer comrade Bob Stroh. The room vibrated with anticipation. Would the former mayor's strike prove fatal, or would Conaway's snake boots save him? Back and forth the debate wavered, and wavered.
Patti was no doubt tormented by the bitter memory of that day, back in August of 2004, when she faced the reality of censure from the mouth of City Attorney Meyers for unethical conduct. This was the genesis of Patti's seething hatred of that law firm and a cause for the unrelenting attack upon our former city attorney, Ted Schneider, by co-Katzenjammer and present mayor Gayle Washburn. She had violated the city's ethics code which then existed. Later, Walker, Washburn, and Brooks would kill-off that ethics code. Tired of those 10 commandments? Just break the tablets. Fillmore would thereafter stand alone among California cities as the one with no ethics code, no written, objective standard of conduct. To this day council majority members Washburn and Brooks recoil at the thought of a resurrected ethics code.
The outcome of this kangaroo court was sadly anticlimactic. Patti's hatred went unslaked, and with a curious absence of due process, much debate, acrimony and confusion, Conaway was simply admonished. It's all a must-see.
Next week – lies, all lies, rebutted. Tune in.
By Martin Farrell — Wednesday, September 19th, 2012
[CORRECTION: A previous statement made in this editorial needs to be corrected. Former councilman Gary Creagle was not involved in a fistfight in city hall back in the 1980s. Although he was present he was not the aggressor. I have been informed by residents who were present at city hall at that time that Creagle only attempted to deescalate the confrontation. For the sake of fairness and accuracy I must appologize to Mr. Creagle for the error.]
We're only a few weeks away from the most important election in American history and in Fillmore's history as well. I think it's important to understand what has happened to city government since the last election.
Three incumbents (Washburn, Brooks, and Westling) are trying to hang on to their seats, two on the council and one as city clerk. These three are political clones, members of the infamous Katzenjammer cabal. I know, I'm tired of that nickname as well, but if we are to understand how all of the damage and corruption was inflicted by this council majority during the past four years the responsible individuals in that group must be identified.
These incumbents have acted as an agenda-driven group determined to "take back our town" with a vengeance, with a vendetta against numerous former staffers and employees. They hated the former city attorney (Ted Schneider); they hated the former city manager (Tom Ristau), they hated another former city manager, Roy Payne, and former city engineer, Bert Rapp. Include in that list, former city finance director, Barbara Smith, and assistant clerk, Steve McClary – etc. These good people are now gone because of the Katzenjammers. What a loss.
Walker has had a grudge against the Meyers law firm since she was censured back in 2004 for an ethics violation. Brooks came on the scene swinging a sword, informing everyone that "I have not come to bring peace, but a sword." Brooks is a local pastor, and surprisingly, so is his running mate Sandy Pella, within the same denomination. It's a two-fer. One of his first campaign promises was to limit the salary of city manager to about $85,000. He ended up voting our last manager a salary of about $160,000, highest ever. He was close. He also arbitrarily, without cause, terminated Diane McCall from her prominent position on the Planning Commission. Later, Gayle Washburn was to cause the resignation of three Commissioners as a result of a probable Brown Act violation, which she denied before admitting her action. Brooks, perhaps the least qualified among all of the unqualified council majority members, did distinguish himself by being bounced off the teaching roster at a prominent local Christian school for an uncommon lack of common sense – taping a student's mouth closed for being too talkative. With Brooks, admittedly, everything is "personal, very personal."
Brooks is the protégé of former failed mayor Gary Creagle, as is our clerk, Clay Westling. Creagle is also a charter member of the Katzenjammer cabal. He makes regular appearances at city hall during public comment sessions, and enjoys lecturing everyone in front of the TV camera. He was also campaign manager for both Brooks and Westling at the last election.
During one of Creagle's more memorable recent lectures he condemned former council members, mayors, city managers, and especially our former city attorney, for what he alleges amounts to gross negligence, even misfeasance. The problem is, he usually has no idea what he is talking about.
On July 10, Creagle strutted up to address the council as usual with his prepared notes. That night he lectured on just how lawyers should act. Boasting of his experience on the Sheriff's department, where he had known many attorneys, he said a good attorney should protect the city. He gestured to our city attorney, implying negligence in the Owens & Minor tax litigation, which Creagle grossly misrepresented. Then he referred to the much maligned, award-winning, water treatment plant, specifically to the Perry Ranch Company sale which provided property for the plant. Why did the city pay ten times more for the property than Creagle deemed it was worth, "$19,000 per acre"? Someone should have reminded him of the difference in value between property zoned agricultural and that zoned commercial. As usual, he didn't know what he was talking about in this attack.
Then he involved himself deeply into pure fiction, as Fillmore resident Linda Crockett indicated in her July 26 letter to the Gazette. "You remember Shorty Crockett" Creagle had said. "He was Perry Ranch Company. "...He wanted to sell. There was no money in oranges so he wanted to sell." He went on and on about why the city negligently failed to buy the land from Shorty. But one thing was wrong, according to Ms. Crockett "Yes, "Shorty" Crockett's given name happens to be Perry, but in no way was he Perry Ranch, or even affiliated with them." Ms. Crockett continues, "I know my father-in-law would be setting Gary Creagle straight on the facts if only he could, but I'll speak in behalf of Perry "Shorty" Crockett, and hope that in future appearances before the council and all viewers of Channel 10, Mr. Creagle looks into the archives to see who owned what."
Well said. Creagle is not only the man behind our city clerk Clay Westling, and council member Jamey Brooks he's an unreliable blowhard.
Creagle has, on at least three occasions, warned (threatened?) the city about what was about to happen in the five-year-old case of former Fire Chief Pete Egedi. Criminal charges were dropped in that case, after three years of investigation, and it never went to trial. We'll see. Why Creagle bothers to antagonize this extremely sore issue is anyone's guess.
Former council member Patti Walker was a major player in the cabal, but she has retired to the groves outside city limits. So the folks I'm most worried about are appointed mayor, Gayle Washburn, council member Jamey Brooks, city clerk Clay Westling, and Sandy Pella, who is running with Washburn and Brooks.
Next week, we take a closer look at appointed mayor Gayle Washburn's involvement in the mass-resignations on the Planning Commission, her alleged Brown Act violations relating to the new cell tower, and most serious of all, her blatantly unlawful action in causing the removal of our former city attorney. I can hear her now "I didn't do it. Nobody saw me do it. You can't prove anything."
"Power tends to corrupt. Absolute power [even when wielded by pipsqueaks] tends to corrupt absolutely" (Lord Acton).
By Martin Farrell — Wednesday, September 12th, 2012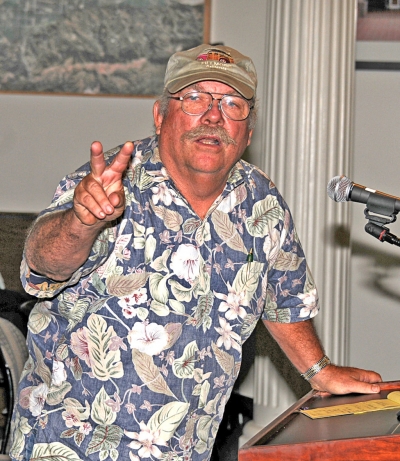 Gary Creagle
Enlarge Photo
Sometimes when I get around to writing this editorial it seems like a novel would be a better fit. The dramatic entertainment city council meetings provide overwhelms my ability to report.
For example, last night we were entertained once again by Bob Stroh and Gary Creagle, two regulars. Stroh loves to discuss the Gazette's failed effort to operate a newspaper web press operation. He thinks I should give back Redevelopment money which the city provided in an effort to increase new business and provide, in this case, about 15 new jobs.
I, among many others, received funds to help with preparations and operations, which amounted to a little less than 10 percent of the $800,000 plan. The plan which had taken more than 6 years to implement, involved traveling to four states, looking at some 20 presses, finding and retrofitting a 22,000 square foot building, wiring a 60-foot Goss SSE press, extensive construction, and 7-days-a week attention for 3 years, was ultimately unsuccessful.
It was a time when the economy was vibrant, more than 10 years ago. I worked myself almost to death on that project. Needless to say I was more than unhappy with the outcome of my best efforts. I kept the city apprised of progress, and warned of ultimate failure. I wish all entrepreneurial efforts paid off; most in this town did not.
However, the money Stroh enjoys talking about did not come from the general fund, as he implies. And, in the end, the project took everything I had at the time.
But time marches on, and the Gazette recovered, remarkably.
Bob Stroh is a diehard, card-carrying Katzenjammer of the first order. He's right up there with former failed mayor Gary "fisticuffs" Creagle, Patti Walker, Brian Sipes, Jamey "The Sword" Brooks, Clay "hushpuppy" Westling, and Gayle "Cell Tower" Washburn. This is a really colorful cabal.
Where Stroh is concerned, I just have to grin and bear it. He's just a retired guy who has settled into a life of blogging. Creagle is a different matter. His habitual, truly outrageous lies and misrepresentations need to be sorted and hung out to dry. Creagle is essentially a bully who has run out of targets, but not out of bull. Too bad we can't put on the gloves as in days of old. I remember him from back in the day, when I worked hard to rehabilitate his reputation. Sorry to say my efforts were successful.
He now assails our former city attorney by reminiscing about his days with the sheriff's department where he got to know many attorneys, and knows what a good attorney (and engineer, for that matter) is supposed to do. He excoriates the reputation of the greatest city manager Fillmore has ever had, Roy Payne. When he served on the council from from 1984 to 1988, reports the L.A. Times, he "was the target of an unsuccessful recall effort". Five former mayors publically called him a loser. His record speaks for itself, even louder than Gary facing the mic (http://articles.latimes.com/print/2001/jan/31/local/me-19325).
In order to establish Creagle's lack of credibility I will soon list a number of his whoppers culled from the recent past. It's important to know this guy who is such an energetic booster for Washburn, Sipes, Brooks, and the city's clerk (and Creagle's protégé) Clay Westling. It's important because this November the residents of Fillmore will face the most important election in this city's history.
I hear the City of Davis is "thrilled" to embrace our former city manager, Yvonne Quiring, as its new assistant manager. Let's thrill everyone by electing a new city clerk and three brand new council members. Then, maybe, Gary Creagle, who has not been a resident for years, will go home and things in Fillmore will return to normal.
By Martin Farrell — Wednesday, September 5th, 2012
Election awareness is beginning to heat up. I haven't seen any signs around town yet, but you can be sure those silk screeners are getting orders, design and color options.
I'm wondering what sort of mottos the incumbents will foist on us this year, for we have two council members and a city clerk clinging to their seats like three burs to a pair of wool socks. They certainly can't use the tried and true ones like "Take back our town" because they already took it back and broke it in half. They broke every dependable department in city hall and brought in a new city manager who managed the destruction by outraging all city employees and forcing the publication of two open letters of no confidence. Confidence and cooperation at city hall was shattered as never before.
They gave us a city manager whose performance during her short tenure at her previous job was so bad that the city council had to buy out her contract for more than $300,000 to get rid of her. She also left that city (Lathrup) with nearly a half-million in legal costs for her outrageous treatment of a city employee. Former councilwoman Patti Walker was the only Fillmore resident to investigate and recommend this new choice of city manager. Councilman Steve Conaway had been scheduled to participate in that investigation but he was tricked out of going at the last minute. Though cautioned to give our new manager a probation period of six months to one year, the incumbent majority ignored the advice. Later, though demanding a professional job review of City Engineer Bert Rapp (20-year employee) and Roy Payne, former 20-year city manager, then business coordinator for the city, council majority skipped this routine examination for their new city manager, and extended her contract.
Our city clerk, Clay Westling, bragged about coming into office as part of the Katzenjammer cabal (telling us just how it was done, from the council chamber rostrum). He has always been little more than a gofer for that group, literally led around town by King Kat (Gary Creagle) himself, before and after the election (even paying a memorable visit to the Gazette's office). Recently, Clay did his best to prevent would-be candidates (especially for his own office of city clerk) from learning of the filing deadlines. He was obviously hoping to run unopposed, guaranteeing his re-election, avoiding signage expense and having to face his constituents, through inadequate notice. But the Gazette discovered and reported his stealthy ways – and a very bright new candidate (without an agenda) by the name of Nancy Meyer came forward. Welcome, Nancy!
By Martin Farrell — Wednesday, August 29th, 2012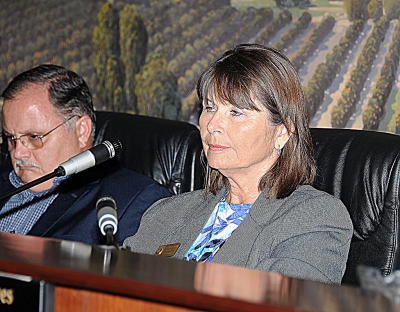 Appointed Mayor Gayle Washburn
Enlarge Photo
A summary of last night's city council meeting might be better described by a script writer. Should it be for stage, screen, or cartoon? The star of the show must certainly be our appointed mayor Gayle Washburn, Fillmore's leading lady.
I might entitle the story "DELUSION", or maybe just "250 CENTRAL AVENUE", alluding to that classic film Sunset Boulevard. I see Gayle gracefully descending the council stairs to the gentle, humoring applause of the select crowd below. For this is the woman who, with the touch of her (pre-tower) cell phone button can destroy a Planning Commission and terminate the city attorney. Oh, the power! Oh the glory, Norma Desmond?
"You have no authority to remove the city attorney" says Councilman Steve Conaway. "He was not fired", her council majority minions squeak in uniform support. I did not have him replaced, our imperious First Lady proclaims in a fit of pique. "You don't know the facts" the First Lady responds with authority.
But we do have the facts, in sorry profusion.
And, we do have a drama queen in Ms. Washburn. But maybe a cartoon would better describe the bathos of her role. Maybe Bart Simpson? "I didn't do it. Nobody saw me do it. You can't prove anything." Ms. Washburn adamantly denies she had anything to do with removing ("firing") City Attorney Ted Schneider. But, sadly, the facts say otherwise, though the pieces seem to be deliberately scattered. Councilman Conaway (the only remaining non-Katzenjammer on the council) spelled-out those facts last night and the timeline in which they occurred. Watch it all on Channel 10.
Then there is the subplot of the Fillmore cell tower, which Ms. Washburn denies having objected to. But again, letters of resignation read from the dais at city hall tell a different story, bluntly. And, Washburn admitted her denial was false on August 23, following a 20 minute discussion. To Alex Mollkoy's insistent questioning, she finally replied that "Yes...that is absolutely correct." Stating that it (objections to the tower) were discussed as "...part of the process" (http://www.fillmoregazette.com/front-page/august-23-2011-fillmore-city-c... time: 6:17). But the Planning Commission "process" had not yet begun.
Resentment of the Meyers law firm goes way back to August of 2004, when then Councilperson Walker was censured by the council for unethical conduct. After that it was all downhill, with the treatment plant, the city manager, city engineer, city finance director, city attorney, etc.
While the council majority agenized discussion about publication of law firm bids published after the bidding was closed, Washburn and Brooks were quick to state their disapproval of a formal ethics code for the council, as most councils have. It was almost comical; pastor Brooks and Mayor Washburn jump to defend against the prospect of having to be held accountable to a code of conduct – like Patti had been in 2004.
This part of my editorial is really a preamble to answering two demand letters from Ms. Washburn. (see Letter to Editor http://www.fillmoregazette.com/letters/august-30-2012). They are in most respects, even in style, suspiciously similar to the letter I received several months ago from former Councilperson Patti Walker. Both evidence the same abysmal ignorance of constitutional law, and perhaps delusions of grandeur unbecoming a small town politician, recalling those unforgettable lines "Mr. DeMille, I'm ready for my close-up."
Ms. Washburn's second letter arrived after deadline and will be published in next week's Gazette.
I believe the present city council majority is the most unethical and incompetent in the city's history.
By Martin Farrell — Wednesday, August 22nd, 2012
It's been a long time since I've felt hopeful of the political scene, about four years on the state and national side, and about eight years where Fillmore is concerned.
Paul Ryan has injected energy and focus to the Romney candidacy. Romney shows good judgment in picking the perfect running mate. Republicans now have two truly outstanding candidates to support. God bless them both and lead on to preserve our Constitution and save this great nation from a socialist future.
* * *
As for our little town of Fillmore, we have five outstanding residents running for office.
For city council we have "Manny" Minjares, Rick Neal, and Doug Tucker, all stand-up guys without personal agendas. Having met them all I have great confidence that if elected they will lead our town out of the morass of petty personal politics and corrupt practices. What a breath of fresh air they would be, applying their experience and common sense to the city's business, and opening up public affairs for all to see.
The prospect of a new council majority is truly heartening. These are all solid men of good character and I enthusiastically endorse them.
Nancy Meyer is running for Fillmore City Clerk. Nancy is another outstanding candidate. It is hoped that her victory will free the city of Fillmore from the sticky grip of former failed mayor Gary Creagle, who gave us Clay Westling, the city clerk who is nothing less than a gofer for the Katzenjammer council majority. These are my words, not Nancy's. Nancy has the experience, attitude, and energy to do a great job as city clerk. If elected she will let us know exactly what's going on at city hall. Let's hear it for truly open government once again.
Lastly, but certainly not least, Shannon Godfrey is running for City Treasurer. After hearing her introduction and listening to her appeal at Monday's candidates gathering, I'm convinced she would also make a great addition to city government. Shannon is a team player who would work well with the rest of the new candidates. All of these candidates share a common positive attitude and desire to rebuild and energize our city government.
In the near future the Gazette will provide more detail about all of these candidates, their backgrounds, experience, and goals. What a relief to find such good people who hope to advance the quality of life in Fillmore and eliminate the nasty personal politics of the past.
So, once again, I am hopeful that the good sense of Fillmore voters will restore positive, effective, honest, and open government to our town.
Come November – please.
By Martin Farrell — Wednesday, August 15th, 2012
Our latest Interim Deputy City Clerk, Laura Seo, has settled in well with the Katzenjammers at city hall.
On July 26 I paid a visit to the Fillmore City Clerk's office. I wondered why official notice had not gone out to tell potential candidates for city council, city clerk, and city treasurer that they had only until August 15 to pull papers, secure signatures, and file in order to qualify for the November ballot.
The Gazette had received nothing from the clerk's office. Nothing was posted on the official notice area of the City Park kiosk. Nothing was posted anywhere downstairs at city hall, and I could find nothing in the Ventura Star. Two weeks delay in notifying the residents of Fillmore significantly shortened preparation time for potential candidates.
Ms. Seo greeted me in the upstairs lobby at city hall near the clerk's office. Asked why notice had not been sent to the Gazette she recoiled defensively and gestured to a corner of a table, stating that this was the notice.
I asked if she thought that single document was adequate notice to the residents of Fillmore. She assured me that it was, and that adequate notice could have been posted to the clerk's office wall. She also told me that notice had been sent to the Star. I told her I could not find it. I informed her that this sort of notice was, as a practical matter, no notice at all. Was she trying to keep it secret?
What is most troubling here was not Ms. Seo's aggressive-defensive attitude, but the obvious intention of the city clerk, Clay Westling, to keep the notice as quiet as possible. You see, Mr. Westling is also running as incumbent for city clerk, and he had filed and qualified as quickly as possible, two weeks earlier. Maybe he could run unopposed?
Well, when word finally got out that the clerk's job was open to challenge in November, Nancy A. Blendermann Meyer signed-up after hearing the news. She was notified by word of mouth, not by the official notice lying on the clerk's table upstairs in city hall.
Here is the statement running at the bottom of written communications coming from the clerk's office: "The City Clerk is the local official who administers democratic processes such as elections, access to city records, and all legislative actions ensuring transparency to the public. The City Clerk acts as a compliance officer for federal, state, and local statutes including the Political Reform Act, the Brown Act, and the Public Records Act. The City Clerk manages public inquiries and relationships and arranges for ceremonial and official functions.
I only wish Clay would exercise the "democratic processes" with more vigor. There is technical notice, and adequate notice. Where elections are concerned adequate notice is demanded. That is both the spirit and letter of the law. But Clay didn't even make a personal effort to publish the notice, as his answer to my inquiry shows: "I have been told by the County Elections Division that the attached Notice of Election was published in the Ventura County Star, as promised, on 7/16/12. Additionally, this notice is posted here at City Hall."
Clay Westling, Fillmore City Clerk
Mr. Westling also refused to accept council candidate statements from Douglas Tucker and Manuel "Manny" Minjares unless they deleted harmless statements such as "time to get our city back on track". He has not responded to my request for any authority he relied upon to make these unlawful demands of the candidates. The perception here is that Clay is protecting his friends and political associates on city council by weakening candidate statements.
As for Ms. Seo, I received this officious email criticizing me for not being able to recall the election code provision pertaining to publishing notices (thought that was the clerk's job): "...Perhaps Mr. Farrell could do his own research and provide the points and authorities on his own. During our conversation, he could not remember what they were, thus impeding his ability to communicate with me effectively and work toward a solution."
This, from a temporary, Interim, Deputy, City Clerk – essentially a rent-a-clerk. As I responded, she has drunk deeply of the Katzenjammer Kool aid.
This poor, broke, exhausted, and demoralized city hall is in desperate need of a new, trustworthy city clerk and three fresh, honest council members.
Come November – please!
By Martin Farrell — Wednesday, August 1st, 2012
Let's hear it for the Washburn Tower!
Well, I hope you all can admire our new Verizon cell tower, masquerading as a water tower. It's a great assist to the city's cell phone quality, and fits in perfectly with the railroad.
The Gazette has dubbed the new structure the Washburn Tower in honor of Gayle Washburn our appointed mayor. Gayle, as is her habit, fought furiously to prevent the tower construction. Her objections were based upon her fears of harmful electronic emissions, unsightly appearance, and the location at Super Seal and Stripe next to the railroad.
Washburn heard that the Planning Commission was prepared to approve the tower and immediately moved to appeal the decision. This arbitrary and preemptory move by the mayor incensed the Commissioners, causing four to resign. The result of this impetuous move: "No such decision had been discussed, and the majority's move to act against such an alleged approval was cited by Verizon's legal counsel as a federal violation of the Telecommunications Act; a lawsuit was threatened against the city in a July 11, 2011 letter from Verizon's attorneys. The council majority denied any such attempt but at the August 23 [2011] council meeting, Washburn (appointed mayor) was finally forced to admit that her denial was false."
This entire move by the council majority is typical of their habit of shooting from the hip before they have the facts in hand. As so often before, they were soon to learn that it was unlawful to stop this cell tower construction; only the appearance of five Verizon attorneys at the council meeting finally put a stop to their reckless intentions. They were on the cusp of a lawsuit from Verizon for violating federal law. Once again, saved by the bell from another lawsuit. Cluelessly playing along was our City Manager Yvonne Quiring. She provided no guidance or information. City Attorney Ted Schneider showed the council that they had also, accidentally, and narrowly escaped a Brown Act violation by a timeline technicality.
So, the Washburn Tower lives! It is beautifully constructed and appropriately located where it actually enhances the railroad setting, to the delight, no doubt, of thousands of anticipated tourists. And, it improves the quality and reliability of our cell phone service.
A commemorative plaque will be placed on the tower's foundation, reading – "In the year 2012 appointed Mayor Gayle Washburn reluctantly overcame her fear of imagined radiation leaks from this site".
For anyone wishing to re-live the turmoil and civic disruption caused by the city council majority over the construction of this tower, please search the Gazette website.
Come November – please.

From left, Councilmen Eduardo Gonzalez, Jamey Brooks, Brian Sipes, and Steve Conaway. At this Special Meeting to decide the fate of Fillmore's Legal Counsel, Mayor Gayle Washburn refused, once again, to explain her action in dismissing the city's lawyer. Washburn falsely claims it is a privileged "personnel matter" which it is not.
Enlarge Photo
By Martin Farrell — Wednesday, July 25th, 2012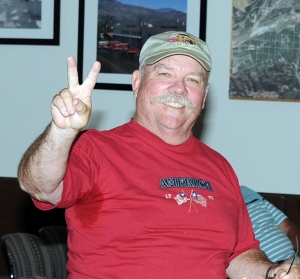 (above) Gary Creagle. Linda Crockett wrote a letter to the editor this week regarding comments made by Gary Creagle at the July 10, 2012 council meeting. Click on the Letters section to read it.
That old French proverb (The more things change the more they stay the same) comes to mind when I recall yesterday's trip to the Fillmore City Clerk's office.
In very election year for as long as I can remember the city and county published a notice to the electorate that it is time for candidates to "pull their papers." That is, for anyone wishing to run for public office the necessary instructions and disclosure papers must be obtained from the city clerk, completed, and properly filed. Otherwise you are not qualified to run for elected office. This is one of the most important mandated duties of the city clerk.
At the present time, Fillmore's City Clerk is Clay Westling, although most of his duties have been delegated to the new Interim Deputy City Clerk/Administrative Secretary, Laura Seo. In the past one person sufficed to handle the duties of city clerk. For several years the job was efficiently handled by Steve McClary – an early escapee from the Katzenjammer rĂ©gime. Steve was a gifted, multitasking city employee among whose many tasks was the timely production of intelligible minutes of council meetings.
Today, official minutes of council meetings seem to be a thing of the past – the distant past. Our present city clerk has been unable to produce them on time – 5 months late, (current?).
Mr. Westling is also apparently incapable of understanding the importance of providing adequate public notice to potential candidates for his office of City Clerk, which is now open, as are the council seats of Jamey Brooks, Gayle Washburn, and Steve Conaway. The City Treasurer's position is also open. So, this is an extremely important election; people need to learn about the three available council seats, office of the Treasurer, and the office of City Clerk. You can be sure that Clay Westling knows that his office is up for election; he wasted no time in filing papers to keep his job.
I wonder if Clay was trying to keep secret the fact that his job was now on the line this November. It appears that way, since he deliberately "posted notice" to his potential challengers in only one place – a corner of a table on the upper floor of city hall next to his office. He didn't post the notice on the designated city "Information Center" kiosk at City Park, nor on the windows of city hall, nor in the adjudicated newspaper of record for the city, the Fillmore Gazette. The clerk's office claims it appeared in the Ventura Star, but I couldn't find it, and the Star is not the newspaper of record for Fillmore.
What's important to know here is that candidates for these important offices have only until August 10 to file the necessary papers. Time is of the essence. They must also obtain up to 30 signatures of registered voters of the city to qualify to be on the ballot. A reasonable person might think it necessary for the clerk to provide the widest possible public notice to the residents of Fillmore. In other words adequate notice.
Well, after an email to Westling and a later rather energetic conversation with his defensive Interim Deputy City Clerk/Administrative Assistant, Laura S. Seo, the Gazette finally (next day, two hours before press time) received the notice which appears in today's paper. It must have frightened Clay to think someone might win his job.
The conversation with Ms. Seo was interesting. She has truly adapted to the Katzenjammer ethos. She told me that she could have posted the notice on the wall inside Clay's office and complied with the law. "Show me the code section" she asked when I questioned the propriety of such minimal public notice. Then she observed that the Star was also adjudicated for the city's legal notices. I explained this issue had been thoroughly explained to the council (in Clay's presence) and that the city's attorney explained that the Gazette alone could be the official paper of record.
"Well" Ms. Seo opined, twiddling her fingers as if playing an accordion, "the city attorney really doesn't know what he's talking about".
Really?, I replied. Are you aware of the memo my attorney delivered to the city?
"Oh, a memo isn't important. Show me the code." and informed me of her experience in the position of clerk.
Do you know what a legal memorandum is? I asked. I told her it included points and authorities on the issue of adjudication. She remained unimpressed.
This is another example of just how densely stubborn the Katzenjammer group remains when it comes to accepting facts. This is truly self-inflicted invincible ignorance.
Anyway, the conversation remained unsatisfactory, but Ms. Seo provided me with her card as I walked away. Back at the office I examined the card closely; there was a label attached to the top third of the card. Pealing it away I discovered the name of "Angela Mumme, Administrative Assistant/Deputy City Clerk".
Remember when business was conducted at city hall with courteous, professional competence?
But I digress. Our winning City Attorney, Ted Schneider, is about to be replaced. This was the work of Gayle Washburn, who refuses to explain just why. Most believe that this was caused, once again, by City Manager Quiring, who can't get along with anyone and has wiped-out every competent employee and organization in city government. She's gone for the week.
More on our self-inflicted city legal problems next week; also on the Boy Scouts of America reaffirming its policy of excluding gays". And no, it isn't about picking on gays; it's all about traditional Christian moral teaching.
***
Remember, if you want to run for the city council, or City Treasurer, or CITY CLERK, you have to "pull papers" soon. Just give Clay Westling a call – he's our city clerk; like the government itself, he's there to help you.
By Martin Farrell — Wednesday, July 18th, 2012
It's a good thing our city council knows so much about chickens, as we learned a few weeks ago, because those birds have now come home to roost.
Yesterday, about 6 p.m., city hall was invaded by process servers who succeeded in serving all council members. The members should not have been startled by the activity. (Former?) City Attorney Ted Schneider had repeatedly warned that reneging on the recent settlement agreement with El Dorado Mobil Home Park would prove to be a bad thing. That agreement was reached after six months of negotiations, which followed the lawsuit filed against the city in 2009. The plaintiff now had reasonable grounds for concluding that Fillmore's City Council had negotiated in bad faith, wasting much time and money.
The city has spent more than $236,000 defending the suit, which in no way assists the rest of the city, which is nearly bankrupt. On the evening the council was expected to honor that negotiated agreement with the owner of El Dorado, three council members, Brooks, Sipes, and Gonzalez, voted to reject it. They were miffed by the plaintiff's behavior. Gonzalez "didn't like the tactics" and was "not going to allow them to bully'...and "money should not stand in the way of doing the right thing." Brooks was worried about "environmental impacts" and the discourteousness of the plaintiffs.
Sipes was in a tizzy as well, stating "...my heart and my conscience will not allow me to approve this." Sipes' heart and conscience should have been more closely attached to the city's wallet.
So, on the night our attorney Schneider and the plaintiff's attorney had every reason to believe the negotiated agreement would be approved, the rug was pulled out from under them when, in a 3-2 vote, the settlement was rejected. Schneider, again, warned that this rejection would certainly bring another lawsuit upon the city, with great expense, and that (based upon the results of similar state actions) the city had little probability of ultimately winning. Costs could exceed $500,000, and there was no money to pay legal fees.
But these three were swept-up with the emotion of the moment and their votes heartily cheered by the chamber-full of El Dorado residents. They were now heroes to those 50-something residents. The other 14,000 Fillmore residents could go fish.
Mayor Gayle Washburn, displaying her usual vapid leadership, stated "It's my opinion people have been hurt" (by plaintiff's lawyers) but faintly voted with Councilman Steve Conaway to approve the long-awaited settlement. She expressed little objection to the vote.
I should mention that Washburn, Brooks, Sipes, and Gonzalez are frantically seeking to replace our city attorney at this very time. Thanks to the typically incompetent efforts of our City Manager Yvonne Quiring, the Requests For Qualifications (for a new law firm) are impossible to evaluate with any certainty because they have come back as a basket of apples, oranges, and bananas. But tonight a choice is expected. The excellent work Ted Schneider has done for the city (especially on the El Dorado and Owens & Minor lawsuits) is being tossed out. Others will have to be educated to take over in midstream. This is a remarkably stupid maneuver by the council majority to finally be rid of every trace of the old city hall staff – they're all gone now.
The outcome of these lawsuits is extremely important to the city; millions are on the table, and they are complex suits requiring care and cooperation. Ted Schneider should be retained. He deserves to be complemented for his achievements, not disrespected by four rank amateurs.
More next week when I have more time.
***
One last word. The Boy Scouts of America should be applauded for "emphatically reaffirming its policy of excluding gays". More on this also next week.
By Martin Farrell — Wednesday, July 11th, 2012
Two public comments stood out at Tuesday's city council meeting, one by Alex Mollkoy, the other by Gary Creagle. Both were critical of the city's legal counsel, neither was justified.
Mollkoy expressed anger at the fact that alleged city litigation against Dylan Snow, lessee of the city's Equestrian Center, could not be confirmed. Mollkoy's repeated questions to Mayor Washburn as to the status of this longstanding allegation were contradictory and unsatisfactory. At the end of his lengthy and heated interrogatory, the mayor both affirmed and denied such litigation. Now even I am curious to know what's going on with this mysterious confrontation. Chalk it up to another example of Katzenjammer broken pre-election promises of open government. This has nothing to do with the city's legal counsel. It's vintage Katzenjammer.
Creagle's lengthy comments were also critical of Fillmore's legal counsel, complaining the city was not protected against the Ownes & Miner contract, and associated agreements. However, the court has stated that these agreements were not tainted by fraud, misrepresentation, or any sort of unethical conduct on behalf of the city or its legal counsel. The agreements were perfectly lawful, though the State of California later changed the law following complaints from City of Commerce, etc. after the fact.
I personally recall the extensive scrutiny this offer was provided after being received. A study of the proposals took months to complete. I was present at those council meetings.
Contrary to many of these unfair complaints, Owens & Miner has always maintained a busy office in Fillmore. When I last visited that office I witnessed approximately 12 employees busy at their computers. I also took photos of the operation.
Again, the court found the transaction to be perfectly legitimate, without taint of legal or ethical impropriety of any kind. It was just a great opportunity for the City of Fillmore, and will prove to be in the future, to the probable tune of approximately $700,000 to $1 million per year, for 20 years.
New laws and regulations have severely altered the original contract, but have not eliminated it altogether. When this litigation is finally over Fillmore will be the beneficiary for many years and the other litigants will have been paid from the impound account. Our legal counsel should be congratulated, not condemned, for its work. They could not be expected to have anticipated a change in the law.
The present council majority is making a strong and unprecedented effort to replace the city's legal firm. Since City Attorney Ted Schneider's record on winning litigation is perfect, and his cooperation in assisting the city with its near bankrupt condition by voluntarily cutting his legal fees by 20 percent is highly commendable, the council's motives are clearly personal. It would seem that Mayor Gayle Washburn and Councilmembers Brooks and Sipes are cooperating with our wildly unpopular City Manager Yvonne Quiring's mysterious personal animosity against Schneider. This attempted transition comes at a particularly bad time, with the tax receipt trial about to begin. Replacing the city's law firm after 20 years of work should not be done arbitrarily, without considerable reflection. The city will also lose all of the cooperative networking Schneider has created to assist in litigation. At best this attempt is foolish, at worst, grossly irresponsible and destructive. The city will pay heavily for this personal vendetta against Schneider in jeopardizing the outcome of on-going litigation, including the El Dorado lawsuit. But, Yvonne's personal interests must be served. Personal friendship trumps open and responsible government.
Washburn has still not provided a reason for replacing Ted Schneider as city attorney. We have naughty children running city business; Katzenjammers all! November is the time to put in the adults.