By Martin Farrell — Wednesday, May 13th, 2015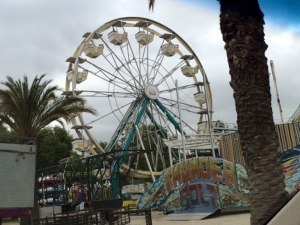 Something special is supposed to be happening in Fillmore this week - but we've heard nothing about it (as usual) from our Chamber of Commerce. Maybe the Gazette will have something to print about it next week.
I was gone for a few days last week so I just learned of the incident at the School Farm.
Apparently two wild dogs attacked a goat being kept at the farm. The caretaker, attempting to get rid of the dogs, fired a shot but accidently killed the goat. He was punished with a 30-day suspension without pay.
I haven't had time to get all the details of this incident, but I hear the caretaker is a very responsible man who has been at the Farm for a long time. As far as I know, he is responsible for the safety of the structures and animals. There are many wild animals in the adjacent riverbed area, including feral dogs, which pose a danger to the animals. Though the caretaker caused the death of the goat, which is sad, he acted reasonably in accordance with his duty to protect the animals. This is especially true in the absence of established, written guidelines to the contrary.
I regret that he was suspended for 30 days without pay. Who is going to take his place for the next month?
***
Shortly after I finished this week's column I returned to my computer and learned an astonishing new fact: the Pope has just officially recognized the so-called Palestinian State.
I only have time for a quick reaction. This incredibly reckless, thoughtless, and stupid action greatly furthers the cause of war between Israel and Iran. It also clearly identifies the Pope as a far Left political man, which should not be surprising because he is also a member of the Jesuit order. Recognizing the Palestinian State facilitates and justifies its massive terrorist activities.
The Pope is also a defender of the disgraced and condemned (by the church itself) Liberation Theology movement.
As a Roman Catholic myself, I am simply astounded. Pope Francis is a man of the Left, and one I can no longer trust. Doesn't he know that the Palestinian cause is responsible for the Christian Holocaust in the Middle East, and seeks to destroy Israel?!