By Gazette Staff Writer — Tuesday, October 14th, 2014
An inspiring, thoughtful, patriotic music program honoring those who fought for our country will be performed on Sunday November 9, 2014 at 3:00pm at the Ventura High School Auditorium located at 2 N. Catalina, Ventura. FREE. For information call (805) 289-7925.
By Gazette Staff Writer — Tuesday, October 14th, 2014
The museum hosts its first car show Sunday October 19, 2014
On Sunday, October 19, from 11 am to 3 pm, the Museum of Ventura County will hold its First Annual Car Show in the parking lot adjacent to its site. There will be live music by Mark MacKay Band, craft-making in the museum courtyard for kids, food provided by Blue Light and World Famous Frank's Food trucks and of course, over 60 cars from collectors throughout Ventura.
Clubs participating will be Ventura Vintage Rods, the Rodfathers and Roam'ÄôN Relics, among others. 'ÄúA car is a work of art to me; I collect vehicles like someone else might collect sculptures or paintings'ÄĚ, said Gary Entrekin of Ventura, whose maroon 1949 Cadillac convertible will be on display (photo attached). Entrekin'Äôs daughter Jessica helped plan the show when she was an intern at the museum.
There will be prizes awarded at 3 pm, including 'ÄúPeople'Äôs Choice'ÄĚ (the most popular card according to visitors and 'ÄúBest Paint Job'ÄĚ.
Admission to the galleries will be free 'Äď guests can see three new exhibitions on view: 'ÄúBeisbol: From the Barrios to the Big Leagues'ÄĚ, 'ÄúCruel Season: Artists Reflecting on Drought and Fire'ÄĚ and 'ÄúColossal Efforts 'Äď A Behind-the-Scenes look at George Stuart'Äôs Creative Process.'ÄĚ
By Gazette Staff Writer — Tuesday, October 14th, 2014
WHAT: Ventura Potters' Guild presents: Kim Myhre Clarke ... From the Beginning
WHERE: The Ventura Avenue Adult Center, 550 N Ventura Avenue, Ventura, 805 648-3035
WHEN: Monday, October 20, 2014
Doors open at 7 pm
Program begins at 8 pm
Clarke grew up in Los Angeles where she attended art classes at Barnsdall Art Center and the Pasadena Asian Museum as a child. She studied ceramics at Glendale College, Los Angeles City College and Moorpark College and has been working on her craft for over 35 years. Over the years, Clarke has developed a unique style of whimsical figures showing influences that tie together with Maurice Sendak, Lewis Carroll's Alice in Wonderland and the late Len Poteshman's sketches. Clarke is also skilled in raku and other types of ceramic firings and has taught ceramics at the Simi Valley Adult School since 2006 while maintaining a ceramic studio in Ventura since 2007. She recently began teaching ceramic and mosaic classes at the Ventura Adult Center. Clark will be sharing her path in ceramics along with photos of her work and perhaps a last minute demonstration.
Locally her work is represented at the Guild's Gallery at Ventura Harbor and Human Arts in Ojai. Her work is collected world wide.
The public is welcome. Free.
By Gazette Staff Writer — Monday, October 13th, 2014
The Ventura College Santa Paula Site is pleased to present the fall art show, Nine Points of View, exhibited by the Artists Guild of Fillmore. The exhibit runs October 13 through December 19, 2014. A Meet The Artist Reception will take place Thursday, October 23, 2014 from 6:00-9:00pm.
The Artists Guild of Fillmore was founded in 2009 to create interest in original work created by local artists. Nine Fillmore artists are featured in the show: Lois Freeman-Fox, Luanne Hebner Perez, Virginia Neuman, Joanne King, Wana Klasen, Lia Verkade, Doris Nichols, Lady Jan Faulkner and Judy Dressler. Nine Points of View showcases nine diverse artistic styles in a variety of media including watercolors, oils, acrylics, pastels, mixed media and more.
The artwork is on display at the Ventura College Santa Paula Site located at 957 Faulkner Road, Suite 106, in Santa Paula. Free parking is available. Gallery hours are Monday through Thursday, 8:00 a.m. to 8:30 p.m.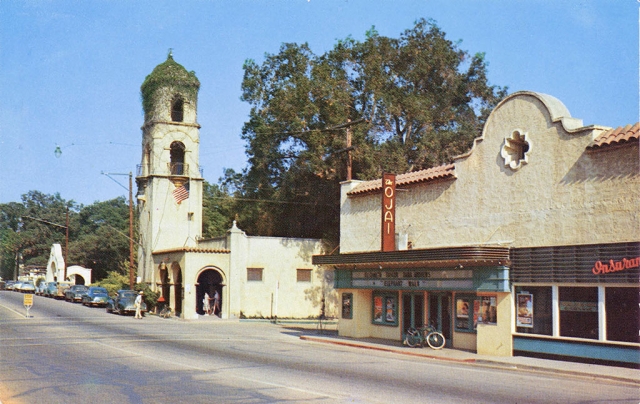 Ojai Post Card 1954 'Äď Ojai Valley Museum Archives
Enlarge Photo
By Gazette Staff Writer — Monday, October 13th, 2014
Original History Exhibition
'ÄúThe Ojai Theater: 100 Years of Movies, 1914 - 2014'ÄĚ
Tuesday, Oct. 21 through Sunday, Dec. 28, 2014
Community Curator: Elise DePuydt
The Ojai Valley Museum
Alcove, Hall, and Rotating Galleries
130 W. Ojai Ave.
Ojai, Calif.
It'Äôs celebration time at the Ojai Valley Museum from Oct. 21 through Dec. 28 with an original history exhibition, 'ÄúThe Ojai Theater: 100 Years of Movies 1914 'Äď 2014.'ÄĚ The Rotating Gallery features the story of Ojai'Äôs only movie house that has existed over the span of a century.
The exhibit has been researched and written by Elise DePuydt, Ojai historian, author of an Ojai guidebook and Office Manager for the Ojai Film Society. As an invited community curator, DePuydt's wall texts and photo documentation trace the ownership, management and history of the Ojai Theater between 1914 and 2014. The show includes descriptions of the owners, managers, films shown, movie stars, animal stars and films made in Ojai. In addition, celebrity gowns, movie memorabilia, antique camera and projection equipment and facsimiles of vintage movie posters bring pizzazz into the gallery. A mini movie theater will screen films throughout the duration of this show.
DePuydt introduces the exhibit this way: 'ÄúFor 100 years Ojai residents, young and old, have sat in the darkened interior of the building on the southwest corner of Ojai Avenue and Signal Street, watching the past, present and future come to life on the silver screen. They have been entertained, educated, inspired, uplifted and brought to laughter or tears. No one could have predicted when Nordhoff businessman J.J. Burke built his movie theater in 1914 that 100 years later people would still be sitting inside viewing films.'ÄĚ
The purpose of this centennial exhibit is to describe the Ojai Theater's historical importance as a cultural hub in this community. On the walls of the main Rotating Gallery space, DePuydt structures the history of the theater by highlighting the personalities who owned or leased the facility, and how they used its resources to entertain their audiences. In essence, she uses their stories to trace the theater's 100-year history in a chronological fashion beginning with J.J. Burke in 1914 and ending with current owner, Khaled Al-Awar in 2014.
In addition to the theater management timeline, DePuydt emphasizes adjunct areas of interest for visitors to the exhibit. One section is devoted to 'ÄúOjai Celebrities,'ÄĚ i.e. movie stars who spent time in Ojai, including Loretta Young and June Allyson. 'ÄúAnimal Stars'ÄĚ and 'ÄúFilms Made in Ojai'ÄĚ sections also serve to describe the rich heritage of Ojai'Äôs relationship to Hollywood.
Rare early to mid twentieth century movie cameras and filmmaking equipment are on loan for the exhibit to enrich the textual stories and photographic materials. Visitors will see such items as a vintage Cine Kodak movie camera, rare Bell & Howell Filmo cameras, a wind-up Univex 8mm movie camera and more. Additional loans include small, priceless selections of movie star and film related memorabilia displayed in exhibit cases in the Hallway Gallery.
DePuydt states, 'ÄúAmericans'Äô love for movies never seems to wane, and thanks to the owners of the Ojai Theater, residents have always had a unique opportunity to view films in one of the oldest single-screen theaters in the country. This original history exhibit tells the story.'ÄĚ
The Alcove Gallery features the history of the Ojai Film Society and the Ojai Film Festival, their beginnings and their importance to the Ojai cultural fabric. Community curator, filmmaker and Ojai Film Society Board Member, George Sandoval, has organized this section of the exhibition space. With texts, photographs and related ephemera he describes the story of these two film-related organizations critical to the variety of Ojai's art scene.
As an additional enrichment to the physical exhibit, DePuydt will host free movie matinees in the Rotating Gallery's special mini theater every Saturday at 4 p.m. She has personally selected the family-friendly schedule which includes movies starring Charlie Chaplin, Shirley Temple, Jackie Coogan, Loretta Young, Audrey Hepburn, Judy Garland, June Allyson, Katherine Hepburn and Spencer Tracy, to name a few. The matinees begin on Oct. 25 and run every Saturday including Dec. 20. A full schedule is posted on the museum website, ojaivalleymuseum.org,and on the Ojai Valley Museum Facebook page.
Brochures of the free matinees can be picked up at the Ojai Valley Museum Docent desk and the Visitor Center, and will be distributed around the town.
The Ojai Valley Museum, established in 1967, is generously supported in part by museum members, private donors, business sponsors and underwriters, the Smith-Hobson Foundation, Wood-Claeyssens Foundation, City of Ojai, Ojai Community Bank, Rotary Club of Ojai, Ojai Civic Association and a grant from the Heritage Fund of Ventura County Community Foundation.
The museum is located at 130 W. Ojai Ave., Ojai, Calif. Admission: Free for current 2014 members, adults - $5.00, children 6'Äď18 - $1.00 and children 5 and under 'Äď free. Gallery hours are Tuesday 'Äď Saturday 10 a.m. to 4 p.m., Sunday, noon to 4 p.m. Tours are available by appointment. Free parking is available off Blanche Street at back of museum.
For more information, call the museum at (805) 640-1390, ext. 203, email ojaimuseum@sbcglobal.net or visit the museum website at: OjaiValleyMuseum.org
Find us on Facebook Ojai Valley Museum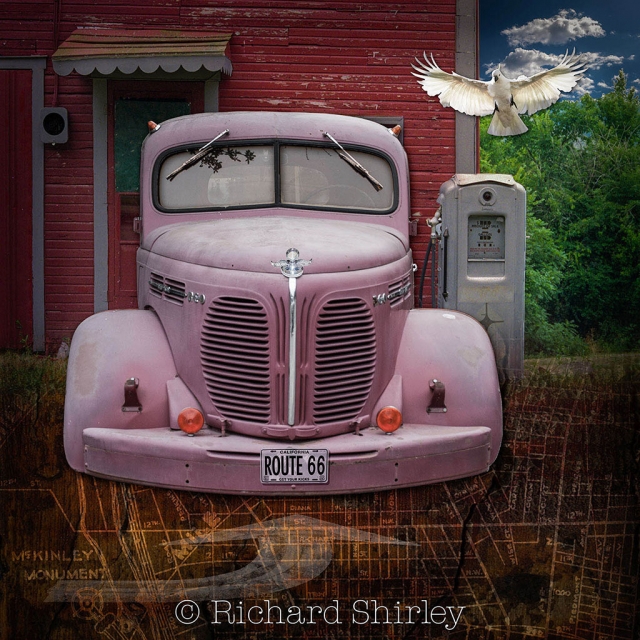 "Cockatoo Fly Over" by Eclectographer Richard Shirley
Enlarge Photo
By Myrna Cambianica — Monday, October 13th, 2014
The Ojai Valley Photography Club welcomes Richard Shirley to its October meeting. Join us for his presentation 'ÄúDigital Collage: Using Spatial Relationships Created with Photoshop Layers.'ÄĚ The presentation will begin at 7 p.m., Tuesday, October 21, at Help of Ojai'Äôs Kent Hall, 111 Santa Ana St., Ojai, CA.
Shirley is a master of photographic collage. He considers himself an 'Äúeclectographer'ÄĚ ('Äúone who assembles eclectic imagery aesthetically'ÄĚ).His stunning imagery is reflected in his personal artist'Äôs statement, 'ÄúI believe my art mirrors the spirit of my being. I assemble ancient imagery, transcending time - stained walls, archival deeds, torn stamps, ruffled feathers, canyon rocks, painted objects and surfaces - all creations in my own visual space, colors and brush strokes.'ÄĚ
Shirleywas educated at the Cleveland Institute of Art, Cleveland, Ohio, where he graduated with a Bachelor of Fine Arts degree with a major in graphic design and a minor in sculpture. He was awarded the institute's Mary C. Page scholarship that allowed him to continue his studies in Europe.
An interest in film began with his first place award in the 16 mm film category at Esquire Film Festival, New York. The film was made in 1969 for his fine art thesis at the Cleveland Institute and it led to his employment as a filmmaker at Denny Harris Films, Inc., where he made television commercials. He then moved on to form his own film production company, Richard Shirley, Inc., with studios in Chicago and Los Angeles. He has produced and directed over 500 national television commercials. He is a current member of the Directors Guild of America and the Canton Art Institute.
Now retiredand living in Ojai, Calif., Shirley is currently a member of the Ojai Center for the Arts, Photography Branch.He was awarded a Second Place and Honorable mention for his images in its recent juried exhibit, 'ÄúLong Lasting.'ÄĚ He is a member of the Ojai Photography Club and was awarded year-end honors in 2013, including Photo of the Year. More information and images are available for viewing at: http://richardshirley.com
Monthly presentations are part of the Ojai Photography Club's community service and education outreach. Visitors are welcome to attend.
The club, which is devoted to education, inspiration, and camaraderie, meets on the third Tuesday of each month, February 'Äď November. Only members may submit images for critique. More information is available at: www.ojaiphotoclub.com/
By Gazette Staff Writer — Tuesday, October 7th, 2014
On Saturday October 25th, The Santa Paula Theater Center presents the last Concert of the 2015 Season, as the sensational Tom Corbett with Bill Knopf (banjo) and Mike Mullins (guitar & mandolin) perform as 'ÄúThe Tom Corbett Band'ÄĚ.
Tom Corbett is a mandolin and guitar playing singer songwriter who has toured and recorded with some of the best musicians in the folk and roots musical world. He toured and recorded with The Acousticats which featured Phil Salazar and Cyrus Clarke (Cache Valley Drifters, worked with John McEuen (Nitty Gritty Dirt Band) and The String Wizards. During his stint with John he played and recorded with Nitty Gritty Dirt Band, Jennifer Warnes, Vassar Clements, Laurie Lewis and John Sebastian. Tom then toured with Robin and Linda Williams from Garrison Keillor'Äôs Prairie Home Companion. He also played mandolin on Mike Ness'Äôs (Social Distortion) solo CD 'ÄúCheating At Solitaire.'ÄĚ
Tom has recorded three of his own albums which feature many of his own compositions and a who'Äôs who of guest musicians including Herb Pedersen and Bill Bryson (Chris Hillman, Desert Rose Band) David Hidalgo and Victor Bisetti (Los Lobos), Nina Gerber, David West, Tom Ball and Kenny Sultan, Greg Leisz, Tom Rozum, Claire Holley and Jonathan McEuen. His songs were include in Peter Spirer'Äôs feature film 'ÄúDunsmore'ÄĚ from Image Entertainment, and his current CD 'ÄúTonight I Ride'ÄĚ has been in the top 10 on the Euro-Americana charts (2011) for several months. He continues to tour as a sideman as well as touring as a singer songwriter, playing concerts and festivals all over the world from America to Spain, Ireland, England, Germany, France, Scandinavia and Japan.
Corbett's voice is reminiscent of Jimmy Buffett, with a kind of relaxed intimacy that makes you want to kick back in the passenger seat and go on a long road trip across the Mojave.
CS-Sing Out Magazine.
…..a front man with pioneer spirit, lightning fast fingers, and a heart of pure California gold.
Bliss-Pasadena Weekly
Tom Corbett. What a joy. There is good music and laughter left in our troubled world. If we could only dry it into a powder, package it and send it around the globe marked, "just add water."
Bob Stane Coffee Gallery Backstage Los Angeles
Learn more about Tom Corbett at his website http://tomcorbett.net/
Come enjoy a relaxing evening out on Saturday, October 25th, at the Santa Paula Theater Center , 125 S. 7th Street, Santa Paula, Ca. The Reception Room opens at 7:00PM, Performance at 7:30PM. All tickets are $15.00, there is Limited Seating so reserve your tickets now online at santapaualthertheatercenter.org or by phone 805-525-4645.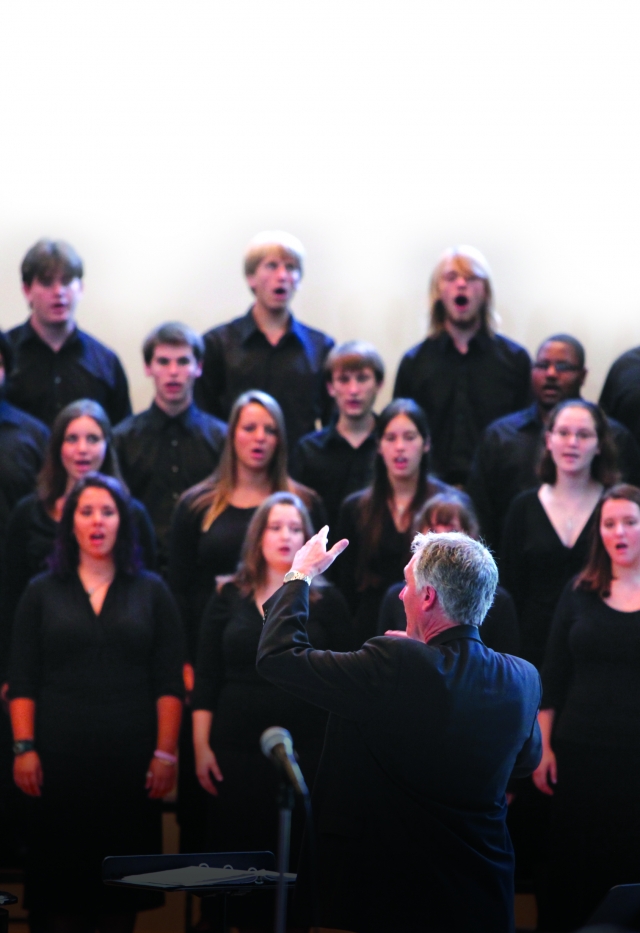 Wyant Morton conducting the Homecoming Choral Concert
Enlarge Photo
By Gazette Staff Writer — Monday, October 6th, 2014
Performance celebrates first graduating classes
THOUSAND OAKS - Early alumni of California Lutheran University will perform with the current Choir and Women's Chorale in celebration of the 50th anniversary of the first two commencements.
The Homecoming Choral Concert will begin at 2 p.m. Sunday, Oct. 19, in Samuelson Chapel on the Thousand Oaks campus.
The original Kingsmen Quartet featuring the Rev. Jim Bessey '66 of Long Beach, Bill Ewing '65 of San Clemente, Karsten Lundring '65 of Thousand Oaks and Bryan Spafford '65 of Mission Viejo will perform alone and with the current Kingsmen Quartet.
Other members of the alumni choir will include Judy Ashmore '64 of Thousand Oaks, Carma [!@#$] '66 of Minnesota, Ruthanne England '65 of Thousand Oaks, John A. Lundblad '65 of Vista, Kirsten Lundring '64 of Thousand Oaks, Paul Meyer '65 of Australia, Sandi Meyer '66 of Thousand Oaks, Carole Pollard '64 of Bellflower and Marty Schwalm '64 of Thousand Oaks.
The eclectic program of innovative choral music will begin with 1994 alumnus Kevin Christiansen performing on trumpet with the Women'Äôs Chorale for Kenneth Leighton'Äôs 'ÄúAn Easter Sequence, Op. 55.'ÄĚ Christiansen currently teaches at the International School in Kuala Lumpur, Malaysia.
The concert will continue with music by Morten Lauriden and Felix Mendelssohn sung in French, German and Latin. The Choir will preview music from its tour of Germany slated for May. The program will conclude with a collection of early American hymns and spirituals.
Wyant Morton, director of choral activities, will conduct. Morton has been on the Cal Lutheran faculty since 1992 and received an Honorary Alumni Award at the Undergraduate Commencement in May.
The concert is free, but donations will be accepted. For more information, call the Music Department at 805-493-3306 or visit callutheran.edu.
By Gazette Staff Writer — Tuesday, September 30th, 2014
Cal Lutheran Founders Day event slated for Oct. 17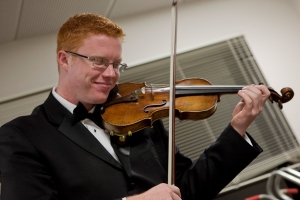 Soloist Antonio Foreman
THOUSAND OAKS, CA - Music from 'ÄúSchindler'Äôs List'ÄĚ will form the centerpiece of California Lutheran University'Äôs Founders Day Concert on Friday, Oct. 17.
The University Symphony will perform at 7:30 p.m. in Samuelson Chapel on the Thousand Oaks campus.
Three pieces composed by John Williams for the Academy Award'Äďwinning film about the Holocaust will be featured. Senior music major Antonio Foreman of Agoura Hills will be the violin soloist.
Also on the program are two standard orchestral repertory pieces. They are Schubert'Äôs Symphony No. 8, 'ÄúUnfinished,'ÄĚ and Sibelius'Äôs 'ÄúFinlandia.'ÄĚ Schubert'Äôs symphony is the University Symphony project piece for the academic year and will be performed again in March, with longtime faculty member Daniel Geeting conducting both concerts.
One of the first ensembles established at the founding of Cal Lutheran, the University Symphony is a group of about 50 members that performs several times each semester. It has a diverse repertory ranging from the latest in contemporary composition to standards of the symphonic repertory. The symphony is an integral part of the program for music majors and minors, but also includes other Cal Lutheran students and community members.
The concert is free, but donations will be accepted. For more information, call the Music Department at 805-493-3306 or visit CalLutheran.edu.
By Gazette Staff Writer — Monday, September 29th, 2014
Brings Children and Seniors Together
Art to Heart, an eight-week intergenerational art program which bring seniors and children together to learn from and inspire each other side-by-side, begins October 15. Studio Channel Islands Art Center in Camarillo is now taking applications for their unique program, which was a huge success last spring when it was held for the first time.
'ÄúThis program, Art to Heart, offers a wonderful opportunity for seniors and children to work on a weekly series of art projects. The materials and instruction are very professional. I saw nothing but smiles until the very end,'ÄĚ said Carol Kivo who signed up for the class for the second time.
Open to seniors age 65 or older and children ages 5 to 12, the program's projects include sculpting, painting, drawing, and mixed media. The sessions are held on Wednesdays at 3:30- 5:00 p.m. from October 15 to December 10. No class will be held the day before Thanksgiving. Program cost is $80 per student, and space is limited to 20 students. For an application please call the Art Center at 805-383-1368, visit the gallery at 2222 Ventura Boulevard in Camarillo or apply on line at www.studiochannelislands.org/education/art-to-heart/.
The Art to Heart Intergenerational Art Program is supported by the Smith-Hobson Foundation Fund and Ventura County Community Foundation. The art instructor is Karin Geiger, Studio Channel Islands Art Center's executive director, an artist and accredited elementary school and art teacher. The program is in collaboration with Bernadette Limón, an Elder Care Manager and owner of Senior Partners, who has 25 years of experience working with seniors and holds a master's degree with emphasis in Family Relations.
Intergenerational programs can help children develop more positive attitudes toward older people, and seniors who interact with children can experience physical and mental health benefits.
The Studio Channel Islands Art Center offices and Blackboard Gallery are at 2222 Ventura Boulevard in Old Town Camarillo. They are open Tuesday 11:00 a.m. to 3:00 p.m., Wednesday through Friday 11:00 a.m. to 5:00 p.m. and Saturday 10:00 a.m. to 3:00 p.m. As many as 40 resident artist studios at the Center's campus across from the gallery are open to the public every First Saturday of the month from 10:00 a.m. to 4:00 p.m. For more information, go to www.studiochannelislands.org or call 805-383-1368.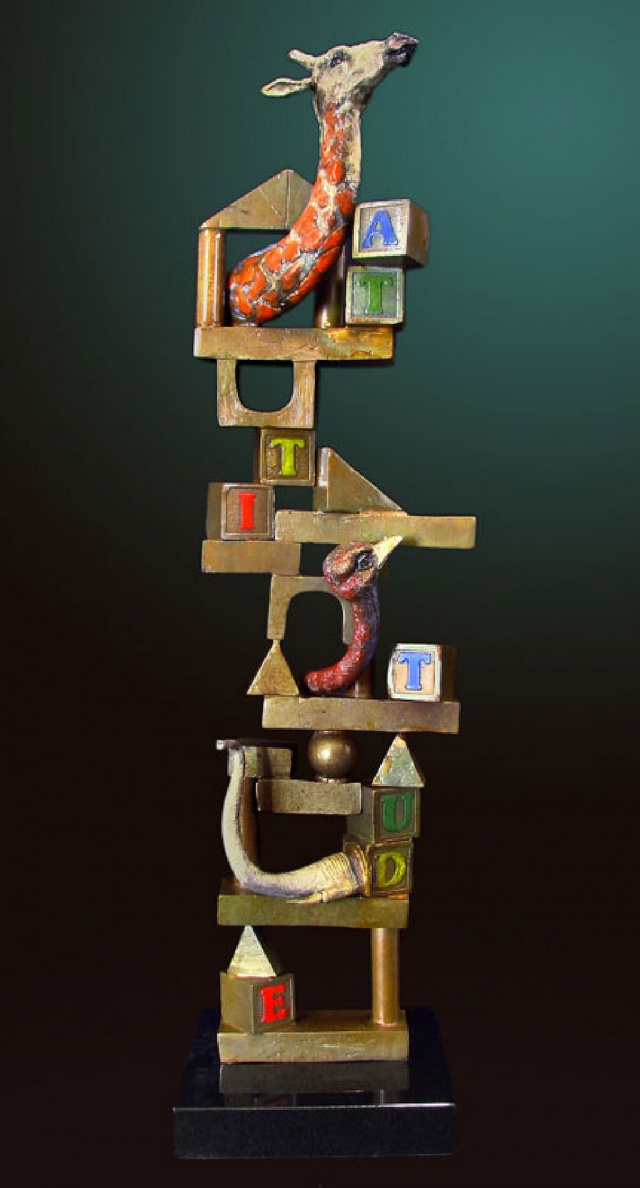 "Building Blocks," a painted bronze sculpture by Glen Tarnowski.
Enlarge Photo
By Gazette Staff Writer — Monday, September 29th, 2014
Graduates span 5 decades and work in various media
THOUSAND OAKS, CA - California Lutheran University is exhibiting a collection of art by alumni in honor of a 50th-reunion celebration for its first two graduating classes.
'ÄúComing Home: Alumni Art Exhibit'ÄĚ opens Thursday, Oct. 16, and continues through Thursday, Jan. 8, in the William Rolland Gallery of Fine Art on the Thousand Oaks campus.A giant, winding, interactive tunnel sculpture by Grant Toland 'Äô06 of Ventura will be installed outdoors from Oct. 6 through Nov. 8.
Several of the artists will discuss their work during a reception from 6 to 8 p.m. Friday, Oct. 17. The opening was scheduled to coincide with Homecoming and Family Weekend, when alumni will return to campus and members of the Classes of 1964 and 1965 will celebrate the 50th anniversaries of their commencements.
The exhibit features a variety of works by alumni who graduated between 1965 and 2009. Michael Lynn Adams '72 of Woodland Hills has exhibited his paintings throughout the world, including at Salon International and Oil Painters of America National.Samantha Fried '06 of Calabasas paints everyday scenes ranging from children at play to a woman window-shopping.Craig Fulladosa '79 of Palmdale specializes in ceramics with natural colors and incised decorations and is also a photographer and graphic artist.
Ben Hengst '07 of Thousand Oaks is a classical figurative painter who earned a Master of Fine Arts degree at the New York Academy of Art. His father, Timothy Hengst '72 of Thousand Oaks, uses Adobe Photoshop to explore color, texture, transparency and the interplay of images in his original photographs. James Huchthausen '65 of Cambria works with fused and stained glass, and his pieces can be found in galleries across the United States and in the United Kingdom.
Abstract artist Margaret Knight '98 of Tustin creates acrylic paintings and photographs in a style she characterizes as chaotic, raw and unedited. The works of glass artist John Luebtow '67 of Chatsworth have been exhibited in the Detroit Institute of the Arts and the Los Angeles County and Tucson museums of art. Christopher Marshall '03 received a Master of Fine Arts in painting from the New York Academy of Art and now works out of a studio in Brooklyn.
Catherine Ferguson Miller '80 of Newbury Park submitted a painting of the view from outside Cal Lutheran's art building that she created as a student. Shelly Moore '06, a Thousand Oaks resident whose work has appeared in the American Museum of Ceramic Art, sculpts clay busts with incomplete heads. Mixed media artist Paul Neuhaus '83, a Minneapolis architect, creates drawings with both two- and three-dimensional appearances and uses architectural materials in art.
Linda Lindberg-Van Nortwick '83 of Rolling Hills paints horses, flowers and Scandinavian figures on the earthenware platters and bowls she creates. Andrea Pappas '05 of Thousand Oaks works in a variety of mediums, and the exhibit features several of her block prints. The allegorical works of painter and sculptor Glen Tarnowski '83 of San Clemente are in many permanent collections including the national galleries of Victoria and Australia.
The Rev. Gregory Uthus '75, pastor of Hill Avenue Grace Lutheran Church in Pasadena, is a painter and sculptor. Carol Virak '66, who owns a gallery in Washington, will have a series of acrylic paintings and a graphite-and-pastel drawing featuring swans in the exhibit. Figurative artist Aihua Zhou '09, who was born in Beijing and now lives in Thousand Oaks, creates plaster and bronze statues and pastel, charcoal and pencil drawings.
Rachel T. Schmid curated the exhibit. University Advancement, Alumni and Parent Relations, and the Ann Peppers Foundation Arts Education Series are sponsoring the free exhibit and reception.
The gallery, which is located in William Rolland Stadium at 160 Overton Court, is open from 10 a.m. to 4 p.m. Tuesday through Friday and 11 a.m. to 3 p.m. Saturday. For more information, call 805-493-3697 or email rollandgallery@callutheran.edu.
By Gazette Staff Writer — Monday, September 29th, 2014
Producer to talk following screening at Cal Lutheran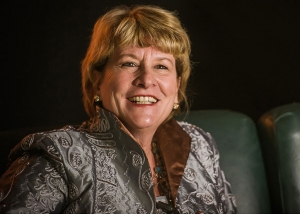 Marilyn Schlitz. Photo Credit: Andrew Holman Photography.
THOUSAND OAKS, CA - California Lutheran University is presenting a documentary and talk on the meaning of death from different perspectives at 7:30 p.m. Tuesday, Oct. 14.
'ÄúDeath Makes Life Possible: Transforming the Fear of Death Into an Inspiration for Living'ÄĚ will be shown in the Lundring Events Center on the Thousand Oaks campus. Writer, producer and director Marilyn Schlitz will then discuss the themes of the one-hour film and answer audience questions.
Schlitz collaborated with author Dr. Deepak Chopra on the 2013 documentary, which they funded through a Kickstarter campaign. The film follows Schlitz as she explores the mysteries of life and death in a variety of world traditions.
Interviews with Chopra, mental health experts, cultural and spiritual leaders, and scientists examine how understanding our mortality influences life. Interviews and evidence are interwoven with personal stories of people facing their own death as well as those who report encounters beyond death.
Sparked by her own near-death experience as a teenager, Schlitz has been delving into the nature of consciousness and death as a cultural anthropologist and scientist for three decades. A researcher, writer and leader in the field of consciousness studies, she is president emeritus of the Institute of Noetic Sciences, a nonprofit organization founded by Apollo 14 astronaut Edgar Mitchell to conduct research into the powers of consciousness. Her extensive publications focus on personal and social transformation, cultural pluralism, extended human capacities and mind-body medicine. She holds a doctorate in anthropology from the University of Texas at Austin.
Cal Lutheran's Religion Department and the United Church of Christ of Simi Valley are sponsoring the free event in the Memorial Just Peace Lecture Series. The church established the series in 2008 in honor of the late James Henry Dekker. As a member of the United Church of Christ in Thousand Oaks and Simi Valley, Dekker was deeply involved in the work of peace and justice. After retiring from Hughes Aircraft Co., Dekker earned a teaching credential from Cal Lutheran and embarked on a second career teaching math and science at Sequoia Middle School in Newbury Park.
Lundring Events Center is located in the Gilbert Sports and Fitness Center at 130 Overton Court.
For more information, contact the Rev. June Goudey at 310-386-8021 or Julia Fogg at fogg@callutheran.edu or 805-493-3237.
By Gazette Staff Writer — Tuesday, September 23rd, 2014
Musical theater production comes to Cal Lutheran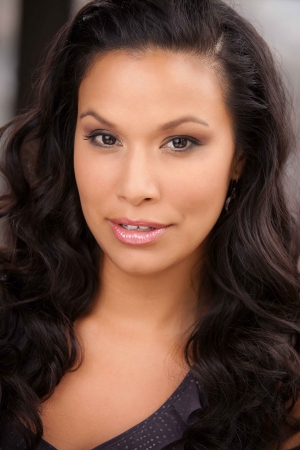 Denise Estrada
THOUSAND OAKS, CA - A free musical theater production based on the lives of three Latin American women will be performed at 7 p.m. Friday, Oct. 10, at California Lutheran University.
Core Ensemble will present 'ÄúTres Vidas'ÄĚ in Samuelson Chapel on the Thousand Oaks campus in honor of Hispanic Heritage Month.
The performance celebrates the lives and work of painter Frida Kahlo of Mexico, peasant activist Rufina Amaya of El Salvador and poet Alfonsina Storni of Argentina. Actress Denise Estrada portrays the roles while interacting with cellist Ju Young Lee, pianist David Berry and percussionist Michael Parola.
The music ranges from traditional Mexican folk and Argentine tango songs sung in Spanish to instrumental works by composers such as Astor Piazzolla. Works by Orlando Garcia, Pablo Ortiz, Alice Gomez, Carlos Sanchez-Gutierrez, Michael DeMurga and Osvaldo Golijov round out the musical score.
The script by Chilean poet Marjorie Agosin offers powerful portrayals of each woman. The storylines include Kahlo's passionate relationship with painter Diego Rivera, Amaya's astounding survival of the massacre at El Mozote, and Storni's challenges as her country's first great feminist poet.
The Core Ensemble has performed throughout the United States and in Australia, England, Russia, Ukraine and the Caribbean. Since its founding in 1993, the ensemble has garnered international recognition for its efforts to commission new works and has been the catalyst in the creation of several works weaving narrative and theater into the chamber music experience. It has received support from the National Endowment for the Arts, Florida's Division of Cultural Affairs, the Florida Humanities Council, BankAtlantic Foundation, the A.D. Henderson Foundation and others.
Cal Lutheran hosted Core Ensemble's production on the lives of three Latin American men in 2013 and another on four African American women in 2009.
The chapel is located at 165 Chapel Lane.
Cal Lutheran's Artists and Speakers Committee is sponsoring the event. For more information, contact Eva Ramirez at 805-493-3349 or eramirez@callutheran.edu.
By Gazette Staff Writer — Tuesday, September 23rd, 2014
Museum of Ventura County Welcomes 3 New Board Members and Announces Officers for the 2014-2015 year at Annual Meeting
As a result of its Annual Meeting this evening, Monday, September 22, the Museum is pleased to announce that the following have joined the board of directors:
John Orr 'ÄďJohn is a fourth generation Ventura County attorney practicing with the firm of Ferguson Case Orr and Paterson, LLP, and manager of a family owned citrus and avocado farm. He has formerly served on the museum'Äôs board of directors, as well as board chair. He serves as president of the board of directors of Del Norte Water Company and as a board member of Index Fresh of California, an avocado handler. John lives on Faria Beach with his wife Stephanie. Their son Nicholas attends Middlebury College where he is a senior.
Esther Wachtell -- Esther is the founder and president of The Wachtell Group, a fundraising and marketing firm specializing in not for profit management throughout the Western United States. She served as Founding Chairman of the Center on Philanthropy and Public Policy at the University of Southern California, and as president of the Ojai Music Festival, currently serving on its Board of Governors. Esther is a director of the Ojai Community Bank and a managing director of the Wachtell Family Partnership. She has 12 'Äúfabulous grandchildren'ÄĚ and has lived in Ojai for 17 years.
Andrea Pfister -- Andrea Haley Pfister is the manager of Haley Properties LLC and is a past Museum board member, including two years as Chair. Previously, she practiced as a CPA in Orange County and was an officer in the Junior League of Orange County and chairman of the board of New Directions for Women. Andrea is married and is particularly proud of her four grandchildren and her long history with Ventura County.
The board also elected its officers for the 2014-2015 year; they are:
John Orr, Chair
Christine Drucker, Vice-Chair
John Lamb, Treasurer,
Pam Small, Secretary
Jeffrey P. Smith, Past Board Chair.
The board approved the appointment of Sue Chadwick as interim executive director, to replace executive director Myron Freedman, who resigned for personal reasons in a communication to the Museum membership in the recent weeks. Ms. Chadwick most recently was senior vice president of Santa Barbara Bank &Trust and is very active with many nonprofit and community organizations in Ventura County.
The Museum of Ventura County is located at 100 East Main Street in downtown Ventura. Hours are 11 a.m.'Äď5 p.m. Tuesday through Sunday. Paid events include free admission to the galleries, and the first Sundays of every month are free general admission for the public. For more museum information go to www.venturamuseum.org or call 805-653-0323.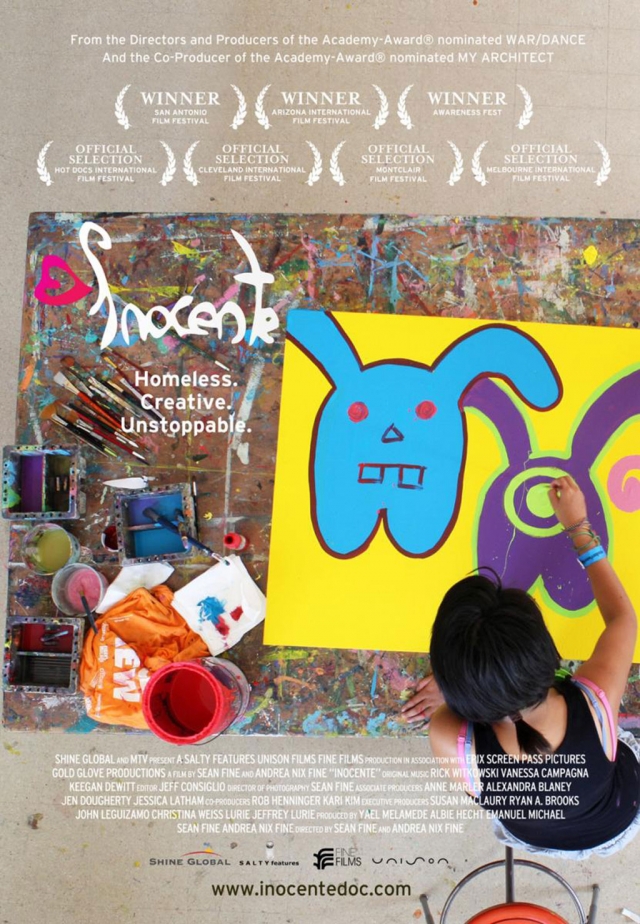 "Inocente"
Enlarge Photo
By Gazette Staff Writer — Wednesday, September 17th, 2014
'ÄėInocente'Äô tells the true story of homeless teen artist
THOUSAND OAKS, CA - California Lutheran University's 2014-2015 Reel Justice Film Series will kick off with an Academy Award-winning documentary on a young artist.
'ÄúInocente'ÄĚ will be shown at 7 p.m. Tuesday, Oct. 7, in Lundring Events Center. A panel discussion will follow.
The 2012 film, which received the Oscar for Best Documentary Short Subject, follows an undocumented, homeless teenager in San Diego as she finds herself and her purpose with help from a nonprofit arts educator.
Inocente's colorful paintings slowly reveal her family history. Her father was deported for domestic abuse. Her alcoholic and overwhelmed mother once took her by the hand to jump off a bridge together. Homeless for the last nine years, Inocente has been shuffling through overcrowded shelters with the threat of deportation hanging over her.
The film was a winner at the San Antonio Film Festival, Arizona International Film Festival, Awareness Fest, EBS International Documentary Festival of South Korea, Heartland Film Festival, Flagstaff Mountain Film Festival, and Women + Film VOICES Festival.
The inspiring film speaks to the importance of arts education and provides a snapshot of the current face of homelessness. There are 1.5 million homeless children in the United States today, and undocumented immigrants make up the largest and fastest-growing segment, according to the filmmakers.
The panel discussion will feature John Puglisi, superintendent of the Rio School District; Nema Pierce, principal of Mariposa School of Global Education in Agoura Hills; and Heidi M. Coronado, assistant professor of counseling in Cal Lutheran's Graduate School of Education. Representatives of Cal Lutheran's student body and alumni who are involved in art will join them.
The Reel Justice Film Series will continue with 'ÄúDallas Buyers Club'ÄĚ on Dec. 2. Cal Lutheran'Äôs Center for Equality and Justice (CEJ) launched the series in 2007 to highlight films that inspire people to address challenging issues of our time.
Cal Lutheran's CEJ, Graduate School of Education, Art Department and Pearson Library are sponsoring the free event. For more information, contact Maureen Lorimer at mlorimer@callutheran.edu or the CEJ at 805-493-3694 or cej@callutheran.edu.
By Gazette Staff Writer — Wednesday, September 17th, 2014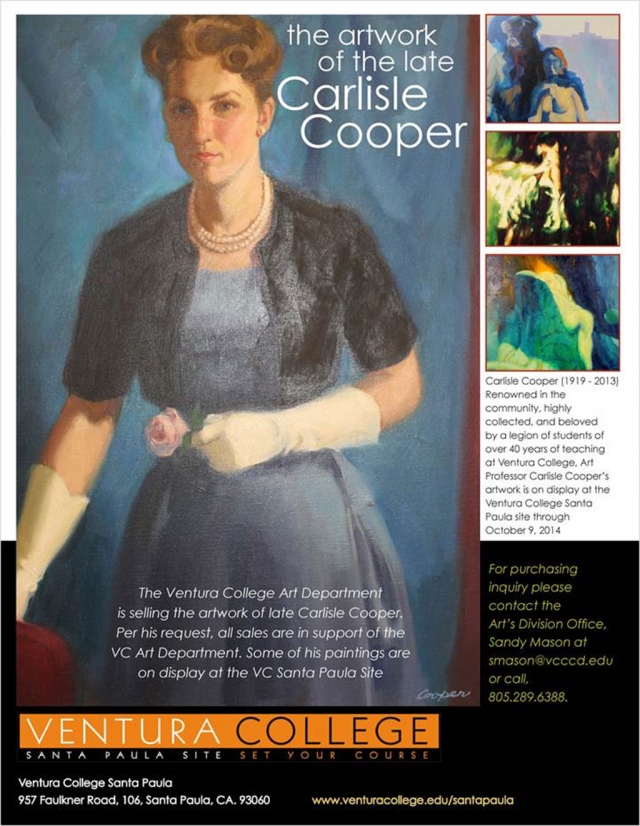 Carlisle Cooper (1919-2013), renowned in the community, highly collected, and beloved by a legion of students of over 40 years of teaching at Ventura College. The Ventura College Art Department is selling the artwork of the late Carlisle Cooper. Per his request, all sales are in support of the VC Art Department. Some of his paintings are on display at the VC Santa Paula Site. Gallery hours are Monday through Thursday, 8:00 a.m. to 8:30 p.m. The site is located at 957 Faulkner Road, 106, Santa Paula, CA 93060.
Enlarge Photo
By Gazette Staff Writer — Wednesday, September 17th, 2014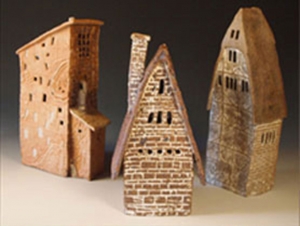 WHAT: Ventura Potters' Guild presents: Ceramic Special Effects of Pete Gerard
WHERE: E.P.Foster Library 'ÄúTopping Room'ÄĚ
651 East Main Street, Ventura, CA 93001 (805) 648-2716
WHEN: Monday, September 22, 2014
Doors open at 7 pm
Program begins at 8pm
Contact: Cecile Gurrola-Faulconer
805-985-5038
The Ventura County Potters' Guild is proud to start off their new year with new location and a program featuring
Guild member Bryson H. "Pete" Gerard.
Gerard quotes playwright Thornton Wilder in his biography: 'Äústyle is but the faintly contemptible vessel in which the bitter liquid is recommended to the world." The styles of Gerard'Äôs ceramic creations do fluctuate slightly in size, shape, color and function. From angled vases tinged in earthen glazes to small 'Äúmedicine pots'ÄĚ who just might be vessels holding the bitter liquid being quenched by this world'Äôs vanity or on the other hand could be filled with life'Äôs sweet secrets. Beyond ceramics, Gerard'Äôs skillfully crafted assemblages also suggest an element of holding more then the eye can see. The wit, craftsmanship and muses Gerard combines in all of his works captivate and some even flirt with the indulgence of functionality.
Gerard began his higher education in the Fine Arts at Pasadena City College and Cal State Long Beach. He achieved his Masters at Cal State Los Angeles after ceramics and photography independent study for a year in Japan. Gerard spent close to 30 years in the working with special effects, miniatures and props in Hollywood, leaving when technology evolved and computer generated imagery took hold. A member of the Ventura County Potter'Äôs Guild, Gerard is enjoying the return to creating original art, 'Äúforever on the look out for the best way to squeeze out the beauty of the moment.'ÄĚ
Clay has always been an integral part of my life, my best most fluent voice. It began when I made a white clay tractor at age 5, that my Dad had glazed and fired.
Gerard's talk will address the artistic process and the techniques he uses to make clay tools. His handmade tools will be available for sale.
The Public is welcome. Free.
By Gazette Staff Writer — Monday, September 15th, 2014
Community discussion of new memoir slated Oct. 1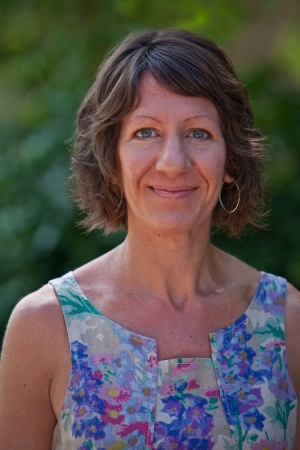 Moderator Jacqueline Lyons
THOUSAND OAKS, CA - California Lutheran University is reviving its Books and Brew series with a community discussion of a new memoir.
'ÄúThe Great Floodgates of the Wonderworld,'ÄĚ a memoir by Justin Hocking, will be the focus of the first book club meeting at 7 p.m. Wednesday, Oct. 1, in Ullman Commons 100. Community members and alumni are invited to join Cal Lutheran students, faculty and staff in discussing the book. Jacqueline Lyons, an assistant professor of English, will moderate. Coffee and cookies will be served.
Hocking'Äôs book, which was released in February, relates his experiences as an unemployed transplant to New York City. After he spots a man hauling a surfboard to the subway, the avid skateboarder becomes a member of a surfing community at Far Rockaway in Queens. His obsession with surfing, as well as 'ÄúMoby-Dick,'ÄĚ grows and helps him as he faces dark times.
In its new format, the free Books and Brew series will also include talks by guest writers. The next event will feature poet Heather Winterer on Nov. 12. Future book club gatherings will focus on 'ÄúThe Way They Say Yes Here'ÄĚ on Dec. 3 and 'ÄúClaire of the Sea Light'ÄĚ on March 4.
The English Department and the Office of Alumni & Parent Relations are sponsoring the Oct. 1 event.
Ullman Commons is located at 101 Memorial Parkway on the Thousand Oaks campus.
To RSVP or for more information, contact Stephanie Hessemer at hessemer@callutheran.edu or 805-493-3161.
By Gazette Staff Writer — Monday, September 15th, 2014
Cal Lutheran to show award-winning 'Äė7 Boxes'Äô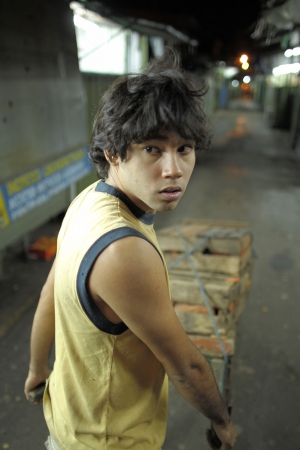 Celso Franco as Victor
THOUSAND OAKS, CA - California Lutheran University will open the second season of its International Film Series with a free screening of the Spanish film 'Äú7 Boxes'ÄĚ on Wednesday, Oct. 1.
The 2012 film from Paraguay will be shown in Spanish and Guarani with subtitles at 7 p.m. at Carmike Thousand Oaks 14.
The PG-13 movie starts on a hot Friday in the labyrinthine markets of Asunción, where a 17-year-old pushcart porter named Victor is promised $100 to transport boxes with unknown contents. He begins his journey accompanied by a hyperactive young woman named Liz and both become involved in a crime without knowing the cause, the victim or the perpetrator.
Directors Juan Carlos Maneglia and Tana Sch√©mbori received the Best Director Award at the Cartagena International Film Festival for 'Äú7 Boxes.'ÄĚ The well-reviewed movie also received the Nueva Vision Award at the Santa Barbara International Film Festival, the Audience Award at the Miami Film Festival and Best Dramatic Film 2012 at the Cockatoo Island Film Festival. Filmmakers since the 1980s, the duo began their successful collaboration in 1990 with a TV miniseries and continued with short films, telefilms and TV series. 'Äú7 Boxes'ÄĚ is their first feature film.
This was the first feature film appearance for young Paraguayan actors Celso Franco as Victor and Lali Gonzalez as Liz. Both have since appeared in two more movies.
The doors will open at 6:30 p.m. Carmike Thousand Oaks 14 is located at 166 W. Hillcrest Drive.
The festival sponsored by the Department of Languages and Cultures will continue with the Italian film 'ÄúCaesar Must Die'ÄĚ on Nov. 12.
For more information, contact Rafaela Fiore Urizar at rfioreur@callutheran.edu.
By Gazette Staff Writer — Wednesday, September 10th, 2014
Cal Lutheran concert also features rarely heard pieces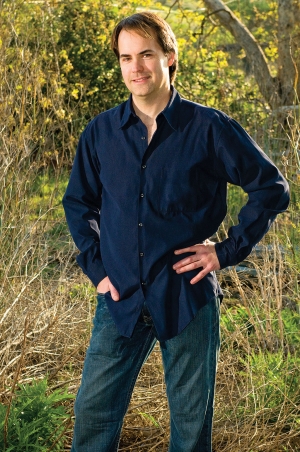 Mark Spraggins
THOUSAND OAKS, CA - California Lutheran University will present a faculty concert featuring an original composition on Friday, Sept. 26.
Members of the Cal Lutheran music faculty will present works for piano and winds, including an original composition by faculty composer Mark Spraggins, at 7:30 p.m. in Samuelson Chapel.
The Faculty Wind Quintet will perform Spraggins'Äô 'ÄúSextet'ÄĚ with the Thousand Oaks resident on piano. Spraggins, who has never written for this combination of instruments before, was influenced by mid- to late-20th-century film music in composing it.
Pianist Eric Kinsley and the Faculty Wind Quintet will also play the rarely heard 'ÄúSextet'ÄĚ by the late 19th-century composer Ludwig Thuille and Francis Poulenc'Äôs popular 'ÄúSextour.'ÄĚ The quintet features Fred Beerstein on oboe, Daniel Geeting on clarinet, Eric Johnson-Tamai on bassoon and Niccole Modell on flute. Jon Titmus will fill in on French horn.
Spraggins is a professor and chairman of the university's Music Department. He is active as a composer, musician and educator in music technology. His music has been performed throughout the United States and in Norway, Sweden, France and Italy. He is also composes and produces soundtracks, having created music for History Channel and A&E Network programs. Recent projects include the trailer to "Everdawn" and arranging and playing piano on commercial music productions. The director of Cal Lutheran's Music Production program built and maintains multiple state-of-the-art audio workstations for student music production and recording.
Kinsley has been a member of the New York Contemporary Music Band, Pacific Classical Winds and the Manhattan Chamber Orchestra. Beerstein is a member of the Thousand Oaks Philharmonic and New West Symphony and also has performed with the Los Angeles Philharmonic, the Orpheus Chamber Orchestra and the Pacific Symphony Orchestra. Geeting has played on soundtracks for motion pictures and television and has performed extensively as a recitalist. Johnson-Tamai has played with the Los Angeles Philharmonic, California Philharmonic and Cabrillo Music Theatre. Modell performs regularly with the Thousand Oaks Philharmonic, Westlake Village Symphony and Channel Islands Chamber Orchestra. Titmus is a longtime Ventura County resident who has performed in all the area's major music groups.
Donations will be accepted. Samuelson Chapel is located at 165 Chapel Lane on the Thousand Oaks campus. For more information, call the Music Department at 805-493-3306 or visit CalLutheran.edu.