1,000 golden figures featured in exhibit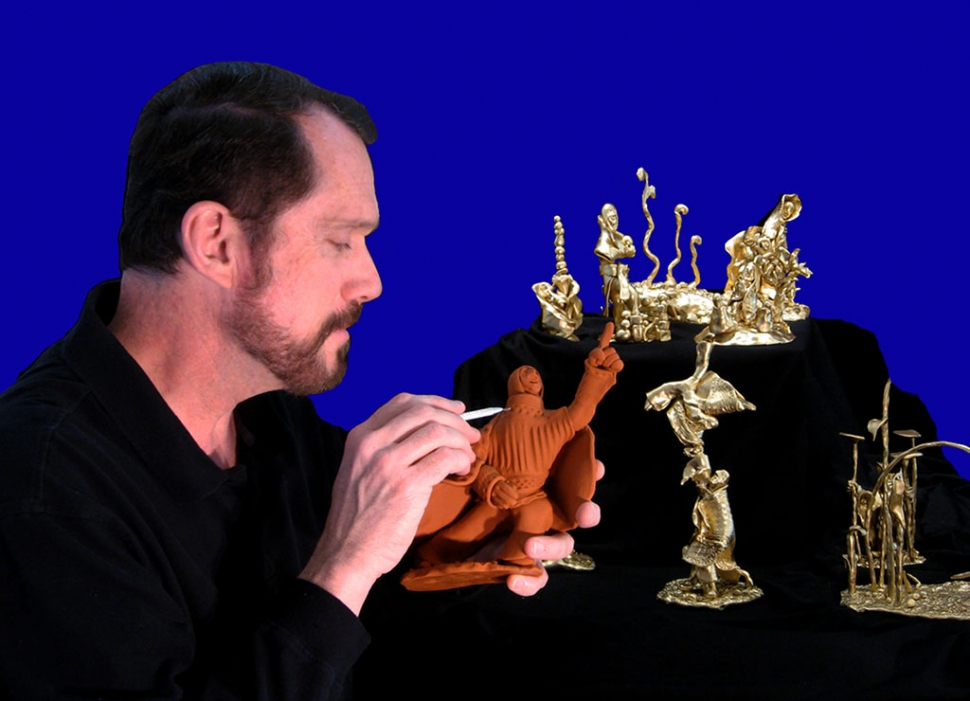 Gerald Zwers and the "Golden Paladins"
By Gazette Staff Writer — Tuesday, November 18th, 2014
Local artist's 'Dream of Utopia' at Cal Lutheran
THOUSAND OAKS, CA - More than 1,000 gold sculptures of heroic figures by Santa Paula artist Gerald Zwers will be the centerpiece of an exhibit at California Lutheran University from Dec. 2 through Feb. 4.
A reception for the "A Dream of Utopia" installation, which will also include more than 50 paintings and drawings, will be held at 7 p.m. Saturday, Dec. 6, in Kwan Fong Gallery of Art and Culture.
After reading about the clay warriors and horses buried with China's first emperor to protect and accompany him in the afterlife, Zwers considered who would populate his perfect world and began to sculpt the "Golden Paladins" featured in the exhibit. In a yearlong artistic flurry, he created the shining gold sculptures and a collection of line drawings. The figures each belong to a family that represents different acts of goodness such as "The Spreader of Joy" and "The Inventor of New Things." Zwers' hope is that the figures prompt people to consider what they can do to make the world a better place. His 2011 book, "The Golden Paladins: Neo Spiritual Art for the Heroic Champion Inside All of Us," offers ideas for producing positive change.
Zwers has found his passion creating what he calls neo-spiritual artwork, which celebrates the amazing richness of the human spirit. The award-winning artist typically generates several hundred works of art each year. They include multimedia pieces that range from postage stamp-sized miniatures to large public murals. His works have been installed in various corporate and municipal venues and include two bus shelter murals in Ventura. Collectors in nearly all 50 states and nine foreign countries have acquired his work.
He has a background in art conservation and has owned several galleries in California. He currently works from multiple studios in Southern California.
In 2013, Zwers received the Artist in the Community Mayor's Arts Award from the city of Ventura. Committed to community service, he has served on the board of directors of several nonprofit agencies and helped launch a hospice program. He has served in leadership roles for arts organizations and school site councils and has worked with youth groups including Big Brothers/Big Sisters and scouting programs. He was a founding museum board member and was appointed to the Ventura County Arts Commission.
The gallery is located in the Soiland Humanities Center on the south side of Memorial Parkway on the Thousand Oaks campus. It is open from 8 a.m. to 8 p.m. Monday through Saturday. Parking is available in the lots on Mountclef Boulevard.
Cal Lutheran's Art Department is sponsoring the free exhibition and reception. For more information, call Michael Pearce at 805-444-7716 or visit CalLutheran.edu/kwan_fong.