"50-70-90" photography exhibit at Ojai Coffee Roasting Co.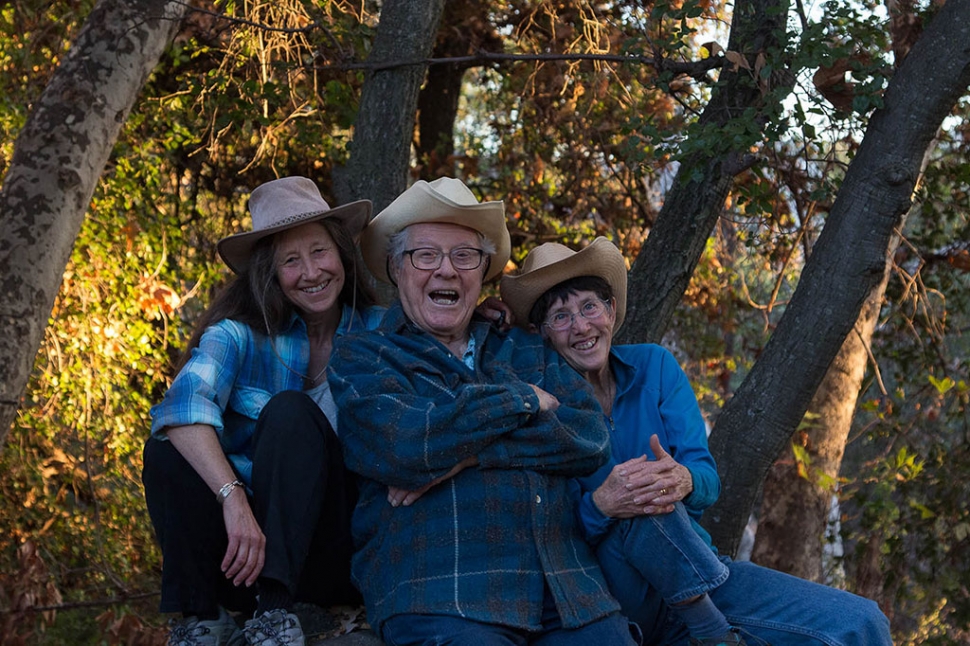 (l-r) Sally Carless, Phil Harvey and Myrna Cambianica. Photo by Sally Carless.
By Ojai Photography Club — Tuesday, November 4th, 2014
Three friends have joined together with "50-70-90," a photography exhibit at Ojai Coffee Roasting Co., 337 E. Ojai Ave., Ojai, CA. The exhibit runs through Nov. 30, 2014.Participating photographers Phil Harvey, Myrna Cambianica and Sally Carless are members of the Ojai Photography Club. Their show, about the beauty of the natural world, is grounded in the beauty of their friendship. The multi-generational photographers—one in her 50s, one in her 70s, and one in his 90s—share their love of photography, nature, and each other. Each has their own style and interests: Harvey focuses on majestic landscapes, Carless creates intimate portraits of wild animals along with documenting Ojai's bald eagles, and Cambianica gets up close with fine art images and photo montage. Some of their recent exhibits include Ojai City Hall, Ojai Community Bank, Ojai Art Center, and several years exhibiting together at the Art Detour.
Harvey has been an artist and nature photographer for over thirty years. He has an eye for the light of life as he creatively captures the essence of those moments that take one's breath away. This gifted photographer expresses this essence in his collection of "Mystique of Ojai" images. He founded the Ojai Camera Club in 1984, and this group continues today as the Ojai Photography Club.
A man of many talents, Harvey has a long history as a professional actor/singer in opera, light opera, television and movies. He was the Musical Director at the Ojai Presbyterian Church for 15 years, andfounded the Ojai Community Chorus in 1987. He received the City of Ojai's "Lifetime Achievement in the Arts Award" in 2003, the Rotary Club honored him as an Ojai "Living Treasure" in 2010, and two of his photographs were accepted for the City of Ojai's permanent collection in 2014.
Carless sees photography as a way to feed the soul; to educate, inspire, and remind us of the beauty that surrounds us in every moment. She will be displaying images from her two most recent projects: "A Year with the Eagles"– photographs and videosdocumenting Ojai's first bald eagle family in over 90 years and "Portraits as Portals: An Invitation" – intimate soulful portraits of wild animals that provide an opportunity to see and experience the animal world in a new way.
Carless's photography has been published by organizations such as the U.S. Forest Service, the National Radio Project, the Sacred Land Film Project, the WinnememWintuTribe, and several local nonprofit organizations such as the Ojai Raptor Center and the Ojai World Music Festival. Her work was recently awarded First Place at the Ojai Center for the Arts "Reflect" photographic exhibit. Also an educator, musician, and writer, Carless is the founding director of Global Village School (www.globalvillageschool.org) Visit her website at: www.sallycarless.com/photography.htm
Cambiancia is a former restaurateur. Retirement allowed her time to enroll in photography classes at Ventura College between 1999 and 2002 with professor William Hendricks. She has been an active active member of the Ojai Photography Club for 16 years and Education Chair and mentor for beginning photographers for the past 14 years. From 2004 to 2013 she served under Roger Conrad on the Ojai Art Center Photo Branch Committee. Her images often encompass the cycle of life from birth to death to re-birth and evoke thoughts of fragility, transformation, and impermanence. Her current work has extended into the exploration of photomontage.
The public is invited to stop by, enjoy a coffee or some great food, and view the work of these award-winning photographers. Ojai Coffee Roasting is open from 5:30 am to 6 pm, 7 days a week.