Creating the first "HOLOS" Public Artwork for Peace in Ojai, CA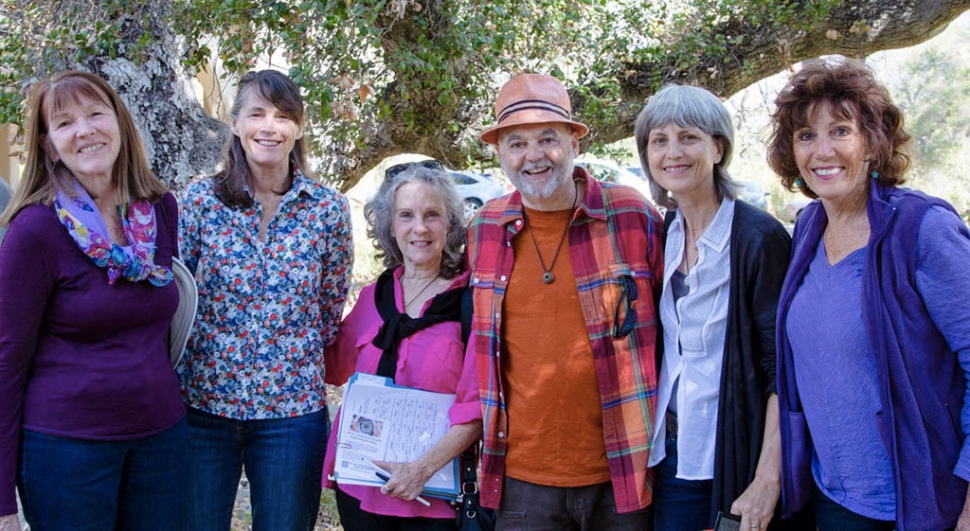 The Ojai Peace Pod by photographer David Baker. Pictured (l-r) Anahato Pomeroy, Kathy Nolan, Julie Heyman, Brian Berman, Lisa Berman and Dianne McCourtney
By Myrna Cambianica — Wednesday, November 12th, 2014
On November 20, at 7p.m., The Ojai Retreat proudly presents Brian Berman, local sculptor and member of Ojai Studio Artists, and Julie Heyman, peace cultivator. They will share a vision for"HOLOS," a public artwork for peacethatwill be produced and installedin the City of Ojai on International Peace Day, Sept. 21, 2015.
Berman will give a visual presentation on the evolution and meaning of the "HOLOS" design. Heyman will let us know what it means to be an International City of Peace. David Henderson will perform "Whispers of the Trees," a piano piece which he composed for International Peace Day.
Audience participation will be welcome in the discussion, as part of the vision of this "two-peace" initiative, and how it can evolve into building a culture of peace for members of the community.
The Ojai Retreat, 160 Besant Rd. Ojai, CA. Suggested donation is $10, but no one will be turned away. For full information call:(805) 640-1142