By Steve Conaway — Friday, January 28th, 2011
Flashes Wrestling: Alex vs Santa Paula

Flashes Wrestling: Christian vs Santa Paula

Flashes Wrestling: Jonathon vs Santa Paula

Flashes Wrestling: Kyle vs Santa Paula

Flashes Wrestling: Robert vs Santa Paula

By Steve Conaway — Thursday, January 27th, 2011
Flashes fail to overtake the Cardinals
The Flashes traveled to Santa Paula Wednesday night for a schedule Tri-Valley League Wrestling Match. To prepare for the match Coach Cal pulled up several JV Flashes wrestlers to fill holes in the roster in the hopes that they could add to the team points. This was the first time this season the two teams lined up across the mat from each other. The wrestling action was fast paced and action packed. Fans from both schools made their presence known early on by the thunderous cheers during each match. Alex Rivera and Jonathon Minero both showed good control of their opponents. Kyle Castaneda and Christian Conaway all won their matches by points after each going 3 full rounds. Both wrestlers had been fighting colds all week and reported for duty in the best shape possible. Robert Bonilla, Team Co-Captain started his match off in an aggressive manner which resulted in a fast pin. Sammy Orozco won by forfeit. The final team score was Santa Paula 48, Fillmore 30. Individual match videos can be viewed below.
Upcoming Flashes Wrestling Schedule
2/1/11 New Jewish Community will travel to Fillmore for a 6 PM match.
2/3/11 Flashes travel to New Jewish Community for League Finals.
2/5/11 Flashes travel to Chaminade. This is a double elimination tournament.
Date unknown CIF Team Finals
Date unknown CIF Individual Finals
By Gazette Staff Writer — Wednesday, January 26th, 2011
By Gazette Staff Writer — Wednesday, January 26th, 2011
We still have positions available for our Raiders board we are looking to fill. (2) Snack bar Managers (1) Equipment Manager & Members at Large. Our next board meeting will be held February 8th at 6:30 P.M. at Mountain Vista Elementary School. All applications must be submitted to our Secretary or delivered to PO Box 34 Fillmore, Ca 93016 no later than 48 hours prior to meeting date and time. Information and applications can be found on our website at fillmoreyouthfootball.net or you may contact our President John Holladay at 7976804 or our Secretary Kristen Dollar at 216-9027 for further information.
By Steve Conaway — Monday, January 24th, 2011
The Flashes Varsity Wrestling Team was idle this past week due to the rescheduled league match with New Jewish Community. Wrestling resumes this Wednesday, 1/26/11, when the Flashes travel to Santa Paula for the schedule Tri-Valley League match against the Cardinals. This is an important match for the Flashes as they work to place themselves in position for the League Championship.
The match will take place in the Santa Paula gym and is set to begin at 6:00 PM. JV will take to the mat first followed by the Varsity.
By Steve Conaway — Thursday, January 20th, 2011
The Flashes Wrestling Match scheduled for 1/20/11 at 6:00 PM has been canceled. Stay tuned for more information.
By Gazette Staff Writer — Wednesday, January 19th, 2011
By Steve Conaway — Wednesday, January 19th, 2011
By Steve Conaway — Wednesday, January 19th, 2011
By Steve Conaway — Wednesday, January 19th, 2011
By Steve Conaway — Wednesday, January 19th, 2011
Wrestling Explained
By Steve Conaway — Wednesday, January 19th, 2011
The 1/19/11 Fillmore Flashes Wrestling match scheduled against New Jewish Community for 6 PM has been postponed till 1/20/11. Weigh-ins and warmups begin at 5PM with wrestling set to start at 6 PM in the Flashes gym.
This is the second league match for the Flashes. As previously reported the Flashes are coming off an excellent performance at the Highland 10 Way this past weekend and ready to take control of the mat come Thursday night.
By Steve Conaway — Sunday, January 16th, 2011
Flashes Wrestlers make presence known at the Highland 10 Way
Wrestling is the ultimate "mano e mano" sport. One ring, one referee, two wrestlers equally matched in weight, no special equipment except the desire of heart, physical strength, skills and ability.
14 wrestlers make up a complete team. The Fillmore Flashes roster is filled with holes in the lineup which is a huge disadvantage with wrestling team tournaments or when making a run at the League Title. That does not discourage the Flashes from making their presence known on the mat. On 1/14/11 and 1/15/11 The Flashes traveled to Palmdale for the always tough Highland 10 Way Tournament. The following schools competed at the 2011 Highland 10 Way; Highland, Palmdale, Antelope Valley, Knight, Eastside, Chatsworth, Upland, Agoura, Lancaster and Fillmore.
Competing for the Flashes were Francisco Enriqez at 103 pounds, Felicity Zavala at 112, Robert Bonilla at 119 pounds, Mark Zavala at 130 pounds, Kyle Castaneda at 135 pounds Jonathon Minero at 140 pounds, Alex Rivera at 145 pounds, Christian Conaway at 152 pounds, George Orozco at 189 pounds, Sammy Orozco at 215 pounds.
Fillmore wrestled Highland, Agoura, Chatsworth, Palmdale, Upland, Knight, Eastside and Lancaster over the 2 day tournament. While the Flashes gave up points due to vacancies on the roster, when measured Head to Head (the total score of those that wrestled) Fillmore beat every school with the exception of one. 7-1 Head to Head standings is an outstanding performance for Fillmore. After the Highland 10 Way the competition knows who the Fillmore Flashes are and what they are capable of.
The medals speak for themselves.
Sammy Orozco went 8 – 0. He took 1st Place at 215 pounds.
Christian Conaway went 7 – 1. He took 2nd Place at 152 pounds.
Kyle Castaneda went 6 – 2. He took 4th place at 135 pounds.
Mark Zavala went 7 – 1. He took 2nd place at 130 pounds.
Quickest pins went to Christian Conaway who had one pin in 11 seconds against Lancaster. Kyle Castaneda also jumped on the quick pin club with a 14 second pin against Lancaster.
Outstanding performances were turned in by Felicity Zavala who wrestled at 112 pounds. She went three full periods, 6 minutes of Varsity wrestling, against her male opponent from Highland. She also pinned her male opponent from Chatsworth!
Sammy Orozco put on a clinic of shear bull strength against much bigger opponents. To quote Coach Cal "You can't out bull THE Bull". George Orozco went 4 – 4, all 4 wins by pin. Oh, did I mention that George and Felicity are Freshman?
On 1/14 Robert Bonilla wrestled at 119 pounds and was 3 – 1 that day. To celebrate he ate a Double double and fries. Come Saturday morning he was 1.6 pounds over his weight limit. Prior to weigh-ins he ran and worked up a sweat and spit is body dry. He stepped on the scales and lost 1.2 pounds, which put him over his weight allowance by .4 pounds. A lessor wrestler might let that steal their mojo, but not Co-Captain Bonilla, he shrugged it off and moved up to 125 pounds and went 4 – 0 on Saturday.
The Highland 10 Way was an excellent skills test for the Flashes. Log on to Coach Cal's post match interview for his comments.
Comments welcome.
By Gazette Staff Writer — Wednesday, January 12th, 2011
By Gazette Staff Writer — Wednesday, January 12th, 2011
By Gazette Staff Writer — Wednesday, January 12th, 2011
A student of Perce's Kenpo Karate Studio in Fillmore earns his 1st degree black belt. Student Jessie Stuthers tested on December 11,2010 in Oxnard at the Flores Brothers Kenpo Karate Studio. Jessie is the first adult to achieve a black belt at Perce's Kenpo Karate.
The testing lasted for over two hours and had over eleven black belt judges. This was Jessie's best test. "He has put a lot of time and effort into his training," said Paul Perce owner and head instructor of Perce's Kenpo Karate. Jessie has been training at Perce's Kenpo Karate for over 14 years. He has a busy schedule with work, family and church. His dedication as a student has shown perseverance. Throughout the years Jessie has exhibited the 6 Principles of Black Belt: modesty, courtesy, integrity, self-control, perseverance, and indomitable spirit. Jessie also received a promotion to instructor at the testing. He will continue to teach and demonstrate for the karate studio. He is looking forward to training more and harder for his 2nd degree black belt test.
Congratulations Jessie. For more information contact Perce's Kenpo Karate at (805) 524-6870.
By Gazette Staff Writer — Monday, January 10th, 2011
Dates: Sat. Jan. 29 from 9 a.m. to 1 p.m. in both Fillmore and Santa Paula. Late registrations will be during the first week of practice, if there are still openings.
Practices begin Mon., February 14 at 6:00 p.m. at Fillmore High School track. Practices last approximately one hour and are four days per week, Mon. thru Thur. Track meets will be held every Sat. beginning Mar.19 until May 21, 2011. No experience is necessary.
Parent volunteers are required to assist with track meets and anyone interested in coaching or assisting is encouraged to check with President Julian Morral (805) 612-7442.
Ages: Birthdates between 1995 and 2005.
Cost: $110 first child, $100 additional children in family. Cost includes uniform, photos, ribbons/medals, meets and practices. A separate $50 check (per family) for refundable deposit is required to ensure parent participation. New athletes must show birth certificates.
Please check the website for specific locations and more details: www.hvblazers.org. or call Julian Morral (805) 612-7442 or Maria Hernandez (805) 340-1240 for more information.
By Gazette Staff Writer — Tuesday, December 28th, 2010
Registration for the 2011 Fillmore Girls Softball, Mini-sox and T-Ball Recreation Season will be happening soon! Registration dates are: Saturday, January 8th and 15th at the Fillmore Middle School Pavilion from 9:00am to 12:00pm; and Wednesday, January 12th and 19th at San Cayetano Elementary School Cafeteria from 6:00pm to 8:30pm.
Registration fees are $110 for Softball, and $95 for T-ball and Mini-Sox. Each player will be required to sell $40 in raffle tickets which will be pre-paid at registration. Boys T-Ball age requirements are 4 ½ to 6 years as of April 30, 2011; Girls Mini-Sox ages 4 ½ to 6 years as of January 1, 2011, and Girls Fastpitch Softball ages 6 to 14 years as of January 1, 2011. A copy of your child's birth certificate is required at registration.
Try-outs will be held January 29th at Shiells Park from 12:00pm to 4:00pm. Late sign-ups will be accepted at try-outs but will be assessed a $25 late fee. Softball parent meeting to be held January 31st, 7:00pm at the Fillmore Middle School. Mini-sox and T-ball parent meeting to be held February 1st, 7:00pm at the Fillmore Middle School. Practices scheduled to start February 2nd, with Opening Ceremonies to be held Saturday, March 5th.
By Gazette Staff Writer — Wednesday, December 15th, 2010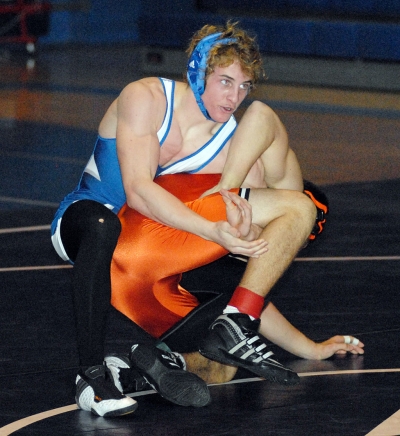 Above Christian Conaway took first place in the 160 pound division. Conaway went 10-0.
Enlarge Photo
Sammy Orozco wrestles his opponent during last Wednesday match.
Enlarge Photo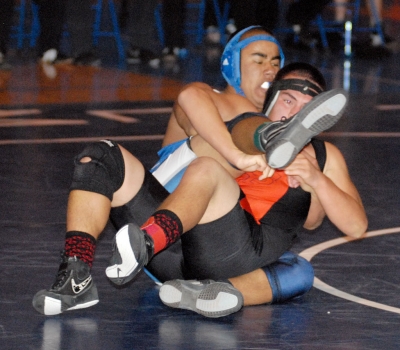 Marco Vega gets his opponent all twisted during the match.
Enlarge Photo
The Flashes Wrestling Team is off to a solid start for the 2010-2011 season. Returning as Head Coach for his 24th year is Robert Calderon. He is assisted by Coaches Manual Ponce, David Navarrette, Julian and Domique Ramirez and Froggy Estrada
Wrestling is the ultimate strength and conditioning sport for athletes. A varsity wrestling match is comprised of 3, 2 minute periods. Wrestlers seek to gain control over their opponent with the goal being a pin, which results in a 6 team points. A wrestler earns points by the following means: Takedown 2 points, Reversal 2 points, Escape 1 point, Near Fall 2 points, Near Fall 3 points and a Pin is match over. A "Tech" win is when a wrestler racks up 15 points above their opponent before the match is ended. A Tech win results in 5 team points.
Wrestlers need to have strength, stamina, speed, flexibility and technique to be successful on the mat. It's not uncommon to see serious wrestlers lifting weights and doing cardio workouts then report to practice for 2 hours. It's a sport for real athletes.
For their opening match the Flashes hosted Santa Ynez on 12/8/10. As a team Santa Ynez won, but several Flashes wrestlers kicked off their individual efforts with a commanding performance.
The Flashes traveled on 12/10 & 11 to the Camarillo 10 Way. The Flashes wrestled Lompoc, Harvard Westlake, Santa Maria, San Luis Obispo, Camarillo, Rio Mesa, Pacifica, Lakewood and El Camino Real. Christian Conaway took 1st place at 160 pounds in the tournament after going 10 – 0 (6 pins, 1 tech win, 1 win by medical forfeit where the opponent couldn't finish the match, and 2 byes). Mark Zavala took 4th place at 135 pounds after wrestling 7 – 3. The Flashes have a young team with only 4 wrestlers being Seniors (Conaway, Castaneda, Enriquez, Becerra), which means the program is in a building phase and bodes well for the 2011-12 season.
The Flashes are led by Team Captains Robert Bonilla and Christian Conaway. The Varsity team is comprised of Francisco Enriquez, Felicity Zavala, Robert Bonilla, Mark Zavala, Alex Rivera, Jeremy Martinez, Kyle Castaneda, Christian Conaway, Juan Becerra, Sammy Orozco, Marco Vega.
"I have high expectations for individuals on the Varisty Team this season. We've got a core group of extremely dedicated wrestlers who should place well" said Coach Calderon.
By Gazette Staff Writer — Wednesday, December 15th, 2010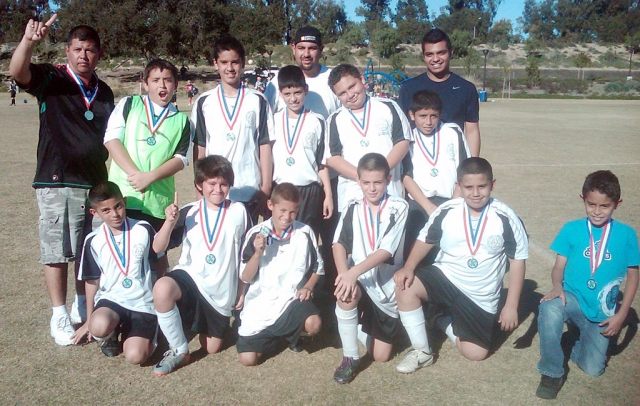 Congratulations to FILLMORE AYSO WHITE TIGERS U-12 team for winning the Championship this weekend defeating Santa Barbara 7-2. They will now go to Bakersfield to represent Ventura/Santa Barbara County in February 2011. Top Row: Coach Shorty Andrade, Anthony Cervantes, Issac Torres, Alex Mendoza, Coach Ernie Alcaraz, Jose Alamillo, Luis Salgado, Coach Andy Diaz. Bottom Row: Christian Andrade, Christian Rosales, Angel Velez, Andy Arana, Jess Ballesteros and Jairo Rios. Way to go Boys!!!
Enlarge Photo