By Gazette Staff Writer — Wednesday, June 23rd, 2010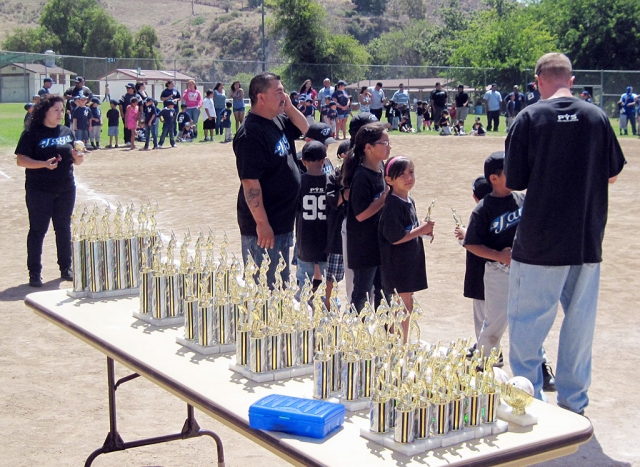 Children were presented with trophies at closing ceremonies in Piru. (Photos courtesy Andy Arias)
Enlarge Photo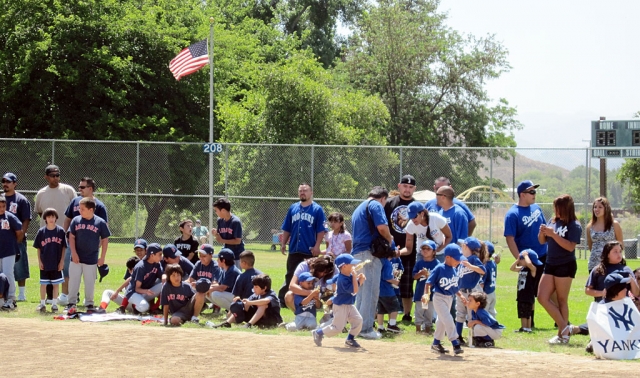 This past weekend Piru Youth Sports Baseball held closing ceremonies at Warring Park.
Enlarge Photo
By Gazette Staff Writer — Wednesday, June 16th, 2010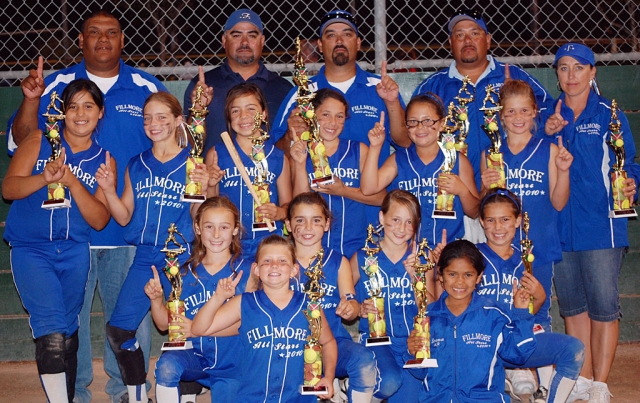 Fillmore went undefeated this weekend in Camarillo beating teams from Northridge, Hart, Camarillo and Ventura to take first place. Manager Leo Venegas, Coach Daniel Felix, Coach Frank Carrillo, Coach Danny Ibarra, and Coach Carina Crawford. Top Row- Marisa Felix, Chloe Stines, Tots Cervantes, Sami Ibarra, Tori Villegas, Middle Row- Kasey Crawford, Kayla Carrillo, Emma Couse, Cali Wyand Bottom Row- Lindsey Brown and Leana Venegas.
Enlarge Photo
By Gazette Staff Writer — Wednesday, June 9th, 2010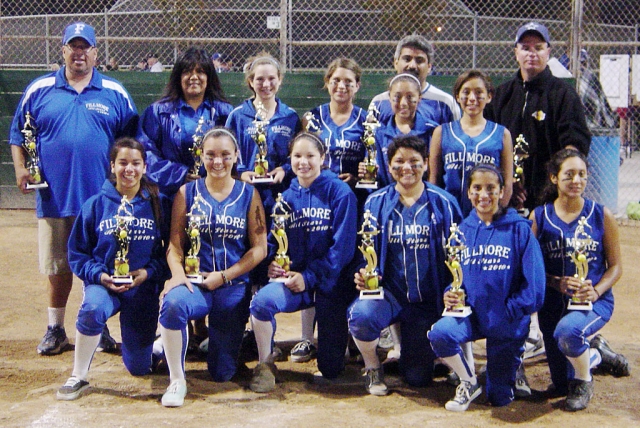 Fillmore Girls Softball 14 & under All-star team took second place at the Camarillo Tournament. Defeating Camarillo Silver 7-4 and Ventura 16-2 on Saturday. We started off Sunday defeating Simi 3-2 and Northridge 3-2, but lost in the Championship game 5-2 to Camarillo Gold. Pictured top row, left to right-Coach Bill Vassaur, Manager Desiree Campos Tarango, Niki Spencer, Jordyn Vassaur, Brooke Pimentel, Coach Hector Olvera, Santana Carrera and Coach John Spencer. Bottom Row- Cheyanne Tarango, Kayla Grove, Anyssa Cabral, Angelic Murrillo, Sarena De La Cruz and Sarah Lopez. Not pictured Erika Olvera. Courtesy of Desiree Campos.
Enlarge Photo
By Gazette Staff Writer — Tuesday, June 8th, 2010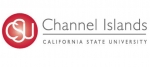 California State University Channel Islands
Camarillo, Calif. June 7, 2010 – CSU Channel Islands (CI) has announced the first step in the creation of an ambitious athletic program for both men and women. Carl Reed, CI's Director of Athletics, announced that intercollegiate women's soccer would be the first sport in an ongoing athletic roll out.
Reed began planning for the team in May of 2009. Since the school is based on the principle of shared governance, input was sought from faculty, staff and students on the development of the athletic program. Reed stated, "Having women's soccer as our first sport made sense for CI. Looking at the soccer landscape here in Ventura County, from high schools, AYSO, soccer clubs and the programs at the community colleges, it was clear there was talent and interest in the sport."
In fall 2010, CI will begin to interview Head Women's Soccer Coach candidates so there will be a Head Coach in place by January 2011. Coaches will begin building their programs throughout the winter. Prospective players will be recruited from existing CI students, community colleges and high school seniors who will be attending CI in fall 2011.
Fall 2011 will see intensive team training and skill building, coupled with limited scheduled competitions. Carl Reed said the team, as the first entry of the athletic program, will have everything it needs to compete and be successful, create interest and build student and community support for the University's athletic efforts. Reed mentioned that men's golf is seriously being considered as the University's second team sport in the future if sufficient private funding has been raised to support the program.
The women's soccer team will be officially launched with a full-time Division II playing season in fall 2012.
For information on the women's soccer program and opportunities to get involved, contact athletics@csuci.edu.
CSU Channel Islands is accredited by the Accrediting Commission for Senior Colleges and Universities of the Western Association of Schools and Colleges.
CI Mission Statement
Placing students at the center of the educational experience, California State University Channel Islands provides undergraduate and graduate education that facilitates learning within and across disciplines through integrative approaches, emphasizes experiential and service learning, and graduates students with multicultural and international perspectives.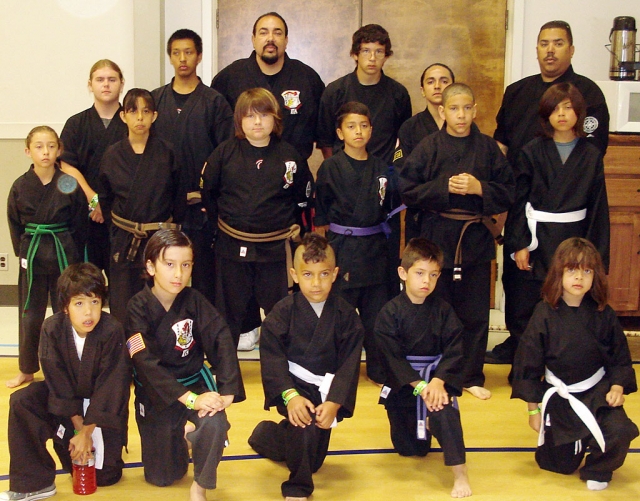 Perce's Kenpo Karate studio participates in Karate Tournament in Oxnard.
Enlarge Photo
By Gazette Staff Writer — Wednesday, June 2nd, 2010
Perce's Kenpo Karate studio recently competed in a Karate Tournament in Oxnard. It was held on May 22nd at St. Johns Lutheran Church. There were over 110 participates from all over Southern California. Kata Division results were: White-Purple Belt 5-8 yrs. old. 3rd place Gabriel Tovar. 4th place Desirae Topete. Participation Justice Rodriguez. White-Yellow Belt 10-12 yrs. old 4th place Gabriel Martinez.
Orange-Purple Belt 6-7 yrs. old. Participation Dave Bustos Jr.. Orange-Purple Belt 11yrs. old 1st place Alex Turcios. Green Belt 6-10 yrs. old 4th place Faith Bustos. Participation Blake Boren. Jr. Brown 9yrs. old 3rd place Tyler Bode. Jr. Brown 9-11yrs. old 3rd place Iliana Hernandez. Jr. Brown 11 yrs. old 4th place Angel Rodriguez. Green-Brown-Black Belt 12-17 yrs. old 3rd place Andy Topete. 4th place Samuel Hernandez. Participation Anthony Murray.
Jr. Self-defense 4th place Anthony Murray. Adult Self-defense 2nd place Juan Rodriguez. Jr. showmanship 2nd place Iliana Hernandez. Adult showmanship 1st place Andy Topete. 4th place Samuel Hernandez. Sparring Divisions: White-Green Belt 5-6 yrs. old 3rd place Dave Bustos Jr.. Blue-Green 13-14 yrs old. 2nd place Javier Rodriguez.
By Gazette Staff Writer — Wednesday, June 2nd, 2010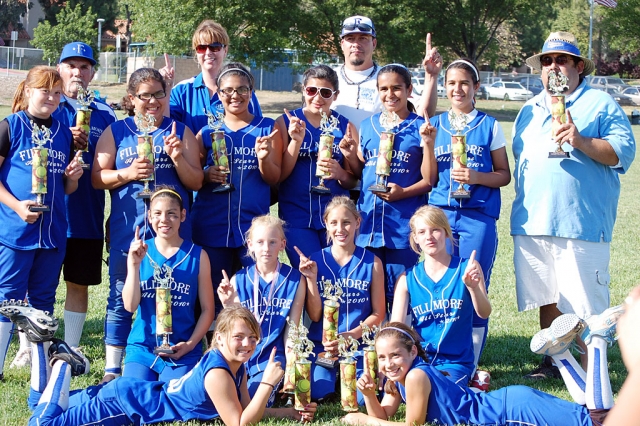 Fillmore 12U Allstars went undefeated throughout the weekend facing teams from Simi, Northridge, Santa Monica and Westlake-Agoura (WAGS). Fillmore would face off with undefeated Camarillo in the championship game handing them their first defeat of the weekend winning 9-6. Coaching staff: Joe Cabral, Shelley Huerta, Mgr. Santos Garcia, Leo Meza. Standing: Karissa Ibarra, Lilly Duran, Serena Venegas, Cielo Meza, Sierra Huerta, Bailey Huerta. Kneeling: Leah Meza, Taylor Brown, Sonya Gonzales, Jordyn Whittaker. Macia Wokal, Kayla Garcia (front).
Enlarge Photo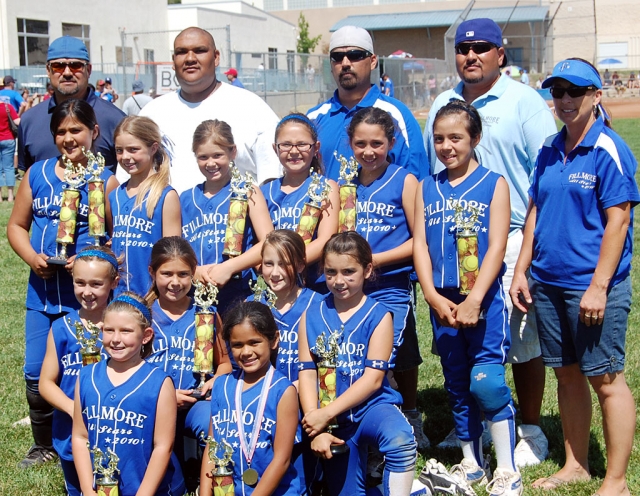 Fillmore 10U AllStars defeated Simi after going into an international tie-breaker in the semi-final game to go on and beat WAGS 8-1 in the championship game at the Thousand Oaks Memorial Day Tournament this weekend. Pictured above: top row Coach's Daniel Felix, Manager Leo Venegas, Frank Carrillo, Danny Ibarra, and Carina Crawford. Standing: Marisa Felix, Chole Stines, Tori Villegas, Sami Ibarra, Maddie Charles, Tots Cervantes. Kneeling: Kasey Crawford, Cali Wyand, Emma Couse, Kayla Carrillo. Bottom Row- Lindsey Brown, Leana Venegas.
Enlarge Photo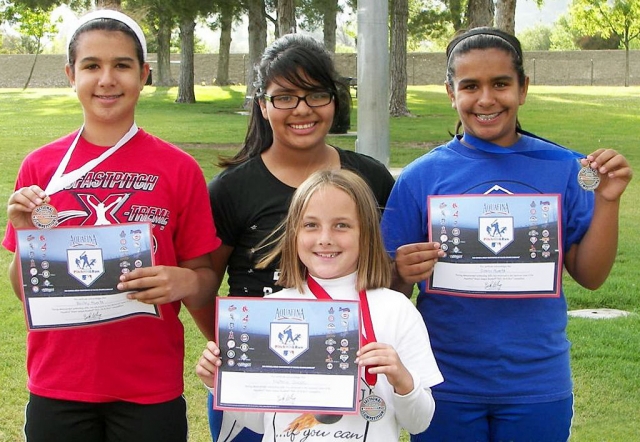 (l-r) Bailey Huerta, Serena Venegas, Sierra Huerta, (front) Natalie Couse.
Enlarge Photo
By Gazette Staff Writer — Friday, May 28th, 2010
On May 16th four local girls took part in the Aquafina MLB Pitch, Hit & Run Competition. Qualifying in the local competition, they advanced on to the sectional held in Redondo Beach on Sunday where they made quite an impression. Showcasing their softball throwing, hitting and running skills, all four girls representing Fillmore were able to place in the top 3 scores within their age group and were awarded medals. Natalie Couse placed 2nd in the 7-8 age div., Sierra Huerta placed 1st and Bailey Huerta placed 3rd for the 11-12 age div., Serena Venegas place 1st in the 13-14 age div.
By Gazette Staff Writer — Wednesday, May 26th, 2010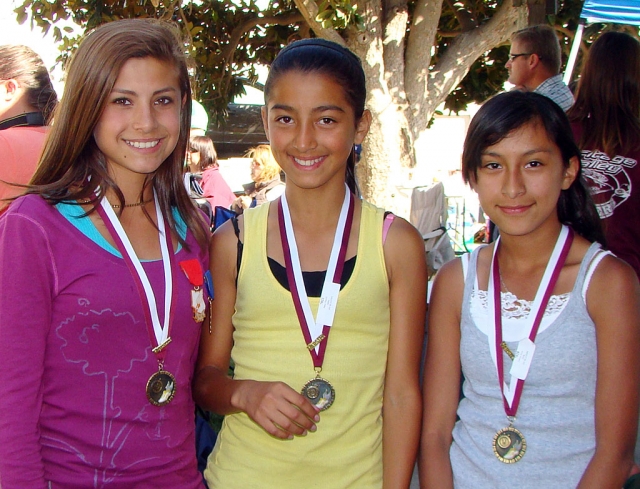 On Saturday May 22nd Kiana Hope, Nayeli Baez, and Irma Torres participated in the Ventura County Youth Track, Varsity Finals in Moorpark, winning medals at the Varsity Track finals. In order to participate at Varsity Finals you must qualify during the regular track season. All three girls run long distance, and are coached in Fillmore by Temo Laureano. In the Youth Division Kiana Hope placed 1st in the 3200 meter run and 2nd in the 1600 meter run. Nayeli Baez placed 3rd in the 3200 meter run. Irma Torres placed 1st in the 3200 meter run for her division, and also ran the 1600 meter run. Since the three girls did so well at Varsity Finals, they have qualified to run at the Conference Finals on June 5th in Carpinteria. Good job girls!
Enlarge Photo
By Gazette Staff Writer — Tuesday, May 25th, 2010
Ventura County, Calif, May 21, 2010 - Registration opens May 24 for the 2010 NBVC Point Mugu Surf Contest Presented by Quiksilver at Naval Base Ventura County (NBVC), Point Mugu. The third annual contest is Saturday and Sunday, Aug. 21-22. The event is open to the public with free admission and parking.
Open registration is on www.active.com. There are five divisions: Active Duty Military Men, Open Women/Military Women, Young Guns (17 and under), Bodyboard, and Open Men. Entry fees are $20 for active duty military and $100 for civilians. Entries will be accepted in the order received on a space available basis. No early entries will be accepted. Advanced registration is required; there will be no day of contest entries accepted.
The two day contest features vendor and food booths and live music. Quiksilver professionals will perform an Expression Session prior to the Sunday Finals.
This is an opportunity to access one of Southern California's best surfing locations. This particular surfing area off the coast of Point Mugu faces in a south direction which gives it a unique wave. The South swell, submarine canyon, and sandbars cause waves to break differently and bigger than at other beaches.
For sponsorship and vendor opportunities please send an email to NBVC_MWR_MARKETING.FCT@NAVY.MIL with your contact information.
Additional information can be found at the Naval Base Ventura County web site: www.cnic.navy.mil/ventura or on Facebook titled NBVC Point Mugu, Port Hueneme and San Nicolas Island.
By Gazette Staff Writer — Wednesday, May 19th, 2010
On Thursday, May 13th the Lady Flashes Varsity softball team wrapped up their regular season with a nail biter of a game against St. Bonnie, beating them 2-1. The pre game ceremony honoring the seniors started the game with farewells to the 7 young ladies who will be graduating in June. They are Brianna Martinez, Tori Perez, Kelsey MacDonald, Rebecca Vassaur, Amanda Alamillo, Nadia Lomeli, and Kellsie McLain. The team was fired up and ready to win this game, this was a must win situation for both teams to make it to the 2010 CIF playoffs. Lilah Duran started on the mound pitching a great game holding St. Bonnie to only 1 run. McLain closed the game taking the mound in the 5th inning with 2 runners on, no outs , and the # 3,4,and 5 hitters coming up. McLain and the defense were able to stop these players from getting on base, and put them all out,. Going into the 6th inning the score was tied 1-1, McLain was on 1st by a walk with 1 out, Heidi Hinklin gets on base by beating a throw to first and moving McLain over. Chellie Arreguin comes up and grounds out to second but moves our runners over to second and third. With 2 outs Lomeli comes up and hits a single up the middle scoring McLain, and the Lady Flashes go up by one run. Now the top of the 7th inning is here, and the Flashes need just 3 outs. With 2 outs and a runner on 2nd base MacDonald makes a game saving throw to home plate from left field. The runner on second had stolen third base, and then attempted to steal home on an overthrow to 3rd base. The support of the community was amazing at the game, there were so many fans that people had to stand shoulder to shoulder. What a great way for the team to end their regular season play! The Lady Flashes will now head to CIF playoffs next week.
Fillmore JV Softball Final Season Game
May 13th, 2010 Fillmore vs St. Bonventure, Lady Flashes JV defeated the Seraphs for the 2nd time this season 7 - 3 . Game highlights include: Hitting a double each were, Paula Laureano, Candace Stines, and Karrinna Carrillo. Mary Ortiz went 3 for 3 at the plate hitting singles against both the Bonne pitchers. Pitcher Marissa Vasquez pitched 3 innings and hit 2 singles offensively. Pitcher Amber Magana came in the 4th inning and struck out 5 batters and gave up only one hit to close the game for the Flashes.
By Gazette Staff Writer — Wednesday, May 12th, 2010
By Gazette Staff Writer — Wednesday, May 12th, 2010
Flashes Varsity Softball Win Again!
With Lilah Duran (Varsity) on the mound the Lady Flashes win against Santa Clara 8-2. Duran pitched a great game giving up only 2 runs. Samantha Wokal was 3 for 3 at the plate, and Nadia Lomeli hit a triple helping with the lead over Santa Clara. Heidi Hinklin had 2 singles with Kennedy Smith, Chellie Arreguine, Amanda Alamillo, Kelsey MacDonald and Janessa Lopez all having singles too. The Santa Clara team started the game honoring all seniors on both teams. The Lady Flashes seniors were presented with flowers from the Santa Clara seniors. This was a very nice gesture from an opposing team.
Fillmore JV Softball vs. Oak Park Eagles 5/6/10
Flashes win 4 - 3 at Oak Park last Thursday. Game Highlights : Amber Magana (pitcher) 2 singles , Marissa Vasquez(3B) 1 outfield single , Mary Ortiz(1B) 1 double , 1 single , 3 RBI's . Catcher Karinna Carrillo caught the entire game allowing only one pass ball.
By Gazette Staff Writer — Wednesday, May 12th, 2010
The Fillmore Flashes Varsity Baseball team playes the Oak Park Eagles last week, splitting the games.
The first game was high scoring for both teams but ended in a 14-9 loss for Fillmore. Tim Medina pitched 4 innings and was relieved by Cody Farrar. Johnny Magana and Andres Robles both went 2 for 2 at bat. Robert Martinez went 3 for 4 and Sal Ibarra hit a double. The Flashes battled but came up short.
The second game was played at home and resulted in a 10-5 victory for Fillmore. The Flashes offense was strong with Quinn Keller going 2 for 3. Tanner Carpenter went 2 for 3 with 3 RBIs. Sal Ibarra contributed with a double. Carpenter pitched 7 innings for a complete game.
By Gazette Staff Writer — Wednesday, May 12th, 2010
By Gazette Staff Writer — Wednesday, May 12th, 2010
Boys & Girls Club, 565 First St.
Saturday, May 8th 10:00 am to 3:00pm, Wednesday, May 19th 6:00 to 9:00pm, Saturday, May 22nd 10:00 am to 3:00pm. Cost is $95 per child ($110 after 5/22). Birth Certificate is required at registration. For more info call Linda 338-8275.
By Gazette Staff Writer — Wednesday, May 5th, 2010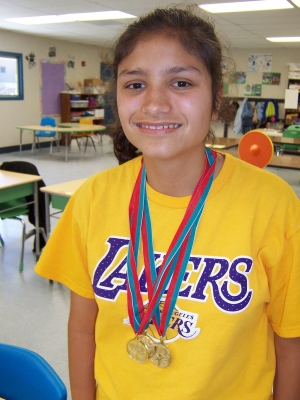 Anna Maldonado, a Junior at Fillmore High School, competed in the Ventura County Special Olympics Track Meet on May 2, 2010 held at Agoura Hills High School. She won a gold medal in the 100 meter dash, a gold in the 200 meter dash, and a gold in the running long jump. Anna and her Special Education class at Fillmore High School will be competing in the Special Olympics at Nordoff High School on May 22. Anna is looking forward to adding more medals to her collection.
By Gazette Staff Writer — Wednesday, May 5th, 2010
Fillmore Youth Football will be holding a final registration opportunity on Wednesday, May 12th, from 5 p.m. to 7 p.m. in the back room of the Veterans Memorial Building. The cost is $190 for the first player, a $20 discount to second sibling and $10 to each sibling thereafter. If you are interested in playing but unable to attend that night, please contact John Holladay at 797-6804.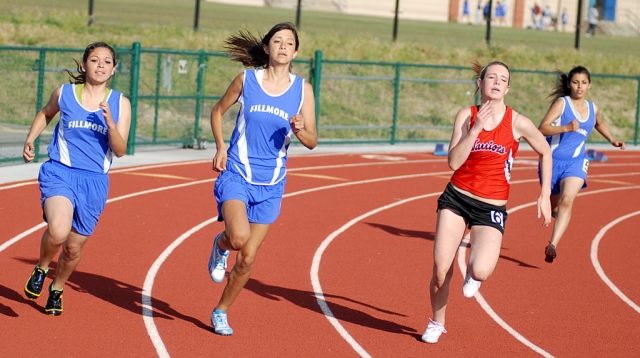 Friday, April 16th, F.H.S. Track competed against Carpinteria. Final score, Boys Varsity - Carp 65, FHS 29, Girls Varsity - Carp 64, FHS 38, Boys F/S - Carp 39, FHS 58, and Girls J.V. - Carp 31 - FHS 69.
Enlarge Photo
By Gazette Staff Writer — Wednesday, April 28th, 2010
By Gazette Staff Writer — Wednesday, April 28th, 2010
The Fillmore Flashes Varsity Baseball team played the Malibu Sharks twice last week, splitting the games.
The first game was a 2-1 loss after a much disputed call on the third out of the last inning, which, had the call gone the other way, would have resulted in a 3-2 victory for Fillmore.
Tim Medina pitched a complete game, holding the Sharks to just 2 runs. Adrian Zavala went 2 for 2 at bat, Tanner Carpenter bounced one over the left field fence for a ground rule double and the lone RBI. Quinn Keller got the only other hit for the Flashes.
The second game was played at Fillmore and resulted in an 8-3 victory for the Flashes.
Sal Ibarra led the offense in this game going 2 for 3. In the third inning Ibarra banged one over the right field fence and on to the track. This led a seven hit game for Fillmore.
Tanner Carpenter pitched 6 innings giving up one unearned run. Garrett Reilley and Cody Farrar closed out the game in the seventh inning.
By Gazette Staff Writer — Wednesday, April 28th, 2010
Thursday, April 22nd was a great day for the Lady Flashes Varsity Softball team, for the second time they beat Fillmore's #1 rivals the Santa Paula Cardinals 7-1. Four pitchers took the mound for the Flashes all pitching strong innings. Lilah Duran started things with Brianna Martinez and Kellsie McLain taking the middle of the game and Kianna Tarango closing. On our offensive side we had Nadia Lomeli hitting 2 for 4 with 2 doubles and 4 RBI's and Kellsie McLain going 2-3 hitting 2 singles and 1 RBI. Also, contributing was Samantha Wokal, Amanda Alamillo and Tori Perez each with a single. The Lady Flashes have a big week ahead of them with four games against strong opponents.