By Gazette Staff Writer — Monday, January 6th, 2014
Santa Paula Society of the Arts
On January 12 at 2:00 p.m. the society will invite any and all to a water color art demonstration at our usual monthly meeting in the upper gallery of the Railroad Depot, which is located on the corner of 10th and Santa Barbara Streets in Santa Paula, across from the huge Moreton Bay Fig tree.
The Ventura artist doing the demonstration will be Wendy Lefkowitz who ventures between the realistic and the whimsical.
More of her work can be seen on her Website @ http://wendylefkowitzwaterclorartist.com.
We invite one and all at no cost with light refreshments served at a mid-demo intermission. Feel free to bring a friend.
By Gazette Staff Writer — Monday, December 23rd, 2013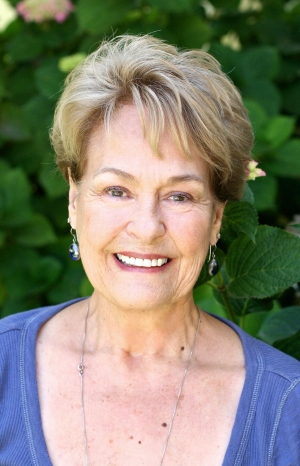 Wana Klasen
Fillmore Artist, Wana Klasen was selected by the Santa Paula Society of the Arts to be the first Featured Artist at the Santa Paula Depot Gallery. The feature began in October 2013 and will continue through January 4, 2014.
Select pieces of Klasen's work depict her eclectic style and include watercolor and mixed media presentations.
The Depot Gallery is located at the corner of Santa Barbara Street and Tenth Street in Santa Paula and is open to the public on Saturday and Sunday afternoon from 12:00-4PM.
By Gazette Staff Writer — Monday, December 23rd, 2013
The CSU Channel Islands (CI) Choir is now holding auditions for its combination university-community choir. Auditions will be held by appointment up until the first rehearsal of the year on Monday, Jan. 13. At this time, the choir is specifically looking for tenors, baritones and basses. Contact the choir's choral director, Dr. KuanFen Liu, at 805-278-0375 or downbeatplus@gmail.com, to schedule an audition.
The choir is made up of CI students and faculty members, as well as members of the community. Offered as part of the University's Performing Arts Program, the choir is a weekly class that meets every Monday evening from 7 - 9:30 p.m. in Malibu Hall 140. Each semester, the curriculum covers a wide range of musical genres and periods from Medieval to the present time, and offers members the chance to perform publicly throughout Ventura County as well as on the CI campus.
The choir is led by Dr. KuanFen Liu. Dr. Liu holds a Doctor of Musical Arts degree from the Thornton School of Music at the University of Southern California, a Master of Music in conducting from the Eastman School of Music, and a Bachelor of Fine Arts in voice performance from Tunghai University in Taiwan. She has conducted the choir since its inception in 2004.
For 2014, concerts will be performed in late March, early May and December. The highlight of the March concert will be the performance of Brahm's Requiem, accompanied by the Channel Islands Chamber Orchestra and professional soloists.
"We chose to perform the Brahms Requiem as an anniversary tribute to the victims of last year's Boston Marathon tragedy on April 15 and as a remembrance of a beloved former choir member, the Rev. William Gutknect," said Dr. Liu. "Unlike almost all other requiems, which are funeral pieces and very sad, Brahms wrote this music to provide a message of hope and comfort. He specifically put the piece in his own language, German, rather than Latin, so that the public could understand his message of condolences to the living."
To learn more about the class, visit the choir's website at http://choir.csuci.edu or contact Dr. Liu at 805-278-0375 or downbeatplus@gmail.com.
Channel Islands Choral Association (CICA) is the sponsor of the choir. CICA is a 501 (c)(3) organization that serves Ventura County, bringing music education and performance to the local schools and community. For more information, visit the CICA website at www.cicachoir.org or contact Nina Ruhland at 805-914-4589 or egruhland@aol.com.
About California State University Channel Islands
CSU Channel Islands (CI) is the only four-year, public university in Ventura County and is known for its interdisciplinary, multicultural and international perspectives, and its emphasis on experiential and service learning. CI's strong academic programs focus on business, sciences, liberal studies, teaching credentials, and innovative master's degrees. Students benefit from individual attention, up-to-date technology, and classroom instruction augmented by outstanding faculty research. CI has been designated by the U.S. Department of Education as a Hispanic-Serving Institution and is committed to serving students of all backgrounds from the region and beyond. Connect with and learn more about CI by visiting CI's Social Media
By Gazette Staff Writer — Monday, December 23rd, 2013
Saturday, January 4th from 10 a.m. – 2 p.m.
The Ventura Botanical Gardens invites you to its third annual Sow in the New Year. Celebrate with us and help create our gardens by sowing California native wildflower seeds. This year, we will have three species of lupine seeds.
Sow in the New Year is family-friendly and free. It is a great opportunity to enjoy the outdoors, walk the trail with its gorgeous ocean views and sprinkle the hillsides with California native wildflower seeds. With a bit of rain, the seeds promise beautiful flowers along the trail in the spring. Participants will also have the chance to learn about California native plants and the progress of theVentura Botanical Gardens.
Meet at the Grant Park BBQ area off of Brakey Drive. We will be sowing the seeds along the upper portion of the trail. Parking is available.
We look forward to seeing you there. Happy New Year!
For more information, call (805) 232-3113.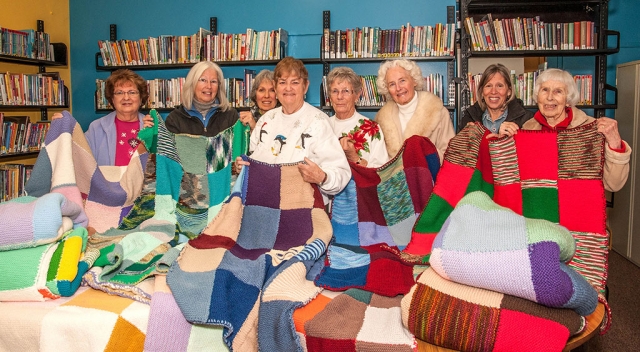 Knitters (l-r) Joan Padilla, Kit Willis, Silvia Basich, Sue Dickens, Sally Dunio, Carolejo Adams, Lanae Carter and Alyce Barnwell. Other knitters not pictured are Nancy DeGroot, Marge Hatton and Charlene Hartenstein.
Enlarge Photo
By Myrna Cambianica — Monday, December 23rd, 2013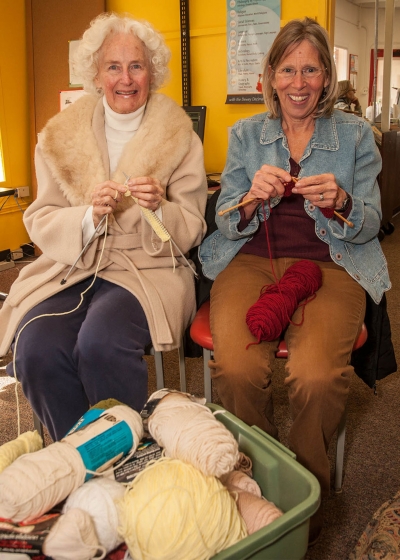 (l-r) Carolejo Adams and Lanae Carter
Enlarge Photo
Meiners Oaks Library Knitters proudly display a year's worth of afghans they created and donated to the Linus Project, a nonprofit providing blankets to children in need. See: http://www.projectlinus.org/
The group meets the second and fourth Tuesdays of the month, 10 am to 11:45 am at the Meiners Oaks Library, 114 N. Padre Juan Avenue, Ojai, CA.
For more information phone Deb Fletcher, Meiners Oaks Library Supervisor, 805 646-4804. Knitters of all skill levels are welcome, as are donations of acrylic yarn.
By Gazette Staff Writer — Wednesday, December 18th, 2013
CLU to host international event in Ventura in March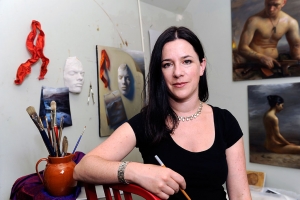 keynote speaker Juliette Aristides
THOUSAND OAKS, CA - Artists, critics, academics, collectors and curators will return to Ventura in March for the second international conference on representational art presented by California Lutheran University.
The Representational Art Conference 2014 will be held from Sunday, March 2, through Wednesday, March 5, at the Crowne Plaza Ventura Beach. Presentations, panel discussions and studio art demonstrations will explore the direction of 21st-century representational art, which portrays recognizable people, places and objects. TRAC will include an excursion to CLU's Thousand Oaks campus to see the "Women by Women" exhibit in the Kwan Fong Gallery of Art and Culture and the "Resonating Images III" show in the William Rolland Gallery of Fine Art.
CLU faculty members Michael Pearce and Michael Lynn Adams organized the first conference in 2012 to address the lack of critical appreciation of representational art and explore the new directions it might take.
Distinguished philosopher Roger Scruton will be one of two keynote speakers. He explored what makes an object beautiful in his 2009 book "Beauty" and caused a stir with his BBC Two documentary "Why Beauty Matters" when it was released the same year. Scruton insists that beauty is a real and universal value with an indispensable role to play in shaping the human world. He is a visiting professor and a Blackfriars Hall fellow at the University of Oxford and a senior fellow at the Ethics and Public Policy Center in Washington, D.C.
Juliette Aristides, a painter and writer dedicated to rebuilding traditional arts education in the United States, will deliver the other keynote address. The author and painter is the founder of the Aristides Atelier at the Gage Academy of Fine Art in Seattle. She teaches workshops throughout the world. In recent years, representational artists have set up ateliers in imitation of the Renaissance workshops where students worked alongside masters to learn the techniques of drawing, painting and sculpture. There are now numerous ateliers in every major city in the United States. CLU has seven faculty members with on-campus studios they are using as ateliers.
Odd Nerdrum, a Norwegian who is regarded by many as one of the greatest living representational painters, will discuss beauty, art and kitsch with Scruton. Nerdrum has written about why representational painting should be called kitsch rather than art because of the way it tugs at the heart and emotionally engages people. Nerdrum is known for his allegorical images of refugees adrift in an inhospitable Icelandic landscape.
Virgil Elliott, Pam Hawkes, Jeremy Lipking, Graydon Parrish, Stephen Perkins, Tony Pro and Alexey Steele will present demonstrations.
Early-bird registration by Jan. 31 is $375. Single-day passes are available. For more information, go to www.trac2014.org.
By Gazette Staff Writer — Monday, December 9th, 2013
Thru December 31, 2013
Linda Carson's involvement with ceramics began in 1956 at a workshop conducted by Gertrude and Otto Natzler. She studied sculpture while raising her two children, but put her creative activities on hold to pursue a career as a psychotherapist. Children grown, Carson has rediscovered her passion for transforming clay into sculpture and jewelry design. The human foot, in many forms and colors, are central to many of the ceramic designs. Many of her creations have a humorous element to them. Linda will greet guests December 31st, 11 am - 2:30pm.
Irene Estrin's creations come from nature and it's textures and colors. Friends have accepted her obsession to scour the earth for texture to use in clay. Direct transfer of the textures are preferred and she uses the theme "Nature Inspired Texture by Land and Sea". Driftwood and feathers are often added for special effect. Estrin's uses the old pinch pot and Native American method using a puki and coil. Irene will greet guests December 19, 20, 26 from 11 am - 2:30 pm.
Gallery artists are from Ventura and Santa Barbara counties and including Ojai Valley.
By Gazette Staff Writer — Monday, December 9th, 2013
Ventura, CA – The Ventura Harbor presents the 37th Annual Ventura Harbor Boat Parade of Lights and Fireworks, Friday & Saturday, December 20 & 21, at 7 pm and Winter Wonderland & Holiday Marketplace on Saturday, December 21 from 1- 5 pm. Decorated boats and holiday dĂ©cor throughout the Harbor kick off this year's "Seaside Tinsel Town" theme in celebration of the Harbor being open to the public for 50 years!!
The two-day celebration features a Parade of Lights Carnival on the Ventura Harbor Village Main Lawn, visits by Santa & Mrs. Claus for last minutes gift requests at the Carousel Stage and delicious waterfront dining. Saturday evening, December 21, 7 pm, watch for Santa and his sleigh fly across the sky above the Harbor, kicking off the boat parade, courtesy of Aspen Helicopters. A fireworks display lights up the night following the Parade of Lights each evening.
Arrive mid-day on Saturday for Winter Wonderland & Holiday Marketplace on Saturday, December 21 from 1- 5 PM. Free visits with Santa & Mrs. Claus and their live reindeer (bring own camera for photos), Victorian Carolers, Toy Soldier Band, faux snowfall, craft stations by Gull Wings Children's Museum & Macaroni Kid Camarillo, holiday characters, and boutique shopping make Winter Wonderland a fun traditional holiday experience for all ages! Savor seaside at this free event and explore the sixteen seaside boutiques for holiday finds. Harbor restaurants are overflowing with good cheer for lunch and dinner.
At the Parade of Lights stop by the Ventura Harbor Village booth near Coastal Cone Ice Cream to get a pair of 3D glasses to watch the fireworks display. Get up close to the boat parade with public cruises offered by Island Packers (Reservations: 805-642-1393) and Ventura Boat Rentals (Reservations: 805-642-7753) to view the lights from the water (available Friday, December 20 only).
Admission to the Parade of Lights on Friday, December 20 and Saturday, December 21 along with Winter Wonderland & Holiday Marketplace on December 21 is free. Parking is free in Ventura Harbor Village, along Spinnaker Drive, and in the Ventura Harbor beach lots. Arrive early for best parking and shopping throughout the Harbor Village. Dinner reservations are recommended or arrive early to dine in venues throughout Ventura Harbor.
The 2013 Parade of Lights sponsors include Ventura Port District, Four Points by Sheraton Resort and Holiday Inn Express & Suites Ventura Harbor, Andria's Seafood Restaurant & Market, Ventura West Marina, Ventura Harbor Marina & Yacht Yard, Vessel Assist- Channel Watch Marine, Ventura Harbor Boat Yard, Ventura Packers, Ventura Harbor Marine Fuel, Brophy Brothers Restaurant and Clam Bar, Island Packers, Ventura Boat Rentals, Ventura Yacht Club, Ventura Marina Community, The Greek at the Harbor, Milano's Italian Restaurant, Cumulus Broadcasting, Gold Coast Broadcasting, Ventura County Star, VC Reporter, Ventura Breeze, Aspen Helicopter, and RP Barricade.
Boater Applications are available by calling (805) 477-0470 or online at VenturaHarbor.com and VenturaHarborVillage.com. No charge to enter a decorated watercraft and includes an 8 x10 keepsake photo, awards, prizes, and Boaters Brunch at The Greek at the Harbor Restaurant!
Returning this year is the prestigious People's Choice Award, voting takes place on Ventura Harbor's Facebook page. View parade entries on the "2013 People's Choice Award" album, posted December 21st, and vote.
Visit www.VenturaHarborVillage.com/Parade or call (805) 477-0470 for more information or get updates on Ventura Harbor Facebook and Twitter. Watch past Parade of Lights videos on YouTube Ventura Harbor Village Parade of Lights 2012.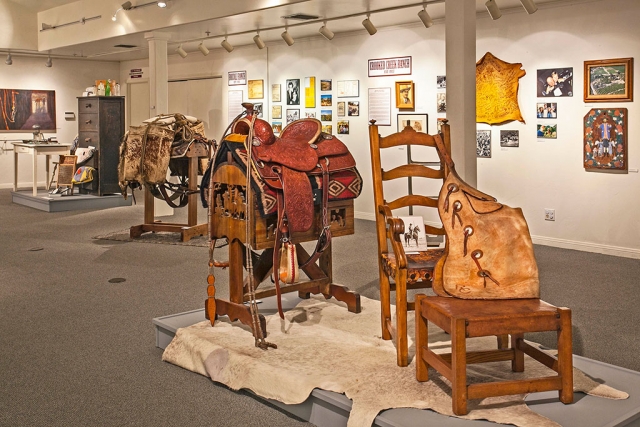 Historic Ranches Exhibit. Photographer: Roger Conrad.
Enlarge Photo
By Letitia Grimes — Monday, December 9th, 2013
Ojai Museum Exhibit Now Extended By Popular Demand
The Ojai Valley Museum is continuing its popular exhibit, "Historic Ranching Families of the Ojai Valley," for an additional two weeks. The groundbreaking exhibit will now be open through January 12th, 2014, giving visitors a rare look at six of the pioneering ranching families who created the iconic landscape of the Ojai Valley.
This exhibit began, appropriately, with a member of one of Ojai's oldest ranching families, Tony Thacher, who is on the museum board. Like a true farmer, he started with a seed of an idea for the exhibit and grew it carefully. Planted in the rich soil of the Ojai Valley Museum's resources, it flourished under the curating expertise of Museum Director Michele Ellis Pracy. During visits to each ranch, she selected heirloom furnishings, family photographs, and historic ranch equipment for the exhibition. In the museum, she designed a space for each family, where these treasures could speak in visual language about the realities of ranch life.
Growing beyond the museum walls, the exhibit branched out into sold-out events at the ranches, involving the entire community in a celebration of Ojai's agricultural heritage. Thacher brought the idea for the events to the museum, and with the individual ranch owners, organized picnics, barbecues, wine tasting, as well as a 100-year anniversary party at the Haley Ranch. Finally, thanks to Thacher's suggestion and to the generous pro bono work of local videographer Chris Ritke, there is now a feature length documentary of interviews with the ranching families playing looped in the gallery for visitors to enjoy.
Taking a break before unloading a truck at his ranch, Thacher sat down in the library of the Ojai Valley Museum and talked about how the exhibit came into being. With a heritage from a family that defined Ojai's unique combination of education and ranching, Thacher is well qualified both to teach us about the past and to speak of the dynamic changes of the present. Edward Thacher, his great-uncle, came to Ojai in 1887 and worked as a manager for the Topa Topa Ranch. Sherman Day Thacher, his grandfather, followed soon after and eventually founded Thacher School. His wife, Anne, nee Friend, is the daughter of another pioneering Ojai family, and with husband Tony, rebuilt the family citrus business after the disastrous flood of 1969.
LG: How did you get the idea for the exhibit?
THACHER: I think the CONTINUED »
By Ojai Valley Museum — Wednesday, December 4th, 2013
What was Ojai's most notorious shoot-out? Where did the old Ventura and Ojai railroad engineers stop for rest and relaxation? What giant Washington lobby got its start on Grand Avenue and Montgomery Street? Where did Meditation Mount get its name?
It's true that few local residents, and even fewer visitors, could answer most of these questions. All that will soon change with the release of "Ojai á la Car," an audio driving tour of the Ojai Valley on compact disc that takes tourists and locals to the nooks and crannies of our valley that folks almost never see.
The disc was created and produced by Ojai resident Don Anderson to benefit the Ojai Valley Museum. It features professional narrations by actors Peter Bellwood and Laurie Walters. Anderson, a museum supporter, paid for all costs associated with producing the disc.
"Ojai á la Car" will be available at the Ojai Valley Museum Store, as well as local retail venues in time for Christmas. The disc is competitively priced at $15, tax included. Proceeds from its sale will go to the museum.
The guided audio tour gives visitors and locals some new and entertaining insights into the qualities that make Ojai unique. Ann Scanlin, President of Ojai Valley Museum's Board of Trustees, said, "I've lived here for more than 30 years, and I was not aware of many of these places and their history. I think everyone will find something new."
"Ojai á la Car" takes the listener to fifteen local venues in the Ojai Valley and Upper Ojai, with Bellwood giving descriptions at each stop and Walters providing logistical support. Included with the disc is a colorful tour map that will give specific driving directions to the fifteen locations.
Anderson, a former Los Angeles Times and Sports Illustrated writer and editor, developed the concept and wrote the narration based on historical records and local lore. "I am indebted to the writers and amateur historians like David Mason who have captured Ojai's past in books, articles and oral recordings," Anderson said. "They left rich and often amusing accounts of our valley over the last 150 years. I was fortunate to draw upon those."
Anderson credits several local film and recording professionals who assisted in the production of the disc. Foremost among these were Steve Grumette of the Ojai Film Festival, television producer-director Stuart Crowner, and film sound engineer Paul Massey. All involved provided their time and expertise without charge.
Call the Ojai Valley Museum at (805) 640-1390, ext. 203, for additional information, purchase and distribution opportunities for "Ojai á la Car."
The Ojai Valley Museum, established in 1967, is generously supported in part by museum members, private donors, business sponsors and underwriters, the Smith-Hobson Foundation, Wood-Claeyssens Foundation, City of Ojai, Ojai Community Bank, Rotary Club of Ojai, Ojai Civic Association and a grant from the Heritage Fund of Ventura County Community Foundation.
The museum is located at 130 W. Ojai Avenue, Ojai, CA. Admission: free for current 2013 members, adults - $5.00, children 6–18 - $1.00 and children 5 and under – free. Gallery hours are Tuesday – Saturday 10 am to 4 pm, Sunday, noon to 4 pm. Tours are available by appointment. Free parking is available off Blanche Street at back of museum.
For more information, call the museum at (805) 640-1390, ext. 203, e-mail ojaimuseum@sbcglobal.net or visit the museum website at: Ojai Valley Museum.org Find us on Facebook Ojai Valley Museum.
By Gazette Staff Writer — Tuesday, December 3rd, 2013
The Oxnard College Latino Thought Makers Series is pleased to present "An Almost White Christmas" with Rick Najera on Friday, December 13, 2013, in the Oxnard College Performing Arts Center Black Box Theatre located at 4000 S. Rose Avenue in Oxnard, CA. Najera, a Comedian, Writer, Director, and Author, will perform an evening of stand-up comedy based on his new book, Almost White: Forced Confessions of a Latino in Hollywood. The evening begins with a reception at 6 p.m., followed by the main event at 7 p.m. Sponsored by the Oxnard College Institute for Latino Performing Arts, this event is the second in a series spotlighting influential Latinos in the fields of Performing Arts, Politics, and Social Issues. Admission is free for students, faculty, staff, and the community. Parking is $2.00. For tickets or information, contact Connie Campos at tel. 805-986-5804 or by email at ccampos@vcccd.edu.
By Gazette Staff Writer — Tuesday, December 3rd, 2013
December 8, 2013
SANTA PAULA, CA – In celebration of the community's inspiring support throughout the year, the Santa Paula Art Museum will host a holiday party on Sunday, December 8 from 3:00 to 5:00 p.m. Guests will enjoy holiday treats and refreshments around the Museum Christmas Tree as well as a holiday musical program performed by the amazing local group "Half-Notes". Admission to the event is free for everyone.
"We have a lot to be thankful for here at the Museum, and we are especially thankful for all of our wonderful supporters, volunteers and visitors," says Museum Director Jennifer Heighton. "This event is a wonderful opportunity for us to say thank you and to celebrate the holidays with all of our friends and neighbors."
For an invitation to the event, please call the Museum at (805) 525-5554 or email info@santapaulaartmuseum.org. The Museum is located at 117 North 10th Street in downtown Santa Paula. The Museum's regular hours are Wednesday through Saturday from 10:00 a.m. to 4:00 p.m., and Sunday from 12:00 to 4:00 p.m. Regular admission to the Museum is $4.00 for adults, $3.00 for seniors, and free for students and museum members.
By Gazette Staff Writer — Monday, December 2nd, 2013
The Santa Paula Railroad Depot, corner of 10th and Santa Barbara Streets, will see the gathering of artist and friends for the December meeting.
On December 8, at 2 p.m. president Kaye Ford will welcome all with the latest news of activities and preparations for our 77th Annual S.P. Art & Photography show, to be held in March, after which she will turn the meeting over to Minnie Millett to introduce our demonstrator artist Tasia Erickson.
Although knowing from an early age that art was going to be a special place in her life, she continues to work with Bert Collins in Ojai, and has become a member of the Ventura County Pastel Artists. Among other galleries, she has shown her work at the Red Brick Gallery in Ventura, Buenaventura Art Gallery, and has won awards at the 74th and 76th Santa Paula Art and Photography show. Ms. Erickson operates a working gallery at the Harbor Village Gallery at the Ventura Marina.
The meeting will have a festive feeling as all are asked to bring a small sample of your favorite Christmas finger food to share during the refreshment break.
As usual all are invited at no cost and we ask that you bring a friend and meet this talented artist.
More information about the society – call 525-1104
By Gazette Staff Writer — Monday, December 2nd, 2013
Santa Claus, Christmas Shopping, and Entertainment on Tap for Family Fun
It's that time again when you hear jingle bells ringing and children singing songs of joy everywhere you go. The Ventura County Fairgrounds is ready to celebrate with you as we welcome Santa Claus and all of our friends and neighbors to the second annual A Fairgrounds Christmas on Saturday, December 14 from 9AM until5PM. The event is free and parking is $5.
Jolly old Santa Claus will be on hand all day to visit with the children and to listen to their Christmas dreams. Bring a camera because Santa loves to have his picture taken and you will want to cherish that adorable moment forever. Santa's photo opportunities are free!
More than 80 vendors will be on hand with unique and affordable gift ideas for your Christmas Shopping pleasure. You'll find something for everybody on your list, even those who are the most difficult to buy for!
Santa's Fun Zone will amuse you and keep your children jumping for joy! Unlimited Jolly Jumps and the Magic Castle Fun House are available for only $6 per child. It is a child's wonderland with carolers singing, dancers dancing and more Christmas entertainment to make your day merry and bright.
A variety of food and drink items will be available including everything from a delicious holiday snack to a hearty meal.
In the true Christmas spirit, we will be collecting donations for Food Share, Ventura County's food bank. Bring canned food items and help set a table in Ventura County homes this year!
There's no need to worry about the weather! It may be winter outside but indoors at A FairgroundsChristmas you will enjoy yourself in comfort. Jolly Jumps, Fun House, Shopping Boutique and Santa Claus and all are indoors where it's safe and warm.
So gather the family and head to the Fairgrounds. We're your fun zone all year long and we are looking forward to making your Christmas season a very special one.
For more information about A Fairgrounds Christmas please visit www.venturacountyfair.org or call (805) 648-3376.
By Gazette Staff Writer — Wednesday, November 27th, 2013
The Ventura College Jazz Band, directed by Leslie Drayton, will present its fall concert on Thursday, December 5, 2013, at 8 p.m. featuring the music of Miles Davis, Thelonious Monk, Charles Mingus, and more. Special guest trombonist, Abdullah Ebrahim, a Jazz Studies major at California State University-Northridge, will perform. Tickets: $10 General Admission. Location: Ventura College Performing Arts Center-Main Auditorium, 4667 Telegraph Road, Ventura, CA 93003. Contact Leslie Drayton at Ldrayton@vcccd.edu for more information
By Gazette Staff Writer — Tuesday, November 26th, 2013
Free Dec. 14 concert ties into movie poster exhibit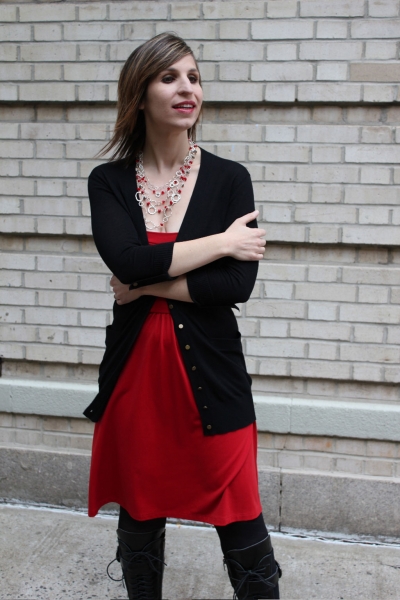 Laurie Rubin
Enlarge Photo
THOUSAND OAKS, CA - Critically acclaimed singer Laurie Rubin will present a free concert from 2 to 4 p.m. Saturday, Dec. 14, in the William Rolland Gallery of Fine Art at California Lutheran University.
The program will feature songs from movies represented in the gallery's exhibit of vintage film posters, "Gotta Dance!" Accompanied by pianist Jenny Taira, Rubin will sing pieces from such films as "An American in Paris" and "Seven Brides for Seven Brothers" in the concert, which is being presented in collaboration with the New West Symphony.
Rubin will also share her story, which is depicted in her memoir, "Do You Dream in Color? Insights From a Girl Without Sight." The 2012 book chronicles her against-all-odds rise from a blind musical prodigy to an accomplished international opera singer. A companion CD includes the recording of Bruce Adolphe's "Do You Dream in Color?" that was inspired by Rubin's experiences. She received the 2010-2011 Yale Alumni Ventures grant to develop a curriculum to dispel stereotypes by allowing people to share in the experiences of blindness.
Rubin is a mezzo-soprano classical vocalist. Recent career highlights include solo recitals at Weill Recital Hall inside Carnegie Hall and at London's Wigmore Hall. She has also sung at the White House and the John F. Kennedy Center for Performing Arts. She has performed a number of operatic roles and new music concerts.
She is the recipient of many prizes including The Music Center's 1997 Spotlight Award in classical voice, the 1997 Panasonic Young Soloist Award and the 2003 Horatio Parker Memorial Prize from the Yale School of Music.
She and Taira founded Musique Ă  la Mode Chamber Music Ensemble and the Ohana Arts festival and school. Rubin is also a founding member of the baroque ensemble Callisto Ascending.
"Gotta Dance!" spotlights the film poster as an underappreciated art form and explores the diverse ways in which dance has been used as a dominant image. The free exhibit, which runs through Feb. 8, features 40 posters selected for their artistic and historical significance by movie producer Mike Kaplan from his collection. The majority of the works date from between 1930 and 1950, a golden age for movie poster design. Many are from overseas, where designers made extensive use of illustrations rather than photos.
The gallery is open from 10 a.m. to 4 p.m. Tuesdays through Fridays, 11 a.m. to 3 p.m. Saturdays and by appointment. For more information, contact curator Jeff Phillips or assistant curator Rachel Schmid at 805-493-3697 or rollandgallery@callutheran.edu.
By Gazette Staff Writer — Monday, November 25th, 2013
Student playing Mary rides donkey during Las Posadas
THOUSAND OAKS, CA - California Lutheran University students and staff will join with community members to re-enact the Christmas story in the Mexican tradition of Las Posadas from 7 to 9 p.m. Sunday, Dec. 15.
In the university's annual tradition, students representing Mary and Joseph will travel by donkey through campus seeking shelter for the birth of their son. Other students, staff and visitors holding candles will walk with them from the Ahmanson Science Center to the Lundring Events Center. The evening will conclude with a piñata and refreshments of hot chocolate and pan dulce (sweet bread). This festive Mexican tradition dates back to the 16th century.
The Ahmanson Science Center is located at 3260 Pioneer Ave. near Memorial Parkway on the Thousand Oaks campus.
CLU's Office of Multicultural Programs and International Student Services, the Latin American Student Organization and the Department of Languages and Cultures are sponsoring the free event. For more information, contact Daniel Lawrence at lawrenc@callutheran.edu.
By Gazette Staff Writer — Monday, November 25th, 2013
Dec. 14 event features ceremony, food, performances
THOUSAND OAKS, CA - California Lutheran University annual Kwanzaa celebration will feature food, performances and a ceremony from 10 a.m. to 2 p.m. Saturday, Dec. 14, in Gilbert Arena.
CLU students will perform a Kwanzaa ceremony and NAACP Saturday School students will make presentations. The celebration will also include authentic African and African-American food, gospel music, dancers and vendors selling arts and crafts.
Millions of African Americans observe Kwanzaa from Dec. 26 to Jan. 1 each year. It is a special time when families and friends unite to strengthen and encourage one another.
Gilbert Arena is located in the Gilbert Sports and Fitness Center at 130 Overton Court on the Thousand Oaks campus.
The NAACP Saturday School, the Afro-Centric Committee of Ventura County, and CLU's Black Student Union and Office of Multicultural Programs and International Student Services are sponsoring the free event. For more information, contact Daniel Lawrence at lawrenc@callutheran.edu.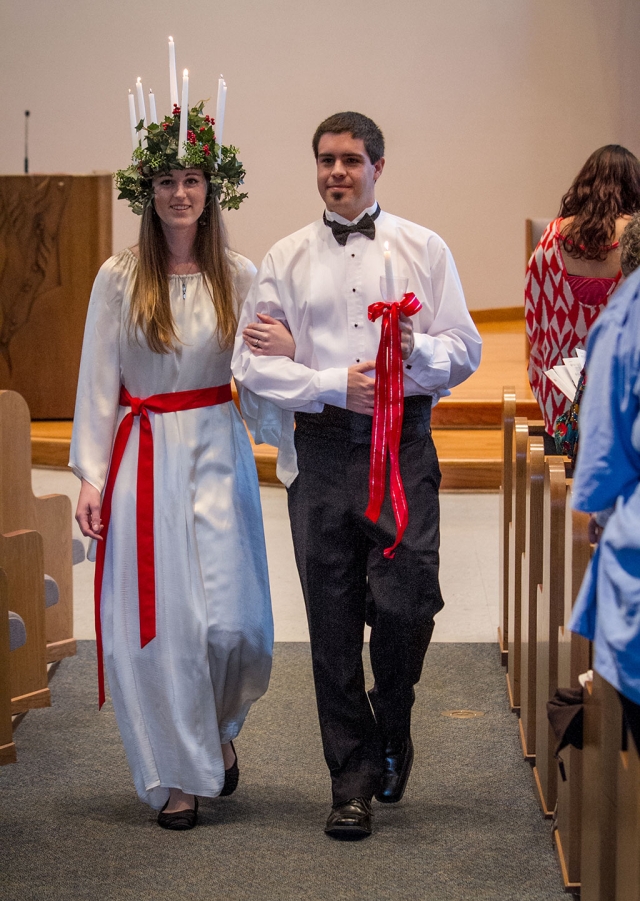 Jamie Morriss as Lucia and her escort, Alex Powell, during the 2012 Sankta Lucia Festival.
Enlarge Photo
By Gazette Staff Writer — Monday, November 25th, 2013
Student elected by classmates wears crown of candles Dec. 12
THOUSAND OAKS, CA - California Lutheran University's dramatic annual Sankta Lucia Festival will be held at 11:25 a.m. Thursday, Dec. 12, in Samuelson Chapel.
The Swedish ceremony, which has been part of the university's holiday celebrations since its early years, pays homage to the Christian martyr who died at the stake on Dec. 13, 304 A.D. Swedish immigrants brought the tradition to America. The festival honors the character traits of mercy, humility and purity of heart, as seen in the Beatitudes written in the Gospel of Matthew.
CLU's undergraduate students select five female and five male representatives whose depth of character and faith make them leaders in the CLU community. Lucia, her attendants and their escorts will enter to an ancient hymn and read an adaptation of the legend then the attendants will light the candles in Lucia's crown.
CLU's Office of Campus Ministry, the CLU Scandinavian Club and the American Scandinavian Foundation of Thousand Oaks are sponsoring the free event.
The chapel is located at 165 Chapel Lane near the corner of Olsen Road and Campus Drive in Thousand Oaks. Parking is available in the lot at the corner of Olsen Road and Mountclef Boulevard. For more information, call the Office of Campus Ministry at 805-493-3228.
By Gazette Staff Writer — Monday, November 25th, 2013
Free Opening Reception December 5
Little things mean a lot, especially in the new exhibition "In the Detail: Small Works," at the Blackboard Gallery of Studio Channel Islands Art Center. Including only art that doesn't exceed 12 inches in any direction; the juried show opens with a free artists' reception and awards presentation on Thursday, December 5 from 5:00-7:00 p.m. It closes December 28. Works in the exhibit are of various media, including paintings, ceramics, stone sculptures and mixed media pieces.
The Blackboard Gallery at Studio Channel Islands Art Center is at 2222 Ventura Boulevard in Old Town Camarillo, open Tuesday 11:00 - 3:00, Wednesday through Friday 11:00 - 5:00 and Saturday 10:00 - 3:00 p.m. As many as 40 resident artist studios behind the gallery are open to the public every First Saturday of the month from 10 - 4 p.m. For more information, go to www.studiochannelislands.org or call 805-383-1368.