International Day of Peace Comes to Ojai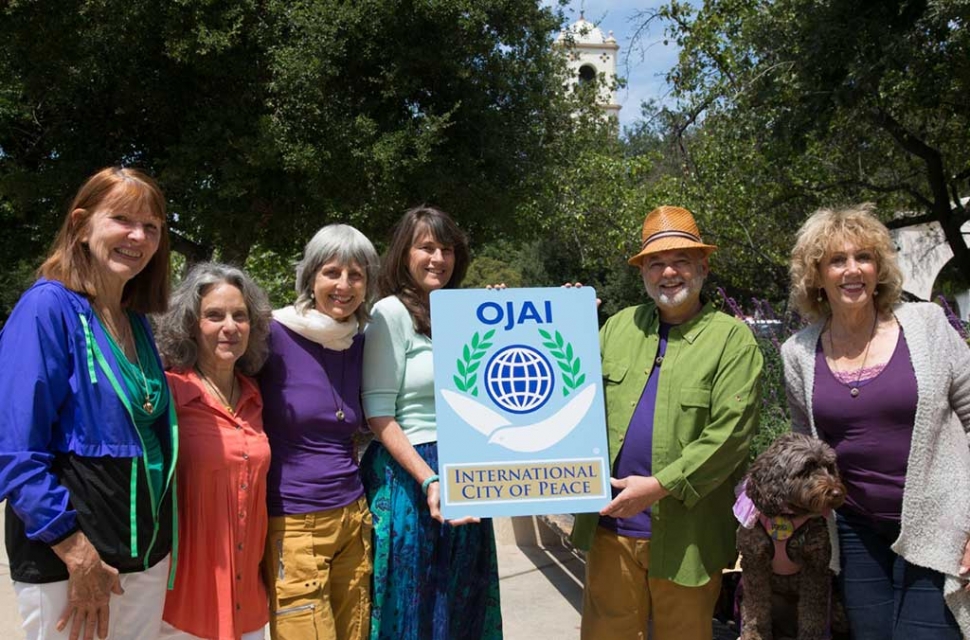 Peace Pod with Ojai Sign: Anahata Pomeroy, Julie Heyman, Lisa Berman, Kathy Nolan, Brian Berman, Dianne McCourtney, not present in photo Ray Powers and Sylvie Lee. Photo by David Baker.
By Gazette Staff Writer — Thursday, September 8th, 2016
Wednesday, September 21st, 2016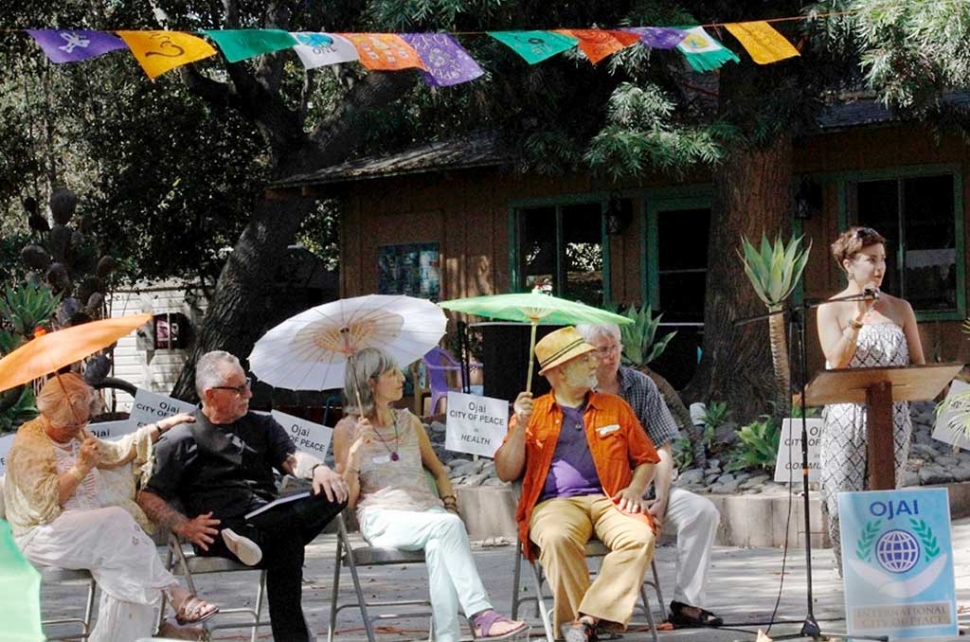 Ojai's Peace Day 2015. Photo by Rakesh Menon.
Ojai International City of Peace will host the UN International Day of Peace at three successive venues in Ojai on Wednesday, September 21st. Ojai's Day of Peace is an event for all ages. The full day of celebration begins with the Sounding of the Bell Chant and Meditation, from 7:15 am- 8:15 am at the Porch Gallery (310 E. Matilija St., Ojai).
From 9 am to 4 pm activities move to the Ojai Art Center (113 S. Montgomery Street, Ojai ), beginning with a Chumash blessing by Julie Tumamait-Stenslie, followed by peace building presentations, music, reflection, audience participation, and the announcement of this year's Ojai Noble Peace Prize recipient. Some of the day's presenters include Khaled Alawar, David Baker, Evan Austin, Kathy Nolan, Alan Chang, Andy Gilman, Vina Lustado, Marilyn Miller, Dmitri Corbin, Akka B, and Nuri Ronaghy.
From 12 noon-2pm, at the Ojai Art Center, there's a Bring Your Own Brown Bag Lunch and presentations from a Panel of Peacemakers: 9 local citizens sharing how they 'keep the peace' within themselves as they face the challenges in their area of work: Arts, Business, Community, Communication, Education, Environment, Governance, Health, and Spirituality.
Concluding the day's events, from 7:30pm-9:00pm is a Concert for Peace at Meditation Mount (10340 Reeves Rd., Ojai ) an evening of evocative music, heartfelt songs and potent imagery celebrating the unity of all humankind, featuring Ray Powers, Alarra Saress, Andro Kotula, (a suggested donation of $20.00).
International Day of Peace began in 1981 as an annual day of cease-fire and non-violence. Thousands of events are held all over the world on this day, and this is the second year Ojai International City of Peace, so designated by an Ojai City Council Proclamation in April of 2015, is sponsoring the full day's events. Ojai is one of 139 Cities of Peace world-wide.
The public is invited to participate in any or all of the Peace Day's activities. For an event schedule and full list of presenters, visit http://ojiapeace.net/day/