De Colores Art Show Envisions a Bright Future Ahead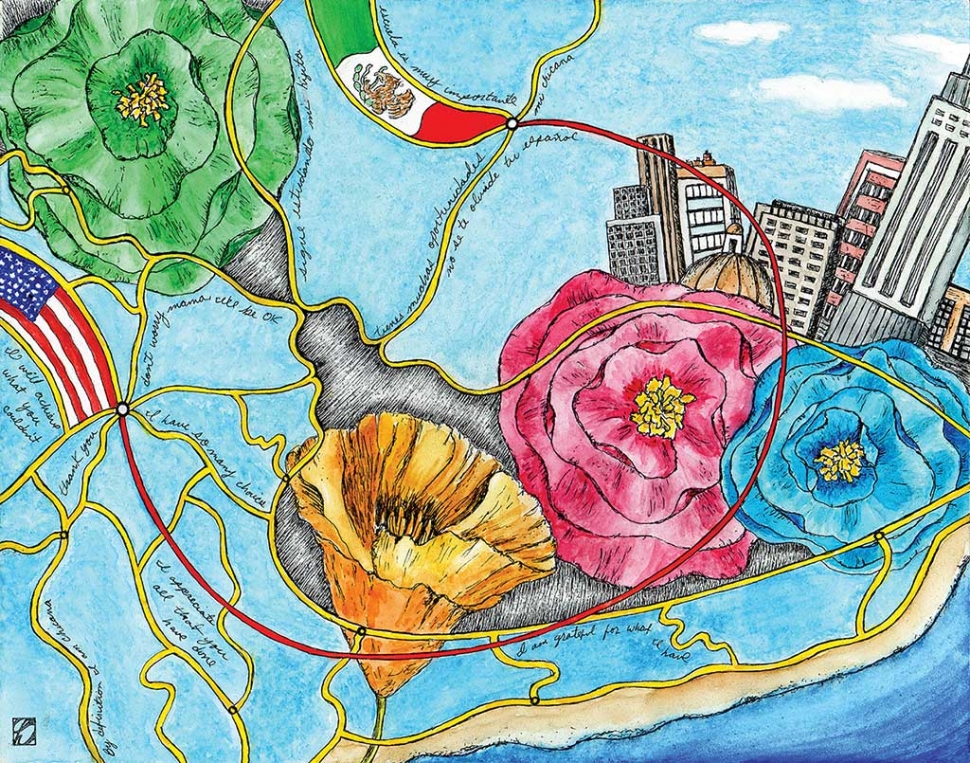 "One Path to Many Roads" by Silvia Huerta, pen, ink and watercolor on board, 14 x 11 inches, Collection of the artist.
By Gazette Staff Writer — Thursday, October 6th, 2016
October 22, 2016 through January 29, 2017 at the Santa Paula Art Museum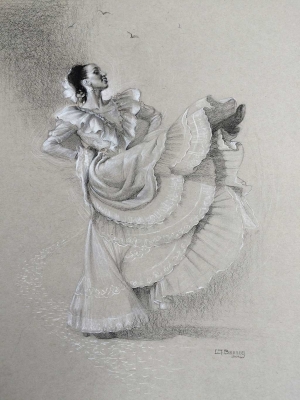 "Alegria" by L.T. Bunning, charcoal on paper, 24 x 20 inches, Collection of the artist.
The annual De Colores Art Show returns to the Santa Paula Art Museum with a premiere reception on Saturday, October 22, 2016, from 2:00 p.m. to 5:00 p.m. The group exhibition features art by 30 contemporary artists whose vibrant works are inspired by Latino culture. The premiere party will include live music by Paraguayan harpist Ignacio Lopez and Trio Príncipes. Admission to the event is $4.00 for adults, $3.00 for seniors, and is free for students and museum members.
With the De Colores Art Show now in its 23rd year, longtime curator and featured artist Xavier Montes is excited to showcase new perspectives. "This year's show is about envisioning and working together toward a better future," says Montes. "It's about acknowledging the struggles and achievements of the previous generation and empowering young people to embrace their diversity and pursue their passions." The artworks on display come in a variety of styles and media, and tell meaningful stories of hope, heritage, strength, and peace.
The exhibition features art by Richard Arenas, Jackie Bermudez, Joe Bravo, L.T. Bunning, Ray Cirerol, Lynn Coleman, Pedro de la Cruz, Beverly Cunningham, Roy Grillo, Dolores Gonzalez Haro, Sergio Hernandez, Gina Herrera, Silvia Huerta, Carolyn Jorgensen, Beverly Lazor, Renate Lichter, Maria Lopez, Pola Lopez, Rhonda Magnus, Mike Molina, Xavier Montes, Rick Ortega, Betty Saunders, Christina Ramos, Sylvia Raz, John Robertson, Mark Tovar, Doreen Villanueva, and Veronica Valadez. The show is made possible through the generosity of its sponsors which include Calavo, Clinicas del Camino Real, La Cabana, and Santa Paula Latino Town Hall.
The Santa Paula Art Museum, Jeanette Cole Art Center is located at 117 North Tenth Street in beautiful downtown Santa Paula. The Museum features rotating exhibitions of vintage and contemporary art, educational programming for children and adults, artist talks and demonstrations, a gift shop, and more. The Museum's regular hours are Wednesday through Saturday from 10:00 a.m. to 4:00 p.m., and Sundays from 12:00 to 4:00 p.m. Regular admission is $4.00 for adults, $3.00 for seniors, and free for museum members and students. For more information, please contact the Museum at (805) 525-5554 or info@santapaulaartmuseum.org.