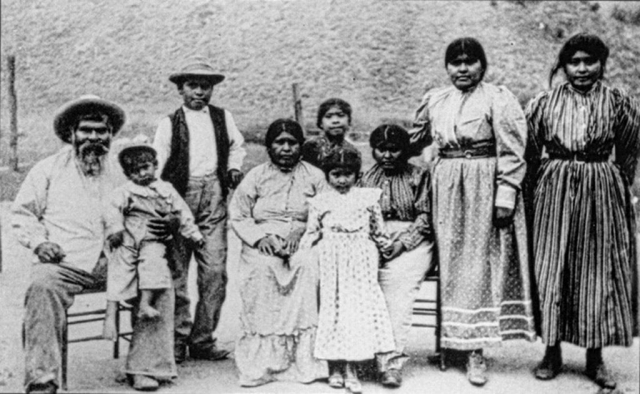 The myserious Tataviam: Original inhabitants of Camulos.
Enlarge Photo
By Gazette Staff Writer — Wednesday, September 9th, 2015
October 3, 2015 - 4:00 P.M. at Rancho Camulos Museum
This enlightening free presentation by Dr. John Johnson, the Curator of Anthropology, at the Santa Barbara Museum of Natural History will be followed by a reception in our future visitor's center. Donations welcomed. Reservations are not required but are appreciated (info@ranchocamulos.org). Rancho Camulos Museum, a National Historic Landmark, is on Highway 126, 2 miles East of Piru and 10 miles west of the I-5 at the Santa Clarita Newhall Ranch Road exit (5164 E. Telegraph Rd. (Highway 126), Piru, CA 93040). Details at www.ranchocamulos.org.
By Gazette Staff Writer — Wednesday, September 9th, 2015
2 p.m. Sunday, September 13th will see the resumption of regular meetings of the Santa Paula Society of the Arts and the return of a monthly art demonstration. The artist this month will be Patty Van Dyke and her medium will be watercolor on canvas. She indicates that with proper sealing the image will be more well preserved than the usual matting and under glass. Information sheet on the process and materials.
Guests are always welcome and there is no charge for attending, come join the fun...
For more information call 805-525-1104
By Gazette Staff Writer — Wednesday, August 26th, 2015
Monday, September 7th, 10:30am to 1:30pm Following the Santa Paula Labor Day Parade
The Museum of Ventura County's Agriculture Museum is proud to present its 3rd Annual Labor Day Vintage Tractor Fair on Monday, September 7, immediately following the Santa Paula Labor Day Parade. More than two dozen classic farm tractors from decades past will be displayed by their proud owners on Railroad Avenue adjacent to the Museum on Monday, September 7, 2015, from 10:30am to 1:30p.m. This celebration also features live music, food trucks, and tractor-themed kids' activities, as well as agriculture-themed exhibitions and items for sale indoors. Admission to the fair and the museum is free. The Labor Day Vintage Tractor Fair is sponsored by the Limoneira Company and Ventura County's Topa Topa Flywheelers.
Visitors can get close-up views of rare tractors and talk to the tractors' owners, as well as view a working vintage engine demonstration. This year, we will have a special display of a working 1/3rd scale model Case 65 steam engine that will be making mini hay bales.
Delicious food options will be available for sale at food trucks located throughout the event, and a seating area will be provided. Santa Paula's favorite rock and roll band, Cruise Knights, will play classic tunes. Don't miss the pie eating contest that will be held at 12:00pm, sponsored by Marie Callender's.
A Kids' Fun Zone will be onsite, accessible with the purchase of a $5 wrist band. In the Fun Zone, children can compete in or watch pedal tractor races, or bounce in a supervised, super-sized Jolly Jump. They can also ask for a balloon character or creation of their choice from our balloon artist Cookie the Clown, and have a chance for kids and adults to get close and personal with several farm animals from chickens to alpacas in the petting zoo area by Aloha Animal Experience. And don't forget to get your face painted by Fancy Pantz Face and Body Art.
Inside the Museum, visitors can view new exhibits about agriculture and vintage equipment in the air-conditioned historic building. Current exhibits are AG Air: Aviation in Agriculture, The Dirt on Tractors, which portrays the history of tractor evolution, and paintings of Santa Paula artist Wendell Dowling. Kids can climb on a real Oliver tractor and visit the Museum's transparent, real beehive. Also, visit the Museum's General Store and shop our local vendors for special items. Many store vendors will be present throughout the event giving great deals on some of the finest merchandise.
For more information, call (805) 525-3100.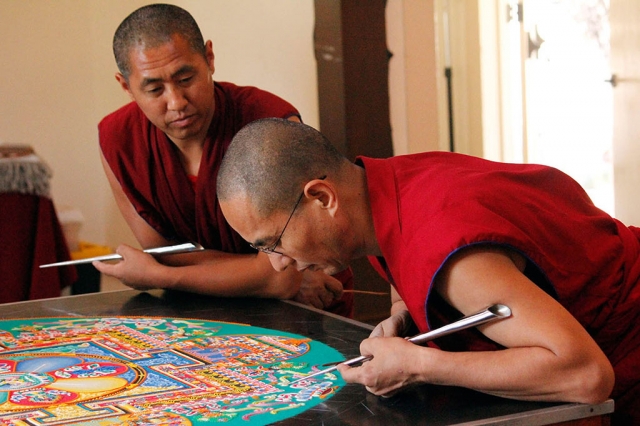 Photograph by Ray Powers.
Enlarge Photo
By Letitia Grimes — Tuesday, August 11th, 2015
Tuesday, August 18, 2015
Ray Powers, Ojai's multitalented composer, songwriter and photographer, will present "Monks and Mandalas" at the August meeting of the Ojai Photo Club. The meeting will take place on Tuesday, August 18, 2015, at 7:00 p.m. at Help of Ojai's Kent Hall, 111 Santa Ana Street, Ojai, CA.
A fusion of images, music and storytelling, the presentation documents the visit of the Tibetan monks of the DrepungLoselingMonastery to Ojai in May of this year. Powers follows their meditative construction of a sand painting of the Buddha of Compassion and then its ceremonial destruction.
His original score accompanies the images, interweaving the ancient chants of the monks with contemporary synthesizers. This multimedia approach is rooted in Powers' unitary concept of art: his perspective embraces, as he expresses it, "all art forms as extensions of one another, sharing the same wellspring of creative thought. With sound, words, and images similar attributes are shared: the contrasting tension of opposites, provocative storytelling and the conscious interpretation of perception."
Before the presentation, Powers will outline the history of the monks, their spiritual lineage, their monastery in the Tibetan diaspora community in India, as well as their commitment to peace. Documenting the monks' visit to Ojai was especially meaningful to Powers because of an earlier encounter with them: "I first made acquaintance with the Tibetan Monks from the DrepungLoseling monastery in New Mexico in1989. The occasion was the first Rainbow Warrior Festival, a multicultural arts and music gathering to promote peace, encourage tolerance and celebrate diversity. I was flown from California to photograph and document the event. Fast forward to 2015 and I have the honor to share a week with the next generation of monks from the same lineage as they teach, provide ceremony and create a sand painting mandala of the Buddha of Compassion for the city of Ojai."
Because of the stillness needed to immerse the meeting into the world of the monks, Powers will play his cedar flute to bring calm and silence into the room. Then the images will reflect, as he says, "what my eyes perceived, my mind understood and my heart experienced."
A resident of Matilija Canyon, Powers has had a long career in a variety of artistic media, and is best known for his pioneering work in East/West fusion music, most recently for his "Valley of the Moon Suite."This groundbreaking composition is the first orchestral work written about the Ojai Valley; it had a world premiere in Aprilwith a performance by the Ojai Youth Symphony.
After his presentation, Powers will review images submitted by club members. Monthly presentations are part of the Ojai Photography Club's community service outreach and visitors are welcome to attend.
The Ojai Photography Club, which is devoted to education, inspiration, and camaraderie, meets on the third Tuesday of each month, February –November. Only members may submit images for critique. For additional information please visit: www.ojaiphotoclub.com/ and www.raymondpowers.com
By Gazette Staff Writer — Tuesday, August 11th, 2015
Enhance Your Knowledge of Santa Paula at 2 Upcoming Events at the Ag Museum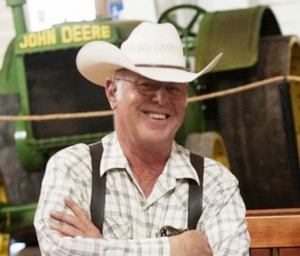 Friday, August 14, 4:00 - 5:30 pm
A Taste of Santa Paula History: Discover the History and Architecture of Santa Paula
Accompany famed local historian Mitch Stone on a one mile (more or less) stroll around Santa Paula, visiting architectural wonders, and hearing local lore. Tour includes a stop for beer tasting at Garman's Pub and a famous beignet from Rabelais Bistro.
Tour participants meet at the Agriculture Museum at 4:00 pm and proceed to the Depot, the St. Francis Dam Disaster Memorial, the Art Museum, the Oil Museum, Garman's, the Oddfellows Temple, and finish up at Rabelais Bistro.
You have to be rewarded for all that learning with a dessert!
Cost is $35 per person; $30 for members.
To reserve your spot, please call the Museum of Ventura County (805)653-1323, x315. The tour is limited to 20 persons.
Saturday, August 15 at 2 pm
Gallery Talk with collector Jim Bushong, "Jim's Dirt on Tractors"
Our monthly gallery talk at the Ag provides insight into our current popular exhibit "The Dirt on Tractors." Jim Bushong, a local collector who lent three pieces to the exhibition, tells us about his passion for antique farm equipment. A Vietnam vet who was raised on a farm in the Midwest, Jim settled in Oxnard almost 40 years ago and founded Southland Sod Farms. His training as a mechanic early in life gave him an appreciation and an "eye"
for exceptional engines and vehicles. Two of the tractors he loaned to the Ag Museum are rare: A 1930 John Deere Model D, the first to bear the John Deere name; and a 1931 Allis-Chalmers Rumely 6, the last of the Rumely line of tractors.
Jim's interest in these machines lies in the stories they tell. How did these inventors bring their ideas to life? What permanent influence did these dreamers have on the tractors of today? Can these tractors keep pace with the food demands of a growing population? Jim will tell you he has many of the answers!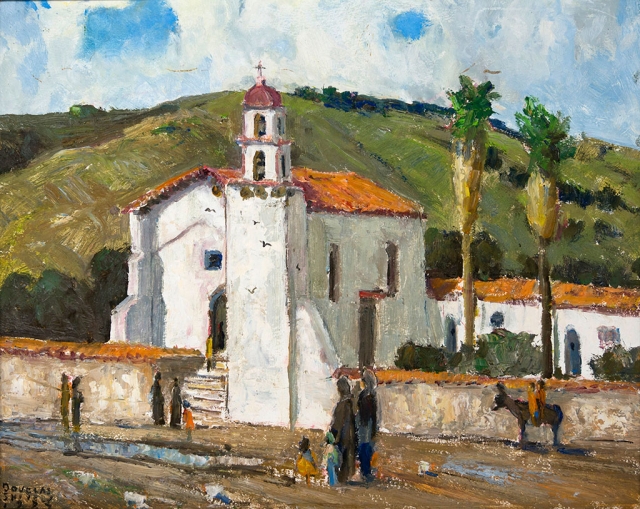 "San Buenaventura Mission" by Douglas Shively, 1987, oil on board, 16x20
Enlarge Photo
By Gazette Staff Writer — Tuesday, August 4th, 2015
Saturday, August 22, 2015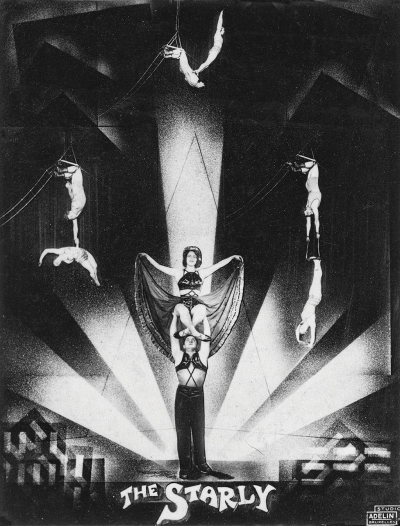 "The Starly" by Studio Adelin, Belgium, c. 1930, vintage photograph, 6x4.5 inches
Enlarge Photo
SANTA PAULA, CA – Browsers are welcome at the Santa Paula Art Museum's Vintage Art Fair on Saturday, August 22, 2015 from 10:00 a.m. to 4:00 p.m. Admission to the event is free. Guests will be able to browse and buy vintage fine art and historic photographs from some of the top dealers in California and Ventura County. A wide variety of dealers will be displaying and selling a huge selection of quality paintings and photographs. This is the first event of its kind in Ventura County.
This unique event will allow visitors to view and examine close up hundreds of high quality vintage paintings and photographs and gain experience and insights across a broad range of subject matter from knowledgeable dealers with decades of experience. All this and more in the beautiful setting of the architecturally significant Santa Paula Art Museum.
Some of the highlights to look forward to are early California plein air paintings including works by Ventura County artists like Douglas Shively, photographs of Georgia O'Keeffe by Todd Webb, and daguerreotypes and ambrotypes including a full plate "Washington Crossing the Delaware"Union case. There will be a wide selection of historic California photographs and other works of art on paper. There will also be a display of painting conservation. Doors open from 10:00 a.m. to 4:00 p.m. Admission is free and visitors will also be able to view the Museum's current exhibitions.
The Santa Paula Art Museum is located at 117 North Tenth Street in downtown Santa Paula. The Museum's regular hours are Wednesday through Saturday from 10:00 a.m. to 4:00 p.m., and Sundays from 12:00 to 4:00 p.m. Regular admission is $4.00 for adults, $3.00 for seniors and is free for museum members and students. For more information, please contact the Museum at (805) 525-5554 or info@santapaulaartmuseum.org.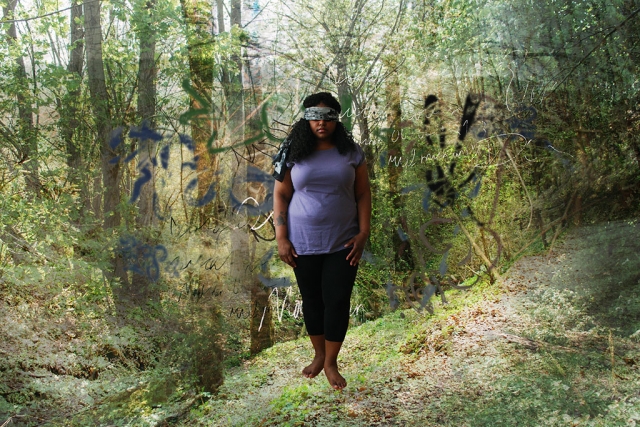 "No One Else" is a digital photo collage archival pigment print by Glynnis Reed.
Enlarge Photo
By Gazette Staff Writer — Tuesday, July 28th, 2015
Group show includes video, performance, sculpture
THOUSAND OAKS, CA - Art that combines elements of history, biography and myth will be on exhibit at the William Rolland Gallery of Fine Art at California Lutheran University from Aug. 13 through Oct. 16.
The opening reception for "Biomythography: Secret Poetry and Hidden Angers" will be held from 6 to 8 p.m. Saturday, Aug. 29. Artist Thinh Nguyen of Los Angeles will perform "White Out History," which questions our way of documenting and disseminating history and culture.
The exhibit's other featured artists are Zenia Baltagi, Crystal Z. Campbell, Chris Christion, Kenyatta A.C. Hinkle, Abdul Mazid, Dan Taulapapa McMullin, Juliana Paciulli, Glynnis Reed, Rachelle Rojany, Yoshie Sakai, Monica Sandoval and Jessica Wimbley.
Biomythography as a literary term is a style of composition that weaves myth, history and biography in epic narrative. It was coined by poet Audre Lorde to describe "Zami: A New Spelling of My Name," her narrative of self-discovery and growing up black and lesbian during the 1950s.
Guest-curated by Wimbley/Christion Curatorial, the exhibit investigates biomythography as an interdisciplinary visual arts practice. As both artists and curators, Wimbley and Christion believe that effective visual arts and critical historical practices must be inclusive of differing cultural, social, political and anthropological perspectives.
The display will include video, performance, installation, sculpture, photography and two-dimensional mixed media works in which artists juxtapose historical facts, life experiences, pop culture, ritual, mythology, anthropological conjectures and notions of identity. "Biomythography: Secret Poetry and Hidden Angers" was first featured in 2014 at Claremont Graduate University.
Other events scheduled in conjunction with the Cal Lutheran exhibit include a walk-through with Christion and Wimbley at 1 p.m. Sept. 5, a multidisciplinary panel discussion at 6 p.m. Oct. 1 in the Lundring Events Center, a reading and discussion by poet and nonfiction writer Jacqueline Lyons at 4 p.m. Oct. 7 in the gallery, and the premiere of McMullin's appropriation art piece "100 Tikis" at 7 p.m. Oct. 14 in the Preus-Brandt Forum.
The gallery is located in William Rolland Stadium at 160 Overton Court on the Thousand Oaks campus. It is open from 10 a.m. to 4 p.m. Tuesday through Friday and 11 a.m. to 3 p.m. Saturday. Admission to the gallery and all events is free. For more information, call 805-493-3697, email rollandgallery@callutheran.edu or visit CalLutheran.edu/rolland.
By Gazette Staff Writer — Monday, July 27th, 2015
The Museum of Ventura County relies on dedicated volunteers to support the museum's events and educational programs, and is currently seeking new volunteers. Opportunities abound for men and women interested in history or art and working with the public in a fun and educational setting. Help is needed in the following areas: school tours, special events, programs and in the research library. All prospective volunteers are invited to attend our upcoming training workshops on Wednesdays, August 5, 12, 19, 25, and September 2 & 9 from 10:00-3:00 pm. The workshops will offer an overview of Ventura County history, museum history & collections, with training for tours and working with the public.
For more information, contact Director of Education & Outreach, Megan Gately, at mgately@venturamuseum.org or (805) 653-0323 ext. 300.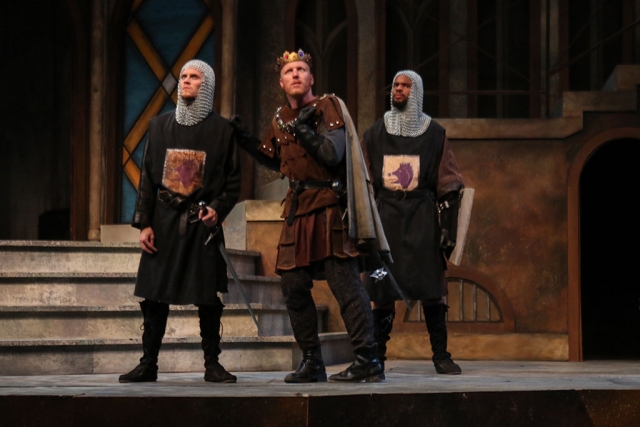 Jason McBeth as Richard (center). Photo by Brian Stethem
Enlarge Photo
By Gazette Staff Writer — Tuesday, July 21st, 2015
Kingsmen Shakespeare Festival adds 2 Thursday shows
THOUSAND OAKS, CA - After rain cancelled Kingsmen Shakespeare Festival performances for the first time in the event's 19 years, two additional shows have been added at discount rates.
Performances of "Richard III" have been added on Thursday, July 23, and Thursday, July 30, to replace shows that were cancelled on Saturday and Sunday because of rain. Two-for-one tickets for the new shows will be available at the door for $20. General admission tickets for the already scheduled performances on July 24 through 26 and July 31 through Aug. 1 are still $20 each at the door. Everyone under 18 is admitted free to all performances.
Shows begin at 8 p.m. in Kingsmen Park on the Thousand Oaks campus of California Lutheran University. The festival grounds open at 5:30 p.m. for picnicking and entertainment.
One of Shakespeare's earliest plays, "Richard III" was written around 1592 about the final chapter in the Wars of the Roses. The Kingsmen Shakespeare Company last presented the tragedy a decade ago. After the official burial this year of the monarch's rediscovered body and given the popularity of the HBO series "Game of Thrones," which is based on the Wars of the Roses, the time seemed right to revisit the play.
Director Ryan Lee lives in New York City, where he most recently directed acclaimed productions of "The Winter's Tale" and "A View from the Bridge." He last appeared on the Kingsmen stage in 2004 as Berowne in "Love's Labour's Lost."
Cast members include several newcomers to the Kingsmen stage: Jason McBeth as Richard, Angela Sauer as Queen Elizabeth, Gillian Doyle as Margaret, Jamey Hecht as the Duke of Clarence and Seta Wainiqolo as Richmond. McBeth has appeared in "King Lear," "Much Ado About Nothing," "King Henry VI, Part I," "Richard III" and "Dr. Faustus" at the Oregon Shakespeare Festival. Sauer's credits include regional productions in Los Angeles, New York City and Chicago as well as television. Doyle received a Stage Scene LA Outstanding Comedy Award for Grace in "Pterodactyls" and an LA Weekly nomination for "Mrs. Warren's Profession." Hecht is an actor with the Porters of Hellsgate. Wainiqolo, a Moorpark resident who has performed as summer stock with Theatricum Botanicum, graduated from Cal Lutheran in May with a bachelor's degree in theater arts and will begin the Master of Fine Arts acting program at Yale University in the fall.
The cast also includes familiar faces. Rachel Seiferth, who plays Lady Anne, previously appeared at the festival as Juliet in "Romeo and Juliet." Ross Hellwig plays Buckingham, Marc Silver portrays Hastings, and Harold Dixon is Stanley.
The Kingsmen Shakespeare Company is the professional theater company of Cal Lutheran. For more information, visit kingsmenshakespeare.org or call 805-493-3014.
By Gazette Staff Writer — Monday, July 20th, 2015
Exhibition and Opening Reception
The Ojai Valley Museum's latest exhibition is sure to leave a smile on your face. Explore the world of cartoons through the personal collection of Ojai's own Sergio Aragonés, famous MAD Magazine cartoonist.
Over a century of cartoons are included in the eclectic exhibition, each acquired by Aragonés because of its humorous qualities. He searched for examples from the most influential cartoonists from his boyhood and beyond.
Many well known daily and Sunday comic strips illustrate the exhibition including Blondie, For Better or Worse, and Peanuts, just to name a few. Also included are single panel comics from magazines such as Playboy and The New Yorker. Aragonés has been a MAD Magazine contributor since 1963, so of course there is a whole section of cartoon art from the magazine. From camera ready artwork, to cartoons complete with comments and registration lines for the printer, this exhibition includes unique items not seen elsewhere.
The opening reception, with Sergio in attendance, is Saturday, August 1 from 5 to 7pm. The cost is $20 ($15 for members) and includes hors d'oeuvres and a no host wine bar.
The museum is located at 130 W. Ojai Avenue, Ojai, CA. Regular museum admission is: adults $5.00, children 6–18 $1.00, children 5 and under free, and current 2015 members free. Gallery hours are Tuesday through Saturday 10 am to 4 pm and Sunday noon to 4 p.m. Tours available by appointment. Free parking is available behind the museum, off Blanche Street.
For more information, call the museum at (805) 640-1390, ext. 203, e-mail ojaimuseum@sbcglobal.net, or visit the museum website at OjaiValleyMuseum.org.
By Gazette Staff Writer — Wednesday, July 15th, 2015
Friday, July 24th at 9 pm
3rd annual showing establishes a fun ritual at the museum
As part of its occasional Summer Movie Nights, the Museum of Ventura County will screen the 1998 Coen Brothers' quirky "Big Lebowski" on Friday, July 24th at 9 pm (doors open at 8 pm). It's the third year in a row that the museum hosts this irreverent night, comprising a Big Lebowski Trivia Contest, a "dude" look-a-like contest—in which most attendees are unwittingly entered, because they wear robes to the event—and raffle prizes. The doors open at 8 pm, with dinner provided for sale by World Famous Franks Gourmet Hot Dog truck and a no-host bar serving "the Dude's" favorite drink, White Russians, among other libations. At 9:00 pm, the film is shown on the museum's outdoor plaza on a screen suspended between two big palm trees.
Why show this wacky film at a serious museum? Because of its adjacency to the ocean, in celebration of surf culture? To demonstrate that a museum can be fun? For no good reason at all? Each of these could be true. However, "The Big Lebowski" has gained some credibility since its unsuccessful premier in 1998. Time has been kind to it
Jeff Bridges won a career-appreciative Oscar in 2010; subsequently he earned a place as a subject and artist worthy of an episode of PBS's series American Masters, entitled "Jeff Bridges: The Dude Abides" and, incredibly, the film was selected last winter to be included in the Library of Congress' National Film Registry. So, enjoy a night under the stars and see the film for the first time, the hundredth time, or whatever your number might be in-between the two.
"The Big Lebowski"
Friday, July 25, 2014; Doors open 8 pm, Screening 9 pm
Bring your lawn chair and blanket and enjoy an evening of adult humor under the stars
$10 per person/21 & over only
Food available for purchase
Reservations required: Call (805) 653-0323 x315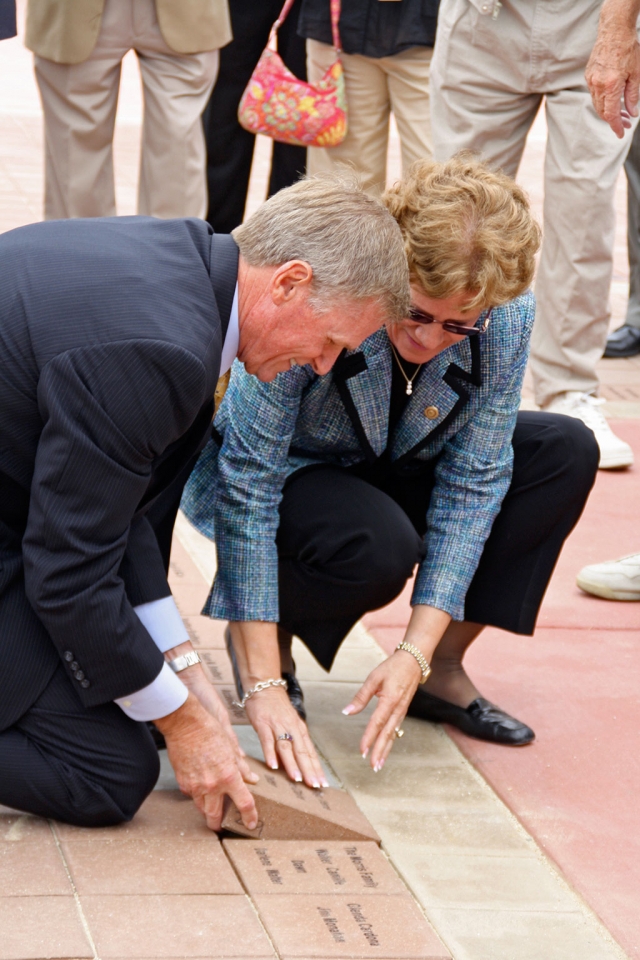 Greg Totten and Sue Chadwick installing a paving brick at the Ventura County Fairgrounds. (July 2011)
Enlarge Photo
By Gazette Staff Writer — Monday, July 13th, 2015
"Main Entry Plaza Project" Personalized Bricks for Sale
The Ventura County Fairgrounds Foundation still has some bricksleft for Fairgrounds supporters to help beautify the Fairgrounds and become a permanent part of the county's most beloved gathering spot.
Before the project began the main entry to the Fairgrounds was weathered and cracked by the years of ocean air. To enhance and repair the main entrance to the fair a beautiful plaza was created. The Main Entry Plaza isconstructed of beautiful paving stones. The stones are personally engraved with the names of special people and organizations.
There are still opportunities to purchase your very own beautifully inscribed brick to support the Ventura County Fairgrounds. Personalized bricks make ideal birthday and anniversary gifts, commendations and remembrances of loved ones. Corporations and organizations can inscribe their name to show public support for the Fairgrounds while promoting their business.
"These beautiful personalized bricks are selling fast," said Armando Lopez, President of the Ventura County Fairgrounds Foundation, "We are happy to offer this opportunity. Order today and be remembered in the Ventura County Fairgrounds Main Entry Plaza forever."
Letters are sand blasted in black for durability and beauty. For generations to come thousands of visitors to the Ventura County Fairgrounds will enjoy the uniqueness and beauty of the Main Entry Plaza. Each engravedbrick will be carefully placed in the Main Entry Plaza as part of the main entrance to the Ventura County Fairgrounds.
Each brick can have up to four lines of script with 15 characters per line. Spaces and punctuation are counted as a character. Each brick measures 8" x 8" and is available for $250 to individuals and families and $1,000 to corporations and businesses. To order an engraved paving stone please call (805) 648-3376 or visit www.venturacountyfair.org.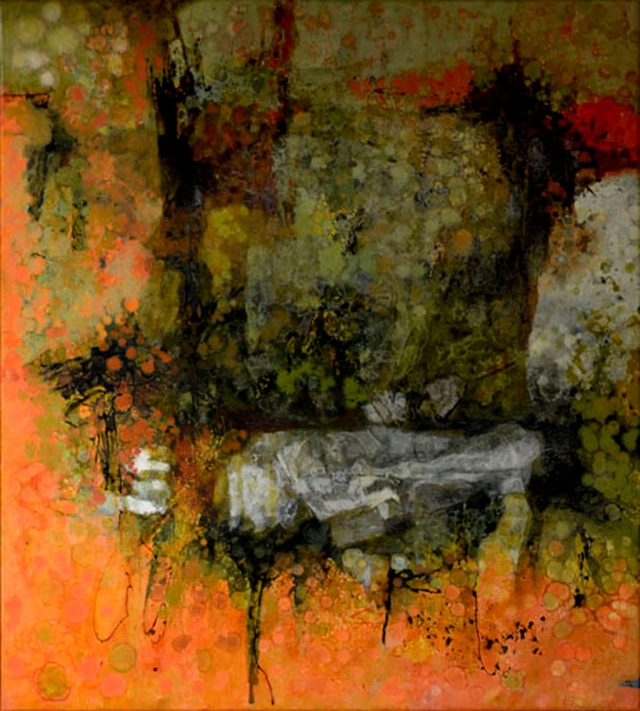 "Coulee Ledge" by Kathleen Gemberling Adkison
Enlarge Photo
By Gazette Staff Writer — Monday, July 13th, 2015
Buenaventura Art Association is doubling down next month in its bid for recognition as Ventura County's premiere venue for admiring and acquiring historic artworks.
It recently debuted the ongoing California Heritage Collection of early 20th-century regional art and will feature a July 28-Aug. 22 retrospective of works by noted Northwest abstract expressionist painter Kathleen Gemberling Adkison, the late mother of BAA member John VanDewerker.
Both offerings at the nonprofit group's downtown gallery accompany a July 14-Aug. 22 exhibition in the main gallery of new, original works by BAA members.
VanDewerker, executor of Adkison's estate, is owner-curator of ArtworksONE, a Ventura studio that does large-format art documentation digital scanning and fine art giclée reproduction. It also holds copyright privileges for Adkison's paintings, many which can be viewed at artworksone.com.
Adkison (1917-2010) enjoyed a long career as a professional artist and art educator. A Nebraska native, she moved with her family to Seattle in 1936 and studied portraiture, figure and still life art at the Cornish Institute. That led to her becoming the first female student and protégé of Mark Tobey, an influential painter in what came to be called the Northwest school. She emulated his radical approach and was among the early American artists to trade easels and traditional brushwork for applying paint directly to canvases set on the floor.
Adkison's more realistic early work evolved over years into colorful abstracted views of her natural surroundings that earned critical acclaim and many awards in major shows over more than six decades. Among her most satisfying honors were a Purchase Prize and First Place in a national show at the Butler Institute of American Art in Youngstown, Ohio, where she shared the First with Andy Warhol. That piece, "Coulee Ledge," will be in the BAA show.
VanDewerker said his mother "produced an estimated 1,500 pieces during her lifetime and sold approximately 95 percent of her work nationwide, with most pieces held by Northwest collectors and commercial institutions," including many museums.
On display in the estate collection will be about 15 paintings ranging from 24 by 30 inches to 60 by 77 inches in size, said VanDewerker, who will be present from 5-7 p.m. Aug. 1 for a reception.
This exhibition, he said, "is about a body of work including 60 years of shifting focus, techique and abstracted interpretations of images she acquired during years of world travel. She never worked from photographs and was always driven by retained perceptions of her feelings created at the moment."
Adkison's art legacy will be on display at the Buenaventura Gallery, 700 E. Santa Clara St., which is open 11 a.m. to 5 p.m. Tuesdays through Saturdays. For more about the nonprofit Buenaventura Art Association and its programs, visit www.buenaventuragallery.org.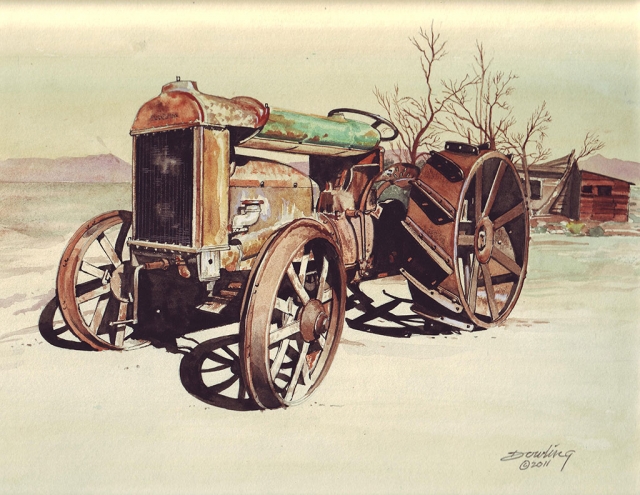 Wendell Dowling
Enlarge Photo
By Gazette Staff Writer — Monday, July 13th, 2015
Opening Reception, Friday, July 17 from 5 to 7 pm.
Wendell Dowling is a local artist with deep roots in Santa Paula. His artistic talents have led him into a wide variety of artistic pursuits from working as a technical illustrator for an engineering firm to a freelance artist creating illustrations for numerous books and magazines. He created a mural on the Ventura County Agriculture Building (at 815 Santa Barbara Street in Santa Paula) depicting the many modes of transportation that helped move Santa Paula into the 20th Century. A selection of his drawings and paintings, representing more than 30 years of his creativity, will be on view at the Ag Museum.
Twenty-three works, mostly drawn from the artist's collection, depict the history and lifestyle of Santa Paula, boasting whimsical, interesting titles such as "Fences Make Good Neighbors", "Running Board Rendezvous" and "Grandma's Punkin." According to the Ag Museum's curator Eric Howes, "These delightful oils and watercolors provide the perfect complement to our current exhibitions on Tractors and Aviation; these beautiful works extol the virtues of hard work and the natural beauty of this rich region."
WENDELL DOWLING BIO
Mr. Dowling graduated from Santa Paula High in 1960 with plans to become an architect, soon realizing that he'd be drawing square shapes for the foreseeable future. He then became a commercial artist for an ad agency, a freelance artist and sometime muralist.
He retired in 2014 after forty years of drawing and designing for a living. He continues his art in retirement, "for fun." He donates his time to the Aviation Museum of Santa Paula, where he serves on the board and does promotional flyers and ads, as well as occasional design work. He's drawn cars for the Santa Paula Cruise Night tee shirts for the past 17 years. He dabbles in animation, drawing Tin Town 'Toons for the Aviation Museum newsletter.
By Myrna Cambianica — Monday, July 13th, 2015
Brooks Institute instructor Greg Cooper returns to the Ojai Photography Club as the July presenter and reviewer of member images. The meeting will begin at 7:00 p.m., Tuesday July 21, at Help of Ojai's Kent Hall, 111 Santa Ana Street, Ojai, CA.
Cooper will lead a conversation with the group showcasing images made in and around the Ojai Valley in a presentation called "Community: Staying Close to Home to Make the Best Pictures."The lecture is geared to all photography hobbyists and professionals who need inspiration in finding a new eye in their hometown. "The Ojai Valley is a phenomenal place to make stunning imagery,"Cooper said, "I grew up here and have been making photographs in the Valley for over 30 years. Every day is different and each one is an opportunity to make great pictures."After the lecture Cooper will give feedback on images from the members of the club.
A native of Ojai, Cooperearned an AA in Liberal Arts from Ventura Community College in 1991 and a BA from Western Kentucky University in 1996, with a double major in photojournalism and anthropology. During his time in junior college, he worked as a staff photographer for the Ojai Valley News.
After leaving Western Kentucky, Cooper returned to Southern California and joined the Ventura County Star, where he worked his way up to assistant photo editor. The Columbus Dispatch then lured him away to become its Sunday photo editor. Three years later, Cooper again returned to Ventura County. This time he pursued his Masters Degree from Brooks Institute of Photography. While at Brooks he did his master's thesis on the future of digital photography at newspapers: "Still Photography at Newspapers: Its Uncertain Future as aMedium."He has been teaching at Brooks Institute in the Visual Journalism program as a full time faculty member since 2003.
Cooper recently added video and Web design to his areas of expertise. A graduate of the Platypus Workshop and Apple certified in Final Cut Pro, Cooper continues to tell stories in a variety of media, including the iPhone.
Monthly presentations are part of the Ojai Photography Club's community service and education outreach. Visitors are welcome to attend.
The club, which is devoted to education, inspiration, and camaraderie, meets on the third Tuesday of each month, February –November. Only members may submit images for critique. More information is available at: www.ojaiphotoclub.com/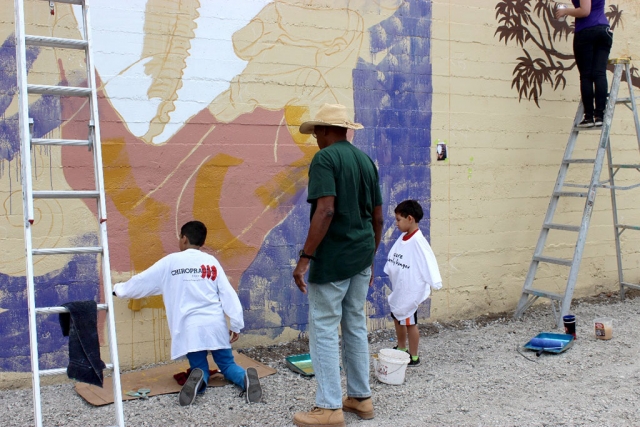 (left) Cuban sculptor and painter Pedro Pulido mentoring kids while painting the "Havana to Ventura" Mural
Enlarge Photo
By Gazette Staff Writer — Tuesday, July 7th, 2015
July 18-19, ArtWalk to feature 500+ artists, including Havana to Ventura, an artistic collaboration between two countries featuring special events and exhibits
VENTURA, CA - The streets of the city of Ventura's historic Downtown and Westside Cultural District will transform into a mecca of artistic expression, and bring Cuban culture and history during the 22nd ArtWalk Ventura the weekend of July 18-19th.
ArtWalk will present something unique this year by bringing "From Havana to Ventura," which is an inspiring tale about abiding friendship, torn barriers, artistic collaboration, determination, and a series of special events and exhibits, including a collaborative public mural.
Endearingly labeled, "the Cubans," ArtWalk will welcome renowned Cuban sculptor and painter, Pedro Pulido and Cuban historian Victor Pina, a former aeronautical engineer. Both are Cuban creatives who have built a close relationship with prominent artists in Ventura resulting in their upcoming visit and participation in ArtWalk. Pina and Pulido's days will be chock-full of activities, recognitions, events and fun.
The "Havana to Ventura Mural Project," is a highly anticipated artistic collaboration between local muralist MB Hanrahan and visiting artist, Pulido. The mural will reflect the styles of both community painters, and contain elements shared by both Ventura and Cuban culture – dancing, music, car culture, the ocean and nature. The mural will be painted with acrylic paint, on concrete, under the direction of the two lead artists, along with art students and community volunteers. The mural will be painted at 50 W. Main Street and visible from Main Street, under the generous sponsorship of the building owner, Josh Addison and the Addison family.
Vita Art Center will be a hosting two, weeklong mural workshops, starting June 29, through its Summer Teen Program, which will be a great opportunity for young aspiring artists to work on a large-scale public art project in Ventura County. Student participation is encouraged as they will gain hands-on mural painting training, and be guided through every step of the mural process.
"We are very excited for our month-long stay in California and bringing Havana to Ventura," said Pina. "It's an honor to deliver the Cuban art culture and history to such an artistic community like Ventura. Both Pedro and I are looking forward to seeing everyone at ArtWalk."
ArtWalk is a free, self-guided tour of more than two dozen high-end art galleries, pop-up stores and studios, as well as the return of 15 PODSÂź Containers transformed into mini art galleries. The PODS Containers were generously provided by PODS of Tri-Counties owner Steve Yapp. Attendees also may take advantage of the free shuttle service, which connects venues along Ventura Avenue and Main Street.
The two-day Southern California art tradition will highlight the diverse works of more than 500 regional artists, exhibiting paintings to sculpture to performance art. This year's Artist of Distinction is Michele Chapin of Stonework Studios, one of Ventura's most prominent and longstanding art establishments.
Attendees are invited to "taste their way through ArtWalk" by purchasing a locally handcrafted bowl to sample food at participating restaurants. Off Ventura Avenue, the Bell Arts Factory and its year-round studios will host a street scene, featuring live music and food court. In addition, Vita Art Center will also exhibit a collection called "Art of the Masters" that consists of works by Salvador Dali, Francisco Goya, Marc Chagall, Ben Shan, Carlisle Cooper, Morris Gaylord Broderson, John Hubbard Rich, among others.
"We're thrilled with the growth ArtWalk Ventura has experienced over the past two decades, and especially excited for the Havana to Ventura artistic collaboration," said Mary Perez, ArtWalk Ventura organizer and owner of Vita Art Center. "It'll be a nice spin to see two artistic worlds collide. By bringing in hundreds of regional artists to participate, this event is a great testament to the diverse talents Ventura County artists have to offer and has established itself as a leading arts community of California."
For more information about ArtWalk Ventura, visit http://artwalkventura.org/.
ArtWalk Ventura Event Listings:
Havana to Ventura Mural Project
When: Wednesday, July 1 – Sunday, July 19
Location: Downtown Ventura, 50 W. Main St, Ventura, Calif. 93001
Cost: Free
Havana to Ventura Mural Project Workshop
When: Week 1: Monday June 29 – Friday, July 3 from 9 a.m. – 12 p.m.
Week 2: Monday, July 6 – Friday, July 10 from 9 a.m. – 12 p.m.
Where: Vita Art Center, 432 N Ventura Ave, Ventura, Calif. 93001
Cost: $120/week, scholarships available. 18 and over volunteers welcome
ArtWalk Ventura
When: Saturday, July 18, noon – 8 p.m. and Sunday, July 19, noon - 6 p.m.
Where: Ventura's Historic Downtown and Westside Cultural District
Mission Park Performances
When: Saturday, July 18, noon – 10 p.m.
Where: Mission Park
Cost: Free, featuring live performances by Ventura College musicians, Rubicon Theater Co actors and musical group Domingo Siete.
Collectors Reception
When: Friday, July 17, 6:30 – 9 p.m.
Where: Historic City Hall, 501 Poli St, Ventura, Calif. 93001
Cost: Advance tickets $20. At the door, $25
Cuban Breakfast and Lecture Series
When: Saturday, July 18, from 10 a.m. – noon
Where: Museum of Ventura County, 100 E Main St, Ventura, Calif.
Cost: $25
Bowl Hop
When: Saturday, July 18, noon – 8 p.m., Sunday, July 19 from noon – 5 p.m.
Where: Outside Albinger Museum, 113 E. Main St.
Cost: $25 per bowl, proceeds benefit Project Understanding
About ArtWalk Ventura
ArtWalk Ventura is a free, self-guided tour of dozens of galleries, studios and pop-up venues in Ventura's historic Downtown and Westside Cultural District that features the work of the finest regional artists, drawing cultural tourists from all over. The event is now run by an all-volunteer group which has added new life to the event. For more information about ArtWalk Ventura, visit http://artwalkventura.org/, or email ArtWalk Ventura event organizer and owner of Vita Art Center Mary Perez at maryperez@vitaartcenter.com. Find us on Facebook at http://www.facebook.com/VenturaArtWalk.
By Gazette Staff Writer — Tuesday, July 7th, 2015
OXNARD, CA - The Collection at RiverPark is encouraging the community to bring their lawn chairs and picnic blankets, while they kick back, relax and enjoy a series of free live music acts for its Rock the Collection concert events. Kicking off on Sunday, July 12, these family-friendly performances will showcase a diverse line-up of lively cover bands on three Sundays from 2 – 4 p.m. throughout the summer in Collection Park.
Rock the Collection event line-up:
‱ Sunday, July 12: The Spazmatics, a 1980s cover band comprised of former Thousand Oaks professors, will play an electrifying set complete with "robot" drums, while dressed in "Revenge of the Nerds" inspired garb of bowties, plaid pants and pocket protectors.
‱ Sunday, July 26: Disco Inferno will have the audience grooving to the music as they perform all-time favorite hits from bands, such as K.C. & The Sunshine Band, The Bee Gees, and Earth Wind and Fire.
‱ Sunday, August 2: Concert-goers will want to "Take it Easy" with The Long Run – Experience the Eagles as they soundly pay tribute to one the most successful music bands in rock history.
"We are thrilled to announce this exciting roster of some of the most favored cover bands in the country for our Rock the Collection concert series," said Erica Boatman-Dixon, Director of Marketing for The Collection. "The summer months at The Collection will be jam-packed with an array of events that we think will appeal to people of all ages. Rock the Collection is definitely one we are proud to bring back due to popular demand."
Sponsors of the event include Centers for Family Health, National University, Shorewalk Homes and Ventura County Credit Union.
Visit www.RockTheCollection.com for more information and chances to win prizes and swag. For information about sponsorship opportunities, please contact Jill Almonia, Marketing and Business Development Coordinator, at 805-278-9500.
About The Collection
The Collection at RiverPark is a 700,000 square foot, open-air specialty retail center located in the heart of West Ventura County. Inspired by the beauty of the California coast, The Collection reflects the unique atmosphere of the surrounding seaside communities. The Collection is built around a town grid of retail streets, each of which has its own personality-a carefully crafted assortment of established and contemporary designer shops, distinctive dining, and signature entertainment venues. Anchors include Target, Century RiverPark 16, REI, Whole Foods Market, H&M, 24-Hour SuperSport and The Container Store (late 2015). Restaurants include Yard House, Gen Korean BBQ, Lazy Dog Restaurant & Bar, Maria's Italian Kitchen and more. Follow us on the web, Facebook, Twitter, Instagram, Pinterest and Vine at TheCollectionRP.
By Gazette Staff Writer — Wednesday, July 1st, 2015
The Artists Guild of Fillmore opens their 2015 art exhibition at the Ojai Arts Center in Ojai California on July 11, 2015 and continues thru August 5, 2015. The Reception will be on July 18 - 1pm to 3pm.
Cradled within the confluence of the free flowing Sespe and Santa Clara Rivers, Southern California's pristine agricultural valley is home to a rich ecological and cultural enclave. The Artists Guild of Fillmore is composed of an eclectic group of Santa Clara River Valley artists and is focused on bringing artwork created in this fertile agrarian environment to the forefront of Ventura County's arts community.
New members of the Guild are Paul Melvin Benavidez and Jeremy Kirsch.
The Artists Guild of Fillmore are Paul Melvin Benavidez, Judy Dressler, Lady Jan Faulkner, Lois Freeman-Fox, Joanne King, Jeremy Kirsch, Virginia Neuman, Doris Nichols, Luanne Perez and Lia Verkade.
The Ojai Arts Center is one of the leading Ventura County cultural centers. The Ojai Art Center (also known as the Ojai Center for the Arts) is the longest continuously-operating multi-disciplinary center serving the arts in the State of California for over 75 years.
TITLE: THE ARTISTS' GUILD OF FILLMORE, 2015 Art Exhibition
WHERE: OJAI ARTS CENTER
ADDRESS: 113 So. Montgomery St. ‱ Ojai, CA 93023
PHONE: 805-646-0117
DATES: July 11, 2015 - August 5, 2015
RECEPTION: Saturday July 18, 2015 @ 1:00 PM to 3:00 PM
By Gazette Staff Writer — Wednesday, July 1st, 2015
Written by By John Hankins
The larger-than-life heroine, 'Auntie' Mame, is appearing on the Ojai ACT stage July 10 to Aug. 9 with all the award-winning music, dancing and excitement that made it a Broadway hit whilethumbing its nose at convention and conformity.
"MAME" (Tracey Williams Sutton) is the ultimate Greenwich Village Bohemian, whose digs atBeekman Place represent the epicenter ofeccentrics, artists, actors, freethinkers and connoisseurs.
Directed by Brian Robert Harris, the musical features "a remarkably hard-working cast." After all, "the dance numbers require Broadway quality choreography" and a score that embraces the exhilaration of living an exciting life.
The musical was crafted from Patrick Dennis' 1955 novel, "Auntie Mame: An Irreverent Escapade," that stayed on the New York Times' bestseller list for 112 weeks. It was made into a play in 1956 starring Rosalind Russell who also starred in the 1958 film. Jerome Lawrence and Robert Lee turned it into a musical, opening on Broadway in 1966 starring Angela Lansbury and Beatrice Arthur ("Bosom Buddies"), winning two of its three Tony Awards.
It is notable that its initial success came during the McCarthy era where non-conformity was considered un-American to some, but Mame had no such notions, condemning it by word and example. Live life to its fullest, she sings: "open a new window, open a new door, travel a new highway that's never been tried before."
Mame's lifestyle is tested when her late brother's 10-year-old son Patrick (Rhett Speer) comes to live with her, accompanied by the dowdy, straight-laced Agnes Gooch (Anna Kotula), and later when the college-aged Patrick (Jack Evans) appears enamored by the conservative culture of Connecticut.
Throughout Mame's life, the lushful actress Vera Charles (Laura Ring) is by her side, and their signature duet, "Bosom Buddies," is a show-stopping highlight now as it was then.
This is a song and dance driven show, and so the Ensemble is a character in itself. Produced by Herb Hemming and Bill Spellman, the captivating dance numbers are choreographed by the dynamic duo of Anna Kotula and Beverley Sharpe. The era, from the Roaring 20s to the 40s are captured via costumes made and chosen by Edmund Andreas and Hayley Weed.
"MAME" runs from July 10 to Aug 9, at Ojai ACT, 113 S. Montgomery St.; 8 p.m. Fridays and Saturdays and 2 p.m. Sundays. Tickets are $25 general, $20 for seniors, students and Art Center members. Reservations at 640-8797 or www.OjaiACT.org.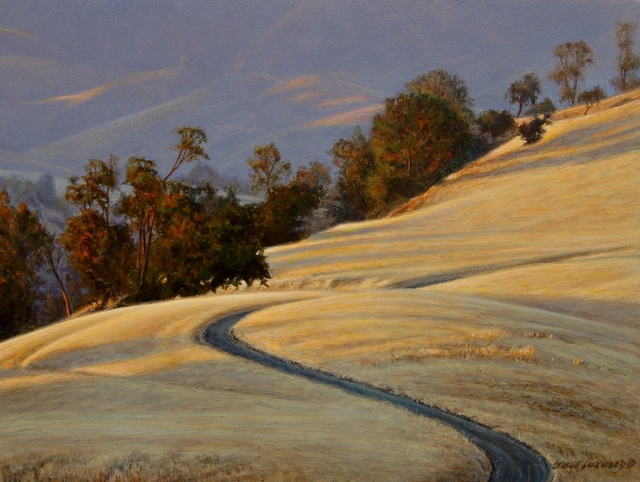 "Figueroa Shadows" by George Lockwood, acrylic on board, 9" x 12", Collection of the artist.
Enlarge Photo
By Gazette Staff Writer — Tuesday, June 30th, 2015
July 11 through October 11, 2015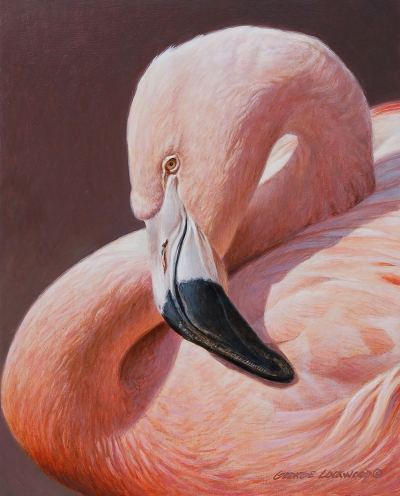 "Soft Light – Flamingo" by George Lockwood, acrylic on board, 10" x 8", Collection of the artist.
Enlarge Photo
SANTA PAULA, CA – Opening July 11, the Santa Paula Art Museum will present "The Art of George Lockwood," an exhibition of original paintings by award-winning Santa Paula native George Lockwood. The exhibition will open with a reception on Saturday, July 11, 2015 from 4:00 to 6:00 p.m. Admission to the reception is $10.00 for museum members and $15.00 for the general public.
Lockwood was born and raised in Santa Paula, California. After graduating from California Polytechnic State University, San Luis Obispo with an Agricultural Management Degree, George spent 19 years guiding in Alaska. Living in the Alaskan bush and watching animals for months at a time played an important part in his art and ultimately led to a new career. He has won numerous awards and gained national recognition for his work depicting wildlife and landscape including 20 State Duck and Game Bird Stamps and Nation's Best Duck Stamp Design twice.
George now paints for shows, galleries, competitions and by commission. His paintings are a record of experiences and they can be found in private and corporate collections throughout the United States and around the world. The solo show will include Lockwood's well-known depictions of wildlife and landscape, as well as local scenes and a variety of subject matter from many parts of the country. The exhibition runs through October 11, 2015.
The Santa Paula Art Museum is located at 117 North Tenth Street in downtown Santa Paula. The Museum's regular hours are Wednesday through Saturday from 10:00 a.m. to 4:00 p.m., and Sundays from 12:00 to 4:00 p.m. Regular admission is $4.00 for adults, $3.00 for seniors and is free for museum members and students. For more information, please contact the Museum at (805) 525-5554 or info@santapaulaartmuseum.org.