CI hosts San Francisco Mime Troupe actors as they take an irreverent look at 2016 politics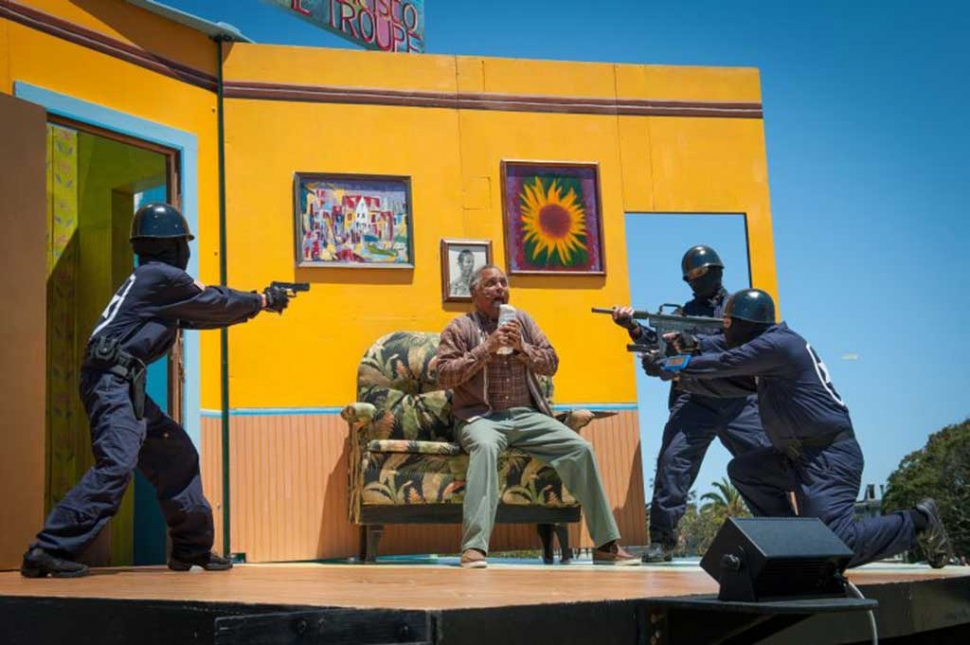 By Gazette Staff Writer — Wednesday, September 28th, 2016
CSU Channel Islands (CI) Performing Arts students and two members of the award-winning San Francisco Mime Troupe will conduct an interactive lecture/performance satirizing the politics of 2016 along with political shenanigans from years past.
The public is welcome to watch Mime Troupe members Hugo Carbajal and Lisa Hori-Garcia join upper division Performing Arts students as they present "57 Years of Political Theater" Thursday, Sept. 29 from 6 to 7 p.m. at Malibu Hall 140 on the CI campus.
The title, which is derived from the political satire troupe's 57 years in existence, encompasses a presentation of information, scenes and new material from past, present and future moments in U.S. politics.
The performance marks the conclusion of an intensive visiting artist residency at CI that begins Sept. 26. Carbajal and Hori-Garcia will give 15 hours of instruction over the course of four days to students in an upper level Performing Arts class called Acting III: Performance Styles.
The Troupe incorporates a form of theater called "Commedia dell'arte," which began in 16th century Italy and spread throughout Europe.
The Troupe does not perform silent mime, but each year creates an original musical comedy that combines melodrama, farce and Commedia dell'Arte, always with a topical political theme.
"What is particularly engaging for a university is that these methods are grounded in historical periods but performers use them to comment on contemporary issues," said Associate Professor of Performing Arts Catherine Burriss, Ph.D. "It gives us a chance to study our history, engage with the present, and further our knowledge for the future."
Burriss stressed that a solid understanding of performing arts has never been more relevant than it is in the 21st Century.
"In this day of the 24-hour news cycle and the saturation of new media, whether it's a live audience, YouTube, Instagram or Snapchat, all performance is socially and politically engaged" Burriss said. "Performance is so much a part of how we communicate and how the media works and how politics works."
Limited parking is available on campus with the purchase of a $6 daily permit; follow signs to the parking permit dispensers. Free parking is available at the Camarillo Metrolink Station/Lewis Road with bus service to and from the campus. Riders should board the CI Vista Bus to the campus; the cash-only fare is $1.25 each way. Buses arrive and depart from the Camarillo Metrolink Station every 30 minutes from 7 a.m. to 10 p.m. Monday through Friday. For exact times, check the schedule at www.goventura.org.
Persons who, because of a special need or condition, would like to request an accommodation should contact Disability Resource Programs at 805-437-3331 or email accommodations@csuci.edu as soon as possible, but no later than seven (7) business days prior to the event, so that appropriate arrangements can be made.
About California State University Channel Islands
CSU Channel Islands (CI) is the only four-year, public university in Ventura County and is known for its interdisciplinary, multicultural and international perspectives, and its emphasis on experiential and service learning. CI's strong academic programs focus on business, sciences, liberal studies, teaching credentials, and innovative master's degrees. Students benefit from individual attention, up-to-date technology, and classroom instruction augmented by outstanding faculty research. CI has been designated by the U.S. Department of Education as a Hispanic-Serving Institution and is committed to serving students of all backgrounds from the region and beyond. Connect with and learn more about CI by visiting CI's Social Media.