By Gazette Staff Writer — Monday, June 8th, 2015
Thursday, June 11, 2015 at 3:00 p.m.
Join us on Thursday, June 11 at 3:00 p.m. for a live painting demonstration by artist James Martin. Upon graduating with distinction from the Art Center College of Design, Martin worked in the comic and advertising industry and spent many years as a freelance movie and advertising illustrator. His clients included Spike Lee, Steven Spielberg, Jean-Pierre Jeunet, The Grammy Awards, Mattel, and many others.
Martin was then employed at Walt Disney Feature Animation as a background painter working on such films as "Tarzan", "Atlantis", "The Hunchback of Notre Dame", and "Hercules". Currently he is employed at Dreamworks Feature Animation as a digital matte painter and texture artist. "How to Train your Dragon" and "Shrek 4" are some of his current credits.
While working in the commercial art industry Martin has also been pursuing a fine art painting career. He has participated in numerous exhibitions of his work in galleries and museums across the United States including the Santa Paula Art Museum.
ADMISSION
$4.00 Adults
$3.00 Seniors
Free for SPAM Members and Students
By Gazette Staff Writer — Tuesday, June 2nd, 2015
Seven bands will deliver a mix of music styles, from Latin jazz to rock 'n' roll and rhythm and blues, at Santa Paula's second annual Melody Hall Music Festival on June 6, from 10 a.m. to 7:30 p.m., adjacent to the California Oil Museum at 1001 E. Main St.
The Santa Paula Historical Society is organizing the free day of music and entertainment that will include dancing, food trucks and a fenced-in Beer Garden.
Festival-goers will have a large dance floor to kick up their heels for seven hours to a lineup of bands that includes Charles Law Band, Deuce, Juano & Friends, Bob DeSena Latin Jazz, Fender Bros., R&B Bombers and House Arrest.
"The festival is a tribute to the impact music has had in our community and a tribute to the musicians of Santa Paula," said Festival Chairman Ed Arguelles of Santa Paula, who serves on the Historical Society board. As a former Santa Paula High School history teacher for 35 years, Arguelles said he sees music "as the catalyst that throws us back into history. It is difficult to think of one's history without the impact of music," he said. "History is so much more than written documents and photographs. It is art, literature, history, war, politics, sports, music. They are all pieces of the puzzle that make the mosaic of history come alive."
The eight-piece Charles Law Band will start the festival at 10 a.m. with a high-energy wakeup call. Spectators and dancers of all ages craving country rock blended in "Santa Style" funk are certain to be impressed, Arguelles said. "Featuring a throbbing mixture of horns, strings and vocals, set to crafty and flamboyant syncopation, Charles Law is an experience difficult to miss."
Santa Paula homegrown musicians Deuce takes the bandstand second. "They will reprise not only their riveting R&B sounds that have made them legendary artists and Ventura County Battle of the Band winners but also will mesmerize its popular fan base with a new song collection and style that is sure to amaze," Arguelles said.
If Tex-Mex, oldies and soul music is your thing, you will not want to miss the electrifying rhythms and vocals of Juano & Friends who take the stage third. "Reserve your spot on the dance floor for their 55-minute song set as they always generate excitement among the multitude of their loyal music followers," Arguelles said.
Nominated in 2014 for the Los Angeles Music Awards Solo Artist of the Year and again this year for International Artist of the Year, vibes/trumpet jazz artist Bob DeSena brings his polished showmanship and swinging Latin Jazz Band direct from Las Vegas to the streets of Santa Paula in the fourth set, Arguelles said. "His troubadours consist of seasoned musicians that will make for an entertaining and vibrant ensemble performing classic and Latin standards with energetic salsa flair."
What would a music festival be without the blues? In the fifth slot are the Fender Brothers who have earned a special place in the hearts and minds of the music faithful for more than four decades, Arguelles said. "Known for their instrumental mastery and scintillating solo work, each member of this five-piece ensemble has earned special distinction among music aficionados of Ventura County."
Festival-goers are in for a special treat as the 10-piece R&B Bombers, a powerhouse of talent, arrive in the late afternoon to jolt the crowd with the melding of genres and styles that incorporates 1940s big-band swing, modern blues, piano boogie and '40s, '50s and '60s R&B, Arguelles said. "Making their first-ever appearance in Santa Paula, their four-horn frontline and big-voiced singer are sure to invigorate and test the stamina of the most ardent dance couples still boogying on the dance floor."
The Melody Hall Music Festival will conclude with one of Ventura County's most popular dance bands, House Arrest. "This seven-piece driving force delivers more than 20 years of performance history and its ability to keep music lovers enthused after six hours of solid entertainment value make it the perfect band to end the festival's fantastic day," Arguelles said.
New to this year's festival will be the addition of food trucks. A special fenced-in Beer Garden will be provided within the exterior gates of the California Oil Museum Courtyard and no alcoholic beverages are allowed outside of its perimeter.
Made possible through sponsorships from local businesses and residents, the Santa Paula Historical Society is still accepting donations to support this free music event for Santa Paula. Private seating, parking and refreshments are available at a special sponsorship level. Donations may be secured by contacting the Santa Paula Historical Society by mail at P.O. Box 842, Santa Paula, CA. 93061 or by calling Festival Chairman Arguelles at 805-279-3415.
Melody Hall Music Festival
What: Melody Hall Music Festival.
When: June 6, from 10 a.m. to 7:30 p.m. Free.
Where: California Oil Museum, 1001 E. Main St., Santa Paula.
Why: To pay tribute to local musical talent.
How to contribute: To become a sponsor or donate to the free festival, call Festival Chairman Ed Arguelles at 805-279-3415.
More information: Look for the Santa Paula Historical Society on Facebook to find more information about Melody Hall.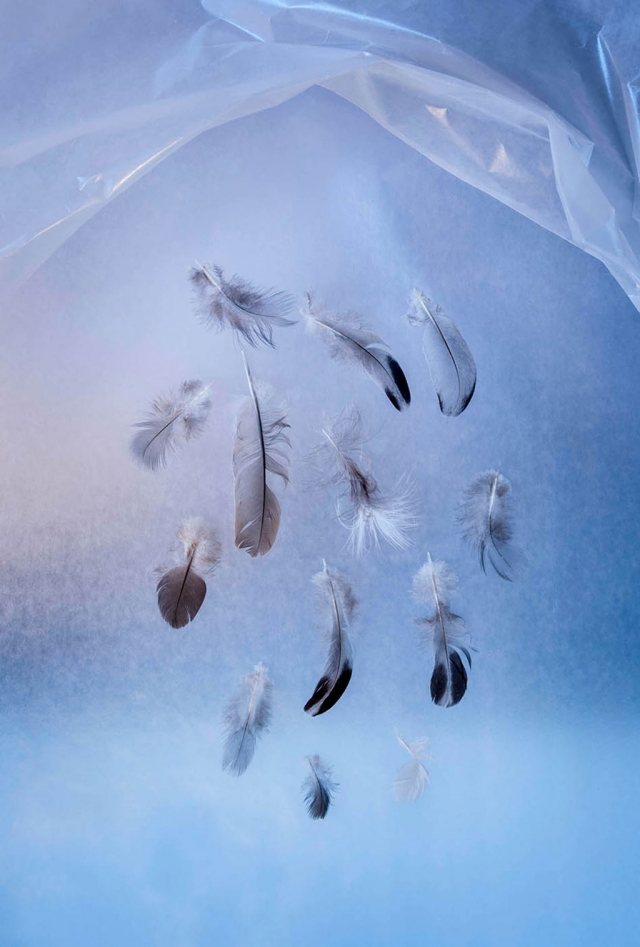 "Quietly" by Photographer Myrna Cambianica.
Enlarge Photo
By Myrna Cambianica — Monday, June 1st, 2015
June 6 – July 8, 2015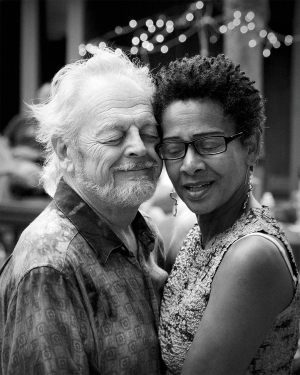 "Peace - Love" by Photographer David Baker.
This popular annual photography exhibit, presented by the Ojai Art Center's Photography Branch, features the theme, "What does peace look like?" The adage "A picture is worth a thousand words" refers to the notion that a complex idea can be conveyed with just a single still image. The images created by participating artists have been selected and juried for excellence in expressing the essence of peace across a broad spectrum of photographic genres.
The opening reception will be held Saturday, June 6, from 1 p.m. to 3 p.m. The Ojai Art Center is located at 113 S. Montgomery Street, Ojai. Gallery hours are noon to 4 p.m. Tuesday through Sunday. Website: http://www.ojaiartcenter.org
In collaboration with the exhibit there will be two additional events in the gallery. On Saturday, June 20, at 10 a.m., ten selected writers will read from their 75 word essays on the theme, "What Does Peace Look Like – My Dream Plan." On the following Saturday, June 27, from 10 a.m. to noon, there will be a panel discussion with peace builders who are working in the Ojai Valley to bring a greater sense of peace to the community. These inspirational speakers will share the history and joys of peace building. A question and answer period will be included as well as information on peace projects in the valley,
For more information contact David Baker, Chair, Ojai Art Center Photography Branch, at 805 558-6460 or visit: http://ojaiacphoto.org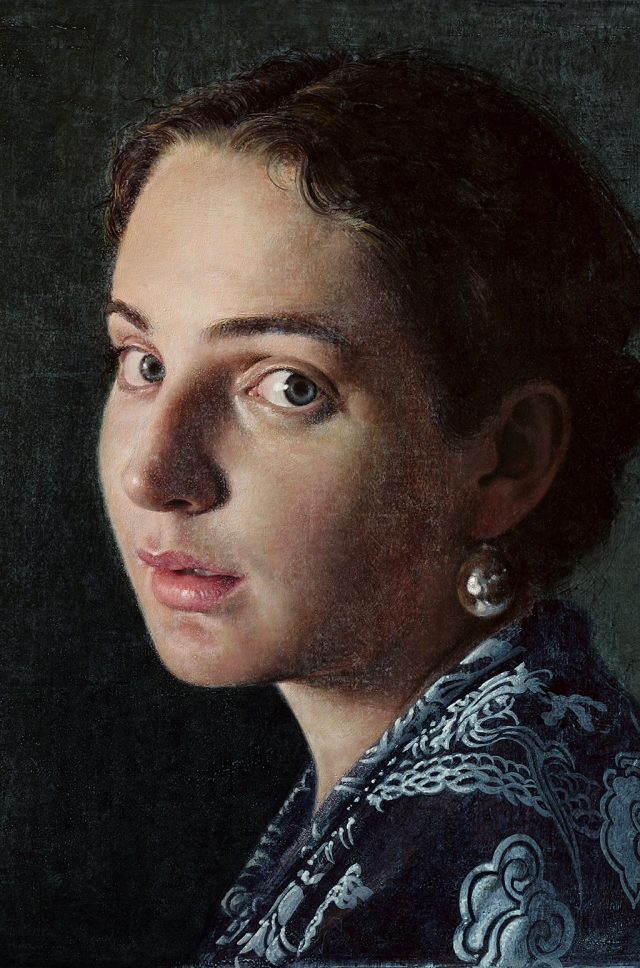 "Rachel with Pearl Earring" by John Nava, oil on canvas, 2007, 20" x 18", Private Collection.
Enlarge Photo
By Gazette Staff Writer — Monday, June 1st, 2015
June 20 through November 8, 2015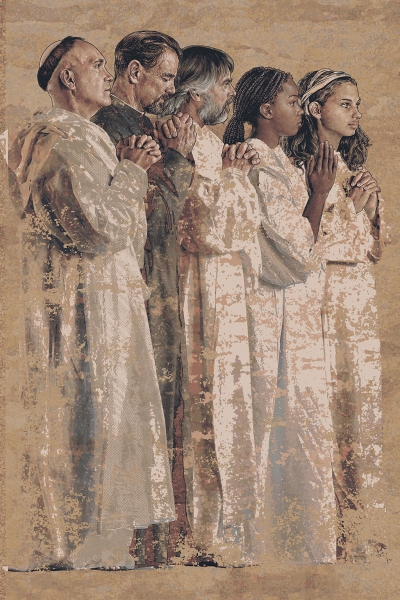 "Test for North Wall 5 Tapestry from the Communion of Saints Tapestry Cycle for the Cathedral of Our Lady of the Angels, Los Angeles, California" by John Nava, jacquard tapestry, 2001, 192" x 82", Collection of the Museum of Ventura County.
Enlarge Photo
SANTA PAULA, CA – This summer the Santa Paula Art Museum will present John Nava: Selected Paintings and Tapestries, a survey of works by internationally renowned painter and tapestry designer John Nava. The exhibition will open with a reception on Saturday, June 20, 2015 from 4:00 to 6:00 p.m. Admission to the reception is $10.00 for museum members and $15.00 for the general public.
John Nava's work ranges from commissioned public projects such as his well-known tapestries for the Los Angeles cathedral to portraits to social and politically themed works to images about the coastal experience of life in Ventura County. The exhibition will contain some works never previously shown in Ventura County and some, from private collections, will be here exhibited publically for the first time. A highlight of the show will be a magnificent 16 feet high tapestry designed by Nava as a test for his tapestries for the Cathedral of Our Lady of the Angels in Los Angeles.
Nava studied art at UC Santa Barbara and did his graduate MFA work in Florence, Italy. His work is found in numerous private, corporate and public collections throughout the United States, Europe and Japan. "We are excited to be able to share John Nava's art with our visitors," says SPAM Executive Director Jennifer Heighton, "Nava's works are incredibly captivating and are made powerful by his masterful ability to capture human expression." The exhibition runs through November 8, 2015.
The Santa Paula Art Museum is located at 117 North Tenth Street in downtown Santa Paula. The Museum's regular hours are Wednesday through Saturday from 10:00 a.m. to 4:00 p.m., and Sundays from 12:00 to 4:00 p.m. Regular admission is $4.00 for adults, $3.00 for seniors and is free for museum members and students. For more information, please contact the Museum at (805) 525-5554 or info@santapaulaartmuseum.org.
By Gazette Staff Writer — Monday, June 1st, 2015
OakHeart Country Music Festival is no stranger to talent, with an all-star lineup featuring Easton Corbin, Cassadee Pope, Annie Bosko and Blackjack Billy. On June 6th over 5,000 people from across the county will be line dancing and boot stompin' to some of the biggest names in country music today, as well as some very talented local bands. But the buck doesn't stop at the music. Currently in its fourth year, OakHeart CMF is dedicated to more than just throwing a heck of a party. The Rotary Club of Westlake Village puts on this event to raise money through tickets sales for local, national and international charities. The 2015 OakHeart Country Music Festival's National Charity recipient will be the Wounded Warrior Project.
Brian Hynes and Troy Hale had a vision 6 years ago to bring something special to their hometown of Thousand Oaks. Both of whom grew up in the suburb of Los Angeles and attended the town's two favorite annual events, the Chili Cook-off and Conejo Valley Days, along with their friends and families. Inspired by the excitement from the community, they developed a business plan to create an event for local and national musicians to be a part of - and discovered they had lots of support along the way: "The community has gotten so far behind it that I have people that I don't know, I've never seen in my life, show up to a volunteer meeting and ask to contribute because it's so close to their heart. It's amazing you see the outpouring of the community, that part has been a bit overwhelming. I didn't expect that", said Brian Hynes. Now in its fourth year, it's on track to be sold out again, with thousands of dedicated fans, national recording artists, and sponsors such as Redbull, Guitar Center and the YMCA. The festival projections over the next few years are to expand into a two-day event, adding to the cook-off tradition, and bringing even more local and national musicians to the stage.
Thanks to the incredible support of its community, OakHeart is the festival it is today, donating its profits to charity, backed by an entire community, and lead by a family of friends who grew up together right here in town. The heart of the city comes together once a year for OakHeart CMF for the love of country music, the love of our soldiers and the love of our community.
Complete festival information can be found at www.OakheartCMF.com.
About OakHeart Country Music Festival: 4th annual OakHeart Country Music Festival takes place at Conejo Creek South Park in Thousand Oaks, CA at 1pm on June 6. The 2015 artist line-up includes Easton Corbin, Cassadee Pope, Annie Bosko, Blackjack Billy, Eli V, Scotty Mac Band, and the Walking Phoenixes. Presented by The Rotary Club of Westlake Village, the Festival features 2 stages with local and national Country artists. OakHeart's goal is to raise funds during the event to benefit the Wounded Warrior Project, Our Community House of Hope in Thousands Oaks and the End Polio Now Movement, which is funded by Rotary International.
About The Wounded Warrior Project: The Wounded Warrior Project's mission is "to foster the most successful, well-adjusted generation of wounded service members in our nation's history." Their main purposes are to increase the awareness of the needs of injured service members, to assist injured service members help each other and to meet the needs of injured service members through distinct programs and services. To continue these charitable services, WWP will need funds to support them and the OakHeart Country Music Festival plans on giving back. See more about WWP: http://www.woundedwarriorproject.org/
About End Polio Now: The Global Polio Eradication Initiative is a public-private partnership led by national governments and spearheaded by the World Health Organization (WHO), Rotary International, the US Centers for Disease Control and Prevention (CDC), and the United Nations Children's Fund (UNICEF). To date, over 2.5 billion children have been immunized, and Rotary, along with its partners, has reduced polio cases by 99 percent worldwide since their first project to vaccinate children in the Philippines in 1979. End Polio Now's goal is to eradicate polio worldwide. - See more at: http://www.endpolio.org/
By Gazette Staff Writer — Wednesday, May 27th, 2015
Kingsmen summer theater program in 30th year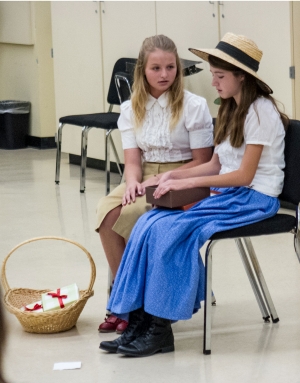 THOUSAND OAKS, CA - The Kingsmen Shakespeare Company Summer Theatre Camp is adding a new Puppet Workshop to its offerings in its 30th year.
In the new session taught by camp director Aaron Anthony Bonilla, campers 8 to 16 will build and learn to manipulate marionettes. They will present a public showcase of scenes from "Romeo and Juliet." The half-day camp meets in the afternoon.
In Beginning Shakespeare, children aged 8 to 12 will learn about the Bard, textual analysis, vocabulary, stage movement and combat techniques as they prepare to present a condensed version of "Taming of the Shrew" or "Comedy of Errors." Training for 8- to 16-year-olds continues with Advanced Shakespeare, which covers Shakespeare scenes, stage combat, period dance and acting techniques in more depth and concludes with the presentation of an abridged "Macbeth." This year, Advanced Shakespeare will be an all-day camp, and all-day and half-day options will be available for Beginning Shakespeare.
Musical Theatre for 12- to 16-year-olds will cover vocal technique, acting and dance and culminate in a performance of selections from a musical. The half-day camp meets in the morning.
Co-presented by California Lutheran University, the camp provides opportunities for children to learn theater techniques and try them out on stage while developing self-awareness, confidence and discipline.
Bonilla, in his second year as director, helped develop the curriculum and designed the teacher-development program for the apprentices who teach in the camp. A graduate of the Pacific Conservatory of Performing Arts, he has devoted himself to theater production, performance and education for 14 years.
Barbara Wegher-Thompson, who teaches dance and movement at Cal Lutheran and has been involved with the Young Artists Ensemble, will again teach Musical Theatre. Teachers, actors and Kingsmen Shakespeare Company members round out the staff.
Two-week sessions begin June 15 and continue through July 31. Classes will be held in the Cal Lutheran Theatre Arts Building and adjoining spaces.
The Kingsmen Shakespeare Company, the professional theater company of Cal Lutheran, presents the annual Kingsmen Shakespeare Festival each summer, coordinates apprentice programs for professional and aspiring Shakespearean actors and provides an educational tour program in local schools.
For more information, visit http://www.kingsmenshakespeare.org, call 805-493-3452 or email info@kingsmenshakespeare.org. Registration is available online.
By Gazette Staff Writer — Wednesday, May 27th, 2015
The Ventura County Concert Band (VCCB) welcomes summer with our final concert of the season on Sunday June 7, 2015. Our program, "As Summer Was Just Beginning," is full of cool musical favorites including marches and musicals along with big band and hot popular hits.
Escape for a while; VCCB free concerts will entertain you, and inspire the whole family. Sunday, June 7, 2015, 3:00pm at the Ventura High School Auditorium located at 2 N Catalina, Ventura. Doors open at 2:30pm. For more information, call (805) 289-7925 or visit www.facebook.com/venturacountyconcertband FREE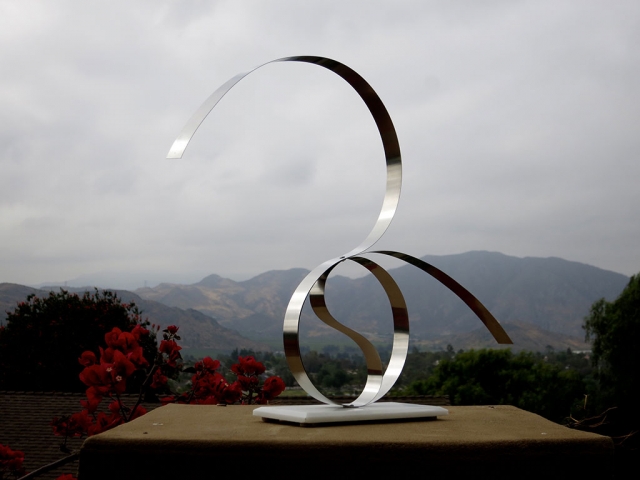 BiJian Fan
Enlarge Photo
By Gazette Staff Writer — Tuesday, May 26th, 2015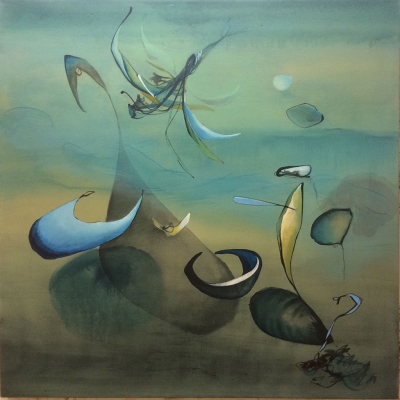 Julia Pinkham
Enlarge Photo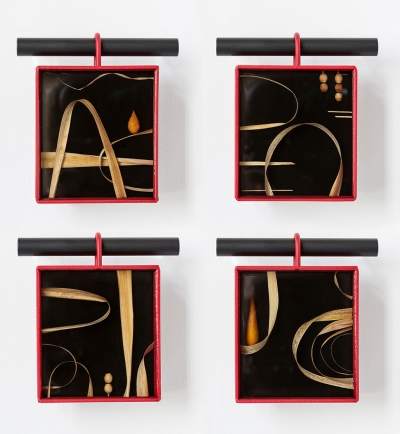 Andrea Haffner
Enlarge Photo
Studio Channel Islands Art Center
Old Town Camarillo
June 4 – June 26
Three local artists, Julia Pinkham, Andrea Haffner and BiJian Fan, combine their talents and share their unique world views in a new show entitled Kinetic Lines. The show opens at Studio Channel Islands Art Center Blackboard Gallery, 2222 Ventura Boulevard, Old Town Camarillo on June 4th and runs until June 26th. There is an artist reception on June 6th from 4-6pm, on First Saturday – the day 40 art studios are open to the public between 10am-4pm. An artists' talk will take place from 3-4pm on June 6th.
Julia Pinkham's work is also strongly influenced by the natural world and organic forms. She blends spontaneous elements of chance with controlled, intentional mark-making, allowing things to appear in her art without pre-planning. She thus creates a dialog between unconscious impulses and purposeful and conscious "left-brain" deliberation. In her current series of gestural abstract paintings, she utilizes mixed media and acrylic on both canvas and paper. She often works with her brushes attached to long sticks in an effort to blend random actions with deliberate strokes to reveal the forms and occasional images that appear in her paintings.
BiJian Fan explores the aesthetic and physical properties of various materials such as paper, PVC, stainless steel and electroluminescent light, and shapes them into kinetic sculptures. Building on a tradition of paper art learned from his Chinese grandmother, he transforms two dimensional static material into three dimensional kinetic sculptures. These cutting-edge designs represent an evolution in space and time. For him, motion energizes the space and symbolizes impermanence in the Universe. Sound and light technology are integrated with his art to create interactive works that foster innovation through interdisciplinary collaboration.
Andrea Haffner's art explores themes dealing with relationships, solitude, experience and complex human emotions. She collects her compositional materials from the richly diverse forms that exist in the natural world that surrounds her, often searching for objects in urban landscapes or rare gardens in the hills of Ojai. With an abiding interest in small containers, she is fascinated with the ways they can serve as both holders of precious things and deliberate points of focus. Through her art pieces, she creates an ever-evolving visual language and invites viewers to take note of parts of the world that would otherwise go unnoticed.
The Blackboard Gallery at Studio Channel Islands Art Center is located at 2222 Ventura Boulevard in Old Town Camarillo. Gallery hours are Tuesday 11:00am to 3:00pm, Wednesday through Friday 11:00am to 5:00pm and Saturday 10:00am to 3:00pm. For information visit www.studiochannelislands.org or call 805-388-1368.
By Gazette Staff Writer — Tuesday, May 26th, 2015
June 7, 2015
As part of its First Free Sundays for Families program, the Museum of Ventura County hosts Abe Lincoln (presented by J.P. Wammack) in honor of its exhibition "The Changing Face of Abraham Lincoln." Mr. Wammack, as President Lincoln, will give a talk on the biography and accomplishments of the famous 16th U.S. president, and "preside" over Lincoln-themed crafts sessions for kids from 1 pm to 3 pm.
Families are admitted to the museum free for the day, from 11 am to 5 pm, and can view the current exhibit on Abraham Lincoln in the George Stuart Historical Figures Gallery. It has been 150 years since the end of the civil war and the untimely death of this beloved president.
The crafts sessions will feature Lincoln penny necklaces or badges, coloring and drawing Abe and each of the U.S. presidents, and constructing log cabins with Lincoln Logs.
Abe will present his brief talk at 1:10 pm, 1:40 pm, and 2:10 pm. Make sure you take a picture with this historic figure!
By Gazette Staff Writer — Tuesday, May 26th, 2015
"Celebrating 56 Years of Harmony in Fine Pottery and Music"
June 13 &14, 2014
Saturday 10 - 6 pm
Sunday 9 - 5 pm
Libbey Park, downtown Ojai
The Ventura County Potters' Guild, one of 3 Pottery Guilds in California, is a collective of ceramic artists is made up of professional and recreational potters and ceramists; instructors from local high schools and colleges; as well as people with a passion for ceramics. The VCPG began with ten Ventura area potters who came together in 1957 to form a potters' guild. They chose Ventura College ceramics instructor, William Winterbourne, to lead the group as "master potter" and pledged themselves to maintain high professional standards and to provide to the public examples of contemporary pottery through exhibits and local sales and mentoring.
This year's spring sale on June 13 & 14 in Libbey Park, Ojai will be our 56th anniversary of celebrating the Guild's fine ceramic artists and Ojai's premier Music Festival. There will be a "Salt & Pepper" Competition that will be juried and there will also be a People's Choice Award table. Please come vote for your favorite piece!
In July 2010 the VCPG opened its first full-time gallery located in Ventura Harbor at 1567 Spinnaker Drive #105. The gallery is made up of 24 juried VCPG members who take turns working shifts and selling their wares.
Proceeds from pottery sold at guild events make possible demonstrations, workshops, a lending library of books and videos, scholarships to local ceramic students. Monthly meetings are generally held the 4th Monday evening of each month from September to May and feature guest speakers who present information or demonstrations in his or her field of expertise; anyone interested in pottery is welcome to attend. Demonstrations are planned.
Since its creation 57 years ago, the VCPG has become a non-profit organization, promoting interest in pottery making and appreciation of the ceramic arts. The Guild has grown from the original 10 to more than 135 members and has expanded beyond Ventura to represent much of southern and central California. Some notable past members include: Daisy Hassall, Otto & Vivika Heino, Frank Noyes, Jessica Prescott and William Winterbourne.
By Gazette Staff Writer — Monday, May 18th, 2015
Free tickets are available for a June 14 screening of the recovered and recently restored 1928 Ramona staring Dolores del Rio. The movie will be shown at the San Gabriel Mission Playhouse on Sunday June 14, at 2:00 P.M. This event is the result of a unique historical partnership between the Ramona Parlor of the Native Sons of the Golden West, the San Gabriel Mission Playhouse, the Los Angeles Theatre Organ Society and the Rancho Camulos Museum and National Historic Landmark.
What IS the connection among these groups? It's all about Ramona.
Helen Hunt Jackson's epic California novel, "Ramona" was published in 1884. It quickly captured the nation's interest in the golden west. The Ramona Parlor of the Native Sons of the Golden West, a benevolent preservationist organization was chartered in 1887. San Gabriel, its current location, is known as the birthplace of Ramona. The first president of the Ramona Parlor was Reginaldo del Valle. The del Valle's were the owners or Rancho Camulos which became famous as the "Home of Ramona". Thus they share the Ramona legacy.
There were four known American movie versions of Ramona. The first was DW Griffith's 1910 version starring Mary Pickford which was filmed on location at Rancho Camulos and it is shown regularly to visitors. The second was Donald Crisp's 1915 version starring Adda Gleason which was filmed at Rancho Camulos and other areas in Ventura County. It is considered a lost film as only portions of one reel exist in the Library of Congress. The third was Edwin Carew's 1928 version starring Dolores Del Rio. It was filmed in Utah and for many years was considered to be lost. The fourth was Henry King's 1936 version starring Loretta Young. It was filmed in Monterey California and is readily available.
Director Edwin Carew's thought to be lost 80 minute silent film classic, which will be shown on June 14, was discovered in the Czech Republic having found its way there by way of Nazi Germany and the Soviet Republic. It was restored by the Library of Congress and re premiered in 2014 at the Billy Wilder Theatre of the UCLA Hammer Museum. A panel discussion including experts Dydia DeLyser and Phil Brigandi who were involved in finding and restoring the film will follow the screening.
The showing of the film at the historic 1927 San Gabriel Mission Playhouse, with accompaniment by renowned organist, Robert Salisbury on the playhouse's 1924 Wurlitzer pipe organ, will make this a memorable event.
Although admission is free, tickets must be obtained in advance at www.missionplayhouse.org.
In addition, after the panel discussion, at 4:00, there will be a $25 VIP reception at the Native Sons of the Golden West Ramona Museum to benefit the Rancho Camulos Museum and Nationa l Historic Landmark. The Rancho Camulos Museum is a 501(c) 3 nonprofit dedicated to the preservation of the Rancho Camulos National Historic Landmark (www.ranchocamulos.org) and educating the public about the historical impact of the 1884 novel "Ramona".
Attendees will have an opportunity to interact with the panelists and other VIPs, view artifacts, and enjoy light refreshments. Contact cachristopher1@att.net by June 8 for reservations.
By Gazette Staff Writer — Wednesday, May 13th, 2015
June 6, 2016
SANTA PAULA, CA – The Santa Paula Art Museum will host a Free Family Day on Saturday, June 6, 2015 from 10:00 am to 4:00 pm. Artists of all ages are invited to join us in a free hands-on art making workshop to coincide with the Melody Hall Music Festival at the nearby California Oil Museum. Participants will learn how to create their own instruments out of everyday materials in this interactive workshop. End the day by testing out your creation by leading your own musical performance. The workshop will be free and fun for the whole family!
The Santa Paula Art Museum's Free Family Day is being held in conjunction with the Santa Paula Historical Society's Melody Hall Music Festival. Held in the adjacent parking lot located next to the California Oil Museum at 1001 E. Main Street, this free event will showcase seven outstanding bands that will range from Rock & Roll to Big Band Jazz & Swing.
Named for one of Santa Paula's earliest night clubs the festival will provide a large dance floor, portable restrooms, food trucks, and entertainment starting at 10:00 am and lasting until 7:30 pm on Saturday, June 6. The public is encouraged to provide their own seating. Umbrellas and shade pop-ups will be allowed but only in designated areas. For more information on the Melody Hall Music Festival please call the California Oil Museum at (805) 933-0076.
The Santa Paula Art Museum is located at 117 North 10th Street in downtown Santa Paula. The Museum's regular hours are Wednesday through Saturday from 10:00 a.m. to 4:00 p.m., and Sundays from 12:00 to 4:00 p.m. Regular admission is $4.00 for adults, $3.00 for seniors and is free for museum members and students. For more information, please contact the Museum at (805) 525-5554.
By Gazette Staff Writer — Tuesday, May 12th, 2015
Camarillo, CA - CSU Channel Islands (CI) music lecturer and professional musician Steve Marsh and his seven-piece "Hep Cats Swing Band" will help boogie the night away Sunday, May 17 during the Channel Islands Choral Association (CICA) "Swing Into Spring" fundraising gala.
The CSU Channel Islands Choir, directed by CI music lecturer KuanFen Liu, D.M.A. (Doctor of Musical Arts), will also transport guests back to the 1930s and '40s with classics like "In the Mood," "String of Pearls," "Sentimental Journey," "Boogie Woogie (Bugle Boy)" and dozens of other favorites that will get you on your feet to cut a rug on the dance floor.
"The swing feel is very contagious and lends itself to dancing," said Marsh, who helped organize the benefit. "We've got a soloist, Tony Galla from New York," Marsh said. "He sings all the Frank Sinatra songs and does a killer Ray Charles."
"Swing Into Spring" will be from 5 to 8 p.m. at Camarillo's Freedom Center at 515 Eubanks Street in Camarillo. Vintage clothing is not necessary, but encouraged!
Also on the program is the Pleasant Valley School District Chorus, who learned how to scat sing and bebop for their part of the show under the direction of their conductor, professional musician Daniel Newman-Lessler of Somis with help from CI student Jonas Lee, who carries a double major in Performing Arts and Sociology.
The $50 price of admission ($35 for students or seniors 65+) also gets your choice of dinner catered from Manhattan of Camarillo restaurant; Chester's Asia Chinese Restaurant and appetizers from the Adolfo Grill.
Enjoy a "Rocket Fizz" root beer float or a vintage cocktail from a no-host bar. Institution Ale Company will be supplying beer and a CICA patron has donated wine.
This is the first year the annual fundraising event has been open to the public. Money raised from "Swing Into Spring" supports the CICA, which in turn supports music education for local elementary school students.
The non-profit CICA funds the Pleasant Valley School District Chorus. Also, in collaboration with CSU Channel Islands, CICA also supports the CSU Channel Islands Choir, which is open to students, faculty, staff and members of the community.
Liu believes it's important to be all-inclusive and to serve everybody from eight years old to 80 because of the magic of music.
"Everybody comes here once a week from different backgrounds to harmonize and sing," Liu said. "That's powerful. They are communicating with their souls through music. Even though we have all these computers and gadgets, human beings long for those kinds of connections."
For tickets, click on www.cicachoir.org or call Libby Scott at 805-312-9130.
About California State University Channel Islands
CSU Channel Islands (CI) is the only four-year, public university in Ventura County and is known for its interdisciplinary, multicultural and international perspectives, and its emphasis on experiential and service learning. CI's strong academic programs focus on business, sciences, liberal studies, teaching credentials, and innovative master's degrees. Students benefit from individual attention, up-to-date technology, and classroom instruction augmented by outstanding faculty research. CI has been designated by the U.S. Department of Education as a Hispanic-Serving Institution and is committed to serving students of all backgrounds from the region and beyond. Connect with and learn more about CI by visiting CI's Social Media.
The California State University (CSU) will reach a significant milestone of 3 million alumni during commencement in spring 2015 and has launched the world's largest yearbook. The Class of 3 Million online yearbook is an interactive platform where alumni can create a profile and connect with the millions of other alumni from the 23 CSU campuses across the state. Alumni who sign up for the yearbook will also be entered into a special contest to win one of three $10,000 scholarships for a current or future student, sponsored by Herff Jones. For more information about the yearbook and the Class of 3 Million, visit https://classof3million.calstate.edu/
By Gazette Staff Writer — Tuesday, May 12th, 2015
The Ventura County Potters' Guild welcomes crystalline glaze artist Marie Wright of Newbury Park. Wright attended her first ceramics class in Junior College. It was in the school display case that she first saw a crystalline glazed piece. She was just floored by it and wanted to learn how to do that more than anything. She asked her teacher and some fellow students how she could accomplish these beautiful glazes and they all said: It's a complicated process – too hard for you. Don't bother trying.
She took two semesters of ceramics in college, and then went on to do all of the things that good kids do – got the degree in Biochemistry and Molecular Biology and then a great job as a research scientist. She very much missed the ceramics classes and never forgot that lovely crystalline piece!
Fresh out of college, childless, and with a bit of time, she decided to get back on the pottery wheel. It was wonderful. She said to herself: Marie, you're a chemist now, surely you can figure out those difficult and beautiful glazes. It turned out that she was right!
Although what her teacher and fellow students said was true – the process of making these pieces is far more difficult and the firing process is extremely finicky compared to "regular pottery." Unfortunately the failure rate is much higher when this is your chosen art form, but a small price to pay for the mysterious crystals that seem to float on the surface of the beautiful ceramic forms. Wright gains as much satisfaction knowing her customers enjoy owning one of her pieces as she got out of making it! Wright and family is moving in the near future to North Carolina and setting up a full time pottery studio. A dream come true!!
An introduction to successfully using Etsy to market will be presented.
Next program will be in September.
Some pieces will be on display for viewing and purchase.
The public is welcome to attend. FREE
Ventura County Potters' Guild presents: Crystalline Glazes by Marie Wright
Ventura Avenue Adult Center
550 N Ventura Avenue
Ventura, 805 648-3035
Monday, May 18, 2015
Doors open at 7pm
Program begins at 7:45pm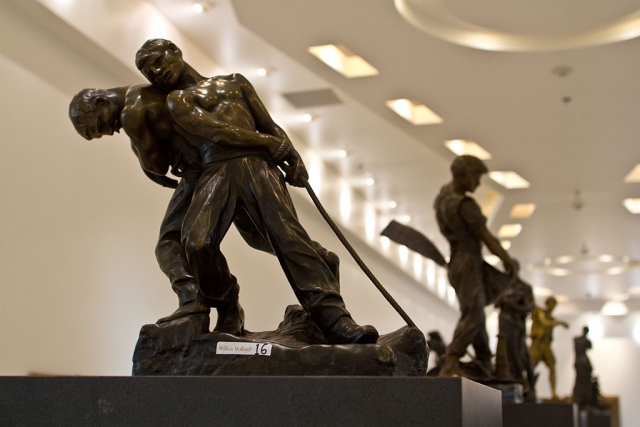 "Men Pulling Rope" bronze sculpture by Henri Louis LeVasseur
Enlarge Photo
By Gazette Staff Writer — Monday, May 11th, 2015
'Walk Through Time' challenges views of America
Students in a new museum studies course are the curators for the next exhibit in the William Rolland Gallery of Fine Art at California Lutheran University.
Students in Arts Management and Museology designed "A Walk Through Time: American Made Manifest," which will run from May 28 through July 30. A reception will be held from 6 to 8 p.m. Saturday, June 6. Admission is free.
The students put together an exhibit exploring the evolution of a modern American identity. They wanted to challenge visitors to look at both the works and the idea of America through a critical lens and consider whether the American dream is truly attained.
Studying the work of curator Fred Wilson, who once displayed table silver with slave restraints at the Maryland Historical Society, inspired the curators to design the exhibit in order to add to the discourse on museum biases and exhibition practices and they eschewed the practice of presenting work for its aesthetic value alone.
Under the direction of Rolland Gallery curator Rachel Schmid, the students primarily selected works from the gallery's permanent collection that had been amassed by the museum's namesake and added additional art from other sources. Over several decades, William Rolland has accumulated an eclectic collection of art, including 18th- to-20th-century bronzes and paintings.
The class is the capstone course for three history majors specializing in museum studies. Breanna Drummond, a Fair Oaks resident minoring in art, previously interned for the gallery and will graduate in May. Daniel J. Hazeski, a Santa Clarita resident currently serving as an intern in the gallery, plans to pursue a career in museum management. And Erin Sommers, a Simi Valley resident, would like to become a museum historian, curator or archivist.
Designed by School of Management and Art and History department faculty, the course also attracted students from disciplines other than history. Sam Julius Frankel is a marketing communication major and artist from Thousand Oaks. Conner Johnson is a marketing communication major from Thousand Oaks who is graduating in May. Dylan King is a business administration major and art minor from Fair Oaks who currently works in the gallery. Haley Ramos is a business administration major from Los Osos with a marketing emphasis and art minor. And Joanna C. Van Nyhuis is a Winchester resident graduating with a degree in art.
The gallery is located in William Rolland Stadium at 160 Overton Court. Gallery hours are 10 a.m. to 4 p.m. Tuesday through Friday and 11 a.m. to 3 p.m. Saturday. For more information, call 805-493-3697, email rollandgallery@callutheran.edu or visit CalLutheran.edu/rolland.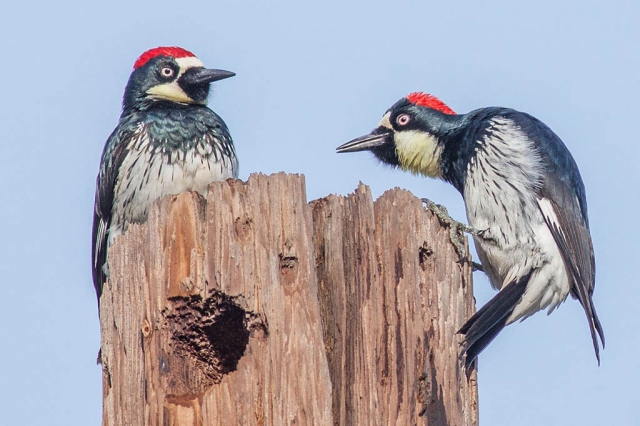 "Acorn Woodpeckers" by Photographer John Hannah
Enlarge Photo
By Letitia Grimes — Monday, May 11th, 2015
The Ojai Photography Club welcomes wildlife photographer John Hannah as its May presenter. The meeting will take place on Tuesday, May 19, 2015, at 7:00 pm in Help of Ojai's Kent Hall, 111 Santa Ana Street, Ojai, CA.
Hannah is a retired photojournalist and writer whose work appeared for forty years in magazines and newspapers throughout the world. As a staff reporter for People Weekly, his beat covered many prominent stories, including high profile crimes and scandals as well as the entire spectrum of Hollywood celebrities. After retirement, he turned his lens away from famous and notorious humans, focusing instead on some of the most secretive of all wild creatures - birds. About this change, Hannah says that nowadays he finds birds more interesting than people. "Birds are beautiful, elusive and unpredictable. They are everywhere, and yet few of us ever see them up close. I try to capture glimpses of their secret lives."
The timing is perfect for Hannah's presentation as it is spring in the Ojai Valley, where both resident and migratory birds are active and abundant. Many are large and conspicuous, such as herons, egrets, eagles, and geese. Many more are small and secretive, and Hannah's talk, "Stalking the Wild Yellowthroat - In Your Own Backyard,"will introduce a tiny, elusive golden bird with a black bandit's mask. He calls it "a brilliantly colored local resident that, despite being one of the most common birds of the US, is seldom noticed. If your home is anywhere near a creek, a pair of them probably think of your backyard as their own. My aim is to document in a small way these little hiding gems."
Hannah will share the skills and equipment that he uses to create stunning images of wild birds. He will demonstrate that the practice of stalking and photographing birds requires patience, passion, the right lens, and the right settings. But most of all, knowledge of bird habits is his key to the best shots. He states, "The big secret of bird photography is knowing where to find your subjects and knowing what they might do next."
Monthly presentations are part of the Ojai Photography Club's community service and education outreach. Visitors are welcome to attend.
The club, which is devoted to education, inspiration, and camaraderie, meets on the third Tuesday of each month, February – November. Only members may submit images for critique. More information is available at: www.ojaiphotoclub.com/
By Gazette Staff Writer — Monday, April 27th, 2015
Camarillo, CA – The Yummie Top Chef Dinner, presented by Pacific Western Bank, will take place on Friday evening, June 5th, as Casa Pacifica prepares California State University Channel Island's beautiful south quad for its annual Angels Wine, Food & Brew Festival on Sunday, June 7th. For the second year the Cassar Family will host the behind-the-scenes dinner and will be joined by sponsors Wells Fargo, Procter & Gamble, and Premier Event Productions in kicking-off the Wine, Food & Brew Festival weekend. The fabulous dinner will be set in the Festival's VIP Lounge Tent and will bring together several of the region's top chefs – all of whom happen to be former Yummie culinary competition winners from previous Festivals – to present an incomparable nine-course feast to 200 fortunate guests. Each of the courses will be specially paired with local winemaker's best selections. One course will feature the winning handcrafted ale from the "Best in Fest" brew competition taking place one-month prior to the Festival; the winning brew will be prominently promoted the day of the Festival.
In addition to the sumptuous dinner, guests will enjoy live music and be treated to a special just-for-the-event cocktail stirred up by Twenty88 Restaurant & Bar mixologist, Scott Holder. As was the case last year, the highlight of the evening will be when each of the Yummie Top Chef Dinner chefs come out to share about their recipe for the course being served, along with some professional techniques.
Expert culinary master chefs (and their current affiliations) who will be participating include: Three-time Yummie winner Chef Nic Manocchio of University Glen Corporation at California State University Channel Islands; two-time winner Chef Gabe Garcia of Tierra Sur Restaurant; two-time winner Chef Ernie Borjas of The Yacht Club of Channel Islands Harbor; Chef Jason Collis of Plated Events by Chef Jason (who also caters the VIP Lounge the day of the Festival); and Chef Rachel Main Holst of Main Course California, Inc. A trio of delicious desserts will be provided by former Yummie Sweet category winners Barry Davis, owner of Scoops in Camarillo; Alison Davis, owner of The Sugar Lab; and Yvonne Drayton-Benado, owner of Missy's Cupcake Creations. Wineries joining in on the festivities (to-date) include Cantara Cellars, Fess Parker Winery, Herzog Winery, Rancho Ventavo Cellars, and Ferrari Carano. In addition, The Cappuccino Express will offer its own delicious taste to the evening as well.
If you would like to be a part of this one-of-a-kind extraordinary experience, tickets are on sale for $200 per person, or guests may become a table sponsor for $2,000 which includes seating for eight and recognition in the dinner program and advertising (time sensitive restrictions allowing). Guests will be seated long-table, family-style and dinner guests must be 21 years of age and older; seating is limited. For more information about the Yummie Top Chef Dinner or to purchase tickets, please contact Amber Landis Stover, Casa Pacifica's Development Manager at (805) 366-4021. All proceeds from the Yummie Top Chef Dinner will support Casa Pacifica's programs serving vulnerable children and families.
The Wine, Food & Brew Festival itself will take place on Sunday, June 7th, from 1 p.m. to 5 p.m. at California State University Channel Islands and will feature more than 85 restaurants and 150 wines, brews, and beverages. Live entertainment, an extensive silent auction, and the Yummie culinary competition will round out the exciting events of the day. The Festival is still welcoming sponsors, so it's not too late to sign up and connect your name or business with this "Can't Miss" event by taking advantage of some great sponsorship opportunities! For sponsorship information, contact Casa Pacifica Event Coordinator, Juliana Thiessen at (805) 366-4014, jthiessen@casapacifica.org or visit the Festival sponsor page at www.cpwinefoodbrewfest.com.
Casa Pacifica Centers for Children and Families is a crisis-care and residential treatment facility for abused, neglected, or at-risk children in Ventura and Santa Barbara Counties. The agency is the largest non-profit provider of children's mental health services in both counties and administers a number of community-based programs which are designed with the intent to strengthen families and keep children in their homes. For more information about Casa Pacifica visit its website www.casapacifica.org or call the Development Department at (805) 445-7800.
By Gazette Staff Writer — Wednesday, April 22nd, 2015
April 26, 2015
SANTA PAULA, CA – On Sunday, April 26, 2015, enjoy an afternoon of incredible live music at the Santa Paula Art Museum, performed by the talented local band "Razzberry Jam." The show begins at 4:00 p.m., and the band will be performing New Orleans style jazz. Admission to the event is $10.00 for SPAM members and $15.00 for the general public.
Razzberry Jam was formed more than 20 years ago, its seven members also being active players in a number of well-known musical groups in Ventura County including the Ventura County Concert Band, Swing Shift, the British Brass Ensemble and others. The group specializes in playing traditional Dixieland style jazz tunes. Members of Razzberry Jam include vocalist Karen Parkhouse, Tom Hackney on piano, Chuck Mullett on clarinet, Charlie Myerson on banjo, Jim Wade on tuba and drums, Jim Walker on cornet and trumpet, and Michael Wallace on trombone. As a band, they not only recreate the elegant music of a bygone era, but they also simply love playing together.
For more information, please contact the Museum by calling (805) 525-5554, or email info@santapaulaartmuseum.org. The Museum is located at 117 North 10th Street, Santa Paula, CA 93060. The Museum's regular hours are Wednesday through Saturday, 10 AM – 4 PM, and Sundays, 12 PM – 4 PM. Regular admission is $4.00 for adults, $3.00 for seniors and free for SPAM members and students.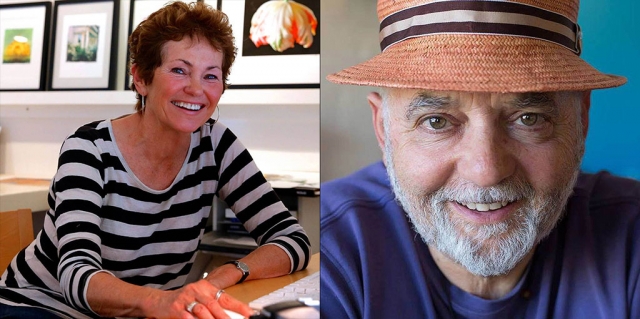 Cindy Pitou Burton and Brian Berman will be this year's distinguished judges. Brian Berman photo by photographer David Baker.
Enlarge Photo
By Photography Bra... — Tuesday, April 21st, 2015
Written by Contributors: Myrna Cambianica and Letitia Grimes
Do we realize how much influence images can have? Since the invention of photography, images have changed opinions, revealed truths and highlighted both the best and worst parts of humanity. The adage, "A picture is worth a thousand words,"refers to the notion that a complex idea can be conveyed by just a single still image.
This year the Photography Branch of the Ojai Art Center is calling for artists to submit photographic images for its upcoming 2015 exhibit, "What Does Peace Look Like?" This is a themed-juried exhibit that will run from June 6 through July 8, 2015 at the Ojai Art Center. Stretching across a broad spectrum, many things relate to peace, for example, mothers embracing their children, reflections on the serenity of nature, and powerful protest marches, just to name a few.
The exhibit will include student photographers this year with the opening of a special division for grades 7 through 12. There are many talented young photographers and this is a great opportunity for them to show their work. Student entries will also be juried and should follow the parameters of the Call for Artists form.
Cindy Pitou Burton and Brian Berman will be this year's distinguished judges. Both are Ojai Studio Artists, Burton with a career based in photography and Berman with a dual emphasis on sculpture and peace building.
Pitou Burton studied photography at the International Center for Photography, the School of Visual Arts in New York City and Otis College of Art and Design in Los Angeles. She began her career in New York as a photojournalist for The New York Times, and then photographed for television at CBS, NBC and PBS, for many national magazines and for corporate clients such as Pfizer and Revlon. She has covered celebrity events in New York City, Connecticut and California.
Upon moving to the West Coast she explored alternative photographic processes, creating limited edition fine art prints. Her innovative techniques include large transfers of Polaroid prints onto watercolor paper, as well as digitalizing and manipulating her black and white images. Photographed on a light box, her prints of flowers create an x-ray effect. Recently she has added photographs of her travels to Mexico, Ecuador, Paris, Turkey, and Vietnam.
Pitou Burton has exhibited her work in galleries in New York City, Los Angeles and Ojai and is represented by Getty Images in Seattle. Her life and photographic career were recently documented and archived by Focus on the Masters. She is a member of the American Society of Media Photographers and the Ojai Studio Artists. To see her work go to: http://pitouburton.com
Berman has focused his entire adult life on peace building. In the '70s, Berman was a yoga and meditation teacher for the Integral Yoga Institute, with his emphasis:"Peace is An Inside Job."In the '80s, he was a citizen diplomat connecting westerners with people in the Soviet Union. He discovered his joy and love of stone sculpting in the '90s and "Art for Peace"became the theme of his work. Following 9/11, Berman started a group using listening skills as tools for conflict resolution. In 2002, he was invited by the director of The Compassionate Listening Project to travel to Germany and work with groups of Jews and Germans on healing the emotional wounds resulting from World War II and the Holocaust.
Berman's life changed profoundly when he and his wife Lisa stepped through the Peace Portal at Ojai's Meditation Mount in 2011. They moved to Ojai where he continued his peace work, leading groups, and creating public artwork for peace as an alternative to war memorials. His present focus is "Holos4Peace,"a symbol he has designed and sculpted to be, in his words, a "Symbol of One Humanity."
Together with other peace activists, Berman worked to have Ojai proclaimed as an International City of Peace in the spring of 2015. He is a peace ambassador to the Ojai Art Center, supporting "Art for Peace."To see his work go to: www.bermansculpture.com, www.bermanhealingarts.com and www.holos4peace.com
For full information and Call for Artists entry forms please visit: http://ojaiacphoto.org
By Gazette Staff Writer — Tuesday, April 21st, 2015
April 25, 2015
SANTA PAULA, CA –Join us on Saturday, April 25, 2015 for Free Family Day at the Santa Paula Art Museum!Admission to the Museum will be free for everyone from 10:00 a.m. to 4:00 p.m. Families can explore our new "Maker Station" in the Orcutt Gallery and participate in art activities as part of our InterACTION Stations. Guests will "Take a Stand" by designing a fabric flag, re-imagine the Museum as they construct a small model of the historic Limoneira Building, and participate in a scavenger hunt.
Families will be able to tour the Museum's current exhibitions including "Dos del Sur: Two from the South", a two person exhibition featuring work by Ojai artists Carlos Grasso and Sylvia Raz. The two artists are brought together through their origins in South America where passion was conceived of through the Tango, political dictatorships were prevalent, and art was everywhere. Also on view is"Next Generation Revisited" featuring students from Brooks Institute, California Lutheran University, California State University Channel Islands and Ventura College.Visitors will also be able to celebrate the opening of "Next, Next Generation" a special exhibition featuring artwork by students from the Boys and Girls Club of Santa Paula.
The Santa Paula Art Museum is located at 117 North 10th Street in downtown Santa Paula. The Museum's regular hours are Wednesday through Saturday from 10:00a.m. to 4:00p.m., and Sundays from 12:00 to 4:00p.m.Regular admission is $4.00 for adults, $3.00 for seniors and is free for museum members and students. For more information, please contact the Museum at (805) 525-5554, or email info@santapaulaartmuseum.org