By Gazette Staff Writer — Tuesday, May 12th, 2015
Camarillo, CA - CSU Channel Islands (CI) music lecturer and professional musician Steve Marsh and his seven-piece "Hep Cats Swing Band" will help boogie the night away Sunday, May 17 during the Channel Islands Choral Association (CICA) "Swing Into Spring" fundraising gala.
The CSU Channel Islands Choir, directed by CI music lecturer KuanFen Liu, D.M.A. (Doctor of Musical Arts), will also transport guests back to the 1930s and '40s with classics like "In the Mood," "String of Pearls," "Sentimental Journey," "Boogie Woogie (Bugle Boy)" and dozens of other favorites that will get you on your feet to cut a rug on the dance floor.
"The swing feel is very contagious and lends itself to dancing," said Marsh, who helped organize the benefit. "We've got a soloist, Tony Galla from New York," Marsh said. "He sings all the Frank Sinatra songs and does a killer Ray Charles."
"Swing Into Spring" will be from 5 to 8 p.m. at Camarillo's Freedom Center at 515 Eubanks Street in Camarillo. Vintage clothing is not necessary, but encouraged!
Also on the program is the Pleasant Valley School District Chorus, who learned how to scat sing and bebop for their part of the show under the direction of their conductor, professional musician Daniel Newman-Lessler of Somis with help from CI student Jonas Lee, who carries a double major in Performing Arts and Sociology.
The $50 price of admission ($35 for students or seniors 65+) also gets your choice of dinner catered from Manhattan of Camarillo restaurant; Chester's Asia Chinese Restaurant and appetizers from the Adolfo Grill.
Enjoy a "Rocket Fizz" root beer float or a vintage cocktail from a no-host bar. Institution Ale Company will be supplying beer and a CICA patron has donated wine.
This is the first year the annual fundraising event has been open to the public. Money raised from "Swing Into Spring" supports the CICA, which in turn supports music education for local elementary school students.
The non-profit CICA funds the Pleasant Valley School District Chorus. Also, in collaboration with CSU Channel Islands, CICA also supports the CSU Channel Islands Choir, which is open to students, faculty, staff and members of the community.
Liu believes it's important to be all-inclusive and to serve everybody from eight years old to 80 because of the magic of music.
"Everybody comes here once a week from different backgrounds to harmonize and sing," Liu said. "That's powerful. They are communicating with their souls through music. Even though we have all these computers and gadgets, human beings long for those kinds of connections."
For tickets, click on www.cicachoir.org or call Libby Scott at 805-312-9130.
About California State University Channel Islands
CSU Channel Islands (CI) is the only four-year, public university in Ventura County and is known for its interdisciplinary, multicultural and international perspectives, and its emphasis on experiential and service learning. CI's strong academic programs focus on business, sciences, liberal studies, teaching credentials, and innovative master's degrees. Students benefit from individual attention, up-to-date technology, and classroom instruction augmented by outstanding faculty research. CI has been designated by the U.S. Department of Education as a Hispanic-Serving Institution and is committed to serving students of all backgrounds from the region and beyond. Connect with and learn more about CI by visiting CI's Social Media.
The California State University (CSU) will reach a significant milestone of 3 million alumni during commencement in spring 2015 and has launched the world's largest yearbook. The Class of 3 Million online yearbook is an interactive platform where alumni can create a profile and connect with the millions of other alumni from the 23 CSU campuses across the state. Alumni who sign up for the yearbook will also be entered into a special contest to win one of three $10,000 scholarships for a current or future student, sponsored by Herff Jones. For more information about the yearbook and the Class of 3 Million, visit https://classof3million.calstate.edu/
By Gazette Staff Writer — Tuesday, May 12th, 2015
The Ventura County Potters' Guild welcomes crystalline glaze artist Marie Wright of Newbury Park. Wright attended her first ceramics class in Junior College. It was in the school display case that she first saw a crystalline glazed piece. She was just floored by it and wanted to learn how to do that more than anything. She asked her teacher and some fellow students how she could accomplish these beautiful glazes and they all said: It's a complicated process – too hard for you. Don't bother trying.
She took two semesters of ceramics in college, and then went on to do all of the things that good kids do – got the degree in Biochemistry and Molecular Biology and then a great job as a research scientist. She very much missed the ceramics classes and never forgot that lovely crystalline piece!
Fresh out of college, childless, and with a bit of time, she decided to get back on the pottery wheel. It was wonderful. She said to herself: Marie, you're a chemist now, surely you can figure out those difficult and beautiful glazes. It turned out that she was right!
Although what her teacher and fellow students said was true – the process of making these pieces is far more difficult and the firing process is extremely finicky compared to "regular pottery." Unfortunately the failure rate is much higher when this is your chosen art form, but a small price to pay for the mysterious crystals that seem to float on the surface of the beautiful ceramic forms. Wright gains as much satisfaction knowing her customers enjoy owning one of her pieces as she got out of making it! Wright and family is moving in the near future to North Carolina and setting up a full time pottery studio. A dream come true!!
An introduction to successfully using Etsy to market will be presented.
Next program will be in September.
Some pieces will be on display for viewing and purchase.
The public is welcome to attend. FREE
Ventura County Potters' Guild presents: Crystalline Glazes by Marie Wright
Ventura Avenue Adult Center
550 N Ventura Avenue
Ventura, 805 648-3035
Monday, May 18, 2015
Doors open at 7pm
Program begins at 7:45pm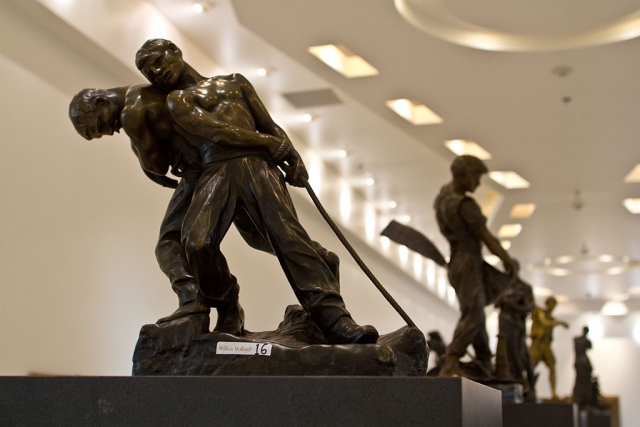 "Men Pulling Rope" bronze sculpture by Henri Louis LeVasseur
Enlarge Photo
By Gazette Staff Writer — Monday, May 11th, 2015
'Walk Through Time' challenges views of America
Students in a new museum studies course are the curators for the next exhibit in the William Rolland Gallery of Fine Art at California Lutheran University.
Students in Arts Management and Museology designed "A Walk Through Time: American Made Manifest," which will run from May 28 through July 30. A reception will be held from 6 to 8 p.m. Saturday, June 6. Admission is free.
The students put together an exhibit exploring the evolution of a modern American identity. They wanted to challenge visitors to look at both the works and the idea of America through a critical lens and consider whether the American dream is truly attained.
Studying the work of curator Fred Wilson, who once displayed table silver with slave restraints at the Maryland Historical Society, inspired the curators to design the exhibit in order to add to the discourse on museum biases and exhibition practices and they eschewed the practice of presenting work for its aesthetic value alone.
Under the direction of Rolland Gallery curator Rachel Schmid, the students primarily selected works from the gallery's permanent collection that had been amassed by the museum's namesake and added additional art from other sources. Over several decades, William Rolland has accumulated an eclectic collection of art, including 18th- to-20th-century bronzes and paintings.
The class is the capstone course for three history majors specializing in museum studies. Breanna Drummond, a Fair Oaks resident minoring in art, previously interned for the gallery and will graduate in May. Daniel J. Hazeski, a Santa Clarita resident currently serving as an intern in the gallery, plans to pursue a career in museum management. And Erin Sommers, a Simi Valley resident, would like to become a museum historian, curator or archivist.
Designed by School of Management and Art and History department faculty, the course also attracted students from disciplines other than history. Sam Julius Frankel is a marketing communication major and artist from Thousand Oaks. Conner Johnson is a marketing communication major from Thousand Oaks who is graduating in May. Dylan King is a business administration major and art minor from Fair Oaks who currently works in the gallery. Haley Ramos is a business administration major from Los Osos with a marketing emphasis and art minor. And Joanna C. Van Nyhuis is a Winchester resident graduating with a degree in art.
The gallery is located in William Rolland Stadium at 160 Overton Court. Gallery hours are 10 a.m. to 4 p.m. Tuesday through Friday and 11 a.m. to 3 p.m. Saturday. For more information, call 805-493-3697, email rollandgallery@callutheran.edu or visit CalLutheran.edu/rolland.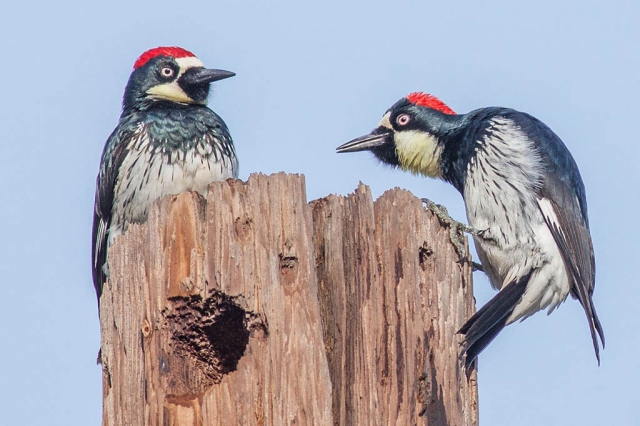 "Acorn Woodpeckers" by Photographer John Hannah
Enlarge Photo
By Letitia Grimes — Monday, May 11th, 2015
The Ojai Photography Club welcomes wildlife photographer John Hannah as its May presenter. The meeting will take place on Tuesday, May 19, 2015, at 7:00 pm in Help of Ojai's Kent Hall, 111 Santa Ana Street, Ojai, CA.
Hannah is a retired photojournalist and writer whose work appeared for forty years in magazines and newspapers throughout the world. As a staff reporter for People Weekly, his beat covered many prominent stories, including high profile crimes and scandals as well as the entire spectrum of Hollywood celebrities. After retirement, he turned his lens away from famous and notorious humans, focusing instead on some of the most secretive of all wild creatures - birds. About this change, Hannah says that nowadays he finds birds more interesting than people. "Birds are beautiful, elusive and unpredictable. They are everywhere, and yet few of us ever see them up close. I try to capture glimpses of their secret lives."
The timing is perfect for Hannah's presentation as it is spring in the Ojai Valley, where both resident and migratory birds are active and abundant. Many are large and conspicuous, such as herons, egrets, eagles, and geese. Many more are small and secretive, and Hannah's talk, "Stalking the Wild Yellowthroat - In Your Own Backyard,"will introduce a tiny, elusive golden bird with a black bandit's mask. He calls it "a brilliantly colored local resident that, despite being one of the most common birds of the US, is seldom noticed. If your home is anywhere near a creek, a pair of them probably think of your backyard as their own. My aim is to document in a small way these little hiding gems."
Hannah will share the skills and equipment that he uses to create stunning images of wild birds. He will demonstrate that the practice of stalking and photographing birds requires patience, passion, the right lens, and the right settings. But most of all, knowledge of bird habits is his key to the best shots. He states, "The big secret of bird photography is knowing where to find your subjects and knowing what they might do next."
Monthly presentations are part of the Ojai Photography Club's community service and education outreach. Visitors are welcome to attend.
The club, which is devoted to education, inspiration, and camaraderie, meets on the third Tuesday of each month, February – November. Only members may submit images for critique. More information is available at: www.ojaiphotoclub.com/
By Gazette Staff Writer — Monday, April 27th, 2015
Camarillo, CA – The Yummie Top Chef Dinner, presented by Pacific Western Bank, will take place on Friday evening, June 5th, as Casa Pacifica prepares California State University Channel Island's beautiful south quad for its annual Angels Wine, Food & Brew Festival on Sunday, June 7th. For the second year the Cassar Family will host the behind-the-scenes dinner and will be joined by sponsors Wells Fargo, Procter & Gamble, and Premier Event Productions in kicking-off the Wine, Food & Brew Festival weekend. The fabulous dinner will be set in the Festival's VIP Lounge Tent and will bring together several of the region's top chefs – all of whom happen to be former Yummie culinary competition winners from previous Festivals – to present an incomparable nine-course feast to 200 fortunate guests. Each of the courses will be specially paired with local winemaker's best selections. One course will feature the winning handcrafted ale from the "Best in Fest" brew competition taking place one-month prior to the Festival; the winning brew will be prominently promoted the day of the Festival.
In addition to the sumptuous dinner, guests will enjoy live music and be treated to a special just-for-the-event cocktail stirred up by Twenty88 Restaurant & Bar mixologist, Scott Holder. As was the case last year, the highlight of the evening will be when each of the Yummie Top Chef Dinner chefs come out to share about their recipe for the course being served, along with some professional techniques.
Expert culinary master chefs (and their current affiliations) who will be participating include: Three-time Yummie winner Chef Nic Manocchio of University Glen Corporation at California State University Channel Islands; two-time winner Chef Gabe Garcia of Tierra Sur Restaurant; two-time winner Chef Ernie Borjas of The Yacht Club of Channel Islands Harbor; Chef Jason Collis of Plated Events by Chef Jason (who also caters the VIP Lounge the day of the Festival); and Chef Rachel Main Holst of Main Course California, Inc. A trio of delicious desserts will be provided by former Yummie Sweet category winners Barry Davis, owner of Scoops in Camarillo; Alison Davis, owner of The Sugar Lab; and Yvonne Drayton-Benado, owner of Missy's Cupcake Creations. Wineries joining in on the festivities (to-date) include Cantara Cellars, Fess Parker Winery, Herzog Winery, Rancho Ventavo Cellars, and Ferrari Carano. In addition, The Cappuccino Express will offer its own delicious taste to the evening as well.
If you would like to be a part of this one-of-a-kind extraordinary experience, tickets are on sale for $200 per person, or guests may become a table sponsor for $2,000 which includes seating for eight and recognition in the dinner program and advertising (time sensitive restrictions allowing). Guests will be seated long-table, family-style and dinner guests must be 21 years of age and older; seating is limited. For more information about the Yummie Top Chef Dinner or to purchase tickets, please contact Amber Landis Stover, Casa Pacifica's Development Manager at (805) 366-4021. All proceeds from the Yummie Top Chef Dinner will support Casa Pacifica's programs serving vulnerable children and families.
The Wine, Food & Brew Festival itself will take place on Sunday, June 7th, from 1 p.m. to 5 p.m. at California State University Channel Islands and will feature more than 85 restaurants and 150 wines, brews, and beverages. Live entertainment, an extensive silent auction, and the Yummie culinary competition will round out the exciting events of the day. The Festival is still welcoming sponsors, so it's not too late to sign up and connect your name or business with this "Can't Miss" event by taking advantage of some great sponsorship opportunities! For sponsorship information, contact Casa Pacifica Event Coordinator, Juliana Thiessen at (805) 366-4014, jthiessen@casapacifica.org or visit the Festival sponsor page at www.cpwinefoodbrewfest.com.
Casa Pacifica Centers for Children and Families is a crisis-care and residential treatment facility for abused, neglected, or at-risk children in Ventura and Santa Barbara Counties. The agency is the largest non-profit provider of children's mental health services in both counties and administers a number of community-based programs which are designed with the intent to strengthen families and keep children in their homes. For more information about Casa Pacifica visit its website www.casapacifica.org or call the Development Department at (805) 445-7800.
By Gazette Staff Writer — Wednesday, April 22nd, 2015
April 26, 2015
SANTA PAULA, CA – On Sunday, April 26, 2015, enjoy an afternoon of incredible live music at the Santa Paula Art Museum, performed by the talented local band "Razzberry Jam." The show begins at 4:00 p.m., and the band will be performing New Orleans style jazz. Admission to the event is $10.00 for SPAM members and $15.00 for the general public.
Razzberry Jam was formed more than 20 years ago, its seven members also being active players in a number of well-known musical groups in Ventura County including the Ventura County Concert Band, Swing Shift, the British Brass Ensemble and others. The group specializes in playing traditional Dixieland style jazz tunes. Members of Razzberry Jam include vocalist Karen Parkhouse, Tom Hackney on piano, Chuck Mullett on clarinet, Charlie Myerson on banjo, Jim Wade on tuba and drums, Jim Walker on cornet and trumpet, and Michael Wallace on trombone. As a band, they not only recreate the elegant music of a bygone era, but they also simply love playing together.
For more information, please contact the Museum by calling (805) 525-5554, or email info@santapaulaartmuseum.org. The Museum is located at 117 North 10th Street, Santa Paula, CA 93060. The Museum's regular hours are Wednesday through Saturday, 10 AM – 4 PM, and Sundays, 12 PM – 4 PM. Regular admission is $4.00 for adults, $3.00 for seniors and free for SPAM members and students.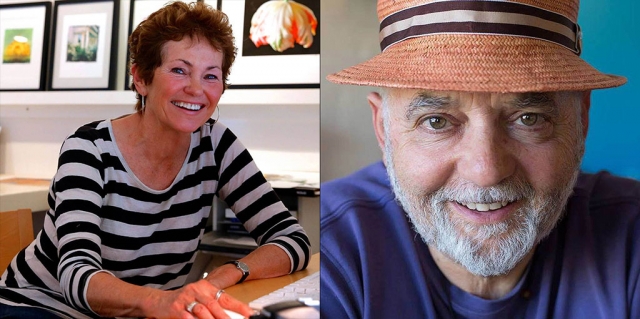 Cindy Pitou Burton and Brian Berman will be this year's distinguished judges. Brian Berman photo by photographer David Baker.
Enlarge Photo
By Photography Bra... — Tuesday, April 21st, 2015
Written by Contributors: Myrna Cambianica and Letitia Grimes
Do we realize how much influence images can have? Since the invention of photography, images have changed opinions, revealed truths and highlighted both the best and worst parts of humanity. The adage, "A picture is worth a thousand words,"refers to the notion that a complex idea can be conveyed by just a single still image.
This year the Photography Branch of the Ojai Art Center is calling for artists to submit photographic images for its upcoming 2015 exhibit, "What Does Peace Look Like?" This is a themed-juried exhibit that will run from June 6 through July 8, 2015 at the Ojai Art Center. Stretching across a broad spectrum, many things relate to peace, for example, mothers embracing their children, reflections on the serenity of nature, and powerful protest marches, just to name a few.
The exhibit will include student photographers this year with the opening of a special division for grades 7 through 12. There are many talented young photographers and this is a great opportunity for them to show their work. Student entries will also be juried and should follow the parameters of the Call for Artists form.
Cindy Pitou Burton and Brian Berman will be this year's distinguished judges. Both are Ojai Studio Artists, Burton with a career based in photography and Berman with a dual emphasis on sculpture and peace building.
Pitou Burton studied photography at the International Center for Photography, the School of Visual Arts in New York City and Otis College of Art and Design in Los Angeles. She began her career in New York as a photojournalist for The New York Times, and then photographed for television at CBS, NBC and PBS, for many national magazines and for corporate clients such as Pfizer and Revlon. She has covered celebrity events in New York City, Connecticut and California.
Upon moving to the West Coast she explored alternative photographic processes, creating limited edition fine art prints. Her innovative techniques include large transfers of Polaroid prints onto watercolor paper, as well as digitalizing and manipulating her black and white images. Photographed on a light box, her prints of flowers create an x-ray effect. Recently she has added photographs of her travels to Mexico, Ecuador, Paris, Turkey, and Vietnam.
Pitou Burton has exhibited her work in galleries in New York City, Los Angeles and Ojai and is represented by Getty Images in Seattle. Her life and photographic career were recently documented and archived by Focus on the Masters. She is a member of the American Society of Media Photographers and the Ojai Studio Artists. To see her work go to: http://pitouburton.com
Berman has focused his entire adult life on peace building. In the '70s, Berman was a yoga and meditation teacher for the Integral Yoga Institute, with his emphasis:"Peace is An Inside Job."In the '80s, he was a citizen diplomat connecting westerners with people in the Soviet Union. He discovered his joy and love of stone sculpting in the '90s and "Art for Peace"became the theme of his work. Following 9/11, Berman started a group using listening skills as tools for conflict resolution. In 2002, he was invited by the director of The Compassionate Listening Project to travel to Germany and work with groups of Jews and Germans on healing the emotional wounds resulting from World War II and the Holocaust.
Berman's life changed profoundly when he and his wife Lisa stepped through the Peace Portal at Ojai's Meditation Mount in 2011. They moved to Ojai where he continued his peace work, leading groups, and creating public artwork for peace as an alternative to war memorials. His present focus is "Holos4Peace,"a symbol he has designed and sculpted to be, in his words, a "Symbol of One Humanity."
Together with other peace activists, Berman worked to have Ojai proclaimed as an International City of Peace in the spring of 2015. He is a peace ambassador to the Ojai Art Center, supporting "Art for Peace."To see his work go to: www.bermansculpture.com, www.bermanhealingarts.com and www.holos4peace.com
For full information and Call for Artists entry forms please visit: http://ojaiacphoto.org
By Gazette Staff Writer — Tuesday, April 21st, 2015
April 25, 2015
SANTA PAULA, CA –Join us on Saturday, April 25, 2015 for Free Family Day at the Santa Paula Art Museum!Admission to the Museum will be free for everyone from 10:00 a.m. to 4:00 p.m. Families can explore our new "Maker Station" in the Orcutt Gallery and participate in art activities as part of our InterACTION Stations. Guests will "Take a Stand" by designing a fabric flag, re-imagine the Museum as they construct a small model of the historic Limoneira Building, and participate in a scavenger hunt.
Families will be able to tour the Museum's current exhibitions including "Dos del Sur: Two from the South", a two person exhibition featuring work by Ojai artists Carlos Grasso and Sylvia Raz. The two artists are brought together through their origins in South America where passion was conceived of through the Tango, political dictatorships were prevalent, and art was everywhere. Also on view is"Next Generation Revisited" featuring students from Brooks Institute, California Lutheran University, California State University Channel Islands and Ventura College.Visitors will also be able to celebrate the opening of "Next, Next Generation" a special exhibition featuring artwork by students from the Boys and Girls Club of Santa Paula.
The Santa Paula Art Museum is located at 117 North 10th Street in downtown Santa Paula. The Museum's regular hours are Wednesday through Saturday from 10:00a.m. to 4:00p.m., and Sundays from 12:00 to 4:00p.m.Regular admission is $4.00 for adults, $3.00 for seniors and is free for museum members and students. For more information, please contact the Museum at (805) 525-5554, or email info@santapaulaartmuseum.org
By Gazette Staff Writer — Monday, April 20th, 2015
YB Cruisin' Car Show
Sunday, April 26, 2015
10 am - 3 pm
Yerba Buena Elementary School
6098 Reyes Adobe Rd.
Agoura Hills, California 91301
Community car show featuring classic and exotic cars, hot rods, motorcycles and an interactive NASCAR Experience. Live entertainment, silent auction, vendor marketplace and activities for the kids. Admission is free and all proceeds benefit Yerba Buena Elementary School. For more details contact Cheryl Ross at yerbabuenafundraising@gmail.com.
By Gazette Staff Writer — Wednesday, April 15th, 2015
Gary Moss, advertising and editorial photographer and photo editor of 805 Living Magazine, will be presenting a real-time demonstration on the intricacies of food photography at the Ojai Photography Club's April meeting. The presentation will begin at 7:00 pm, April 21, at Help of Ojai's Kent Hall, 111 Santa Ana Street, Ojai, CA.
Moss's lectures are extremely informative. He will show what it takes to achieve simple yet stylized food shots using basic food items. Join with us for a humorous and enjoyable presentation by this creative photographer and funny guy. The demonstration will be of interest to photographers of all skill levels.
Most photographers usually shoot in one discipline, but Moss bridges many disciplines. He easily creates stunning and beautiful imagery from a variety of different subjects on location anywhere. Moss images always have an editorial look. He relishes the challenges of location food photography. Visit the Gary Moss website for his full portfolio of images: http://www.garymossphotography.com
Monthly presentations are part of the Ojai Photography Club's community service and education outreach. Visitors are welcome to attend.
The club, which is devoted to education, inspiration, and camaraderie, meets on the third Tuesday of each month, February – November. Only members may submit images for critique. More information is available at: www.ojaiphotoclub.com/
By Gazette Staff Writer — Monday, April 13th, 2015
"Condition Report: The State of OSA 2015" is the theme of the thirteenth annual exhibition at the Ojai Valley Museum, running from April 18 to July 5. The show opens with a reception on Saturday, April 18, from 5-7 pm, with the public warmly invited.
As to the title of this year's show, "Condition Report" is the name given to the document completed by museum staff upon receipt of an artwork noting whether the piece is dated, signed, showing age or damage, and the like.
The upcoming OSA show aims to capture something of its own "Condition Report" with more than thirty years history, sixty current artists, and members who have come and gone, including the eight exciting new members just juried in this year. The show will demonstrate that an important aspect of OSA's condition is "change:" it remains forward-looking. Thus, the show will feature everyone's newest work, previously not shown regionally, and potentially more experimental than usual.
Weekly "Art Talks" from 11 to noon Saturday will feature three different artists each week talking about their work.
The Ojai Valley Museum is located at 130 West Ojai Avenue, Ojai, CA 93023. Hours are Tuesday-Saturday, 10 a.m.-4 p.m., Sunday, 12 noon -4 p.m.
About Ojai Studio Artists
The organization's mission is to create an environment where artists thrive ― professional and student alike — and fulfill the potential of the arts to enrich lives and build community.
2015 OJAI STUDIO TOUR FACTS:
October 10, 11 & 12, Saturday, Sunday &-Monday: 50+ artists, 10 am to 5 pm
Advance Tickets: $25 adults, $15 for youth 16 and older; youth 15 and under free
Tickets will be available online beginning in June at: ojaistudioartists.org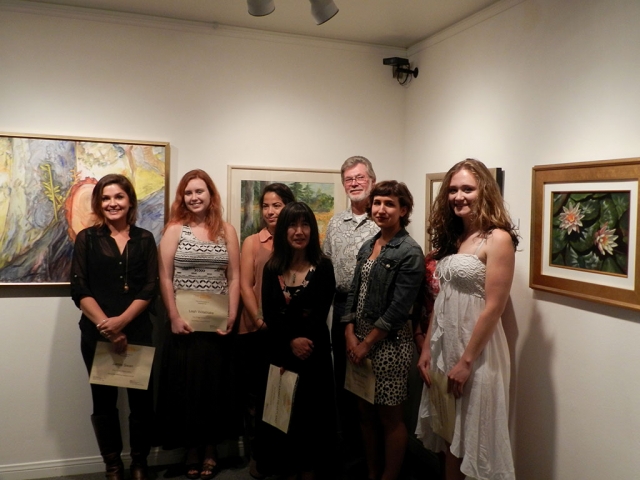 2014 scholarship winners
Enlarge Photo
By Gazette Staff Writer — Tuesday, April 7th, 2015
The Ojai Studio Artists are putting out a "last call" to eligible high school seniors and college students to apply for scholarships. Applications are due by May 2nd.
The competition is open to students who reside in Ventura County – though they may be inn school outside the county - and are planning careers in the visual arts, whether in Painting, Graphic Arts, Photography, Ceramics, Sculpture, Art Education, or the like.
For 2015, a minimum of $5,000 will be awarded, including in two scholarships named for great Ojai artists: the Otto and Vivika Heino Scholarship, and the Beatrice Wood Scholarship. A third – the Ojai Scholarship – is funded by Ojai's Rotary-West and can be awarded only to a youth artist who resides in Ojai.
Professional artist-members of the Ojai Studio Artists will judge the entries. In an important new development this year, the presentation of awards will take place at Ojai City Hall on May 30th with winners' work on display at City Hall the month of June.
Complete application forms and submission requirements can be downloaded at
ojaistudioartists.org. Applications must be received by or before 5 pm, Saturday May 2, 2015.
Ojai Studio Artists (OSA) is a 501(c) (3) California nonprofit organization whose mission is to create an environment where artists thrive – professional and student alike – and fulfill the potential of the arts to enrich lives and build community. The scholarship program is a critical element of OSA's Artreach activities, with funding totaling $125,000 since inception in 1993. Scholarships are financed by private donations and proceeds from the group's respected and long-running annual studio tour – this year, over Columbus Day Weekend on October 10, 11, and 12. The 2015 Tour brochure and registration details will be available on the group's website starting in June.
By Gazette Staff Writer — Tuesday, April 7th, 2015
CA State Old Time Fiddlers will meet on Sunday 4/12/15 from 1:30-4:30pm at the Oak View Community Center, 18 Valley Road, Oak View. The public is invited to play, listen and dance to Country Western and Bluegrass music. Free admission and parking, refreshments available. calfiddlers.com or call 805-797-6563.
By Gazette Staff Writer — Tuesday, April 7th, 2015
PRISM Concert features continuation rotation of music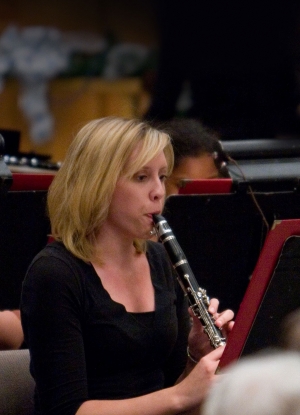 Photo credit: Brian Stethem
THOUSAND OAKS, CA - California Lutheran University's Wind Ensemble will present the fifth annual PRISM Concert at 7:30 p.m. Friday, April 24, in Samuelson Chapel.
The program's continuous rotation of music is designed to provide audiences with the complete spectrum of sound for woodwind, brass and percussion. The eclectic program will also spotlight student soloists and chamber ensembles. Michael D. Hart will conduct.
The program will feature traditional favorites for concert band that include Ralph Vaughan Williams' "English Folk Song Suite," Norman Dello Joio's "Satiric Dances" and John Philip Sousa's march "High School Cadets." New works will include Dana Wilson's jazz-inspired "Shortcut Home" and Aaron Perrine's "Only Light."
As director of bands, Hart conducts the Wind Ensemble, the Pep Band and the Chamber Winds Ensemble, which he founded. He also teaches courses in music theory and ear training and provides lessons in trombone, euphonium and tuba. He has initiated several community outreach concerts and commissioned several new works for band since coming to Cal Lutheran and is active throughout Southern California as a guest conductor and adjudicator.
This year's concert is held in honor of Richard and Anita Londgren of Thousand Oaks for their generous support of the Music Department.
Donations will be accepted.
Samuelson Chapel is located at 165 Chapel Lane on the Thousand Oaks campus. Additional parking is available at the corner of Olsen Road and Mountclef Boulevard.
For more information, call the Music Department at 805-493-3306 or visit CalLutheran.edu.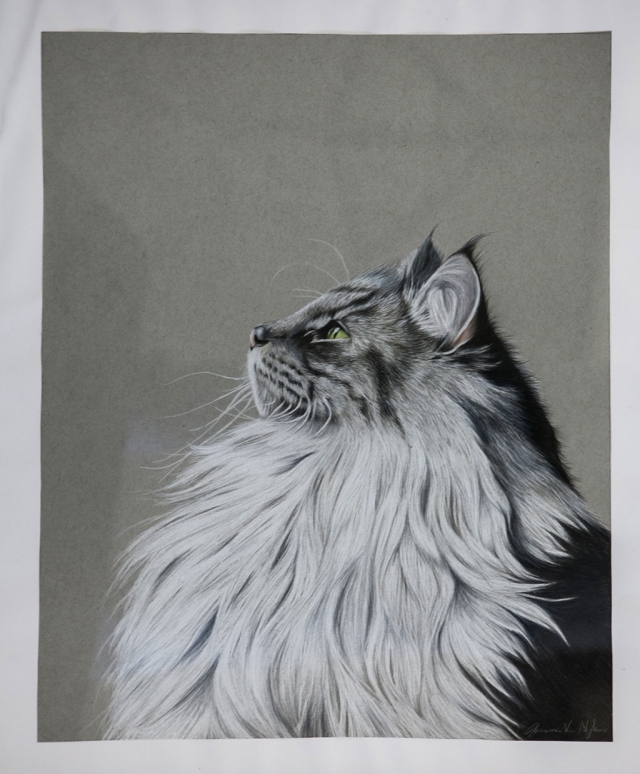 Colored pencil drawing by Joanna Van Nyhuis.
Enlarge Photo
By Gazette Staff Writer — Tuesday, April 7th, 2015
Cal Lutheran exhibit to feature paintings, drawings
THOUSAND OAKS, CA - The annual spring art exhibit showcasing the work of graduating art majors at California Lutheran University will run from April 23 through May 16 in the William Rolland Gallery of Fine Art.
An opening reception for "Ruminations: Senior Art Exhibit 2015" will be held from 5 to 7 p.m. Saturday, April 25. The exhibit and reception are free.
The exhibit will feature works by nine students. Sarah Barber of Los Angeles creates installation art, sculptures and mixed-media works. The works of Brianna Duddy, a Simi Valley resident who also majored in criminal justice, include figurative drawings, oil paintings and ceramic sculptures.
The oil paintings and ceramics by John Galan of Oak Park are influenced by the human figure, nature and his Mexican heritage. Kaitlyn Horpedahl, who has spent the past two summers as a properties apprentice at the Santa Fe Opera in her hometown, specializes in theatrical props, upholstery and printmaking.
Shireen Mariyum Ismail, a Thousand Oaks resident who also majored in biochemistry and minored in religion, translates theme, interpretation and poetic structure of the Qur'an into color, shape and line in her paper art, oil paintings and ceramics. Kiana Matsuura of Thousand Oaks works in digital and traditional mediums and her figurative oil paintings focus on the theme of "repose."
The oil paintings, charcoal drawings and photography by Susanna McGrath of Thousand Oaks reflect her travels throughout the U.S., Mexico and Central America. Emily Shandorf of Florence, Italy, has gotten to know people from throughout the world and strives to represent diversity in her photography and painted photographs. Joanna Van Nyhuis of Winchester specializes in Prismacolor pencil portraits and figurative oil paintings.
The gallery is located in William Rolland Stadium north of Olsen Road near Mountclef Boulevard on the Thousand Oaks campus. It is open from 10 a.m. to 4 p.m. Tuesday through Friday and 11 a.m. to 3 p.m. Saturday. For more information, contact curator Rachel Schmid at rollandgallery@callutheran.edu or 805-493-3697 or visit CalLutheran.edu/rolland.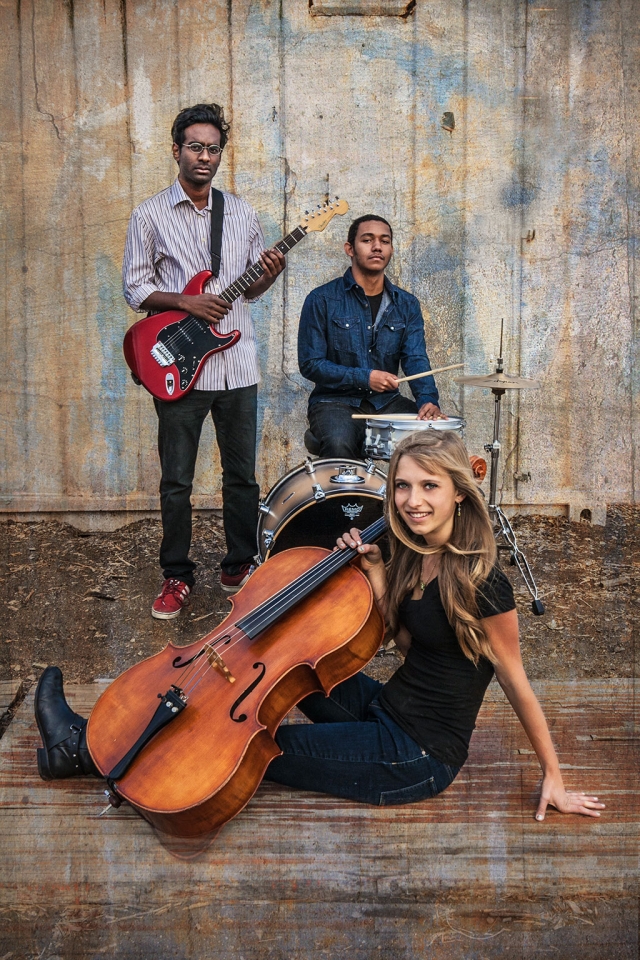 Cal LuPalooza performers Abhi Sridharan Vaidehi on guitar, Edward Hill on drums and Lauren Hesterman on cello. Photo by Brian Stethem.
Enlarge Photo
By Gazette Staff Writer — Tuesday, March 31st, 2015
Free event features pop, alternative, indie and rap
THOUSAND OAKS, CA - The second annual Cal LuPalooza will showcase the talent in California Lutheran University's growing music production program.
The free public concert will be held from 7 to 10 p.m. Friday, April 10, in Kingsmen Park. The show will feature a wide variety of music including pop, alternative, indie rock, singer-songwriter music, rap, hip-hop and electronic dance music. There will be a raffle for a guitar signed by Imagine Dragons that was donated by the Fender Music Foundation.
A music management class made up of music production and business majors is organizing the festival. Evan Forster, who has experience in the music industry and currently heads the Huddle Campus business incubator located in Cal Lutheran's Westlake Center, teaches the class.
Most of the student performers, many of whom will play original songs, are music production majors. They include Caleb Arndt of Thousand Oaks, Nolan Forghani of Rohnert Park, Dylan Herrick of Westlake Village, Lauren Hesterman of Vacaville, Edward Hill of Granada Hills, Nick Isham of Hidden Hills, Natalie Kalamdaryan of Los Angeles, Torrance Klein of Thousand Oaks, Alec Chandler Mallas of Thousand Oaks, Victor Martinez of Simi Valley, Sam Morton of Thousand Oaks, Matt Paparella of Peoria, Ariz., Max Pierro of Encinitas, Patrick Reza of Los Angeles, Abhi Sridharan Vaidehi of Thousand Oaks and Shane Thompson of Langley, Wash. The featured bands are El Capitan, Glass Family, The Ladyfingers, Lancer Roscoe and Lights Please.
Food and T-shirts will be offered for sale. Representatives from local companies in the music, skateboard, and art and design industries will be on hand.
Music production students launched the festival last spring and are bringing it back on a larger scale this year. The music production program, now in its fourth year, prepares students for careers as sound engineers, mixers, editors, producers, talent scouts and performers. Students record, edit and mix projects on campus and in a newly leased studio located off campus in Thousand Oaks. On April 11, music production students will record original songs in the off-campus studio with Los Angeles session drummer Gregg Bissonette, who recently completed a world tour with Ringo Starr and his All Starr Band.
Kingsmen Park is located west of Mountclef Boulevard between Memorial Parkway and Olsen Road on the Thousand Oaks campus.
The Music Department is sponsoring the event. For more information, call 805-493-3306 or visit CalLutheran.edu.
By Gazette Staff Writer — Monday, March 30th, 2015
Performers, crafts, food will fill Cal Lutheran campus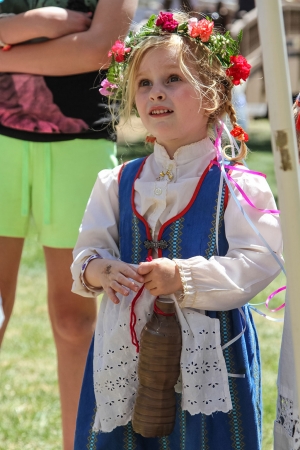 THOUSAND OAKS, CA - One of the largest Nordic festivals in the western United States will return to California Lutheran University April 18 and 19.
The 41st Scandinavian Festival will celebrate the cultures of Denmark, Finland, Iceland, Norway and Sweden and the Saami people from the Arctic regions of Scandinavia. The festival will run from 10 a.m. to 5 p.m. with music, dancing, food, lectures, demonstrations, vendors and activities for people of all ages.
Last year's Scanfest was the most successful ever with a record 8,000 attendees at the two-day event. This year, visitors will watch 150 performers, weave 3,700 flowers and three miles of ribbon through 750 head wreaths, and sand 700 Swedish butter knives with help from 200 volunteers.
Children can travel through Scandinavia by earning passport stamps for each craft they make linked to the culture of the five different countries. The popular Children's Theater will feature a puppet show, acclaimed storytellers Stina Fagertun of Norway and Robert Seutter, aka True Thomas, and musician Ross Sutter.
Other performers will include Swedish classical pianist and humorist Magnus MĂ"rtensson, Norwegian folk singer Ann-Marita and the New York-based ABBA Girlz. Folk-rock band The Evening Guests led by Jokull Jonsson from Iceland and fiddler Tim Rued will also take the stage and folk dancers will perform and teach steps.
Healthy Scandinavian food specialties will include open-face sandwiches, fish tacos and vegetarian Norwegian stew. Traditional favorites including Swedish meatballs, Viking dogs and Danish aebleskivers will also be available.
Festivalgoers can try their hand at Dala horse croquet, play an ancient Viking game called kubb, return to the days of the Vikings at an authentic village staged by the Ravens of Odin and visit a Saami camp.
The Scandinavian American Cultural and Historical Foundation is sponsoring the event. Cal Lutheran is located at the corner of Olsen Road and Mountclef Boulevard in Thousand Oaks.
Admission is free for children, $5 for teenagers and $10 for adults. Tickets purchased online are $4 for teens and $8 for adults. Parking is free. Tickets and a full schedule are available at scandinavianfest.org. For more information, contact Lana Lundin at lanalundin@gmail.com.
By Gazette Staff Writer — Monday, March 30th, 2015
Cal Lutheran event to feature a variety of sounds
THOUSAND OAKS, CA - California Lutheran University students will present a free outdoor jazz concert in the Uyeno Amphitheater at 7:30 p.m. Friday, April 17.
Students in a music improvisation class who call themselves DoNation will perform music by the band Snarky Puppy and composers Freddie Hubbard, Lee Morgan, Charlie Parker and others. The program will include Latin-, funk- and rock- influenced tunes in addition to straight-ahead jazz.
"We will be performing amazing music that anyone can enjoy," said class instructor and jazz director Uziel Colon, who will conduct. "Jazz is about the freedom of expressing oneself through music improvisation over contagious grooves."
The musicians are biology and music major Alex Avaneszadeh of Newbury Park, communication major Jeffery Baker of Moorpark, criminal justice major Matthew Case of Thousand Oaks, communication and music production major Lauren Hesterman of Vacaville, music production major Edward Hill of Granada Hills, music production major Torrance Klein of Thousand Oaks, music production and business administration major Johnathan Luu of Bellevue, Wash., music major Michael Martindale of Granada Hills, music major Nolan Monsibay of Northridge, math major Bradley Pate of Bakersfield, computer information systems major Beau Pellowski of Canyon Country and communication major Keanu Quick of Valencia.
Colon is a pianist and composer whose repertoire ranges from piano improvisations in Latin jazz to commercial pop to salsa rhythms to gospel. He has performed at events including The Heineken JazzFest in Puerto Rico, The Beantown Jazz Fest in Boston, CJW in Beijing and the MadaJazzcar Festival in Madagascar. He works for The Latin Recording Academy and composes, arranges and produces music for television shows and independent artists.
The amphitheater is located next to Overton Hall at 3163 Regent Ave. Guests should bring low-back lawn chairs or blankets to sit on. For more information, call the Music Department at 805-493-3306 or visit CalLutheran.edu.
By Gazette Staff Writer — Wednesday, March 25th, 2015
March 28, 2015
"Tulips" by Jessie Arms Botke, oil on board, 12" x 16"
Enlarge Photo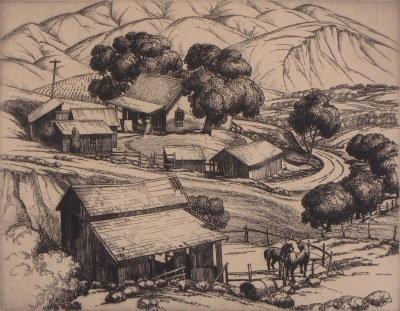 "Foothill Ranch" by Cornelis Botke, 1936, etching on paper, 7.5" x 9.5"
Enlarge Photo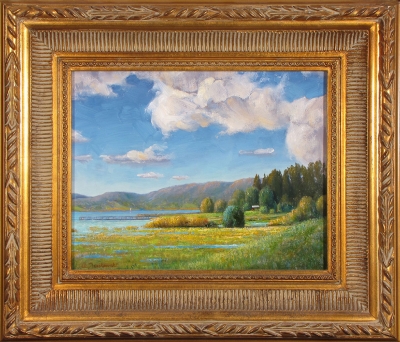 "Lake Casitas" by Tony Jankowski, oil on board, 11" x 14"
Enlarge Photo
SANTA PAULA, CA – On Saturday, March 28, 2015, the Santa Paula Art Museum will host its Fifth Annual Fine and Decorative Art Auction with works by early twentieth century California artists like Jessie Arms Botke, Cornelis Botke and Douglas Shively highlighting the event. The silent auction begins at 3:00 p.m., followed by the live auction at 4:30 p.m. Admission to the auction is $15.00 for members of the Museum and $20.00 for the general public.
Over 70 works of art, ranging from stunning oil and watercolor paintings to decorative glass, pottery, porcelain and prints, will be up for bid. Contemporary plein air works by renowned local artists like Karl Dempwolf, William Dorsey, Tony Jankowski, George Lockwood and Gail Pidduck will complement the more historic offerings. To see a complete catalog of all of the items available in the auction, please visit www.SantaPaulaArtMuseum.org/auction.html.
The annual Santa Paula Art Museum auction is a very special opportunity to add to one's own art collection. Guests will also experience the thrill and fun of a live auction, announced this year by professional auctioneer Mr. John Eubanks of California Auctioneers. All proceeds from the auction benefit the Santa Paula Art Museum, Jeanette Cole Art Center and its programs.
The event is graciously supported by sponsors Bank of the Sierra, Calavo Growers, Limoneira Company, Mupu Grill, Rotary Club of Santa Paula and Santa Paula Community Bank. The Santa Paula Art Museum is located at 117 North 10th Street in downtown Santa Paula. Contact us by calling (805) 525-5554 or email info@SantaPaulaArtMuseum.org. The Museum's regular hours are Wednesday through Saturday 10:00 a.m. to 4:00 p.m. and Sunday 12:00 to 4:00 p.m.
By Myrna Cambianica — Wednesday, March 25th, 2015
"Here And Gone" photography exhibit opens at Ojai Community Bank, 402 W. Ojai Avenue, Ojai, CA, on March 30, 2015 with a run through May 1.The public is invited to the opening reception on April 15 from 5:30 to 7:30 pm.
"Death leaves a heartache no one can heal, love leaves a memory no one can steal."Anon– Irish Headstone
This exhibit celebrates a friendship between two artists, so strong that the death of one does not diminish but strengthens their bond. David Baker and Richard Shirley met in November of 2013 at the Ojai Photo Club, and they immediately connected with their mutual passion for photography. Throughout the next year, whenever you saw one, the other was sure to be nearby. Although their photographic interests and genres were very different, each was an advisor, critic and faithful follower of the other's work for the brief time they had together.
In Baker's words, "Richard asked me to exhibit with him at the Ojai Community Bank. He was so excited he would be able to share his collage images, which he called "eclectographs," with the public. Shortly after that he started to have problems with his heart. When he was hospitalized he told me to go ahead without him and do the exhibit by myself. I told him that he would be fine and we would continue with our plans to exhibit together. Within a few days my good friend was GONE and I was HERE.
"The loss was so disabling for me, but when a good mutual friend, Brian Berman, suggested that I go ahead with the exhibit as if he was still here, I thought, 'Why not?' This exhibit has given me the strength to pass through the grief and into acceptance of his passing with increased love for my good friend. I am HERE and he is GONE, but only physically. He is here in my heart and that will never change. Enjoy his work, his passion, and his wonderful ability to show us who Richard Shirley is. His spirit will be at the exhibit every day."
Richard Shirley (1947 – 2015) was a master of photographic collage. His stunning imagery is reflected in his personal artist statement, "I believe my art mirrors the spirit of my being. I assemble ancient imagery, transcending time - stained walls, archival deeds, torn stamps, ruffled feathers, canyon rocks, painted objects and surfaces - all creations in my own visual space, colors and brush strokes."
Shirley was educated at the Cleveland Institute of Art, Cleveland, Ohio, where he graduated with a Bachelor of Fine Arts degree with a major in graphic design and a minor in sculpture. Before retiring to Ojai, he was a professional director and producer with his own film production company, Richard Shirley, Inc., and produced over 500 national commercials; including the well-known 9 Lives "Morris the Cat" campaign. He was a member of the Directors Guild of America, the Canton Art Institute, the Ojai Art Center and an active member of the Ojai Photo Club. More information and images are available for viewing at: richardshirley.com
David Baker is internationally known for his creative website and graphic designs. He is best known in the United States as the designer of websites for the 1995 Academy Awards, Super Bowl XXX, Microsoft Windows NT site, and the California State Legislature.
He was founder and President of Real Time Computer Science, the first firm to install Intel's iRMX Multitasking opening system on the IBM Personal Computer. Later, he founded Beverly Hills Software, an internationally known website design firm. He has served as Director of Development for Symantec/Peter Norton and as Computer Architecture Specialist at Intel Corporation.
Now semi retired, Baker enjoys doing photography his way. He was recently selected as new chair of the Photography Branch at the Ojai Art Center and web architect/designer for the center's Theater Branch. He is an Ojai Film Festival Board Member and member of the Ojai Photography Club. Visit his website for images and extended information: ojaiimages.com