By Gazette Staff Writer — Tuesday, January 19th, 2016
CA State Old Time Fiddlers will meet on Sunday 1/24/16 from 1:30-4:30pm at the Oak View Community Center, 18 Valley Road, Oak View. The public is invited to play, listen and dance to Country Western and Bluegrass music. Free admission and parking, refreshments available. calfiddlers.com or call 805-797-6563.
By Gazette Staff Writer — Tuesday, January 19th, 2016
March 12, 2016
Members of Ventura's historic families will serve as Grand Marshals when the annual Ventura County St. Patrick's Day Parade marches down Main Street for the 28th time in downtown Ventura on Saturday, March 12.
The theme of this year'Äôs parade, which begins in front of Mission San Buenaventura at 10 a.m., is 'ÄúCelebrating 150 Years of Ventura'Äôs History.'ÄĚ The city was incorporated on April 2, 1866. Members of the historic families to serve as Grand Marshals will be announced at a later date.
The whole county will be turning out in green on Main Street. Last year's parade drew over 90 entries, including floats sponsored by civic groups, nonprofits and local businesses and restaurants; marching bands; car clubs; horses; clowns and the Biggest Green Pig in the World. There also will be high school pep bands, youth groups and fun-loving adult groups entered in the parade.
The Ventura County St. Patrick's Day Parade, which ends at Laurel Street, is presented by the Ventura Elks Lodge #1430. The event's committee is accepting entries for the parade. For entry forms or more information about the parade, visit www.venturastpatricksdayparade.com, call Jim Monahan at (805) 643-4275 or mail Nan Drake at nanodrake@aol.com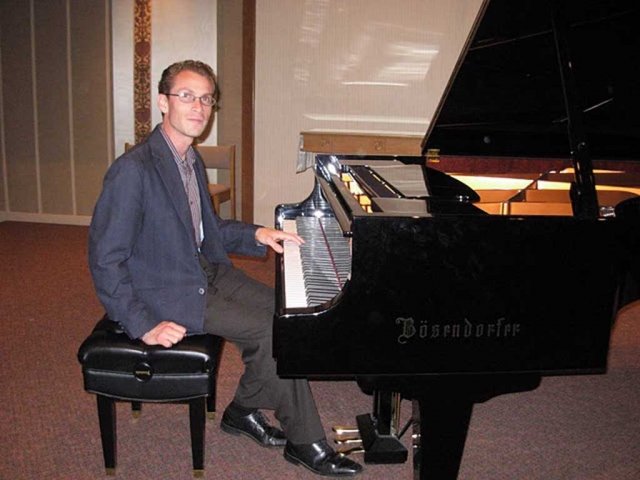 Geno Palilla
Enlarge Photo
By Gazette Staff Writer — Monday, January 11th, 2016
The Santa Paula Concert Series has been revived and will have its fourth concert of the new series, Music for a Romantic Night: Classical Piano Music with Geno Palilla, on Saturday, February 13th at 7:00 PM at the historic Universalist Unitarian Church, a Ventura Historical County landmark, located at 740 East Main Street, Santa Paula. Parking is on the street or behind the church. This concert for Valentine's Day will feature a champagne and chocolate reception with the artist. The program will feature shorter works by Mozart, Beethoven, Chopin, Brahms, Schumann, Scriabin, Rachmaninoff, and Debussy.
After informal piano lessons with his father and self-teaching, Geno Palilla studied several years under the late Peter Yazbeck, until going off to study piano performance at Cal State University Northridge, under the Piano Chair, Francoise Regnat. His first inspirations were the music of Beethoven, whom he wanted to emulate in every way, including in temperament and hair. Then gradually he came to love everything else, but especially the music of Bach, Mozart and Chopin, who are to him more like gods than men. In recent years he has been dedicated to teaching piano, in the classical tradition, but with an openness and appreciation of jazz and blues, which he sees as not wholly estranged certain modes of classical composition, in its freest, imaginative sense. He may surprise us with an improvisation or two.
The Universalist Unitarian Church of Santa Paula has been home to a number of musical events throughout its 127-year history. Admission is $20 donation at the door. Proceeds benefit the Universalist Unitarian Church of Santa Paula Building and Historical Fund. UUCSP is a registered Ventura County Historical Landmark. For more information, call 805-525-4647 or email uuscpoffice@gmail.com.
By Gazette Staff Writer — Monday, January 11th, 2016
Since the 1890s postcards have represented a quick, easy and economical way to share a trip with friends and family. The Ojai Valley Museum'Äôs latest exhibition, 'ÄúWish You Were Here: Postcards that Enticed Visitors to the Ojai Valley'ÄĚ highlights vintage postcards. The Ojai Valley postcards are enlarged for better viewing of interesting details. Not only are the images often beautiful, what people wrote speaks to earlier eras while also pointing out how some things never change. In an adjacent space, each visitor is invited to write and send a contemporary postcard themselves.
Also on view are historic promotional items including brochures and maps. Beautifully rendered early 20th century pieces are contrasted with exuberant items from mid-century.
The opening reception for 'ÄúWish You Were Here'ÄĚ is Saturday, January 16. Enjoy the exhibition and a no host wine bar for the price of regular museum admission: $5 per adult, children 6-18 $1, current museum members and children under 6 free.
The exhibit is sponsored by the Ojai Valley Inn & Spa. It will be on view through March 27, 2016.
The Ojai Valley Museum is located at 130 W. Ojai Avenue in Ojai. Free parking is available behind the museum, off Blanche Street. Gallery hours are Tuesday through Saturday 10 am to 4 pm and Sunday noon to 4 pm. Group or school tours available by appointment.
For more information, call the museum at (805) 640-1390, ext. 201, email ojaimuseum@gmail.com, or visit the museum website at OjaiValleyMuseum.org.
Sierra #1, oil on canvas, Ernest Browning Smith
Enlarge Photo
By Gazette Staff Writer — Monday, January 11th, 2016
Buenaventura Art Association will unveil another dozen historical pieces of regional art with California Climates: Fire and Ice, an exhibition opening Jan. 5 at Buenaventura Gallery in downtown Ventura. Among the desert and snow scenes in this addition to the California Heritage Collection are two works by a noted early landscape painter.
The collection is from the estate of a late Ventura couple who spent decades acquiring beautiful artworks in California and worldwide. The anonymous pair's large and well-documented art legacy encompasses a wide range of styles, including California Impressionism, Plein-Air schools and Modernism.
Frequent visitors to their hometown gallery, the couple left instructions to involve BAA in offering the works for sale. Small groupings of their extensive treasure trove are being featured in a succession of showings at Buenaventura Gallery and a catalog is available for review.
Two pieces in the California Climates show, titled simply Sierra #1 and Sierra #2, are by Ernest Browning Smith, an influential plein-air painter active over three decades in the early 20th century. Born Nov. 30, 1866, in Brimfield, Mass., he was educated there at private Hitchcock Free Academy and, according to his 1932 autobiography for the Los Angeles Museum of Art, 'Äúspent two years at law and six years in business before moving to California in 1894 at the age of 27.'ÄĚ After a year of ranching, he moved to Los Angeles.
Having also studied harmony, sung and directed church choirs in Massachusetts, Smith taught himself to play the cello at 28 and, two years later, the French horn. By 1897, his proficiency earned him the position of first French horn in the inaugural Los Angeles Symphony Orchestra, with which he performed until 1911.
In 1902, he took up photography 'Äúwith the idea of expressing his love for nature in that medium, but found it lacking in color and design.'ÄĚ He tried watercolor painting the following year, and switched to oils in 1904, again both self-taught. That year, Smith was named to the St. Louis World'Äôs Fair Symphony Orchestra and during his visit to that exposition 'Äútook advantage of the opportunity to make a careful study of that great collection of contemporary art.'ÄĚ
For the next five years, he 'Äúdevoted every moment not needed in his musical work to the careful study of nature and the development of individual technique.'ÄĚ In 1909, his first gallery exhibition drew critical acclaim, with a Los Angeles Times reviewer writing, 'ÄúMr. Smith is a man of much power and orginality and (not belittling his fine work on cello and horn) is a man who was born to be a painter.'ÄĚ
Two years later, Smith resigned from the symphony to devote all of his time to painting and, on an extended European trip, made comparative studies of all the art schools at museums in France, Germany and England.
Upon returning, he held one-man exhibitions each year from 1912-1916, then rejoined the symphony for five years, during which time he continued to paint but did not exhibit. He was an early and active member of the Laguna Beach Art Association and the California Art Club.
In 1921, Smith left the symphony again to resume his art focus and the next decade was his most productive and successful; he made painting forays all over the state, creating a body of award-winning desert and mountain landscape work that earned critical praise and museum recognition. His plein-air expeditions even took him to Mount Shasta, where he was among the early artists to capture its grandeur.
Smith earned awards at Los Angeles County and California State fairs and was honored in 1932 with a one-man show at the Los Angeles Museum of Art. That museum and the San Francisco Art Museum purchased his paintings for their collections. Sadly, he developed health problems shortly after the museum show that later led to nearly a year of hospitalization in 1937 and a gradual decline. Smith died on April 26, 1951.
BAA welcomes inquiries from collectors and museums about current and future offerings from the California Heritage Collection. Owners of other early California artworks are invited to contact the nonprofit association about possible inclusion in the exhibition series.
Regular gallery hours are 11 a.m.-5 p.m. Tuesdays through Saturdays. Private viewings of the California Heritage Collection are available by appointment. For more about BAA or this special collection, visit www.californiaheritagecollection.com, www.buenaventuragallery.org, or call 805-648-1235 during gallery hours.
By Gazette Staff Writer — Wednesday, January 6th, 2016
Channel Islands Harbor excursions give sightseers a front-row seat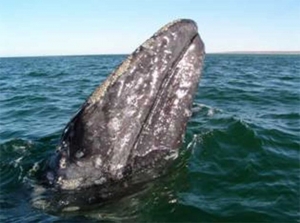 Let's go whale watching! Channel Islands Harbor celebrates the migration of the Pacific Gray Whale with its 20th Annual Celebration of the Whales. Each winter, these enchanting whales migrate through the Santa Barbara Channel on their way to the lagoons of Mexico, where the females will give birth. Whale watching excursions to the Channel Islands National Park are offered daily from Channel Islands Harbor and provide sightseers the best opportunities for viewing the whales, which are up to 50 feet long and weigh approximately 36 tons, as they travel south. Excursions began Dec. 26 and run through mid-April 2016.
Businesses at Channel Islands Harbor offering these sight-seeing excursions include Channel Islands Sportfishing, which provides excursions from January through April, (805) 382-1612; and Island Packers, which offers half-day trips through mid-April (805) 382-1779. For more information, visit www.channelislandsharbor.org.
As the first recreational harbor in Ventura County, Channel Islands Harbor has become one of the largest in California, after Marina Del Rey and San Diego in Southern California. It now includes over 300 acres of land and water, but the initial development included only a small portion of the current harbor area. Additional construction took place over the years, including the west channel of the harbor, along Harbor Boulevard and Peninsula Road. Development of the harbor has been largely accomplished through leases with private developers, who have constructed eight marinas (not including the three constructed by the County) comprising over 2200 boat slips, two hotels, two yacht club buildings, two boat yards, three shopping areas, two freestanding restaurants, a Maritime Museum, over 100 condominiums and 485 apartments. In addition, public agencies have provided parks, restrooms, the public launch ramp and parking for the public. For more information on Channel Islands Harbor visit www.channelislandsharbor.org.
By Gazette Staff Writer — Monday, January 4th, 2016
Thursday, January 21, 2016
The Ventura County Rose Society will hold its monthly meeting on Thursday,January 21, 2016, at the Ventura County Office of Education Conference Center at 5100 Adolfo Rd., Camarillo. The doors will open at 6:30 p.m. for refreshments and advice from Consulting Rosarians.. Our speaker presentation will begin at 7:30 P.M. (Please note that this is the third Thursday of the month instead of the fourth Thursday)
The VCRS meeting will feature Dona Martin, American Rose Society Master Rosarian, and award-winning photographer. She will be speaking on "Roses & Photography" How to take pictures of roses and post-processing the pictures on a basic level. She has over 460 roses in her Escondido, CA garden. Her photos are exquisite and we will learn her techniques in photographing roses. This should be a very informative presentation.
Visitors are always welcome to our VCRS meetings. For more information contact; Janet Sklar at 818-337-9970 or Dawn-Marie Johnson at 805-523-9003. Our website is http://www.venturarose.org/
By Gazette Staff Writer — Monday, January 4th, 2016
New 'ÄúStudio Sunday'ÄĚ Program Teaches Art in A Social Setting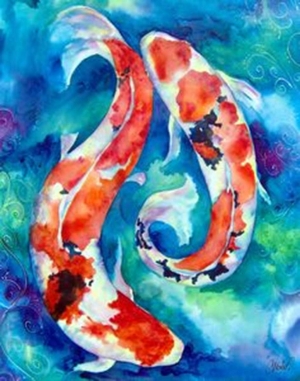 The Museum Ventura County's new art instruction series, Studio Sunday, has provided a great reason for friends to gather at the museum and cultivate their inner artist. The Studio Sunday painting classes are taught by Mary Perez and Megan Bisbee of Vita Arts Center, and are open to all regardless of their level of expertise. The classes occur once a month on selected Sundays from 1-4 pm at the museum. Each of the classes has a theme and style of painting or creating that evokes famous artists.
There are two sessions coming up! Pre-paid reservations are being taken now.
January 17: "Pinots with Picasso"
Learn collage techniques to evoke Picasso's cubism period.
February 21: 'ÄúKoi Fish, Water & Wine'ÄĚ
Take to the water with this colorful symbolic fish, learning the timeless art of watercolor painting.
The class fee is $40 per person, or $35 for MVC members, which includes instruction, art materials and light refreshments. Each class is limited to 40 people. To reserve, call (805) 653-0323, x315, or go to the museum's website at http://venturamuseum.org/studiosunday and pay online.
By Gazette Staff Writer — Monday, January 4th, 2016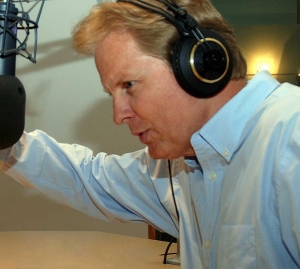 Tom Ashbrook
THOUSAND OAKS, CA - The January taping of National Public Radio show 'ÄúOn Point'ÄĚ in Santa Barbara is sold out, but fans can visit with host Tom Ashbrook the next morning at California Lutheran University.
The award-winning journalist will discuss highlights from his career when KCLU presents 'ÄúCoffee and Conversation with Tom Ashbrook'ÄĚ at 10 a.m. Jan. 23 in Samuelson Chapel on the Thousand Oaks campus.
Nearly 2 million NPR listeners across the country listen to Ashbrook each week. "On Point" unites distinct and provocative voices with passionate discussion as it confronts important stories.
Ashbrook joined NPR in 2001 after he was enlisted to provide special coverage following the attacks of 9/11. He has spent more than 20 years as a foreign correspondent, newspaper editor and author. He spent 10 years in Asia, starting at the South China Morning Post and then working as a correspondent for The Boston Globe. Ashbrook was based in India, Hong Kong and Japan. He began his reporting career covering the refugee exodus from Vietnam and the post-Mao opening of China. He has also covered the turmoil and shifting cultural and economic trends in the United States and around the world, from Somalia and Rwanda to Russia and the Balkans. At the Globe, where he served as deputy managing editor until 1996, he directed coverage of the first Gulf War and the end of the Cold War. Ashbrook received the Livingstone Prize for National Reporting in 1996.
He was serving as a fellow at Harvard'Äôs Nieman Foundation when he decided to leave the Globe and take a four-year plunge into Internet entrepreneurship. He and a college friend launched what became homportfolio.com. Ashbrook chronicled the experience in the book 'ÄúThe Leap: A Memoir of Love and Madness in the Internet Gold Rush.'ÄĚ
Raised on an Illinois farm, Ashbrook studied American history at Yale and Gandhi's independence movement at Andhra University in India. Before taking up journalism, he worked as a surveyor and dynamiter in Alaska's oil fields, a teaching fellow with the Yale-China Association, a Hong Kong television personality and a producer of international editions of Chinese kung fu films.
'ÄúCoffee and Conversation'ÄĚ is a fundraiser for KCLU, a community service of Cal Lutheran. Tickets are $30. To purchase tickets, call KCLU at 805-493-3900.
KCLU, the first station on the West Coast to carry "On Point," airs the show from 9 to 11 a.m. weekdays. The award-winning NPR affiliate serves more than 100,000 listeners on 88.3 FM in Ventura County, 102.3 FM and 1340 AM in Santa Barbara County, 89.7 FM on the Central Coast, 92.1 FM in San Luis Obispo and online at kclu.org.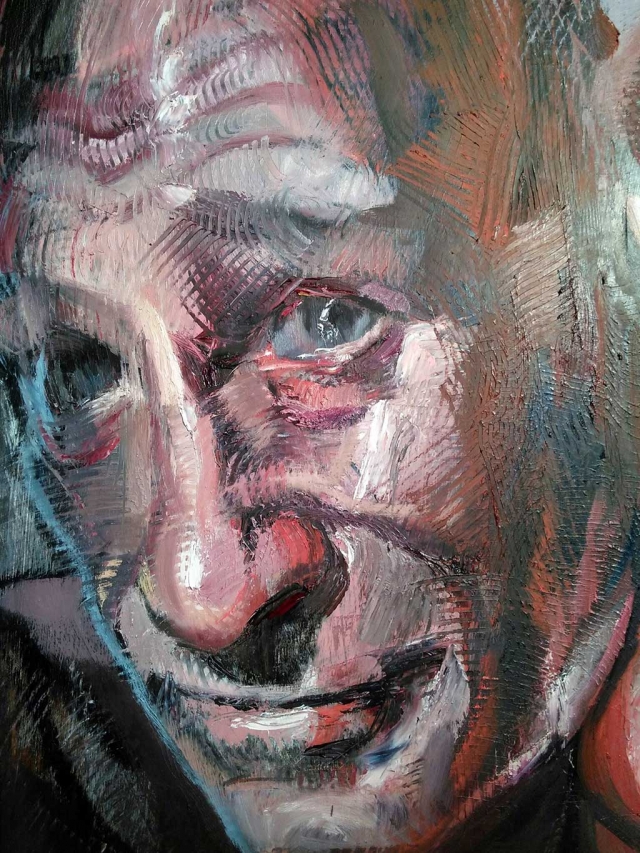 "Engraved," a painting from the "Marks" series by Zhenya Gershman.
Enlarge Photo
By Gazette Staff Writer — Wednesday, December 23rd, 2015
Artists' contrasting styles highlighted at Cal Lutheran
THOUSAND OAKS, CA - Two artists who explore personality through different media will bring their contrasting styles to California Lutheran University in January.
'ÄúPretty People,'ÄĚ featuring works by painter Zhenya Gershman and sculptor Lynn Christopher, will be on exhibit from Jan. 9 through Feb. 26 in the Kwan Fong Gallery of Art and Culture. A reception will be held at 7 p.m. Jan. 30.
Gershman's portraits of her muse, Los Angeles model Mark Snyder, are painted in intense colors on an epic scale. Christopher adds more muted colors to poignant character studies of ordinary people, which she sculpts in bronze.
Gershman, whose studio is in Los Angeles, was selected to create iconic portraits of Bruce Springsteen and Bob Dylan for the MusiCares GRAMMY Foundation, and her numerous awards include the ALEX Award in Visual Arts. Various media including 'ÄúEntertainment Tonight,'ÄĚ 'ÄúExtra'ÄĚ and the New York Post featured her exhibition 'ÄúLarger Than Life.'ÄĚ Born in Russia, Gershman held her first solo exhibition in St. Petersburg at the age of 14. The youngest student to be admitted to Otis Art Institute, she graduated with honors and later received her Master of Fine Arts degree from Art Center College of Design.
Christopher began her career as a set designer at Universal Studios. The Los Angeles resident went on to become an art director and, over the span of 30-plus years, worked on films and television shows as both a set designer and art director at major film studios. She has studied painting and sculpture at art academies in the Los Angeles area. She currently works full time in her studio, focusing on the nude figure and portraits. She emphasizes rhythms, subtle gestural notes and facial expressions to create a presence. She won the Gold Medal Awards for Best Sculpture at the 2012 and 2014 California Art Club Gold Medal Exhibitions.
The Cal Lutheran Art Department is sponsoring the free exhibit. Located in Soiland Humanities Center, the Kwan Fong Gallery is open to the public 8 a.m. to 8 p.m. Monday through Saturday. Visitor parking is available in the parking lot on Mountclef Boulevard south of Olsen Road. For information, call curator Michael Pearce at 805-444-7716 or visit callutheran.edu/kwan_fong
By Gazette Staff Writer — Wednesday, December 2nd, 2015
"ZVJEZDICE" ("LITTLE STARS") EUROPEAN CHOIR - Ojai Youth Opera in cooperation with Thacher School is thrilled to present to the public a rare opportunity to see this elite, internationally-renowned choir that popular European editorial opinion declares has surpassed the Vienna Boys' Choir as Europe's leading youth choir. Zvjezdice will perform a seasonal and classical repertoire with Thacher Chamber Choir, Nordhoff Choir, and OYO Company in a festive, lively celebration for all the family.

December 15th at Thacher School, 6:30-8pm. General Admission - $30; Premiere Seating - $50; Group Discount for 6 or more - $20 per ticket; Parents of Local Performers - $20. TICKETS WILL NOT BE AVAILABLE AT THE DOOR for this performance but must be purchased beforehand at www.ojaiyouthopera.org
By Myrna Cambianica — Tuesday, December 1st, 2015
All proceeds of the sale benefit Help of Ojai
The Ojai Photography Club will host a flea market sale of photography and artist items on Saturday, December 5, 2015. The sale runs from 9:00 a.m. (no early birds, please) to 3:00 p.m. at Help of Ojai's Kent Hall, 111 Santa Ana Street, Ojai, CA.
All proceeds of the sale benefit Help of Ojai. Payment will be accepted in cash or check only.
Many items are new or like new from the estate of a club member. Included are a Logan Mat Cutter, a heavy duty Manfrotto tripod and ball heads, Manfrotto 715B Digi Tripod, Polaroid camera, filters, Plotter film, Cokin N.D. Filters, Aquapac Underwater Camera Case, Cameras plus two vintage items, camera bags, a complete set of the Time Life Library of Photography and other books - the list goes on! A few club members will have individual items for sale: lenses, a Spider Holster and a Hoodman Crane.
Artists may be interested in wooden easels, picture frames of assorted sizes, foam core, and mat board.
Items are reasonably priced and shoppers will find many great bargains.
The Ojai Photography Club, which is devoted to education, inspiration, and camaraderie, meets on the third Tuesday of each month, February 'Äď November. Only members may submit images for review. For additional information please visit: www.ojaiphotoclub.com/
By Gazette Staff Writer — Tuesday, November 24th, 2015
Local artistry is showcased in this exhibition of musical instruments and their innovative creators, Opening Sunday, December 6
The Museum of Ventura County presents Duets: Art and Artisans in Harmony opening December 6, 2015, which celebrates and showcases the work of remarkable local craftsmen. Works from local artisans such as Tom Anderson, Peter Boles, Fletcher Brock, Eilam Byle, David Eichelbaum, Jean Larrivé, Jim McCarthy, Tony Moraza, David Salais, Marston Smith, Joe Till, and James Wimmer take visitors through the artistry and design of music. Also included are instruments from the RKS Design and Drum Workshop in Oxnard. The exhibit will discuss their place in the context of instrument making, and their inspiration.
Ventura County has been home to a vibrant musical community since the early twentieth century. Within this community, a proud tradition of instrument-making has developed. Ventura County's craftsmen have produced some of the world's finest musical instruments, from traditional European-style violins and guitars to newer American instruments such as archtop mandolins and environmentally-friendly drums.
Around the world, the culture of music has developed over many centuries. Integral to that development has been its tool: musical instruments. This is reflected not just in the sounds they produce but also in their design and purpose. Instruments can be made in unusual shapes, with precious materials or with beautiful decoration, making them unique and collectable items. Highlights of this exhibition include:
'ÄĘ A cello crafted in the mid-19th century on loan from Mission San Buenaventura which has rarely been publicly exhibited;
'ÄĘ A guitar made from all natural and recycled materials, crafted from resin and driftwood by musician J. Peter Boles ;
'ÄĘ A hand-crafted electric guitar made by Tom Anderson of Anderson Guitarworks in Newbury Park used by many current artists, such as country great Clint Black, and
'ÄĘ A true replica of a Baroque-period viola d'Äôamore made by James Wimmer of Santa Barbara.
Visitors will be able to see interviews with the artists in the context of their work. Works of fine art from the Museum of Ventura County's collection will be paired with the instruments in a thematic and complementary way, reinforcing the true aesthetic of the luthier and instrument-maker in modern culture.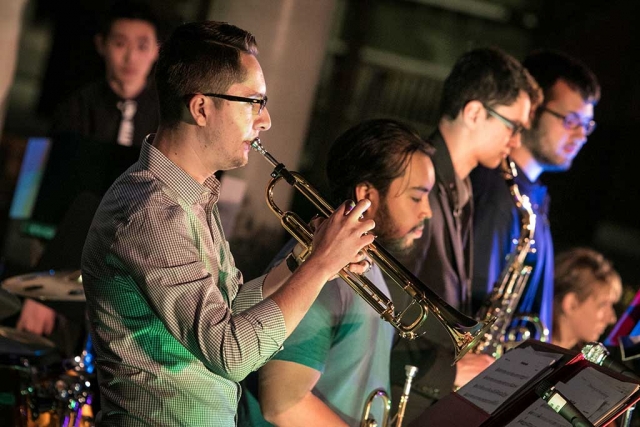 Photo by Brian Stethem
Enlarge Photo
By Gazette Staff Writer — Tuesday, November 24th, 2015
December 11 Program includes standards and modern classics
THOUSAND OAKS, CA - The California Lutheran University Jazz Collective will present a free concert at 7:30 p.m. Dec. 11, in Preus-Brandt Forum.
Under director Uziel Col√≥n, student performers in the Jazz Collective will play standards, modern classics and original arrangements of popular songs. The varied and interesting repertoire will include Tito Puente'Äôs 'ÄúOye Como Va,'ÄĚ George Benson'Äôs 'ÄúBreezin'Äô'ÄĚ and Miles Davis'Äô 'ÄúSeven Steps To Heaven,'ÄĚ among others. The band is comprised of both music and non-music majors.
Colón is a pianist and composer whose repertoire ranges from piano improvisations in Latin jazz to commercial pop to salsa rhythms to gospel. The Studio City resident has performed at events including the Heineken JazzFest in Puerto Rico, the Beantown Jazz Fest in Boston, CJW in Beijing and the MadaJazzcar Festival in Madagascar. He works for The Latin Recording Academy and composes, arranges and produces music for television shows and independent artists.
Preus-Brandt Forum is located at 135 Chapel Lane. Additional parking is available in the lots at the corner of Mountclef and Olsen.
Donations will be accepted. For more information, call the Music Department at 805-493-3306 or visit CalLutheran.edu.
By Gazette Staff Writer — Wednesday, November 18th, 2015
SANTA PAULA, CA 'Äď In celebration of the holiday season and the community'Äôs generous support throughout the year, the Santa Paula Art Museum will host a holiday party on Sunday, December 6, 2015, from 1:00 to 3:00 p.m. Guests will enjoy a fun and festive afternoon of holiday music and treats inside the Museum'Äôs beautifully decorated galleries. The event will also feature a live musical performance by the local group 'ÄúHalf Notes.'ÄĚ Admission to the event is free for everyone.
'ÄúWe are so thankful for the support and kindness of the community, our volunteers, and our visitors,'ÄĚ says Museum Executive Director Jennifer Heighton. 'ÄúOur holiday party is a fun and meaningful way for us to say thank you and to celebrate the season with our supporters.'ÄĚ
Reservations for the event are not required. For more information, please call the Museum at (805) 525-5554 or email info@santapaulaartmuseum.org. The Museum is located at 117 North Tenth Street in downtown Santa Paula. The Museum's regular hours are Wednesday through Saturday from 10:00 a.m. to 4:00 p.m., and Sunday from 12:00 to 4:00 p.m. Regular admission to the Museum is $4.00 for adults, $3.00 for seniors, and free for students and museum members.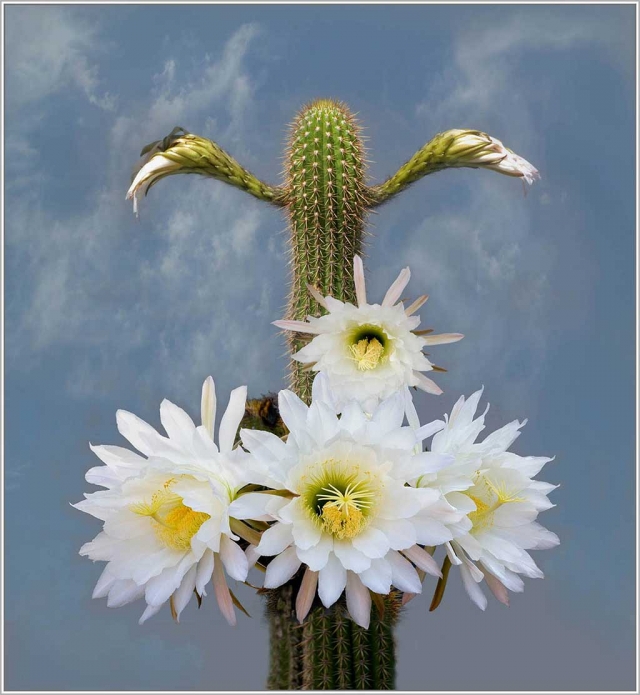 "Cactus Wonder Of Nature" by Photographer Ines Roberts.
Enlarge Photo
By Letitia Grimes — Monday, November 9th, 2015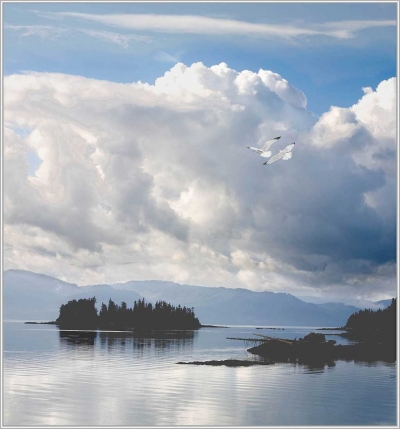 "Clouds And Islands Inside Passage Canada" by Photographer Ines Roberts.
Enlarge Photo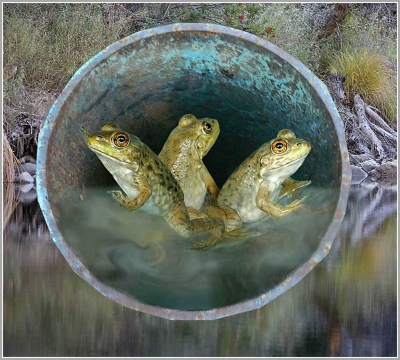 "Inner Space" by Photographer Ines Roberts.
Enlarge Photo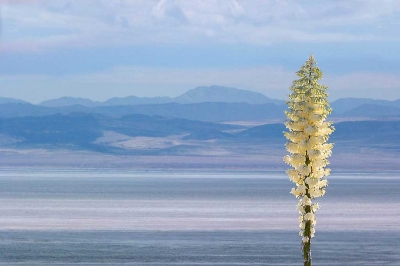 "Our Lords Candle Owens Dry Lake" by Photographer Ines Roberts.
Enlarge Photo
The Ojai Photography Club welcomes the return of Ines Labunski Roberts, internationally recognized Santa Barbara photographer, as the presenter for its November meeting. The meeting will begin at 7:00 pm on Tuesday, November 17, at Help of Ojai's Kent Hall, 111 Santa Ana Street, Ojai, CA. The event is free and the public is cordially invited to attend.
Roberts is a pioneer in the creation of slideshows with musical scores. Since 1972, when her husband, Gilbert Roberts, designed a fuse and dissolve unit for her, she has produced over thirty-five slide/music programs. Now entirely digital, most of her current shows have premiered at the Santa Barbara Museum of Art.
Three years ago at the Ojai Photography Club, Roberts presented 'ÄúBodie, a California Ghost Town,'ÄĚ with haunting images and music evoking the eerie beauty of abandoned houses in the high mountain snows.
For this year'Äôs event she will present a slide/music show titled 'ÄúOur Values,'ÄĚ con-trasting the beauty of nature with the environmental damage caused by our neglect of the earth. The deep love of nature that pervades all of Roberts'Äô work is at the heart of this presentation. The music she has chosen for her images is by Gustav Mahler, who was inspired by the sounds of the natural world. She says about her program: 'ÄúThe exquisite beginning lets you imagine an environment of peace and harmony, which is colored by the natural antics of a lively stream that will finally flow into and unite with the sea. After that, the atmosphere changes, hinting at activity and progress and finally culminating in chaos and destruction. As the chosen title 'ÄúOur Values'ÄĚ could be tinged with cynicism, there is also the ending, which suggests and gives a hint of hope.'ÄĚ
Roberts was born in Danzig (now Gdansk, Poland) and educated in Germany and England. While living in Scotland, she joined a local camera club, where she received much encouragement and support. After relocating to Santa Barbara in 1966 with her husband and children, Roberts developed rapidly as a self-taught nature photographer. Her images have been published as feature articles in London, Holland, Germany, Japan, and the U.S. Mastering the difficult and demanding technique of Cibachrome photographic printing, she went on to exhibit these prints in many one-woman shows, both in the United States and abroad.
In a long list of international photographic contests, Roberts has garnered major awards, including the Sierra Club Annual Contest and the BBC Wildlife Photographer of the Year Competition. She is a member of the Royal Photographic Society of Great Britain, as well as a member of the prestigious London Salon of Photography. The Salon website: http://www.londonsalon.org
Summing up her art, Roberts states that her deep love for our natural world and her involvement in photography constantly enrich her life and are some of the greatest gifts granted to her.
The Ojai Photography Club, which is devoted to education, inspiration, and camaraderie, meets on the third Tuesday of each month, February 'Äď November. Only members may submit images for review. For additional information please visit: www.ojaiphotoclub.com
By Gazette Staff Writer — Monday, November 9th, 2015
'ÄúThe 'Äė60s: When everything possible happened, and changed things forever.'ÄĚ 'ÄĒ Santi Visalli
Camarillo, CA - Santi Visalli and his camera were there when the Beatles played on the 'ÄúEd Sullivan Show.'ÄĚ He was there when Martin Luther King Jr. spoke on the steps of the United Nations. He was there when President Richard Nixon sat down with the Soviet Union'Äôs General Secretary, Leonid Breshnev, to sign the Anti-Ballistic Missile Treaty.
A photographer who captured images of five sitting U.S. Presidents, movie stars, political icons and the soul of the 1960s and 'Äė70s, to name just some of his work, will speak at CSU Channel Islands (CI) about his life, and the 106,964 images he will donate to the University.
'ÄúA Life in Pictures,'ÄĚ which will include about 30 pieces from the collection, will be on display in the John Spoor Broome Library and the second floor art gallery from Nov. 16, 2015 through Feb. 12, 2016 with a reception and artist'Äôs talk on Thursday, Nov. 19 from 5 to 6:30 p.m.
'ÄúHe'Äôs a walking witness to the last part of the 20th century and the beginning of the 21st century,'ÄĚ said Professor of Art History Irina D. Costache, Ph.D., who is curating the show. 'ÄúThrough his lens, he continues to be part of these moments and through him, his work, we, the viewers are also present.'ÄĚ
Visalli, now 83, chose CI to receive his collection because, he said, he wants to be part of an institution that is growing, and he wants his legacy to inspire generations to come.
'ÄúI want to evoke the same emotions I felt when I took the pictures,'ÄĚ he said. 'ÄúIt can be joy, it can be sorrow. Number two, I want a historical record. I want people to look at the pictures 100 years from now and know what life was like. And I want people to get educated about good photography.'ÄĚ
The photographer who would capture so much of American culture in the 'Äė60s and 'Äė70s was born in Sicily, always with a hunger to visit America. After World War II ended, the hunger grew fierce. 'ÄúSince I was a little boy I had a fascination with America, even though they were dropping bombs on my head,'ÄĚ he said.
Visalli wanted to be a journalist, so he and two other aspiring young journalists hatched a plan to go around the world by jeep, a trip financed piecemeal by the Italian government with the understanding that they would extol the virtues of Italy.
The journey around the world took almost three years, with Visalli taking photos and developing a love for the process. Visalli fell in love with New York after he and his band of wandering journalists arrived under the shadow of Lady Liberty.
He enrolled in school and began doing freelance photography. Ultimately, his clients would include Look and Life magazines, Newsweek, and a broad range of high-profile American and European publications.
Throughout his career, he was hired to photograph Presidents John F. Kennedy; Lyndon B. Johnson; Richard Nixon; Ronald Reagan; and Bill Clinton.
'ÄúJohnson was bigger than life, believe me,'ÄĚ Visalli said. 'ÄúAn extremely tall man, a little on the crude side. More refined were the Kennedys. The one I really photographed a lot was Nixon. We covered him the first day he sat at his desk (in the Oval Office). I was right in front of him.'ÄĚ
Visalli also photographed Martin Luther King, Jr. on the steps of the United Nations building in the early 1960s.
'ÄúThey wouldn'Äôt let him speak at the UN, so he sat in front of the UN to make a speech,'ÄĚ Vasilli said. 'ÄúI took a long lens. When his eyes met my long lens, I immediately realized this man is going to be somebody.'ÄĚ
A young Robert De Niro also crossed into Visalli'Äôs field of vision. Visalli met De Niro through his network of fellow Italian expatriates. De Niro had just landed the role of Vito Corleone in 'ÄúThe Godfather, Part II.'ÄĚ
'ÄúHe knew I spoke Sicilian, so he came to be to be coached in the Sicilian dialect,'ÄĚ Visalli said.
CI Head of Collections and Technical Services for the John Spoor Broome Library, Stephen Stratton, said these images and negatives provide a rich learning opportunity for students of all disciplines.
'ÄúThe Santi Visalli collection will provide ample opportunities for students to visualize historical personalities, places and events,'ÄĚ he said. 'ÄúThey will be able to use the photographs to study not only the work of a great photographer, but to add to their student of the historic events and periods that are part of his work.'ÄĚ
Limited parking is available on campus with the purchase of a $6 daily permit; follow signs to the parking permit dispensers. Free parking is available at the Camarillo Metrolink Station/Lewis Road with bus service to and from the campus. Riders should board the CI Vista Bus to the campus; the cash-only fare is $1.25 each way. Buses arrive and depart from the Camarillo Metrolink Station every 30 minutes from 7 a.m. to 10 p.m. Monday through Friday. For exact times, check the schedule at www.goventura.org.
About California State University Channel Islands
CSU Channel Islands (CI) is the only four-year, public university in Ventura County and is known for its interdisciplinary, multicultural and international perspectives, and its emphasis on experiential and service learning. CI's strong academic programs focus on business, sciences, liberal studies, teaching credentials, and innovative master's degrees. Students benefit from individual attention, up-to-date technology, and classroom instruction augmented by outstanding faculty research. CI has been designated by the U.S. Department of Education as a Hispanic-Serving Institution and is committed to serving students of all backgrounds from the region and beyond. Connect with and learn more about CI by visiting CI's Social Media.
By Gazette Staff Writer — Tuesday, November 3rd, 2015
Saturday, November 14th, 1-4pm at the Ag Museum
Just in time to create thoughtful, original holiday gifts, the Museum of Ventura County presents a workshop taught by Los Angeles craft-house and fabric maker French General. Students will learn "linocut", a printmaking technique using rubber relief surfaces. Students will be taught how to carve the printing blocks and be guided through the process of transferring their designs onto paper or fabric. Create wrapping paper, a set of napkins and a tote bag.
The class costs $40 per person, and $35 for Museum members. All materials will be supplied including blocks, ink, cutters, brayers, paper, cloth for napkins and tote bags. Students will be able to purchase additional materials to print on, including: linen yardage, aprons and napkins. To register, please call (805) 653-0323 x 315. Class limited to 30 students.
The Ag Museum is located at 926 Railroad Avenue in Santa Paula. Regular museum hours are from 11:00 am to 5:00 pm Friday 'Äď Sunday.
By Gazette Staff Writer — Monday, November 2nd, 2015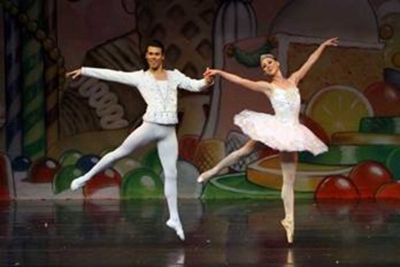 Professional dancer and Australian native, Aaron Smyth and State Street Ballet Profession, Kate Kadow.
Enlarge Photo
International dance star Aaron Smyth from Australia will join the Ventura County Ballet (VCB) in the role of 'ÄúNutcracker Prince'ÄĚ in their 17th annual production of The Nutcracker at Oxnard Performing Arts Center, November 21 at 2 p.m. & 7 p.m. and November 22 at 2 p.m. Performances will be accompanied by the 52 piece Ventura College Symphony Orchestra.
This will be Smyth'Äôs fifth appearance with the company. VCB Executive Director Kathleen Noblin stated, 'ÄúWe are thrilled to have Aaron back dancing with us for his fifth season. He is a wonderful role model. It is a joy to watch our pre-professionals dance with such a fine young man and to have him serve as mentor to so many them.'ÄĚ
'ÄúIt is really fun to work on such a holiday classic like The Nutcracker, and to dance with pre-professionals that have big dreams to be amazing dancers,'ÄĚ expressed Smyth. 'ÄúIt brings me back to the days when I aspired to be a professional dancer. It is an honor to mentor others that have the same passion that drove me.'ÄĚ
Smyth was a scholarship student to the Jacqueline Kennedy Onassis School of the American Ballet Theatre New York. He has danced with the Royal Ballet, London, Joffrey Ballet, Chicago, and was a silver and bronze medal recipient at the International Ballet Competition 2014, and recently was a quarter finalist with Season 10 of America's Got Talent.
Other featured performers: Alexandra Roth, 17, Ballet Academy Ventura'Äôs 'Äú2015 Dancer of the Year'ÄĚ will dance the Sugar Plum Fairy and Dew Drop Fairy.
Jazmine Quezada, 15, also named Ballet Academy Ventura'Äôs 'Äú2015 Dancer of the Year'ÄĚ and the first recipient of VCB'Äôs Ronald Noblin, MD Scholarship will dance the role of Snow Queen.
Natalie Burkhart, 13, 2014 and 2015 scholarship to State Street Ballet Summer Intensive will dance the role of Clara at the Oxnard Performing Arts Center, November 21 and November 22.
Sophia Parker, 13, American Ballet Theatre Young Dancer, New York will dance the role of Clara at Ventura College Performing Arts Center, December 4, 5 and 6th.
In addition, there will be three days of performances at the Ventura College Performing Arts Center which are on Saturday, Dec. 4 at 7 p.m., Saturday, Dec. 5 at 2 and 7 p.m. and Sunday, Dec. 6 at 2 p.m.
VCB strives to connect artists, audience and community with artistically engaging performances. VCB features national and international ballet stars performing alongside pre-professionals and students, which provides unique training, production experience and mentorship for the next generation of dancers. For more information and for tickets, which are only $15 for children, visit www.venturacountyballet.com.
More about Aaron Smyth:
Smyth'Äôs professional dance career began at the Jacqueline Kennedy Onassis School at American Ballet Theatre in New York City on a full scholarship. Shortly after, he was promoted to ABT II under the direction of Wes Chapman. With ABT II, Smyth performed in many new choreographic works including leading roles in Jessica Lang'Äôs 'ÄúLa Belle Danse,'ÄĚ 'ÄúVivace Mottifs'ÄĚ and 'ÄúOblivion.'ÄĚ
Smyth was 'ÄúShowcase'ÄĚ Australian Dancer of the Year in 2006. He won the silver medal from the Beijing International Ballet and Choreography competition in 2013, and performed at the Beijing International Ballet Awards Gala and Seoul International Dance Gala in Korea. Smyth also performed at the International Olympic Committee Gala at the Royal Opera House in honoree of the London Olympic Winter Games.
About the Ventura County Ballet Company and Ballet Academy Ventura:
Celebrating its 17th year, the Ventura County Ballet Company features professional dancers as well as VCB pre-professionals and students from Ballet Academy Ventura, the official school of the VCB.
Kathleen Noblin, a recipient of the City of Ventura 2008 Mayor's Arts Award, founded Ballet Academy Ventura in 1992 as the official school of the Ventura County Ballet where the company is in residence. She has served as executive director of the company since its inception.
For more information, or to sponsor an upcoming ballet or educational program, call (805) 648-2080 or visit www.venturacountyballet.com.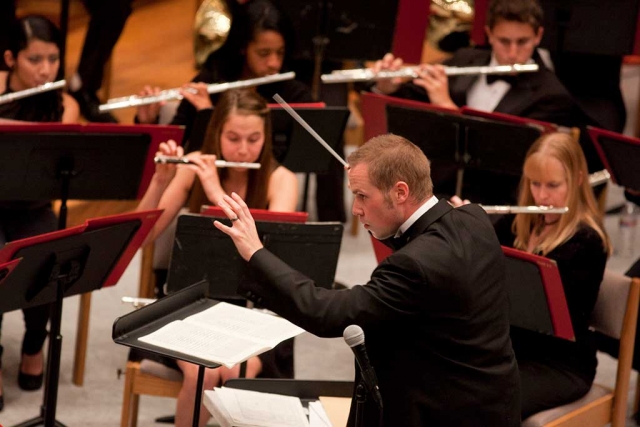 Michael Hart directing the Cal Lutheran Wind Ensemble. Photo credit: Brian Stethem
Enlarge Photo
By Gazette Staff Writer — Monday, November 2nd, 2015
Annual fall concert features wide variety of works
THOUSAND OAKS, CA - California Lutheran University's Wind Ensemble will perform its annual fall concert at 7:30 p.m. Nov. 20, in Samuelson Chapel.
The ensemble, conducted by Michael Hart, will perform a wide variety of works for concert band. The program will open with the joyful 'ÄúFantasia in G'ÄĚ by Timothy Mahr. Other works include the 'ÄúFlorentiner March'ÄĚ by Czech composer Julius Fuńćik, 'ÄúCloudburst'ÄĚ by Eric Whitacre with poetry by Octavio Paz, and 'ÄúScenes from the Louvre'ÄĚ by Norman Dello Joio. 'ÄúFestal Scenes'ÄĚ by composer Yasuhide Ito will close the concert. This composition weaves together several Japanese folk songs into a powerful tour-de-force.
Hart is director of bands and an assistant professor of music. In addition to conducting the Wind Ensemble and the Pep Band, the Moorpark resident teaches courses in music theory and ear training, provides private lessons in trombone, euphonium and tuba, and serves as a field supervisor for music education majors.
As a tubist, he performs as a solo artist and frequently appears in chamber groups, symphonies and concert bands throughout Southern California. He is active as an adjudicator, presenter and guest conductor throughout California.
Admission is free, but donations will be accepted.
Samuelson Chapel is located at 165 Chapel Lane on the Thousand Oaks campus. Additional parking is available at the corner of Olsen Road and Mountclef Boulevard.
For more information, call the Music Department at 805-493-3306 or visit CalLutheran.edu.