By Gazette Staff Writers — Wednesday, March 9th, 2022
The last day to apply is March 31, 2022! HousingIsKey.com is still accepting and reviewing applications for the CA COVID-19 Rent Relief Program, which can help protect tenants from eviction through the end of March. Funds for rental reimbursement are prioritized based on the time of submission and the highest risk of eviction. Even if you aren't sure if you are at the highest risk, you are still encouraged to apply to help protect yourself from eviction. Receive more information, check eligibility and apply at HousingIsKey.com today or call 833-430-2122. Courtesy https://www.facebook.com/CountyOfVentura.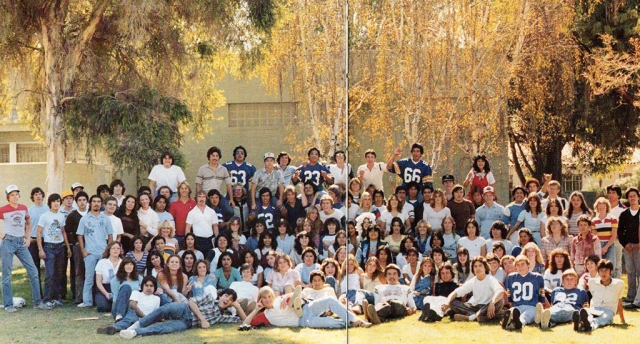 Class of 1982.
Enlarge Photo
By Gazette Staff Writers — Wednesday, March 9th, 2022
Calling all Fillmore High Alumni from the Great Class of 1982. Please confirm your reservations for this year's Alumni Dinner happening in downtown Fillmore on Saturday, June 11th, 2022. The Class of '82 has reserved a special area for this year's Alumni Dinner event as they celebrate their 40-year class reunion. Their beautifully draped royal blue linen tables will surround their private cabana area enclosed by white picket fencing. They plan to come early to enjoy their special hors d'oeuvres table prepared exclusively for the Class of '82. Wow! 40 years? Say it ain't so. Fillmore Class of 1982 Celebrates 40 Year Reunion at FHS Alumni Dinner so..... If you are a Fillmore High Alumni, or from the class of '82 and plan to attend this year's Alumni Dinner, you can make your reservations now at www.fillmorehighalumni.com/events. Live band, and two DJ's this year!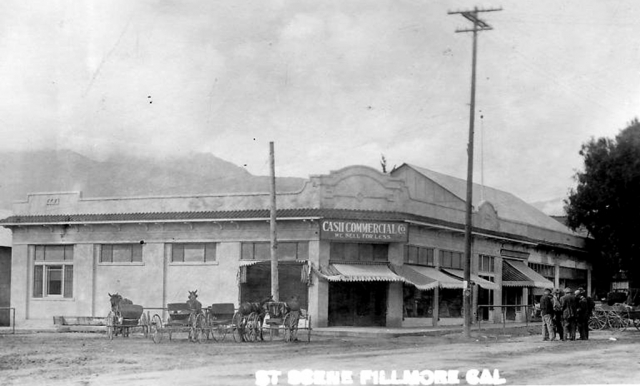 Cash Commercial circa 1915 on the northwest corner of Main Street and Central Avenue. Walter Cornelious and C.W. Harthorn bought the business from Richard Stephens in 1911. Photos courtesy Fillmore Historical Museum.
Enlarge Photo
By Gazette Staff Writers — Wednesday, March 9th, 2022
Courtesy Fillmore Historical Museum
The November 10, 1933 Fillmore Herald carried the story "Pioneer Store Closes Doors November 15." The opening paragraph reads: "It is with considerable regret the Herald chronicles this week the retirement from active business of C. W. Harthorn, pioneer merchant, on November 15th." It's hard to imagine such concern today about a store's closure, but this clearly marked the end of an era for Fillmore.
C. W. (Charles Whitney) Harthorn was born in Thomaston, Maine in 1870 to a seafaring family. He went to sea at age 10 and rose through the ranks to become captain of his own clipper ship. His obituary noted that he was never in a "real shipwreck" in his 15 years at sea but did have near misses. As he described his career:
"My seafaring life began in lime coasters plying between Thomaston, Rockland and New York and Boston. Later I was in the North Atlantic trade, deals from St. John and cotton from Norfolk to Liverpool, then came several deep-water trips. Liverpool to San Francisco and return, New York to San Francisco, back to Liverpool and around the Horn again; then lumber from Puget Sound to Australia and coal back to San Pedro. Finally, I drifted into the West Indies trade out of New York and Philadelphia with occasional South América and South Africa voyage. Failing health caused me to leave this trade and wander out to Honolulu, where I passed sometime in the inter-island boats. I returned to California in 1897 and have been in the southern part of the state ever since."
C. W. Harthorn did not always go to sea alone, on some voyages his wife, Lottie, accompanied him. It was not always smooth sailing, while in the West Indies, Lottie contracted yellow fever and almost died. Being a seaman's wife could be perilous.
Upon leaving the sea, Harthorn went to work as a conductor for the Los Angeles Railway which led to a job as superintendent of oil leases in Ventura County. He, his wife, Lottie, and their two oldest boys, Leon and Raymond, moved to Piru. Harthorn took charge of the Eureka Lease (under the Torrey Hill lease) and the Sunset and Ukiah leases in Hopper Canyon.
As the family grew and the children became old enough for high school, the family moved to Fillmore and Harthorn joined with Walter Cornelius, who had managed the Fillmore branch of the Ventura County Co-operative Store, to purchase partnership in Richard Stephens' store on the northwest corner of Main and Central. In 1911 they bought the business from Stephens' and renamed the business "Cash Commercial." By 1913, Harthorn had bought out Cornelius.
Stephens' Store had been a general store carrying both dry goods and groceries, but Harthorn phased out the dry goods side of the business and focused on the grocery needs of his customers.
In 1927, the business moved to a new location at 360 Central. According to the Herald, "The Harthorn Building is one of the most modern structures in Fillmore and was built at a cost of about $20,000 together with the 60-foot frontage it occupies. It was built especially for the type of business Mr. Harthorn has conducted, with ample space for the meat market of A. T. Coleman, well arranged bakery, balcony and office."
The business was renamed "Harthorn's." Eldest son, Leon, joined the business for a time but left to work for the Forest Service. Leon would go on to be Fillmore's second City Manager, replacing Clarence Arrasmith in 1954.
The location did not stay vacant for long. Lindenfeld's, which had been in the Harmonson Building at 322 Central, moved to the newer building. Nicholas J. Lindenfeld had come to Fillmore about the same time Harthorn had moved to Fillmore from Piru, to take over the management of the Ventura County Co-operative Association store which later became United Mercantile. In 1921 he started his own mercantile business. His son, Ray, joined the business in 1932 and took over as proprietor in 1933. Coming full circle, Ray Lindenfeld would serve on the Fillmore City Council alongside Leon Harthorn as City Manager in the late 1950s and 60s.
In 1928, the former Capt. C. W. Harthorn gained a new title – Justice of the Peace for Fillmore. He was not the first judge in the family line. An ancestor had presided over the Salem Witch Trials.
A story is told of a teen-age boy coming before the Judge for setting off dynamite in the river bottom. Instead of sentencing the youth to jail or fining him, the Judge's sentence was for the boy to write three papers on explosives. Judge Hawthorn's comment to his family was, "I have to hurry up and read up, also, so I can know what he is writing about." The boy eventually became an explosives expert for a major oil company. Court was held in the balcony area of the Harthorn Building even after it became Lindenfeld's.
C. W. Harthorn served Fillmore as Justice of the Peace until his death in 1945. He was survived by his wife, five daughters, four sons and sixteen grandchildren.
By Gazette Staff Writers — Wednesday, March 9th, 2022
By Jan Lee
Last week you read about the divisions for single stem flowers. This week you will learn about potted plants and dish gardens.
Maybe your garden isn't blooming. Maybe you just haven't planted roses or iris or any other flowers yet. No worries! Perhaps you have a potted plant or a dish garden that you have been nurturing for years. Bring those to the Flower Show!
Division VII—Potted Plants
A single variety in a container that is not too heavy to be carried by the exhibitor. Some people have very large potted plants. We'd love for you to enter them, but we can't carry it for you. The Classes in this division are: African violets, Orchids, Cacti and Succulents, Other. There have been some beautiful entries in this division over the years. Show us what you have grown.
Division VIII—Dish Gardens
As in the potted plants division, the exhibitor must be able to carry their dish garden in to the display area. You can be very creative in this category. Put as many different plants together as you think makes a great display. Succulents are popular. What container would express the theme of the flower show, "Farie Tales and Flowers"?
In case you forgot, The Fillmore Flower Show is April 9 and 10 at the Active Adult Center, 533 Santa Clara Street, Fillmore. Entries are accepted from 7:30 to 10:00 a.m. on Saturday morning. Adults pay $5 no matter how many entries they have. All youth entries are FREE. Public viewing is from 1-4 p.m. both days. The judging begins at 10, so don't be late in bringing your entry.
At a youth table, children will be able to plant a succulent to take home. This could be the beginning of a potted plant or dish garden for next year's show! There will be many varieties for sale at the plant boutique.
Please plan to enter or at least view Fillmore Flower Show this year. It is really a fun event. For more information see: www.fillmoreflowershow.org
By Ventura County Sheriff Department — Wednesday, March 2nd, 2022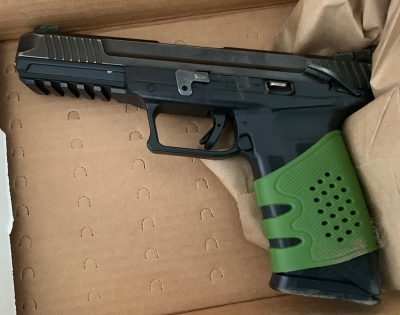 Courtesy Ventura County Sheriff's Department
Enlarge Photo
On February 26, 2022, members of the Ventura County Post Release Offender Supervision (PROS) Unit, Santa Paula Police Department (SPPD), and Sheriff's Gang Unit (SGU) arrested multiple subjects and recovered an illegal firearm during a search in Santa Paula.
On February 26, 2022, at approximately 0900 hours, members of the PROS Unit conducted a search of Gregory Nunez during a probation search of an apartment located in the 200 block of N. 8th Street in Santa Paula. Nunez is on probation and Post Release Offender Supervision for vandalism and weapons violations. Nunez was subsequently arrested for a PROS violation. A Ventura County Sheriff's Office Deputy, who is assigned to the PROS Unit, assisted Ventura County Probation Department personnel during the search and identified Ricardo Magana as being one of the apartment's occupants. There was an active felony warrant for Magana for stolen vehicle violations. Santa Paula Police Department officers responded and assisted with arresting Magana. Additionally, Olga Acosta was arrested for outstanding felony warrants.
Sheriff's Gang Unit personnel responded to the scene to assist with the investigation and obtained a search warrant for the apartment. Detectives located a Ruger 57 semi-automatic handgun, which was loaded with high velocity ammunition capable of penetrating body armor. The handgun's serial number was obliterated and it was seized pursuant to the search warrant, pending further investigation.
Nunez, Magana, and Acosta were booked at the Pre-Trial Detention Facility for the PROS violation and warrants, respectively.
The Ventura County Post Release Offender Supervision Unit is comprised of Deputy Probation Officers from the Ventura County Probation Agency, a Ventura Police Department Officer, a Simi Valley Police Department Officer, and a Deputy Sheriff with the Ventura County Sheriff's Office.
There has been an increase of illegal firearm activities in Ventura County. If you have any information about unlawful firearm activities in the West County areas in the Sheriff's Office jurisdiction, including in Fillmore, Saticoy, El Rio, and Ojai, please contact Detective Sergeant Beau Rodriguez at 805-767-0360.
The Ventura County Sheriff's Office would like to thank members of the public for their on-going support and due diligence in providing information to assist our agency in solving crimes. We are better at what we do because of our community partnerships.
Join us in the fight on crime by following us on Twitter @VENTURASHERIFF, Facebook, Instagram @ VCSHERIFF, and with Nixle by texting your zip code to 888777 to receive local law enforcement and public safety alerts and advisories.
Community: Multiple Warrant Subjects Arrested and Illegal Firearm Recovered
Nature of Incident: Multiple Warrant Subjects Arrested and Illegal Firearm Recovered
Report Number: 22-25503
Location: 200 block of N. 8th Street, Santa Paula
Date & Time: 2/26/2022 @ 9:00 AM
Unit(s) Responsible: Ventura County Post Release Offender Supervision (PROS) Unit, Santa Paula Police Department (SPPD), and Sheriff's Gang Unit (SGU)
(S)uspects, (V)ictims, (P)arty, (D)ecedent, City of Residence, Age
(S) Nunez, Gregory Santa Paula 26
(S) Acosta, Olga Santa Paula 27
(S) Magana, Ricardo Fillmore 37
Prepared by: Sergeant Beau Rodriguez
Approved by: Captain Victor Medina
Ventura County Crime Stoppers will pay up to $1,000 reward for information, which leads to the arrest and criminal complaint against the person(s) responsible for this crime. The caller may remain anonymous. The call is not recorded. Call Crime Stoppers at 800-222-TIPS (8477).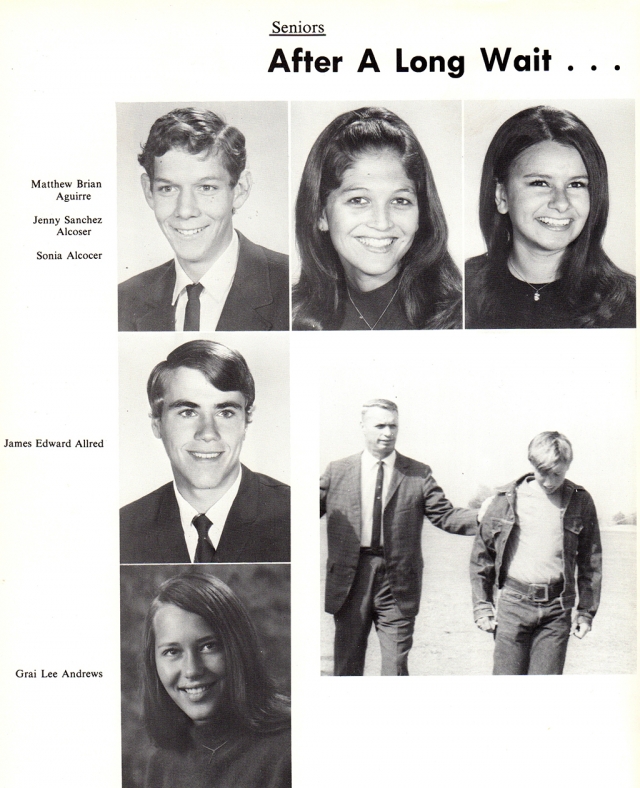 Pictured is a yearbook page for the class of 72. Photo Courtesy FHS Alumni President Mark Ortega.
Enlarge Photo
By Mark Ortega — Wednesday, March 2nd, 2022
FHS Alumni Dinner Saturday, June 11th, 2022, calling all Alumni from the GREAT CLASS OF 1972!"You will be celebrating 50 years since you marched under the Shasta Daisy's on Graduation night. Come relive the memories at your 50 year class reunion at the annual Alumni Dinner. Saturday, June 11th. You can purchase your reservations at www.fillmorehighalumni.com/events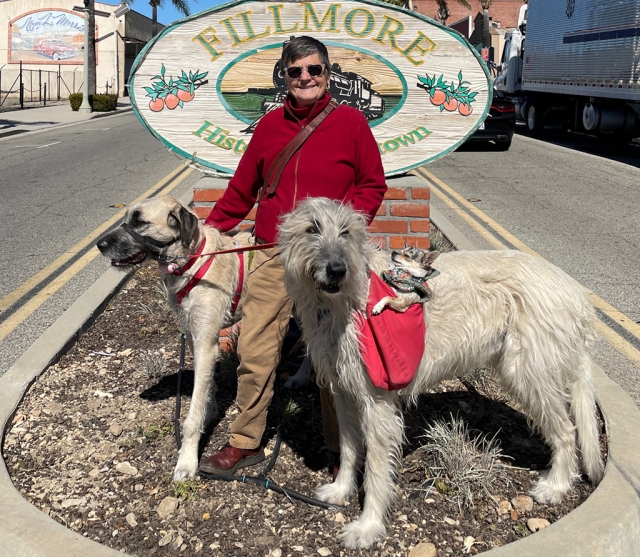 Birch Greyloch of Fillmore with Forest, her six-year-old male Irish Wolfhound, Dahlia, a ten-month-old female Irish Wolfhound/Mastiff and nine-year-old Chihuahua, Violet. Birch is recognized in town as "the lady with the big dogs and Chihuahua."
Enlarge Photo
By Gazette Staff Writers — Wednesday, March 2nd, 2022
By Carina Monica Montoya
Her name is Birch Greyloch, but she is more commonly known around Fillmore as "the lady with the big dog and Chihuahua". Birch and her dogs, a six-year-old male Irish Wolfhound named Forrest and a nine-year-old Chihuahua named Violet, have been the talk of the town since 2016 when they moved to Fillmore.Dahlia, a ten-month-old female Irish Wolfhound/Mastiff rescue, is a recent addition to the family. They are not hard to spot when Birch takes them on daily walks around town. At first glance it's easy to mistake Forrest and Dahlia as small horses, especially when Violet is riding on Forrest in a saddle bag.
Originally from Ohio, Birch first moved toTucson, Arizona after retirementfrom the administrative clerical field in law enforcement. Shebecame involved with an organization in Tucsoncalled TOP DOG that teaches people with physical disabilities how to train their own service dog to assist them in their daily lives. It was there that she became acquainted and fell in love with the Irish Wolfhound breed. Schooled in training the breed, she enjoys the beauty of bonding between man and beast, especially a tamed beast twice her size.On average, the Irish Wolfhound is the tallest dog breed in the world. Forrest is 32 inches at the shoulder and on his hind legs is almost 7-feet tall. Dahlia is still growing and is often mistaken for being a Great Dane at this early age. In contrast, Violet is 6 inches tall and weighs about 6 pounds and is the alpha of the pack.
Irish Wolfhounds are hunting dogs and classified as sighthounds, also called gazehounds, and hunt by sight and speed. Originally bred as guardians of property and livestock and used to hunt deer, elk, boar, and wolves, they are now more commonly used as service dogs or kept as house pets. Proper training of an Irish Wolfhound is based on positive reinforcement that is best suited to its nature, which is a laid-back companion dog not suited for or interested in retrieving balls and sticks, and mentally shuts down when it is treated roughly, unpleasantly, or unjustly. They are very sensitive, and harsh training or correction are counterproductive. Irish Wolfhounds are gentle giants and almost always draw people in with their commanding appearance. One can't help themselves from petting these friendly and sweet hounds.
Birch has a daughter in Ohio, a son in Ventura, and 3 granddaughters that she adores. Having earned a degree in art history, she has a flair for all things artistic and creates unique handcrafted jewelry from various types of beads and jade. Some of her jewelry creations can be found in town at The Scented Path.
Fillmore has been an ideal place for Birch and the dogs to settle. She likes the small town with wide open space for the dogs, picturesque landscape, quaint downtown, and mostly everything is in walking distance. Most of all, she likes the friendly people of Fillmore and is always up for conversation and to share a story or two about Irish Wolfhounds. So next time you see Birch and the dogs walking along Central Avenue or at Vons, give her a wave or stop and meet the dogs.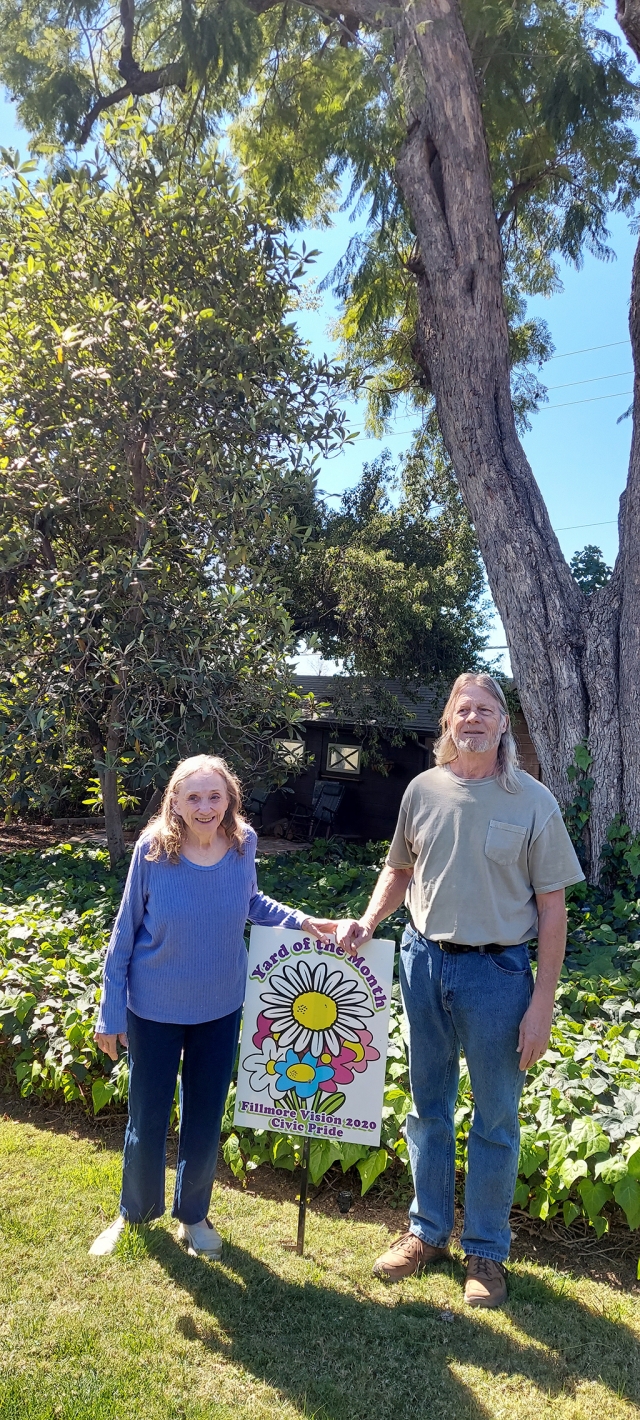 (l-r) Norma and Larry Holt outside their home which was name Fillmore Vision 2020 Civic Pride's March Yard of the Month, at the corner of Mountain View and Fourth Street in Fillmore. Photo credit Fillmore Civic Pride Committee.
Enlarge Photo
By Gazette Staff Writers — Wednesday, March 2nd, 2022
By Fillmore Vision 2020 Civic Pride
It was a gorgeous midmorning I spent at the Holt's residence at Mountain View and Fourth. This wonderful couple bought the historic property two years after the earthquake, but the place had sat empty, with gardens grown rampant until then. Larry and Norma saw only the potential this place had and bought it on the spot, leaving behind Ventura and its fog...and we are all blessed they did!
For those who remember, there was a magnificent old pecan tree at the corner of this property. It was the kind of tree that left squirrels everywhere in tears of joy. Sadly, this amazing tree had to be removed for safety, but there are five more pecans now gracing the property. Walking the landscaping with Larry, unique specimens are lovingly tended...a massive Australian Araucaria or Bunya Bunya (also called the widow maker for the size of the fir cones it produces and drops on the unsuspecting) sits another corner, striking purple smoke trees quietly stand in various sites- until they send out their jaw dropping flower displays. Probably the largest Jacaranda in Fillmore stands at the side of the lawn, and with reason it was the background for many a family and quinceanera photo shoots by Dale Crockett. Then there are a number of graceful Palo Verdes that line 4th Street with their chartreuse colored bark and butter yellow spring flowers contrasting beautifully with the purple fountain grasses planted below them. A lovely Yucca filifera lounges by the pool, a gorgeous madagascar palm is potted at the entrance, while vigorous mature roses line the walkway ready to burst (of course they are from our very own Otto and Sons!) And throughout the huge front yard, tying the areas together, are large swaths of belladonna lillies (pink ladies) and Rock Purslane- these natives to South Africa and Chile, and they do well in our area. This front yard defines beauty.
On the upper side of the property are the vegetable gardens and fruit orchard that passers-by can see from the roadway...blackberries neatly wired up, strawberries, artichokes, and various raised beds for the coming spring garden, with golden poppies that naturally seeded in every open area. Because it is close to the hills, this area is also a gopher magnet- so all the raised beds have been built with hardwire cloth at the base. The time and creative energy to make a garden that was not only productive but also beautiful was evident. When asked what the place was like when they bought it, they simply described it as 'a jungle.' It took twenty years of pruning and applying load after load of wood chips and mulch to tame the garden to what is today. Gardening is not only having vision, a love of soil, but also loads of perseverance!
To the Holt's, Larry and Norma, thank you for the gift of your gardens and landscaping to our town...the beauty they bring to us from your care of this corner of Fillmore is inspiring...Folks, walk on by and get ideas for your own gardens on what plants work, where they are best planted...let's learn from each other and share the inspiration! And finally, let's all plan to be at the Fillmore Flower Show in April to share the beauty of each of our gardens!
By Gazette Staff Writers — Wednesday, March 2nd, 2022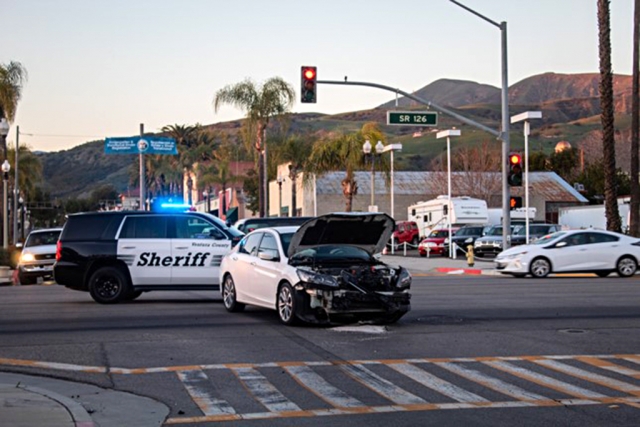 On February 25th, 2022, at 5:27pm, Ventura County Sheriff's deputies, Fillmore City Fire and AMR paramedics were dispatched to a reported traffic collision at the intersection of Central Avenue and Ventura Street /Hwy 126. Arriving deputies reported that the vehicles involved were blocking eastbound lanes in the intersection, causing additional units to respond to the area to monitor eastbound lanes from A Street / Hwy 126 through Central Ave. / Hwy 126. According to VCFD radio traffic two vehicles were involved with minor injuries reported. No ambulance transports were made; eastbound lanes were reopened by 6:20pm. Cause of the crash is under investigation. Photo credit Angel Esquivel-AE News.
Enlarge Photo
By Gazette Staff Writers — Wednesday, March 2nd, 2022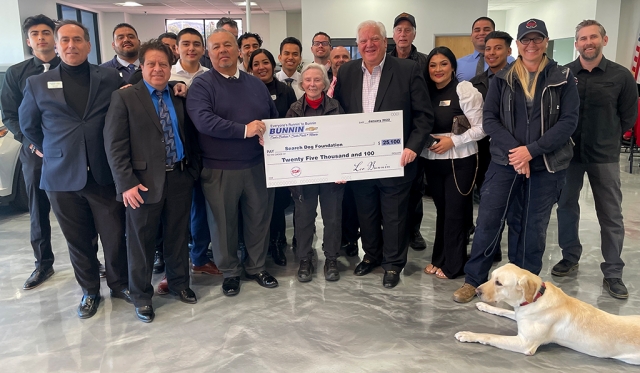 On Friday, February 23rd, Bunnin Chevrolet presented a check to Search Dog Foundation rescue dog, Stryker. Leo Bunnin, owner of Bunnin of Santa Paula, Fillmore and Santa Barbara, presented the check for $25,100 to Wilma Melville (center), founder of Search Dog Foundation of Santa Paula. Both Leo and Wilma are surrounded by SDF executives and the Bunnin Chevrolet sales team that helped make the donation possible. Photo credit Shane Morger, Bunnin Chevrolet of Fillmore.
Enlarge Photo