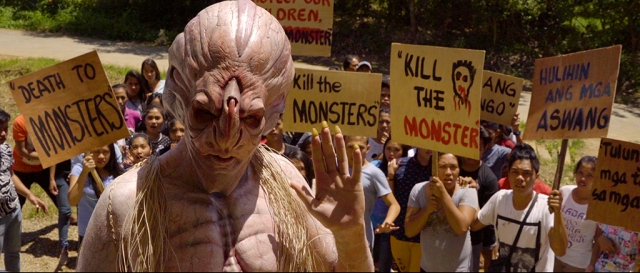 "The Monsters Without" film to premiere at Los Angeles Asian Pacific Film Festival.
Enlarge Photo
By Gazette Staff Writers — Wednesday, September 22nd, 2021
Fillmore High School graduates Randal Kamradt, Andrew Reilley, and Nicholas Medina are set to premiere their exciting new film The Monsters Without this October at the prestigious Los Angeles Asian Pacific Film Festival. An action-packed adventure through the Philippines featuring terrifying and amazing creatures from Filipino Mythology, The Monsters Without is the latest film from writer/director Kamradt (Faraway). The film features an international cast led by Jake Macapagal (Metro Manila, Watch List) including Reilley in a supporting role as Richard, an inventor, and Medina as voice of the monstrous villain Nameless.
The story is about a scrappy international team of scientists and mercenaries called P.H.A.S.E. who resolve to keep man and monster-kind safe.
Kamradt and Reilley traveled with a small team to the Philippines in 2017 and shot the film on location for 28 days. The complex shoot included filming in the beautiful Hindang Caves, working with dozens of extras, and extensive monster make-up. Reilley played multiple roles, not only appearing as Richard but also undergoing a complete make-up transformation to appear as The Kafir, a legendary creature. Once filming was completed, Medina contributed his vocal performance as the main villain.
A lengthy post-production process followed, as Kamradt created over 100 visual effects shots for the film. This included adding new computer-generated creatures and augmenting many of the real locations with otherworldly additions. During post-production, Kamradt also became Fillmore High School and Middle School's Video Production teacher, hoping to share his expertise with students and contribute to the town that raised him.
The Monsters Without is a thrilling love letter to genre cinema and the beautiful Philippines islands. The film will premiere on October 1st, 2021 at the Regal LA Live theater as part of the 37th Los Angeles Asian Pacific Film Festival. For more information visit http://www.themonsterswithout.com
By Gazette Staff Writers — Wednesday, September 22nd, 2021
Courtesy Fillmore Historical Museum
You don't have to serve as mayor or be elected to the city council to have an impact on your community. That's true today and was true one hundred years ago. In 1913 a young man from Vermont came to Fillmore and was a force for good in the town. His name was Frank Erskine.
Frank was born in Williamstown, Vermont in 1879. His parents were farmers, though as Frank would later say, "Farms in Vermont are mostly rocks." He had five siblings, four of whom died before Frank was 16 years old. His father, Henry Erskine, died when Frank was twenty. His mother, Jane, sold the farm and with his portion of the proceeds, Frank entered collage attending Albany Business College where he eventually taught. He developed one of the first high school business courses that was taught in New York state.
While in Albany, he married Miss Susan Benedict from his hometown. It was her brother-in-law, OrlowGriffen, who suggested Frank come to California to take a position with a fruit growers' association in Whittier. He and his wife, Susan, made the move to California. In 1913, Frank was told about a struggling fruit growers' association in a place called Fillmore and decided to make the move to Ventura County.
Erskine was to say that for the first years he battled competition and bugs with red and purple scale threatening the local citrus crops. He and David Felsenthal were instrumental in forming the Fillmore Citrus Protective District and eventually the Fillmore Insectary which focused on biological control of pests.
He left the Citrus Association in 1929 at age 50. Not able to sit idle, he was one of the founding directors of Ramona Savings and Loan and remained a director for 38 years, and vice-president for thirty-six. The purpose of Ramona was to help local families buy homes – even during the Great Depression. One advertisement Frank wrote read, "We will pay withdrawals on demand. We could use additional funds to lend." The ad was effective because within seven days business transactions doubled.Frank retired from Ramona Savings and Loan in 1966.
Frank had played the cornet in Vermont at churches and other venues. A story has been told that when Frank Erskine first got off the train in Fillmore, he was carrying a cornet case. The first person to see him was C. A. Harmonson (the initials stood for Columbus Arizona) who quickly recruited him to play with the band his family participated in (The Harmonson Rood Orchestra).
One of the things Frank Erskine is most remembered for is his association with local bands. One band he was in would play concerts on Saturday nights on the site of the Masonic Building under the pepper tree. Others in the group included Al Haase, Ken Howard, Lawrence and Sidney Peyton, Clarence Arrasmith, Frank Middlesworth and Bobby Stiles.
His motto, 'money spent for music is a sound investment" was put to the test. By 1925, he had formed two bands, the Fillmore American Band and the Fillmore Citrus Association Mexican band, each of about twenty musicians.Both bands wore red bow ties with white pants and shirts with suit jackets.The Mexican band "was first laughed at and then complimented when it won top prize at the county contest called the "Esteidfod' that we used to have in Oxnard," he said in an interview in 1970.
An advertising card for the bands read, "Fillmore American Band and the Fillmore Citrus Association Mexican Band can provide instrumentation in any number of men from 16 to 50 for music for any occasion." They were soon in big demand.
Erskine particularly enjoyed combining the two bands. The groups frequently performed together as was noted in a Fillmore Herald article in a June 9, 1927,talking about a series of concerts the combined band would be giving in "front of the old High School." The Mexican band, led by Manuel Lucero, performed a two-hour broadcast on Radio KMPC in 1931. Lucero also composed a piece called "The Erskine March."Unfortunately, only the 1st Cornet part has survived but it is both challenging and tuneful. The members of the band also combined their efforts to purchase a cornet for Mr. Erskine – it is on display in the Museum.
He was very active in the Rotary serving as president for the 1937-1938 term.Besides being a musician, he was also an artist, with his caricatures rivaling those of Lawrence Hinckley's. For the March, 1937 Rotary Ladies' Night he did an entire pamphlet of "Candid Camera Counterfeits of Prominent Phillmore Personages." Each Rotary member was lampooned with his own special illustration.
In retirement he took up marquetry, carefully creating designs on trays and other items from small pieces of wood. We have several examples of his detailed work in the Museum collection.
Perhaps one of the least known of his activities was being Santa Claus to Fillmore's children. Widowed three times, he had no children of his own. For twenty years (probably with the collusion of fellow Rotarian and Postmaster J K L Schwartz) he answered the children's letters to Santa Claus. He was a friendly, but practical Santa. When a chimney-less child expressed concern that Santa would not visit him, Santa replied, "I dislike chimneys – all that soot in a place too narrow for me. I come in the front door like any other welcome guest." To a child with an extensive wish list, "If I brought you all that stuff this year, you'd have nothing for next year. You divide that list up and expect to find maybe one-fourth of it, after I call on you this year."
Frank Erskine died in 1978 having just turned 99 years old. He was the last of his family and left no survivors, but did leave a large legacy to the community.
By Gazette Staff Writers — Wednesday, September 15th, 2021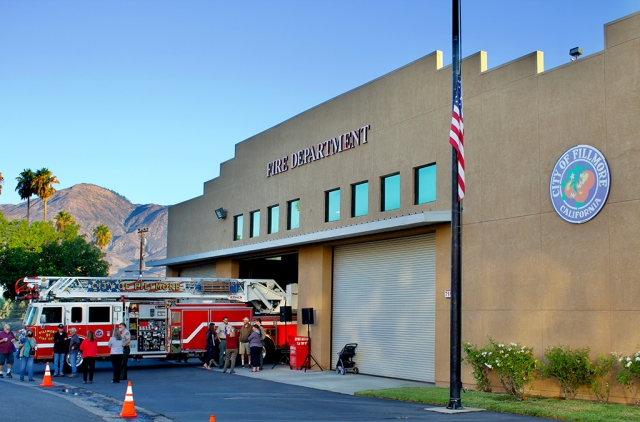 On Saturday, September 11th, Fillmore City Fire Department hosted a memorial ceremony marking the 20th anniversary of the terrorist attacks of September 11th, 2001. They gathered at 6:30am and promptly raised the American flag at 6:55am, followed by a countywide radio broadcast remembrance. Refreshments were served afterwards for those who attended the memorial. Photos courtesy Angel Esquivel—AE News.
Enlarge Photo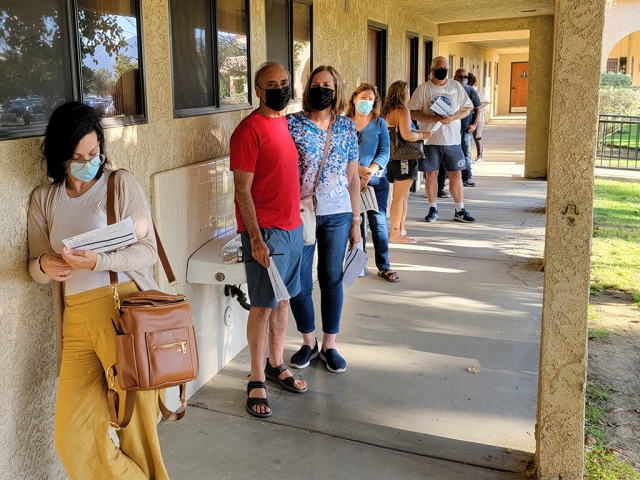 Voters at Saint Francis Church.
Enlarge Photo
By Gazette Staff Writers — Wednesday, September 15th, 2021
On Tuesday, September 14th at Saint Francis Catholic Church, members of the community lined up outside the polling station to vote in the 2021 Gubernatorial Recall Election. As for results, California voted NO on recalling California Governor Gavin Newsom who received 63.9% of the votes. For information visit https://www.nytimes.com/interactive/
2021/09/14/us/elections/results-california-recall.html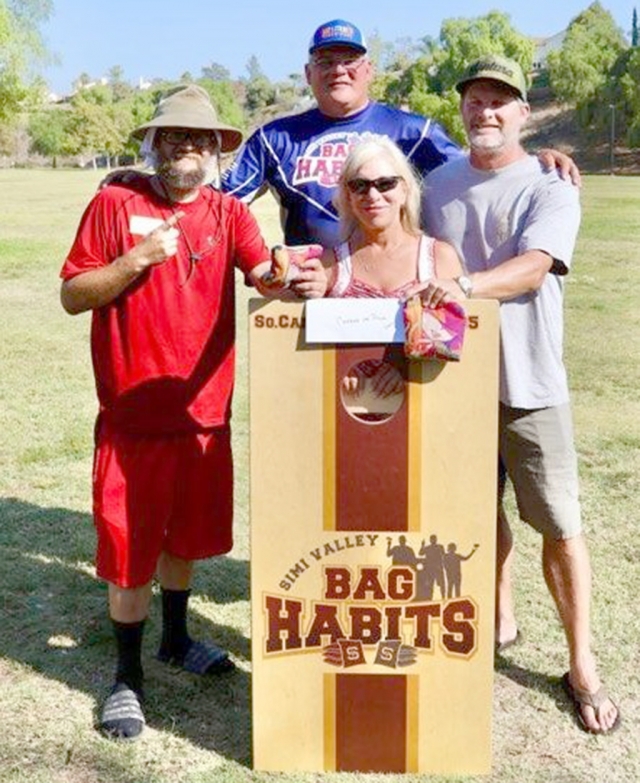 The Dye Scholarship Foundation Day Cornhole Tournament took place on Monday, September 6th and was a huge success, raising over $10,000. Pictured (l-r) are Dustin Parkins, Sandy Dye, Jerry Lopez and Lucio Pertile. Dustin and Lucio took first place in this year's tournament.
Enlarge Photo
By Gazette Staff Writers — Wednesday, September 15th, 2021
The Dye Scholarship Foundation (DSF) raised over $10,000 at its Labor Day Cornhole Tournament and Games event. The cornhole tournament was run by Jerry Lopez and his crew from Bag Habits of Simi Valley. The first place team in the hotly contested tournament were Lucio Pertile and Dustin Parkins from Ventura. Second and Third place went to the teams from Bakersfield, Tyler Valverde and Andrea Baca, and from Simi Valley, Samantha Ohmie and Art Newcomb.
Community volunteer groups included the Ventura County Search and Rescue Team 1 from Fillmore who brought out their Command Post for tours and demos, and Girl Scout Troop 65105 from Santa Paula, who provided games and activities for the younger kids. Pepsico was a major sponsor, donating 650 beverages to the event, and sponsoring their team, Chris Cartee and David Gomez as tournament players. The Ventura County Deputy Sheriff's Association and the Ventura Sheriff's Foundation both provided team sponsorships. Local businesses donated gift certificates which were raffled off, or used as prizes, including Lazy Dog, Lure, Wood Ranch, Islands, Target, Vons, Panera, Presto Pasta and Smart & Final. If you missed it, don't worry, as we are already planning for next year, and the good news is you have a whole year to practice your cornhole skills!
The DSF is a 501(c)(3) non-profit providing scholarships to Ventura County students pursuing vocational career education. 100% of all donations are awarded to recipients with no administrative fees withheld.
By Gazette Staff Writers — Wednesday, September 15th, 2021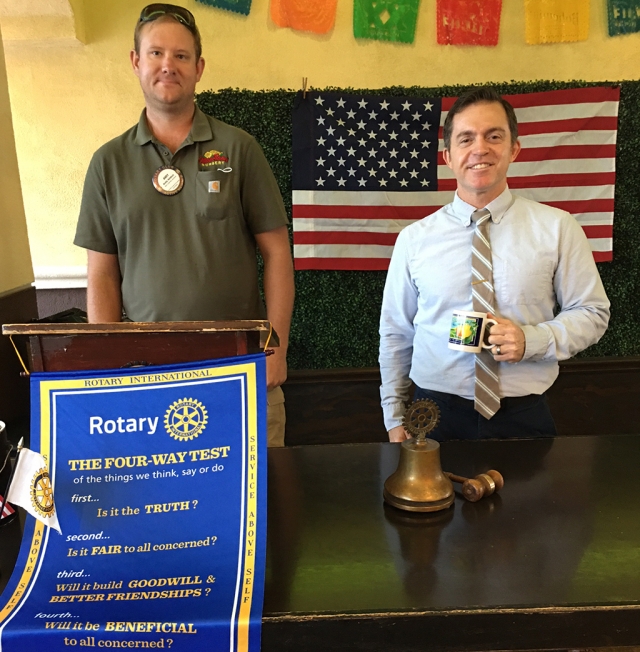 (l-r) Rotary Club of Fillmore's President Andy Klittich with guest speaker Clay Downing. Downing works for the County of Ventura as the County Executive Officer in the Sustainability Division. This division works on developing and implementing durable sustainable energy initiatives that support sensible growth, healthy environment, economy and enhanced quality of life, and greater self-reliance for the region. Photo Courtesy Rotary Club member Martha Richardson.
Enlarge Photo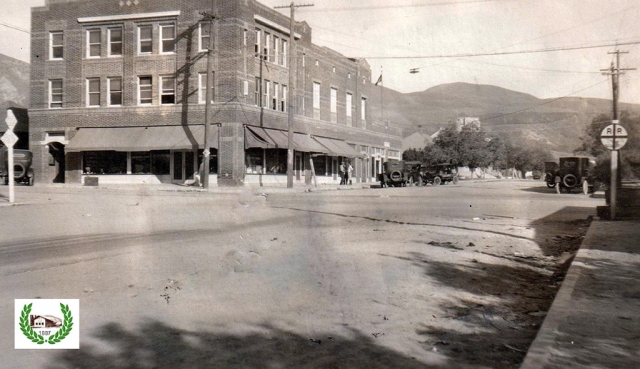 Masonic Building ciraca 1920.
Enlarge Photo
By Gazette Staff Writers — Wednesday, September 15th, 2021
Courtesy Fillmore Historical Museum
The Fillmore State Bank was incorporated in 1905 and soon thereafter moved into its own building (which is still standing) on the southeast corner of Central and Santa Clara Avenue. It is a two-story building, and the bank occupied the ground floor. The second floor was leased to the Fillmore Masonic Temple. Within a decade both groups outgrew their quarters and built two significant buildings in Fillmore. The Fillmore State Bank built a new bank building which still stands on the northeast corner of Main and Central, which is currently vacant. The Masons built a three-story structure on the northeast corner of Central and Sespe. This is the focus of this article, unfortunately it is a landmark that was lost in the 1994 Earthquake.
Some background on Masonry is necessary. The term refers to fraternal organizations which trace their origins to local stonemason guilds from the late 1400's in the British Isles. Many of the United States' founding fathers belonged to the Masons including Washington, Jefferson and Franklin. The Fillmore Lodge was begun in 1906 as a spin off from the Santa Paula Lodge, it continued until the destruction of their building forced them to merge again with Santa Paula.
The building itself was owned by the Fillmore Masonic Temple Association who rented to the various businesses and organizations which occupied it including the Fillmore Masonic Lodge 379. The Lodge was on the second and third floors of the building. Affiliated organizations such as Eastern Star and Jobs Daughters also used the facility. On the third floor was a large room and kitchen which was used by many local groups including Rotary.
The ground floor was occupied by various businesses and offices. The "anchor" business was a grocery store on the corner facing Central Avenue. The first store we have a record of was Reinemen's General Merchandise. This was replaced by the Red and White Store owned first by F. H. Adamson in 1922, and later by Glen Fansler, Sr. from 1942 to 1962. Regular customers ran monthly tabs and the store would deliver to the home. Like other grocery stores in Fillmore, the store had no meat counter. If a customer ordered meat, the store owner would go down to Coleman's Meat Market and pick it up for the customer and included it in the order.
The one story section on the north side of the main building housed at various times the local library, Hutchins' Cleaners and the Christian Science Reading Room among other concerns.
In 1972, the newly formed Fillmore Historical Museum moved into the ground floor of the Masonic Building. There it remained until the Southern Pacific Depot was purchased by Edith Moore Jarrett. After it was moved and renovated, it became the new home of the Museum at 444 Main Street next to the former fire station.
When Fillmore incorporated in 1914, the time seemed right for a larger, more convenient post office. When the modern elegant Masonic Temple was built in 1919, space was provided at 455 Sespe Avenue, the post office opened for business there on Monday morning, January 5, 1920 and remained there until it was moved to its current location on Central Avenue. The area vacated by the Post Office became the location of the Municipal Court in the late 1950s and for a brief time the local library (having moved from the Central Avenue side of the building) and various other businesses.
Also on the Sespe Street side of the building was A.E. Lamberg Jewelry Store. In addition to running the jewelry store, Mrs. Lamberg ran a lending library during the 1930s and Mr. Lamberg gave music lessons and conducted a community band.
This all ended on the morning of January 17, 1994 when the Northridge Earthquake struck. The unreinforced masonry could not withstand the quake and the walls partially collapsed. The building was demolished but the many memories of it remain.
By Gazette Staff Writers — Wednesday, September 8th, 2021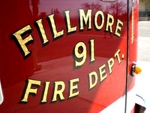 Fillmore Fire Department
The Firefighters of your Fillmore City Fire Department would like to invite you to attend a memorial celebration marking the 20th anniversary of the terrorist attacks on September 11th, 2001. As a nation, we were brought together in tragedy, captivated by the images of destruction, despair, fear, and raw emotion. The only images strong enough to help us cope with such devastation were the amazing images of unity, strangers helping strangers, heroism, and watching America's front line of public servants run toward the face of danger. We invite you to join us this Saturday morning to remember the civilians, Firefighters, Police Officers, and Military Personnel who perished on that fateful day. Please reflect quietly as I read a few brief reminders of what our country endured on the morning of September 11th, 2001.
Let us remember the sacrifices made by so many that morning. From the everyday heroes who helped save perfect strangers, to the first responders who walked toward danger in hopes of helping anyone they could, they were all a shining example of how we can easily come together in times of national crisis. We will never forget those brave individuals, and we will never forget September 11th, 2001.
Gathering at the Fillmore Fire Station will start at 6:30 AM in the front. The American flag will be raised promptly at 6:55 followed by a County-wide radio broadcast of a remembrance.
Fillmore Fire Station 91 is located at 711 Landeros Lane, face masks and social distancing will be required. Refreshments will be served afterwards.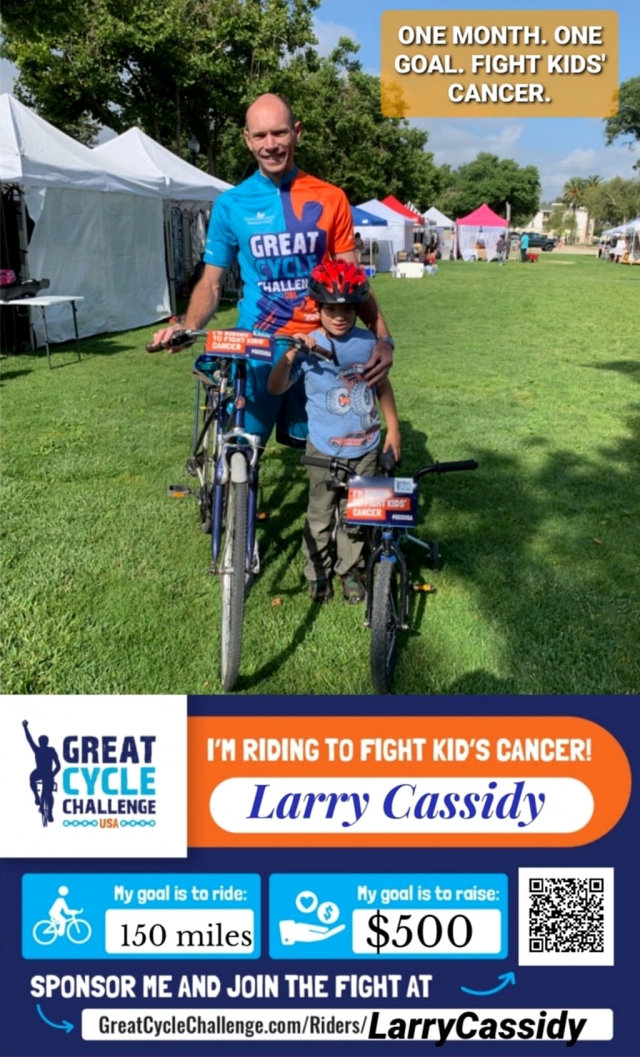 Larry Cassidy of Fillmore will ride 150 miles during the month of September in support of Children's Cancer Research Fund. If you see Larry riding around town, give him a honk to show your support!
Enlarge Photo
By Gazette Staff Writers — Wednesday, September 8th, 2021
Larry Cassidy will ride 150 miles during month of September in support of Children's Cancer Research Fund.
Larry Cassidy, a resident of Fillmore, is planning to ride 150 miles and raise $500 during the month of September for Children's Cancer Research Fund (CCRF) in support of its 7th annual Great Cycle Challenge USA.
Founded in 2015, Great Cycle Challenge USA has grown to become one of the biggest cycling events in the country. In
just six years, over 350,000 riders from 50 states have ridden 24.8 million miles, raising more than $39 million for
research and the development of better treatments and cures for childhood cancer. This year, CCRF hopes over 80,000
riders will help is raise more than $10 million.
"Over 15,000 American children are diagnosed with cancer every year and, sadly, 38 children die every week," said
Daniel Gumnit, Chief Executive Officer at Children's Cancer Research Fund. "Thanks to riders like Larry, we're fueling groundbreaking research to save lives and give kids the brighter future they deserve."
"This is the third time I have participated in Great Cycle Challenge," said Larry Cassidy. "During those years, I rode 562 miles and raised $1,169.80. This year, I am aiming to raise $500 and ride 150 miles."
Funds go to support research at leading pediatric cancer centers across America.
To learn more about Larry's Great Cycle Challenge USA and to make a donation, please visit www.greatcyclechallenge.com/Riders/LarryCassidy.
To participate in Great Cycle Challenge USA, visit GreatCycleChallenge.com.
About Great Cycle Challenge USA: Great Cycle Challenge USA encourages cyclists across the United States to
challenge themselves and set their own personal riding goal throughout September to fight kids' cancer. Riders fundraise to save lives and give kids the brighter future they deserve. For more information, visit greatcyclechallenge.com.
About Children's Cancer Research Fund: Children's Cancer Research Fund invests in groundbreaking research that
is leading to better treatments and cures for children with cancer. CCRF also funds vital family support services and advocates for childhood cancer education and awareness. Since 1981, CCRF donors have helped fund research that has revolutionized the way childhood cancer is treated worldwide. Visit childrenscancer.org or call 1-888-422-7348 to learn more.
By Ventura County Sheriff Department — Wednesday, September 8th, 2021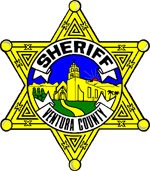 Ventura County Sheriff's Department
On Thursday, 8/26/21, at about 11:39 AM, the Ventura County Sheriff's Office received a 911 call from a family member of a male subject who was reportedly stranded on the Halfmoon Trail (20W07) after his dirt bike reportedly broke down. The Halfmoon Trail is predominantly a single-track dirt bike trail rated as "most difficult." The Halfmoon Trail is in northern Ventura County in the Los Padres National Forest near Lockwood Valley. The Lockwood Valley Sheriff's Station initiated a response to the area. The stranded rider had reportedly text messaged a family member to call 911 and relay the trail he was on.
The Lockwood Valley Sheriff's Station is outfitted with a Polaris RZR four-seat utility-task vehicle (UTV). This UTV was purchased utilizing funding from the Ventura County Off-Highway Vehicle fund. A Lockwood Valley resident deputy utilized the Sheriff's RZR and responded to Halfmoon Trail to a point near where the rider was believed to be. The deputy hiked about 0.3 miles and located the rider's dirt bike on the trail, but the rider was not there. The deputy followed the rider's shoe prints for several miles which led to Sunset Campground at the intersection of the Lockwood Trail, Miller Jeep Trail, Halfmoon Trail, and Piru Creek Trail.
At the campground, the deputy located a pair of dirt bike riding boots and a chest protector believed to belong to the missing rider. After searching the area, the deputy located sock imprints in the dirt which led to the Piru Creek Trail. With temperatures over 90 degrees and the fact that the missing rider was walking in his socks in a remote area, additional resources joined the search including another Sheriff Lockwood Valley resident deputy and State Park Rangers from the Hungry Valley State Vehicular Recreation Area. The Lockwood Valley deputies work closely with the Ventura County Fire Department Fire Captains who staff Fire Station 16 in Lockwood Valley. Fire Station 16 is also outfitted with a Polaris RZR four seat utility task vehicle (UTV-16). Due to the changes in the search conditions and location, UTV-16 respond to assist with the search.
One of the Lockwood Valley deputies and State Park Rangers began hiking west on the Piru Creek Trail from Gold Hill Campground. The other Lockwood Valley deputy continued hiking east on the Piru Creek Trail following sock prints in the dirt. After hiking about four and a half miles, the rider was located on the Piru Creek Trail. The rider was fatigued and dehydrated but was able to hike a short distance back to Sunset Campground with the deputy. UTV-16 met them at the campground and safely transported the rider to the Lockwood Valley Sheriff's Station.
The rider's dirt bike was successfully recovered, and some valuable lessons were learned by the involved rider. When visiting the national forest, the age old saying "Proper planning prevents poor performance" couldn't be truer. It is imperative to recognize the trails difficulty ratings, with respect to the abilities of your vehicle and your abilities as its operator before proceeding into any off-highway vehicle areas.
Many of the hazards and risks associated with OHV recreation in these remote areas can be mitigated by proper planning and preparation. At a minimum, it is imperative to be familiar with the area you are in, have a map, be able to identify where you are on that map, have sufficient food and water, and ensure someone who is not with the group knows the details of your trip and when to report you as overdue. Additional OHV safety information can be found at www.parks.ca.gov.
The Lockwood Valley Sheriff's Station credits this successful rescue to the outstanding partnerships and exceptional teamwork with the Ventura County Fire Department and California Department of Parks and Recreation Park Rangers.
Nature of Incident: Off-Highway Vehicle (OHV) Remote Rescue
Incident Number: 21-113160
Location: Los Padres National Forest – Halfmoon Trail / Piru Creek Trail
Date: 8/26/21
Unit(s) Responsible: Lockwood Valley Sheriff's Station, California Department of Parks and Recreation, Ventura County Fire Department
(S)uspects, (V)ictims, (P)arty, (D)ecedent, City of Residence, Age
(P) Adult Male, Gorman, CA, 26
Prepared by: Deputy Sam Moss
Approved by: Captain J. Rivera