By Gazette Staff Writers — Wednesday, September 7th, 2022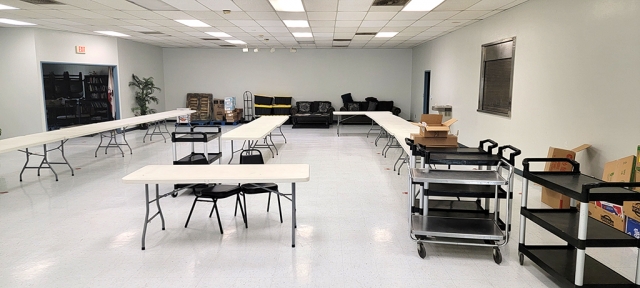 With temperatures reaching in the 100s on Tuesday, September 6th, the Fillmore Cooling Center at the Active Adult Center, 533 Santa Clara Street, was open from 11am to 5pm, but was empty. The City of Fillmore announced earlier this year that over the past few years, staff has been monitoring the use of the cooling center. The city opens the cooling center for residents once the temperature reaches 100 on multiple days.
Enlarge Photo
By Gazette Staff Writers — Wednesday, September 7th, 2022
High temperatures can be dangerous to your health and can strain our electric power grid. The good news is, California has avoided outages so far thanks to people like you and we need you to keep it up as temperatures reach triple digits through much of the state.
Pre-cool your home before 4 p.m. After 4 p.m., turn up your thermostats to 78 degrees or higher if health permits and avoid using big appliances like ovens and dishwashers.
Stay Cool, Stay Hydrated, and Stay Informed and Connected.
Call 2-1-1 to find a local cooling center, for non-emergency help and for questions. Or go online for a map of cooling centers near you.
Call 9-1-1 for heat-related illness.
Check on your neighbors.
Call, text or visit vulnerable people, and offer to pick up groceries, medication, and other necessities. Older adults, young children and babies, people with chronic medical conditions and those who are pregnant are most vulnerable.
Power officials are urging people not to charge their electric vehicles during peak hours during this heat wave during the flex alert.
By Gazette Staff Writers — Wednesday, September 7th, 2022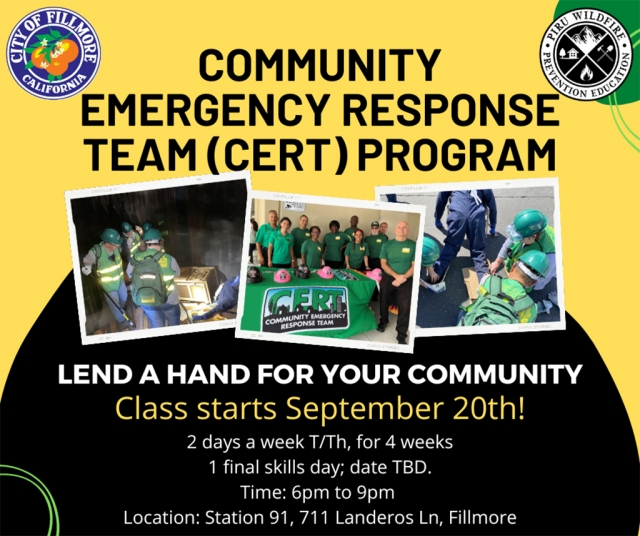 Help be of service to your community in the event of an emergency! FREE Community Emergency Response Team (CERT) Program starting September 20th! 6 PM - 9 PM. This will be a unit training for the communities of Fillmore and Piru. Classes will be Tuesdays & Thursdays for 4 weeks starting 9/20/22. Register by calling Mike Salazar 805-208-5338 or Mike Lopez 805-320-8559; day of registration is acceptable. Location: Fillmore Fire Station 91, 711 Landeros Lane, Fillmore CA 93015.
Enlarge Photo
By Gazette Staff Writers — Thursday, September 1st, 2022
URGENT - WEATHER MESSAGE from National Weather Service.
Ventura County Mountains-Los Angeles County Mountains- Castaic Lake, Newhall,
Santa Clarita, Valencia, Oak View, Ojai, Fillmore, Piru, Santa Paula, Moorpark, Newbury Park, Simi Valley and Thousand Oaks.
...EXCESSIVE HEAT WARNING REMAINS IN EFFECT FROM 11 AM WEDNESDAY MORNING TO 8 PM PDT MONDAY...
* WHAT...Dangerously hot conditions, with high temperatures of
95 to 112 through Saturday, and 100 to 115 Sunday and Monday.
Abnormally warm overnight temperatures.
* WHERE...Portions of southwest California.
* WHEN...From 11 AM this Wednesday, August, 31st to 8 PM PDT Monday, September 5th.
* IMPACTS...Extreme heat will significantly increase the potential for heat related illnesses, particularly for those working or participating in outdoor activities.
* ADDITIONAL DETAILS...Moderate confidence that a cooling trend will start by Tuesday after Labor Day.
PRECAUTIONARY/PREPAREDNESS ACTIONS...
Drink plenty of fluids, stay in an air-conditioned room, stay out of the sun, and check up on relatives and neighbors. Young children and pets should never be left unattended in vehicles under any circumstances.
Take extra precautions if you work or spend time outside. When possible reschedule strenuous activities to early morning or evening. Know the signs and symptoms of heat exhaustion and heat stroke. Wear lightweight and loose fitting clothing when possible. To reduce risk during outdoor work, the Occupational Safety and Health Administration recommends scheduling frequent rest breaks in shaded or air conditioned environments. Anyone overcome by heat should be moved to a cool and shaded location. Heat stroke is an emergency! Call 9 1 1.
By Gazette Staff Writers — Thursday, September 1st, 2022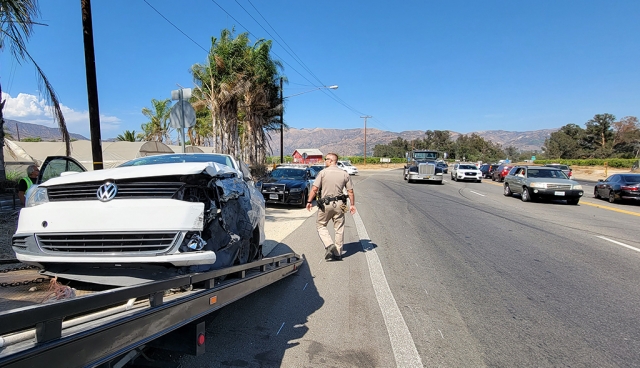 On Thursday, August 25th at 3:45pm, California Highway Patrol responded to a crash at Old Telegraph and Highway 126 slowing down traffic traveling in the west bound lane. Pictured is a white Volkswagen being towed away from the scene. There were no serious injuries reported at the time of the crash, which is still under investigation.
Enlarge Photo
By Gazette Staff Writers — Thursday, September 1st, 2022
By Gazette Staff Writers — Thursday, September 1st, 2022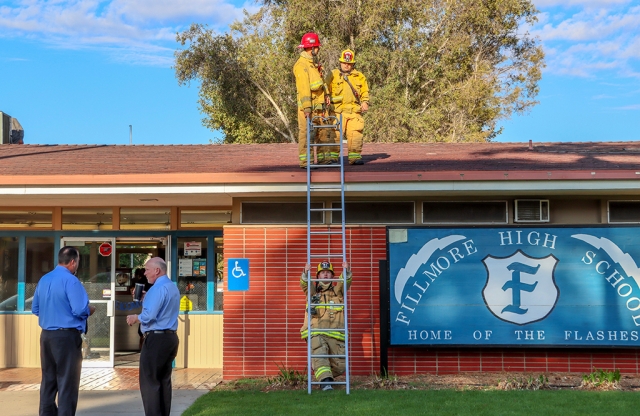 Fillmore Firefighters responded to Fillmore High School's main office for a reported structure fire on Monday, August 29th, at 7:43am. The call was cleared by 8am. Photo courtesy Angel Esquivel--AE News.
Enlarge Photo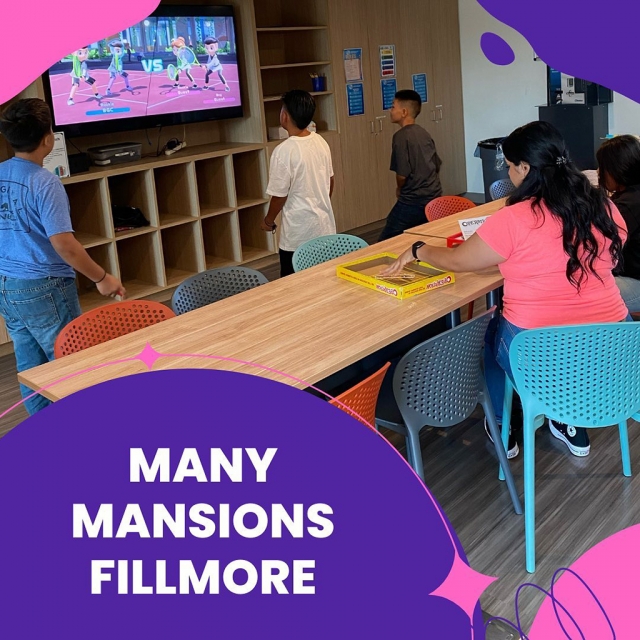 Many Mansions Fillmore is officially opened. Photos courtesy https://www.facebook.com/bgclubscv
Enlarge Photo
By Gazette Staff Writers — Thursday, September 1st, 2022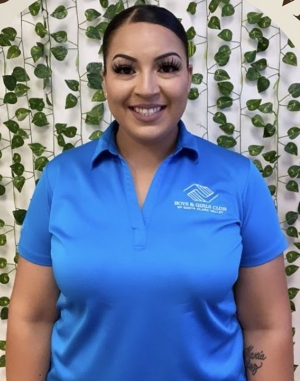 Many Mansions Branch Director Cynthia Hernandez.
The Boys & Girls Club of Santa Clara Valley has a new clubhouse. Many Mansions Fillmore is officially opened, and they are welcoming new members! Many Mansions Branch Director Cynthia Hernandez is representing the BGCSCV team in the best possible way and they are excited to see the awesome things to come! They are growing and serving more children than ever, and are proud to be
the safe and positive place to be in the Santa Clara Valley!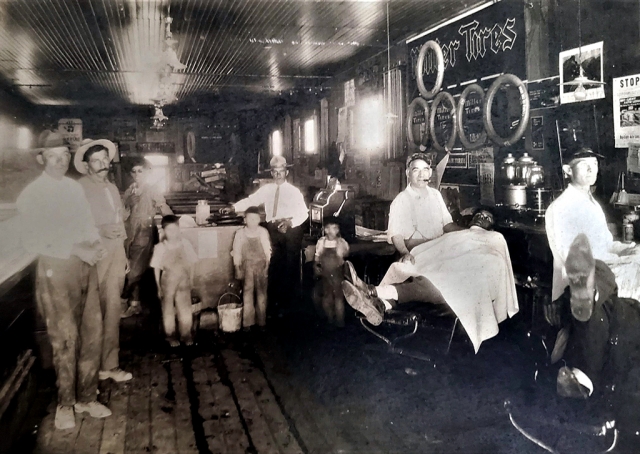 Belty's Pool Hall and Barbershop, owned by R.O. Betly who in 1930 claimed to be the oldest business in Piru. Belty's had three pool tables, two barbershops and sold candy, cigars, hair tonics, etc. Photos credit Fillmore Historical Museum.
Enlarge Photo
By Gazette Staff Writers — Thursday, September 1st, 2022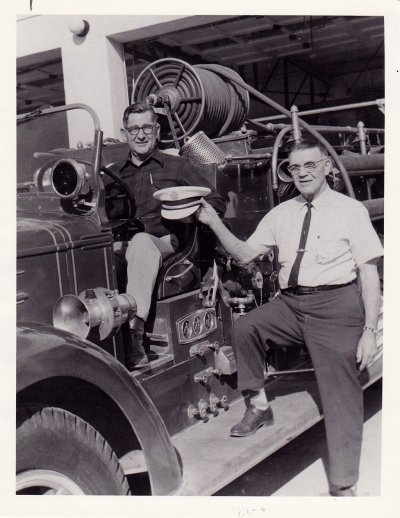 Fillmore's George Palmer handing over the Fire Chief 's hat to Oscar DeFever. Palmer was appointed assistant fire chief in 1940 and was elevated to city fire chief – a position he held until 1964.
Enlarge Photo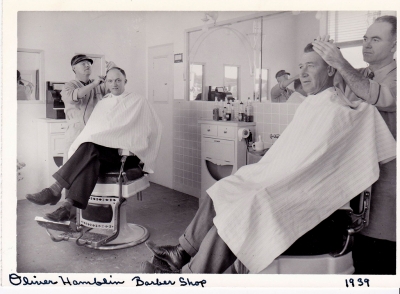 Oliver Hamblin's barbershop in 1939.
Enlarge Photo
Courtesy Fillmore Historical Museum
Barbershops began far back in antiquity. They became especially popular in the United States in the 19th century. They were not just a place for men to go for a shave and a haircut; they were a place for socializing, debating current issues and entertainment.
The first barber we can find a record of in Fillmore was C. P. Allen who was listed in the 1898 county directory. No address was given – Fillmore was small enough that addresses weren't required. Undoubtedly there were barbers in Fillmore before 1898, the well-groomed men of the community would require one.
Piru's first barber may have been R. O. Belty who claimed in 1930 that his was then the oldest business in Piru. His was not only a barbershop but also a pool hall. By 1930 he had two barbershops, three pool tables and sold various dry goods. If you go by a picture of his establishment, he also sold tires.
Piru News in March of 1927 reported that Green's Barber Shop had installed a player piano with "very pleasing tone." Thomas H. Green owned the Ideal Billard Parlor and Barber Shop on Center Street. For Christmas that year, he raffled off three turkeys. Whenever a customer spent 25₵ at his establishment, the customer would receive a ticket for the drawing. The turkeys were won by Joe Elson of Camulos Ranch, Chet Horton and Officer M. M. Willis.
Over the years Fillmore has seen many barbering establishments. One of the longest tenured was George Palmer. He was born in Pittsburgh, Pennsylvania in 1891 and made his way to Fillmore by 1913. He had a shop on Central Avenue which was formerly Pete's Sanitary Barbershop, next door to Jim's Pool Hall. Because girls were not allowed in the Pool Hall, they often went into George Palmer's barber shop where a "Dutch" door opened into the Pool Hall. From that opening they could order cokes or sodas without setting foot in the "forbidden" zone. (See "No Girls Allowed" https://www.fillmorehistoricalmuseum.org/no-girls-allowed).
Palmer's Barber Shop would be open in the morning well before other businesses as would other barbershops in Fillmore. The businessmen and city fathers of the town would need to have a shave and trim before opening their own businesses.
George was active in Fillmore life. In 1938 he was appointed assistant fire chief and in 1940 was elevated to city fire chief – a position he held until 1964. He was a member of the Fillmore Club and the local Masonic Temple. George Palmer retired in 1968 and passed away in 1970. His son, Richard "Tulie" Palmer was athletic director at Fillmore High School for many years.
George Palmer had competition in town. William Servoss, who was born in New York, had a shop at 368 Central Avenue in Fillmore for 37 years from 1916 until the 1950s. Oliver Hamblin had his shop at 246 Central Avenue in 1928 and plied his trade for thirty years.
William McKinley was a barber in our area for many years. He worked in George Palmer's shop in 1933, but by 1939 opened his own shop in the Owen Miller Building on Central Avenue.
Other shops over the years include Pearson's Barbershop which was adjacent to the theater in the 1920s and Olin Core's Barbershop in the 1940s and 50s.
"Shave and a haircut, 2 bits" is a phrase from the turn of the 20th Century – now a shave and haircut costs closer to $50 than 25₵. But if a gentleman wants he can still get a lather shave with a straight razor and you can still see a red, white and blue barber pole on Central Avenue.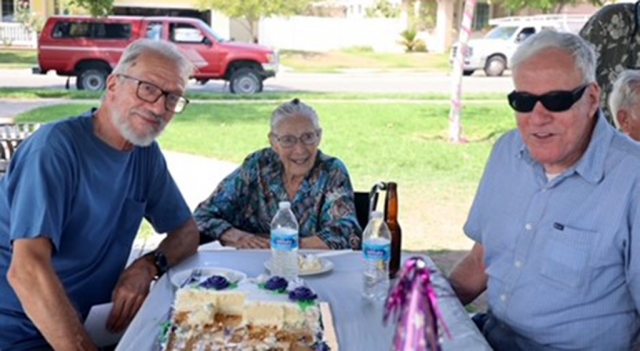 Happy 100th birthday Alice Bustamante Romero, pictured above with sons Steve (left) and Petey.
Enlarge Photo
By Gazette Staff Writers — Thursday, August 25th, 2022
This past July the Family held a reunion at Dolores Day Park, in Fillmore remembering family past and present. The Romeros also honored and celebrated the 100th Birthday of Alice Bustamante Romero, pictured above. Alice is widow of Pedro (Pete) Romero. one of the Romeros that made America home, beginning in the early 1900s. Pedro served in the Army, returned decorated with awards then proceeded working several positions, one was warehouseman on the military base. She worked several jobs from homemaker to librarian.
Back in November of 2021 the Fillmore Historical Museum hosted a book signing for local author Dr. Ofelia Romero-Motlagh of Fillmore. Her book, "The Legend of the Romeros, Then and Today," identifies and celebrates her nineteen-member family from their humble beginnings as farm laborers to their lives as successes. This July's reunion added to the Romero Familia's journey.