By Gazette Staff Writer — Wednesday, October 30th, 2019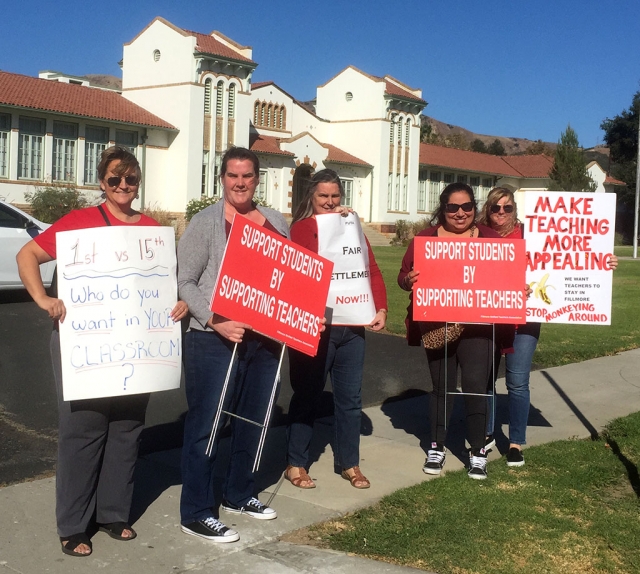 Monday, October 28th at around 4:30pm FUTA members gathered in front of the Fillmore Unified School District office encouraging drivers to honk in support of their fight for fair and equitable salaries. Negotiations began in February 2019 and have yet to reach an agreement.
Enlarge Photo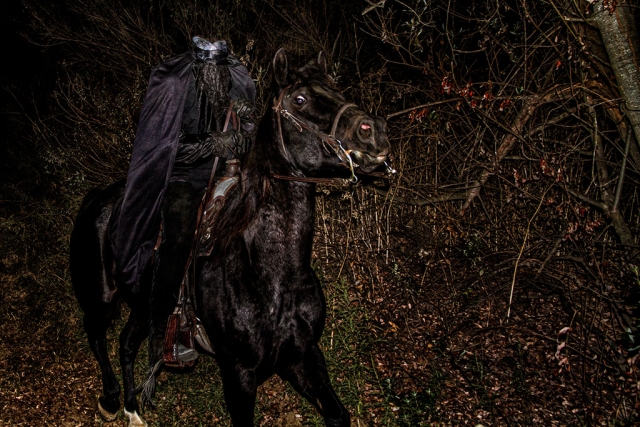 Photo of the Week: "The Headless Horseman rides on Halloween night!" by Bob Crum. Photo data: Canon 7D, Canon EFS 15-85mm lens @ 21mm, Exposure; aperture f/4.0, 1/45 seconds shutter speed.
Enlarge Photo
By Bob Crum — Wednesday, October 30th, 2019
Guilty as charged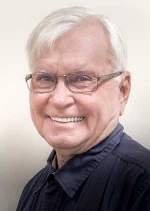 Bob Crum
I was delighted to receive several complimentary email messages about the photo of my friend John a couple of columns ago. I appreciate such notes. Regarding my resistance to go digital, Les L. emailed me to say that the Argus C44 35mm film camera that his father bought in 1958 still takes beautiful pictures, so he is not going digital anytime soon.
Nostalgia rejuvenated I began to ruminate about the film days. Whoa, I must be dreaming! Miss the hours in the darkroom? No! Miss the chemical odors strong enough to bring a wild boar to tears? No! Of course, I say this now that I know how to program my digital cameras and use my photo editing programs. Harrumph!
Another reader, Henry S., sent an email asking about how much photographic gear I have. Compared to many, I don't have a lot. Some have enough gear to fill a mini-van. I only have five cameras, seven lenses, two flash heads, three tripods, SD cards, CF cards, eight extra batteries, adapters, nine lens filters, two remote switches, and, ahem, a cellphone. Photo gearhead? Guilty as charged. And I'll get more soon as I win the Power Ball lottery!
Photography reminds me of woodworking. While living in Florida, a fishing paradise, I had many fishing rods. I needed free-standing rod racks. With none available, I designed one. I initially made them in my garage. Tools used included a skill saw, a jigsaw, a router and a drill motor — each tool designed for a specific task. Likewise, cameras are designed to accomplish particular tasks. Full frame cameras do certain things better than crop sensor cameras and vice versa. Some dSLR cameras can perform specific tasks better than mirrorless cameras.
Conversely, some mirrorless cameras can outperform dSLR camera in certain situations. And film also offers a 'look' that digital can't match. The beauty of photography is the diversity of options! Budget constraints aside, options are good.
Speaking of beauty, another aspect of cameras often overlooked: Sensuality. Uh-huh. A real camera is a beautiful thing to behold. The sensuous curves are delightfully beguiling. One does not grab a camera, but instead, hefts it gingerly, holding it softly as if one was hugging a loved one. Never grasp a camera! Once in hand, the desire to lightly touch the dials and buttons is irresistible. Aah, ecstasy.
Still more fun: Programming the camera. Observing the scene, the image is instantly visualized in the mind's eye. It comes with practice. Accordingly, the tool (camera) is programmed to capture the desired photo. Programming considerations include aperture (depth-of-field), shutter speed (if the object is moving) ISO (affects exposure), and AWB or fixed (auto white balance or predetermined). It's about "making" a photo, not merely taking a snapshot!
This is like the fun of driving a sports car with a stick-shift (manual) transmission. I once drove a Porsche down Mulholland Highway with a mermaid in the passenger seat. On the downhill, I frequently downshifted, driving to the Pacific Coast Highway (PCH) using engine braking, never having to press the brake pedal. It's about executing control!
Operating a camera is like that: Fun! And executing control! I've also discovered that cameras exude a seductive nature making an intimate relationship with it an integral part of the passion for photography.
The photo of the week is the infamous Headless Horseman hoping to retrieve his head this Halloween from Trunk or Treat on Central Avenue. See you there-if you dare!
Send comments, suggestions or questions to: focusonphotography@earthlink.net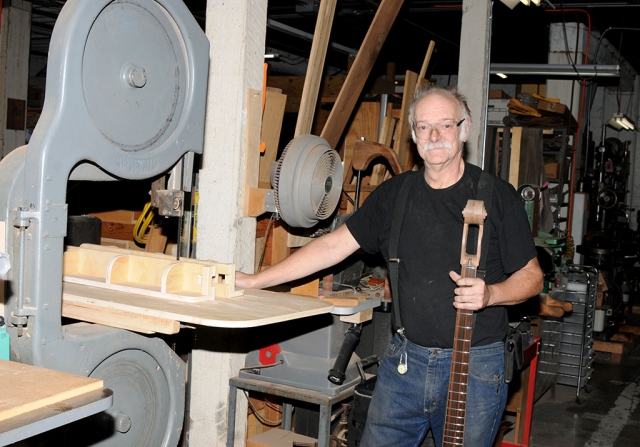 Bruce Johnson in his shop at the Citrus Packing House working on a custom bass guitar.
Enlarge Photo
By Scott Duckett — Wednesday, October 23rd, 2019
What's going on in the old Citrus Packing House building, across from the Fire Station? Maybe you've heard that there's some big issue about building safety? What are they doing in there? And what is this Secret Underground Laboratory thing?
Under the Citrus Packing House is a large basement, long and narrow, big enough that you can drive trucks down into it. It's nice and cool down here, a stable temperature all year. This building was designed for processing and storing oranges. The basement was once a giant refrigerator, powered by huge swamp coolers. Workers in heavy coats pushed carts of orange crates down the long hall and into the many close chambers. It was modern and high-tech back in the 1930's.
Today, 90 years later, the cool basement of the Packing House has a different use. A group of small craftsman shops have moved in and are quietly working away. They call themselves the Secret Underground Laboratory. These are small, mostly one-man companies that make expensive specialty hand-crafted products. Not to be sold at local markets. All the sales are online through their web sites and social media, mostly custom orders with long waiting lists. Delivery trucks pick up the boxes and take them to customers worldwide. There's no advertising on the building. And they are definitely underground.
Five of the shops down here are Luthiers; that is, they build musical instruments with strings. Guitars, basses, banjos and other odd variants. Expensive hand-made instruments.
Today I'm visiting Bruce Johnson, one of the Luthiers. Bruce's shop is the largest, right inside the doorway at the bottom of the ramp. Bruce builds his own line of electric bass guitars, and he also makes parts for the other Luthiers. He was one of the first shops to move in here, in late 2013, and he helps to maintain the building and manage the other tenants.
Bruce said, "This is a retirement business for me. It's what I want to do for the rest of my life. Building musical instruments is a very tough business. Long hours for very little money; high risk of making mistakes. But it's a fascinating field. It's a mix of Engineering, Craftsmanship, Art, and even a bit of Psychology. For me, as an Engineer and Machinist, this is an endless technical challenge. To keep my old brain going."
Walking into his shop, it's jammed full of machines of all kinds. Woodworking, metalworking, electronics. Many tons of machines, all covered with jobs in progress. It's a complete R & D lab for building musical instruments, all run by one guy. He has no employees or helpers.
Some of the machines are custom built for special jobs. Many of the machines are antiques, some going back to 1900. Bruce jokes that his hobby is collecting and restoring antique machinery.
On the workbenches are parts of his basses, in progress. Unique looking instruments, with scroll-style headstocks and intricate carved bodies.
"I like building electric basses of a particular kind, that have the sound and feel of an old upright bass. I've developed my own special pickups and structural tricks to give them that sound. I've built up a small niche market for these basses, mostly among session bassists. That old-style bass sound in jazz, blues, Nashville. I always have a steady waiting list of customers, but I can only build so many per year."
Bruce's basses sell in the $3000 to $5000 range, and they mostly go around the country. He doesn't sell many here in California. This is a modern day Craftsman business: a very small manufacturing operation, selling nationwide and worldwide through the internet. While secretly located underground in Fillmore.
Bruce's professional life, before becoming a retired Luthier, is also interesting. He's a Mechanical Engineer, specializing in advanced R & D work of machines. A real professional Inventor. He started his career building race cars, then designing heavy gun systems for an Army defense contractor. Then some years in Burbank at the Lockheed Skunk Works, on ground support equipment for black aircraft programs. Through the '90's, he worked at Walt Disney Imagineering, designing advanced robotics and ride systems for the theme parks. "I've had as much fun as you can find in Mechanical Engineering. I've worked in several of the legendary creative engineering groups."
I asked Bruce how he ended up in Fillmore. "I had my shop in Burbank for 21 years. I had built it up as a sideline business, while I was still working full time at Disney. In mid-2013, I was looking for a quiet shop space away from the big crowded city. I met David Storrs, who had just bought the old packing house building on A Street. It's a fascinating old building with a long history and this huge cool basement. It had some mild earthquake damage that needed to be repaired, but otherwise was in great shape. David's overall plan was to clean the building up on the outside, keeping it historic looking, and rent out spaces inside for storage, for small private craftsman shops. Like me. He thought this would be the best use for this interesting old building."
"David convinced me to move in, not just to have my shop here, but to help him build the place up. Bring in other craftsmen, help manage them, and turn the building into a showcase of craftsman shops and history. A centerpiece for the city. Trying to establish a theme for Fillmore. Hopefully encourage more craftsman businesses to move in here, in all these other empty old buildings. Build an identity for the city."
"So, that's what we did. David got the earthquake damage repaired and approved, got the sprinkler system certified, had the Fire Department inspect us. All the basic safety things. I moved in and got my shop operational, and started inviting my craftsman friends to move in here too. By 2016, we had about 10 small shops in and operating. We called the place the Secret Underground Laboratory and started participating in city events with open houses. Private tours of our shops for special groups. We were becoming part of the city. The local folks were surprised to find out that we were here. They thought that the old packing house was abandoned. The City Council seemed to really like us and support what we are doing here. It was fun."
In August, the City of Fillmore red tagged the building, essentially locking everyone out of their businesses for 5 days. The building was changed to yellow tag status with hour and day access restrictions after being asked by the city to install a push-bar on one of the west end exit doors and lighting two exit signs. I asked Bruce how this ongoing situation with the Fillmore Building & Safety Department is affecting him. He shook his head sadly and angrily. "My working schedule is a mess. I normally like to work through the night, doing the most precision work when it's peaceful and quiet. But they won't let us. They are limiting our working hours. I'm scrambling to get work done as I can, between all the interruptions. I'm months behind schedule on instrument deliveries. My customers are pleading for their basses."
"We're hoping that this all gets worked out and we can stay, and continue on with the whole project. But honestly, our spirit is crushed. Some of the Craftsmen have already moved out, and most of the rest are planning it. David Storrs has given up in frustration trying to work with the City of Fillmore, and is selling the building. A real heartbreak for us, because he's been the soul of this project. The sale is in process, and is hopefully going to go through. I'm going to ride it out and stay, and work with the new owners to try and get it all going again. But, I'll tell you, I'm seriously angry and disappointed with Fillmore's city government, and how they've treated us."
By Gazette Staff Writer — Wednesday, October 23rd, 2019
By Gazette Staff Writer — Wednesday, October 23rd, 2019
On Sunday, October 20th at 9:05pm on Highway 126 in Fillmore, near Ventura and C Street, a Ventura County Sherriff's Deputy was struck by a pickup truck which is said to have run a red light. Damages to the Sherriff's vehicle were significant, but the deputy and driver both appeared to be ok. California Highway Patrol is taking over the investigation.
By Gazette Staff Writer — Wednesday, October 23rd, 2019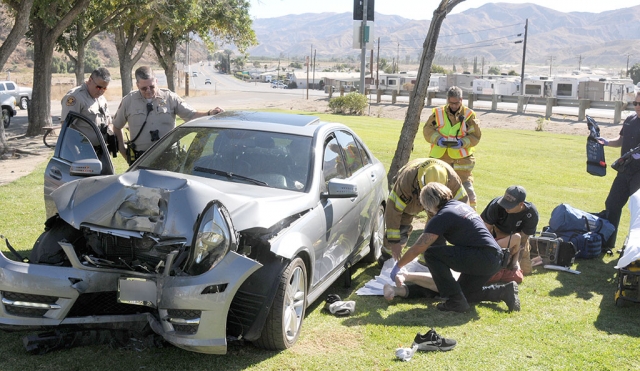 At approximately 10:45 a.m. Tuesday, a car was driven off Highway126, immediately before the Pole Creek crossing. The vehicle, with elderly driver and no passengers, left the roadway, crossed through the grassy park area and collided with a power pole, a distance estimated at 100 feet, 50-feet from the edge of the Pole Creek storm drain channel. The driver was quickly assisted by members of the County Sheriff's Department, Fillmore Fire Department, and Fillmore's emergency medical unit. (Note from publisher: If you're going to be in an accident - let it happen in Fillmore. No better assistance in the county is available!)
Enlarge Photo
By Ventura County District Attorneys Office — Wednesday, October 23rd, 2019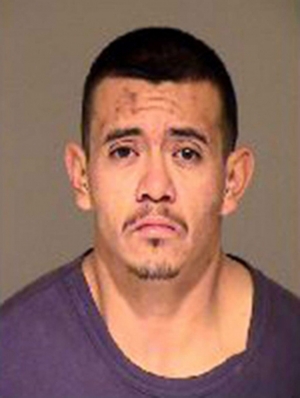 Gustavo Diaz, of Oxnard
District Attorney Gregory D. Totten announced today that Judge Anthony Sabo sentenced Gustavo Diaz (DOB 01/31/1988), of Oxnard, to 23 years to life in prison for crimes committed against his spouse including premeditated attempted murder and kidnapping. Diaz faced a maximum possible sentence of 28 years to life.
On December 10, 2015, Diaz forced the victim into her car at knifepoint. Diaz drove erratically throughout the county while threatening to kill the victim. The victim attempted to jump out of the car and yell for help while stopped at a red light in the city of Fillmore, but Diaz forcibly pulled the victim back into the car and sped away. While driving east on Highway 126, Diaz stabbed the victim multiple times in the chest, arm and back while continuing to threaten her life. The victim eventually jumped out of the moving vehicle in an effort to save her own life. The victim's injuries required surgery to repair. Diaz disposed of the knife and the victim's car in a remote canyon in Los Angeles County.
On August 22, 2019, a jury convicted Diaz of premeditated attempted murder, kidnapping, inflicting corporal injury on a spouse, assault with a deadly weapon and criminal threats. The jury also found that Diaz had personally inflicted great bodily injury upon the victim and personally used a deadly weapon.
The case was investigated by the Oxnard Police Department, the Ventura County Sheriff's Office and the Los Angeles County Sheriff's Department. The case was prosecuted by the District Attorney's Sexual Assault and Family Protection Unit.
The Ventura County District Attorney's Office is the public prosecutor for the county's 850,000 residents. The office employs approximately 280 employees including attorneys, investigators, victim advocates, and other professional support staff who strive to seek justice, ensure public safety, and protect the rights of crime victims.
By Ventura County Sheriff Department — Wednesday, October 23rd, 2019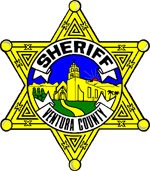 Ventura County Sheriff's Department
Residents of Ventura County have been the constant victims of scams ranging from fraudulent phone callers falsely demanding money to in person lottery scams. In order to prevent further victimization, the Ventura County Sheriff's Office has created a Scam Hotline. Scams not only vary from County to County, they also vary from city to city so we created Scam Hotlines for every patrol station.
When you call the hotline, a recorded message will detail the most current and prevalent scams in your area. At the conclusion of the message, you can let us know about any other scams you are aware of. The line is frequently monitored and we will update the current scams based on the information you provide us as well as well as information from our investigative units. Here are the phone numbers along with a link to our website with the Scam Hotline numbers:
Camarillo: (805) 388-5175
Headquarters (Ventura unincorporated area): (805) 654-2145
Fillmore: (805) 477-7020
Moorpark: (805) 299-1566
Ojai: (805) 477-7050
Thousand Oaks: (805) 371-8327
https://www.venturasheriff.org/public-resources/fraud-hotline-phone-list...
Please be vigilant and report any scams to us so we can share the information.
Prepared by: Commander John Reilly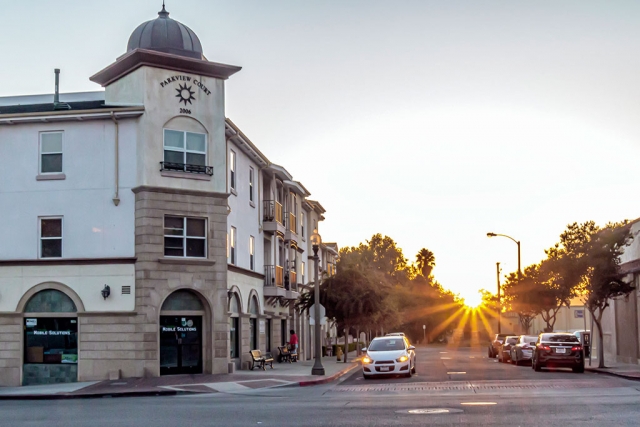 Photo of the Week: "Sunset on West Main Street by Bob Crum. Photo data: Canon 7DMKII camera, Tamron 16-300mm lens @24mm. Exposure; ISO 2000, aperture f/22, shutter speed 1/60 of a second.
Enlarge Photo
By Bob Crum — Wednesday, October 23rd, 2019
In spite of rumors!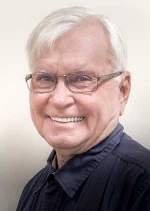 Bob Crum
Film-specifically 35mm-was as comfortable as a fleece throw. All I had to do was shoot and hand over the exposed film to a processor. Remember 1-Hour photos? Once made, the prints laid quietly in a dark, sealed envelope. Grasping the envelope, my shaky hands anxiously opened the package. Alas, with prints in hand... some oohs and ahs but oh my, also lots of over-or-under-exposed failures, a.k.a, crap! C'est la vie!
As I pursued film photography with a vengeance, digital photography was well entrenched with gear improving by the month. Mattered little! I would rather wrestle a beluga whale than convert to digital. One year at the Ventura County Fair, I shot eight rolls of 36-exposure film. Yes, eight rolls! It was necessary because focus and exposure were of the utmost importance, and it's not possible to 'chimp' film. (chimping is checking the photo just made on the digital camera's LCD screen). For publication, focus and exposure were of the utmost importance.
But think about this: 36 x 8 = 288 frames of film. While eight rolls of film may seem like a lot for one day of shooting, it was one-third of a typical day of shooting digital. The significant difference is bad film photos were costly. Ma'am, there are 17 lousy photos in this pack, so I deserve a processing refund. But sir, we didn't screw up, you did. These days, bad digital photos (yes, I occasionally pressed the shutter button too soon or too late) are deleted and marched to the pixel graveyard.
Why did I resist converting to digital? Because I'm not any different than most. We often resist learning curves when they are inconvenient, don't we? Learning how to operate a new camera is a daunting task. So many dials. So many options. The menu as pickled as a jar of pigs' feet. And, if RAW photos (equivalent to film) are made, it's also essential to learn photo editing programs on a computer — more anguish. I didn't want any part of any of that. NONE! NADA! My Canon A-1 was working just fine. And I knew it forward and backward. Compose in the viewfinder, adjust exposure, focus and press the shutter button — no reason in the world to change cameras.
Then one day, I needed to go to Home Depot in Oxnard. In the same shopping center, I visited a Circuit City store as the company was going out of business. One digital camera remained in the glass enclosure: A Canon Xsi and two kit lenses. It screamed: BUY ME! OK... OK! I gingerly, and nervously handed the clerk a credit card. I bought the camera and both lenses. Ready or not, it was D-(Digital) Day. That little Canon camera ignited a new photographic world that, to this day, I enjoy immensely.
Fast forward to now. Phonetographers profusely and loudly proclaim that photography with a dSLR camera is dead, so get over it! Get the Apple iPhone 11 pro with the triple-camera system-ultra wide, wide and telephoto lenses they say. Much easier to whip out the cell phone and take the snapshot they insist. Bidda-bing, bidda-boom, the photo goes viral on the Net. Ha! It's just another snapshot on social media that's forgotten about in three minutes or less. In spite of rumors, as long as creativity is a paramount force of photography, cameras rule! Touché phonetographers!
Sunset on Main Street is the photo of the week, another in a series of photos made during the recent PhotoWalk. Proof that we have plenty of photo ops right here in town. Grab your camera and shoot!
Send comments, suggestions or questions to: focusonphotography@earthlink.net

Pictured is the Citrus Packing House which has been yellow tagged by the City of Fillmore until corrections are made. Tenants of the building have voiced their frustrations about the treatment and limited hours of operation imposed by the City.
Enlarge Photo
By David W. Rowlands — Wednesday, October 16th, 2019
At the September 24 and October 8, 2019 City Council meetings, several tenants of the Citrus Packing House (CPH) complained about the treatment and the limited hours of operation imposed by the City of Fillmore's yellow tag on the building. A "yellow tag" limits entry into a building until corrections needed for safety are made. Once the safety corrections are made, the yellow tag will be removed. The list of safety corrections was agreed upon months ago, after the City was allowed to inspect the entire building.
The building's owner, David Storrs, is aware of the fire and safety conditions needing to be rectified and never applied for a business license or the other permits necessary to operate the CPH. For more than two years the City has been talking with Mr. Storrs about the code violations at the CPH and, although promises were made, no code violations were remedied until the City issued a red tag on the building. Then, within a week, the two most significant safety concerns were corrected, and the City was able to reduce the red tag to a yellow tag.
It is unfortunate that the tenants have been placed in this situation by Mr. Storrs, but the City has an obligation to enforce local and State building codes. As an example, at one point City staff discovered that two businesses with combustible materials were located dangerously close to one another within the CPH. It is the City's responsibility to prevent this from happening, but City staff can only do so when landlords and tenants communicate with the City and apply for required permits and licenses.
Despite all of the delays and even though Mr. Storrs still does not have the permits required to operate the CPH and the plans he promised the City to address the fire and safety issues were due more than one month ago have not been submitted, the City is allowing him to keep the CPH open, for the benefit of the tenants. The increased hours for the occupancy of the CPH while the yellow tag remains were set at 7 AM to 7 PM Monday – Saturday per Mr. Storrs's request. As he has made no further progress the City is unable, at this time, to further extend the hours.
The City has and continues to do what it can to work with the landlord to resolve the fire and safety issues at the CPH. The City has a responsibility to the CPH tenants and the citizens of Fillmore. Although it may not be a popular stance at this time, protecting the tenants and adjacent property owners is the right thing to do.