By Gazette Staff Writer — Friday, April 3rd, 2020
By Ventura County Sheriff Department — Wednesday, April 1st, 2020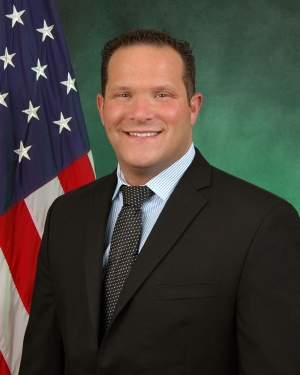 Patrick Maynard
Sheriff Bill Ayub is proud to announce the appointment of Patrick Maynard as the Director of the Office of Emergency Services. Patrick is a 9-year member of the Ventura County Sheriff's Office, who began his career in 2011 as the alert and warning coordinator in the Office of Emergency Services (OES).
For the past seven years, Patrick has overseen the operations, training, and finance sections of OES. He has been the acting director of OES since the summer of 2019 when a nationwide recruitment was initiated to replace Kevin McGowan, who previously held the position. That recruitment effort culminated in the selection of Patrick as the OES director this week. He has taken the helm during a critical time when one of the greatest challenges confronts Ventura County residents: the Coronavirus pandemic.
Patrick has extensive experience managing the county's response and recovery efforts to many disasters, including fires, mudslides, oil spills, and the Borderline mass shooting.
"I am thrilled with Patrick's appointment," said Ventura County CEO Mike Powers. "I have had the pleasure of working closely with Patrick during our last few incredibly challenging years, and I have found him to be bright, strategic, collaborative and extremely hard-working - everything you want in an emergency manager and leader. With the partnerships he has established across our community and his 'whatever-it takes-to-get-it done' approach, we are fortunate to have him in this crucial role during this unprecedented health crisis."
Prepared by: Captain Eric Buschow
Approved by: Sheriff Bill Ayub
By Gazette Staff Writer — Wednesday, April 1st, 2020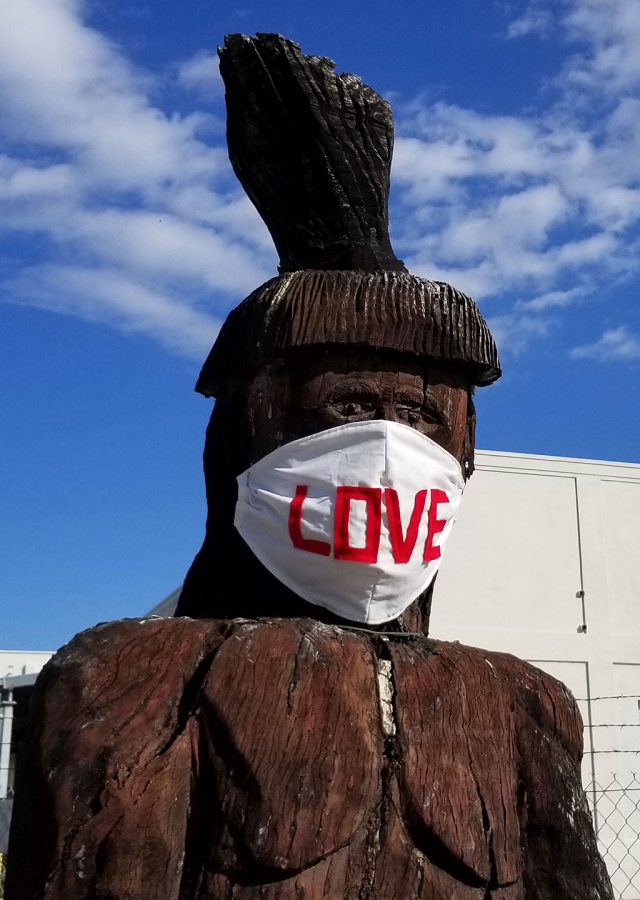 Even the Fillmore Indian is taking COVID-19 protection seriously. Be safe for yourself and the community.
Enlarge Photo
By Gazette Staff Writer — Wednesday, April 1st, 2020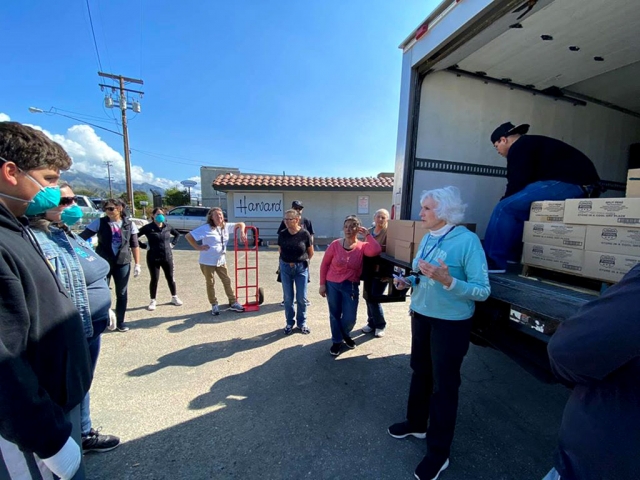 Thank you to Kay Wilson-Bolton and everyone who showed up early to help with the food bagging for food distribution at the SPIRIT of Santa Paula shelter. An extra big thank you to everyone who came out, including Adrianna Ocegueda, Brandy Lengning, Heather Merenda and her son Angelo. Thank you to the Fillmore people who committed to come and help. If you were unable to go, there will be opportunities in the future. The event was open to in-need households in the Santa Clara River Valley, including Fillmore and Piru. Food distribution started at 2:30 pm on March 21st at 1498 E Harvard Blvd, Santa Paula, Ca. Courtesy Fillmore City Council Member Manuel Minjares Facebook page.
Enlarge Photo
By Gazette Staff Writer — Wednesday, April 1st, 2020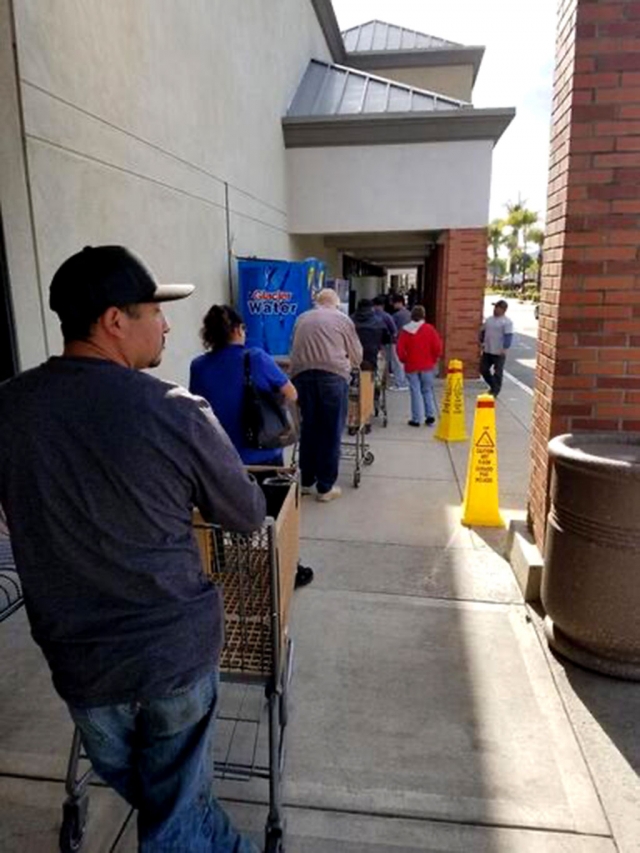 Vons is taking extra precautions, controlling how many are allowed to shop, sanitizing carts, marking floors for social distancing, and installing plexiglass sneeze guards at cashiers' stations. Courtesy Nextdoor.com
Enlarge Photo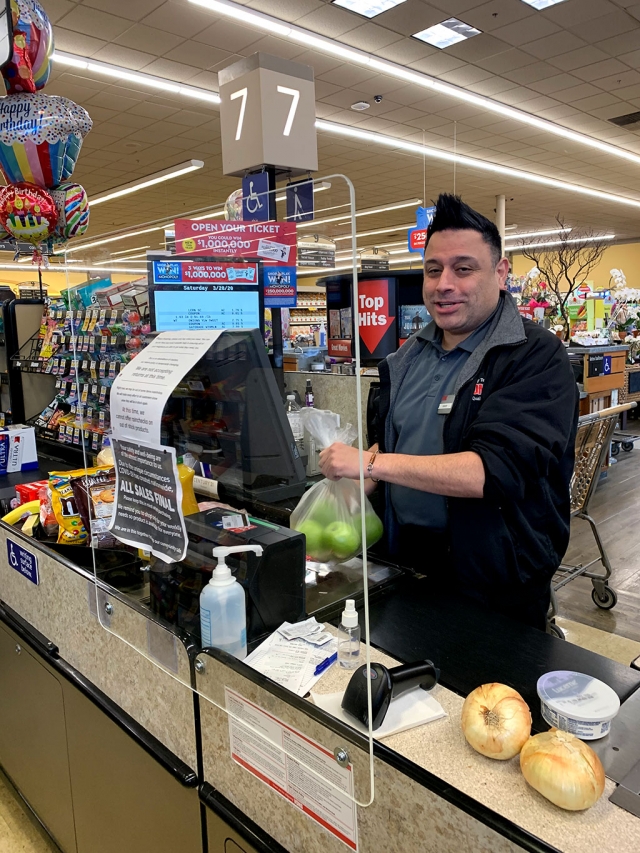 Vons has installed plexiglass sneeze guards at each cashiers' station to help stop any spread of the COVID-19 virus.
Enlarge Photo
By Gazette Staff Writer — Wednesday, April 1st, 2020
By Gazette Staff Writer — Wednesday, April 1st, 2020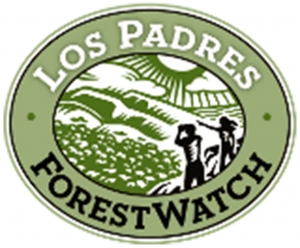 Santa Barbara, CA - Facing weeks of isolation, disruption, and stress, Californians are looking to our magnificent outdoor spaces to maintain physical and emotional health. The State's stay at home order allows outdoor recreation, but this must be practiced with the utmost of care not to contribute to community spread of the COVID-19 virus, or put additional stress on under-resourced communities.
Officials closed dozens of state parks and state beaches because of crowding, and the Forest Service shut down "developed recreation facilities" in all of California's national forests, including Los Padres. This means that all forest campgrounds are closed, but remote walk-in sites in the backcountry remain open at this time. For now, roads and trails in the Los Padres that are normally open this time of year remain accessible. Several national parks and monuments have also been shuttered at the urging of local communities to preserve resources and prevent contagion.
On the Central Coast, locally-operated parks, beaches, and trails remain open. "We can still go for a hike, run, or ride out on the trail, or camp in the backcountry or in dispersed sites," said Rebecca August, advocacy director at Los Padres ForestWatch. "But we have an added responsibility to take extreme care not to put ourselves and others at risk while we're out there having fun."
This region has a wealth of natural outdoor spaces. Most communities are within reach of oak-forested trails, expansive beaches, or hills covered in chaparral and wildflowers beginning to bloom. These spaces can continue to be a source of healing and strength for our community, if residents exercise the necessary discipline to maintain social distancing and sanitation.
"A little dose of nature could be really good for everyone," says Bryant Baker, conservation director at Los Padres ForestWatch.
Below are some guidelines to help you better determine whether visiting public lands like the Los Padres National Forest is right for you, and if so, how to do it safely.
Seven Guidelines to Follow
1. Stay at home if you feel sick, are experiencing any symptoms, or are in a high-risk group.
2. If you decide to visit the trails, stick close to home. Traveling through even nearby towns to access trails can have negative impacts including the spread of COVID-19—especially in under-resourced communities.
3. If you notice a trailhead appears crowded or if the parking lot is full, turn around and head to a different trail that has fewer people. Overcrowding is the #1 reason for trail closures; this will help keep our trails open.
4. Avoid unnecessary risk. Be aware that emergency services may be delayed if you get lost or in an accident. More importantly, requiring search and rescue puts emergency personnel at greater risk and taxes an already overburdened first responder and hospital network.
5. Always maintain at least six feet from other trail users. Wider trails and dirt roads are best. Announce yourself when there is less visibility. You should also try to hike with as small a group as possible—stick with just one hiking buddy or your immediate family.
6. Do not share food, or drinks with other trail users, or handle equipment or any item someone else may have touched.
7. Be prepared. Bathrooms, trash removal, and other services are likely to be suspended.
The above guidelines are in addition to the seven Leave No Trace principles that should always be followed when visiting public lands.
By Ventura County District Attorneys Office — Wednesday, April 1st, 2020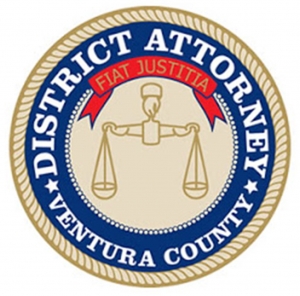 VENTURA COUNTY, CA - District Attorney Gregory D. Totten announced today that consumers should be on the lookout for scammers trying to take advantage of county residents during this public health emergency. Federal and local law enforcement agencies are reporting an increase in scams related to the COVID_19 pandemic including:
• Fake Cures/Testing – Scammers are trying to capitalize on people's fears by selling bogus products online which claim to treat or prevent COVID-19 such as vaccinations, treatments and home testing kits.
• Fake Suppliers – Online scammers are posing as legitimate companies with available supplies of in-demand products, such as face masks, hand sanitizers and household goods, who take your money and deliver nothing.
• Fake Government Scams – Using robocalls, e-mails and text messages, scammers claim to be from legitimate government agencies such as the Centers for Disease Control (CDC), then attempt to obtain your personal identification number (PIN) or social security numbers and bank account information. Due to the recent passing of the federal economic relief legislation, it is anticipated that scammers will attempt to take advantage of consumers with robocalls and phishing e-mails to "verify" your PIN. The District Attorney reminds county residents to never provide your PIN over the phone, through a text message or e-mail correspondence.
• Fake Charities – Scammers try to take advantage of county residents' generosity during the COVID 19 pandemic by using names similar to legitimate charities and obtain donations that never make it to a legitimate cause.
To protect yourself from becoming a victim of one of these scams, it is important to verify you are dealing with a legitimate organization when making purchases or donations online. Do not open attachments in e-mails or click on links from senders you do not recognize. Do not provide your PIN in response to an e-mail, robocall, or text message from a phone number you do not recognize.
For information and recent updates specifically related to COVID-19 go to https://www.vcemergency.com/
By Gazette Staff Writer — Wednesday, April 1st, 2020
Ventura County Library continues to provide services during the COVID-19 emergency while staff and customers are sheltering at home. Many library services continue to be available. Those services include:
eBooks and eAudiobooks are available in our CloudLibrary collection at: https://ebook.yourcloudlibrary.com/library/venturacountylibrary/Featured. Ventura County Library has recently dedicated extra funds to this collection to aid our customers during the County's Stay Well at Home order.
eLibrary online resources at https://www.vencolibrary.org/elibrary including streaming music and movies, reference resources, newspapers, language learning, and literacy resources.
Storytimes – recorded on our YouTube channel at: https://bit.ly/VCLstory and https://bit.ly/vclSTEAM
Storytimes – live streamed on our Facebook page at https://www.facebook.com/Ventura-County-Library-68759970694/
Monday-Friday at 10:30am and Friday at 3:30pm
Including a STEAM storytime on Thursdays at 10:30am
Bilingual Storytime Monday at 3:30pm
Don't have a card? Check our Get a Library card page [https://bit.ly/VCLcard] to get a temporary number.
Due to the local COVID-19 emergency all Ventura County Library branches have closed and all programs and events canceled.
During this time, due dates for borrowed materials are being automatically extended, with no late fines assessed. Once the library reopens, customers may return materials. Until then, customers are asked to enjoy the items at home. Book drops are locked during our closure.
Placing holds is suspended and we encourage customers to keep lists of items and place holds once we reopen. The holds queue for materials is also paused, and when we reopen customers will have one week to pick up held items.
Ventura County Library is in constant communication with other departments, local officials, and health authorities. Stay updated on the latest regional developments of COVID-19 at https://www.vcemergency.com.
For additional information, contact Nancy Schram, Ventura County Library Director at (805) 256-8535
Ventura County Library:
Inspiring our community to explore, discover and connect.
The Ventura County Library is available 24/7 at www.vencolibrary.org.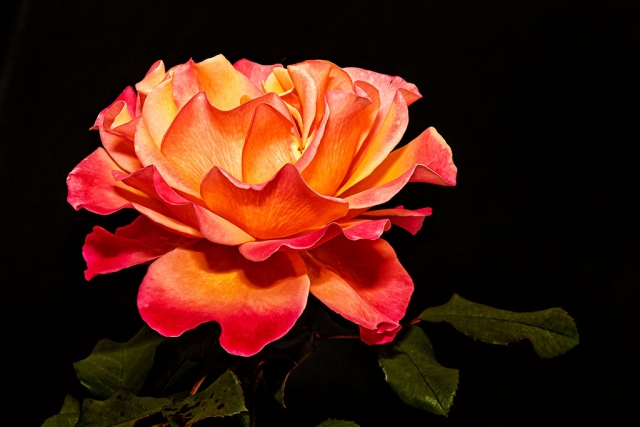 Photo of the Week: "Yellow/Orange rose from my rose garden" by Bob Crum. Photo data: Canon 7DMKII camera, manual mode, Tamron 16-300mm lens @92mm. Exposure; ISO 400, aperture f/13, 1/250 sec shutter speed.
Enlarge Photo
By Bob Crum — Wednesday, April 1st, 2020
Beware fake zooms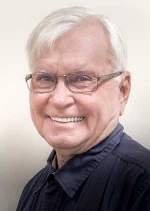 Bob Crum
As the shelter-in-place order is extended, it's a great time to contemplate entering the wonderful world of photography. You're done with sissy cellphone photos and itching to act on your long-held secret to create awesome long-lived photographs. Here's some mental spinach to help you cast off the phonetographer shackles and become an grrrreat photographer!
Many photos I see of social media were shot with a cellphone. I know this because they're all awful. Relax, just kidding. Some are good. Even when I closely examine a Facebook photo, it's sometimes difficult to tell whether it's a cellphone or a camera photo. But I can tell!
We all know that present-day cellphone cameras perform quite well when abundant light is present or when the subject isn't moving too quickly. And in most situations, shooting family vacation photos with a cellphone might suffice. But when that cellphone is deficient, the magic of the moment is gone forever without a memorable photo. If that's not acceptable, you're ready for a camera!
Present-day cellphones are ubiquitous, and convenient, for instant social media snapshots. But for field sports, a rodeo, an air show or shooting wildlife, zooming is an important facet where cellphones can't compete with dedicated cameras.
The Samsung new S20 cellphone provides a hybrid optic zoom of 3x and 30x "Super-Resolution Zoom" (SRZ) with the telephoto lens. Impressed? Don't be. While the 30x super-resolution zoom (SRZ) sounds great, beyond the 3x optical zoom, the cellphone camera is not doing any zooming. Instead, it's heavily cropping the image to simulate zooming. A fake zoom! To get 'optically' zoomed 30x, you'd need a 7" long 200mm telephoto lens on your slim cellphone.
If you're ready to create 'real' photos, there are many delicious options. Camera technology has greatly improved lenses and internal processing. Remember, a camera is a computer with a lens attached. There are three categories of cameras: Compact & point & shoot cameras, bridge cameras and dSLRs - mirrored and mirrorless. Let's discuss compacts. Longer zooms, faster operation, better low-light capabilities, and better ergonomics, there are lots of good reasons to buy a state of the art compact digital camera, wrote shotkit.com. Note: the S20 costs $1295.00! That amount of $$ buys a great real camera!
Compact cameras utilize a 'fixed' built-in lens and on several models, the lens retracts into the camera. These cameras offer two substantial advantages: they're small and pocketable and you get real optical zoom for a lot less money. And cameras in this category produce very good quality photos in many situations!
Here are a few of smartphone-beating compact cameras: Fujifilm X100V, Panasonic Lumix ZS200/TZ200, Canon PowerShot G7 X Mark III, Panasonic Lumix LX100 II, Sony Cyber-shot RX100 VI, Canon PowerShot G1 X Mark III, Sony Cyber-shot RX100 IV and Panasonic ZS100/TZ100. I'll add Canon PowerShot G5 X Mark II, & Ricoh GRIII. Check shotkit.com for reviews and camera info. https://shotkit.com/best-compact-cameras/.
First, prioritize your photographic/camera needs: size, zoom range, exposure controls. Then consider buying a brand camera: Canon, Nikon, Sony, Olympus, Fujifilm or Panasonic that's within your budget. If the budget is constrained, consider buying a pre-owned camera. I have purchased a used camera and two used lenses and happy with all three. Three reliable sources are https://www.adorama.com/Used, https://tinyurl.com/qr6vkb5 and https://www.keh.com/.
Being housebound, it's back to the rose garden for a photo shoot. The photo of the week is one of the beautiful flowers. See it in glorious color at: fillmoregazette.com. For entertainment: Sandpipers at Faria beach video #3: https://youtu.be/-6d3n3Li5Gs.
Send comments, suggestions or questions to: focusonphotography@earthlink.net