By Gazette Staff Writers — Wednesday, October 6th, 2021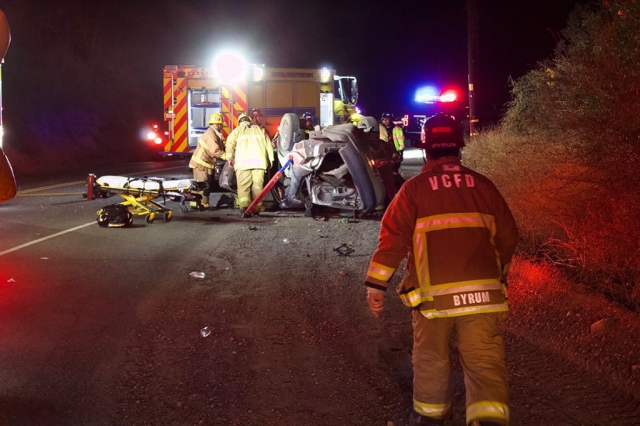 On September 29th, 2021, at 8:04pm, Ventura County Fire and AMR paramedics were dispatched to a reported vehicle on its roof, with one person trapped in the 3500 block of Grimes Canyon Road, north of the rock quarry. Arriving fire crews found a gray vehicle on its roof with one person inside the vehicle needing extraction. Fire crews quickly extracted the person who was transported to a nearby hospital, condition unknown. According to CHP the reporting party stated the driver was possibly driving recklessly prior to the crash. All lanes were blocked until fire crews cleared the area at 8:37pm. Cause of the crash is under investigation. Photo credit Angel Esquivel-AE News.
Enlarge Photo
By Gazette Staff Writers — Wednesday, October 6th, 2021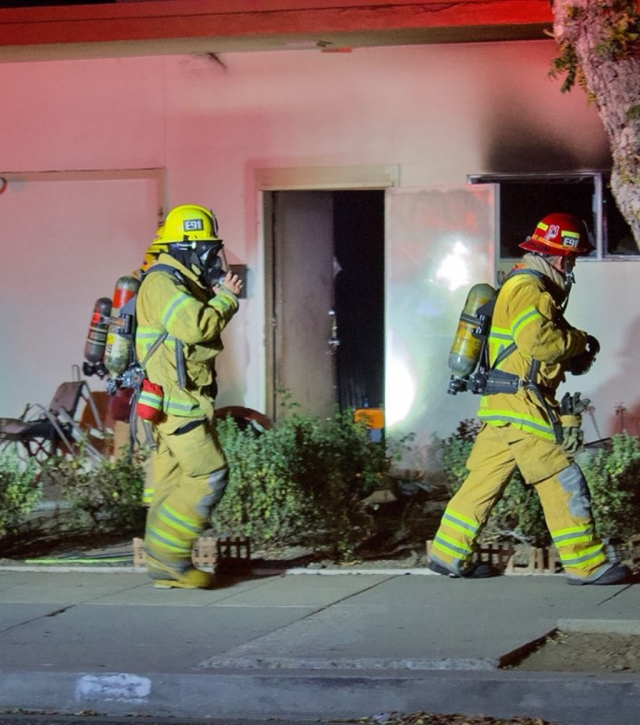 On October 3rd, 2021, at 11:51pm, Fillmore Fire Department was dispatched to a reported structure fire in the 600 block of Central Avenue, Fillmore. Arriving fire crews reported smoke showing from the windows of the Perez Family Funeral Home, and requested to attach VCFD (RE27). Fire crews conducted a primary search and fire was reported knocked down by 12:05am. Fillmore Police Department was also requested to respond to the scene for traffic control. At 12:07am the primary search was completed but fire crews remained for about three hours, with Investigator 91 on scene. Cause of the fire is under investigation. Photo credit Angel Esquivel-AE News.
Enlarge Photo
By Gazette Staff Writers — Wednesday, October 6th, 2021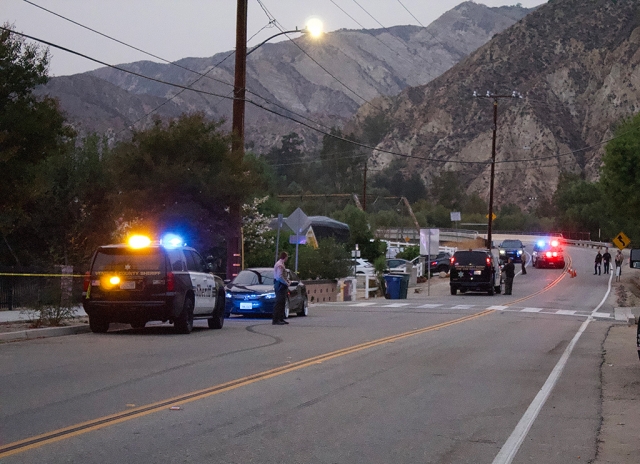 On Sunday, September 26th, 2021, at approximately at 4pm, Ventura County Sheriff's Department received a call of shots fired into a vehicle in the 4100 block of Center Street, Piru. Deputies searched in the area for evidence, and crime scene investigations were called to the scene. Eastbound Center Street was closed to traffic. No injuries were reported. No additional information was provided at the time of the incident. Photo credit Angel Esquivel-AE News.
Enlarge Photo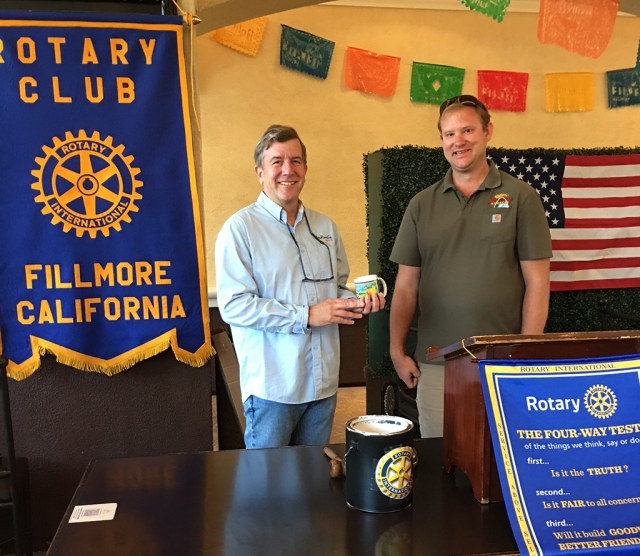 (l-r) Fillmore Rotary's newest Rotarian, Sean McCulley, and Club President Andy Klittich.
Enlarge Photo
By Gazette Staff Writers — Wednesday, October 6th, 2021
The speaker at last week's Fillmore Rotary was one of the newer members, Sean McCulley. During college he began making videos and working on theater productions, while earning a double major in Commercial Art/Journalism. In 1993 he began his first business, Mudturtle Media, and started McLee Creations with his wife. During the pandemic he began making a video all about Corvettes, his favorite car. He showed the video to the group, which thought it was fantastic. Sean clearly has an eye for detail and knows how to keep the viewer engaged. He has also written a children's book called Archibald The Airplane, Tales From Willoughby. Sean's latest adventure is purchasing and restoring the Fillmore Towne Theatre. He presented a PowerPoint of the entire building and talked about all that needs to be done and his vision of the finished project. One of the main challenges is acquiring the funds for the restoration. Sean's Company, Mudturtle Theatrical Inc, is a 501(c) 3, if anyone would like to donate to make our theater a wonderful destination for community theater, movies, music, lectures and more. Courtesy Fillmore Rotary Club member Martha Richardson.
By Gazette Staff Writers — Wednesday, October 6th, 2021
Due to the onsite construction, the Fillmore Library will close to the public starting on Oct. 24, 202, for an indefinite period. It is anticipated the project will take about eight months.
Once the project is completed, the Fillmore community will have an expanded, modern public library. The newly expanded library will include a classroom, two study rooms, an Innovation/STEAM lab/community meeting room, a designated computer space, new public laptops, usable outdoor areas, new public restrooms, and more. This project will effectively double the footprint of the existing library.
To provide some library services in Fillmore during the closure, the Mobile Library will begin making stops at the Fillmore City Hall, Central Park, once per week on Tuesdays, from 10:00 a.m. to 12:00 p.m. Such services will continue throughout the closure. Additionally, during the closure patrons may use the collections and services or return books at any other Ventura County Library branch, including the Piru Library and the Saticoy Library. Community members may also use the online Virtual Library 24/7 throughout the closure.
For more information please visit: https://www.vencolibrary.org/branch/fillmore-library-closing-renovation-...
By Gazette Staff Writers — Wednesday, October 6th, 2021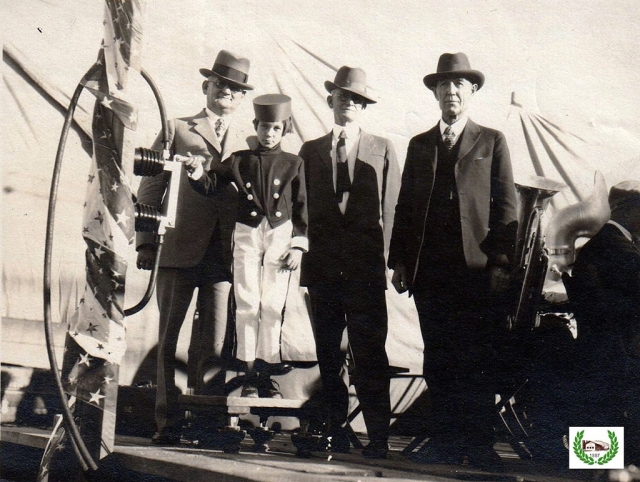 1927 Street Lighting Celebration. Photos Courtesy Fillmore Historical Museum.
Enlarge Photo
By Gazette Staff Writers — Wednesday, October 6th, 2021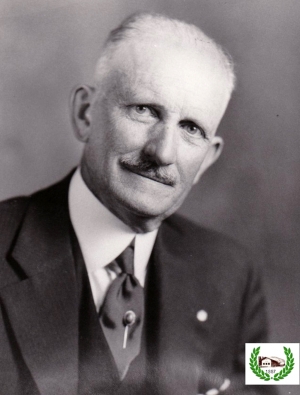 Clarence Arrasmith Cira 1945. Clarence came to Fillmore in 1911 was the first City Manager for Fillmore in 1918.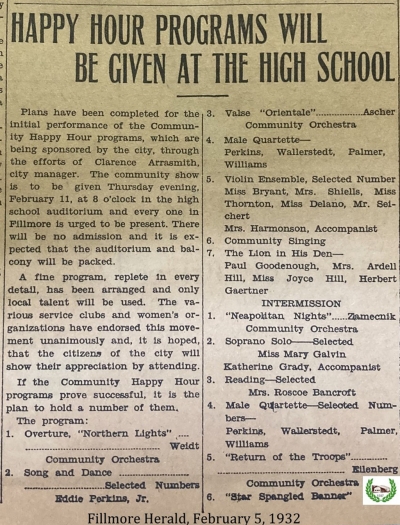 Happy Hour Program February 5, 1932.
Enlarge Photo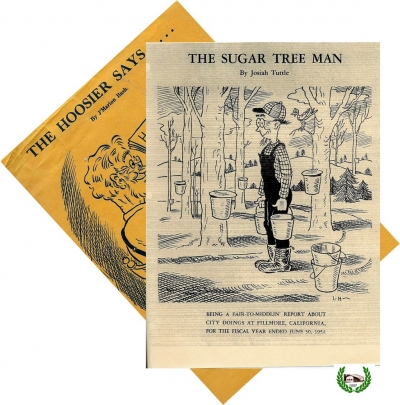 Covers of the Annual Reports 1953 - 1954.
Enlarge Photo
Courtesy Fillmore Historical Museum
We say Fillmore was founded in 1887 when the railroad came through, but it was not an actual town until 1914 when it was incorporated. Incorporation was not an assured event. There was strong opposition, mainly on the basis that creating a city would put another layer of taxes on the locals. On the other side was the argument that taxes currently being paid weren't coming back to the local residents but were being spent elsewhere in the county. Streets were not paved, and the only paved sidewalks were those put in by the adjacent business owner. In August of 1914 the election was held with the vote split 208 for incorporation and 193 against. Fillmore became the newest city in Ventura County.
In the same election George Tighe, the first station master and a store owner, was elected mayor and Clarence Arrasmith was elected city clerk. Besides Tighe on the "board of trustees", forerunner to the city council, were Bowman Merrill, druggist; E. O. Goodenough, merchant; E. A. Pyle, "financier"; and S. H. Mosher, hardware merchant. At the first trustee meeting two additional officials were appointed – John Galvin as city attorney and Jack Casner, city marshal, both would receive the salary of $25 per month.
Two of the new city officials would serve Fillmore into the second half of the twentieth century – Clarence Arrasmith and John Galvin.
Clarence Arrasmith was born in Newport, Indiana, in 1873. While in Indiana he owned two newspapers. After his marriage to Mary Grosjean in 1903 he moved to Illinois. He came to Fillmore in 1911 and served as assistant post-master to Richard Stephens.
In 1918, the town moved to the "City Manager" form of government that we still have. Arrasmith was hired as the first city manager for Fillmore. He would hold the position until his death in 1954.
Clarence Arrasmith was particularly known for his ability to communicate complex issues to the general public. Beginning in 1936, he wrote a weekly column in the Fillmore Herald called, "Over the Back Fence." Through this column he would explain to the citizens of Fillmore why their water bill was what it was, why certain streets couldn't be paved at the present time and what new ordinances meant.
The City's Annual Reports during Clarence Arrasmith's time as City Manager were actually fun to read. His final report for 1954 was "written" by one "Josiah Tuttle", late of Vermont, and illustrated by Lawrence Hinckley. It was subtitled "Being a Fair-to-Middlin' Report about City Doings at Fillmore, California, for the Fiscal Year Ended June 30, 1954. Printed and Published by the City of Fillmore, California (but not Guaranteed)." Under the heading "Street Improvements", "Josiah" wrote:
"Street improvements were on the program this year – but somehow or another they mostly got sidetracked – but there is a good chance that some of them will be done up in the paper sack this coming year – provided the proposed sewer project doesn't get too much in the way".
No bureaucratic jargon here.
Like the rest of the United States, the Great Depression had an impact on Fillmore. To lift people's spirits, Arrasmith organized weekly evening "Happy Hours". These were programs which included singing, instrumental music, readings and skits. One in early April 1932 was considered by the local paper to have been a "smashing success." The program opened with the Community Orchestra (Arrasmith led and played the cello) playing "The Bridal Rose". This was followed by Eddie Perkins, Jr., "one of the city's most talented youngsters" doing some snappy novelty dances, accompanied by his mother on the piano. A community sing-along was then led by Eddie Perkins, Sr.. Mary Galvin, accompanied by her sister Katherine, sang several songs. This was then followed by Fergus Fairbanks giving a short, but interesting resumé on George Washington. More singing, and the program was closed with the Star-Spangled Banner. One of the highlights of the evening was the Fillmore Fire Department presenting an "interesting and novel number called 'Paying a Bet'."
On the night of July 20, 1954, Clarence Arrasmith felt unwell. A doctor was summoned (this was still in the days of house calls), but Arrasmith died of a heart attack that night. At the time of his death, he was believed to have been the longest serving city manager in the State. His many musical instruments were donated to the Fillmore High School Music Department. He was survived by his wife Mary, daughter Mildred and son, Donald.
By Gazette Staff Writers — Wednesday, September 29th, 2021
By Gazette Staff Writers — Wednesday, September 29th, 2021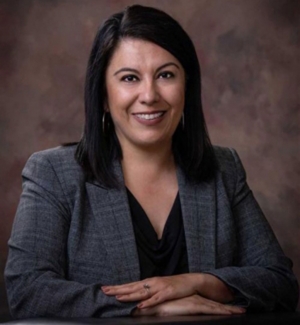 Christine Schieferle, Fillmore Unified School District Superintendent
September 23, 2021
This is an exciting week for Fillmore Unified School District. We began Homecoming week on Friday September 17, with a Flashes Football win against Oak Park. Our students played great, demonstrated positive sportsmanship, and our community came out and cheered on our team. Our new Flashes Spirit Tunnel made its debut and contributed to the exciting atmosphere. We thank the Fillmore Athletic Boosters Club for their generosity! On Saturday, September 18, FHS hosted a well-attended, outdoor Homecoming Dance in the West Wing. On Sunday, Trustee Morris and I had the pleasure of supervising Float Building, and we all look forward to seeing the floats this evening in the Blue and White Parade starting at 6:00 p.m. Our amazing Fillmore High Alumni Association has a great evening planned to honor and celebrate Flashes pride and tradition. We will wrap up the week on Friday, hosting Santa Maria High School for our 2021 Homecoming Football Game. These traditions are one of the many reasons why we are proud to live in Fillmore and have our students attend FUSD schools!
On Monday, September 20, Trustees and District Staff had the opportunity to attend the Agriculture Administrator's night at Otto and Sons. I would like to thank The Fillmore High Ag. Department for coordinating a beautiful evening for the Fillmore, Santa Paula, Ventura, and Carpentaria Agriculture Career Technical Education (CTE) programs.
We're close to the finish line for the CTE Building construction. Landscaping installation is complete, and they have checked all the irrigation lines. There are 2 final pieces of equipment will be arriving by Friday. Staff is being trained to operate the equipment. We have a Haas Mini Mill, Rotary lifts and Hunter equipment training scheduled. They are also finalizing the date for the plasma table training. We anticipate that the students will be touring the new facilities and trained on procedures and starting to train on the equipment prior to fall break and will fully move into the building after fall break. Finally, Desks are in place, the new building is getting its final clean-up and waiting for students to arrive.
On Friday, September 17, all schools celebrated Constitution Day by participating in a variety of activities from AP Government Students reciting the preamble, discussions, and lessons on the significance of the preamble and constitution. Our teachers planned engaging lessons, and students had fun while learning.
Today is the 26th day of school and we will continue to celebrate our students back in school full time. Fillmore Middle School and Fillmore High are preparing mid-quarter progress reports and will mail home to families by the end of the week. We are completing our beginning of the year testing in English Language Arts and Math and have started reading intervention at 3 of our elementary schools. We are still recruiting for intervention teachers at Piru School.
I'd like to thank our staff for their dedication to our students and for the time they are taking to implement the many new health requirements and public health mandates. I would also like to thank our families for their continued support and patience as we work through this school year prioritizing student and staff safety, teaching and learning, and social and emotional wellness. We ask that you please continue to prescreen your children each day and keep them home if they have any COVID Symptoms. Working together, giving one another grace, and putting our students first will make this a great school year. Thank you!
By Gazette Staff Writers — Wednesday, September 29th, 2021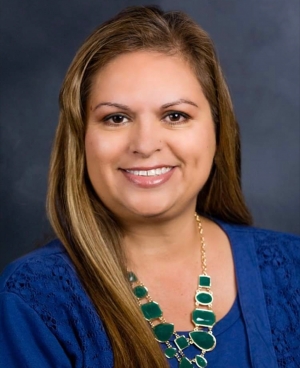 Fillmore City Council Member Ari Larson
Fillmore lost a special person on Friday, September 17th Fillmore's Ari Larson passed away suddenly in her sleep. In honor of Ari there will be a vigil, Mass and reception in the month of October, dates times & locations as follows: Vigil – Friday, October 29th, 10am – 9pm at Perez Family Funeral Home, 600 Central Ave., Fillmore, Ca. Rosary begins
at 6:30pm. Mass – Saturday, October 39th, 10am – 11am at Our Lady of Perpetual Help, 23225 Lyons Ave., Santa Clarita, Ca. Reception – Saturday, October 30th, 12pm at Fillmore/Piru Veterans Memorial Building, 511 2nd St., Fillmore, Ca.