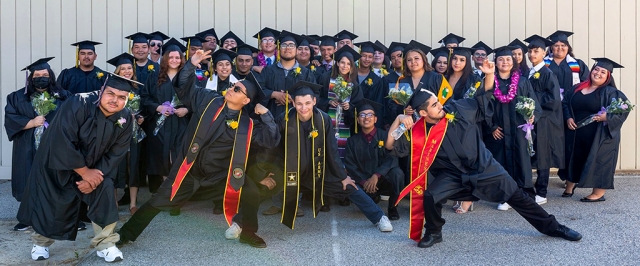 The Sierra High and Heritage Valley Independent Studies Graduating Class of 2022.
Enlarge Photo
By Gazette Staff Writers — Wednesday, June 15th, 2022

On Tuesday, Fillmore City Council voted unanimously to authorize offers of sale for the property known as the Fillmore Equestrian Center. The property is considered surplus, pursuant to the Surplus Property Land Act.
Enlarge Photo
By Gazette Staff Writers — Wednesday, June 15th, 2022
Votes from 6-14-2022 Council Meeting: 8-A, B, C, D, E, H, and I, approved 5-0.
8-A RESOLUTION NO. 22-3892 – APPROVING THE FISCAL YEAR 2022-23 PROJECT LIST TO BE FUNDED BY THE ROAD REPAIR AND ACCOUNTABILITY
ACT OF 2017 (SENATE BILL 1)
8-B 1. Approve an allocation of funds in an amount not to exceed $19,450 in the Fiscal Year 2022-2023 budget for a contract with Planet Bids within account 101-4207-0021-245- Contract Services; 2. and Approve a contract and authorize the City Manager or his designee to execute the contract, in a form approved by the City Attorney, with Planet Bids Innovative Procurement Solutions for the components described above. Unanimously approved.
8-C City Council approved an agreement with Planet Bids Innovative eProcurement Solutions to provide citywide web-based eProcurement, contracts, and insurance management software.
8-D Adopted Resolution declaring the City-owned real property located at 308 Chambersburg Road/SH23 in the City of Fillmore ("Property"), known as the Fillmore Equestrian Center, to be surplus, authorizing offers of the Property for purchase pursuant
to the Surplus Property Land Act, and finding these activities to be exempt from CEQA. Unanimously approved.
8-E Designated a primary voting delegate; and 2) Appointed up to two alternate delegates. Unanimously approved.
8-H City Council reviewed and approved the Agreement for Services (Valve Turning) with Veolia Water Contract Services USA, LLC. Unanimously approved.
8-I Staff recommended entering into a contract with Retail Strategies for one year with options for a second and third year, in a form approved by the City Attorney's office authorizing the Mayor to execute the contract, and approve an appropriation in the amount of $45,000 to fund the cost to be incurred during fiscal year 2022-23. Unanimously approved.
8-F Authorized the Mayor to sign contracts with Willdan Financial Services for $17,500 in a form approved by the City Attorney's office. Approved 4-0, Mayor had conflict.
8-G That the City Council discuss and provide direction to the City Manager whether to have the CPA Conduct a feasibility study for the City. Vote not to approve, 3-2.
By Gazette Staff Writers — Wednesday, June 15th, 2022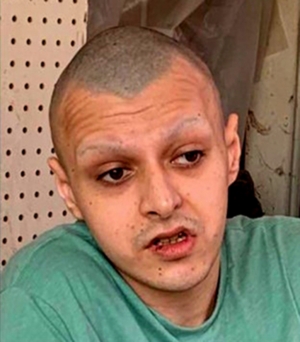 Back in April 2022, at about 12:30am, members of the Ventura County Sheriff's Office were actively searching for Daniel Drum, 25, who was previously reported as a missing person at-risk due to mental health issues. The Sheriff's Communication Center received a call reporting a family disturbance in the area. Deputies responded and learned an altercation between Drum and his 62-yearold father occurred resulting in a homicide. Drum fled the scene prior to deputies' arrival. Deputies later located Drum hiding under an abandoned house in Piru and arrested him. UPDATE: Drum's defense attorney expressed to the court that his client may not have the capability to understand the charge brought up against him. Criminal proceedings have been suspended and schedule for next month to discuss the issue of his mental competency.
By Gazette Staff Writers — Wednesday, June 15th, 2022
On Tuesday, June 7th residents gathered outside of Fillmore's First Baptist Church to cast their votes for the 2022 election. On June 14th, 12:56am, the result were as follows: Measure A: Yes – 89,818, NO- 99,203; Measure B: Yes – 88,516, NO –99,034; Supervisor District 2: Claudia Bill-de la Peña (D) - 25,329 votes, Jeff Gorell (R) - 19,903 votes , Tim McCarthy (R) - 8,389 votes; VC Sheriff: Jim Fryhoff - 102,515 votes & Bill Ayub - 77,397 votes; District Attorney: Erik Nasarenko - 100,594 votes & John Barrick - 74,548 votes; Clerk and Recorder: Michelle Ascencion - 108,663 votes, Jeff Hargleroad - 55,478 votes & Bruce Boyer - 6,989 votes: Treasurer-Tax Collector: Sue Horgan - 114,981 votes, Ron Speakman - 53,521 votes; Assessor: Keith Taylor - 121,820 votes Bradley Coburn - 40,984 votes; Auditor-Controller: Jeffery Burgh - 136,271 votes. More voting result info at https://results.enr.clarityelections.com/CA/Ventura/114132/web.285569/#/....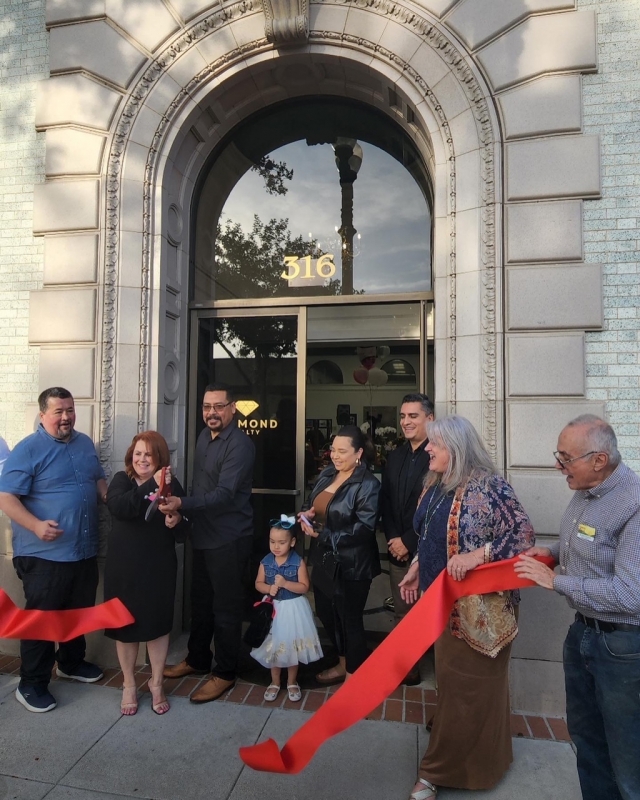 On Friday, June 3rd, Diamond Realty hosted a grand opening and ribbon cutting for their new location in Fillmore's Historical Landmark 47, the old bank building at the corner of Central Avenue and Main Street. After the ribbon cutting folks were welcomed inside to enjoy refreshments and local artwork displayed throughout the building.
Enlarge Photo
By Gazette Staff Writers — Wednesday, June 15th, 2022
A Grand opening was held Friday, June 3rd and was very well attended and supported by Santa Paula Chamber of Commerce, Fillmore Association of Business, Fillmore City Officials and the community!
They had live music by Professional Saxophone Player, Isaiah Venegas. Charcuterie and champagne were served.
Many Thank You's to Claudia Tovar of CMT Interior Design, Ruben Andrade with Andrade's Flooring, Veronica Morris of Watermark Art, West Coast Signs (for our upcoming building signage), the Cardenas/Cornejo Family for entrusting us with their building, City of Fillmore and our loving family, friends & Clientele.
On exhibit in our office now, Ms. Nichols' Art students from Fillmore Middle School have a beautiful display of art. They are for sale. Please stop by.
We are very blessed and thankful to serve our community with their real estate needs!
Services provided:
Real estate sales
Property management
Notary Public Services
DiamondRealtyTeam.com
316 Central Ave.
Fillmore, CA 93015
805.524.2121

Central Avenue in 1907 before Pepper trees were planted. By 1908 Central Avenue had Pepper trees along both sides of the street. In 1914 the street was repaved and by 1917 the city discovered the tree roots rising and cracking the sidewalks and street. Photos courtesy Fillmore Historical Museum.
Enlarge Photo
By Gazette Staff Writers — Wednesday, June 15th, 2022
Courtesy Fillmore Historical Museum
Every now and then an event at the Fillmore Historical Museum sends us researching a specific subject from Fillmore's history. The near miss of our utility building by a broken pepper tree limb in May, 2022, suggested some research into why these huge, nonnative trees were planted here and when.
California has plenty of native sycamore and oak trees. Fillmore still has a group of large sycamore trees on Kensington Ave. They served as the location of a corral used by Basque sheep shearers before the city was established in 1888. The sycamores grew along the edge of Pole creek which in those days crossed Fillmore from Pole Canyon and dropped into Sespe Creek on the west. Kenney Grove was an oak grove under whose branches Native Americans and then newly arrived settlers held celebrations.
The Peruvian pepper tree made its appearance in California in the late 18th century thanks to the Franciscan padres who founded California's mission system. It seems that the padres brought pepper tree seeds with them and planted them around the new missions to provide shade from the hot California sun as it was known to be a fast growing, aromatic, shade tree.
Museum founder, Edith Moore Jarrett, seemed to have had a great affinity for the pepper tree. In a chapter titled "Trees That Made History" from her book, "Old Timer's Tales of Fillmore" she wrote that the trees began appearing in our little part of the valley in about 1886. Squire Tietsort planted pepper tree berries and around his home at the top of Foothill in 1889. It is entirely possible that the pepper trees on Central Ave. across from the library were planted at the same time. By 1912 Central Ave. was almost completely shaded by large pepper trees.
Schools used them as well to shade activities on the grounds. Mountain View School, Bardsdale School and eventually Sespe School, today's School District Offices, had numerous pepper trees. Whether it was hot, cold or windy, students ate lunch on benches under the pepper trees at Sespe School well into the 1960s until a cafeteria was built. The trees were located on the western side of the school between the front lawn and the playground about where the temporary classrooms are currently located. They provided shade, but you had to pick the occasional pepper tree berry or leaf out of your sandwich. Jarrett also noted that the pepper trees in her school days provided teachers with the occasional switch used to promote quiet and "encourage scholarship."
By 1908 Central Ave had pepper trees on both sides of the street. But, as many a homeowner has discovered to their chagrin, pepper trees roots and branches cause all sorts of problems. The city fathers had paved Central Avenue in 1914, but by 1917 they discovered that the roots of the trees had begun to raise those new city sidewalks. They also felt that the pepper trees looked "countrified". So the city council determined to cut them all down. The only dissenting voice was Constable Owen Miller. He owned a hotel on the west side of Central and refused to let the city remove his pepper tree. He was so adamant that he sat on the porch of his hotel with a shotgun across his lap and dared anyone to try to remove it. What to do? Because he was a constable, he had to enforce the law, so the city council, headed by Mayor Everett Pyle, decided to send him on a trip to Lockwood Valley after reports of trouble in the area. While he was gone they took the tree down. He was infuriated. He put up a sign that read "Everyone welcome here but Everett Pyle; Everett Pyle Keep out." The sign stayed in place for months.
Once those huge pepper trees were removed, the business block of Central Ave. was treeless for years. By the late 1930s a local businessman and farmer, R.A. Fremlin, was getting tired of the bare, hot sidewalks. He suggested planting palm trees. There had been palm trees all over town for many years as shown in many of the early photos. Palm Trees had been planted in front of the High School when it was first built in 1911.
The palms grew well but eventually movie production companies began to complain that the palm trees made the downtown area look more like California and less like the generic Midwestern streets which were often preferred when filming. One production crew solved the problem by strapping evergreen trees to the palm trees in an attempt to disguise them for the camera. So in July, 2012 the city began removing the palm trees between Sespe and Main Streets.
Eventually trees were returned to Central Ave in large planters, again offering some shade to weary shoppers on hot summer days.
There are still plenty of pepper trees on Fillmore's streets offering shade on hot days, but perhaps parking under one should be avoided on hot, east windy days.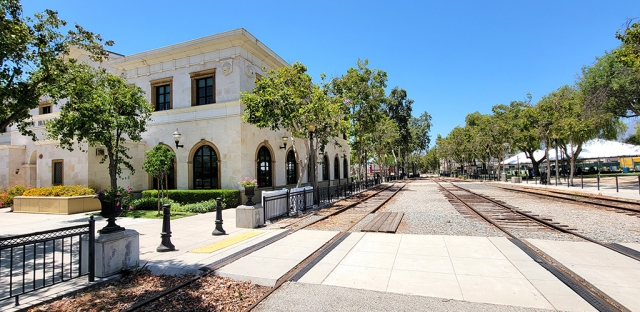 The Sierra Northern Railway has been asked to move out of the Fillmore Rail yard and is pursing relocation.
Enlarge Photo
By Gazette Staff Writers — Wednesday, June 8th, 2022
[Below are both Sierra Northern Railway and City of Fillmore press releases]
[Sierra Northern press release]
Sierra Northern Railway to leave Fillmore
June 1, 2022
Effective immediately the Sierra Northern Railway, Ventura Division, an FRA-regulated common carrier railroad, has been asked to move out of the Fillmore railyard by the City of Fillmore, CA. The property is owned by the city.
"It is unfortunate that the City does not want to continue to work with us as this means a loss of excursion operations for the residents of Fillmore who for so many years grew up around the trains," said Matthew Blackburn, Sierra Northern Railway Ventura Division Manager.
The Sierra Northern Railway, Ventura Division operates 30 miles of railroad right-of-way owned by the Ventura County Transportation Commission as provided for in a 35-year lease. The company and its predecessors have hosted a variety of excursions, freight operations, and filming locations for dozens of motion picture and television productions.
The company is in the process of pursuing relocation to another online community. Normal Sierra Northern Ventura Division business will continue as usual. The company anticipates the reintroduction of excursion trains and railbike adventures originating from the new facility in the near future.
For additional information, contact Matthew Blackburn, 530-490-1446.
###
[City of Fillmore press release]
Contact: David W. Rowlands, City Manager — (805) 524-1500
City of Fillmore and Sierra Northern Railway Part Ways
June 2, 2022
After months of negotiations, the City of Fillmore and Sierra Northern Railway have determined that they are unable to come to terms to allow Sierra Northern Railway to use city property for freight storage and possibly tourist train and railbike operations.
"It is unfortunate; we could not come to an agreement with Sierra Northern Railway. One item of concern was Sierra Northern Railway removing language saying that their use of the properties cannot bother the neighbors. In addition, they wanted the City to rubber stamp grading and the installation of buildings on the property without the City reviewing the plans for safety, drainage, and code compliance. We always needed to look out for Fillmore and the residents by enforcing laws to protect public health and safety." stated, David W. Rowlands, City Manager.
The language preventing Sierra Northern Railway from doing anything on the property which would bother the neighbors is essential as there has already been an incident involving Sierra Northern Railway's storage of creosote-soaked railroad ties on the property which created odors that made neighbors sick. Sierra Northern Railway initially dismissed the neighbor's concerns by stating a Federal Preemption allowed Sierra Northern Railway to store any material onsite regardless of noxious odors. This claim is dubious as Sierra Northern Railway does not yet even have the legal right to use this property as no valid leases have been accepted on behalf of the Railway even after months of negotiations.
Despite being asked by the City for months to provide valid insurance protecting the city and to cite relevant regulations to support Sierra Northern Railway's claims that a few provisions of the agreement violated their duties as a common carrier railroad, nothing was ever provided to the City. "We would not propose terms that violate the law. If Sierra had provided citations to support their vague contentions the City would have agreed to change the terms at issue to comply with the law. Instead, Sierra elected not to provide any information supporting their claim. Sierra also rejected common contract terms such as language allowing the City to deny Sierra's request to transfer Sierra's interest in the property to a third party," said Tiffany Israel, City Attorney.
By Gazette Staff Writers — Wednesday, June 8th, 2022
By Gazette Staff Writers — Wednesday, June 8th, 2022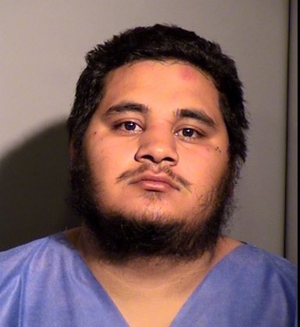 Julius Luna, 18, of Ventura
June 2, 2022 - District Attorney Erik Nasarenko announced today that Julius Luna (DOB 10/09/03), of Ventura, was charged with the murder of Gabriel Cueva, of Piru. It is further alleged that Luna personally used a firearm in the commission of the murder causing great bodily injury or death, and that the murder was committed for the benefit of a criminal street gang. On May 29, 2022, at approximately 5:33 p.m., Ventura County Sheriff's Office deputies responded to the call of a gunshot victim in the area of Azahar Street in Saticoy. Deputies located the victim who was receiving CPR from bystanders. The victim was transported to the Ventura County Medical Center where he was later pronounced dead. Luna was arraigned on the filed complaint on June 2, 2022, at 1:30 p.m. in courtroom 13 of the Ventura County Superior Court. The arraignment was continued until June 30, 2022, at 1:30 p.m. and a bail proceeding was set for June 6, 2022, at 1:30 p.m. in courtroom 13. If convicted, Luna faces a maximum penalty of 50 years to life in prison. Luna is in custody with bail set at $1.5 million.
By Gazette Staff Writers — Wednesday, June 8th, 2022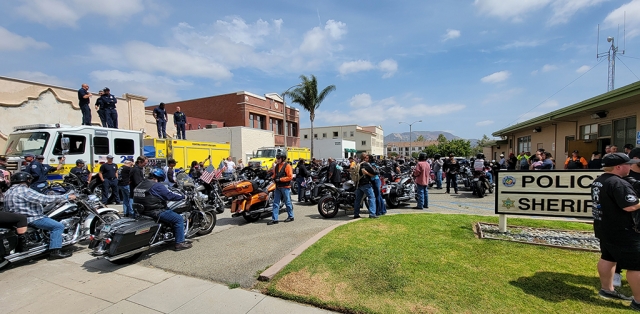 On Saturday, June 4th, the 2022 Sgt. Ron Helus – Ride for the Blue event took place honoring all first responders. This year's ride began at 6:45am at Simi Valley City Hall. They made stops at the following police stations in this order: Thousand Oaks, Moorpark, Camarillo, Port Hueneme, Oxnard, Ventura, Santa Paula, and at 3pm ended their ride at the Fillmore Police Station.
Enlarge Photo