By Anonymous — Wednesday, July 28th, 2021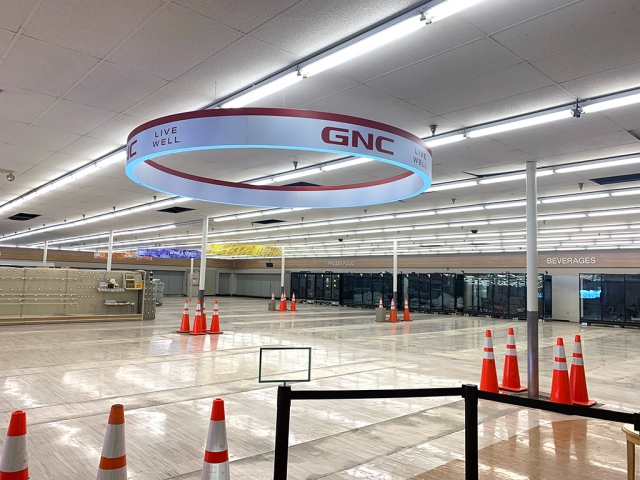 Due to the severe June 1st flooding caused by broken water lines under the foundation, Rite Aid is now open for pharmacy needs only. The store has been gutted and a complete remodel will take place before reopening. No timeline has been announced.
Enlarge Photo
By Anonymous — Wednesday, July 28th, 2021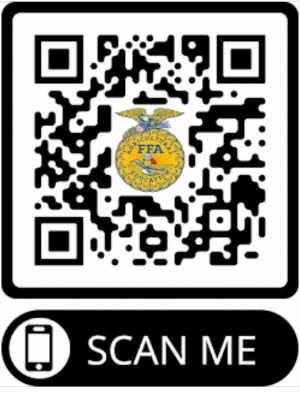 Typically at this time the members of the Fillmore FFA would be preparing for the Ventura County Fair.
However with it's cancellation for the second year in a row due to the pandemic, Fillmore High School students are preparing for a brand new opportunity.
The FFA Chapters that make up the Ventura Section decided to come together and put on the first Heritage Valley Youth Livestock Show and Sale. This event allows FFA members from the area to have a "near normal" event in which they will show their livestock projects in market and showmanship classes.
This showcase of their projects gives the members the opportunity to show off how well they have raised and trained livestock. Differing from the typical auction the Fair holds, students are responsible for finding buyers for their products in the form of a private sale. Students have been sending letters to potential buyers sharing their livestock experiences and goals for the future in hopes to garner donations and livestock purchases.
With FUSD support, 14 students from Fillmore High School decided to raise livestock projects this spring. These students, knowing the challenges that would be in store, forged ahead to continue their education and growth. With the upcoming show students are busy with final preparations such as grooming and securing buyers for their projects. The Heritage Valley Junior Livestock Show will be held at Santa Paula High School's brand-new school farm facilities on July 31st.
To learn more and to support the Fillmore FFA with a donation or purchase scan the QR code. Donations can also be sent to Fillmore FFA Boosters PO Box 697 Fillmore, CA 93016. For more information either FFA advisor is available at the email fillmoreffa@gmail.com
By Anonymous — Wednesday, July 28th, 2021
Courtesy Martha Gentry, Executive Director, Fillmore Historical Museum
Last Saturday, July 25, 2021, 45 members, volunteers, officers, and past officers of the Fillmore Historical Museum met in the Fillmore Depot to celebrate the reopening of the Museum with a lunch and tour of the 1887 Depot, 1905 Hinckley House, and 1919 Bunkhouse. The 1968 caboose, the garage containing the 1930 Model A and the Bardsdale Post Office were also open for visits.
Museum volunteers have spent the last year during the Covid-19 closing to update, renew and replace many of the Museum displays. Lights have been added to most of the display cases, photos scanned and identified, artifacts have been rearranged. Many of the items which have been on display have been carefully packed away and replaced by new donations or newly discovered items. Our collection of musical instruments and sound reproduction devices has been brought to the forefront in a new display case. Recordings have been digitized and now can be heard by following QR codes on your cellphone camera.
Museum staff has added stories of local community members whose families have been in the area from its early days. These stories and photos are now displayed in the "Pioneer Room" on the second floor of the Bunkhouse.
We are also pleased to announce that the local firemen's group, who many years ago purchased, restored and lovingly maintained Fillmore's antique American LaFrance fire engine will be donating it to the Museum. Now the work begins as we must build a building for it onsite. There will be much more about this in the coming months.
We, on the Board of Directors, are excited about the future of the Museum and hope that you in the communities of Fillmore, Bardsdale, Piru, and Sespe will visit and support your local Museum.
The Museum has been in operation for nearly 50 years, collecting memorabilia, photos, and stories and making these available to families and friends, school children and tourists.
On behalf of all the current and past directors and volunteers at the Museum we thank you for your support both financial and in donations of family artifacts, photos and stories. We look forward to your visit. The Museum is located at 340 Main St. Stop by for a visit to see what is new or just stop by for a chat to tell us your story. We are open Wednesday, Thursday, and Friday from 9 a.m. to 4 p.m., closing between 12 noon and 1 p.m. and Saturday from 10 a.m. to 3 p.m. You can also visit us on Facebook and on our website, FillmoreHistoricalMuseum.org. You can also give us a call at 805 524 0948.
By Anonymous — Wednesday, July 28th, 2021
By Anonymous — Wednesday, July 21st, 2021
By Anonymous — Wednesday, July 21st, 2021
On 07/11/2021, the Ventura County Lockwood Deputy responded to an overdue off-road motorcycle rider in the Los Padres National Forest. At approximately 5:50 PM, the Lockwood Valley Substation received a call of a motorcycle rider, Jeffrey Skinner, who had ridden down the Miller Jeep Trail on 07/10/2021, and spent the night at the Sunset Campground. Mr. Skinner's plan was to ride out of the area the next morning. The concerned caller had not heard from Mr. Skinner since 6:30 PM, on 07/10/2021.Mr. Skinner was not familiar with the trail, the challenging terrain and the extreme heat the area was experiencing.
With twilight quickly approaching, a Ventura County Sheriff's helicopter began an aerial search of the Piru Creek Trail, while 2 Utility Terrain Vehicles were deployed from the Lockwood Valley Substation to assist with the search. The Ventura County Sheriff's Fillmore Search and Rescue team was also activated and responded to the area to conduct a ground search.
At approximately 7:45PM, the Sheriff's helicopter located a motorcycle on Piru Creek trail without a rider. The helicopter later located Mr. Skinner at the Gold Hill campground. Mr. Skinner stated he began suffering from heat related issues and spent the day trying to cool himself in a nearby creek bed and utilizing the shrubbery for shade. When the temperature finally began to drop on the trail, he hiked out on foot to the Gold Hill Campground area where the helicopter spotted him. Mr. Skinner was evaluated by medical personnel and transported to the Lockwood Valley Substation.
The Lockwood Valley Substation would like to commend the Mr. Skinner for remaining calm, staying on the trail and having a plan to deal with the extreme conditions in the forest. His actions assisted in locating him quickly and surviving the heat and difficult trail he found himself on.
Nature of Incident: Overdue Off-Highway Motorcycle Rider
Report Number: RB# 21-91404
Location: Los Padres National Forest/ Sunset Campground
Date & Time: 07/11/2021 @ 1750 Hours
Unit(s) Responsible: Ventura County Sheriff's Office Lockwood Valley Substation.
(S)uspects, (V)ictims, (P)arty, (D)ecedent City of Residence Age
Jeffrey Skinner Burbank, CA, 48
Prepared by: Senior Deputy Robert Steele
Approved by: Captain Jose Rivera
By Anonymous — Wednesday, July 21st, 2021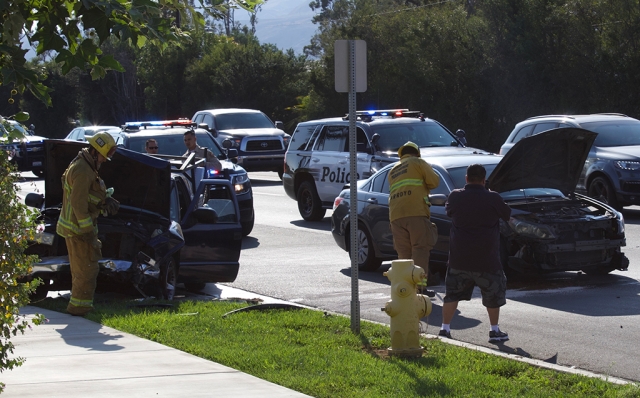 On Saturday, July 17th, 2021, at 5:13pm, Fillmore Sheriff 's, Fillmore City Fire and AMR paramedics were dispatched to a reported injury collision at 1160 Ventura Street. Arriving fire crews reported three vehicles with moderate damage, all occupants reported to be out. Arriving paramedics treated one patient on scene; no ambulance transport made. Cause of the crash is under investigation. Photo courtesy Angel Esquivel-AE News.
Enlarge Photo
By Anonymous — Wednesday, July 21st, 2021
Ventura, CA - With cases of COVID-19 rising locally and increased circulation of the highly transmissible Delta variant, the County of Ventura Public Health Department strongly recommends that everyone, regardless of vaccination status, wear masks indoors in public places. This serves as an extra precautionary measure for those who are fully vaccinated and will further limit spread of the Delta variant in the community at large.
"The Delta variant is spreading quickly in our State. All community members should take action to protect themselves and others against this potentially deadly virus," said County of Ventura Health Officer Doctor Robert Levin. "While vaccines remain our best tool against COVID-19, masking in indoor and crowded outdoor settings will help us curb the spread of this latest wave of infection. Ventura County data have recently shown that unvaccinated people are 22 times more likely to become infected and hospitalized than vaccinated residents. Several of our hospitalized people have been vaccinated and that is several too many."
In June, the Delta variants comprised 43 percent of all specimens sequenced in California. The Centers for Disease Control and Prevention (CDC) noted that Delta variants are now responsible for 58 percent of new infections across the country. Fully vaccinated people are well-protected from infections and serious illness due to known COVID-19 variants including Delta variants, and vaccinating as many people as possible, as soon as possible, continues to be our best defense against severe COVID-19 infection, and the harm it can do to our region. Vaccines are safe, effective, free, and widely available to everyone 12 and older. "For the most part this is a surge of cases among our unvaccinated and it is preventable. Get vaccinated," said Doctor Levin.
"We are seeing a significant growth in Covid-19 cases and hospitalizations in our County. As of today, there are 504 new cases since July 12, 41 current hospitalizations and 9 community members in the ICU. The daily case rate per 100,000 has increased to 4.4," said Public Health Director Rigoberto Vargas. "All community members are encouraged to get vaccinated to help protect themselves and loved ones. This will also help reverse this concerning trend of increasing cases since June 15."
Out of an abundance of caution, people are strongly recommended to wear masks indoors in settings like grocery or retail stores, theaters, and family entertainment centers, even if they are fully vaccinated as an added layer of protection for both themselves and unvaccinated residents. Businesses are asked to expect universal masking for customers entering indoor areas of their businesses to provide better protection to their employees and customers. Workplaces must comply with Cal/OSHA requirements and fully vaccinated employees are encouraged to wear masks indoors if their employer has not confirmed the vaccination status of those around them. For masks to work properly, they need to completely cover your nose and mouth and fit snugly against the sides of your face and around your nose.
Public Health will continue to monitor transmission rates, hospitalizations, deaths and increasing vaccination rates throughout the County and will reevaluate the recommendation in the coming weeks. COVID-19 information can be monitored at www.vcrecovers.org.
People are considered fully vaccinated 2 weeks after their second dose in a 2-dose series, such as the Pfizer or Moderna vaccines, or 2 weeks after a single-dose vaccine, such as the Johnson & Johnson vaccine. People with only one vaccine dose of Pfizer or Moderna are not fully protected. Completion of the vaccine series is necessary to provide full protection.
COVID-19 vaccines are available at multiple locations throughout the County of Ventura for all community members 12 or older. Information about locations can be found at www.myturn.ca.gov or by calling 833-422-4255.
By Anonymous — Wednesday, July 21st, 2021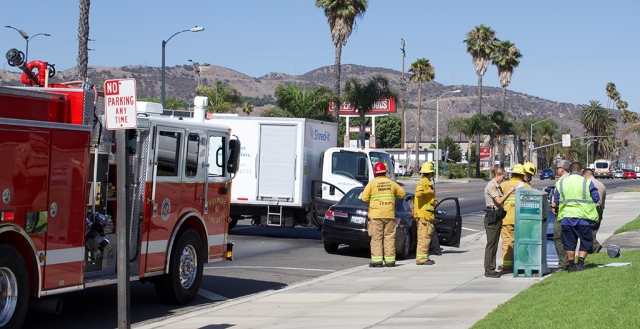 On July 19, 2021, at 3:59pm, the Ventura County Sheriff 's Department, Fillmore City Fire and AMR paramedics were dispatched to a reported traffic collision in the 700 block of Ventura Street in front of Carl's Jr. A black Honda Accord and a box truck were involved. No ambulance transported was made. Sheriff's units closed both eastbound lanes and the center divider was used for eastbound traffic. Cause of the crash is under investigation. Photo courtesy Angel Esquivel-AE News.
Enlarge Photo
By Anonymous — Wednesday, July 21st, 2021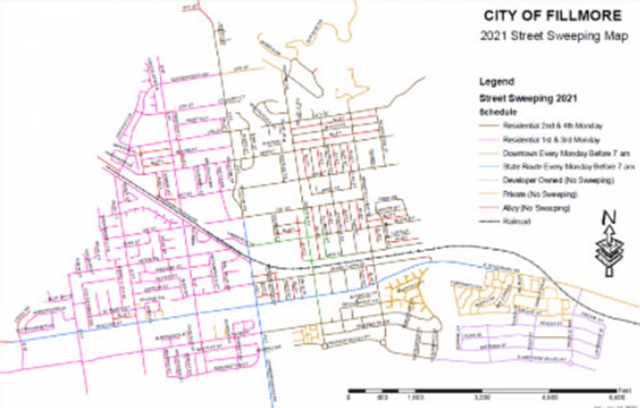 Want to know when your street is being cleaned? Check out the map above! If you have further questions contact the City at 805-524-1500, ext. 234.
Enlarge Photo