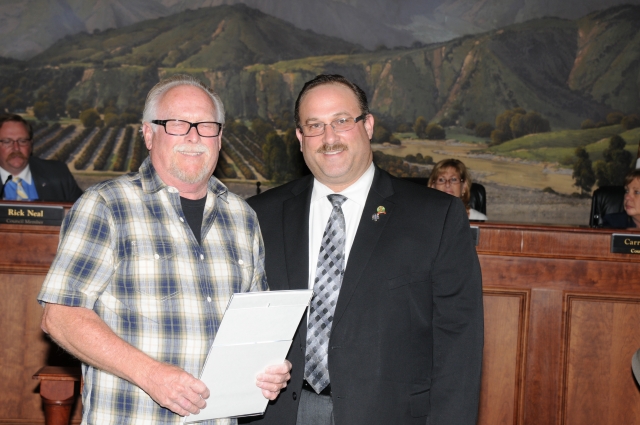 Rusty Cochran, owner of Grimes Rock Inc., who donated $9,832 worth of soil for the Pump Track Park, receives a Proclamation from Mayor Douglas Tucker.
Enlarge Photo
By Jean McLeod — Wednesday, March 25th, 2015
The March 24, 2015 Fillmore City Council began with two Proclamations and three presentations. The majority of those in attendance came to comment on the first agenda item regarding the renewal contract with EJ Harrison for trash removal. Two other agenda items were a request to name a future park and a service contract to investigate the City's Fee Schedule.
The first Proclamation went to the many volunteers who donated their time and effort to build the Bike Pump Track. Present to receive their plaque was Greg and Grant Taylor, owners of MG Taylor Equipment, who donate approximately $25,000 of heavy equipment including backhoes, forklifts, bulldozers, loaders and also provided the volunteers to operate the equipment. During Public Comments it was mentioned that MG Taylor Equipment Company also volunteered in the building of Shields Park.
Also in attendance to receive a plaque was Rusty Cochran, owner of Grimes Rock Inc., who donated $9,832 worth of soil. Trucks worked daily nonstop for a week delivering the 99 loads and placing the 1,500 tons of sand and clay, which was over 2,000 yards of export soil.
Mayor Douglas Tucker commented, "It means a lot to have good neighbors like Grimes." Cochran replied, "Anything I can give back, I will."
Others receiving CONTINUED »
By Ventura County Sheriff Department — Wednesday, March 25th, 2015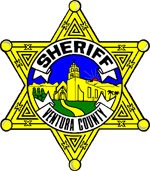 Ventura County Sheriff's Department
Detectives from the Ventura County Narcotic Task Force concluded an investigation which began in September 2014 into the sales of "Spice" in Ventura County. Spice is a mix of herbs (shredded plant material) with manmade chemicals applied to it which is mind-altering. It is often called "synthetic marijuana" because some of the chemicals in it are similar to ones in marijuana; but its effects are sometimes very different from marijuana, and frequently much stronger. It is most often labeled "Not for Human Consumption" and disguised as incense and potpourri. However, the sellers of Spice know it is being consumed and package labeling to attract young consumers. Some of the packaging labels include, "Diablo, Scooby Snax, Atomic Bomb, Mr. Nice Guy, Dead Man, Frankin Stoned, Bob Marley, Mr. Happy, Mind Trip, and iBlown."
Because the chemicals used in Spice have a high potential for abuse and no medical benefit, the Drug Enforcement Administration has made many of the active chemicals most frequently found in Spice illegal. However, the people making these products continuously try to avoid these laws by altering the chemicals in their mixtures to circumvent emergency legislation. Sellers of Spice products try to lead people to believe the ingredients are "natural" and therefore harmless, but they are neither. Spice is the second-most popular illegal drug used by high school seniors (marijuana is the first). Easy access and the misperception that Spice is "natural" and safe have likely contributed to these higher rates of use. Its side effects, like the ingredients, often vary, but emergency rooms report seeing people with rapid heart rates, vomiting, agitation, and hallucinations. Using Spice can lead to abuse and even addiction as the body builds up tolerance to the drug's effects over time and craves a higher dose to achieve the same effect. (Data from National Institute on Drug Usage NIDA)
Detectives began receiving complaints from patrol officers and officers assigned to local schools of incidents where Spice was involved. They found several incidents where students had become violent and aggressive while at school and the officers had to request medical aid for the students that were under the influence of Spice. The detectives found several other incidents where patrol officers had physical altercations with subjects throughout Ventura County under the influence of Spice and they described the individuals as having super human strength.
Detectives conducted undercover operations at over 32 smoke shops throughout Ventura County and were able to purchase Spice at 9 locations. Warrants were authored for the above locations. During the search warrants, the detectives located over 43 pounds of "Spice," a stolen handgun, evidence of sales of prescription drugs and 10 gambling style slot machines. Arrests for the sales of "Spice" are still pending since the substances that were seized are still being analyzed to determine if they contain one of the illegal chemicals per the Drug Enforcement Administration. Four additional arrests were made during the service of the search warrants for the stolen gun, sales of prescription drugs and the slot machines.
If you're a parent, talk to your teens about Spice. It's not safe. It's not natural. In fact, no one really knows what's in a package of Spice. Manufacturers are using a variety of unknown chemical combinations to evade D.E.A. regulations. If you have information about Spice and locations where these products are being sold, call your local law enforcement agency. The Ventura County Narcotics Task Force will continue to investigate the sellers and manufacturers of Spice products.
The Ventura County Narcotics Task Force is made up of narcotics detectives from the Sheriff's Office, California Highway Patrol, California Franchise Tax Board, Oxnard Police Department, Santa Paula Police Department, Simi Valley Police Department and the District Attorney's Office working cooperatively in the investigation of narcotics offenses occurring in Ventura County.
Nature of Incident: Narcotics Search Warrants / Arrests
Report Number: 15-30659 – 15-30365 (Oxnard Police Department) 14-21514 (Ventura County Sheriff's Office)
Location(s):
1. Sam's Smoke Shop 2820 E. Vineyard Avenue, Oxnard
2. Center Smoke Shop 801 E. Main Street, Santa Paula
3. 99 Cents & More 3133 Saviers Road, Oxnard
4. Station 1 Tobacco 616 E. Main Street, Ventura
5. Santa Paula Smoke Shop 319 E. Harvard Blvd, Santa Paula
6. Wild Zone Smoke Shop 2700 S. Ventura Road, Oxnard
7. Royal Spades 1037 S. Ventura Road, Oxnard
8. Central Smoke Shop 341 Central Avenue #105, Fillmore
9. Smoke for Less 616 Ventura Street, Fillmore
Date & Time: October 15, 2014
March 24, 2015
Unit(s) Responsible: Ventura County Narcotics Task Force, Ventura County Sheriff's Office, Ventura County District Attorney's Office, California Highway Patrol, California Franchise Tax Board, Oxnard Police Department, Simi Valley Police Department and the Santa Paula Police Department
(S)uspects, (V)ictims, (P)arty, (D)ecedent City of Residence Age
(S) Ilias Youssef Ventura 37
(S) Abdo Alhaddad Ventura 26
(S) Dominic Diaz Santa Paula 35
(S) Charlene Galvan Oxnard 30
Prepared by: Sergeant J. Hendren
Media Release Date: March 24, 2015
Follow-Up Contact: Captain John Reilly
805-947-6782
Approved by: Captain Curt Rothschiller
Ventura County Crime Stoppers will pay up to $1,000 reward for information, which leads to the arrest and criminal complaint against the person(s) responsible for this crime. The caller may remain anonymous. The call is not recorded. Call Crime Stoppers at 800-222-TIPS (8477).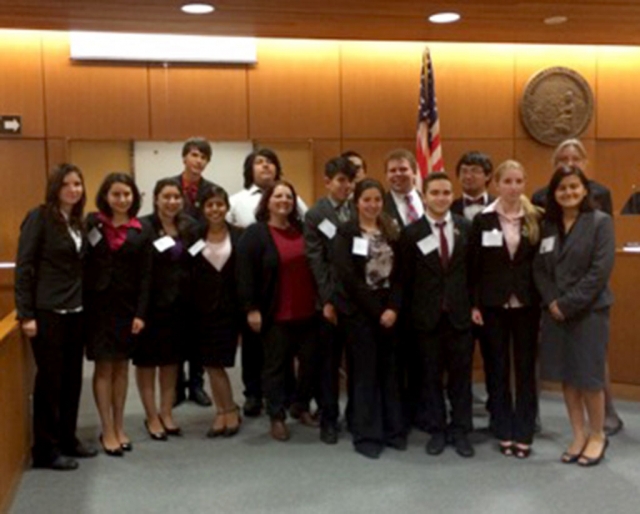 Fillmore High School's Mock Trial team, headed by Laura Bartels and Anna Morielli.
Enlarge Photo
By Gazette Staff Writer — Wednesday, March 25th, 2015
Written By Laura Bartels and Anna Morielli
Fillmore High's legal team made major strides during the Ventura County Mock Trial competition on February 23rd and 24th. In its third year, the team consisted of four seniors, six juniors, one sophomore and four freshmen. At the awards ceremony held at the Oxnard Civic Center, senior Hai Tran won Ventura County Third Place as art expert prosecution witness Bernie Worchester.
This year's case, People v. Shem, involved the felony charge of grand larceny from the alleged theft of a railroad baron's painting. The students portrayed each principal of the cast in a courtroom, including attorneys, witnesses, defendant, court clerk, and bailiff. The trial played out in real courtrooms at the Ventura Superior Court before actual judges and scored by Ventura County practicing attorneys.
The evening began with a pre-trial motion designed to exclude evidence gained by an illegal search. This year's pre-trial motion focused on the Fourth Amendment protection against warrantless search and seizure -- "the right of the people to be secure in their persons, houses, papers and effects."
The prosecution team, --Catherine Alonso, Paulina Guerrero, and Misael Ponce, shined in round one against Westlake High School and again in round four against Oxnard High School. Prosecution attorney for pre-trial motion, junior Tatem Forsberg, strongly presented the prosecution's argument of why the defendant had no reasonable expectation of privacy for items he had consented to be searched. Tatem argued that once the defendant told the officer to "look around the apartment" it was reasonable that the consent extended to the storage unit assigned to the apartment. The officer only needed a "reasonable" belief that consent to "the apartment" would include ancillary uses of "the apartment" and that it would be unreasonable for the officer to ask the defendant every time for every area the officer wanted to search.
In a strong opening CONTINUED »
By Gazette Staff Writer — Wednesday, March 25th, 2015
By Gazette Staff Writer — Wednesday, March 18th, 2015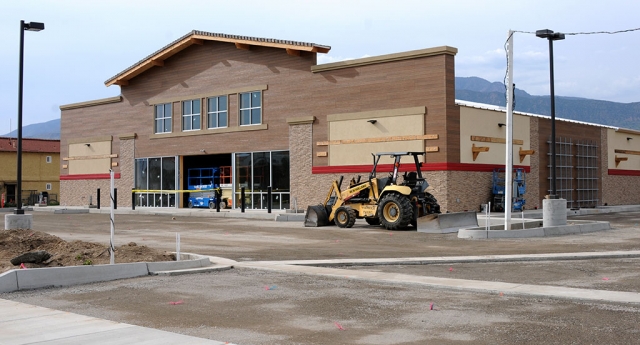 The Commercial Family Dollar is expected to open in April 2015.
Enlarge Photo
By Jean McLeod — Wednesday, March 18th, 2015
If the economy continues to rebound and recover, Fillmore can expect to see a reasonable amount of growth and development. The market dictates what comes and what goes, but today positive things are moving in Fillmore's direction.
Fillmore is seeing a real surge in building, both commercial and residential. Many of the projects have been in the works for years, while some were put on hold due to the economic problems experienced in 2008, and others changed direction due to public concern.
In 2007 Fillmore residents rallied together to change the debated high housing density originally proposed at the North Fillmore Specific Plan. This resulted in a ballot measure that allowed the people to vote on the controversial Plan. Another project that garnered a great deal of public attention was the Chevron (Fillmore Works) Specific Plan. Concerns have been addressed in some cases, while others are still ongoing.
North Fillmore
North Fillmore Specific Plan (NFSP) is a 101 acre project originally slated for 700 residential units, but such a high density neighborhood did not sit well with many of Fillmore's residents. This resulted in Measure I, which was voted and approved in 2008 ballot, which required the density be reduced by half. Part of NFSP project acreages (30 acres) belongs to Suncal, who have since changed the name to NLA Community.
NLA Community is moving forward with development and preparing to grade their 30 acres of the original 101 acreage. Those 30 acres will have all the required infrastructure to build the 146 homes including utilities. Every lot is both street and alley adjacent and vary in size from the low 3,000 sq. ft. to over 7,000 sq. ft. The developer plans to sell the improved land to someone who will then construct the actual 146 houses. It will take NLA Community one year to grade the land due to the large amounts of boulders present in the area. The area discussed is located north of 7th St., West of Goodenough Rd. southeast of Sespe Creek, with B St. running through it.
The density of the remaining NFSP's 71 acres has also been reduced, due to the passing of Measure I, to 355 homes with no multi-dwellings lots available. This averages five housing units per acre, down from about 10 units per acre. Today there are no immediate plans in the works to develop the remaining 71 acres.
Edgewood Neighborhood
Santa Clarita based CONTINUED »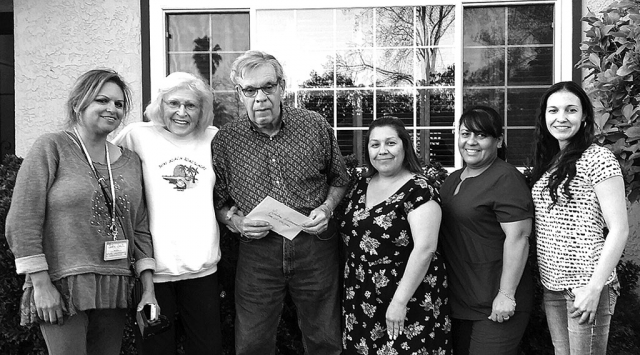 Lifetime Achievement Citizen of the Year Don Gunderson is pictured with his wife Ruthie to his right.
Enlarge Photo
By Gazette Staff Writer — Wednesday, March 18th, 2015
Don has long served his country and the community of Fillmore. This will detail just some of his contributions.
Don was born and raised in Fargo, North Dakota. After graduating from Fargo Central High School, he was awarded a Navy ROTC scholarship. He then attended the University of Wisconsin, Madison as a Midshipman, U.S. Naval Reserve. He graduated with Bachelors of Business Administration degree and was commissioned an Ensign in the U.S. Navy in June 1957.
His service in the Navy and to the USA took him to many places around the country and world including Norfork, Virginia; Panama City, Florida; Hawaii; three deployments in Viet Nam; Washington DC; Norfork again; Mediterranean; Command at Sea – based in Charleston, SC; trip around South America; Port Hueneme; and the Pentagon.
In 1972, Don was awarded the Air Medal and Bronze Star Medal with combat "V". He retired as a Navy Commander on February 1st, 1985 after his first wife was diagnosed with breast cancer. They moved to Fillmore in March 1985. Sadly, Don's first wife passed away in February 1986.
This lady from Fillmore, "Ruthie" came into Don's life and they married in 1987. In 1990 when two members of the City Council announced they would not run for reelection, Don took this opportunity to give something back to the community where he lived. This was not something he could easily do during his Navy career. Ruth agreed to help with the campaign and Don soon learned how deep Ruthie's roots were in the City. The guy who "married Ruthie" rustled up enough votes to win a seat on the City Council. Don served on the Council for 12 years including a stint as mayor. The 1994 earthquake was probably one of the most challenging times for the City but Fillmore came out strong with hard work by Don, the other Council members, City staff, and City residents.
In April 1993, Don joined the Rotary Club of Fillmore Sunrisers and remains an active member of the merged Rotary Club of Fillmore. Don served the club as President (1997-98), secretary/treasurer & Foundation Chair to name a few. Being a Rotarian has provided Don with opportunities to do many projects both in Fillmore an even in international projects. Among Don's favorite projects has been the provision of Student dictionaries to all third grade students in the Fillmore and Piru schools. Through the years Rotary has given out more than 4,000 dictionaries.
After leaving the City Council in 2002, Don became a member of the Board of Directors of the Fillmore Piru Veterans Memorial District in 2003. He served many years and helped the District obtain several grants enabling the District to pay for a number of repairs and improvements.
Don and Ruth continue to service the community through Rotary and Faith Community Church of which they were part of the funding group.
Don Gunderson is well deserving of Lifetime Achievement Citizen for his many, many, years of service to Fillmore and our country.
By Gazette Staff Writer — Wednesday, March 18th, 2015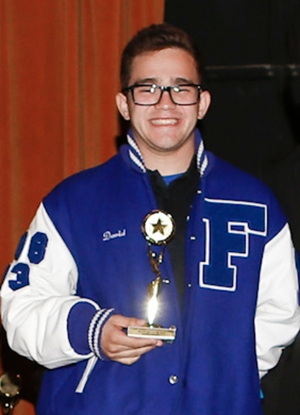 David Cadena
David Cadena is a senior at Fillmore High School. He is a student of excellent academic standing, the recipient of the Renaissance Award of achieving a 4.0 GPA or higher in two consecutive semesters. Enrolled in every AP class starting at Fillmore as a freshman, David is a student who seeks challenge.
David is an extraordinary student who possesses strong qualities to fulfill any leadership role. As an elected member of the Student Council, David demonstrates leadership on campus by developing and participating in school sponsored events that enhance the school climate and student body of Fillmore High School. He is reliable, honest, dedicated in his undertakings, well-spoken, generous with his time in helping others, competent in setting examples and a positive role model for others. Indeed, David is the vice-chairperson of the School Site Council; President and founding member of the Leo's Club. In 2013-14, David received the Leo of the Year award. David is also a member of the Hall of Fame club.
In this capacity he reflects a positive image of the school as evidenced by what the students say and do, and by what people read and hear about FHS. His communication skills create goodwill among and throughout the school and community.
David has a natural talent in developing and building friendly relations with students, faculty, administration, and the community. He is a member of FLASHES.
Excellence in academics, community service and public relations, David also demonstrates effort and commitment to his sports (golf for four years, football for one year), earning recognition and standing including but not limited to: Captain of the Wrestling team for 3 years; on the varsity team for four years. His awards include: TRI-VALLEY LEAGUE CHAMPION, 106 lbs., Varsity Wrestling 2013-14, MVP – LOWER WEIGHT DIVISION Varsity Wrestling 2012-13, MOST IMPROVED JV Wrestling 201-12.
David sets high standards for himself, fosters conflict resolution when the need arises, handles difficult situations with confidence and ease. He is not afraid to ask for help when pressing for results. He is a team player, always willing to learn.
David Cadena is a superstar!
By Gazette Staff Writer — Wednesday, March 18th, 2015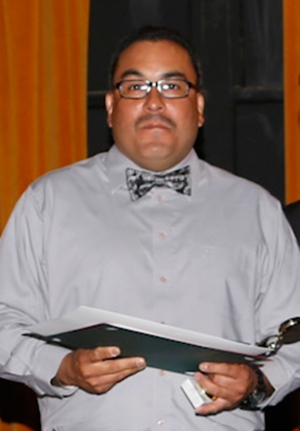 Alfonso Martinez
Mr. Martinez has been employed by FUSD for nine years. He has worked at San Cayetano and currently works at Fillmore Middle School. He is a Fillmore High School gaduate, coaches soccer at and has been involved in AYSO for many years. He is married with two children and his wife works at Sierra High School.
Affonso has provided inspired service as a custodian and works daily to create a positive environment for students and staff. He is respected by his peers and has excellent repport with students. Alfonso makes a positive impact on his school community and is an asset to our district.
Congratulations Alfonso.
 
By Gazette Staff Writer — Wednesday, March 18th, 2015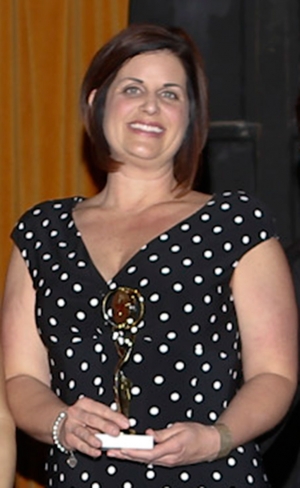 Mary-Allyn Garcia
Mary Allyn Garcia has been a teacher for ten years in the Fillmore Unified School District and is currently a fifth grade teacher at Rio Vista Elementary School. Mrs. Garcia has previously taught at Sespe, Mountain Vista, and San Cayetano Elementary schools.
From an early age, Mary.Allyn had a calling toward teaching and service. She grew up in a military family and moved frequently as a child. Fillmore was a quaint town and community and Mary-Allyn loved the idea of living and raising her family in a small, close-knit town. Mrs. Garcia is married to Randy, who is also a teacher, and they have four children who all have attended Fillmore schools, two of which graduated form Fillmore High School and have attended California State Universities. She prides herself in representing Fillmore where she has the pleasure to live and educate her neighbors.
Mrs. Garcia has a Masters Degree and Preliminary Administrative Credential in Educational Leadership from Azusa Pacific University and services as an administrative designee, grade level lead, and ASB advisor at Rio Vista Elementary. Furthermore, she is a part of the district curriculum committee where she has been actively involved with the creation of the units for the district. In addition, Mrs. Garcia currently participates in an Educational Leadership Cohort through the Ventura County Officer of Education to help enhance her leadership skills.