By Bob Crum — Friday, July 13th, 2018
By Bob Crum — Wednesday, July 11th, 2018
Part 1 of 4
By Bob Crum — Wednesday, July 11th, 2018
Part 2 of 4
By Bob Crum — Wednesday, July 11th, 2018
Part 3 of 4
By Bob Crum — Wednesday, July 11th, 2018
part 4 of 4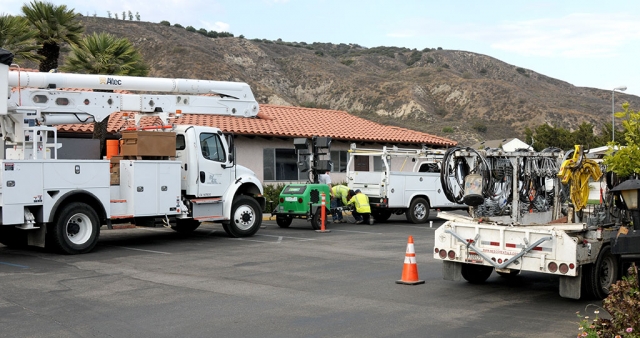 On Friday, July 6th at 6:45pm the power went out at El Dorado Mobile Home Park. Edison crews responded on Saturday at around 4pm but residents were without power until 7:40pm Saturday, July 7th.
Enlarge Photo
By Gazette Staff Writer — Wednesday, July 11th, 2018
The community of Fillmore was as ready as it could be for last week's record-breaking heat wave. Water? Check. Shade for Fido? Check. Air conditioning? Check… except for 300+ homes at the El Dorado Mobile Home Park. Edison power went out at 6:45pm Friday and wasn't restored until 7:40pm Saturday—25 long, hot hours at temperatures reaching 114-degrees in some areas of the city.
Three hundred homes without air conditioning in such high, humid temperatures is bad enough, but considering the park is still mostly senior citizens, the urgency to restore power was vital.
Edison's online power outage reports at 12:11am Saturday morning read "Equipment Problems" as the cause of the blackout. The message changed several times: 9:58am and 2:36pm Saturday it read "Storm Conditions". And at 6:34pm Saturday it read "Extreme Heat".
Many residents lost all refrigerated and frozen food during the outage.
Fillmore Fire Department sprang into action on Saturday morning, coordinating with the City of Fillmore, Fillmore Unified School District, Fillmore Police Department, the Red Cross, Ventura County Health Care Agency and FATCO. A cooling center was opened at Rio Vista Elementary and FATCO bussed El Dorado residents to the location free of charge. Fillmore PD went door-to-door to check on the park's residents, and EMTs also transported some residents to the cooling center. The Red Cross manned the center, offering water, cots and wheelchairs. And Fillmore Fire stationed rescue equipment in the park as a precaution.
Cooling centers for the general community were available at the Active Adult Center on Santa Clara, Fillmore Library on Second Street, and the Boys & Girls Club on First Street.
Temperatures remained high Friday and Saturday, with Sunday cooling slightly to the low one-hundreds.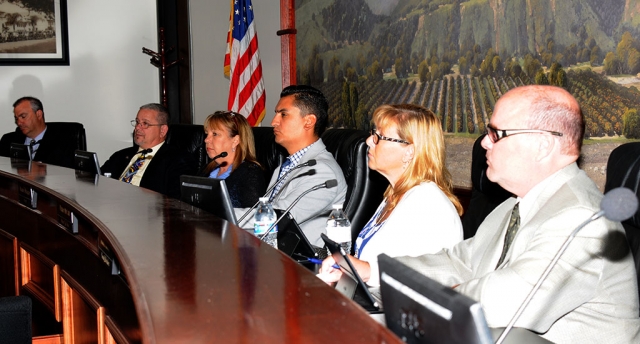 Fillmore City Council
Enlarge Photo
By Gazette Staff Writer — Wednesday, July 11th, 2018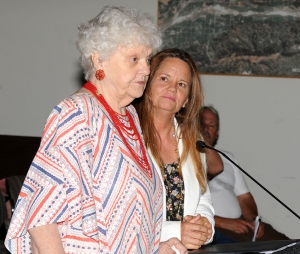 Cindy Jackson, right, owner of Ocean Gold, listens to Raelene Chaney extoll the product's benefits for arthritis and joint pain. Chaney uses the CBD for relief.
Dr. Greg Gillesie, Chancellor, Ventura County Community College District, addressed the council in a lengthy discussion concerning the District's history of expansion into the Fillmore area and future goals.
Fire Chief Keith Gurrola presented an up-date on fireworks booths and Fourth of July services. He reported that problems with the fireworks booths application system required some correction. Two booth applicants were found to be out of compliance within their filings and their permits were pulled. All non-profit applicants must show money received on sales stays in the City of Fillmore. One applicant was from Santa Paula, the other disqualified applicant was 3 months short of minimum time for activity in the city. One of the 3 applicants qualified and received its permit, which was Fillmore Christian Academy.
Chief Gurrola said the 4th was a busy night, which included two small fires. Sixteen citations were issued for illegal fireworks. The Chief recommended changes in the fireworks booth ordinance for next year.
The first amendment to the Franchise Agreement for Solid Waste Handling Services between the City of Fillmore and Santa Clara Valley Disposal was unanimously agreed to.
The recommendation to have Council adopt Resolution 18-3662 revising Section 6 of Resolution 18-3655 regarding deadline for filing arguments for and against a City Ballot Measure was passed 4-1.
Planning Commission's recommendation to adopt a Zoning Ordinance Amendment updating regulations for Commercial Highway (CH) Zone and finding an exemption from CEQA was approved.
New projects at Two Rivers Park were discussed.
Resident businesswoman Cindy Jackson promoted a medical marijuana product to be sold in the City. The product's beneficial effects were attested to by resident Raelene Chaney.
Resident Steve McKinnon addressed some long standing problems at the Fillmore Equestrian Center. In general, McKinnon stated that things at the Center were "going downhill" due to management deficiencies, also referring to unspecified "bullying". He asked the Council to investigate the problems.
An unusually lengthy presentation on the California Choice Energy Authority-Lancaster CCE-Program was provided, with question about whether to join. The decision was deferred for further study.
By Gazette Staff Writer — Wednesday, July 11th, 2018
The California Department of Transportation (Caltrans) announces scheduled overnight lane closures on SR-126 between the Ventura Co. / Los Angeles Co. line and the city of Santa Paula for a long-term pavement rehabilitation project. These closures are subject to change and are scheduled as follows:
Starting the night of Monday July 9, 2018:
• Westbound SR-126 from the Ventura Co. / Los Angeles Co. line to the city of Santa Paula the right lane of two will be closed each night from 7 p.m. to 6 a.m. Monday through Friday, re-opening each morning.
• Once the westbound lanes have been re-paved, crews will move to the eastbound lanes of SR-126. The project is expected to be complete by the summer of 2021.
Additionally, ramps will be constructed at the location of at least 19 intersections within the city of Fillmore to make them ADA (Americans with Disabilities Act) compliant and accessible for persons with disabilities. The right shoulder / parking lane at these intersections will be blocked for construction from 7 a.m. to 3 p.m. Monday through Friday until the ramps are complete. Travel lanes will remain open.
The total cost of this Caltrans pavement rehabilitation project is 25.01 million dollars.
Please go to our Planned Lane Closure web page for confirmation of each night's closures at https://lcswebreports-new.dot.ca.gov/SearchPreAction.do?district=7. And also to: twitter.com/CaltransDist7.
By Gazette Staff Writer — Wednesday, July 11th, 2018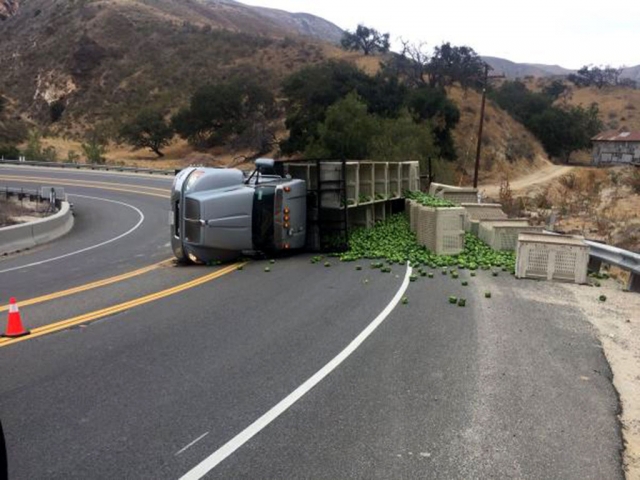 On Tuesday, July 3rd around 7am on Highway 23 between Fillmore and Moorpark the road was closed for several hours due to an overturned truck filled with bell peppers. There were no injuries reported and CHP was able to open the roads after 11am later that day. Photos courtesy CHP.
Enlarge Photo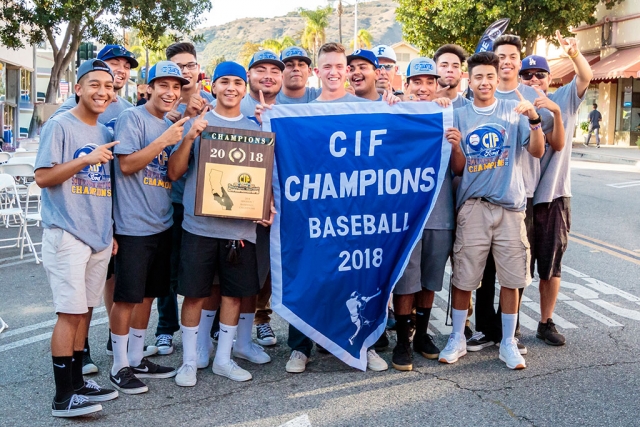 (above) The 2018 CIF Baseball Champions smile for a photo holding their banner and plaque. Fillmore High School held their Parade of Champions on Friday, July 6th at 6pm in downtown Fillmore to celebrate the CIF championships won by the baseball team and swimmer Katrionna Furness. People were able to hear the players and coaches speak, meet the team, and celebrate our champions. The players autographed complimentary 8x10 photos for the children. They had food trucks, vendors and entertainment for everyone to enjoy. Food Vendors: Fernandos Churros, Amecis Pizza, Central Station Street Tacos, Raspado House, Nothing Bundt Cakes, Oh my gosh hot dogs. Parade line up: Police Chief Eric Tennessen, Cross Country, Heritage Valley Blazers, Fillmore Raiders, Girls Softball, Little League, Voltage Cheer, AYSO, Fillmore Bears, Girls Soccer CIF Champions, Kat Furness Swim CIF Champion, 1988 Baseball CIF Champions, and the 2018 Boys Baseball CIF Champions.Entertainment: Fillmore High School Ballet Folklorico, DJ Danny Ibarra. Photos courtesy Bob Crum.
Enlarge Photo
By Gazette Staff Writer — Wednesday, July 11th, 2018