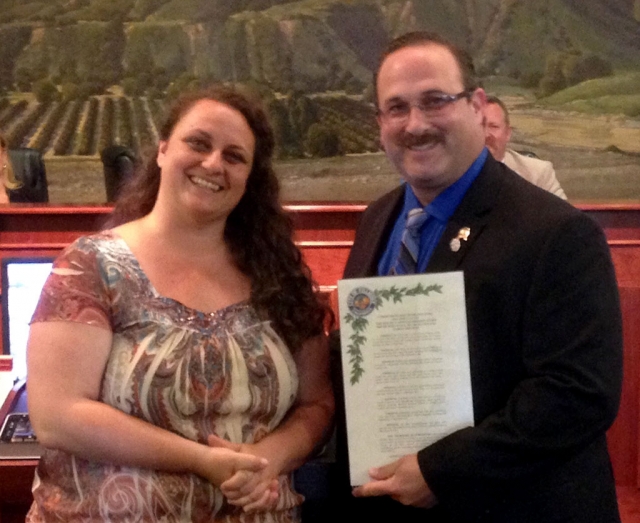 Kate English, newly appointed Executive Director of One Step a la Vez, receives a Proclamation from Mayor Douglas Tucker and the City of Fillmore for the Ventura County El Concilio Latino Leadership Award for outstanding service to youth granted to the One Step a la Vez Program.
Enlarge Photo
By Gazette Staff Writer — Wednesday, August 26th, 2015
COMMENDING AND CONGRADULATING
ONE STEP A LA VEZ
FOR THE 2015 LATINO LEADERSHIP AWARD PRENSENTED JUNE 6, 2015 BY ELCONCILIO FAMILY SERVICES
WHEREAS, the City Council of the City of Fillmore wishes to recognize One Step a la Vez who was presented the 2015 Latino Leadership Award at the 26th Annual Latino Leadership Awards Banquet on June 6, 2015; and
WHEREAS, One Step a la Vez was formed in 2004 by 12 Latino youths who also chose the name, blending both languages to respect the dual heritage of the community; and
WHEREAS, initially they provided after school mentorship through its relationship with Big Brothers Big Sisters of Ventura County; and
WHEREAS, the center is a welcoming environment where youth can come after school and meet with friends, play video games, read, complete homework, use the computer lab, make a snack, or just chat; and
WHEREAS, participants have the opportunity to participate in educational excursions such as college tours, visit museums and stay busy with the different activities; and
WHEREAS, One Step a la Vez also provides activities to youths in juvenile hall and offering classes and support groups for parents, including domestic violence, parenting, mental health, college and career counseling; and
WHEREAS, individuals can get help with drug counseling, work experience and training in English-language, cooking and independent living skills; and
WHEREAS, for their accomplishment and many other reasons, the City Council of the City of Fillmore, proudly recognizes One Step a la Vez.
NOW, THEREFORE, BE IT RESOLVED, that I, Douglas Tucker, Mayor of the City of Fillmore, and on behalf of the Fillmore City Council, do hereby commend ONE STEP A LA VEZ and do hereby ask all those present to recognize their continued contributions to the community, and wish them continued success in future efforts.
AUGUST 11, 2015.
DOUGLAS TUCKER, Mayor
By Jean McLeod — Wednesday, August 26th, 2015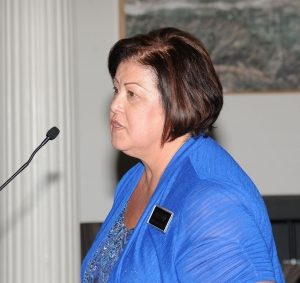 The proposed establishment of a Residential Property Presale Inspection Program brought a number of real estate agents including, Cindy Diaz-Telly with Troop Realty, to the Fillmore Council Chamber. The general concern expressed by several in attendance was that point-of-sale regulations would adversely affect the real estate market.
The proposed Establishment of a Residential Property Pre-sale Inspection Program (RPPIP) brought a number of real estate agents and loan official to the Fillmore Council Chamber on August 25, 2015. The Council Meeting began with a presentation by Fillmore Police Chief Dave Wareham on crime data for first six months of this year, but it was the Inspection Program that created the greatest discussion.
The goal of the RPPIP is to insure that houses, duplexes, apartments or condominiums sold in Fillmore meet building codes and are properly permitted. The Inspection would require the property owner or an authorized representative to obtain a residential building report from the City to identify observable items that fail to comply with the City's codes, rules and ordinances. This would be done prior to the sale of any residential real estate within the City. To sell the property the owner or their agent would be required to submit an application for the pre-sale inspection, pay a fee and then schedule an inspection to obtain a pre-sale occupancy inspection. No one would be allowed to sell or transfer any residential real property in the City without a valid Residential Property Report Certificate of Occupancy.
The 31 items on the inspection list included legible address numbers, peeling paint, missing shingles, masonry free of cracks, weeds, lawn not to exceed 8", antenna/Dish/TV Tower, broken windows and a number of other items.
About 15-20 real estate agents and brokers with the Ventura County Coastal Association of Realtors (VCCAR) along with lenders, came to the meeting to express their concerns with the proposal. Loan Broker Trinka Reynolds was first to address the Council. She informed them that 15-18 years ago the same item had been brought to the Council and was voted down. Reynolds continued by saying Fillmore already has laws on the books to protect the buyers and she did not agree with having greater oversight.
Dennis Goldstein, 2014 VCCAR President spoke of the good practices and ethics within the real estate business adding, "Our goal is to have good quality housing" and informed the Council that a similar program had been tried in Thousand Oaks for a few years, but was abandoned because of problems it created.
The present VCCAR CONTINUED »
By Bob Crum — Wednesday, August 26th, 2015
Part 1 of 3
By Bob Crum — Wednesday, August 26th, 2015
Part 2 of 3
By Bob Crum — Wednesday, August 26th, 2015
Part 3 of 3
By Gazette Staff Writer — Wednesday, August 26th, 2015
A new state fish advisory issued today for Ventura County's Lake Piru, in Los Padres National Forest, offers safe eating advice for three species of fish.
"Fish provide important health benefits and can help reduce the risk of heart disease," said Dr. Lauren Zeise, acting director of the California Environmental Protection Agency's Office of Environmental Health Hazard Assessment (OEHHA). "They are also an excellent source of protein. These guidelines balance these health benefits against the risks from exposure to mercury in fish."
The recommendations developed by OEHHA for each fish species are based on levels of mercury measured in fish from Lake Piru. Mercury gets into fish through the food they eat. Depending on the exposure level, methylmercury can harm the brain and nervous system of people, especially in fetuses and children as they grow. Mercury is a natural element found in rocks, coal, and soil. Mercury can be released into the environment by mining, volcanic eruptions, and coal-burning activities.
Women aged 18 to 45 and children ages 1 to 17 can safely eat up to two servings per week of sunfish or brown bullhead. They should avoid eating black bass. Women age 46 and older and men age 18 and older can safely eat up to seven servings per week of sunfish or brown bullhead, or one serving per week of black bass.
Eating fish in amounts slightly greater than the advisory's recommendations is not likely to cause a health problem if it is done only occasionally, such as eating fish caught during an annual vacation.
The health advisory and eating advice for Lake Piru – as well as eating guidelines for other fish species and California bodies of water – is available at http://www.oehha.ca.gov/fish/so_cal/index.html. Pictorial fish consumption advice is also available on that page in both English and Spanish.
By Gazette Staff Writer — Wednesday, August 26th, 2015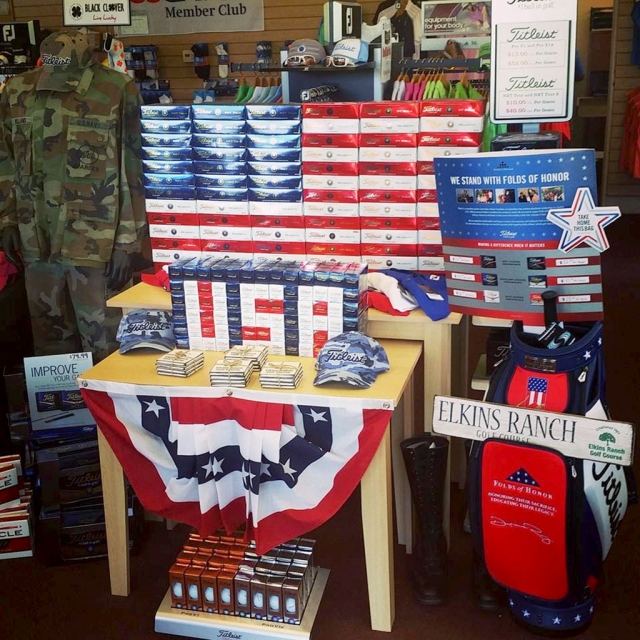 Elkins Ranch had the chance to participate in a program from Titleist to support the Folds of Honor foundation, with a display in their proshop. Elkins Ranch has always been proud to support any charity they can whether it be a fundraising tournament at the course, a donation of golf for a charity, even advertising a tournament at another golf course for a charitable cause. A custom Titleist staff bag is up for silent auction, and 100% of the proceeds go directly to the foundation. The deadline to enter a bid is September 3rd. The Folds of Honor foundation provides annual educational scholarships to military families of those who have been killed or disabled while on active duty in the service of their country.
Enlarge Photo
By Ventura County District Attorneys Office — Wednesday, August 26th, 2015
District Attorney Gregory D. Totten announced today the indictment of Santa Clara Waste Water Company, Green Compass Environmental Solutions LLC, Douglas Brian Edwards of Oxnard (DOB 09/10/1956), William James Mitzel of La Verne (DOB 03/15/1957), Charles Ray Mundy of Ventura (DOB 12/27/1963), Dean Michael Poe of Ventura (DOB 04/28/1965), Brock Gustin William Baker of Carpinteria (DOB 02/08/1974), Mark Stephen Avila of Fillmore (DOB 02/19/1966), Marlene Joan Faltemier of Ventura (DOB 01/13/1965), David Joseph Wirsing of (DOB 10/15/1971), and Kenneth Douglas Griffin Jr. of Ventura (DOB 07/04/1995) for crimes related to the operations of Santa Clara Waste Water Company's Santa Paula facility. This case was investigated by the Ventura County District Attorney's Office, the United States Environmental Protection Agency, the United States Department of Transportation, the Ventura County Environmental Health Department, and the Ventura County Fire Department.
This case arises from a nine-month investigation into the November 18, 2014, explosion which occurred at the Santa Clara Waste Water Company facility located at 815 Mission Rock Road in Santa Paula. The explosion and its chemical residue caused injury to numerous individuals, including employees of the company and first responders. Sixty-seven individual witnesses testified before the Grand Jury during the eleven days of proceedings leading to the indictment of nine individuals and two corporate entities. The charges include conspiracy to dispose of hazardous waste, failure to warn of a serious concealed danger, handling a hazardous waste with a reckless disregard for human life, withholding information regarding a substantial danger to public safety, filing a false or forged instrument, and dissuading a witness. For information on the specific charges alleged against each defendant, see the attached Indictment and Summary of Charges.
Santa Clara Waste Water Company and Green Compass Environmental Solutions LLC were arraigned today. The remaining nine defendants are expected to be arraigned within the next week.
By Gazette Staff Writer — Wednesday, August 26th, 2015
California Department of Public Health (CDPH) Director and State Health Officer Dr. Karen Smith today warned parents about the continued dangers of pertussis (whooping cough). The disease has already caused one infant death and at least 126 infant hospitalizations in California this year.
"Vaccinated mothers pass protective antibodies to their infants during pregnancy," said Dr. Smith. "Right now, it's estimated that fewer than half of all pregnant women in California are vaccinated against whooping cough. We need to increase that number to help improve the health of our children and of our communities."
CDPH urges expecting mothers to receive a pertussis vaccine (called Tdap because it covers tetanus, diphtheria, and pertussis). Prenatal vaccination will help protect newborn children until they are old enough to receive their own vaccination against pertussis. Because immunity decreases over time, women should receive the pertussis vaccine in the last trimester of each pregnancy.
Pertussis continues to spread at above-normal levels in California following a major epidemic in 2014, when reported disease rates were the highest seen since the 1950's. Disease rates and risks of hospitalization and death are highest for infants under the age of one.
Pertussis can cause a severe, persistent cough. Historically, unvaccinated children with pertussis would cough hard enough to cause vomiting or a "whooping" breath after a coughing spell.
Symptoms of pertussis vary widely by age and vaccination history. Young infants may not have typical pertussis symptoms and may not appear to cough. Instead, they may have difficulty breathing, episodes in which they stop breathing, or their faces turn purple.
CDPH is working closely with local health departments, schools, media outlets and other partners to inform providers and the public about the importance of vaccination against pertussis, especially for pregnant women during the third trimester of every pregnancy. CDPH also reminds parents that Tdap vaccination is a requirement for advancement into the 7th grade.
Pertussis data, including the number of cases in each county, can be found on the CDPH website. www.cdph.ca.gov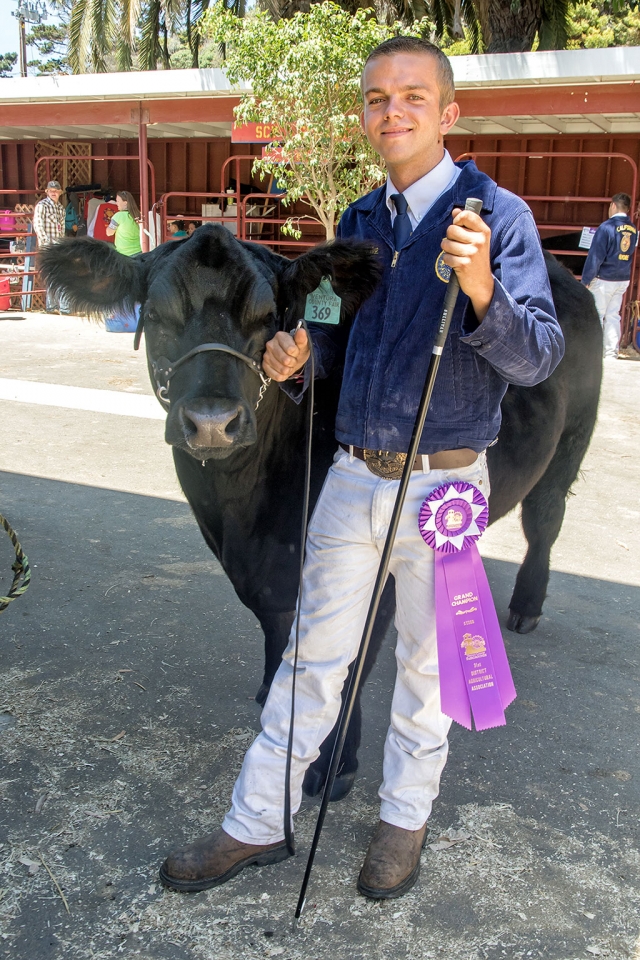 Jeffrey McGuire's steer top bid was an auction record: $40 per pound. Moonshie should be proud. Jeffrey's 1,398 pound steer garnered $55,920! Jeffrey, 18, is with the Fillmore FFA program. Last year his steer won FFA Reserve Grand Champion.
Enlarge Photo
By Bob Crum — Wednesday, August 19th, 2015
Story and photos by Bob Crum, Part 1 of 2
As usual, an excited crowd showed up for the Junior Livestock auction at the Ventura County Fair. It soon became obvious they showed with up with plenty of money in hand with which to buy the animals the Future Farmers of America (FFA) and 4-H kids raised for just the occasion.
First up were the market swine. A herd of 281 pigs! From all those pigs, two - raised by Fillmore kids - won titles.
Jazmine Zavala, 13, attends Fillmore Middle School. Zavala's pig was awarded 4-H Grand Champion market swine. As a Sespe 4-H member, the pig she raised weighed in at a robust 266 pounds. That's a lot of lovely pork named Levina. Levina? "Because in another language it means 'happy' or 'brave' or something", Zavala said.
Being her fourth year raising pigs, Zavala is becoming an expert pig farmer. Are you going to continue to raise pigs, I asked? "Yes, because they're really unique", explained Zavala, adding, I like do it, it's really fun." Levina fetched $12.00 a pound at auction.
But what about issues raising her pig? "Some", she said, "making weight or going overweight is a big issue right now. She weighs 266 pounds and the deadline (maximum) is 270 pounds." With only four pounds to spare from being disqualified, I presumed a quick adjustment to her diet was needed. "Not quickly, had to do it slowly, but in time", said Zavala. I should have known not to presume. She kept track of Levina's weight by weighing her two days a week. Why not a Jenny Craig for pigs? Hmmm.
Zavala obtained her pig from a Bakersfield breeder. Do you get you pigs every year from the same breeder? "Yes, all the time", she said. Why? Says Zavala: "He has great breeding stock. Ah, so that's the secret? "Yes", she said, with a chuckle. I offered to keep her secret but she told me I could tell anybody if I want to. But I won't.
Young Zavala's ways of raising a pig may not be universal. Being an experienced pig raiser, what's involved. For one, she explained, "I sometimes stayed in the pen with her all night." Why? "Because, I don't know, it was cool, I guess", Zavala explained. Whatever works!
From past experiences, what was different about raising Levina? "For one thing", she said grinning, "she won market (4-H Grand Champion Swine) and she has a unique personality, unlike the other pigs I had," said Zevala. But raising a pig is no walk in the park. Which reminds me, any problems walking with Levina? "When she was a baby she'd run away from me but only because she was scared," said Zevala. After that, a walk in the park... so to speak.
Final words? "Raising pigs is hard work but it really pays off in the end, winning 'market' (championships) or 'showmanship'... she said with a smile.
Next year? Guess! Right... another pig!
Jared Alvary, 15, a sophomore at Fillmore High, won FFA Reserve Grand Champion, market swine. And the pigs name: America.
How come I asked. "I had a hard time thinking of a name but when I got here (the Fair) so a friend suggested America," explained Alvary. Then America it is.
Any problems or issues raising America? "No, not too many, Alvary said. Adding, "except for walking problems. No sickness or injuries."
"I would walk her but I didn't walk her as much as I should have", Alvary said. Why not I asked. "Couldn't find the time". But every Wednesday we'd have showmanship and our leaders would judge us, explain what we're doing wrong, to help us out to make us better", he explained.
Any weight issues? (which, I've learned over the years covering this event) can be problematic.) "No, she was fine with the weight the whole time," Alvary said. You got lucky, I asked? "Yes I did", he said.
What was her diet, one wonders? "Just her preferred her feed with ground up corn,", Alvary explained it. Adding, "every once in a while I gave her treats, and Gatorade? Gatorade? That's good for her? "Yes", Alvary said casually, "it gives her more energy." Who knew?
Last year Alvary won second in the class (swine) for which he got $12.00/pound at auction. And this year? "I got $8.00/pound for America." Indeed, the Junior Livestock Auction is without rhyme or reason. In a word: Fickle.
And the money? "It goes into my savings account," said Alvary, adding, "which I'm not allowed to touch. (A lament I hear often.) "My parents keep that so I have money for college later." Yet, Alvary explained that if there's something he really needs, his parents will consider a withdrawal.
Alvary's college plans? "I want to go to UCLA," he said. Though he's not sure exactly what to major in when asked he said: "I'd liked to do video game designing." Though he is not doing any program coding now he's intrigued and interested in learning more.
At Fillmore High, Jared plays football at the defensive tackle position. Obviously in great physical condition from working out in the gym Jared weighs in at about 240 pounds.
Next year? "I'm going to raise another pig," Jared said. No steer, or goat or whatever? "I thought about it," Alvary said, "but when it comes down to it, I think I prefer a pig." Why, I asked? "I just like the way they are, the way they handle", said Alvary. From what I gathered, it's all about animal disposition.
What about words of advice for others who might be interested in raising a pig? "Stay calm", Alvary said, adding, "if the pig starts freaking out don't freak out, be calm and let it do what it wants to do. If it's trying to fight to get out, don't fight back with it."
On to the next category: Market steer. Three Fillmore winners of championship titles.
Jeffrey McGuire, 18, with the FFA program, won the FFA Grand Championship Steer title with a hefty steer weighing in at 1,398 pounds. (Keep the steer's weight in mind.) Last year, Jeffrey's steer won FFA Reserve Grand Champion.
Jeffrey's steer's name is Moonshine. Jeffrey being deaf communicated with me through his mother Jennifer using hand signs.
Why the name Moonshine? When Jeffrey first got the steer, he was a handful. He'd take off like lightening. And so he named him White Lightening at first which is hard for Jeffrey to say. So he changed it to Moonshine.
Full moon, new moon, quarter moon, Jeffrey walked a mile with Moonshine everyday.
Raising such a large animal must be a challenge. What about Moonshine? As best as Jeffrey could explain, "Moonshine was difficult because in the beginning he want run all the time, not walk. It was difficult to halter train him. It took about a month but Jeffrey succeeded in the end.
Because Jeffrey is so quiet... and because he's so gentle... the animals readily bond with him Jennifer explained. Thus he's known as the 'steer whisperer'. To know Jeffrey is to understand that!
One wonders where such an outstanding animal comes from, so I asked. The answer: "Wilson Farms in Iowa." Obviously Wilson Farms has some outstanding breeding stock.
Besides being at the Ventura Fair, Jeffery has been busy showing throughout the state of California. At Fairs and showmanship jackpots. According to Jennifer, "Jeffrey is currently #2 in the state, probably #1 before the year is over."
As Jennifer explains, Jeffrey's future plans include attending Reedley College near Fresno, CA, this January to learn Ag mechanics and welding. So will this be his last year raising a steer? Maybe, or maybe not. Jeffrey is not sure he can raise a steer and attend college at the same time but he'd like to if it's possible. Knowing Jeffrey, anything is possible.
Now for the rest of the story. At auction, Jeffrey's steer top bid was an auction record: $40 per pound. Do the math. Jeffrey's 1,398 pound steer garnered $55,920! That's beefy!
To attain that dollar amount, a consortium of businesses including Gold Coast Toyota Dealers, Mission Avocado, T&T Trucking, Bob Jones Ranch, AAA Propane, Quality Agriculture, County Commerce Bank, William L. Morris Chevrolet, The Wharf, Oxnard Lemon Company and Community West Bank pooled financial resources for the purchase.
Ventura County's food bank, Food Share, will benefit from the donation of the steer and the consortium is paying for the processing.
To sum up Jennifer McGuire's feelings: "Overwhelmed!" And what about Jeffrey? "I don't think it's sunk in just yet," she said. Totally understandable.
Chase Bowen, 18, also with the FFA program, raised a steer of 1,267 pounds, on the hoof. Remember the old commercial: Where's the beef". Well, it was at the Fair!
Bowen attends Ventura College and has one year of eligibility for Fair entries.
This was not the first time Bowen and I chatted. He reminded me that way back in 2008 he won a championship with a pig. Why of course I remember! OK, not really.
This year he raised a steer named Bomber that won FFA Reserve Grand Champion Steer. Bomber, as Bowen explained, "is a Charolais Composite steer." I thought an explanation was in order and Bowen obliged. "The composite part means he's a Charolais bred with something else like a shorthorn or an Angus or something." Where did you get Bomber? "From Wheeler Cattle in Paso Robles, CA," said Bowen. It's no bull that Wheeler Cattle company has some of the best bulls in the state. Bomber is proof.
Bowen obtained the steer last November. Any issues raising Bomber? "No not really", said Bowen. "He grew like he was supposed to. It was a little bit hard when I first got him home, halter breaking him. He kind of wanted to jump around a little bit." I'd call that being frisky. All the while, that was when young Bomber weighed about 700 pounds Bowen said.
Bomber's diet? Four pounds of Rival Beast from Associated Feed & Supply Co. (thank you Google), half a cap of corn and barley, and other assorted goodies. Also Lubrisyn... a supplement for the animal's joints. As Bowen explains: "Because a lot of show steers, after they get going for a while, they start popping their joints. The Lubrisyn makes sure they don't pop their joints... they get their flex back. Once you get them going, and push them hard, they'll loose their flex and you're done." Done is not good! I learned later that Lubrisyn was developed to provide circulating hyaluronic acid to aid in healthy join function in show livestock. Of course I knew that hyaluronic acid is good!
So, what was involved with raising Bomber I wondered? "I worked with him about five hours a day. Meaning that in the morning I get up a six to rinse and blow-dry him which takes about an hour. Then I come back at noon and give him a nice bath. We have this think called a fogger, put ice water in it, blow him with it. The ice water goes into his hair follicles and expands them so he'll get cooler. Because they don't really sweat, we have to do this, as owners, to keep him cool. Then about 10 o'clock at night, I go down and give him another ice bath so he's cooled down for the night.
Next year? Bowen will be raising another steer. Why? "It's my sport", explained Bowen, adding that "a lot of kids say that if you're really good a baseball, for example, go pursue that. I'm really good at raising livestock so I'm going to pursue that. Logic rules!
Future plans? Bowen explains: "After a couple of years at Ventura College I hopefully plan on transferring to the U.S. Air Force Academy majoring in aeronautical engineering, minor in political science." If the military thing doesn't work out, I would like to go to Oklahoma State University or Texas A & M to study feed nutritionist. Breaking down all the nutrients... we need more of this or more of that."
Final thoughts about raising a steer? "It takes a lot of work", Bowen said, adding, there were times, at 9 p.m., I said 'I'm done with this' but it pays off in the end. You just have to keep on going. Have faith in yourself, faith in God, He has a path for everyone of us." Adding, "I'd like to thank my mom and dad for being there, God, and the Wheeler people."
Ashleigh Cavey, 17, Bardsdale 4H club member, raised a healthy 1,125 pound steer that was awarded 4-H Reserve Grand Champion. Ashleigh is a senior graduating in 2016. Her future plans include attending Cuesta College then transferring to Cal Poly in San Luis Obispo. It's not surprising that Cavey aspires to become a large animal veterinarian.
Cavey is a veteran at raising cattle being her 5th year raising a steer. "My first year I raised a heifer, this is my fourth steer", explained Cavey.
Cavey is not unaccustomed to winning. "At Fair, for the last three years I raised supreme breeding heifers," she said. Adding, "I've also done pretty well at jackpot shows.This year Cavey's steer won the 4-H Reserve Grand Champion award.
Her steer's name? "Twerk," said Cavey. Why Twerk? "Because Harlem Shake is a type of crazy dance", she explains, "so I named him Twerk because it's another type of crazy dance." Perfectly logical. I think. But does Twerk twerk? Never mind.
I presumed that Twerk must have been troublesome, dancing all the time, but I was wrong. "No", she said, "I didn't run into any big issues except at the California State Fair an ear got infected." Which means? "I treated it before it became too infected." Furthermore, Cavey added "Twerk was pretty easy to work with. He was like a little puppy dog." OK, on a scale of 1-10, 10 being the easiest to work with? "Probably an 8 because he did have an attitude here and there. He'd get lazy some times and did not want to walk. He got over it eventually." Good thing. Imagine pushing a thousand pound steer for a mile! Perish the thought.
But there's more to the walking story. "Because he's such a compacted structured steer, he gets really stiff so he has to get up and move quite often or else his back legs don't move as well as they should," explained Cavey. How much walking? "Supposed to walk him two miles a day but every once in a while I didn't make the two miles because I was busy with everything else in school but he was walked every day."
Priorities matter. As Cavey explained, "I used to play softball but I quit sports to continue with my cattle project. I couldn't do both because I was being penalized for missing practices to work with my animal. Twerk was a big responsibility and I enjoyed it."
Part of that responsibility is feeding such a large animal so I asked about Twerk's menu. "He eats about
24 pounds of grains a day – 12 pounds in the morning and 12 pounds at night - and two flakes of oat hay. Supplied by Western Milling in Goshen, CA.
Next year? "I'm going to do another steer," Cavey said smiling. And she'll be getting her steer to raise from the same breeder in Iowa. But seemed odd to me how she bought her steer. Online? "Yes", she said, it was an online auction." Aha, eBay cattle! Just kidding. Cavey said: "It's very stressful because your sitting there at the computer bidding and bidding and then you get outbid and there's a timer. If any steer on that sale gets a bid in the last five minutes, the time goes up again. Sometimes a sale is supposed end say at five but gets extended and doesn't end till 10 o'clock at night. Very stressful, sitting there watching the computer, hoping you keep that bid and not get outbid."
So, how does one know what steer to bid on, one wonders. "They have different videos of the animals walking and how they look. But you don't want to always judge them by how they look because they may not move correctly. So you always want to watch the videos to see if they're flexible in the way they walk," explained Cavey. Of course. Still, knowing my luck, I'd end up buying a bow-legged bovine! But I digress... again.
In closing, Cavey said, "I encourage anyone that is interested in livestock to try it out... it's definitely worth it. How about help along the way? "My parents, grandparents, and my breeder," she said. The grandparents have a ranch to keep Twerk, and of course my mom was always there to take me to all the places and for support and my breeder was always there to help when I needed him.
From everyone at the Fillmore Gazette, congratulations to the winners of awards. It was another great year at the Fair... for all the kids. The FFA and 4-H programs the kids participate in are awesome. Kudos to all the teachers and 4-H leaders for a magnificent job well done. And to all the parents, grandparents, and other family members... great job helping your kids learn about the importance of understanding responsibility through raising an animal. Raising animals is not easy but from the stories told by each and every kid, it's worth it. Worth it indeed!