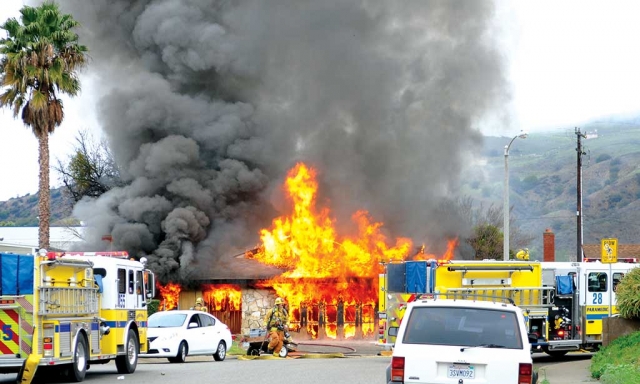 On Thursday January 5th at about 11:45am, Fillmore Fire Department responded to a house fire on Market St. & Cook Drive. Giant flames engulfed the entire house. Upon arrival flames could be seen from the end of the street. The was put out and no injuries were reported.
Enlarge Photo
By Gazette Staff Writer — Wednesday, January 11th, 2017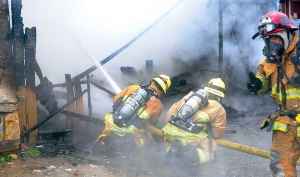 A fire destroyed the Ortega family home on 453 Market Street Thursday. Fillmore fire fighters responded to the scene at approximately 11:45 a.m. to find the structure fully engulfed in flames. The fire was controlled by about 12:30 p.m. and no injuries were reported.
Preliminary reports indicate the fire began in a clothes dryer in the garage.
Three persons were reported displaced as a result of the fire. Family members Mark, Angel and Michael are staying together in a hotel with kitchenette in Camarillo.
The Ortega's insurance company indicates the house will most likely be rebuilt. The family is grateful for the financial support and donated clothing.
Those wishing to assist in this disaster may make a donation at the GoFundMe webpage that's been setup on behalf of the family at https://www.gofundme.com/ortega-house
Optionally, donations can be made by mailing a check made payable to Mark Ortega c/o FHS Alumni P.O. BOX 385 Fillmore CA. 93016 or to an account at the Fillmore branch of Union Bank under the name Angel R. Ortega.
By Gazette Staff Writer — Wednesday, January 11th, 2017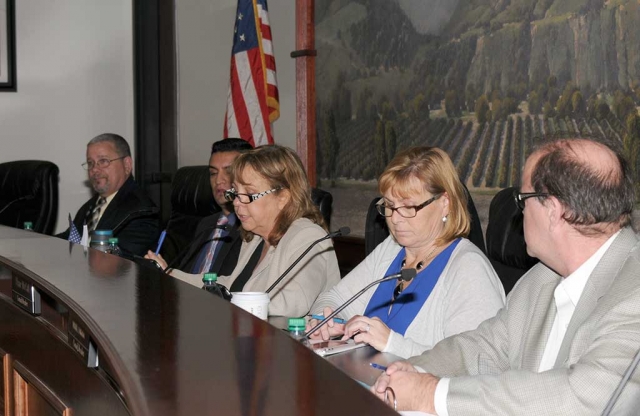 Business opened with Charles De Simoni, CPA, giving a comprehensive Annual Financial Report. The Council discussed continued use of Subcommittee and Liaison positions and consideration of appointments to committees, commissions, and boards. A complete agenda may be obtained at www.fillmoreca.com
Enlarge Photo
By Gazette Staff Writer — Wednesday, January 11th, 2017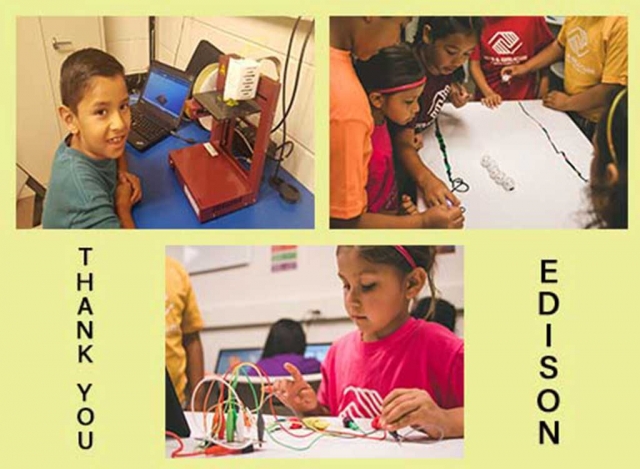 Thank you Edison International for your $5000 donation towards our STEM projects for the Boys and Girls Club of Santa Clara Valley. Your support allows us to provide high quality programs for our local youth.
Enlarge Photo
By Gazette Staff Writer — Wednesday, January 11th, 2017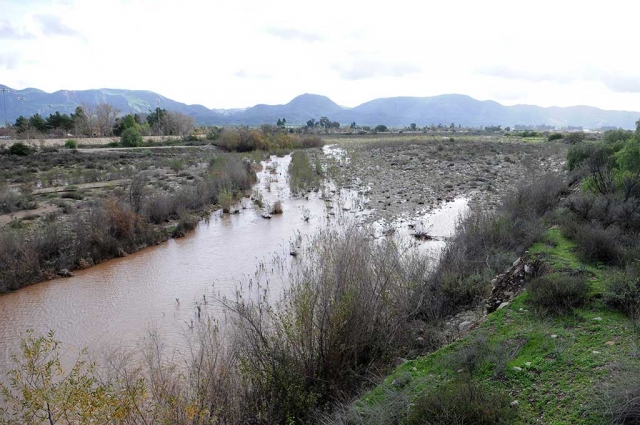 The Sespe River is flowing again thanks to the big rain storm that occurred this past Sunday night, Monday morning.
Enlarge Photo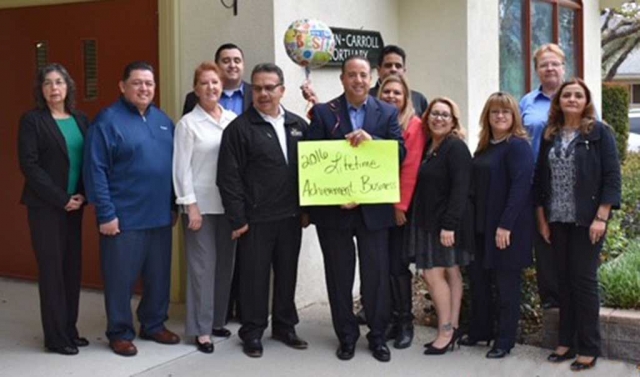 (l-r) Rosemary, Javier Fernandez, Laura Cole, Rudy Gutierrez, Martin Guerrero, Sergio Reynosa, Ari Larson, Ralph Jimenez, Irma Magana, Linda, Leticia Sandoval and Rosie Sandoval.
Enlarge Photo
By Ari Larson — Wednesday, January 11th, 2017
The Fillmore Chamber of Commerce is pleased to name Skillin-Carroll Mortuary the 2016 Lifetime Achievement-Business. Please join us in celebrating them and the other honorees on Friday, January 27, 2017. Social Hour: 5:30pm-6:30pm, Dinner/Ceremony 6:30pm. Location: Veteran's Memorial Building (511 Second St.) Attire: 50's theme (highly encouraged), Tickets $35 per adult, $20 under 17-years-old. Tickets will be on sale at the following locations: Diamond Realty (460 Santa Clara St.), Bank of the Sierra (527 Sespe Ave.) and Fillmore Police/Sheriff's Station (524 Sespe Ave.) Questions please call the chamber office at 805.524.0351.
By Gazette Staff Writer — Friday, January 6th, 2017
Mark, Angel and Michael will be staying at a hotel with a kitchenette for a few weeks. They are very thankful for everyone's support and donations to the GoFundMe page that was setup on their behalf. The family is currently looking for a rental in Fillmore. If anyone has a place to offer, please contact scott@fillmoregazette.com
Another option for helping Mark, Angel and Michael has been created. You can now donate to an account at Union Bank in Fillmore under Angel R. Ortega.
Although the goal at the GoFundMe page has been reached, the family could use all the help they can get. Please continue to donate at https://www.gofundme.com/ortega-house
More updates coming soon.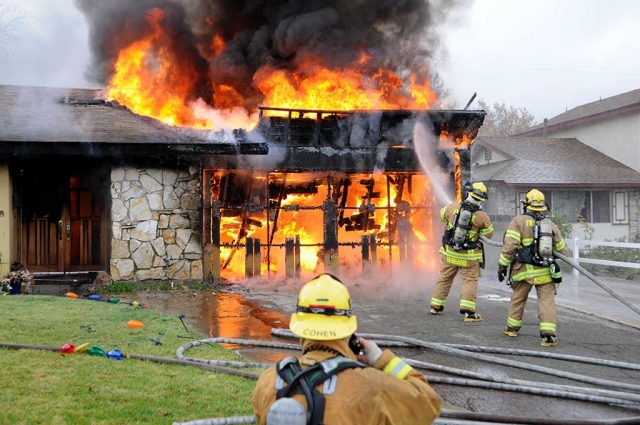 Firefighters responding to a structure fire on the 400 block of Cook Drive in Fillmore.
Enlarge Photo
By Gazette Staff Writer — Thursday, January 5th, 2017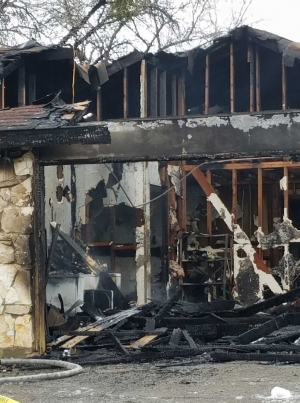 The house and its entire contents are a total loss.
Just before noon January 5th, Fillmore Fire responded to the 400 block of Cook Drive in Fillmore. Upon arrival the department found a fully involved structure fire. With the aid from Ventura County Fire and Santa Paula Fire, the house fire was knocked down and is under investigation. The house and its entire contents are a total loss. A GoFundMe page has been setup to help the Ortega Family https://www.gofundme.com/ortega-house
By Adrian Palazuelos — Wednesday, January 4th, 2017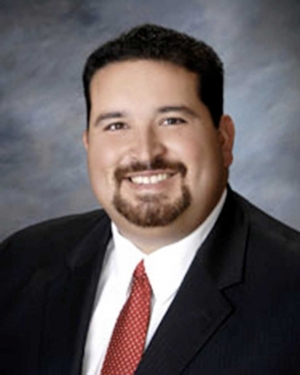 By Superintendent Adrian Palazuelos, Ph.D.
As we embrace a new year it is only fitting to look back and reflect on our collective achievements over the course of 2016. The Fillmore Unified School District is committed to our mission and is working to ensure that "Every day we develop high-performing students who become engaged and productive members of society." Our work is centered on this mission and on ensuring that we continue to meet the needs of our students. We are especially grateful for the Fillmore Unified classified, certificated, and management staff who provide inspired service in helping all of our students achieve success.
In 2016 Fillmore Unified celebrated the opening of two new programs, Preschool and Adult Education. The Preschool and Adult School provide additional opportunities for district staff to work directly with our families. Our district has benefited greatly from the ability to compete for state funding and provide direct services and programming in our community. Fillmore Unified received over $2 Million dollars from the State of California to open Preschool programs in our school district during 2016. To date we have programs at Piru Elementary, Rio Vista Elementary, Mountain Vista Elementary, and on the Sierra campus. Over the course of the next month we will be opening a Preschool at San Cayetano Elementary and at the Sespe campus.
Additionally, our district received over $500,000 to open an Adult School program on the Sierra campus. The Fillmore Adult School provides opportunities for district residents over the age of 18 to access English as a Second Language, Adult School Diploma, and GED courses. We have over 200 adults enrolled in the Adult School program and are exploring additional courses and programs to meet the needs of our community.
In 2016 our Board of Trustees approved the Long Range Facilities Master Plan and approved for Measure V to be placed on the ballot this past November. Leading up to the election we witnessed firsthand the outpouring of positive community support for our schools. Our community further demonstrated that support with Measure V passing with 72.88% approval at the polls. A heartfelt thanks to our community for their support of our schools.
Our work in creating new opportunities for families and enhancing our facilities are but a few examples of reflection on the last year. However, the greatest honor is serving as the educational institution for this community. The tremendous privilege of educating the youth of this community is what we are most thankful for. On behalf of the Board of Trustees of the Fillmore Unified School District we extend a Happy New Year to the community we serve and look forward to an exceptional 2017.
By Gazette Staff Writer — Wednesday, January 4th, 2017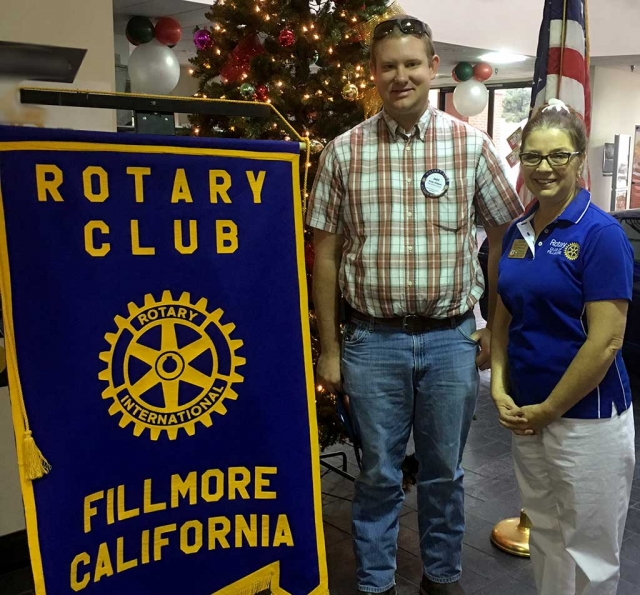 Andy Klittich received the Rotary Paul Harris Community Service Award presented by President Julie Latshaw
Enlarge Photo
By Gazette Staff Writer — Wednesday, January 4th, 2017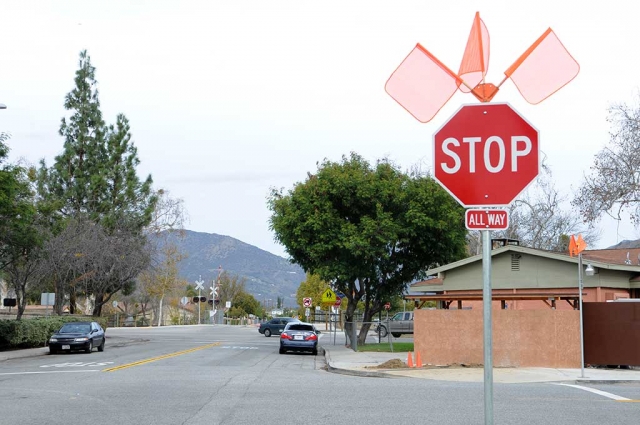 Just a safety heads-up. The intersection of B Street and 1st Street is now a 4-way stop. Most of us are used to running across Old Telegraph (next to La Unica) without stopping. Watch for the flagged stop signs.
Enlarge Photo