By Gazette Staff Writers — Friday, August 19th, 2022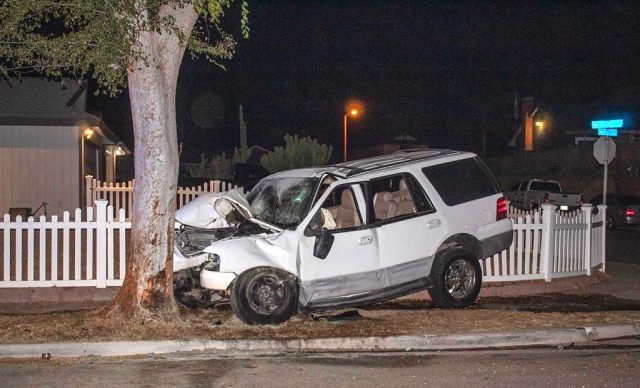 On Wednesday, August 10th, 2022, Fillmore Patrol Services, Fillmore Fire, and AMR Paramedics were dispatched to a reported traffic collision in the area of Casner Way and Market Street, Fillmore. Arriving Sheriff's Deputies reported a single vehicle into a tree with one occupant inside the vehicle. The driver was transported to a local hospital with sirens, condition unknown. At press time it was unknown if alcohol or drugs were a factor in the crash. Cause of the crash is under investigation. Photo credit Angel Esquivel-AE News.
Enlarge Photo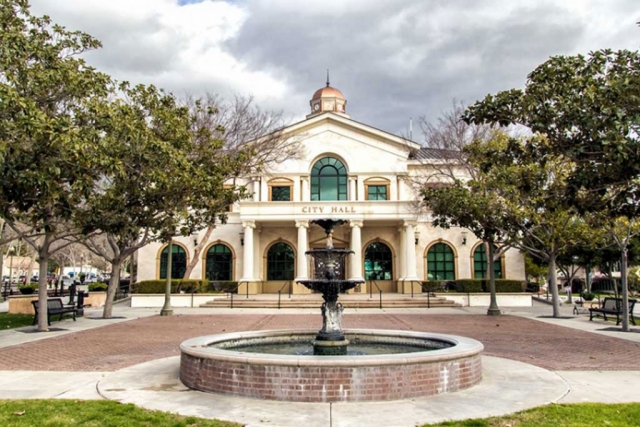 Stock photo of Fillmore City Hall taken by Bob Crum.
Enlarge Photo
By Gazette Staff Writers — Friday, August 19th, 2022
Courtesy https://www.retailstrategies.com/fillmore-california-brings-in-downtown-...
August 15, 2022
Fillmore, California, has appointed Downtown Strategies, a division of Retail Strategies, to develop a downtown strategic plan on behalf of the city. The Downtown Strategies team will host a Strategic Visioning Workshop in Fillmore on August 16, touring downtown and gathering input from community leaders, downtown business owners and stakeholders, and elected officials.
The five-year plan will be defined and developed considering policy and administration, design, tourism and promotion, economic vitality, and in-market research.
"We believe giving attention to our historic downtown will enhance its features greatly. This partnership will add value to the work city leaders have already begun. Business owners, stakeholders, and community leaders are excited to attend the Strategic Visioning Workshop and take away knowledge they can apply to their respective roles," said Mayor Diane McCall.
"Our team is delighted to partner with the city of Fillmore on a Downtown Strategic Plan," said Jenn Gregory, president of Downtown Strategies. "Creating the strategic plan will enhance the city's historic downtown features. Our downtown team looks forward to the downtown workshop to kick-start the partnership and meet with the community leaders in Fillmore."
About Fillmore, California
Fillmore is a small city in Ventura County, California, United States, in the Santa Clara River Valley. In an agricultural area with rich, fertile soil, Fillmore has a historic downtown that was established when the Southern Pacific built the railroad through the valley in 1887.
For more information, visit https://www.fillmoreca.com/.
About Downtown Strategies
Downtown Strategies, a division of Retail Strategies, exists to provide realistic, implementable strategies to communities for revitalizing their downtowns. Led by a team of former downtown revitalization practitioners and real estate experts, our combination of real-world experience, plus expertise in real estate and retail uniquely qualify us to assist communities with backfilling vacancies, increasing tourism, and enhancing the sense of place in their downtowns. Serving rural communities in 22 states, Downtown Strategies is the leading national firm for downtown revitalization planning with an emphasis on real estate and retail.
About Retail Strategies
Retail Strategies is the national expert in recruiting businesses and strategically developing communities. Our mission is to provide the real estate expertise, tools, and human effort that position deserving towns as alluring locations for national businesses and destinations for tourism and quality of life amenities. With confidence, we pursue this mission by delivering unparalleled customer service as a unified team with unmatched real estate and community development expertise. Our activities pay a return in sales taxes, added jobs, and businesses that enhance and add to the unique qualities of your community.
By Gazette Staff Writers — Friday, August 19th, 2022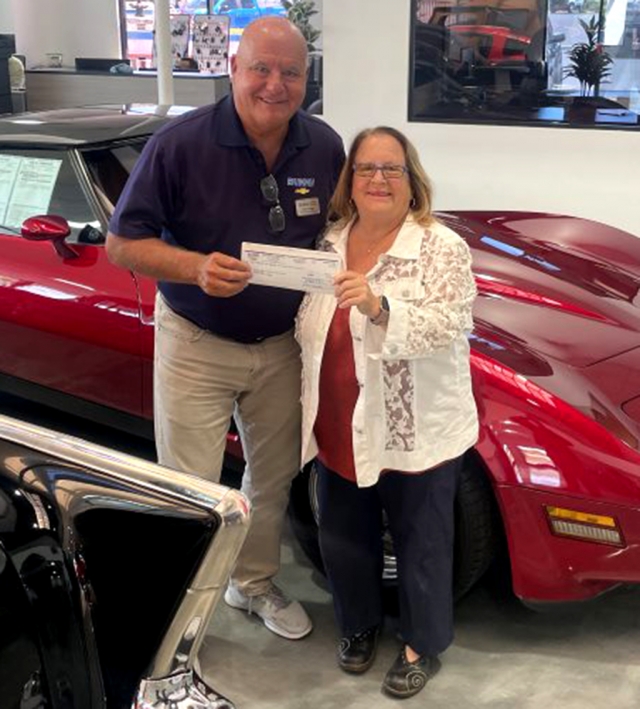 Thank you to Leo Bunnin owner of Bunnin Chevrolet of Santa Paula and Bunnin Chevrolet of Fillmore for their donation of $2,500 for our backpack supply giveaway. Thanks to donors like you, the Boys & Girls Club of Santa Clara Valley can offer approximately 1,650+ children a real chance at success by providing the necessary tools they need to start a successful school year. Our mission here at the Boys & Girls Club of Santa Clara Valley is to enable all young people, especially those who need us most, to reach their full potential as productive, caring, and responsible citizens. It is support like yours that makes it possible for us to make a difference in so many lives and we most sincerely thank you!
Enlarge Photo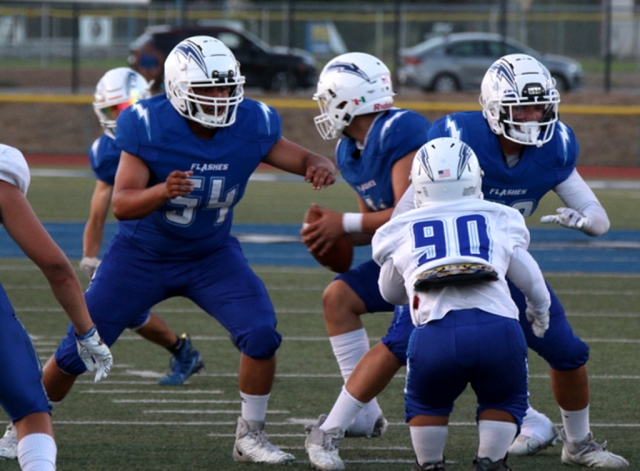 Last week Fillmore Flashes JV & Varsity Football teams hosted their Blue Vs. White scrimmage against one another to get ready for their season opener at home this Friday, August 19th against the California City Ravens. JV will kick off at 4pm and Varsity at 7pm in Flashes stadium. Photo credit Crystal Gurrola.
Enlarge Photo
By Gazette Staff Writers — Friday, August 19th, 2022
Courtesy Head Football Coach Charlie Weis
The transition from summer to fall is marked by changes in the weather, a return to campus, and gathering of community. Although there is some understandable hesitancy in the transition back to school for families and students, there is only excitement surrounding Flashes Football.
With one of the largest rosters in program history, and the return of county leaders in key position, the Flashes are looking forward to showing our community what they can do. Fresh off a record setting quarterfinal appearance in the CIF playoffs, this year's team has high expectations for itself.
The Flashes open their season at home Friday, August 19th against the California City Ravens. JV will kick off at 4pm and Varsity at 7pm in Flashes stadium. This will begin a very competitive and challenging non-league schedule that includes games against Burroughs-Burbank, Hart, and Bakersfield South amongst other competitive Southern Section teams.
This season the Flashes will be led by physically imposing seniors Ivan Becerra on the offensive line and Tory Cabral at linebacker who inspire and motivate their teammates every day. In addition, the team will be leaning on returning county statistical leaders Jarod Uridel, who was the number one receiving Tight End in the county last fall, Anthony Chessani, who was the top rusher and scorer in 2021, and Mathew Magana, who compiled county leading statistics in points scored, turnovers forced, and offensive production.
Last Friday's Blue Vs. White scrimmage was a testament to how deep and talented this team is. Huge game breaking runs from Junior David Jimenez and Senior Diego Amezcua paired with touchdown throws from Sophomore quarterback Anthony Tafoya illuminated how strong this team can be.
After a spectacular run last season that culminated in hosting an impressive playoff win over Coachella Valley and a quarterfinal berth in the playoffs, the Flashes have something to prove this year as one of the last small town football programs left. In an era where most top programs in southern California rely on transfer talent and out of area athletes, Fillmore stands as the pinnacle of what a home-grown program can be.
However, this can't be done by players and coaches alone. They need everyone's support to keep this unique program thriving and they look forward to sharing many Friday nights under the lights with their friends, family, and fans.
Let's bring back the One Town and One Team mentality that made last fall's CIF run so special! Our stands are the STORM and we've heard that The Storm Is Coming.
GO FLASHES!
By Gazette Staff Writers — Friday, August 19th, 2022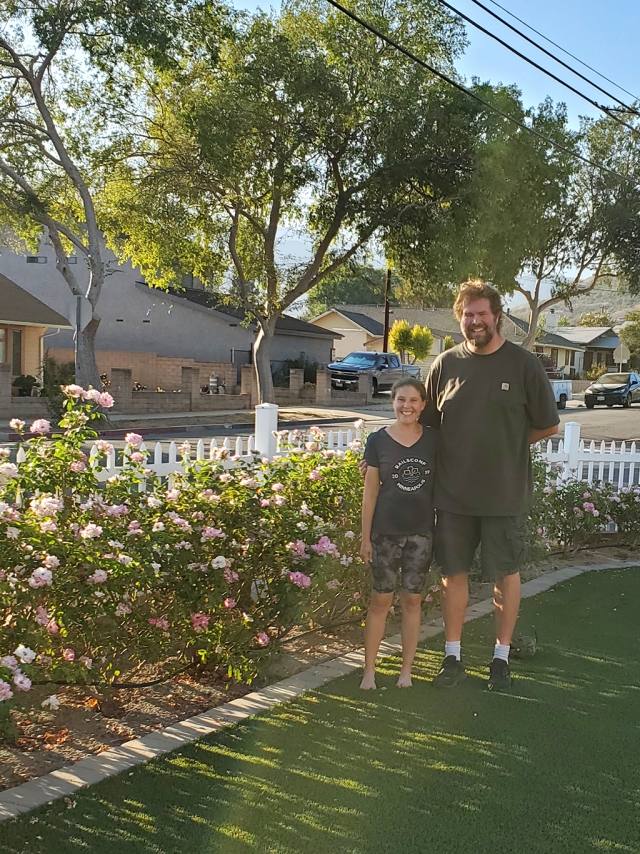 Pictured are Katie and Tony Spore, the proud gardeners of their yard near San Cayetano School in Fillmore. The Spores are this month's recipients of an Otto & Sons gift card for $50 as the Fillmore Civic Pride Yard of the Month for August 2022. Their garden exhibits a waterless lawn and drought tolerant established roses. Photo credit Fillmore Civic Pride.
Enlarge Photo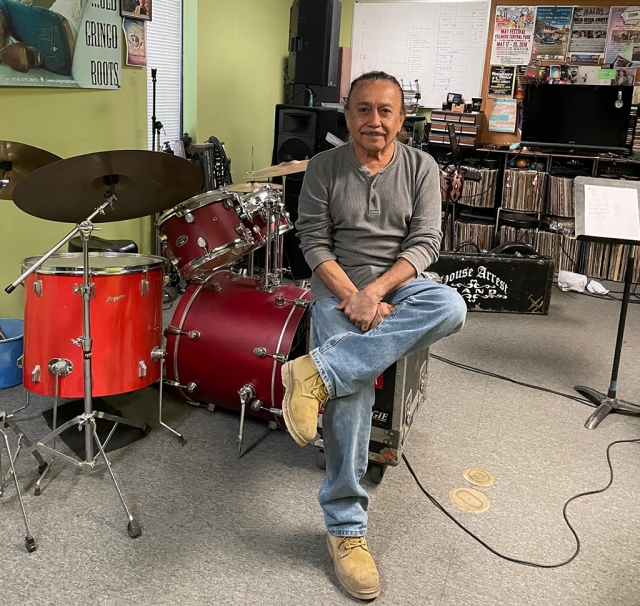 (above) Long time Fillmore resident John Grimaldo in his music studio. John has an auto repair shop in Fillmore, is a professional ceramicist, and is popularly known for his musical band "House Arrest." Photo credit Carina Monica Montoya.
Enlarge Photo
By Gazette Staff Writers — Friday, August 19th, 2022
Written by Carina Monica Montoya
Long-time resident John Grimaldo is a jack of all trades man and master of all. Not only is he known for his local auto repair shop in Fillmore, Grimaldo Enterprises, but he is also a professional ceramicist, and is popularly known for his musical band called "House Arrest." His son, John Grimaldo Jr., helps run the auto repair shop and is the soundman and part-time percussionist for House Arrest.
John has lived in Fillmore for more than 30 years. In addition to his music, he loves old classic cars. You can see him driving around town in his classic 1950 Chevy Panel truck that he fondly named "Trigger." He also enjoys restoring old cars and his business of auto repair enables him to do one of the things he does best.
Originally from Arizona, his family moved to Southern California in the 1950s and settled in Pacoima where Latino-style music was not yet popular in America. Ritchie Valens, one of the music industry's first Chicano artists, also lived in Pacoima and was best friends with John's father. It was in the 1960s when Latino-style music and classic cars made a big impression on John, and they would become his passions for life. His music studio walls are lined with photographs of his bands and many other popular musical groups John has played with through the years from 1967 to present.
John began his music career in the 1960s. He developed a passion for playing the guitar and singing. Although Latino-style music at the time was not yet "mainstream," he continued to play his preferred style even though record companies and many venues were against it. He was even thrown out of clubs for playing his music.
In the 1970s, Latino music groups were beginning to make its mark in the music world and Latino-style music began to rock the music world. Some of the Latino groups include Tierra, Los Lobos, and El Chicano. These groups helped put the Latino-style rock music on the map.
One of the biggest rewards that John finds in his music is making people happy. He believes music is healing and people of all ages come alive when they hear music that takes them back to happy times. John also invites retired musicians, some in their 90s, to come up on stage and do what they do best, which is play an instrument that they may have not played in years yet are able to jam as if it was only yesterday that they were on stage performing.
John has played in many musical groups through the years. He manages his current group House Arrest and is the lead guitarist. House Arrest is one of the most popular local and out of town musical groups, and always packs a full house at The Grape in Ventura and The Copa Cubana at the Ventura Harbor, to name only a few. House Arrest comprises some very talented musicians on the horns, saxophone, keyboard, drums/percussionist, bass guitar, and vocals. John's music is rooted in oldies with a beat that one can't help but get up and dance. His sound is a mix of R&B, jazz, and cumbia. Let's face it, some of the best music and dances were from the 60s and 70s. Who can resist dancing to oldies with a Latin beat?
Growing herbs, raising dogs, writing music, restoring classic cars, and collecting antiques are just some of the many things John does with a passion. He will never retire because one can never set a passion aside. So next time you see John in his 1950 Chevy Panel, don't be a stranger and say "hello."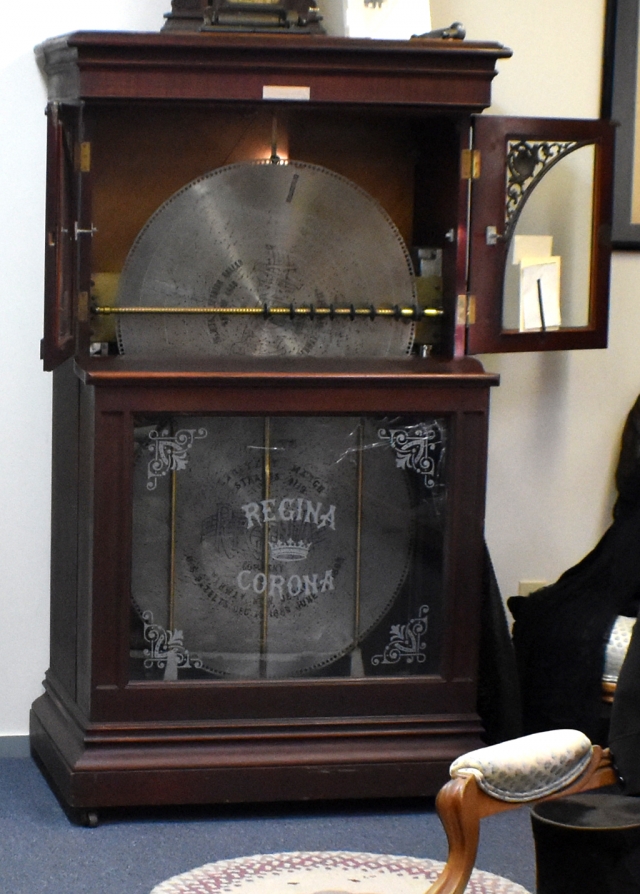 Pictured above is the Regina Music Box which is located on the first floor of the Rancho Sespe Bunkhouse. Photos courtesy Fillmore Historical Museum.
Enlarge Photo
By Gazette Staff Writers — Friday, August 19th, 2022
Courtesy Fillmore Historical Museum
Museums are often thought of as quiet places with people murmuring to each other about the exhibits. The Fillmore Historical Museum is full of sound!
Almost every building has an element of sound. Let's start with the 1887 Southern Pacific Depot. Anyone who has ever visited on a school tour will remember the loud clang of the Bardsdale school bell, but that's not the only sound. Visitors will see QR codes throughout the Museum. Often these take you to our website for more information about what you are seeing. In some cases, however, they take you to audio or video clips. Two in the Depot are a Sunkist commercial filmed in Bardsdale and Thelma McCauley Shaw, a Bardsdale resident, recounting her survival of the St. Francis Dam flood when the rest of her family was killed.
Other QR codes that can be found in the 1919 Rancho Sespe #2 Bunkhouse will take you to audio clips. Would you like to hear L. W. Fansler and his daughter, Goldie, who are depicted in a photo playing the violin and piano respectively? Or how about "Santa Clara Valley," by local dentist Jim Bliss? Tex Ritter played it at a Fillmore Festival in 1954 (unfortunately we haven't found a recording of that performance). Or how about the "Sunkist Waltz" that was written by Walter Sutton of Piru in 1915? Follow the QR codes and you can hear all of that and more.
It's not just QR codes which can sound off. In the 1919 Hinckley House is an Edison Model H19 Hepplewhite disc phonograph which was given to us by Marion Beem and dates from between 1919 and 1927. The docents are more than ready to play the "Blue Danube Waltz" by Johann Strauss, II, for you. If you are lucky, the docent might be able to play at least a scale on the pump organ in the home's parlor which once graced the Arundell Adobe on Pole Creek.
The Rancho Sespe Bunkhouse is especially blessed with sound. On the first floor is the Regina Music Box. Built about 1902 by the Regina Music Box company of Rahway, New Jersey, it was used in the Star Vaudeville Theatre on Fillmore Street in Fillmore. It can hold 12 – 27" discs and will automatically change the discs. This was a gift from the Carl Burson family.
Upstairs visitors will find the south end of the large display room dedicated to music. Besides displays on various musical groups that entertained Fillmore from the turn of the twentieth century to today, there is an exhibit on machines which reproduced sound. The earliest is an Edison "Standard" cylinder player. These were popular between 1898 and 1913, with the one in the Museum from after 1908 since it plays a 4-minute cylinder (earlier were only 2 minutes). The cylinders are easily broken. The Museum has several and you can hear them, either live or through a QR code.
One item the Museum is incredibly lucky to be able to demonstrate is a Victrola model VV-VI, or Victrola the Sixth, internal horn phonograph. It was a "no-frills" phonograph when it was introduced in 1911 and was produced for 11 years. The original selling price was $25.00 which equates to about $750 today! Still out of the range of most people.
Ours was given to us by Juanita Hammond Elkins and was found during the pandemic in our storage box car. It was in sad condition and not playable. Who should appear but one of our dedicated volunteers, K. C. Staples. K. C. said, give it to me and I'll see if I can get it working. Obviously, he did because now you can hear Billy Murray sing "Come to the Cabaret" or at Christmas, "Stille Nacht" (Silent Night).
You'll see in the display case other sound machines – most of which are playable. These include a wire (not tape) recorder, also restored by K. C., radios from the 1920s through 1950s, a cassette tape recorder, atransistor radio from the 1950s and even an MP3 player. Now many may not consider an MP3 player to be an historical artifact, but most people under twenty do not know what they are. We are looking for a Sony Walkman to add to the display.
So next time (or maybe the first time) you visit the Fillmore Historical Museum, don't just look around – but listen for the sound.
By Gazette Staff Writers — Wednesday, August 10th, 2022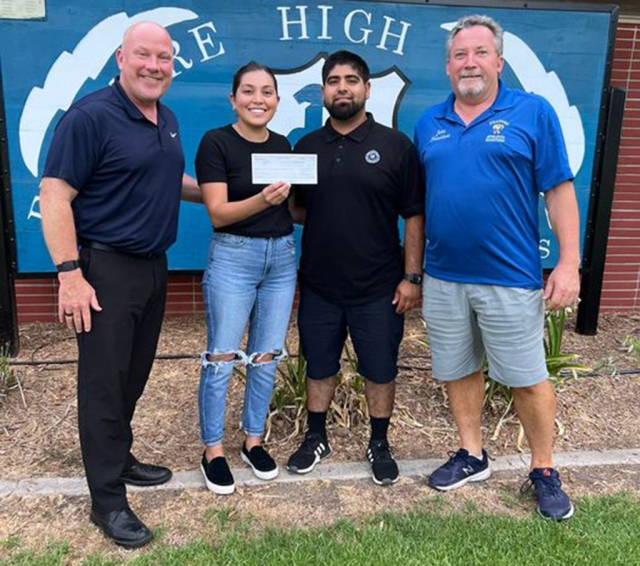 We would like to thank Ate05 Grub shack for presenting a generous donation of $1,500 to the Fillmore High School Athletics programs. Back in June they held a Cornhole Tournament Fundraiser at Britt Park in Piru and donated a portion of the proceeds. Pictured above left to right are new FHS Principal Keith Derrick, Ate05 Grub Shack owners Anika Romano and Joseph Magana, along with Athletic Boosters Club President John Holladay. Look up Ate05 Grub Shack for your next catering needs. Photo credit Anika Romano.
Enlarge Photo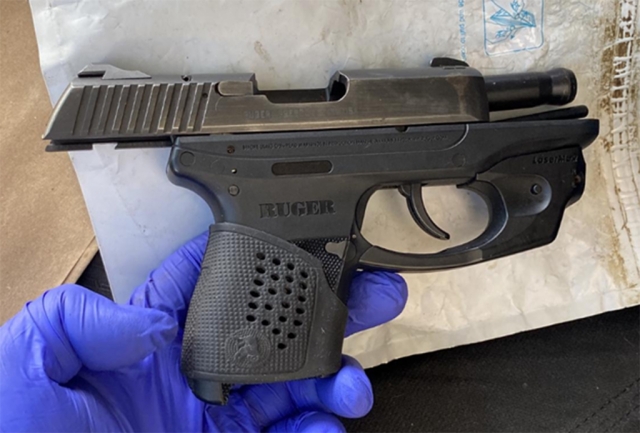 Above is the firearm that was recovered during the investigation. Photos credit Ventura County Sheriff's Department.
Enlarge Photo
By Ventura County Sheriff Department — Wednesday, August 10th, 2022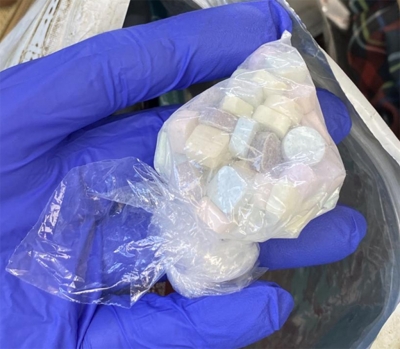 Above is the illegal controlled substance and Ecstasy pills police recovered in their investigation.
Enlarge Photo
A 49-year-old Lancaster man was arrested in Fillmore for possession of a stolen firearm and illegal drugs.
On August 8, 2022, a deputy conducted a traffic enforcement stop on a vehicle in the 900 block of Ventura Street for a vehicle code violation. The driver was identified as Darrell Rutledge.
During the contact, the deputy saw a substance that appeared to be illegal drugs in plain view in the vehicle. Upon further investigation, the deputy confirmed the substance to be an illegal controlled substance and Ecstasy pills. In addition, a search of the vehicle revealed a stolen, loaded firearm that was found concealed inside of a backpack on the rear seat.
Upon further investigation, it was determined that the firearm had been stolen in an unrelated residential burglary two years ago. Rutledge is a convicted felon with a lengthy criminal history that included prison sentences for firearm and narcotic related charges. As a convicted felon, Rutledge is prohibited from possessing firearms.
Rutledge was arrested for possession of illegal drugs, carrying a loaded firearm in a vehicle, felon in possession of a firearm with prior conviction, carrying a loaded firearm in public, prohibited person in possession of ammunition, and unlawful transfer of a firearm. Rutledge is currently being held in custody at the Pre-Trial Detention Facility in Ventura with bail set at $500,000. Rutledge's next court hearing is scheduled for August 10, 2022.
The Fillmore Police Department encourages citizens to immediately report suspicious people and/or vehicles, and to promptly report any crimes they come across by calling 911. The reporting party may remain anonymous.
Nature of Incident: Convicted Felon Arrested for Possession of a Stolen Firearm and Illegal Drugs
Report Number: 22-105486
Location: 900 Block of Ventura Street / City of Fillmore
Date & Time: August 08, 2022 @ 8:41 AM
Unit(s) Responsible: Fillmore Patrol Services and Fillmore Detective Bureau
(S)uspects, (V)ictims, (P)arty, (D)ecedent, City of Residence, Age
(A) Rutledge, Darryle Lamonte, Lancaster, Ca., 49
Prepared by: Detective Sergeant Will Hollowell
Approved by: Captain Garo Kuredjian, Fillmore Chief of Police
Ventura County Crime Stoppers will pay up to $1,000 reward for information, which leads to the arrest and criminal complaint against the person(s) responsible for this crime. The caller may remain anonymous. The call is not recorded. Call Crime Stoppers at 800-222-TIPS (8477).
By Ventura County Sheriff Department — Wednesday, August 10th, 2022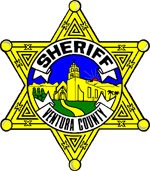 Ventura County Sheriff's Department
Beginning Thursday, September 1st, 2022, the Fillmore Police Department and Ventura County Sheriff's Office will be holding a 12-week Public Safety Academy for the community. Designed to provide community members with an inside look at law enforcement, the criminal justice system, and other public safety agencies, the program will allow participants to meet with members of the Fillmore Police Department, Sheriff's Office, Fillmore Fire Department, Ventura County Superior Court, District Attorney's Office, and Probation Agency. Classes will be held Thursday nights, from 6:00 PM to 9:00 PM, at the Fillmore Police Station, 524
Sespe Ave. In 2023 we plan to have another Public Safety Academy which will be held in Spanish. For an application, requirements,
and additional information, contact the Fillmore Police Department.
Prepared by: Deputy Eric Tumbleson
Approved by: Captain Garo Kuredjian