By Ventura County Sheriff Department — Wednesday, October 20th, 2021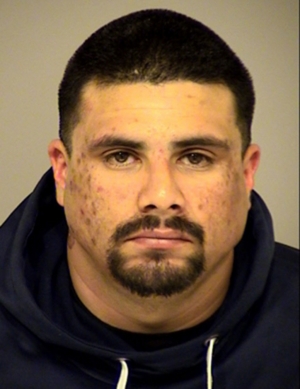 Eric Manzano, 34, Fillmore, CA (File photo)
A 34-year-old Fillmore man was arrested after being identified as an arson suspect.
On October 10th, at approximately 11:30 a.m., Fillmore patrol deputies responded to Fillmore High School to assist Fillmore Fire Department with an arson investigation. Their investigation determined someone had attempted to throw a bag that was on fire into an open window of the school. Due to the suspicious nature of the fire, investigators from the Fillmore Police Department and Fillmore Fire Department responded to the location. Investigators reviewed nearby video surveillance and were able to identify the suspect as Eric Manzano.
On October 15th, investigators located Manzano at his Fillmore residence and arrested him for the arson. Manzano was transported and booked into the Ventura County Pre-Trial Detention Facility for one felony count of arson and for a California Department of Corrections (CDC) parole hold. Manzano remains in custody with his bail set at $60,000. His court date is set on October 18th. Manzano has a prior conviction for arson and is on CDC parole for arson.
Fillmore Police Department is actively investigating several other suspicious fires that occurred between September 9th and October 2nd in the city of Fillmore, town of Piru and unincorporated areas of Santa Paula.
The Fillmore Police Department encourages citizens to immediately report suspicious people and vehicles, and to promptly report any crime they come across by calling 911.
Nature of Incident: Arson Suspect Arrested
Report Number: 21-134973
Location: Fillmore High School, 555 Central Avenue, Fillmore
Date & Time: 10/15/2021 3:30 PM
Unit(s) Responsible: Fillmore Investigations Bureau, Fillmore City Fire Investigations, Ventura County Sheriff's Bomb and Arson Unit
(S)uspects, (V)ictims, (P)arty, (D)ecedent, City of Residence, Age
(S) Eric Manzano, Fillmore, 34
Prepared by: Detective Shawn Pewsey #3867
Approved by: Captain Garo Kuredjian
Ventura County Crime Stoppers will pay up to $1,000 reward for information, which leads to the arrest and criminal complaint against the person(s) responsible for this crime. The caller may remain anonymous. The call is not recorded. Call Crime Stoppers at 800-222-TIPS (8477).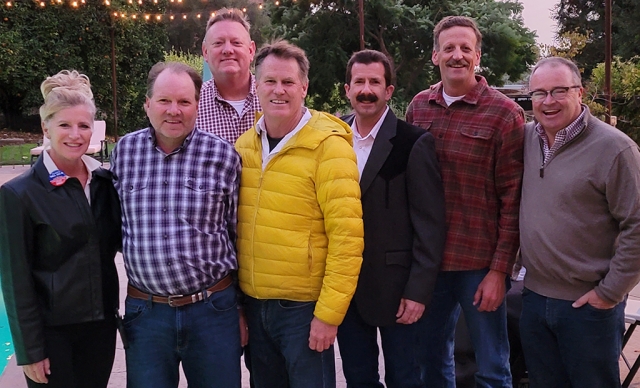 (l-r) Undersheriff Monica McGrath, Scott Beylik, Mike Richardson, Tim Hagel, Ventura County Sheriff Bill Ayub, Eric Tennessen, and Bill Morris.
Enlarge Photo
By Gazette Staff Writers — Wednesday, October 20th, 2021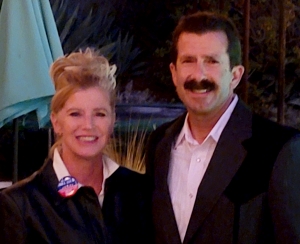 (l-r) Under-Sheriff Monica McGrath & Sheriff Bill Ayub.
An enthusiastic get-together to promote the reelection of Ventura County Sheriff Bill Ayub took place recently at the Mike Richardson ranch in Fillmore.
Among approximately 60 honored guests were Undersheriff Monica McGrath, Tim Hagel, Thousand Oaks Chief of Police, ret., Scott Beylik, Bill Morris and Avery Stewart. McGrath reminded the group of the Sheriff's outstanding leadership during one of the largest wild fires on record, and his adroit handling of the November 7, 2018, mass shooting at the Thousand Oaks Borderline Bar and Grill. Both calamities occurred simultaneously in the very first days of his election to the position of Ventura County Sheriff. He received high praise for the effective control he demonstrated at that time.
Sheriff Ayub spoke of holding crime rates at historic lows during his tenure as Sheriff during several challenging times.
Sheriff Ayub notes: "During my first term, we have held crime rates at historic lows in Ventura County while they have risen elsewhere. I achieved this by seeking out innovative strategies, employing well-trained and well-equipped staff, and fostering strong and supportive relationships with the community."
He is also "not accepting endorsements or donations from active duty full-time Ventura County Sheriff's Office employees."
By Gazette Staff Writers — Wednesday, October 20th, 2021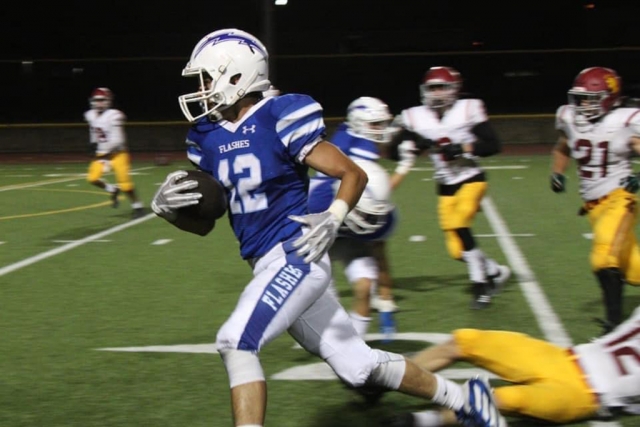 This Friday, October 21st, the Fillmore Flashes take on long-time rival Santa Paula for their 110th meeting. Tickets for Friday's rivalry game are SOLD OUT. However, you can still watch the game live on Friday at the VC Star website. The rivalry is their game of the week.
Enlarge Photo
By Gazette Staff Writers — Wednesday, October 20th, 2021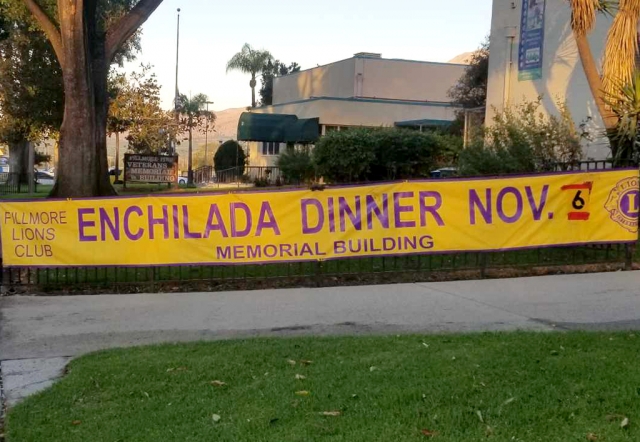 On Saturday, November 6th, the Fillmore Lions Club will be hosting their Annual Enchilada Dinner. Due to COVID-19 this year's dinner will be drive-thru only, from 5 – 7pm at the Fillmore Veterans Memorial Building. Tickets are on sale now - email fillmorecalionsclub@gmail.com for tickets and further information.
Enlarge Photo
By Gazette Staff Writers — Wednesday, October 20th, 2021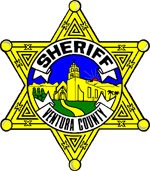 Ventura County Sheriff's Department
Ventura County Sheriff Bill Ayub is announcing the formation of a new program aimed to provide specialized assistance to military veterans who live in our communities who are experiencing a mental health crisis.
Sheriff Ayub is pleased to offer the Sheriff's VOICE program, which stands for Veterans Outreach In Crisis Events. The Sheriff's Office has been working on developing the program for several months, working with federal and local partners to develop specialized training for our deputies. The program is designed to pair specially trained deputy sheriffs who are military veterans themselves with military veterans in our communities who are experiencing a mental health crisis and who've called the Sheriff's Office for help. Each of the deputy sheriffs participating in the program is a military veteran and volunteered to be part of the program. Many of our deputy sheriffs volunteered because they have personal experiences with veterans they served alongside who have died by suicide, or they served with veterans who struggle daily with mental health issues because of their service to our country.
"I applaud Ventura County Sheriff Bill Ayub, and the entire department, for the launch of their new Veterans Outreach In Crisis Events program, or VOICE," said Congressman Mike Garcia. "This program will enable the department to better serve the veteran community in Ventura County. With the recent chaotic withdrawal in Afghanistan, this program is more important than ever. I want our Global War on Terror veterans, as well as veterans of all generations, to know that their service was not in vain and that our community is here to support them. I look forward to seeing the positive impact this program will provide for our community."
The VOICE deputies will be first responders to a veteran in crisis and will draw upon their personal experiences and specialized training to build rapport and de-escalate crisis situations. The relationship will not stop with the initial contact. Our VOICE deputies will continue to contact the military veteran in the weeks and months following a crisis event to ensure the veteran's needs are being met, utilizing services of the Department of Veterans Affairs, County of Ventura Veteran Services Office and other non-profit partners.
"Ventura County has a very long and rich military history and is the proud home to more than 40,000 veterans," said Congresswoman Julia Brownley. "I applaud Ventura County Sheriff's Office for this initiative, which is taking concrete steps to better respond and intervene in incidents where a veteran is in crisis or struggling with their mental health. No one knows the unique circumstances veterans face better than other veterans, who have sacrificed so much in service to our nation. We owe it to all of our veterans to ensure they receive the proper care and critical services that they need."
The deputy sheriffs were joined by sheriff's dispatchers and sheriff's chaplains during special training developed in conjunction with the Ventura County Law Enforcement Crisis Intervention Team. Four of the training instructors are military veterans from the Ventura County Veteran Services Office, Department of Veterans Affairs and the Gold Coast Veteran's Foundation. The other instructors include a psychiatrist and licensed clinical social worker, both from the Department of Veterans Affairs.
"A person experiencing a mental health crisis needs empathy and patience, and for a veteran in need, another veteran with training and experience is best equipped to provide both," Assemblywoman Jacqui Irwin said. "Law enforcement officers are often the first people to respond to these situations, and I commend the VCSO for implementing a program aimed at de-escalating conflict wherever appropriate and possible."
The Sheriff's Office receives as many as 15 calls per month from a veteran who is suffering from a mental health crisis. The military community has seen a sharp uptick in calls and texts to the veteran's crisis line in the last two months since the military withdrawal in Afghanistan.
Recognizing the significant military population living in areas served by the Sheriff's Office, Sheriff Ayub said, "Our military veterans and their families have sacrificed so much for our country to ensure that we are safe. They carry invisible battle scars that can have a significant impact on their lives. Our VOICE program is one way for us to give back to our veterans who might experience a mental health crisis. We are eager to start the program and look forward to the positive impact it will have on the military community."
Prepared by: Commander Eric Tennessen
Approved by: Sheriff Bill Ayub
By Gazette Staff Writers — Wednesday, October 20th, 2021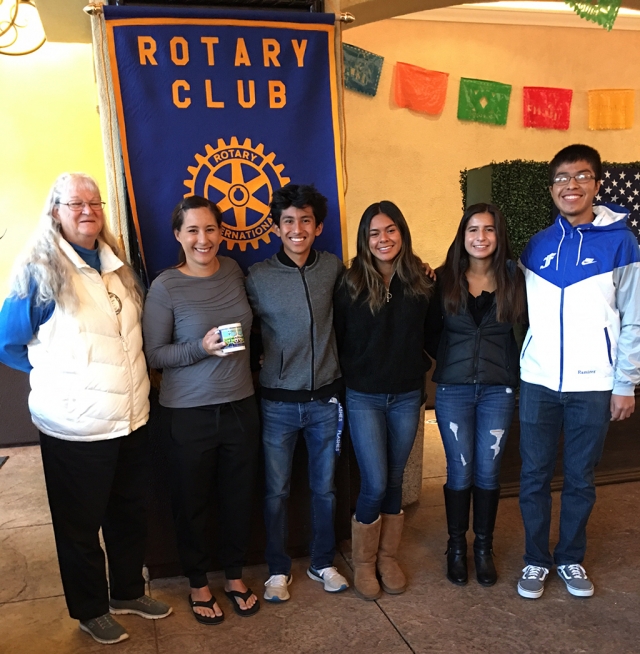 (l-r) Rotarian Cindy Blatt, Athletic Director Kim Tafoya, and four officers from the Fillmore High School Cross Country Team: Michael Camilo Torres, Alianna Tapia, Angelica Herrera and Diego Ramirez, who attended the Rotary meeting last week. Kim stated that these athletes are hard working, train for six months, running with distance between them at practice and must wear masks even when running. They are all committed to do their best in sports and academics. Photo courtesy Rotarian Martha Richardson.
Enlarge Photo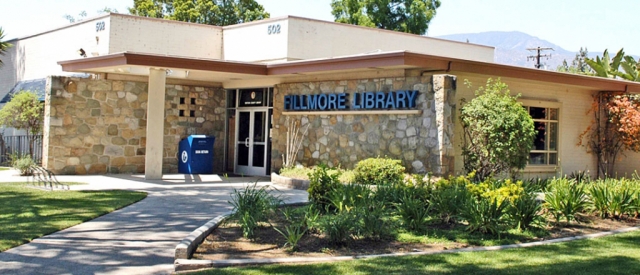 The construction on the Fillmore Library Expansion project is set to begin November 2021. The library will be closed to the public starting October 24, 2021, for an indefinite period of time (most likely 8 months). Until then the County Mobile Library will stop in Fillmore every Tuesday at City Hall.
Enlarge Photo
By Gazette Staff Writers — Wednesday, October 20th, 2021
Ventura County Library is pleased to announce that construction on the Fillmore Library Expansion project begins in early November 2021. This expansion project effectively doubles the footprint of the current Fillmore Library, meeting the needs of the growing community and providing new services to our Fillmore customers.
The newly expanded library includes a classroom, two study rooms, an Innovation/STEAM lab/community meeting room, a designated computer lab with new public computers, new public laptops, useable outdoor areas, new public restrooms, and more.
Due to the onsite construction, the Fillmore Library is closed to the public starting October 24, 2021 for an indefinite period of time (most likely about 8 months).
To provide services to the Fillmore community during the temporary closure, the Ventura County Mobile Library is making weekly stops at Fillmore City Hall every Tuesday beginning Oct. 5, 2021. This schedule will continue until the expanded Fillmore Library reopens.
At the Mobile Library stop customers may pick up holds, return items, get new library cards, participate in outdoor children's programs such as a weekly Storytime (Tuesdays at 10:30am), browse new materials, and more.
Additionally, during the closure, Fillmore customers may use the collections, services, and book drops at any other Ventura County Library (VCL) branch, of which there are 10 open locations throughout the county at this time. The closest VCL branches to Fillmore are:
• Piru Library (3811 Center St., Piru 93040) and
• Saticoy Library (1292 Los Angeles Ave., Saticoy 93004).
Our online eLibrary has ebooks, eaudiobooks, and more available for the community to use as well, all accessible 24/7 from your device.
We understand this temporary closure of the Fillmore Library is inconvenient to community members, and we are sorry for that inconvenience. We are certain the newly expanded library will have tremendous positive impact in the community.
Please visit vencolibrary.org/locations for information on alternative locations to use during the closure period, or vencolibrary.org/library-events for information on the weekly Mobile Library visit to Fillmore.
For additional information, contact Nancy Schram, Ventura County Library Director at (805) 256-8535.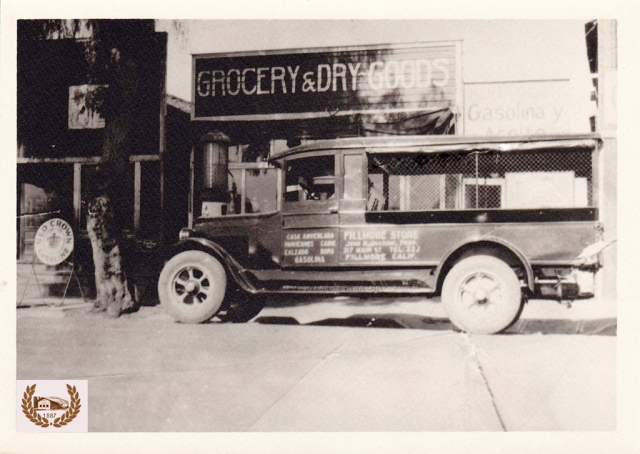 Inadomi Company store opened back in February 1925, pictured above is a Inadomi Delivery truck circa 1925 which was used to deliver groceries to customers. Photos courtesy Fillmore History Museum.
Enlarge Photo
By Gazette Staff Writers — Wednesday, October 20th, 2021
Courtesy Fillmore History Museum
A house on Main Street, set back from the corner, represents so much more than the security of home and comfort. A well-known and well-loved local family, the Inadomi's, built it in 1939 before World War II began. Soon it would bear witness to the tragedy of a dark moment in the history of the United States. Still standing over 80 years later it continues to remind us of this terrible event and gives us hope that it never happens again.
Kaichiro Inadomi had emigrated from Japan in 1914 to join his father who was working for the Limoneira Ranch in Santa Paula. In 1922 he returned to Japan to marry Mitsuyu Ogawa. They returned to Ventura County where he continued with his job at Limoneira becoming a foreman at the age twenty two. In 1925, looking to improve the future for himself and his family, he decided to purchase a grocery store on Main St. in Fillmore. Because of the existing alien land laws in the U.S., Kaichiro, not being an American citizen, could not own property in this country. He was able to purchase the store with the help of an attorney, a Mr. Tanigoshi who bought the business in his Caucasian American wife's name and then resold it to Kaichiro' s American born children Yoshiharu and Taduko who were both under the age of 3 at the time. The Inadomi Company store opened on February 1, 1925. He sold groceries and other items to the community especially catering to the needs of Spanish speaking customers. Kaichiro soon became known as "John" or "Juan" to his Spanish speaking customers. He was active in the community and was a member of the Rotary Club and the Presbyterian Church. Initially the family lived in a "shack" behind the store but it was soon enlarged to shelter his growing family. In 1929 the store was enlarged and rebuilt of brick and in 1939 Kaichiro built a new house beside the store. Today the store is no longer there but the house still stands on the corner of Main St. and Clay St.
Following the bombing of Pearl Harbor by the Japanese in 1941 the entire United States was gripped by fear and hysteria. The United States went to war with Germany, Italy, and Japan. On February, 19, 1942, President Roosevelt enacted Executive Order 9066 which allowed for the exclusion of suspect people from the coastal areas of the country. Families up and down both the east and west coasts of German, Italian, and Japanese descent were given a very short time to pack up and turn themselves in. The Inadomi family was included in this order. It is also to be noted that far fewer German and Italian individuals were interned than Japanese. At the time of the bombing of Pearl Harbor, Kaichiro owned three stores in Ventura County. They were located in Fillmore, Santa Paula, and Oxnard. His brother, Kumanosuke, owned a store in Ventura. The Inadomis were required to report to the authorities and be incarcerated in interment camps for the duration of the war. Many members of the community including: J. L. Strickland, President of Fillmore Rotary, Rev. William S. Orr, Pastor of the Presbyterian Church, and Fergus Fairbanks, Attorney, wrote letters on their behalf hoping to help the family stay in their Fillmore home. In spite of all of these efforts the family was still required to leave. In 1941 Kaichiro/ John wrote a letter to the Fillmore Herald expressing his appreciation for the people of Fillmore to "thank you for those kindnesses, and courtesies and evidences of good will."
When Order 9066 was implemented it gave the Japanese community mere days to deal with their homes, businesses, and possessions. Most sold or gave away everything they owned at a tremendous loss. They then reported to processing centers with the few possessions they could carry where they waited to be sent to interment camps. These camps were hastily built and located away from the coast, mostly in extreme hostile desert areas. At the rapidly built camps families were housed in cramped tarpaper barracks. Entire families lived together in just one or two rooms. There was no privacy and they had few household belongings. At most camps the people were treated like prisoners with guards and barbed wire fences.
The Inadomis first reported to the Tulare Assembly Center and were later sent to the Gila River Camp on the Gila River Indian Reservation in Arizona, where John served as a meat buyer. In 1943 the family left for Colorado where they had purchased a farm in Yoshiharu's name. John's brother, Kumanosuke, "Manuel", had already settled there. They remained in Colorado returning to Southern California in 1947 several years after the end of the war.
While the family was away, the store was leased. Much of the Inadomi Company Store's business had been run on a credit basis. When they left Fillmore over $65,000 was owed to them by people in the community. A few people sent their payments to the family in Arizona although there were still great losses. One local man and fellow Rotarian, Milo Cobb, continued to run the store and take care of the family's possessions during the war. His granddaughter, Mary Gordon, recalls that her grandfather ran the business as if it were his own and returned it and the proceeds to the Inadomis upon the family's return. The two families, the Cobbs and Inadomis remained close friends until their passing.
In 1947, John sold the farm in Colorado. As the Fillmore store was still under lease, the family did not return to Fillmore. Instead they moved to East Los Angeles where they opened a chain of grocery stores because "Los Angeles had a bigger future" and because the rest of the extended family was there. Their "JonSons" chain of stores was very successful and Kaichiro once again became a valued member of the local community. He was president of the Southern California Grocers' Association, a director of the Pan American Bank, president of the Japanese-American Community Service of Southern California, and president of the Belvedere Rotary Club with 27 years of perfect attendance.
The laws regarding citizenship changed and Mr. and Mrs. Inadomi became US citizens on June 25, 1954. Their granddaughter, Patricia Inadomi, wrote "Great Expectations" about her grandparents' life and experiences based on interviews with family members. Patricia says that her grandparents were not bitter over their losses. They loved the United States, their adopted home, because, "He felt it would provide a better life for his family." In spite of the many losses due the war he was able to assure a better life and future for his children and future generations.
With thanks to the following for their information.
Mary Phillips Gordon for her family's information.
Patricia Inadomi for her family history as written in "Great Expectations", December 7, 1969.
By Gazette Staff Writers — Wednesday, October 13th, 2021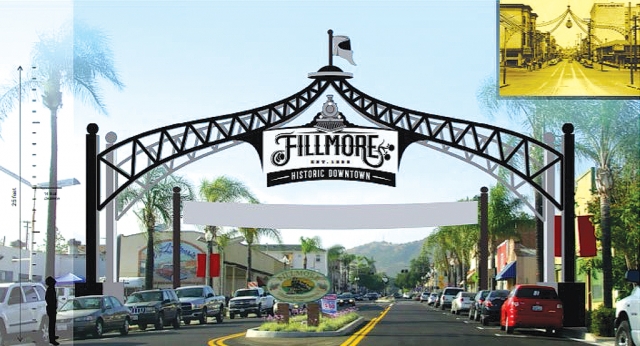 On October 12th, at Tuesday night's City Council meeting, Fillmore Rotary Club proposed a Legacy Sign project to Council. The two Gateway designs installation is meant to honor the hardworking men and women of Fillmore's past, present and future. Themed after elements of the town's history, each design is forged with architectural steel to symbolize the town's lasting impact. While the concepts you see before you are preliminary and can be altered accordingly, we believe the theme should reflect Fillmore's rich history. Above is a rendering of the proposed arch for Central Avenue. Inset, the locomotive with arch proposed for east and west Highway 126. Photos courtesy City of Fillmore.
Enlarge Photo
By Gazette Staff Writers — Wednesday, October 13th, 2021
Vacancy on City Council.
City Council Member Ari Larson tragically and unexpectedly passed away on September 17, 2021. Her City Council seat is deemed vacant as of that date. This Staff Report discusses the options available to the City Council for filling the vacancy and seeks the City Council's direction regarding the same. Appointment: Historically, someone appointed to fill a vacancy would serve until the expiration of the predecessor's term. Govt. Code §§36512(b), 34902(a). However, under a somewhat recent update to the law, because Council Member Larson was in the first half of her term and there are currently more than 130 days until the City's next regular general municipal election, per Gov Code 36512(b), the appointee would only serve until the City's election next fall has been certified – the last 2 years of Council Member Larson's seat will need to be on that ballot. Hence, should the City Council wish to appoint a resident to the City Council to fill the vacancy, the City Council could, by a majority vote of the quorum, make an appointment whereby the appointed person would serve until the November 2022 election has been certified.
Should the City Council desire to make an appointment, staff recommends that the City Council:
1. Establish a schedule for applications,
2. Direct staff to advertise the vacant City Council seat and the application deadline,
3. Schedule the time for the City Council to interview the applicants, most likely at a
special meeting, and
4. After interviews at the special meeting city may make the appointment; or
5. Schedule the regular November 9th City Council meeting as the date on which the City
Council would make the appointment. Council decided to prepare for appointment.
A proclamation and presentation by Mayor Mark Austin on Breast Cancer Awareness Month. Dr. John Fankhauser, CEO of VCMC and Santa Paula Hospital, spoke, with Lorena Hoover, Radiologic Specialist II. The Doctor spoke of the activity at Santa Paula Hospital, and their great new equipment.
5-B. ROTARY LEGACY SIGN PROJECT- RENEE SWENSON.
The Council accepted Planning Commission recommendation to support the design concepts of the Gateway signs and incorporate wayfinding and parking signs for the downtown area, add color to the fruit on the images, remove the "Fillmore" sign in the median once the sign is installed, attempt to use faux railroad rails and provide lights.
5-C KEVIN MCSWEENEY, PLANNING AND COMMUNITY DEVELOPMENT DIRECTOR, gave an update on City Housing Element.
7-A Council Adopted City Council Resolution 21-3843 approving the Destruction of Certain Obsolete Records and directing the City Clerk to carry out this process.
7-B City Council approved by Resolution the Memorandum of Understanding between City of Fillmore and International Union of Operating Engineers Local 501 Agreement for the period of July 1, 2021, through June 30, 2024.
8-B Staff recommend, and City Council approved and introduced, the first reading of Ordinance No. 21-934, creating a new Chapter 8.10 in the FMC entitled: "AN ORDINANCE OF THE CITY COUNCIL OF THE CITY OF FILLMORE, CALIFORNIA, ADDING CHAPTER 8.10 TO TITLE 8 ("HEALTH AND SANITATION") OF THE FILLMORE MUNICIPAL CODE, ENTITLED "SPECIFIC REGULATIONS FOR ORGANICS WASTE DISPOSAL REDUCTION, RECYCLING AND SOLID WASTE COLLECTION," TO ENACT REGULATIONS IN COMPLIANCE WITH SENATE BILL (SB) 1383 FOR THE IMPLEMENTATION OF FOOD AND ORGANICS RECYCLING AND RELATED SOLID WASTE AND RECYCLING PROCESSING AND REPORTING AND ADOPTION OF EXEMPTION FROM THE CALIFORNIA ENVIRONMENTAL QUALITY ACT" Chapter 12 of Title 14, Division 7 of the California Code of Regulations ("CCR") requires the City adopt an ordinance of similarly enforceable mechanism by January 1, 2022. CalRecycle is mandating SB 1383 implementation through such an enforceable mechanism no later than the January 1 deadline.
8-D Waving of THE SINGLE EVENT BUSINESS LICENSE PERMIT FEE FOR VENDORS WHO ARE
FILLMORE RESIDENTS FOR THE VETERANS DAY WEEKEND CAR SHOW AND MARKET. City Council waived the application and $35 business license permit fee for the first twenty (20) Fillmore residents applying for permits to sell items during the Veterans Day Weekend Car Show and Market as shown on a list provided by the Soroptimists.
8-F Emergency repairs to WELL #8 and request Council determine emergency remains pursuant to CA Public Contract Code Sec. 22050 and authorization of additional funding. Total $350,000.
8-G Public Hearing, Santa Clara Street and Central Ave. So CA Edison Rule 20A funds and finding exemption from CEQA.