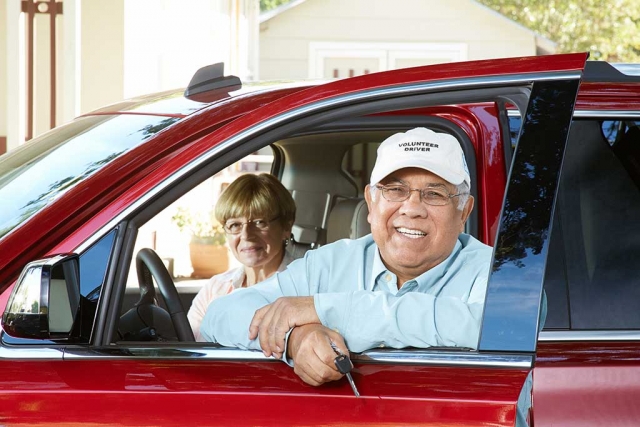 Road to Recovery: Meetings start July 25th at the Youth Building next to the Veterans Memorial Building
Enlarge Photo
By Gazette Staff Writer — Wednesday, July 20th, 2016
The Relay for Life of Fillmore-Piru would like to welcome the community to come participate in a series of forums this summer on different patient outreaches for the American Cancer Society. To show the community how the American Cancer Society and Relay for Life can give back to their local communities. We have already had a successful event on June 20th, where Kretta Shaner came out and spoke on the Look Good Feel Better program. On July 25th at 7pm David Weissman will come, and speak on Road to Recovery, and on August 22nd at 7pm Pam Brady will come and speak on the 24/7 1-800-227-2345 number. These meetings will take please at the youth building next to the memorial building in Fillmore (511 2nd Street, Fillmore CA).
On July 25th at 7pm at the youth building next to the memorial building in Fillmore (511 2nd Street, Fillmore Ca). David Weissman, a volunteer who has been participating in the Road to Recovery program for over 6 years, will be joining us, to discuss the program. David has helped over 150 patients get to their cancer treatments, and volunteers because someday he might be the one that needs these services, and will rely on volunteers like himself to get him to treatment.
Road to Recovery is a curbside-curbside transportation service that provides free rides to cancer patients to and from treatments. Trained volunteer drivers donate their time and the use of their personal vehicles to help patients get to treatments they need. The program is offered to people with cancer who have no means of transportation and/or are unable to drive themselves.
So Why is the Road to Recovery Program important? Many people need daily or weekly treatment, often over a course of several months. Increasingly, these treatments are provided on an outpatient basis, which means that the person must have a way to get to the appointment. Family and friends may help, but they may not have the time or financial means to assume the total burden of frequent trips to treatment centers. A successful transportation assistance program can be a tremendous asset to the community.
How do patients schedule a ride? To request a ride patient must contact the American Cancer Society at 1-800-227-2345. Patients must give a minimum of four (4) business days' notice in advance of the date the ride is needed.
How to become a Road to Recovery Volunteer? Please contact the local Society Office, visit cancer.org/drive, or call 1-800-227-2345.
Relay for life of Fillmore-Piru will be happening September 24th-25th, 2016 from 9am-9am at Shiells Park in Fillmore. For more information on the Relay for life of Fillmore-Piru, please visit www.relayforlife.org/fillmoreca, or contact Caitlin Barringer (805)644-4237.
By Martin Farrell — Wednesday, July 20th, 2016
Should the Fillmore City Council permit a medical marijuana growing operation to come to our Business Park?
After checking some last minute information about marketing marijuana in California, and the serious social, economic, and legal problems plaguing Colorado, (which has legalized pot) I firmly believe the Council should vote "No" on this proposition. Otherwise we would set a terrible example for our young people and be rightfully seen as profound hypocrites. Fillmore would become the state's largest purveyor of marijuana.
I have always hated illegal drugs, including marijuana. I am completely biased on the issue, though I have never in my life taken an illegal drug, including marijuana. (I wish I could say the same for alcoholic beverages). Drugs have been the bane of our society, particularly since the 1960s. I've witnessed too many deaths and otherwise ruined lives due to drugs. I also believe that marijuana is indeed the gateway to hard drug abuse.
Marijuana is particularly insidious because it has so often been portrayed as something innocent, just something some people do to have fun playing with their brains, particularly young people. But science tells us marijuana smoke endangers our brains far more than tobacco. The science is clear and conclusive on this matter.
The dilemma here is that the city stands to make a lot of money taxing such an enterprise if it's allowed to develop in our Business Park. On the other hand such permission wounds Fillmore's reputation, sets a terrible example for our youth, and would attract crime and criminals like flies on a watermelon. Marijuana survives in a nest of crime and always has.
Although California has approved medical marijuana, getting a "recommendation" has always been easy for just about everyone, and growing and selling it is still a federal crime.
Growing and harvesting marijuana for strictly medical purposes is a legitimate practice, but should be as strictly controlled as hard drugs. I know of many cancer patients (my brother for one, who died of pancreatic cancer) who could only control the pain and nausea with marijuana. And control has always been the problem with marijuana. After all, it's just a weed.
Weed or no, today's marijuana is many times more powerful than that of the 1960s, and is often used as an ingredient in cookies and candy, which can entice children.
So, for these reasons I would strongly advise our Fillmore City Council to vote "No" on permitting the medical marijuana co-op to take a place in our Business Park. I hear that most if not all Ventura County cities feel the same.
By Gazette Staff Writer — Wednesday, July 20th, 2016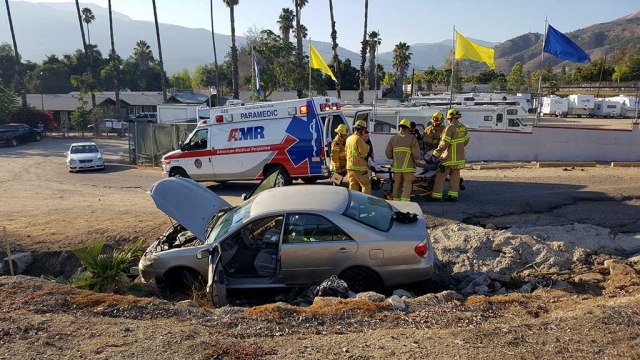 Shortly after 6pm on Monday, July 18th fire crews from Fillmore Fire Department heard a loud noise outside of the station. Firefighters went outside to investigate and found a car that ran off Sespe and landed near the labor camp housing. Single male occupant transported to the local hospital for evaluation. Accident investigation was turned over to the Fillmore Police Department. Photo courtesy Sebastian Ramirez.
Enlarge Photo
By Troy Rice — Wednesday, July 20th, 2016
When it came to making a decision, golf wasn't the first choice; but it was the only choice. For the first twelve years of his life Joey Herrera played baseball, basketball, and even flag football. But as soon as he decided to focus on golf like so many in his family, there was no turning back.
"I always loved basketball, but unfortunately due to my height that was never a realistic choice.
My Dad took me out to the golf course more often and I realized I could succeed without having to worry about physical limitations. I fell in love with the game in such a short amount of time and was motivated to get better each and every day."
Herrera has the pedigree to play at the highest level. His father, Bill, played golf at the University of Southern California. His sister, Megan, won a state championship at Santa Barbara City College after picking up the game in her freshman year of high school. His cousin Troy played golf at St. Bonaventure before him as well.
"My first aspiration was to play golf at USC. I've grown up a Trojan fan all my life and knowing my Dad got to that level has just motivated me even more to work on my game. This was something I wasn't sure was possible a couple years ago, but I know now that I can get there if I keep working. It's been great having my sister develop along with me, and wanting to beat my cousin, who is basically a brother, has definitely helped me get better. My grandpa, Dr. William Herrera, has been taking my cousin and me out to Saticoy Country Club for as long as I can remember. It is a top-notch and difficult course that has definitely taught me how to play the tricky courses. The staff there has been incredibly welcoming and my cousin and I plan on following in my Grandpa's footsteps and play there when we are old and gray."
When asked if CONTINUED »
By Gazette Staff Writer — Monday, July 18th, 2016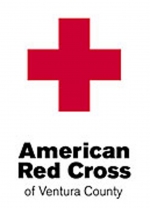 American Red Cross of Ventura County
For the first time in eight years, the American Red Cross in Southern California has issued an emergency call for blood and platelets, urging all eligible donors to give now to replenish an extremely low summer blood supply.
Blood donations through the Red Cross in Southern California and across the country have fallen short of hospital needs for the past few months, resulting in about 39,000 fewer donations nationwide than what's needed, as well as a significant draw down of the overall Red Cross blood supply. The Red Cross strives to keep a five-day blood supply available at all times to meet the needs of patients every day and be prepared for emergencies that would require significant volumes of donated blood products. Currently, however, the Red Cross has less than a five-day supply on hand.
"Right now, blood products are being distributed to hospitals faster than donations are coming in, which is why we are making this emergency request for donations," said Dr. Ross Herron, chief medical officer of the Red Cross West Blood Services Division, which includes the Southern California Blood Services Region. "Donations are urgently needed now to meet the needs of hospital patients in the coming days and weeks. If you've thought about giving blood and helping to save lives, now is the time to do it. It's the blood donations on the shelves that help save lives when an emergency occurs."
How to Help
To schedule an appointment to donate, use the free Blood Donor App, visit redcrossblood.org or call 1-800-RED CROSS (1-800-733-2767). The Red Cross is extending hours at many donation sites to allow for more donors to make an appointment to give. Donation appointments and completion of a RapidPass online health history questionnaire are encouraged to avoid longer wait times. Donors with all blood types are needed.
Those unable to give can still help by encouraging others to give through a SleevesUp virtual blood drive at redcrossblood.org/sleevesup, giving of their time through volunteerism or making a financial donation to support Red Cross humanitarian work across the country and around the world.
Who Blood Donations Help
Every two seconds in the United States blood and platelets are needed to respond to patient emergencies, including accident and burn victims, heart surgery and organ transplant procedures, and patients receiving treatment for leukemia, cancer or sickle cell disease. The Red Cross must collect approximately 14,000 blood and platelet donations every day for patients at about 2,600 hospitals and transfusion centers nationwide, including more than 120 healthcare facilities in Southern California.
Because of generous donors, the Red Cross is able to provide blood products to patients like 11-year-old Mae Rainey, who needs regular blood transfusions as part of her treatment for a blood disorder.
"I am very grateful for the opportunities that the Red Cross has given us to get her to her healthiest state," said Caleb Rainey, Mae's older brother.
Watch Mae's story to learn how blood donations can make a lifesaving difference.
Upcoming blood donation opportunities:
Ventura County
Thousand Oaks
7/18/2016: 1 - 7 p.m., Thousand Oaks Inn, 75 W Thousand Oaks Blvd.
7/19/2016: 2 - 8 p.m., KLOS Radio Thousand Oaks, 75 W. Thousand Oaks
7/20/2016: 2 - 8 p.m., KLOS Radio Thousand Oaks, 75 W. Thousand Oaks
7/21/2016: 2 - 8 p.m., KLOS Radio Thousand Oaks, 75 W. Thousand Oaks
7/22/2016: 2 - 8 p.m., KLOS Radio Thousand Oaks, 75 W. Thousand Oaks
7/25/2016: 1 - 7 p.m., Thousand Oaks Inn, 75 W Thousand Oaks Blvd.
Ventura
7/20/2016: 2 - 8 p.m., EP Foster Library, 651 E Main St.
7/22/2016: 2 - 8 p.m., EP Foster Library, 651 E Main St.
About the American Red Cross
The American Red Cross shelters, feeds and provides emotional support to victims of disasters; supplies about 40 percent of the nation's blood; teaches skills that save lives; provides international humanitarian aid; and supports military members and their families. The Red Cross is a not-for-profit organization that depends on volunteers and the generosity of the American public to perform its mission. For more information, please visit redcross.org or cruzrojaamericana.org, or visit us on Twitter at @RedCross.
By Gazette Staff Writer — Monday, July 18th, 2016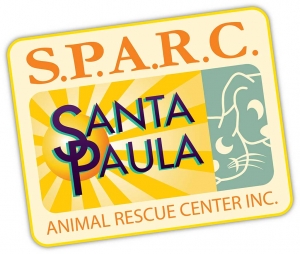 The public and the media are invited to join the Santa Paula Animal Rescue Center (S.P.A.R.C.) for a special adoption event Saturday, July 23, in conjunction with local television stations seeking to "Clear the Shelters."
The second annual "Clear the Shelters" event takes place from 10 a.m. to 6 p.m. on Saturday July 23. Many dogs and kittens will be available for adoption at the Santa Paula Animal Rescue Center, 705 E. Santa Barbara St. in Santa Paula. Media coverage is welcome.
S.P.A.R.C is especially seeking adopters looking for larger dogs, as well as adult cats and about 45 kittens. Adoptions for big dogs at the special $20 adoption fee will begin a week prior to the "Clear the Shelters" event, on July 16, to allow time for processing adoptions and doing necessary checks. All animals adopted are spayed, neutered, microchipped and have up-to-date vaccinations.
S.P.A.R.C. Spokeswoman Nicky Gore-Jones said the shelter has been inundated with big dogs recently, many of them pit bulls that are friendly and highly adoptable.
"We looking for adopters who understand that having a dog does require some effort in training and exercise and is a lifetime responsibility," she said.
"When dogs arrive at S.P.A.R.C., scared and stressed, our goal is to help them through regular exercise, basic training and lots of love, so they can readjust and be ready to be adopted to their forever home. At S.P.A.R.C. we firmly believe that in order to have a well-balanced dog, it must feel like a member of the family."
As part of the No Kill, No Excuses mission, S.P.A.R.C. also offers low-cost spay and neuter services to the public for their current pets at only $10 per animal, in an attempt to stem the flow of animals into the shelter in the future.
"Clear the Shelters" is being held at 55 animal shelters throughout Southern California in conjunction with NBC 4, KNBC and Telemundo 52. The national pet adoption drive is being organized by NBCUniversal-owned TV stations to raise awareness about the overpopulation of local animal shelters and to encourage people to adopt shelter pets. Participating shelters, including S.P.A.R.C., will offer a reduced adoption fee of just $20 per animal (if the application is approved). In 2015, 20,000 animals were adopted nationwide through this event nationwide.
"This initiative offers the community an opportunity to welcome a new addition to the family and be part of a national day of action," said Telemundo 52 Los Angeles President and General Manager Celia Chavez.
S.P.A.R.C. is a private, non-profit, no-kill animal shelter in Ventura County. SPARC is a place where homeless animals are brought for humane care without risk of being killed due to lack of space, illness or injury. S.P.A.R.C. relies solely on private donations. Visit http://www.santapaulaarc.org or call the shelter at (805) 525-8609.
To learn more about "Clear the Shelters" and locate other participating shelters, visit nbcla.com/cleartheshelters or telemundo52.com/desocuparlosalbergues. The public is encouraged to follow the effort and post pet photos on Twitter, Facebook and Instagram with hashtag #ClearTheShelters @NBCLA and #DesocuparLosAlbergues @Telemundo52.
By Gazette Staff Writer — Thursday, July 14th, 2016
A military banner installation was held on Tuesday, July 5th in front of the Fillmore Unified School District office at 3pm. Cameron Reilley, a Lance Corporal in the U.S. Marine Corps, received a banner. Cameron is pictured with his mother Lindy Reilley, at his right and his father John Reilley on his left. His grandparents (left) are Judy and Lin Thomas; grandmother pictured right is Flori Reilley. At back are VFW Post 9637 members Vic Westerberg, Jim Mills, Jim Rogers, Ismael Alonzo and Tom Ivey. His siblings Brande Wade, Andrew Reilley and Grace Reilley were also at the installation.
Enlarge Photo
By Gazette Staff Writer — Thursday, July 14th, 2016
After a month since the last city council meeting, the council was ready to knock out a small, but important agenda. The meeting started with a public comment from Carmen of Santa Paula. She provided an open invitation to a public hearing for the proposed power plant in Santa Paula. She urged the city of Fillmore to fight against this power plant due to her concern for the fumes and the effect the pollution would have on the community. The hearing is set for Thursday July 28th at the Santa Paula Community Center.
Next was a presentation from the Junior Fair Board. The Ventura County Fair starts August 3rd and continues until August 14th. The theme this year is "County Fair with Ocean Air" and the Fair Board encourages citizens to participate in the annual art contest pertaining to the theme. The Fair Board also wanted to enlighten the people of Fillmore of the special entry days. Dollar Day will be August 3rd. Feed the Need Day will be August 4th, and any person to donate 5 cans of food before 3 PM will receive a free return admission ticket. The ticket is valid from August 8th to August 11th. Youth Day is August 5th and all children ages 12 and under will be admitted free all day.
Seniors and Persons with CONTINUED »
By Gazette Staff Writer — Thursday, July 14th, 2016
Kyle Ramirez is a local 17 year old, soon to be Senior of Fillmore High School. In his free time he has joined the California Highway Patrol Cadet/Explorer program located at the Moorpark station. The California Highway Patrol's Explorer Program is for young men and women, 15 to 21 years of age, allowing them to develop the skills and knowledge needed to serve the people through discipline and commitment. Explorers are able to assist the CHP both in office and out in the field but also participate in physical fitness training, medical training, organizational, and clerical training. Kyle was able to attend a week long academy at the CHP training facility located in Sacramento. There he joined 43 other explorers that came from all over California. Kyle and the other explores went through a hell week where they were all put through extensive classroom training and physical fitness challenges to push their limits. The program is a crash course of the real life academy setting and holds them all to the same standards. All 44 explores graduated the 6 day program and preformed all physical and mental tests required of them. At the end of the program Kyle received a badge and a completion certificate and is allowed to return for level four at 19 if he chooses to continue in this program. Photo courtesy of Sebastian Ramirez.
Enlarge Photo
By Gazette Staff Writer — Thursday, July 14th, 2016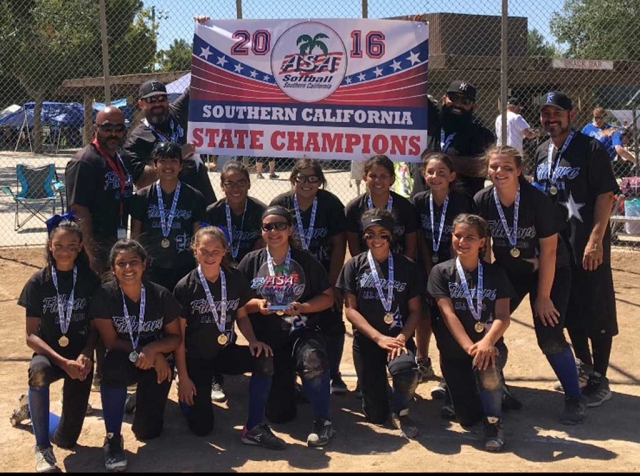 The Fillmore Girls Softball 12U All Star Team competed in last weekend's ASA State Championship Competition in Lancaster, Ca. They went undefeated and earned the State Championship title. They are now preparing for their Regional competition on July 15th-17th in San Diego, Ca.
Enlarge Photo