By Gazette Staff Writers — Friday, February 10th, 2023
By Gazette Staff Writers — Friday, February 10th, 2023
Police Asking for Assistance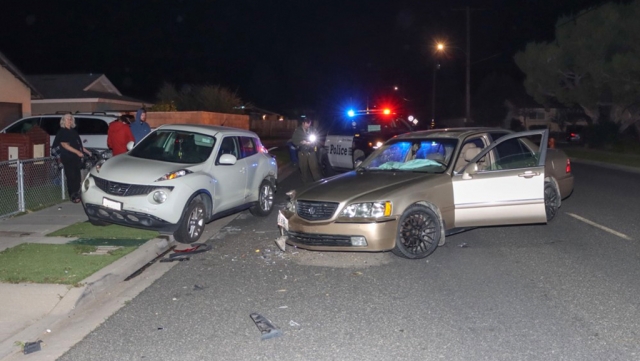 On Thursday, February 2, at 9:57p.m., California Highway Patrol Communications Center received an iPhone severe traffic collision notification located at Wileman & B Street, Fillmore. CHP transferred the call to Fillmore Police and Fillmore Fire Department. Arriving deputies reported three vehicles involved in a hit & run, with one vehicle on the sidewalk, and a suspect fleeing on foot, north on B Street. No injuries were reported and the driver was not located. It is unknown if any alcohol or drugs were in factor in the collision. Anyone with information about this incident may call the Ventura County Sheriff's Office Dispatch at (805)654-9511. Photo credit Gazette photographer Angel Esquivel-AE News.
Enlarge Photo
By Gazette Staff Writers — Friday, February 10th, 2023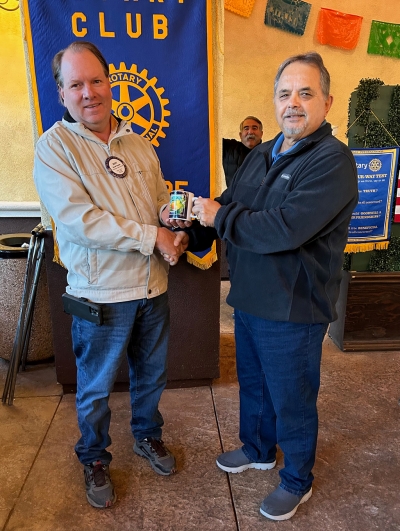 Pictured (l-r) is President Elect Scott Beylik and Rotarian Ernie Villegas. Courtesy Rotarian Martha Richardson.
Enlarge Photo
The speaker was Fillmore Rotary's own Ernie Villegas. He has recently been appointed to the Fillmore/Piru Memorial District Board. As you all know the Memorial Building and Youth Building are completely closed due to the many repairs needed. Ernie has been working diligently looking for funding and they have been approved for two grants totaling $2.1 million. While that is amazing it will not be enough for the entire renovation. After the complete inspection of the two buildings, a priority list was compiled, and the roof will be the first repair made. Ernie is now researching who can do the work. He has also been talking to the county about making the Memorial Building an Emergency Service Operation Center.
By Gazette Staff Writers — Friday, February 10th, 2023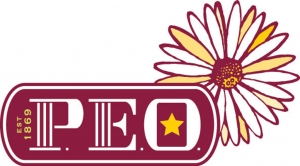 Applications are now being accepted from high school senior girls for the P.E.O. Education Award. Girls planning to attend an accredited undergraduate degree program or a vocational/skills training program may pick up an application in the career center at FHS. Applicants must live within the boundaries of Fillmore Unified School District but do not have to attend Fillmore High School. Potential candidates may also call (805) 625-0264 for information about how to obtain an application. Deadline
to return applications is February 17, 2023.
By Gazette Staff Writers — Monday, February 6th, 2023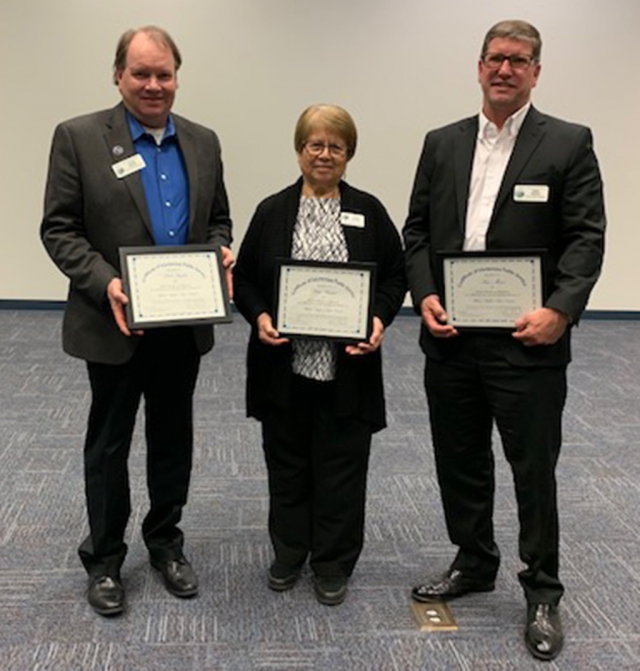 At the January 30th Ventura County School Board Association's dinner meeting, Trustee Lucy Rangel was honored for 12 years of service, and Trustees Scott Beylik and Sean Morris were honored for eight years of service. The Ventura County School Board Association (VCSBA) works to promote and improve public education and to provide information and opportunities for the exchange of ideas on school related matters amongst school board members. VCSBA members include representatives from all 20 Ventura County public school districts, the Ventura County Board of Education, and the Ventura County Community College District.
Enlarge Photo
By Gazette Staff Writers — Monday, February 6th, 2023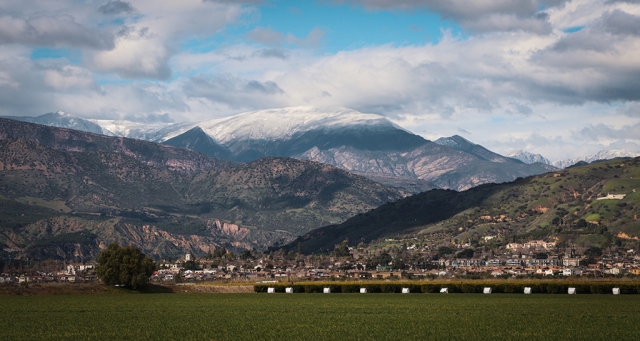 The overnight storm on Sunday, January 29th brought a vista of snow to the beautiful Topatopa Mountains. The mountain range is within the southern Los Padres National Forest and reaches an elevation of 6,716 feet (2,047 m) at Hines Peak, about six miles north of Thomas Aquinas College. This photo was taken from Guiberson Road by Gazette photographer Angel Esquivel-AE News.
Enlarge Photo
By Ventura County Sheriff Department — Monday, February 6th, 2023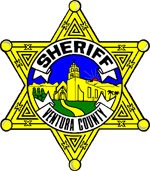 Ventura County Sheriff's Department
On 01/09/2023, a victim, driving her vehicle out of the extreme weather conditions in the unincorporated area of Ventura County at South Mountain Road / Balcom Canyon Road, became stranded in the mud and water. The victim was forced to evacuate and abandon her vehicle, leaving several personal items behind, including credit cards.
The next day, the victim's bank alerted her to fraudulent credit card activity in excess of $1,800.00 made using the stolen credit cards at several businesses in the surrounding area. An unknown suspect had entered the abandoned vehicle, stole the victims credit cards, and made several fraudulent purchases at local businesses.
Detectives assigned to the Santa Clara Valley Station obtained video of the suspects making these fraudulent purchases. Detectives were able to visually identify both suspects as Fillmore resident Rodrigo Estrada aka Rodrigo Perez and Santa Paula resident Pedro Chavez.
On 01/25/2023, Pedro Chavez was contacted and arrested in the city of Fillmore without incident. On 01/30/2023, Rodrigo Estrada aka Rodrigo Perez was contacted in the city of Santa Paula and he was arrested without incident. A search warrant of the vehicle driven by the suspects was obtained and numerous items purchased with the stolen credit cards were recovered.
Both parties were arrested and booked into the Ventura County Pre-Trail Detention Facility for violations of California Penal Code 530.5 (a) / Identity Theft and 182 (a) (1) / Conspiracy to Commit a Crime and 496 (a) / Receiving Stolen Property.
Pedro Chavez remains in custody with his bail set at $50.000.00. His court date is 01/31/2023. Rodrigo Estrada aka Rodrigo Perez also remains in custody with his bail set at $50.000.00. His court date is 02/01/2023.
Anyone with information pertaining to crimes of this nature are urged to contact the Fillmore Police Department at (805) 524-2233, Detective Valdez, or Detective Lemar at the below listed numbers. The reporting party may remain anonymous.
The Ventura County Sheriff's Office is committed to maintaining the safety of all residents by continued community partnerships. The Fillmore Police Department encourages citizens to immediately report suspicious people and vehicles, and to promptly report any crime they come across by calling 911. The Ventura County Sheriff's Office would like to thank members of the public for their on-going support and due diligence in providing information to assist our agency in solving crimes.
Nature of Incident: Suspects Victimize Flood Evacuee
Report Number: 23-3952
Location: South Mountain Road / Balcom Canyon Road, Unincorporated area of Ventura County
Date & Time: January 10, 2023 @ 9:48 AM
Unit(s) Responsible: Santa Clara Valley Station Patrol, Santa Clara Valley Detectives
(S)uspects, (V)ictims, (P)arty, (D)ecedent City of Residence Age
(S-1) Rodrigo Estrada aka Rodrigo Perez, Fillmore, 45
(S-2) Pedro Soria Chavez, Santa Paula, 26
Prepared by: Detective Sergeant Will Hollowell
Approved by: Captain Eduardo Malagon
Ventura County Crime Stoppers will pay up to $1,000 reward for information, which leads to the arrest and criminal complaint against the person(s) responsible for this crime. The caller may remain anonymous. The call is not recorded. Call Crime Stoppers at 800-222-TIPS (8477).
By Gazette Staff Writers — Monday, February 6th, 2023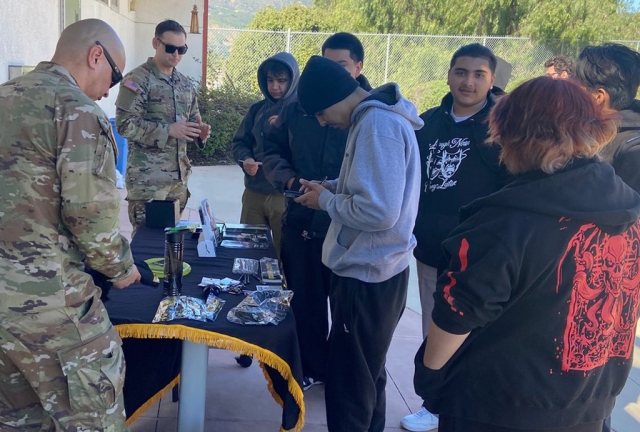 Last week Sierra High Warriors had a chance to learn more about the US Army. The students had great questions and tried to earn a T-shirt for doing push-ups. Courtesy Sierra High School Warriors Blog.
Enlarge Photo
By Gazette Staff Writers — Monday, February 6th, 2023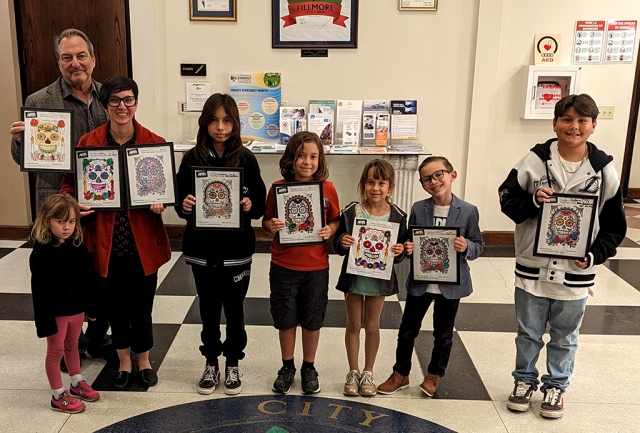 On Tuesday, January 24, the Fillmore Arts Commission presented awards for the 2022 Dia De Los Muertos Coloring Contest. Pictured are this year's contest winners (l-r) Mariana Elvira, Ethan Klittich, Alice Klittich, Diego Herrera, and Joshua Diaz. Winners not present for the photo were Caleb Boek, Moises Patiño and Gabriel Cardona. Courtesy City of Fillmore.
Enlarge Photo
By Gazette Staff Writers — Monday, February 6th, 2023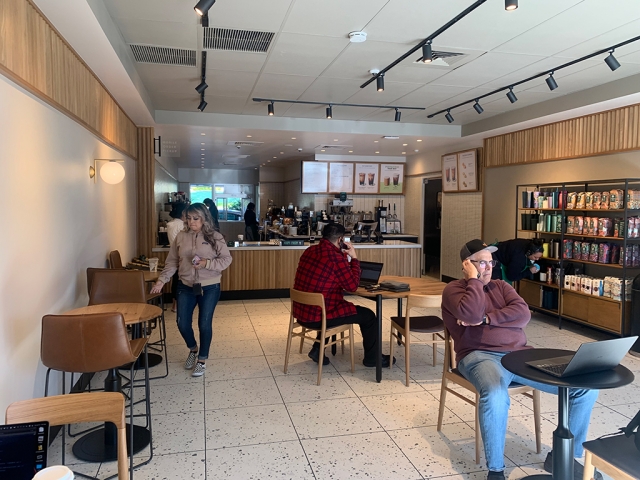 A brighter and more spacious Starbucks is open after being closed for a 3-week remodel. Goodbye withdrawals... Watch for photos next week of the Meet & Greet of Fillmore's new Chief of Police Eduardo Malagon, held at Starbucks on Wednesday, February 1st!
Enlarge Photo