By Gazette Staff Writer — Wednesday, November 6th, 2019
By Gazette Staff Writer — Wednesday, November 6th, 2019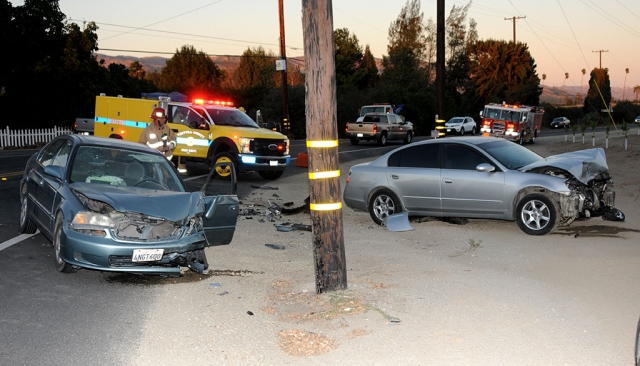 Wednesday, October 30th at 6pm a head on collision occurred between a Honda Civic and Nissan Altima at the corner of Bardsdale and Grimes Canyon Road. Cause of the accident is still under investigation.
Enlarge Photo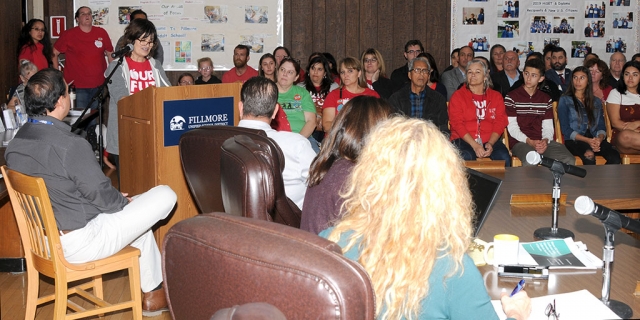 On Tuesday, November 5th, the Fillmore Unified Teachers Association protested outside before the school board meeting. When the meeting began, the board room was filled with supporters and speakers for the teachers who are in negotiations with FUSD regarding health benefits and salary.
Enlarge Photo
By Gazette Staff Writer — Wednesday, November 6th, 2019
Information/Discussion Presentations
The Governing Board received four presentations at the November 5, 2019 regular board meeting. Presenter is listed in parenthesis next to the presentation title.
Approve Notice of Completion for Roof Restoration at Mountain Vista Elementary School, Project 2019-022—Midstate Sheetmetal, Inc.—Contract $799,450.00
The Governing Board accepted the Notice of Completion for purchase order F19-01343, Roof Restoration at Mountain Vista Elementary, completed by Midstate Sheetmetal, Inc.
Approve Notice of Completion for Gymnasium Roof Restoration at Fillmore High School, Project 2019-025—Western States Roofing, Inc.
The Governing Board accepted the Notice of Completion for purchase order F19-01390, Gymnasium Roof Restoration at Fillmore High School, completed by Western States Roofing, Inc.
Contract Amount: $ 378,000.00
Change Order #1: $ 20,000.00
Change Order #2: $ 4,794.00
Change Order #3: $ 1,784.53
Total Contract Amount: $404,578.63
Award Bid for Fillmore High School Existing CTE Building Demolition Project & CTE New Building Construction Project
The Governing Board awarded the bid as follows:
Project#: 2020-003
Project Description: Fillmore High School Existing CTE Building Demolition Project & CTE New Building Construction Project
Contractor: Novus Construction
Amount: $15,349,000.00
Personnel Recommendations
The Board approved all personnel recommendations including new hires, promotions, resignations, and leaves.
By Gazette Staff Writer — Wednesday, November 6th, 2019
Photo of the Week: "Gray haired young girl strolling the street at Trunk or Treat Halloween night" by Bob Crum. Photo data: Canon 7DMKII camera, manual mode with Tamron 16-300mm lens @28mm. Exposure; ISO 16000, aperture f/10, shutter speed 1/60 seconds.
Enlarge Photo
By Bob Crum — Wednesday, November 6th, 2019
'A' or 'P' & Lumimuse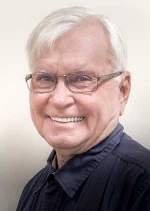 Bob Crum
Emails floweth forth, rushing on the cyber river with a voracious torrent. Actually, given the message from Glen P., a trickle was preferred. Glen P. is upset. He wrote to say that he puts his camera on 'A' (Automatic) mode but then can't adjust the aperture or shutter speed to get a correct exposure. Hm, I thought 'A' mode meant automatic mode. Aha, dictionary.com says: 'Automatic'; (aw-tuh-mat-ik), having the capability of operating independently. Glen, it's like your Ferrari 488 GTB. Put the automatic transmission in 'Drive', mash the pedal and go! The tranny shifts automatically, right? Your camera is like that. Frame the composition to suit, mash the shutter button and whoosh, the camera's computer shifts the aperture and shutter speed automatically for proper exposure! Eazy peazy. In 'A' mode, even phonetographers can make exquisite photos with a camera! Or not.
Why not use 'A' mode all the time? Because 'A' mode doesn't always produce the desired photo. The camera doesn't know whether or not the subject is moving or that I might want more depth-of-field than provided. According to embedded algorithms, the camera sets arbitrary lens aperture and shutter speed settings to achieve a proper exposure.
But, 'A' mode is significant when learning the exposure triangle-aperture, shutter speed and ISO. Make a photo in 'A' mode and check the settings the camera chose. Study the image depth-of-field, brightness level, blur if present if the subject is moving, etc. Practice enough and you'll soon know a lot about the exposure triangle.
Glen was also puzzled between 'A' mode and 'P' mode. Not surprised, considering that it's one of the most asked questions. 'A' mode is an entirely hands-free operation. Exposure is automatic and determined by the camera's computer. The camera's light meter measures the light entering through the lens and adjusts shutter speed and the lens aperture. In 'P' mode, many (not all) cameras provide a few exposure options depending on the shooting circumstances. Varying 'ISO' is one such option to compensate for situations like shadows, or snow scenes and such. Another option is 'Exposure Compensation' (EC) for minor exposure adjustments. I use EC a lot for mermaid portraits.
I suggest that photographers with a new camera (read the manual) and begin shooting in 'A' mode. After gaining an understanding of the exposure variables, advance to 'P' mode and play with ISO options to further your understanding of the exposure triangle. After accumulating sufficient time operating the camera, you'll be ready to go all out and take total control of the camera in 'manual' mode. You'll feel like you're being released from a straight jacket.
The Halloween Trunk or Treat event was another fantabulous event providing a cornucopia of photo ops. And don't we learn from past photo endeavors? Because flash photography is not applicable at such events, Trunk or Treat was a fortuitous opportunity to use my Manfrotto Lumimuse 8 LED light. This mini light mounts on the camera's hot shoe. Unlike a flash, the Lumimuse is a constant light source and controllable. A four-step dimming control regulates the light intensity. It worked about 50% of the time. Problem was selecting the right intensity on moving subjects while framing the photo. Eventually the Lumimuse got knocked off the camera by a roving rhino and broke. Sigh!
Selecting a photo of the week was a struggle. Ultimately decided on this lovely little girl dressed as grandma. So adorable! Because it's a night photo, I decided to use a B&W preset in Lightroom for an 'old photo' look which included some film grain to fit the 'old lady' theme. Creativity rules!
Send comments, suggestions or questions to: focusonphotography@earthlink.net
By Ventura County Sheriff Department — Wednesday, October 30th, 2019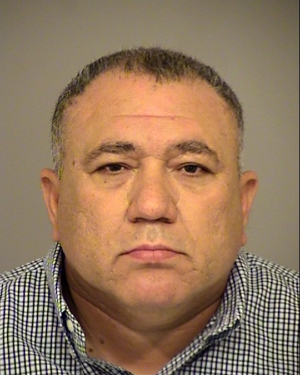 Geiman Romero, 48, of Los Angeles
A second suspect has been arrested in connection with a lottery scam where an elderly woman was coerced into withdrawing a large sum of money from her bank.
On 10/10/19, three suspects were involved in a lottery scam in the City of Fillmore. They targeted an elderly resident by claiming they possessed a winning lottery ticket. The suspects provided the victim with a ride to her bank. The driver of the vehicle was later identified as Geiman Romero. Romero and his co-conspirators requested that the victim withdraw a majority of her balance. They convinced her that the money will be repaid when the lottery ticket was cashed. When the victim entered her bank, an alert teller felt the transaction was out of the norm. The bank employees notified the Fillmore Police Department. Upon arrival, deputies interrupted the scheme and arrested one of the suspects. However, Romero and a female suspect fled the scene.
Investigators obtained information on the whereabouts of Romero. On 10/23/19, investigators located Romero near his residence in the 500 block of Park View Street in Los Angeles. He was arrested and booked in jail for PC 664 / PC 532(a) / Attempting to Obtain Money, Labor or Property by False Pretenses, PC 182(a)(1) / Conspiracy to Commit a Crime, and PC 368(b)(1) / Elder/Dependent Adult Abuse, with bail set at $500,000.
The common methods for carrying out these crimes include targeting the elderly, suspects alleging he/she cannot cash the winning lottery ticket due to their nationality, suspects working in teams of two or three, and the request to wire, transfer, or obtain money or goods in exchange for winnings from a fictitious lottery ticket. The Fillmore Police Department encourages anyone who believes they are possibly being scammed in a similar matter to contact local law enforcement.
Nature of Incident: Second Suspect Apprehended in Lottery Scam
Report Number: 19-159713
Location: 500 Block of Sespe Ave Fillmore
Date & Time: 10/23/19 @ 8:00 am
Unit(s) Responsible: Fillmore Investigations Bureau
(S)uspects, (V)ictims, (P)arty, (D)ecedent City of Residence Age
S- Geiman Romero, 48, of Los Angeles
Prepared by: Sergeant Vince Alvarez
Approved by: Captain Garo Kuredjian
***
Ventura County Crime Stoppers will pay up to $1,000 reward for information, which leads to the arrest and criminal complaint against the person(s) responsible for this crime. The caller may remain anonymous. The call is not recorded. Call Crime Stoppers at 800-222-TIPS (8477).
By Gazette Staff Writer — Wednesday, October 30th, 2019
Presentation "How Medicare Works"
By Gazette Staff Writer — Wednesday, October 30th, 2019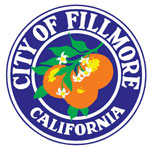 City of Fillmore
Posted Monday at 8:39 a.m. on The City of Fillmore Facebookpage:
We understand the inconvenience of having your power turned off, and the frustration of not knowing when it will be restored. Power could be shut off for hours or days, depending on weather conditions. Southern California Edison (SCE) determines when power is turned off and when it is safe to turn power back on. If you have questions, please contact Southern California Edison (SCE): 1-800-655-4555 or 1-800-611-1911, or visit www.sce.com/psps. Again, these determinations are made by SCE. The City Council is very concerned about these power shut-offs and has contacted SCE and your California State Representatives about this situation.
HERE ARE THE RESOURCES:
SCE publishes the outages on this website: www.sce.com/PSPS. Scroll down to "Ventura County" and click on any PDF that says "Fillmore" to find out which circuits are being affected.
After SCE issues the notice, Ventura County Office of Emergency Services updates this resource with info from SCE: https://www.vcemergency.com/. Click on the map. Enter your address into the interactive map to find out which circuit you are in and if you are currently affected by a PSPS.
Register for emergency notifications at https://www.vcemergency.com/
Register for power outage notifications at www.sce.com/PSPS.
OTHER IMPORTANT INFORMATION:
CITY HALL, FIRE AND POLICE DEPARTMENT: Will remain open.
TRAFFIC SIGNALS: With possible power outages in our community, please expect that traffic signals within the outage area may lose power. In that case, all vehicles are to treat the intersection as an all-way stop, per state law. Stay alert and be patient while driving.
SPECIAL MEDICAL NEEDS: All residents, including those who need continuous power for special medical equipment, are strongly encouraged to visit www.sce.com/PSPS, or call (800) 655-4555, and update their emergency contact information with SCE.
By Gazette Staff Writer — Wednesday, October 30th, 2019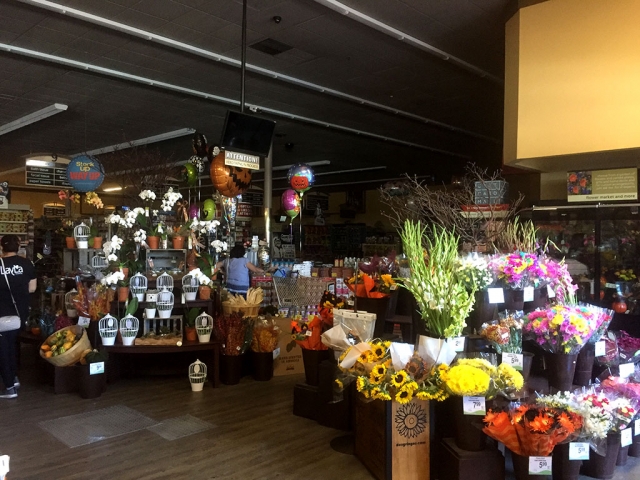 On Thursday, October 24th at 11:34am Vons Fillmore's power was cut by Edison due to the high winds that pasted through last week. Vons was one of many areas in Fillmore which were affected by the Edison power shut offs.
Enlarge Photo
By Gazette Staff Writer — Wednesday, October 30th, 2019
On Thursday 10/24/19, at about 2050 hours, the Lockwood Valley Sheriff's Station received a call for service regarding two dirt bike riders who became lost while riding on Snowy Trail without food or water. The Sheriff's Office initially received limited information regarding the whereabouts of the two lost riders; however, the riders were able to provide their GPS coordinates. The riders were instructed to stay at the provided GPS coordinates until a search and rescue team could respond to their location.
The GPS coordinates showed the riders were near Snowy Trail at the junction of Piru Creek, west of Smith Fork Creek. The Fillmore Search and Rescue Team was activated and quickly responded to the area. The Fillmore Search and Rescue Team is comprised of a highly trained and dedicated group of volunteers who tirelessly and selflessly put others first.
After responding to the area, the search and rescue team utilized dirt bikes and all-terrain vehicles (ATV's) to get as close to the lost riders as possible. The team then hiked over a mile in the dark while navigating difficult terrain. By 0200 hours, the search and rescue team located the riders, who were in good health and no need for medical attention. They were provided nourishment and warm clothing before being guided back to the awaiting ATV's. They were escorted to their camp without incident.
There are many hazards and risks associated with recreating in the national forest and wildlands. Many of these hazards and risks can be mitigated with proper planning and preparation. At a minimum, it is imperative to be familiar with the area you are recreating in, have a map, and ensure someone who is not with the group knows the details of your trip and when to report you as overdue.
Please recreate responsibly for your safety and the safety of our first responders.
Nature of Incident: Fillmore Search & Rescue Assist in Snowy Trail Rescue
Incident Number: 19-167858
Location: Los Padres National Forest – Snowy Trail
Date: 10/24/19
Unit(s) Responsible: VCSO Lockwood Valley & Fillmore Search and Rescue Team 1
(S)uspects, (V)ictims, (P)arty, (D)ecedent City of Residence Age
Male adult, Valencia, CA 23
Male adult , Valencia, CA, 21
Prepared by: Deputy Sam Moss
Approved by: Captain J. Fryhoff