By Gazette Staff Writer — Wednesday, December 23rd, 2020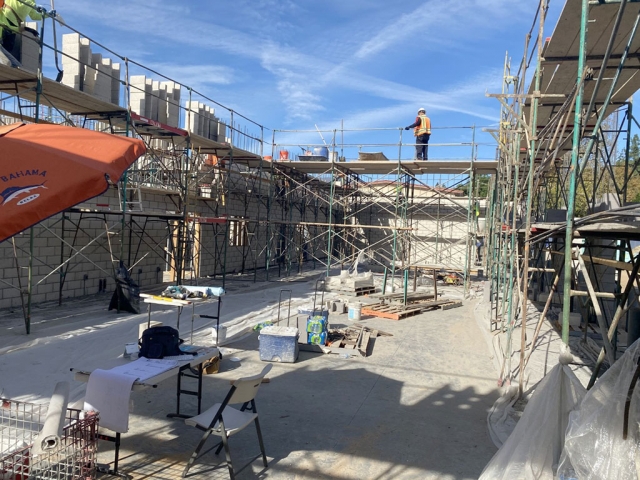 Fillmore High began construction on their Career Technology Education (CTE) building sin the summer/fall of 2019. The plans are to build an Agricultural and Transportation SDSR (SDSR Systems Diagnostic Service and Repair) building. Above is the Transportation Building construction underway; the buildings expected completion date is July 2021.
Enlarge Photo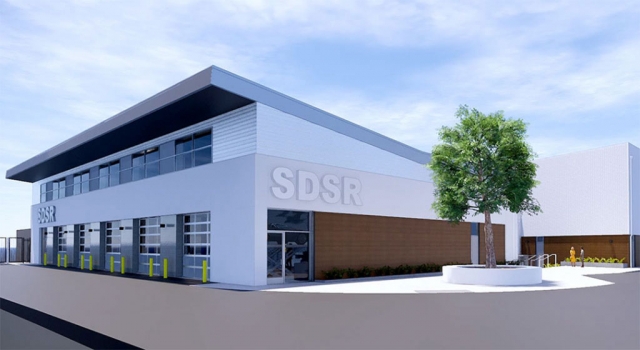 A rendering of the Transportation building.
Enlarge Photo
By Gazette Staff Writer — Wednesday, December 23rd, 2020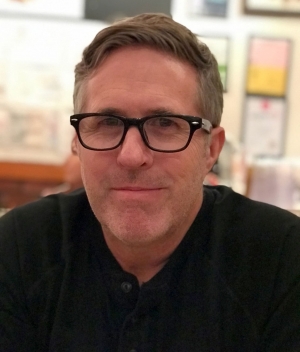 Bestselling Author Brett Battles
Brett Battles, bestselling author of nearly 40 novels, has moved to Fillmore. Born and raised in Ridgecrest, California, Battles lived most of his life in the greater Los Angeles area, but felt ready for a change.
"I was looking for a place outside of Los Angeles, but close to Simi Valley, where my kids live," said Battles. "Ventura County seemed like the perfect solution. I checked out several places, and really liked the feel and size of Fillmore. Plus, one of my best friends lives here, so that was a bonus."
Battles has sold over one million copies of his novels. He is a USA Today bestselling author of several series including the Jonathan Quinn series, the Project Eden series, and the time bending Rewinder trilogy. His debut novel, The Cleaner (A Jonathan Quinn Novel Book 1), was nominated for The Barry Award for Best Thriller, and The Shamus Award for Best First Novel. His second Jonathan Quinn novel, The Deceived, won The Barry Award for Best Thriller.
Battles has traveled extensively to many international cities, Ho Chi Minh City, Berlin, Bangkok, Angkor Wat, Singapore, Jakarta, London, Paris, and Rome, all play parts in his current and upcoming novels. Although he enjoys traveling, Battles loves being at home to write and spend time with his three adult children, Ronan, Fiona, and Keira, who now enjoy driving up to Fillmore for visits and to play with Maggie, Brett's neurotic, paranoid, and very cute, Australian Shepherd.
"I love the pace of Ventura County. It's both energetic and relaxed, perfect for me. I feel like I've lived in Fillmore for years. It really feels like home. I've made some great friends here already, and look forward to making even more."
Battles says, "If you like James Bond, Jack Reacher, or Jason Bourne, give my Jonathan Quinn series a try. I get the best feedback from Quinn fans. They seem to really love the main characters." Battles latest Quinn novel, The Vanished, was just released this December and has already reached #1 in several Mystery, Thriller, and Suspense categories on Amazon. You can lean more about Battles and his novels at his website www.brettbattles.com
By Gazette Staff Writer — Wednesday, December 23rd, 2020
During this time we would like to remember and honor those in our community. Santa Clara Valley Hospice has been sponsoring Light Up a Life for over 27 years. There is still time to make a $10 donation to add the name of a loved one. Contact: SCVH at 805.525.1333.
IN MEMORY OF...
Gladys Carpenter
Anice Reed
I B Reed
Billy Reed
Wanda Lynn Martin
Claude Lee
Mary Lee
Hazel Hiebert
Rufus Hiebert
Bill Edmonds
Harold Michel
Bernice Michel
Sam Myers
Estelle Johnson
Ruth Gillespie
Diane Dudley
Chris Cone
Shelly Signor
Ruth Musgrave
Don Musgrave
Ked Creed
Roberta Creed
Hazel Davis
Gerald Davis
Ed Preston
Betty Preston
Eileen Cuttriss
Leslie Cuttriss
Jean Mullen
Donna Zoelke
Lois Main
Anna Bliss
Roland Preston
Jack Schleimer
Georgia Morton
Dean Morton
Nadean Rogers
Bertha De Lara Zermeno
Virginia Grainger
Ray Dressler
Mary Beyerl
Joe Beyerl
Velia Newport
Lloyd Michel Sr.
Donald DeYoung
Neva DeYoung
Nancy Dunst
Frank Dunst
Elaine Dunst
Raelene Chaney
Bob Chaney
Art Chessani
Raymond Wallace
Tommy Wallace
Otto Olson
Noma Olson
Harold C. Olson
Robert "Bob" Olson
Luanne Perez
Natividad Gaitan
Genaro Gaitan
Clemente Ferrer
Blanca Ferrer
Eric "Rick" Godfrey
Bret Godfrey
Vena Godfrey
Grace Meehl
Louis Meehl
Kathy Black
Terry Meehl
Janine Reese
Ramona E. Golson
Gene Wren
Marie Wren
Steve Kay
Lowell Barnhart
Carmen Barnhart
Onema Nunes
Susan Taylor
Sophia Norris
Frank Norris
Tom Maxfield
Phillis Maxfield
Lorraine Finch
Helen Lidamore
Ronnie Brooks
Manuel Cabral
Jess Cabral
John Cabral
Frank Cabral
Jim Stehly
Mary Stehly
Phillip Stehly
Jess Colitti
Ronnie Brooks
Monica Hernandez
Debbie Thomas
Cheri Fleming
Gay Givens
Hector Merjil Sr.
Hortencia Perchez
Jovita Chavez
Steve Halweg
David Ayala
Don Gunderson
Ruthie Gunderson
In Honor of:
Wilma Allen
Helen West
Sharon Modglin
Ari Larson (Fillmore City Council Member)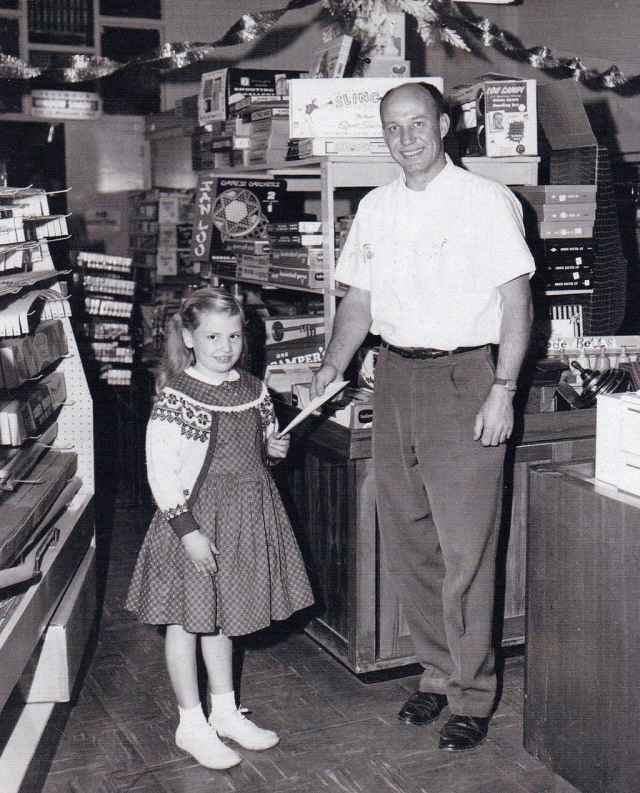 1960 Stockers Department Store Bill Stocker and Susan French. Photos courtesy Fillmore Historical Museum.
Enlarge Photo
By Gazette Staff Writer — Wednesday, December 23rd, 2020
Courtesy Fillmore Historical Museum
Christmas is always an exciting time for children and their families. The children eagerly await the arrival of Santa and presents. Their parents spend an outrageous amount of time and money buying presents and attempting to hide them until late Christmas Eve when they can be placed under the tree for the children to find in the morning.
Fillmore's local merchants tried to outdo each other with festive store windows. The only newspaper in Fillmore added to the festivities with special, colorful, Christmas front pages. The photo of the front page from 1911 shows Santa, having swapped his sleigh for the newest invention, an airplane, dropping toys and candy to the children below.
Christmas in the early years of the twentieth century were less complicated. There might be a small tree such as the one in the photo from 1913, decorated with popcorn strings, some tinsel, ribbons and a few presents. The piano was close by to allow for singing carols as the children impatiently waited for Santa to arrive. Sometimes there were parties where the children received an orange from California or piece of hard candy.
In 1930 Fillmore celebrated with lighted Christmas trees placed in concrete pots down both sides of Central Avenue as well as trees in the center of the street placed at each crosswalk. These were all live trees as were all the trees for sale in every grocery store in town. There were at least 5 grocery stores on Central Ave with trees for sale out front on the sidewalk.
Merchants in 1941 decorated their front windows with all those appliances they hoped a husband would purchase to make his wife's life easier. To be festive Briggs Hardware added a garland with wreaths and bells to their window display. Note the date on the photo, Dec 5, 1941, two days before the attack on Pearl Harbor. Christmas for the next few years would be very changed with consumer items restricted and young men off to war.
The photo of the Christmas tree sitting on fake bricks is from 1942, "somewhere in the Pacific." Christmas was celebrated even in a tent far from home during the war.
By the 1960s outdoor decorations were popular at people's homes. The photo of museum founder Edith Jarrett's home on Foothill in 1963 is typical of the time. Also typical are the water thrifty plants and the rocky area in front of the house.
In 1960, if you wanted to see Santa Claus you probably went to Stocker's Department Store, It had almost anything a child could wish for. It was just south of Orin Eberly's drugstore where you could get a great gift for mom and north of Champ Cochran's men's emporium where you could find a gift for dad. The Fillmore Theater was just up the street. It was the place to go for special Christmas movies and cartoons, a tradition begun for the children of Fillmore in the 1920s and originally hosted and paid for by Richard Stephens of Stephens Market.
Christmas pageants were also part of the Christmas festivities. Not only were they performed in churches, they also were performed by the Fillmore High School students in the "state of the art" high school auditorium. The productions consisted of talented students dancing, singing, playing their musical instruments and performing skits. The final act was always a production of the journey of Joseph and Mary and birth of Jesus. After the high school building and its auditorium were demolished in the mid-1950s the pageant moved to the high school gym. The nativity scene took place on the south side bleachers with Joseph, Mary, Jesus and the angels, wise men and shepherds as seen in the accompanying photo from 1960. Many of you may remember teacher, Beatrice Albright, the guiding light for these productions.
All of us have special memories of Christmases here in Fillmore when we were children. There were family gatherings, church programs, lights and music. We here at the Fillmore Museum wish you all a safe, healthy, and Merry Christmas and Happy New Year!
By Gazette Staff Writer — Wednesday, December 16th, 2020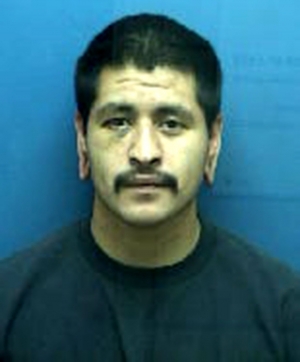 Kristian Fonseca, 22, of Fillmore
Original Press Release:
On Saturday, October 24th, 2020, at approximately 10:13pm, the Santa Paula Police Department received a call of shots fired with two subjects down in the 200 block of Ventura St. Upon officers arrival, officers located two subjects with gunshot wounds. One subject was pronounced deceased on scene and the second subject was transported to the Ventura County Medical Center where he is in critical condition. While officers were investigating the scene, a third victim of the shooting arrived at the Santa Paula Hospital Emergency Room. He was later taken to the Ventura County Medical Center in Ventura. There are no suspects in custody and the motive is unknown at this time.
Update:
On Thursday 12/10/2020 SPPD Detectives completed the investigation into the October 24, 2020 shooting which claimed the lives of two people. During the investigation Kristian Fonseca of Fillmore was identified as a person of interest. Fonseca was arrested by SPPD Special Enforcement Officers on October 27, 2020 on an unrelated warrant. SPPD Detectives conducted the investigation and on December 10, 2020 Fonseca was charged by the Ventura County District Attorney's Office with two counts of murder and two counts of attempted murder in relation to the October 24, 2020 shooting. Fonseca has been in custody since October 27, 2020 on charges unrelated to the homicide.
CONTACT PERSON: Detective Hector Ramirez
APPROVED BY: Commander Scott Varner
District Attorney Gregory D. Totten announced on Thursday, December 11th that Kristian Fonseca (DOB 10/07/98) of Fillmore, has been charged with the murder of Jose Estrada and Daniel Zuniga, both of Santa Paula. The complaint charges two counts of murder with a special allegation that Fonseca personally used a firearm in the commission of the crimes. Fonseca was also charged with one count of attempted murder with a special allegation that he personally used a firearm, for the shooting of Rafael Hernandez, of Santa Paula, in the same incident.
Mr. Estrada and Mr. Zuniga were fatally shot on East Ventura Street in Santa Paula in the late evening hours of October 24, 2020. Mr. Estrada died that day, while Mr. Zuniga remained on life support for two weeks before he died. Mr. Hernandez was shot several times and survived his injuries. Fonseca is currently in custody for an attempted murder that he committed in the city of Ventura in October 2019. He appeared in court on December 10, 2020, and pled not guilty to the new charges. The case is set for an early disposition conference on January 27, 2021, at 1:30 p.m. in courtroom 12 of the Ventura County Superior Court. Fonseca is currently in custody at the Ventura County Jail with bail set at $3 million.
The Ventura County District Attorney's Office is the public prosecutor for the county's 850,000 residents. The office employs approximately 280 employees including attorneys, investigators, victim advocates, and other professional support staff who strive to seek justice, ensure public safety, and protect the rights of crime victims.
Follow the Ventura County District Attorney's Office on Twitter @VenturaDAOffice
By Gazette Staff Writer — Wednesday, December 16th, 2020
On Friday, December 11th at 5 PM, a car crash was reported on East Guiberson Road, east of Highway 23 in Bardsdale. When California Highway Patrol arrived on scene they found a pickup truck in a ditch with a male victim outside the vehicle and unresponsive. Authorities closed Guiberson for several hours to conduct their investigation. On Monday, December 14th the Ventura County Medical Examiner identified the crash victim as Jose J. Gonzalez Sr., 57, of Fillmore. Authorities report that the pickup truck veered off the road and that the driver did not appear to have used his brakes before the crash, can was not
wearing a seatbelt.
By Gazette Staff Writer — Wednesday, December 16th, 2020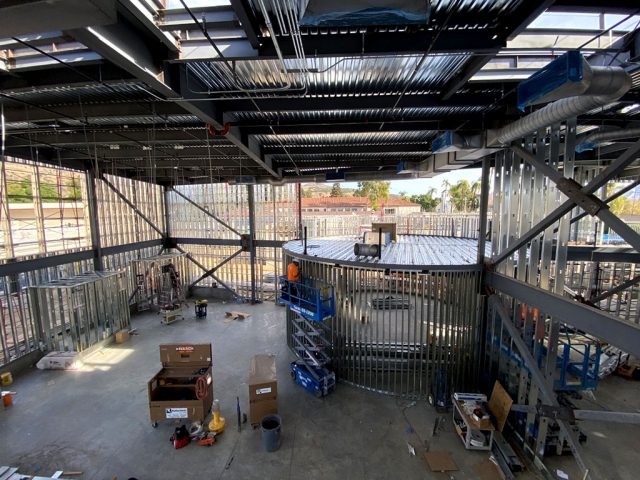 Construction has been underway on the new FHS Career Technology Education (CTE) buildings since summer/fall of 2019. FHS will have a new Agricultural and Transportation Building as part of the funds Fillmore Unified was awarded in the November 2016 election on Measure V. Pictured above and below is the construction going on inside the Agricultural building.
Enlarge Photo
Back in November of this year construction began on 77 affordable workforce housing units at the corner of Mountain View and Highway 126. Above is an architect's rendering of the units.
Enlarge Photo
By Gazette Staff Writer — Wednesday, December 16th, 2020
This housing project is a joint venture with the Area Housing Authority of the County of Ventura. Funding sources for this project come from Ventura County Housing Trust Fund Acquisition Loan, County of Ventura CDBG Funds, State Funds, Area Housing Authority of the County of Ventura Permanent, Loan and Project Based Vouchers, Conventional Permanent Loan, and 4% Tax Credits + Tax Exempt Bond.
The Community Amenities available will be Manager/Services Offices, Community Room, On-Site Library Services In, Partnership With The Ventura County Library System, Two Playgrounds, Outdoor Activity Center, On-Site Laundry, Community Gardens, Picnic/BBQ, Garage Parking and Guest Parking.
For more information visit https://www.manymansions.org/properties-in-development/mountain-view-fil...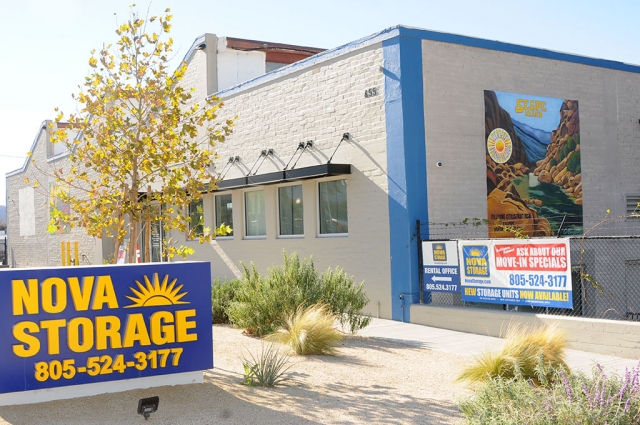 Fillmore's Nova Storage has completed their Sespe label mural which Fillmore artist Gabriel Cardenas began back in November of this year. They plan to begin a third mural in January 2021.
Enlarge Photo
By Gazette Staff Writer — Wednesday, December 16th, 2020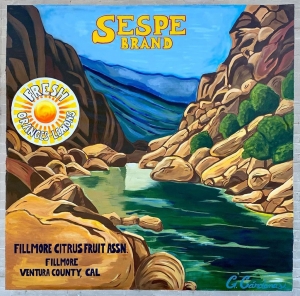 Saturday, November 14th Fillmore artist, musician, and "artivist" Gabriel Cardenas began a new mural project for Nova Storage here in Fillmore at 455 A Street. Nova Storage reached out to the community by conducting an online poll where people voted on their favorite historic fruit label design. The community's response was greater than expected and the winner was the SESPE label. Above is the is the second of three murals planned for the building. The first mural was completed back in April of this year. Nova Storage plans on beginning working on the third mural in January 2021.
Nova Storage continues to be active in their local communities, with nine branches providing superior customer service and offering clean, safe and secure facilities at a great rate. Stop by one of their locations, like them on Facebook, follow on Instagram, and visit their website at www.Nova Storage.com.
By Gazette Staff Writer — Wednesday, December 16th, 2020
SoCalGas announces additional donation to the Gas Assistance Fund to help customers in need. There is still time for income qualified individuals and families to apply for up to $200 to help pay their gas bills. To learn more, go to https://sempra.mediaroom.com/index.php?s=19080&item=137863. Courtesy City of Fillmore.