By Gazette Staff Writer — Wednesday, August 26th, 2015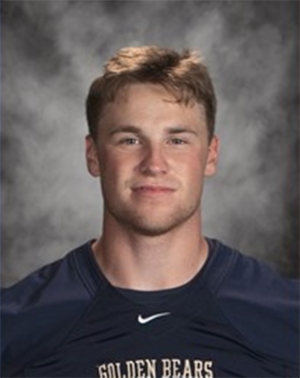 Corey Cole
Concordia University has officiallynamed Corey Cole as their starting quarterback for the 2015 season.
Their opening game will be Thursday, September 3rd on the road against St. Cloud State University.
One year ago Cole was named the starting quarterback to open the 2014 season, earning Concordia Offensive Player of the Week honors in the opener at Minnesota Duluth, rushing for 177 yards and a touchdown on 18 attempts with a long of 33 and completed 12-25 for 130 yards with a long of 21 without committing a turnover. He completed 6-9 for 44 yards and rushed four times for 11 yards in week two at Northern State before leaving the game with a broken footwhich ended his season. The NCAA awarded Cole a medical redshirt.
Prior to being named the starting quarterback in 2014, Cole earned NSIC Special Teams Player of the Week Honors was named CU Offensive Player of the Week and was ranked second in NSIC South in kick return average (30.6). Cole also tied an NCAA record with a 100-yard touchdown return.
He is a 2011 graduate of Fillmore High School and is the son of Craig and Lynn Cole.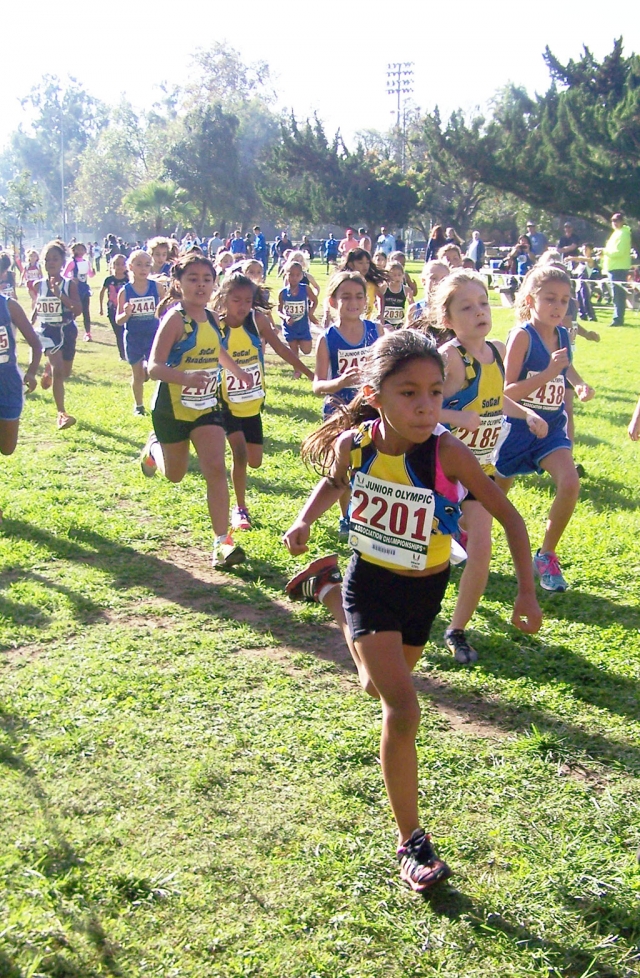 Niza Laureano (bib #2201) leads the pack at the 2014 USATF Southern California Association Junior Olympic Cross Country Championships in Arcadia, California.
Enlarge Photo
By Gazette Staff Writer — Wednesday, August 26th, 2015
A local Fillmore youth athlete will be the subject of a nationally televised story. Niza Laureano, age 8, was interviewed at the Fillmore High School Track on Thursday, August 20th for a news sport report to be featured on Telemundo the American Spanish language broadcast television network that is owned by the NBCUniversal Television Group. The segment is scheduled to be aired on Telemundo channels locally on Thursday, August 27th at 5:30pm.
Ms. Laureano is a member of the Fillmore Condors Youth Cross Country team. Last year, as a 7 year old she was the 2014 Southern California Youth Track and Field Conference (SCYTFC) Gremlin Girls Cross Country Champion. After capturing the title, she moved on to national postseason competition where she earned a 5th place medal and title of "USA Track and Field Jr. Olympic All American" running as a Southern California Roadrunner at the 2014 National Junior Olympic Cross Country Championships in Myrtle Beach, South Carolina.
After the Cross Country season concluded, she moved on to the sport of Track & Field where she continued to excel. Running for the Ventura Tigres, she was the 2015 Ventura County Youth Track Conference (VCYTC) Varsity Finals Gremlin Girls 800 meter and 1600 meter champion. She broke the 1600 meter Gremlin Girls Ventura Country record with a time of 6:12.17 besting the record from 2013 set by her cousin Andrea Laureano of Heritage Valley Blazers (6:27.77).
She also earned championship titles and set records at the 2015 SCYTFC & VCYTC Co-Conference Championships in the Gremlin Girls 1500 meter race with a time of 5:33.69 (prior record 5:46.62) and in the 800 meter race with a time of 2:52.56 (prior record: 2:59.37).
Her success story reached the office of Telemundo television journalist Ariana Jabaz who came to Fillmore from Orange County to interview Ms. Laureano, her coach/uncle Rafael Laureano and her coach/father Cuauhtémoc Laureano for the report.
Ms. Laureano is a 3rd grade student of Ms. Ferguson at San Cayetano Elementary. Representatives of the Fillmore Unified School District were also on hand for the filming including principal Ms. Tricia Gradias who stated, "On behalf of the San Cayetano staff, we are all very proud of Niza and her athletic accomplishments. Not only is Niza an outstanding athlete, she is an outstanding student at San Cayetano School who has a strong work ethic and a fantastic attitude. She is an outstanding example of an all-around student leading a balanced life due to the support of a wonderful family."
By Gazette Staff Writer — Wednesday, August 26th, 2015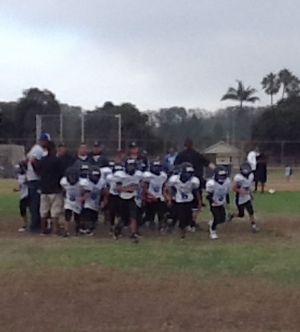 It was a busy week for Fillmore's So Cal Bears. The Bears took the field on Wednesday, August 19, for the first scrimmage of the year. The game was played at Ventura's Buena High School against the Ventura Packers. On Saturday, the annual Jamboree was held at Apollo field in Simi Valley, where the Bears played against Moorpark, Thousand Oaks, and Simi Valley.
By Gazette Staff Writer — Wednesday, August 26th, 2015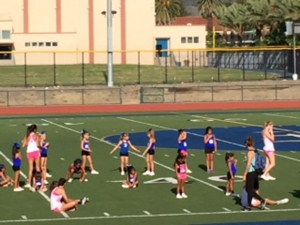 This Friday evening, August 28th is the First Home Football for our Fillmore High Flashes against Grace Brethren H.S. J.V. start time is 4:30, and the Varsity start time is 7:30PM. Let's all make an effort to support our Fillmore, Bardsdale, and Piru Kids, and show up to the games this year. GO FLASHES!!!! The next Home Football game is on Friday, September 11th against Oak Park. Same times as above.
By Gazette Staff Writer — Tuesday, July 14th, 2015
Anyone near the Memorial building this weekend may have stopped a moment to listen. Shouts of "hit" and "clean".
Accompanied by a loud 5,6,7,8 and a resounding clap could be heard from 9-2 Saturday and Sunday. No, it wasn't a karate competition or a seniors exercise group! It was the 2015 SoCal Bears Cheer Camp.
While coaches kept a watchful eye, four accomplished cheer/tumbling instructors lead the two-day camp. This years camp was attended by 96 girls, ages 4 to 14. The number of girls attending was almost double that of last year.
Coaches this year are: Katie
2015 SoCal Bears Cheer Camp
Aguilar, Director and Juniors Coach; Vivian Medina, Vice President; Brittany Cardona, Bantams; Jazzy Gonda, Gremlins; Leiana Sacolles, Midgets; Nicole Camarillo, Seniors; Shannon Pastorius, Midgets; Shantel Sierra Ponce, Peewees; Trina Tafoya, Peewees; Vanessa Aguilar, Juniors; Viv Calderon, Seniors; and Nicole Couch.
The event concluded with stunt and tumbling demonstrations by staff and all squads performing routines learned during camp for parents and friends. Also attending was Ram Medina, President & Founder of the SoCal Fillmore Bears.
MVP Yanely Lara, Best Dancer CeCe Vega, Hot Mess Myah Virto , Best Performer Monique Stone, Best Jumps Athena Merjil, Best Weave Aryanne Munoz, Best Motions Jacey Warren. Best overall cheerleader peewee team Morgan Ferguson. Best overall cheerleader bantam team Daisy Robledo. Overall spirit stick awards: Gremlins Azaria Aguilar, Peewee Presley Mc Lain, Bantam Addy Virto , Juniors CeCe Vega, Seniors Vanessa Lopez, Ages 5-13.
Thanks to Staff: Diego, Mariah, Vanessa, and
Amador.
By Gazette Staff Writer — Wednesday, July 1st, 2015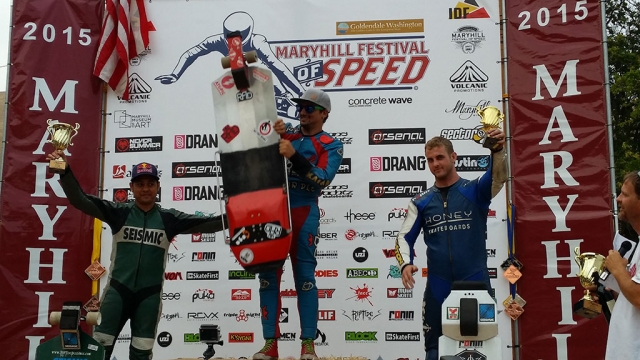 Christian Conaway returns to racing following a 2 year hiatus. Fillmore native Christian Conaway earns 3rd place at the Maryhill Festival of Speed event, which is the largest gravity racing event in the world. 230 racers from USA, Canada, Mexico, Brazil, Spain, Ireland, Russia, Japan, Malaysia, Australia, Germany and 10 others countries traveled to Goldendale Washington to race the famous Maryhill Loops Road course. The course is 2.2 miles long, 17 corners lined with 1300 safety hale bales over 2000 feet of safety netting, hundreds of sponsor banners and perfectly smooth asphalt road. Christian Conaway took a 2 year hiatus from racing while he served a LDS Mission in Bogota Colombia. He returned to his studies at BYU and is engaged to Rachel Wilcox. Life moves fast for Christian on and off the street luge.
Enlarge Photo
By Gazette Staff Writer — Wednesday, June 10th, 2015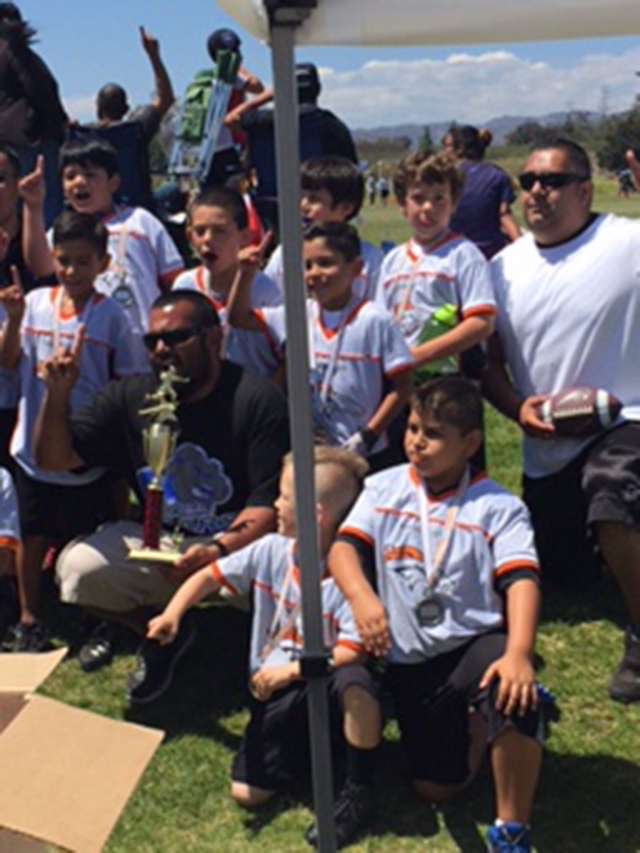 The Fillmore Broncos Flag Football team with their coach and trophy after winning division championship against Ventura last Sunday.
Enlarge Photo
By Gazette Staff Writer — Wednesday, June 10th, 2015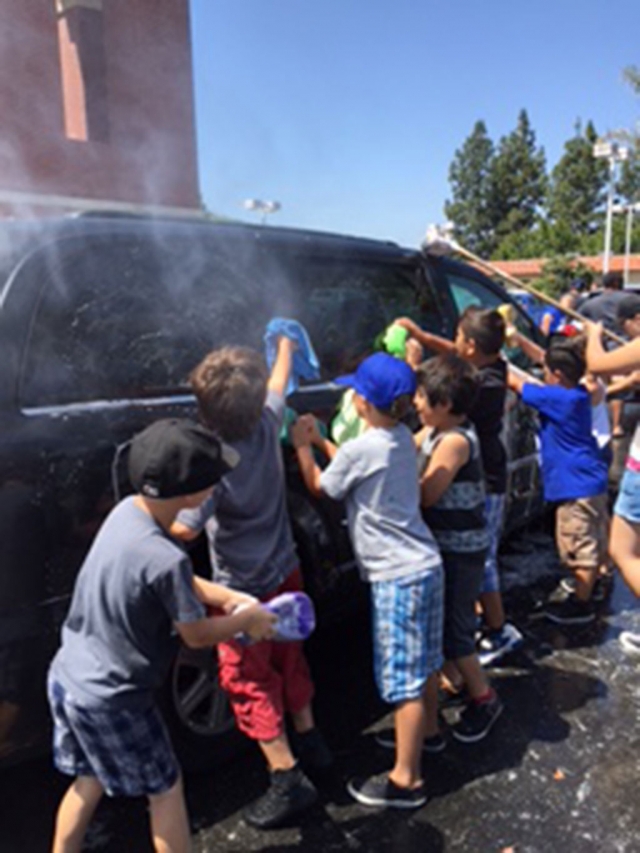 The Fillmore Bears football team at their car wash at Wm. L Morris last Saturday. Photos courtesy Roberta Andrino.
Enlarge Photo
By Gazette Staff Writer — Wednesday, May 27th, 2015
By Gazette Staff Writer — Wednesday, May 27th, 2015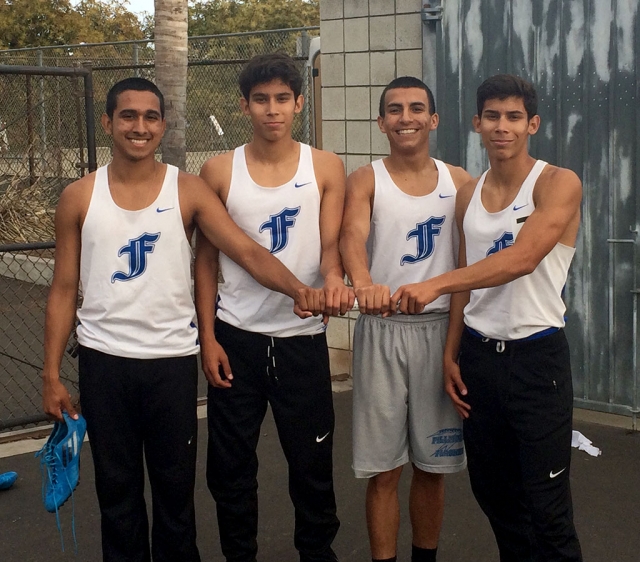 (l-r) Demitriouz Lozano, Dominick Gonzalez, Aaron Cornejo, and Damien Gonzalez. Not in photo are alternates Enrique Gutierrez and Saul Santa Rosa. The Boys 4x400m advance to the CIF Finals in Track and Field to take place this Saturday at Cerritos College. This past Saturday at CIF prelims the boys set a personal record with a time of 3:28.38 placing third overall. Way to go Flashes!
Enlarge Photo
By Gazette Staff Writer — Wednesday, May 20th, 2015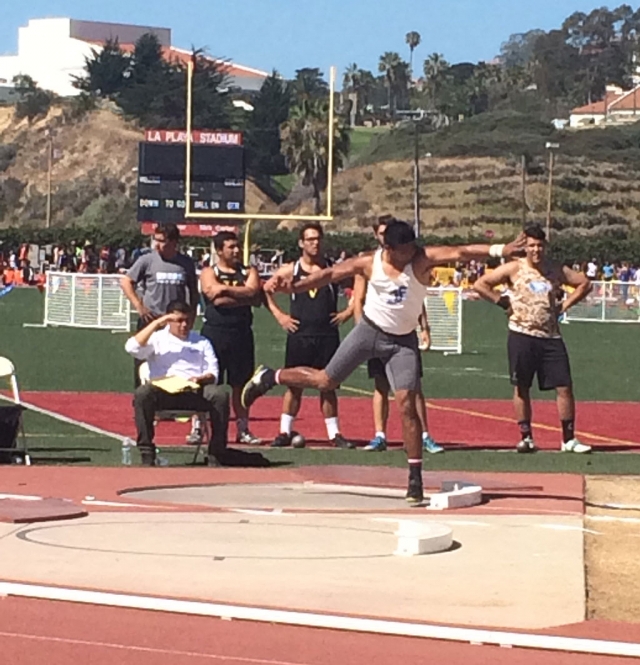 Justin Coert will complete this Saturday at Cerritos College in both the Discus and Shot Put. Just was first in the discus at CIF prelims with a throw of 147 feet 6 inches and second in the Shot Put with a personal record throw of 51 feet 7.75 inches.
Enlarge Photo
By Gazette Staff Writer — Tuesday, May 19th, 2015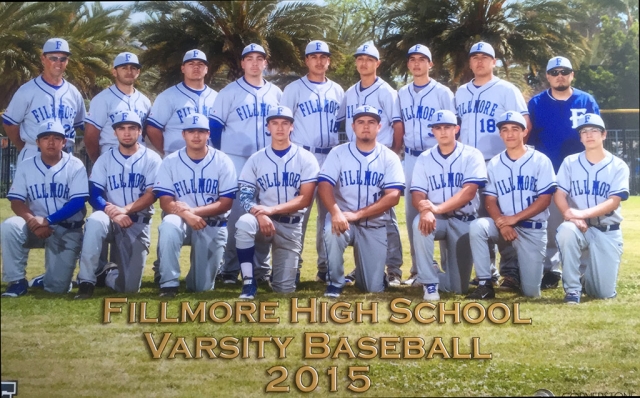 FHS will be hosting a CIF playoff game this Friday at 3:15 PM against Mammoth. We would like to encourage attendance (which is free). Nothing more American than Memorial Day weekend and a baseball game.
Enlarge Photo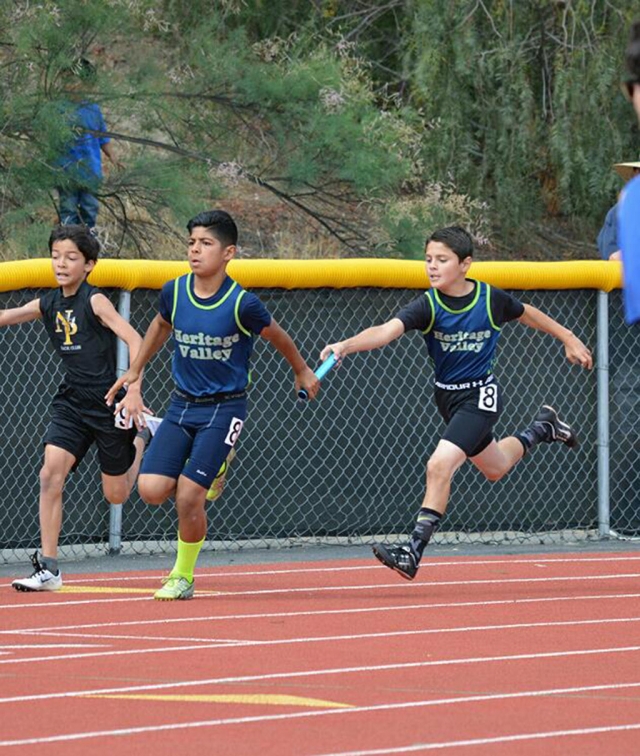 (l-r) Emilio Magana and Richard Vega
Enlarge Photo
By Gazette Staff Writer — Tuesday, May 19th, 2015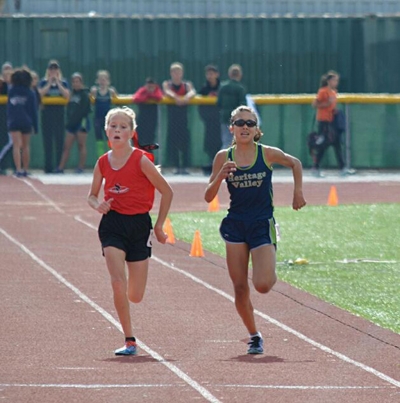 Jordyn Walla
Enlarge Photo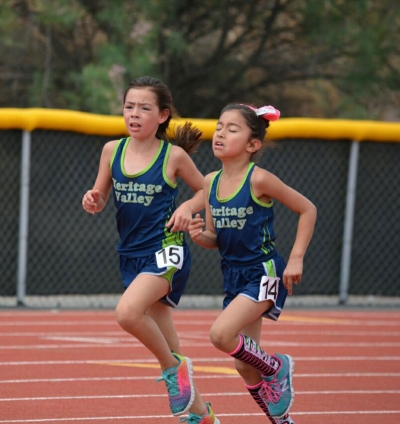 (l-r) Destiny Cardoza and Kaylani Perez
Enlarge Photo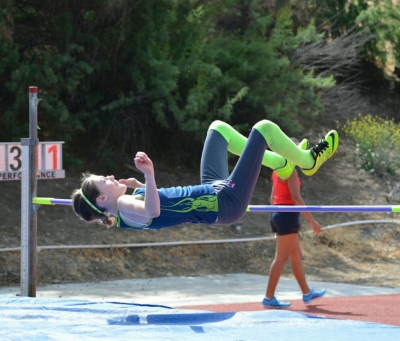 Ashlan Larson
Enlarge Photo
Saturday May 16th we participated in Our Co Conference Championships. This is where Ventura County Youth Track and Field Conference goes head to head with the Southern California Youth Track Conference. Each Conference sends their top 4 athletes in every lane event, and top 8 in distance event. Heritage Valley had quite a few athletes representing the VCYTC. The event was held at Royal High School in Simi Valley. This meet concludes our season. We would like to thank all parents, athletes, and volunteers. This has been one of our best seasons. GO BLAZERS!!
Co Conference Results:
Gremlin Girls
Leah Barragan 100m (9th place) 17.20
Ella Navarrete 400m (9th place) 1:32.38
Paola Estrada 800m (9th place) 3:17.28, 1500m (6th) 6:27.10
Kaylani Perez 1500m (12th place) 6:33.22
Destiny Cardona 1500m (13th place) 6:35.22
Bantam Girls
Celeste Velasquez Shot Put (4th place) 18-08.00
Midget Girls
Jordyn Walla 1500m (3rd place) 5:10.60, 3000m (2nd place) 10:58.56
Emmalee Perez 1500m (11th place) 5:49.19, 300m (12th place) 12:18.93
Ashlan Larson 80m hurdles (8th place) 17.45, High Jump (7th place) 4-03
Youth Girls
Navaeh Walla 800m (4th place) 2:28.35, 1500m (3rd place) 5:03.20
Intermediate Girls
Andrea Marrufo 100m hurdles (1st place) 18.06
Viviana Lara 100m hurdles (5th place) 21.39, long jump (7th place) 11-11.5
Bantam Boys
4X400m relay (9th place) 5:23.99
Angel Gonzales,Adrian Tirado,Josiah Guzman, Xavien Avila
Midget Boys
Emilio Magaña 400m (4th place) 63.86
Noah Campbell Shot put (7th place) 27-08.75
Ayden Henderson Shot Put (8th place) 27-03.5
Richard Vega, Emilio Magaña, Davian Gonzales, Evyn Andrade, 4X100m relay (3rd place) 56.54
Richard Vega, Emilio Magaña, Davian Gonzales, Evyn Andrade, 4X400m relay (4th place) 4:35.34
Intermediate Boys
Timothy Luna 100m (3rd place) 12.17, 200m (3rd) 24.91
Randalle Hernandez Shot put (6th place) 27-06.75, long jump (7th place) 14-08.25
Pedro Jimenez long jump (9th place) 14-00.75
By Gazette Staff Writer — Tuesday, May 19th, 2015
Saturday May 9th we participated in our annual Ventura County Varsity Finals. Our club had 60 participants that had met qualifying marks by being in the top of their divisions. This year the Varsity finals were held at Moorpark High School. The participating clubs were Thousand Oaks Flyers, Newbery Park Panthers, Ojai Roadrunners, Ventura Tigres, Moorpark Striders, Camarillo Cosmos, Oxnard Stars, and our Heritage Valley Blazers. The top marks from varsity finals will move on to Co Conference Championships where the top runners from The Southern California Youth Track Conference will be going head to head against our Ventura County Youth Track Conference. Co Conference Championships will be held at Royal High School in SImi Valley Saturday May 16th.
Heritage Valley Blazers Co Conference Championships qualifiers:
Gremlin Girls
Leah Barragan 3rd place 100m (16.82)
Ella Navarrete 4th place 400m (1:26.24)
Paola Estrada 3rd place 800m (3:14.16),3rd place 1600m (6:37.97)
Bantam GIrls
Celeste Velasquez 4th place Shot put (18-09.5)
Midget Girls
Emmalee Perez 2nd place 800m (2:40.55), 2nd place 1600m (5:49.04), 2nd place 3200m (12:26.94)
Jordyn Walla 1st place 1600m (5:39.65), 1st place 3200m (11:57.61)
Ashlan Larson 5th place 80m hurdle (16.07), 4th place High Jump (4-01.00)
Youth Girls
Nevaeh Walla 3rd place 800m (2:29.59), 2nd place 1600m (5:21.71)
Syenna Ponce 1st place3200m (12:18.68)
Intermediate Girls
Andrea Marruffo 4th place 200m (29.51), 1st place100m hurdles (18.24), 1st place 400m (66.16)
Viviana Lara 5th place 100m (16.03), 2nd place 400m (77.37), 4th place 100m hurdles (21.46)
Saida Delgado 5th place 200m (35.42), 1st place Shot put (16-05.00)
Bantam Boys
5th place 4X400m relay (5:33.23) Adrian Tirado, Josiah Guzman, Xavien Avila, Angel Gonzales
Midget Boys
Emilio Magaña 2nd place 400m (65.31)
Rey Laureano 5th place 1600m (5:27.99), 4th place 3200m (11:40.58)
Ayden Henderson 3rd place shot put (29-03.75)
Noah Campbell 4th place shot put (27-07.00)
3rd place 4X100m relay (56.61) Evyn Andrade, Emilio Magaña, Davian Gonzales, Richard Vega
4th place 4X400m relay (4:42.67) Rey Laureano, Emilio Magaña, Davian Gonzales, Richard Vega
Intermediate Boys
Timothy Luna 3rd place 100m (12.09), 3rd place 200m (24.53)
Pedro Jimenez 3rd place long jump (15-03.5), High jump
Randalle Hernandez 4th place long jump (14-07.5), 4th place shot put (28-05.75)
5th place 4X100m relay (50.99) Randalle Hernandez, Joshua Morales, Pedro Jimenez, Timothy Luna
By Gazette Staff Writer — Monday, April 13th, 2015
Written by Ram Medina, President So Cal Fillmore Bears.
What started last year as a small chapter of 37 boys and 50 cheerleaders, has grown to over 140 boys and over 100 cheerleaders in less than 12 months. We would like to thank the families of Fillmore, Santa Paula, and Piru for making the Fillmore Bears the biggest youth football organization in Fillmore!!! We are proud to serve the vast majority of boys and girls in our local communities and we look forward to growing even bigger in 2016. We are part of the biggest and safest youth football league in Ventura County. We are the most affordable youth football chapter in Ventura County. We have 7 teams confirmed for 2015 and possibly 8. We are in need of a Pee Wee coach in the 8-9 year old division. For more information please visit our website www.socalfillmorebears.com
By Gazette Staff Writer — Tuesday, April 7th, 2015
Fillmore Raiders Youth Football & Cheer is Still taking sign-ups for the 2015 Season. Please contact Yvette Espinosa @ (805)290-7248 or visit our website and download a registration Form www.fillmoreyouthfootball.net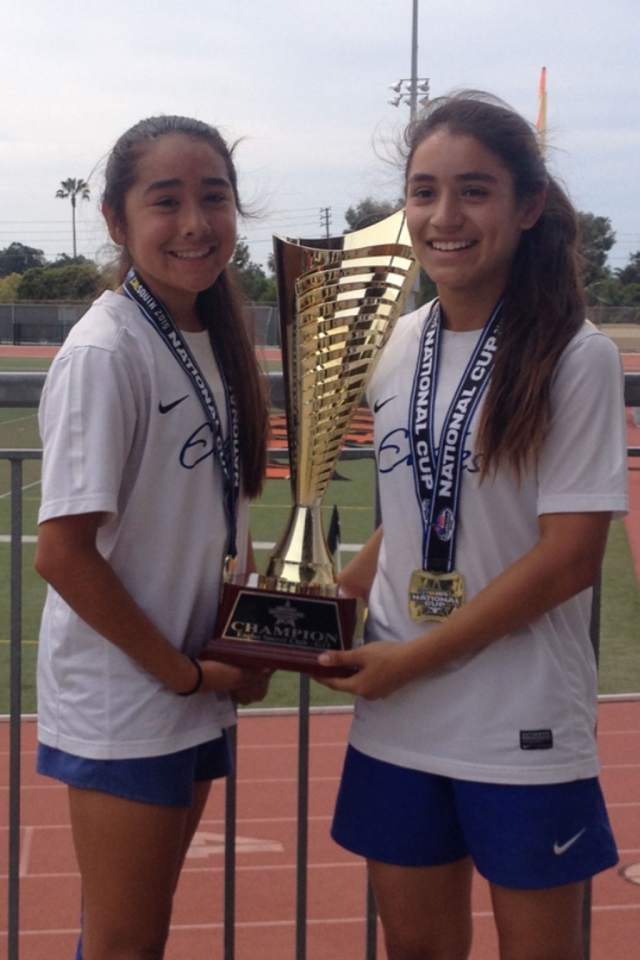 (l-r) Valerie Tobias and Jalynne Magana. Eagles girls U13 soccer club defeated Legends 2-1 Sunday 03/15/2015 in the championship game at Ventura College Sportsplex and captured the National Cup title and will be advancing to Far West Regional Championship games that will be held Boise Idaho late June 2015. Club is composed players from Camarillo, Ventura, Oxnard, Newbury park, Pasadena and these to ladies from Fillmore.
Enlarge Photo
By Gazette Staff Writer — Wednesday, March 25th, 2015
By Gazette Staff Writer — Tuesday, March 17th, 2015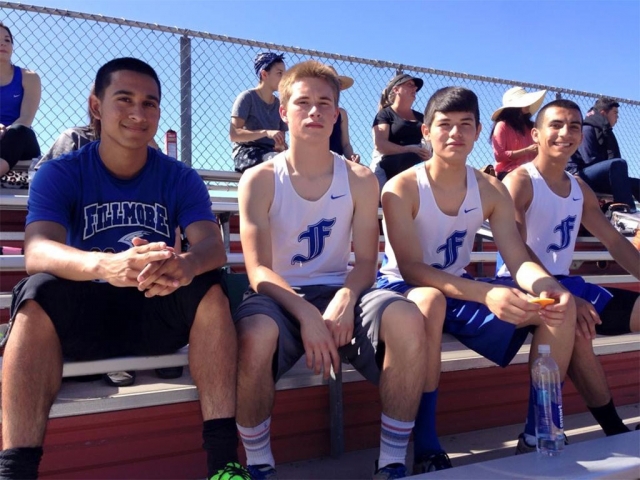 (l-r) Seniors Demitriouz Lozano, Hayden Wright and Michael Luna along with junior Aaron Cornejo were 1st in the 400m Relay this past weekend at the Rincon Races with a time of 45.84. Aaron Cornejo also placed 1st place in the 400m with a time of 54.28.
Enlarge Photo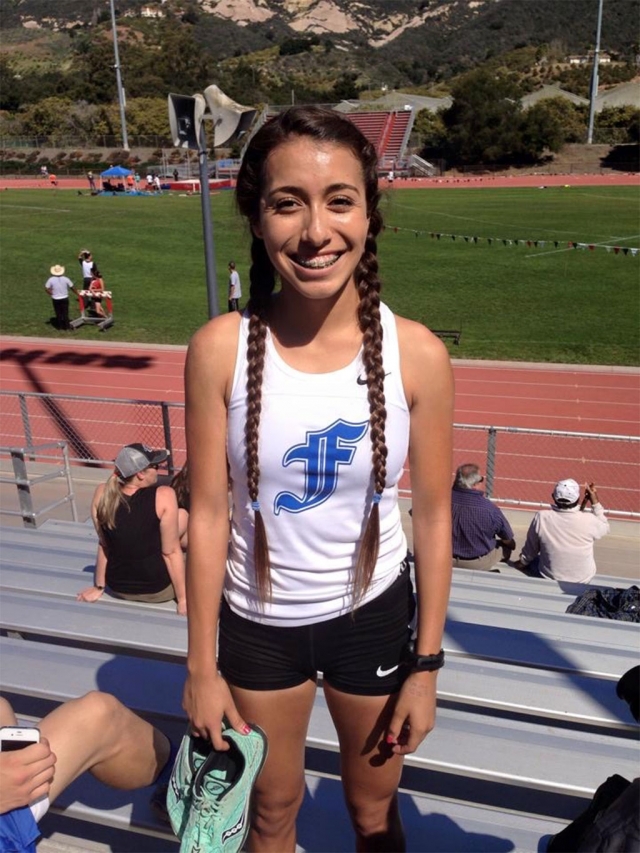 Junior Lupita Perez had an amazing day at the Rincon Races. She won both the 1200m with a time of 3:52.80 and the 2400m with a time of 8:34.31. In addition to winning the races she broke both meet records.
Enlarge Photo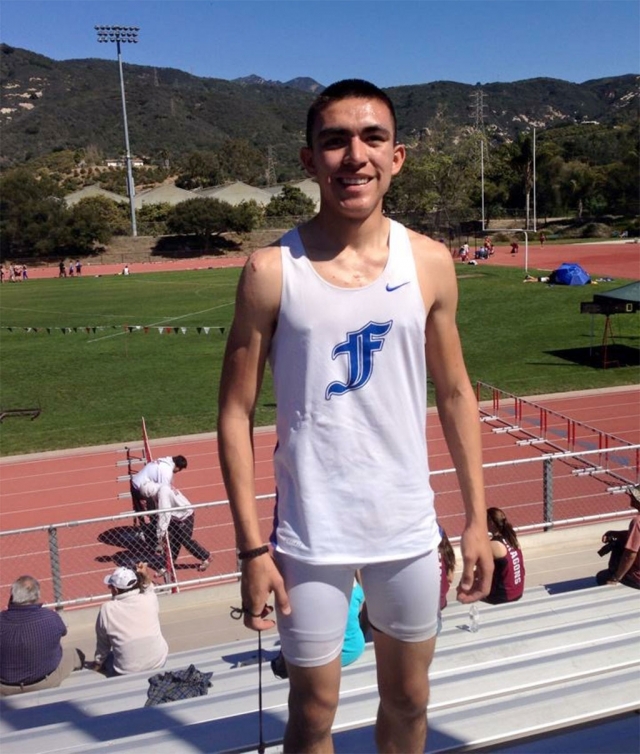 Senior Carlos Briceno placed 1st in the 110 mHH with a time of 17.21 and 1st in the 300mHurdles with a time of 45.50.
Enlarge Photo
By Gazette Staff Writer — Wednesday, February 25th, 2015
SoCal Fillmore Bears will be having registration this Sunday March 1, 2015 from 5 pm-8 pm at Ameci's Pizza. Space is limited with a few spots remaining in each of our five divisions. The cost per player is $195.00 with a sibling discount of $20.00 for each player that registers. There is a minimum $65.00 payment required at registration to ensure the $195.00 registration fee. The registration fee may increase at a future date.
The SoCal Fillmore Bears is also proud to announce that we have over one hundred football players for this upcoming season.
By James Farr — Wednesday, February 11th, 2015
The Fillmore Flashes took on the Foothill Dragons this past Wednesday. It was a big night for the Flashes, a win could make them eligible for the playoffs, and it was senior night. The Flashes scored the first points of the game on a jump shot from Aaron Cronin. The Flashes started the game on a 6-2 run. After Foothill makes 1 of 2 free throws Fillmore's lead is cut to 6-5. Michael Luna scored the next 5 points for the Flashes extending the lead to 11-7. At the end of the first quarter Fillmore led 17-9.
The Flashes started the second quarter with back to back steals leading to back to back layups to extend the led to 21-9. Two turnovers by the Flashes lead to Two layups for Foothill as they cut the lead to just 6, 23-17. The Flashes were able to extend the lead back up to 10 after 2 free throws by Michael Luna, and a lay up makes it a 27-17 ball game. Danny Quintero stole the ball twice leading to two straight layups for the Flashes as they extended the lead to 32-21. Danny was fouled on his next layup attempt and made 1 of 2 from the line as Fillmore led by 10 33-23. Foothill cut the lead down to 7 as they made a basket and a free-throw. The Dragons made a three pointer at the buzzer, and they went into the locker room only down 4 33-29.
Foothill outscored Fillmore 20-16 in the second quarter. Turnovers were a real problem for Foothill though. Most of the turnovers lead to easy transition points for the Flashes.
The Flashes scored first in the third quarter thanks to a free-throw by Aaron Cronin. That started a much needed 13-0 run by the Flashes. It took over five and a half minutes before Foothill was able to get on the board. A layup by the Flashes extends the lead to 50-30. The Flashes ended the third quarter up 50-33.
With the Dragons down by 14 they give up a layup to Hayden Wright to push the lead to 52-36. Michael Luna scored despite being fouled, and he made the free-throw, and Fillmore led 57-36. Those baskets were part of an 11-0 run by the Flashes as they led 63-36. In the closing seconds of the game Justin Warren hit a three pointer to give Fillmore a 75-47 win. It was just that type of night. Good luck to Foothill as they play Thacher for the final game of their season. Fillmore travels to Carpinteria to take on Cate on Wenesday. It will be a big game. A Fillmore win and a Thacher loss can earn the Flashes second place in league. A Fillmore loss puts the Flashes in danger of missing the playoffs. GO FLASHES!