By Gazette Staff Writer — Thursday, November 3rd, 2016
By Gazette Staff Writer — Thursday, November 3rd, 2016
By Gazette Staff Writer — Wednesday, October 26th, 2016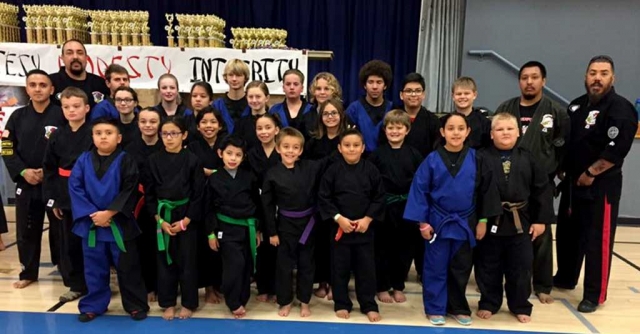 20th Annual Karate Tournament was held at Fillmore Middle School on October 8th. Pictured above are Perce's Kenpo Karate students who competed in this years tournament.
Enlarge Photo
By Gazette Staff Writer — Wednesday, October 26th, 2016
Perce's Kenpo Karate had its 20th annual karate tournament at Fillmore Middle School on October 8. They had over 160 students participate from Ventura County to Los Angeles. It was the largest tournament the local karate school has had in twenty years. These are the results from the tournament: 8 to 10 years old forms white thru orange belt 4th place Logan Weeks, Participation Emilia Aguayo. 10 to 12 years old Yellow thru orange belt 3rd place Anna Walls, Participation Griffin Walls. 6 to 8 years old forms green belt 3rd place Gary Boon, 4th place Sofia Ibarra, Participation Joaquin Ibarra. 9 years old green belts forms 4th place Gabriel Padilla. 10 to 11 years old forms green belt participation Anika Ibarra. 8 to 10 Jr. brown belt forms participation Brody Addison. 10 to 12 years old forms 3rd place Zachary Addison, participation Austin Gunter. Teens division forms orange thru blue belt 4th place Vincent Rojas. Teens green thru Jr black/brown belt participation Chris Anderson, Samantha Gunter. Showmanship 2nd place Anthony Murray. Jr weapons division participation Zachary Addison. Teen and adults weapons division 1st place Anthony Murray, 2nd place Andy Topete, participation Lauryn Walker. Jr self defense 1st place Brody Addison, 2nd place Gabby Perce. Teen/adult self defense 4th place Samantha Gunter, Participation Austin Gunter, Lauryn Walker.
Sparring Divison result: White thru orange belt 8-9 year olds 1st place Ricardo Quilo. 8-9 years old Jr 3rd brown belt 2nd place Miguel Martinez, 3rd place Brody Addison, participation Emma Boon, Gary Boon, Gabriel Padilla. teens green belt 2nd place Ashley McKnight, 3rd place Nicolas Boon, participation Alexandra Boon. teens Jr black thru green 3rd place Chris Anderson, 4th place Zachary Addison, participation Ruben Desoto. adults sparring 3rd place Angel Rodriguez, participation Eric Ellsworth. For more information please call 524-6870.
By Gazette Staff Writer — Wednesday, October 26th, 2016
By Gazette Staff Writer — Wednesday, October 26th, 2016
On Friday, October 21st, Fillmore's Cross Country teams travel to Walnut, California to compete in the Nation's largest cross- country meet, the Mt. San Antonio College Cross Country Invitational. Not only is this a very competitive Meet, it is also a very challenging course with three major hills all run on a very hot day.
Fillmore freshman girls started us off on the right foot by capturing 1st place in the team competition. They were led by Vanessa Avila who place 6th in 12:31, she was followed by Anahi Pascual 17th in 13:25, Valerie Hernandez 29th in 13:43, Nicole Gonzalez 31st in 13:59, Areanna Covarrubias 39th in 14:16 and Giselle Perez 95th in 15:56. This race was run over a shortened course.
The lone representative in the Freshman boys' race was Pete Alvarado. Pete competed over a two mile course shorten due to health concerns due to extreme heat. He finished in 146th place in 14:57.
The second race Sophomore girls sent a complete team to the starting line. Once again, these athletes competed on the two mile course. Andrea Marruffo led all runners finishing in 5th place in 12:11.5, she was followed by Diana Perez 10th in 12:49.7, Emma Orozco 20th in 13:31.5, Cecilia Cisneros 26th in 13:50.1, and Cynthia Hurtado 85th in 15:57.6. This team also placed third in the team competition.
The next race, Sophomore boys was led by Jorge Acevedo who finished in 16th place in 11:05.9, he was followed by Antonio Villalobos 36th in 11:43.4, Daniel Cruz 81st in 12:32.5, Andrew Hernandez 87th in 12:37.4, and Luis Leon 120th in 13:16.9. This race was also run on the two mile course. This team finished 11th in the team competition.
In the Girls Junior Varsity race Fillmore sent five competitors to the start on the two mile course. Leading the team to a third place finish was Jacqueline Chavez who finished in 5th place and posted a time of 12:25.6, she was followed by Lauren Magdaleno 9th in 13:04.3, Maria Ruvalcaba 25th in 13:48, Allison Recancoj 56th in 14:44.2, and Michelle Reyes 69th in 15:04.2.
The Junior Varsity boys race featured a full squad with 7 competitors toeing the line and finishing in fourth place in the team competition. Top runner for the Flashes on the two mile course was Cristian Andrade who finished in 11th place in a time of 10:43.8, followed by Juan Ramirez 17th in 11:00.9, John Chavez 31st in 11:18.4, Gustavo Valdez 44th in 11:33.8, Jesus Castro 52nd in 11:42.1, Mario Hurtado 66th in 11:51.9, and Erik Hernandez 139th in 12:46.
The highlight of the day was Fillmore's entry into the Varsity Boys Sweepstakes race. Only your top ranked teams are given entry into this race and must submit proof in writing that you have earned their placement into this featured race. The Flashes finished in 13th place as a team and competed over the full three mile distance. Senior Johnnie Martinez led the squad finishing in 50th place in 17:20.4, followed by Adrian Orozco 55th in 17:30.1, Sergio Perez 57th in 17:34.2, Everardo G. Magana 65th in 17:41.3, Michael Sanchez 74th in 19:02.3, Jonathan Ordaz 80th in 18:26, and Nick Villela 87th in 18:23.9.
The Flashes next travel to Ojai where they will compete in the Ventura County Cross Country Championships. Races are held on the Lake Casitas course starting at 1:30.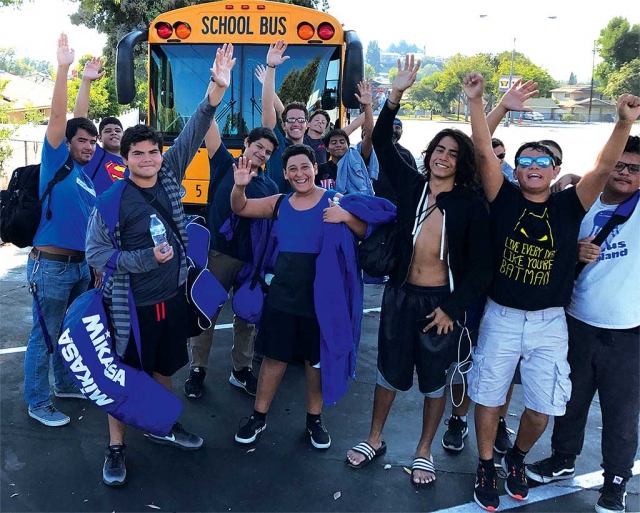 On their way home from their first of many competitive tournaments played this past weekend. Safely home, that concluded their first season.
Enlarge Photo
By Gazette Staff Writer — Thursday, October 20th, 2016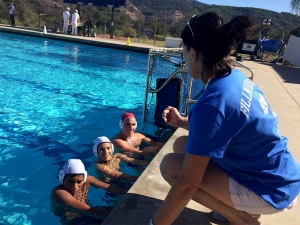 Fillmore Flashes at Villanova for a water polo match.
October 12th was our last day of our season. The Fillmore High School Inaugural Boys water polo team successfully completed 3 High School matches. The games were played against Carpentaria, Villanova and Nordoff. Our 18 young men represented Fillmore Athletics with heart, dedication and pride. I watched these young men progress as athletes and grow together as a team.
A memoir written by our team Captain Luke Myers "It was a very close game, but they got us. Even if this is our second and LAST game for the season, it's been the most fun I've had in a team sport. Fillmore's VERY FIRST boys water polo team. We made history... We never had a dull moment or negative vibes. Ms Burns has showed us the utmost love and support despite every single obstacle that has slowed us down. We've overcome and have paved the way for future seasons of improvement and excitement. Thank you to this amazing brotherhood of respectable and loving guys, and even for everyone that couldn't make it in their schedule as we progressed. Every single person who has contributed to this team in any way is amazing and FHS will never be the same now. Oh... And today's score is 1-30, but our point counts as a lot."
Our team will be playing in a Open Entry Southern California Boys Water Polo Tournament in Chino Valley on Friday October 14th and 15th 2016. GOOD LUCK FILLMORE HIGH SCHOOL BOYS WATER POLO TEAM.
Thank you for this opportunity, it has been an amazing experience.
Coach TeLana Burns
Team:
Marcus Anthony
Luke Myers
Edgar Jesus Gonzalez Martinez
Israel Brooks
Alex Rojas
Fernando Landeros
Gavin Rivera
Jose Ruiz
Juan Perez
William Tran-Wyche
Adrian Meraz
Cristian E. -Minjares
Francisco Jimenez
Michael Santa Rosa
David Dunham
Samuel Guzman
Francisco Franny Ruiz
By Lolita Wyche-Bowman — Thursday, October 20th, 2016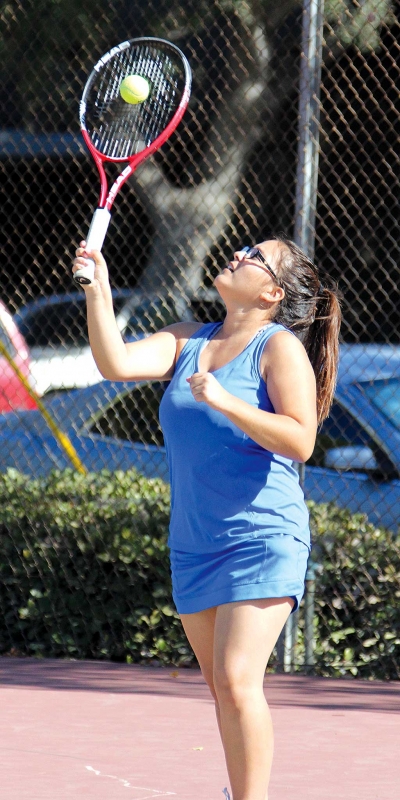 Karime Renteria serves to the opposing team.
Enlarge Photo
St. Bonaventure high school varsity was the Fillmore Flashes opponent on the thirteenth of October, 2016. The Fillmore Flashes traveled to the tennis courts of Ventura College to play their second to last match of the season. Playing with a slight wind coming off the coast, our girls did their best and played hard. "Lizzie" Castaneda, Fillmore's number two singles player fought through endless rallies giving the St. Bonaventure girls a "run for their money." Castaneda, along with our number one player Michaela Boniti, both defeated St. Bonaventure's Mel Monlleo 6-2, and 6-4, Castaneda's win being the later score. The number one doubles team for Fillmore, Haley Martinez and Ivette Huerta, defeated St. Bonaventure's number three doubles team with a proud score of 6-1. Yes, Martinez and Huerta were smiling and happy to score a point for the team leaving the final score Fillmore 3, St. Bonaventure 15. I can't express enough times during this season how proud I am of the tennis team this year. Good job to team members Michaela, Elizabeth, Mariah, Haley, Ivette, Karime, Julissa, Adanari, and Breana! It is nice to announce the opposing teams consistently express well wishes to our team as we are "back in the swing of things" in Fillmore. Tennis pal, Sara Hansen reminded me many years ago about the importance of women being involved in sports, as women were not allowed to participate at one time. I agree! Thanks Sara. We have one final match against Laguna Blanca on October 25, at 3 p.m. at Laguna Blanca. Go Team!
By Gazette Staff Writer — Thursday, October 20th, 2016
Part 1 of 2
By Gazette Staff Writer — Thursday, October 20th, 2016
Part 2 of 2
By Gazette Staff Writer — Thursday, October 20th, 2016
Fillmore Flashes Volleyball played Santa Clara Tuesday Oct. 18th, Frosh won 25-9, 25-20 JV won 25-12, 25-23, Varsity lost 23-25, 26-28, and 11-25.Varsity Highlights: Lindsey brown 12 digs, 2 aces, 3 kills Kasey Crawford 5 kills, 2 aces, Gisselle DeLaPaz 4 kills, Aviana Ramirez 1 ace, 12 assists, 2 blocks. Flashes will take on Bishop Diego Thursday Oct. 20th matches start at 4pm.
By Kim Tafoya — Thursday, October 20th, 2016
For the second year in a row, Fillmore hosted the second of three TCAA Cross Country League meets. This meets determine league standings and Varsity Division 4 SS CIF Prelims TCAA League representatives.
The Meet was well attended and held on Fillmore's beautiful Elkins Golf Course. Thirteen teams competed for team standings in four divisions, JV Girls, JV Boys, Varsity Girls, and Varsity Boys.
The Boys JV race was the first race of the day. Foothill Technology captured 5 of the top 7 spots and won the team competition with Fillmore placing second. Juan Ramirez led Fillmore runners placing 4th in 18:15.10, Cristian Andrade followed in 7th in 18:40.97, Gustavo Valdez 11th in 19:22, John Chavez 12th in 19:34.91, Mario Hurtado 13th in 19:38.47, Jesus Castro 14th in 19:40.27, Jorge Acevedo 15th in 19:45.6, Antonio Villalobos 36th in 21:16.62, Andrew Hernandez 44th in 21:33.98, Daniel Cruz 45th in 21:34.81, Eric Hernandez 53rd in 22:15.86, Luis Leon 55th in 22:34.59, Samuel Kafka 64th in 23:18.23, and Pete Alvarado 84th in 26:30.02.
The second race of the day featured the top runner in the State, Malibu's Claudia Lane. Claudia dominated this talented field by posting a time of 16:58.6 on this challenging 3 mile course. She gaped the second place finisher in her race by a little more than three minutes and five seconds. Her time would have placed her 10th in the boys' Varsity race. Fillmore's top finisher was Carissa Rodriguez 7th in 19:55.08, she was followed by Diana Perez 10th in 20:32.25, Andrea Marruffo 14th in 20:47.7, Vanessa Avila 15th in 20:48.78, Anahi Pascual 33rd in 21:52.52, Jacqueline Chavez 43rd in 22:27.83, and Lauren Magdaleno 46th in 22:33.39.
The next race, boys Varsity was also dominated by Foothill Technology taking six of the top seven places. Thacher captured the second place team award followed by Fillmore in third. Top runner for Fillmore was Adrian Orozco 10th in 17:03.45, followed by Juan Martinez 11th in 17:13.24, Jonathan Ordaz 28th in 17:46.57, Sergio Perez 30th in 17:50.88, Everardo G. Magana 32nd in 17:57.92, Michael Sanchez 35th in 18:11.33, and Nick Villela 46th in 18:48.31.
The Girls JV race was the final race of the day. The race was dominated by Foothill Technology capturing the first 6 places. Top runner for Fillmore was Nicole Gonzalez who finished in 7th place in 22:33.4, she was followed by Valerie Hernandez 9th in 22:45.75, Cecilia Cisneros 10th in 22:49.62, Maria Ruvalcaba 11th in 23:14 06, Emma Orozco 12th in 23:14.81, Areanna Covarrubias 14th in 23:23.72, Luz Ruiz 28th in 24:44.51, Allison Recancoj 32nd in 24:57.20, Michelle Reyes 34th in 25:08.92, Giselle Perez 35th in 25:38.35, and Cynthia Hurtado 40th in 27:02.5.
The Flashes will next compete on Friday at the nation's largest high school meet, the Mt. San Antonio College Invitational.
By Gazette Staff Writer — Thursday, October 13th, 2016
By Gazette Staff Writer — Thursday, October 13th, 2016
By Gazette Staff Writer — Thursday, October 13th, 2016
Part 1 of 2
By Gazette Staff Writer — Thursday, October 13th, 2016
Part 2 of 2
By Lolita Wyche-Bowman — Thursday, October 13th, 2016
On October 4, it was Fillmore vs. Santa Paula J.V. team at Santa Paula high school. Fillmore Flashes' number one and two players Michaela Boniti and Lizzie Castaneda won all six of their round robin matches scoring six of the seven points for the entire team. Both players are consistently steady and strong players playing singles for the Flashes. Doubles team Karime Renteria and Adanari Rosales also scored a point for the Fillmore Flashes wining one doubles match in a tiebreaker 7-6. Because the city of Fillmore only has two courts, the team plays all of the tennis matches away on the opponent's campus making it difficult for parents to watch their girls play. Despite this hurdle, the Flashes are having a good year as they continue to improve. As a final note, during the Santa Paula match, I especially noticed my doubles player Hayley Martinez executing numerous winning shots showing her knowledge for the game on the rise. Good job team! On October 10, we will be playing against Carpinteria and then against St. Bonaventure on October 13. The St. Bonaventure match will be played at the Ventura College courts.
Today, October 10, we played against Carpinteria for the second time this season losing with a score of 1-17. Lizzie Castaneda won one of her three tough matches today. Lizzie in consistent on the court and continues to score points for the team. As I always say, the girls are improving their tennis game every time they get out there during practice or during a match against an opposing team. It is wonderful to see the girls from Fillmore becoming successful at their first year playing this sport. Two matches are left in the season with St. Bonaventure and Laguna Blanca. As a new coach this year, I am hoping the city of Fillmore sponsors a tennis clinic to create new players for the future. I know there a kids and adults alike in Fillmore anxious to learn the sport.
By Kim Tafoya — Thursday, October 13th, 2016
Junior Everardo Magaña Garcia at the Clovis Invitational.
Enlarge Photo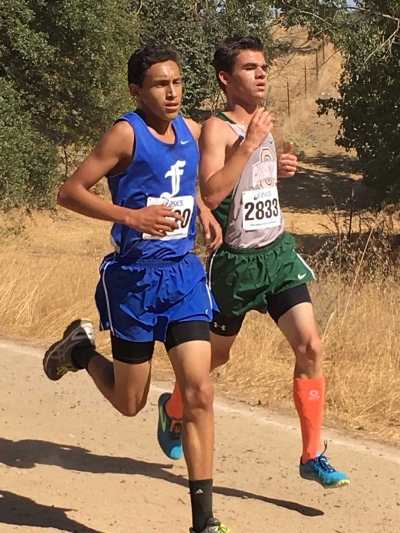 Junior Everardo Magaña Garcia at the Clovis Invitational.
Enlarge Photo
On Wednesday evening, several Fillmore runners competed in the Ventura County Twilight meet at Lake Casitas in Ojai. Four races were held with the first two running
a distance of 1.85 miles and the last two at a distance of 3 miles. Fillmore athletes competed at the longer distances.
In the boys race Mario Hurtado led all runners, placing 46th in a time of 19:15.5, he was followed by Gustavo Valdez 55th in 19:34, Jorge Acevedo 58th in 19:35.3, Jesus Castro 60th in 19:37.6, Antonio Villalobos 127th in 21:40.4, Anthony Hernandez 129th in 21:46.8, Erik Hernandez 133rd in 21:58.5, Daniel Cruz 139th in 22:08.6, Luis Leon 156th in 23:01.4, Sam Kafka 166th in 23:35.2, Andrew Ontineru 172nd in 24:10.8, and Pete Alvarado 185th in 25:58.4. The boys place 10th in the team competition.
The top finisher for the girls was Valerie Hernandez 37th in 22:57, followed by Maria Lupe Ruvalcaba 39th in 23:06.2. Both girls were awarded individual top finisher medals. They were followed by Allison Recancoj 48th in 24:01.1, Luz Ruiz 64th in 24;54.2, Yakeline Magana 80th in 25:37.9, Michelle Reyes 81st in 25:45.1, and Giselle Perez 95th in 26:41.3. The girls finished 9th in the team competition.
Every athlete improved their time on this course over last year's individual best, with the exception of those who ran this course for the first time.
On Saturday, October 8th, Fillmore Cross-Country athletes travelled to Fresno to compete in the Clovis Invitational. Woodward Park was hot and dusty.
The first race of the day found the boy's varsity team competing against some of the top State ranked teams in divisions 4 and 5. Johnny Martinez led all runners finishing in 34th place and posting a time of 17:21.4, he was followed by Adrian Orozco 36th in 17:24.9, Sergio Perez 49th in 17:40.8, Everardo G. Magana 60th in 17:52.6, Michael Sanchez 85th in 18:18, Nick Villela 93rd in 18:22.7, and Jonathan Ordaz 101st in 18:28.2.
The top finishing team for the day finished atop the podium with a first place finish. The overall winner of the F/S girls division 3 and 4 race was Fillmore's Carissa Rodriguez who crushed the competition and posted a personal course best of 19:14.5. This was a winning margin of 43.5 seconds over the second place finisher. She was followed by Andrea Marruffo 11th in 21:11.2, Diana Perez 19th in 21:39.2, Vanessa Avila 24rd in 21:50.8, Anahi Pascual 35th in 22:22.7, Nicole Gonzalez 24:29.3, and Cecilia Cisneros 58th in 23:35.7. The top four athletes also won individual medals for their outstanding efforts. The team was awarded a first place finisher plaque and medals for each of the top 7 girls on this team.
In the final race of the day, the Fillmore athletes placed 4th in Boys JV Division 3 and 4 race. The top performer for Fillmore was John Chavez who finished in 10th in 18:32.9, followed by Chris Andrade 13th in 18:40.7, Juan Ramirez 20th in 18:54.9, Jorge Acevedo 51st in 19:54.4, and Mario Hurtado 60th in 20:14.3. The top three athletes won individual finisher medals for their performances.
The Flashes will next host the second of 3 TCAA meets at Elkins Golf Course on Thursday, October the 13th with the first of 4 races beginning at 4 pm. Come out and support your teams, hope to see you there.
By Gazette Staff Writer — Thursday, October 13th, 2016
Oxnard Waves (majority of players are from Fillmore) support Breast cancer awareness month while wearing pink at their games this past weekend. The Girls had an awesome weekend with a victory over Moorpark 2-0 both goals were made by Aaliyah Lopez and assisted by Anahi Andrade and Sunday a victory over Bakersfield with a final score of 1-0 made by Aaliyah Lopez assisted by Alexis Mejia.. This weekend they will play against International FC in the city of Montebello.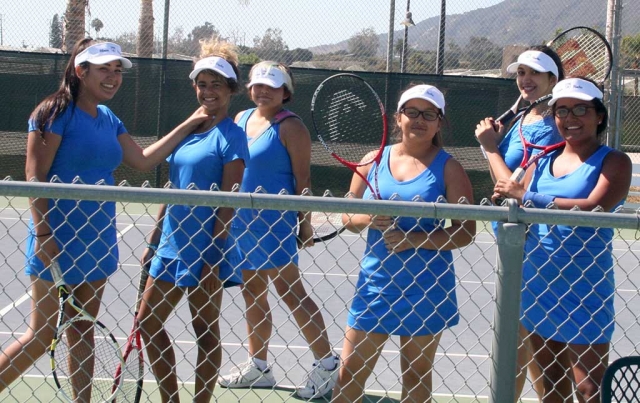 Flashes Girls Tennis take a photo to celebrate their first win of the season against Santa Clara Wednesday September 28th. (l-r) Lizzie Castaneda, Michaela Boniti, Hayley Martinez, Karime Renteria, Ivette Huerta and Mariah Gonzalez.
Enlarge Photo
By Lolita Wyche-Bowman — Thursday, October 6th, 2016
The Fillmore Lady Flashes tennis team is proud to announce our first win against Santa Clara high school in Oxnard. Our singles players Michaela Boniti, Elizabeth Castaneda, and Mariah Gonzalez endured long ralleys in their matches and managed to win 4 out of nine sets played.
A "round robin" was played leaving the final score of Fillmore 10 Santa Clara 8. In a round robin, each player or each doubles team plays one set against each player or team, as opposed to the old way of playing the best of three sets against one opponent. This modern way allows the players to get more experience playing against different opponents. As coach, I am so pleased at the progress the girls are making on the court. The team gets stronger every day. Thank you to Wm. L. Morris for providing transportation for the tennis team. We also welcome the public to stop by the city tennis courts to watch us practice. The Fillmore High School accepts donations to the Fillmore High School tennis club any time. Thank you to Mr. Ito for recognizing the need for a high school team again!