By Gazette Staff Writer — Thursday, September 22nd, 2016
Part 1 of 2
By Gazette Staff Writer — Thursday, September 22nd, 2016
Part 2 of 2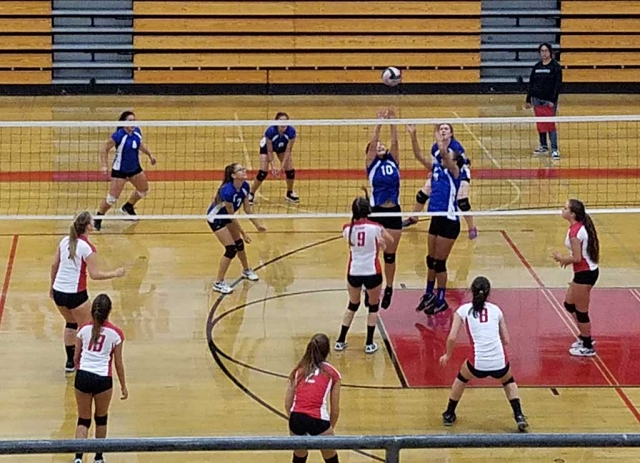 Fillmore's J.V. jump to make the block against Bishop Diego at this past Saturday's Tournament in Santa Paula.
Enlarge Photo
By Gazette Staff Writer — Thursday, September 22nd, 2016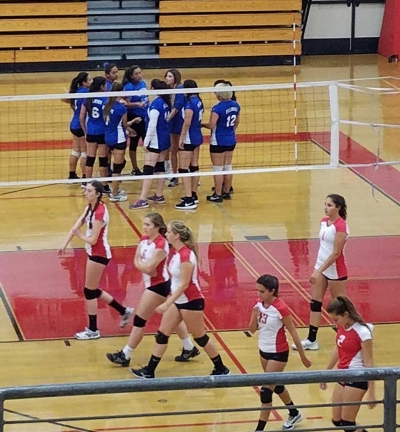 Fillmore J.V. Flashes huddle together before they take on Bishop Diego.
Enlarge Photo
Wednesday September 14th, Fillmore Girls Volleyball took on Pacifica High School. Both J.V. and Varsity took a win for these matches. J.V. Player Tori Gonzales had 11 serving aces, and 2 kills, J.V. scores were 25-13 and 25-10. Varsity player's Aviana Ramirez (setter) had 17 assists, 10 digs, 1 ace, Lindsey Brown (libero) had 20 digs and 3 aces, Gisselle De La Paz had 7 aces and 5 kills, Kasey Crawford had 8 kills and 1 ace. Final Varsity scores were 25-21, 14-25, 26-24, 23-25, and 15-4. Also, this past Saturday Flashes J.V. competed against multiple teams in a tournament hosted at Santa Paula High School.
Lastly, September 20th, the Flashes took on long time rival Santa Paula at home. Frosh and J.V. teams both beat their long time rival. Frosh Final Scores: 25-9, 25-18, J.V. Final Scores: 25-8, 23-25, 15-12. Flashes Varsity fell short to Santa Paula, but put up a good fight forcing them to play four out possible 5 matches. Varsity player's Lindsey Brown had 18 Digs, Kasey Crawford 8 digs, 4 kills, and 2 serving aces, and Dezeray Zavala 8 digs and 3 serving aces. Varsity Final Scores: 21-25, 22-25, 25-23, 17-25. Next matches will be at Santa Clara on Thursday September 22nd, and this Saturday Varsity will compete at a Tournament held at Santa Paula High School.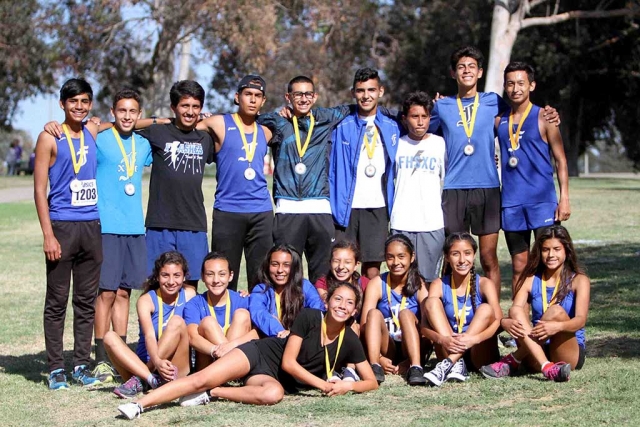 Flashes Cross Country 37th Annual Mt. Carmel /Movin Shoes Invitational. (l-r) Boys: Nick Villela, Everardo Garcia Magana, John Chavez, Sergio Perez, Michael Sanchez, Jonathan Ordaz, Juan Ramirez, Johnny Martinez and Adrian Orozco. Girls: Lauren Magdaleno, Carissa Rodriguez, Jackie Chavez, Arielle Estrada, Anahi Pascual, Nicole Gonzalez, Vanessa Avila and in front Diana Perez.
Enlarge Photo
By Gazette Staff Writer — Thursday, September 22nd, 2016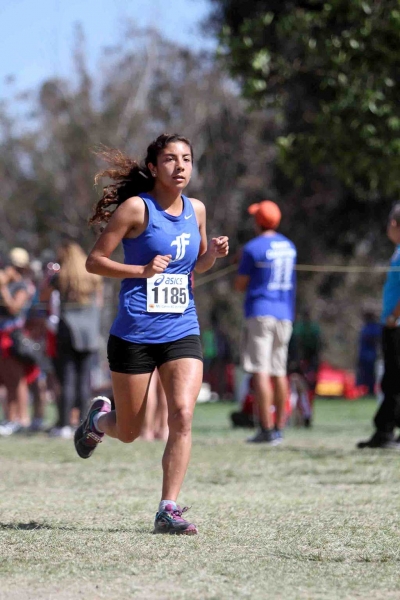 Senior Lauren Magdaleno at this past Saturday's 37th Annual Mt. Carmel/Movin Shoes Cross Country Invitational.
Enlarge Photo
On Saturday, September 17th the Fillmore High School cross country teams travelled to San Diego to compete in the 37th Annual Mt. Carmel/Movin Shoes Cross Country Invitational held at Morley Field in Balboa Park. Most of the teams competing were from the San Diego section. The course was very challenging with several hills on grass and dirt for the most part.
The freshman girls did not field a complete team, yet ran exceptionally well on this challenging course. Vanessa Avila led the charge finishing in 11th in a time of 18:23.66, she was followed by Anahi Pascual 29th in 19:23.13, Nicole Gonzalez 45th in 20:00.25, and Arielle Estrada 99th in 22:55.70.
Two Fillmore competitors lined up in the D2 girls sophomore race. Top finisher and fastest time for the Flashes for the third week in a row was Carissa Rodriguez. Carissa finished 3rd in her race in a time of 16:37.39. She was followed by teammate Diana Perez who ran a personal best of 18:15.66 finished in 14th place.
Jacqueline Chavez was the lone representative in the junior division. She placed 25th overall in a time of 19:01.06.
Once again one competitor ran in the senior division for the Flashes. Lauren Magdaleno finished in 33rd place in a time of 18:58.75
Two sophomore boys toed the line for the Flashes leading the way was Nick Villela 20th in 17:55.72, he was followed by Sergio Perez 29th in 18:17.59.
Fillmore sent four juniors to the starting line. Jonathan Ordaz led the way finishing in 23rd in 17:32.2. He was followed by Michael Sanchez 26th in 17:48.49, Everardo G. Magana 41st. In 18:23.18, and Juan Ramirez 101st. In 19:52.63.
The final race of the day featured seniors Johnny Martinez , Adrian Orozco, and John Chavez. These athletes ran well with Martinez finishing in 22nd in 17:25.83, Orozco 27th in 17:33.75 and Chavez 96th in 19:19.14. Johnny posted the fastest time for the Fillmore boy competitors on the day.
The Flashes ran well winning 13 out of a possible 16 medals. The Flashes will next compete at Camino Park in Ventura at 3:00 in the first of 3 league meets that will determine league standings and CIF SS D4 competitors.
By Lolita Wyche-Bowman — Thursday, September 22nd, 2016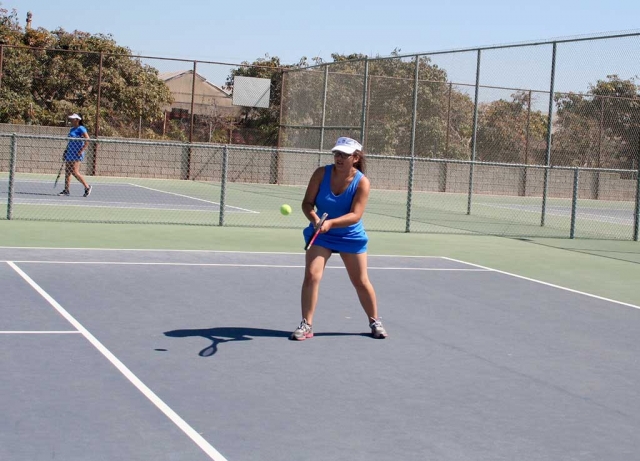 The Fillmore girl's varsity tennis team played against Carpinteria's junior varsity team. Fillmore's number one player Michaela Boniti won all three of her matches with the last being a close finish scoring at 7-6. Elizabeth Castaneda at number two, won two out of three of her matches scoring 6-1,6-1, and 2-6. Final score - Fiilmore 6 Carpinteria 12. (above) Karime Renteria warming up her backhand.
Enlarge Photo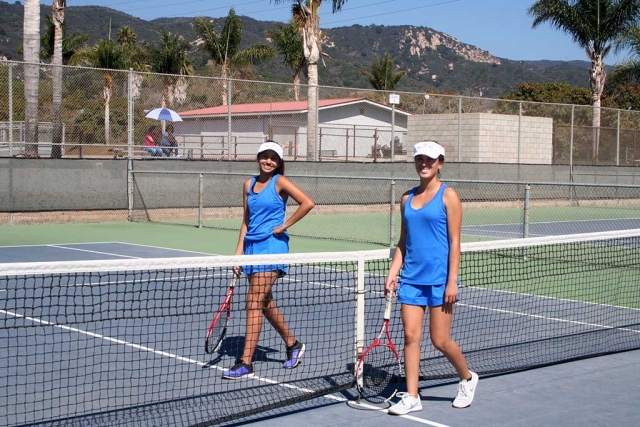 Left Adanari Rosales and right Briana Lopez smiling before they face their opponents.
Enlarge Photo
By Gazette Staff Writer — Friday, September 16th, 2016
Angel Velez scored touchdown with 97 yard kick-off return
By Gazette Staff Writer — Friday, September 16th, 2016
By Gazette Staff Writer — Friday, September 16th, 2016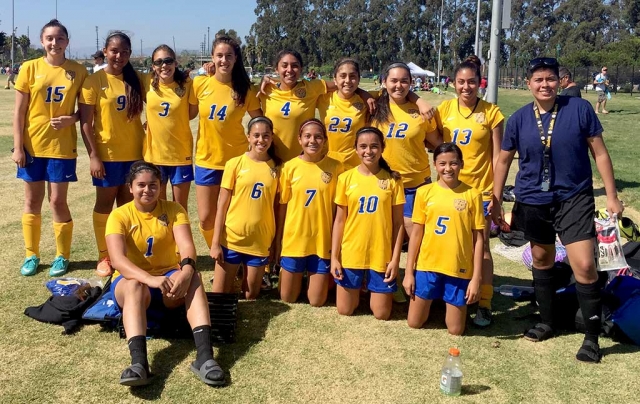 Oxnard Wave Soccer Club 16U Team started the 2016 Season off a win again Newbury Park this past Saturday September 10th.
Enlarge Photo
By Gazette Staff Writer — Friday, September 16th, 2016
Opening day for Coast Soccer League was this past Saturday September 10th. Girls started season with a great start in a win over Newbury Park with a score of 1-0 made by Aaliyah Lopez. This is the second year the team joins Coast League and a total of four years playing together. They have a tough schedule ahead of them but with hard work and dedication they could get that championship once again this year. Majority of these girls are from Fillmore and plan on playing for Fillmore High School in the winter. Good luck ladies!!
Next game Saturday 9/17 @ Oxnard College Park vs Oxnard AC Blue
And Sunday 9/18 @Lancaster vs AVFC Predators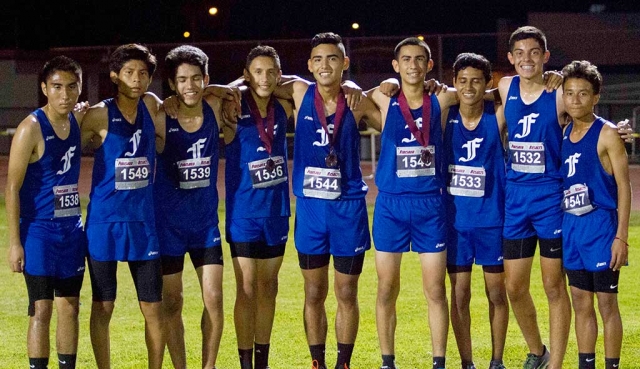 Fillmore Flashes Cross Country Junior Boys at the Rosemead Invite this past Friday. Photo by Judith Rodriguez.
Enlarge Photo
By Epi Torres — Friday, September 16th, 2016
Friday evening found the Fillmore Flashes competing under the stars at the Rosemead Invitational. Fillmore was one of 48 schools to compete in 4 boys and girls grade level races.
Once again the freshman girls led all Fillmore teams capturing second place in the team competition. Leading the girls for the second week in a row was Vanessa Avila who finished in 7th place and posted a personal best of 19:44.8, she was followed by newcomer Anahi Andrade 16th in 20:48.3, Anahi Pascual 25th in 21:02.6, Nicole Gonzalez 35th in 21:45.3, Areanna Covarrubias 36th in 21:46.5, Valerie Hernandez 43rd in 21:52.3, Giselle Perez 76th in 23:13.8 and Eva Vieyra 148th in 26:37.7.
Sophomore sensation Carissa Rodriguez led all Fillmore girl finishers on the day running a personal best of 18:04.6 and finished 3rd in her race. She was followed by Diana Perez in 25th in 20:03.3, Andrea Marruffo 34th in 20:22.7, Emma Orozco 28th in 20:33, Cecilia Cisneros 108th in 22:22.9, and Cynthia Hurtado 145th in 23:46. These athletes also performed well and finish 4th in the team competition.
Jacqueline Chavez led the Junior girls to a tenth place team result by finishing in 31st place in a time of 20:14.3, Maria Rubalcava was 56th in 21:05.6, Allison Recancoj 77th in 22:09.3, Yakeline Magana 117th in 23:18.1, and Michelle Reyes 129th in 23:39.6.
Lauren was the lone competitor for the Flashes in the Senior girl competition. She finished in a credible 21st place and posted a personal best time of 20:10.4.
Three Freshman boys competed in their divisional race. Leading the way was Andrew Otineru 83th in 20:29.6, followed by Samuel Kafka 144th in 22:29.6, and Pete Alvarado 157th in 23:29.
The Sophomore boys finished in 9th position in the team competition. They were led by Sergio Perez in 11th place in 16:45.6, followed by Nick Villela 15th in 16:51.9, Jorge Acevedo 72nd in 18:25.97, Andrew Hernandez 103rd in 19:07.82, Luis Leon 116th in 19:18.38, Antonio Villalobos 124th in 20:05.84, and Daniel Cruz 154th in 20:22.92.
Junior boys were led to a 4th place team finish by Michael Sanchez running the fastest time of the day for Fillmore a 15:34 and finishing in 9th place as an individual. He was followed by Jonathan Ordaz 12th in 15:51.42, Everardo Garcia Magana 26th in 16:15.25, Christian Andrade 50th in 17:01.64, Juan Ramirez 54th in 17:05.92, Jesus Castro 56th in 17:10.15, Gustavo Valdez 57th in 17:12.05, Mario Hurtado 82nd in 17:54.40 and Erik Hernandez 148th in 19:36.07.
Fillmore's three seniors finished in the top 30 of their race. The best individual finish of the day also came from this race when Johnny Martinez finished in second place posting an excellent time of 15:39.06. He was followed by Adrian Orozco 14th in 16:12.74, and John Chavez 28th in 17:13.34.
Next week on Saturday the 17th, the Flashes will compete at the Mt. Carmel Invitational at Balboa Park in San Diego.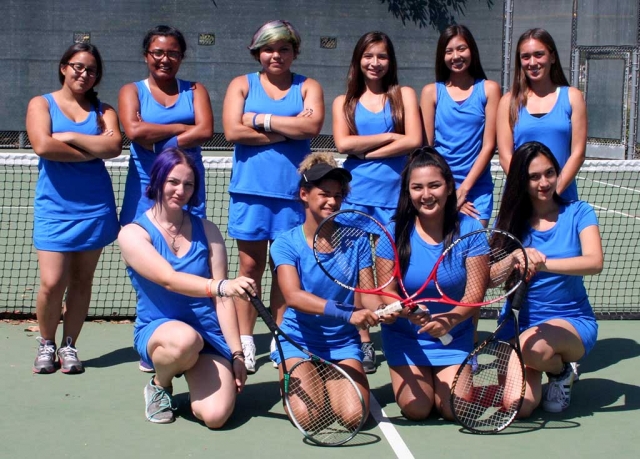 (l-r) (back row) Karime Renteria, Mariah Gonzalez, Hayley Martinez, Julissa Martinez, or "Ace" Adanari Rosales, Briana Lopez, (front row) Teresa Rossi, Michaela Boniti, Elizabeth Castaneda, and Ivette Huerta.
Enlarge Photo
By Lolita Wyche-Bowman — Friday, September 16th, 2016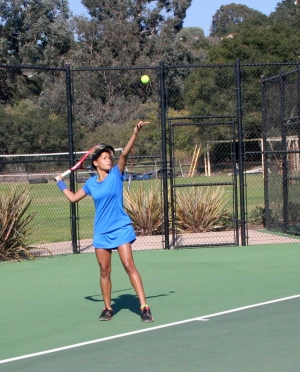 This is my first year coaching, but following in my father's footsteps as he was the tennis and basketball coach in Fillmore for about ten years. I am privileged to be chosen to coach the girls tennis team as Fillmore hasn't had a team for (?) years. We have had two matches so far this year. The first match was against Villanova and two days later we played against Laguna Blanca in Santa Barbara. After our match with Laguna Blanca, I asked my number one player, Michaela Boniti, what her favorite part of the match day was for her. She replied, "When I won two matches today!"
This response from Michaela is incentive for me to coach the girls in Fillmore including watching them improve their skills and techniques every day. For most of the girls on the team, tennis is a new sport. We are ten girls strong this year, and I hope to inspire more girls to play for the team next year. Tennis is a social sport a person can play for most their lifetime and I am happy to be a part of teaching the girls at the high school.
Thank you to the high school principal Mr. Ito for introducing tennis again to Fillmore High School.
Last weeks Scores: (This score is total sets won)
(9-6-16) Fillmore 0 vs. Villanova 18
(9-8-16) Fillmore 4 vs. Laguna Blanca 14
Upcoming Match is Thursday Sept. 15th, against Carpinteria at 3pm.
By Gazette Staff Writer — Monday, September 12th, 2016
JV won against Providence 25-17, 25-8
Varsity lost, 21-25, 26-28, 25-19, 25-16, and 14-16
Key players were; Grace Topete with 3 serving aces, 2 kills, and 5 digs, Reylene Martinez had 6 kills and 10 digs, Gisselle DeLaPaz with 3 aces, 4 kills, and 5 digs
Varsity record is 0-5
By Gazette Staff Writer — Thursday, September 8th, 2016
Kevin Galvan turns in great defensive performance
By Gazette Staff Writer — Thursday, September 8th, 2016
By Gazette Staff Writer — Thursday, September 8th, 2016
By Gazette Staff Writer — Thursday, September 8th, 2016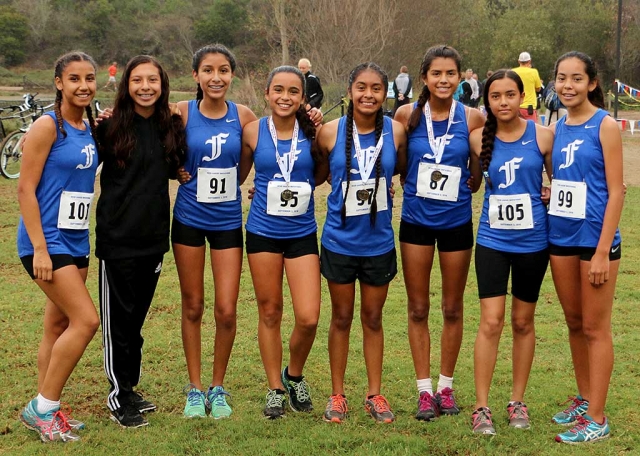 (l-r) Michelle Reyes, Arielle Estrada, Nicole Gonzalez, Valerie Hernandez, Anahi Pascual, Vanessa Avila, Eva Vieyra, and Giselle Perez.
Enlarge Photo
By Epi Torres — Thursday, September 8th, 2016
On September 3, the Fillmore Harriers traveled to the University of Santa Barbara to compete in the UCSB Gaucho Invitational. A total of 15 teams toed the line in 4 different races featuring high school students plus a Community/Alumni race.
Several of the top teams in this year's CIF Southern Section CIF ranking competed at this years meet. Leading the list was Foothill Technology ranked number one in the boys division 4 and the Foothill Technology girls ranked number 2 in the same division. Mayfield girls of Pasadena also competed and are ranked 7th in Division 4.
The first race of the day featured novice athletes or athletes not ready to compete the full distance at this early date. Even though it is a shorter race, it is highly competitive as some school chose to run their full teams in these races. The Fillmore newcomers started the day off right by capturing 3 medals in the first race of the day on the girls short 1.41 mile course. Leading the charge was Vanessa Avila placing 5th and posting a time of 9:10.3, she was closely followed by Valerie Hernandez in 13th place in 10:01.3, Anahi Pascual in 14th running a 10:01.7. Other finishers were Nicole Gonzalez 24th in 10:28, Giselle Perez 30th in 10:48.2, Michelle Reyes 41st in 11:22.1, and Eva Vieyra 66th in 12:41.9. This was the best team finish of the day for the Flashes, a third place finish overall.
Fillmore had 3 boys, all newcomers compete in the second Short Course Race of the day. Leading the Flashes was Andrew Otineru 43rd in 9:53.02, followed by Samuel Kafka 60th in 10:41.31 and Pete Alvarado 65th in 11:20.14.
The first full race of the day 2.98 miles featured the top girl runners from 15 schools. Top runner for Fillmore for the second year in a row was Carissa Rodriguez who finished in 4th place in 19:02.36. She was followed by first year runner Diana Perez 36th in 21:06.33. Both Carissa and Diana were award winners. Next to finish was Jackie Chavez 53rd in 21;48.72, Lauren Magdaleno 60th in 22:11.19, and Emma Orozco 72nd in 22:36.99. This rounded out the top 5 Runners for Fillmore's team score and 7th place finish. Also competing were Cecilia Cisneros 83rd in 22:59.39, Maria Rubalcava 90th in 23:11.02, Allison Recancoj 98th in 23:42.70, Yakeline Magana 128th in 25:53.77 and Cynthia Hurtado 130th in 26:01.01.
The final race of the day saw a determined boys team compete against some of the top teams in California. Fillmore was led by Senior Johnny Martinez who finished in 21st place in 16:52.07. He was followed by Michael Sanchez 39th in 17:27.35, Jonathon Ordaz 44th in 17:30.14, Adrian Orozco 56th in 17:46.39, Everardo M. Garcia 57th in 17:52.71. Other finishers included: Sergio Perez 64th in 18:02.28, Juan Ramirez 79th in 18:38.99, Nick Villela 80th in 18:39.27, Gustavo Valdez 91st in 18:50.12, John Chavez 99th in 19:08.45, Jesus Castro 113th in 19:26.88, Mario Hurtado 126th in 19:42.99, Jorge Acevedo 138th in 20:09.05, Luis Leon 151st in 20:33.34, Antonio Villalobos 177th in 21:32.08, Andrew Hernandez 180th in 21:43.71, Erik Hernandez 184th in 21:54.49, and Daniel Cruz 187th in 22:15.19. This team also finished 7th overall and had the best gap between the 1st and 5th runner, about a minute gap..
The Flashes will next compete at the Rosemead Invitational on Friday, September 9th. First race starts at 5:10 pm.
By Gazette Staff Writer — Thursday, September 1st, 2016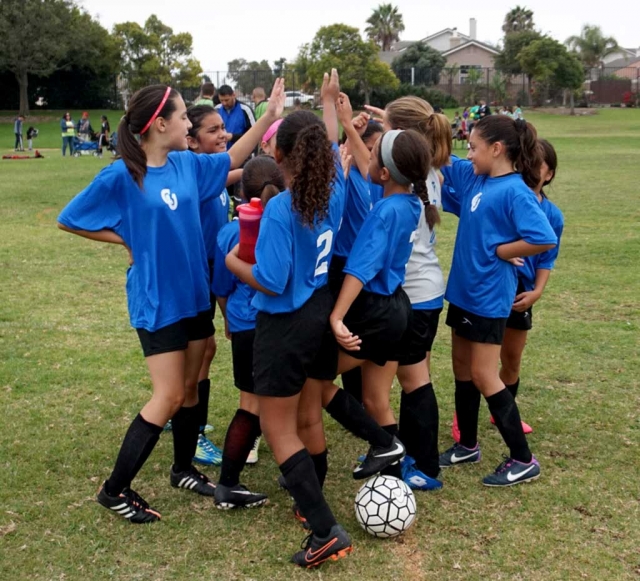 Fillmore's 10U Girls Soccer Club Team; California United finished their season this past Saturday August 27th, losing to number 2 seed Oxnard Pal Soccer Club. The Girls placed 3rd seed this season, among very tough opponents. Although more than half the team are below age, they gained respect among teams in the 10U division. Nine-year-old Jadon Rodriguez scored off an assist by teammate Lexis Pina. This was the only goal allowed by the outstanding Oxnard Pal Team. Fillmore's California United FC will be growing, expanding with teams from 8U- 17U in the near future. We hope to bring, quality training for our community youth in a competitive environment.
Enlarge Photo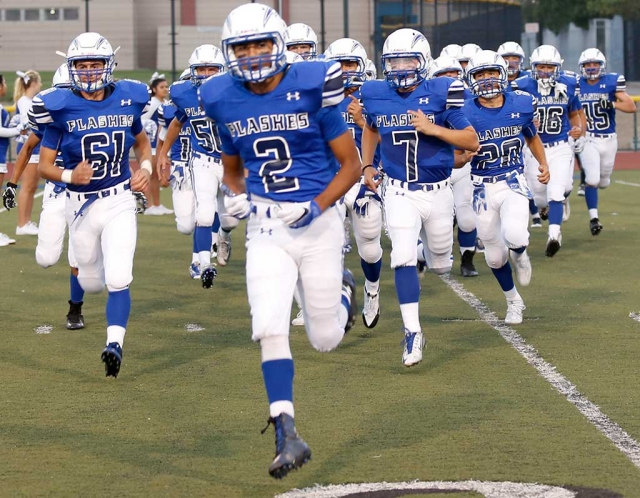 Friday August 26th The Fillmore Flashes kicked off the season playing against Eagle Rock. Highlights from the game: Hector Sanchez was 10 of 18 for 106 yards, one touchdown pass and one rushing touchdown and Kevin Galvan had 11 tackles. Final Score Eagle Rock 19 - Flashes 13. Over all Coach Dollar had this to say about last Friday's game, "As a team we played hard, but 4 turnovers cost us the game." This Friday September 2nd is at Home, Flashes take on Channel Islands High School J.V. game starts at 4:30pm, Varsity game starts at 7:30pm. [Photos by Crystal Gurolla and Charles Morris]
Enlarge Photo
By Gazette Staff Writer — Thursday, September 1st, 2016
By Gazette Staff Writer — Thursday, September 1st, 2016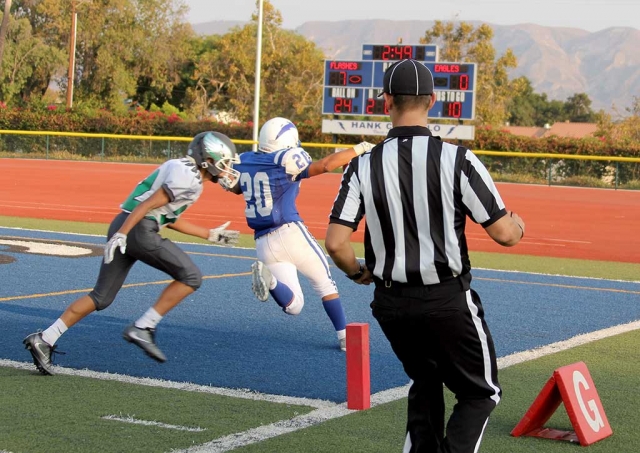 Fillmore JV-13 vs Eagle Rock JV-0. Flashes were lead by Hugo Virto who scored both touchdowns. On defense Abraham Garza, Gabriel Gonzalez, Trevor Scott, Bryce Nunez, David Julian, David Rivas, Juan Gallegos, and Garrett Dollar led the defense to a shut out of Eagle rock. The flashes play Channel Islands next week at home at 4:30. Fillmore JV record is 1-0.
Enlarge Photo