By Gazette Staff Writer — Wednesday, September 30th, 2015
Part 1 of 2
By Gazette Staff Writer — Wednesday, September 30th, 2015
Part 2 of 2
By Gazette Staff Writer — Wednesday, September 30th, 2015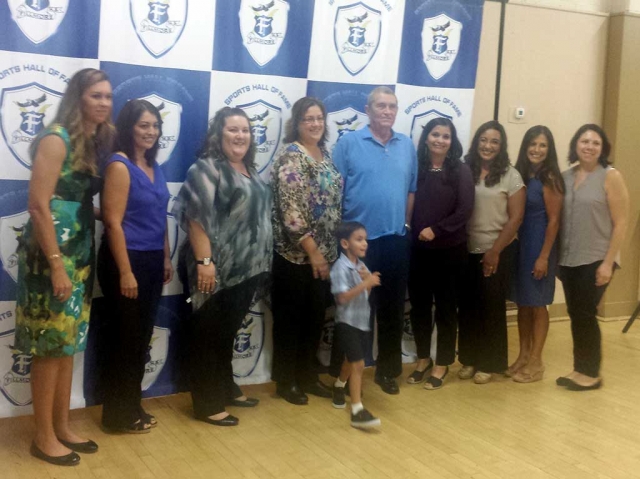 1993 Fillmore High School Softball Team with their coach at Hall of Fame night on Saturday at the Veterans Memorial Building.
Enlarge Photo
By Gazette Staff Writer — Wednesday, September 30th, 2015
Part 1 of 2
By Gazette Staff Writer — Wednesday, September 30th, 2015
Part 2 of 2
By Gazette Staff Writer — Wednesday, September 23rd, 2015
By Gazette Staff Writer — Wednesday, September 16th, 2015
By Gazette Staff Writer — Wednesday, September 16th, 2015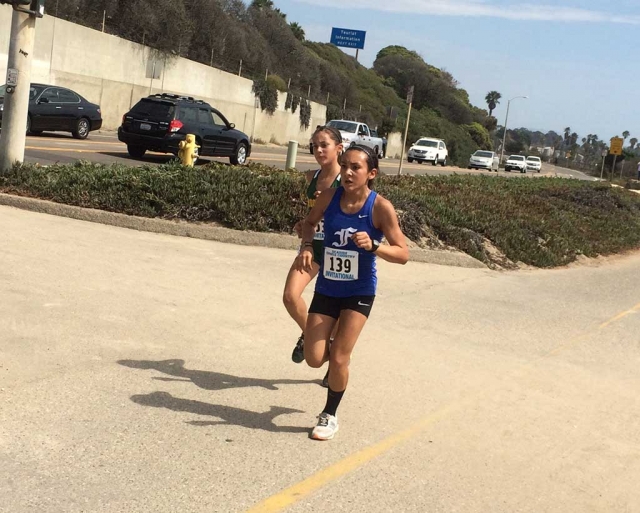 Carissa Rodriguez at Seaside Invitational
Enlarge Photo
By Gazette Staff Writer — Wednesday, September 16th, 2015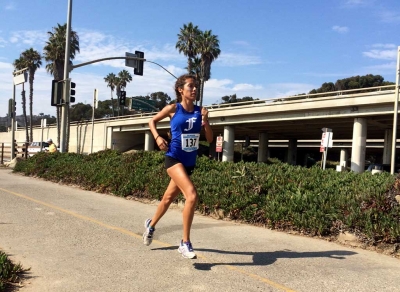 Lupita Perez at Seaside Invitational
Enlarge Photo
The Fillmore boys and girls cross-country teams competed in their first two meets of the season racing in the UCSB Gaucho Invitational on September 5th, and running at the Buenaventura Seaside Invitational on Friday.
At the UCSB Gaucho Invitational all grade levels were combined into a single all boys or an all girls race. In this meet the Flashes garnered 7 medals in the girls' race and finished in 4th place among 12 multi-divisional teams. They were led by the overall race winner, freshman newcomer Carissa Rodriguez. Carissa was also awarded the inaugural Becky Baker Award given in honor of the late teacher, coach, and friend of students at Indio High School. The Lady Flashes finished as follows Carissa Rodriguez 1st in 19:01.19, Lupita Perez 3rd in 19:18.3, Kimberly Vazquez 26th in 21:00.96, Erika Ruiz 34th in 21:27.1, Jackie Chavez 39th in 21:39.39, Andrea Marruffo 43rd in 21:50.41, Julissa Martinez 44th in 21:50.74, Maria Rubalcaba 74th in 23:03.82, Susie Garcia 76th in 23:10.05, Marisol Martinez 78th in 23:13.71, Cecilia Cisneros 85th in 23:34.92, Lauren Magdaleno 88th in 23:36.39, Emma Orozco 96th in 23:49.96, and Briana Lopez 107th in 24:37.35.
The boys team was lead by Captain Johnnie Martinez the lone medal winner. He finished in 45th place in a time of 17:30.14. Other finishers were Jose Rodriguez 48th in 17:43.18, Michael Sanchez 57th in 18:00.08, Curtis Ponce 58th in 18:01.6, Adrian Orozco 60th in 18:04.13, Jonathan Ordaz 84th in 18:39.45, Jesus Castro 86th in 18:40.48, Christian Andrade 94th in 19:00.51, Juan Ramirez 96th in 19:03.37, Nick Villela 98th in 19:05.08, John Chavez 104th in 19:18.61, Gustavo Valdez 109th in19:34.37, Sergio Perez 116th in 19.50.05, Everardo G. Magana 128th in 20:06.54, Roberto Magana 135th in 20:18.95, Mario Hurtado 164th in 21:08.48, Josue Baez 165th in 21:11.61, Richard Cadena 170th in 21:18.67, Jorge Acevedo 176 in 21:57.65, Misael Ponce 177th in 22:03.25, Jaime Malagon 180 th in 22:28.47, Andrew Hernandez 187th in 22:54.6, Antonio Villalobos 194th in 26:04.56, Daniel Cruz 195th in 26:04.84, Allen Inda 196th in 28:21.51, and Luis Leon 197th in 28:23.22. The boys finished in 8th place among the 13 competing teams.
This past Friday the Flashes participated in the Seaside Invitational held at the San Buena Ventura Beach. All races were run based on gender and grade level. Unfortunately, competitors in the boys' division 10th-12th grade were not allowed to compete due to extreme heat.
The first race of the day featured Fillmore's outstanding Freshman girls team that place 4th overall in a deeply talented field in which 36 schools were represented. Four of these athletes were medal winners. The harriers were led by Carissa Rodriguez who finished in 4th place in her fastest time of the season of 18:24.65. This was also the fastest time recorded by the Lady Flashes on the day, and qualified her to be recognized by Dyestat California as one of the top performances by a freshman harrier in California. Other competitors in the Girl's Freshman race were Andrea Marruffo 21st in 20:30.77, Julissa Martinez 27th in 21:05.51, Susie Garcia 38th in 21:47.18, Emma Orozco 51st in 22:30.77, Cecilia Cisneros 59th in 22:45.57, and Briana Lopez 72nd in 23:26.22.
The Sophomore girls followed with 4 competitors led by Jackie Chavez 37th in 20:50.45 and the only medal winner in this division, followed by Maria Rubalcava 93rd in 23:26.11, Yakelin Magana 115th in 24:07.78, and Allison Reconcoj 118th in 24:18.05.
In the Juniors' race, Marisol Martinez 93rd place was the top finisher for Fillmore in 22:36.28, followed by Lauren Magdaleno 107th in 23:13.99, and Maria Lopez 214th in 29:55.40.
The first 3 girls in this division were medal winners. Leading the Seniors for the second week in a row was Lupita Perez 12th place in a time of 18:52.15. Lupita's time qualified her to be recognized by Dyestsat California as one of the fastest times in California for a Senior runner. Other top finishers were Erika Ruiz 49th in 20:43.48, Kimberly Vazquez 50th in 20:45.04, and Irma Torres 74th in 21:56.23.
The final race of the day was the Freshman Boys. They were led by Nick Villela 33rd in a time of 18:23.76, followed by Sergio Perez 61st in 19:21.61, both Nick and Sergio were medal winners, next was Roberto Magana 74th in 19:31.16, Jorge Acevedo 124th in 20:52.27, Richard Cadena 128th in 20:58.59, Louie Rodriguez 160th in 22:08.31, and Andrew Hernandez 196th in 23:58.13.
The Flashes will next travel to Irvine, California and compete in the prestigious Woodbridge Invitational. You are invited to follow us on our web page, it can be found at fillmorecrosscountry.com.
By Gazette Staff Writer — Wednesday, September 9th, 2015
Part 1 of 2
By Gazette Staff Writer — Wednesday, September 9th, 2015
Part 2 of 2
By Gazette Staff Writer — Wednesday, September 2nd, 2015
Part 1 of 2
By Gazette Staff Writer — Wednesday, September 2nd, 2015
Part 2 of 2
By Gazette Staff Writer — Wednesday, September 2nd, 2015
Part 1 of 2
By Gazette Staff Writer — Wednesday, September 2nd, 2015
Part 2 of 2
By Gazette Staff Writer — Wednesday, August 26th, 2015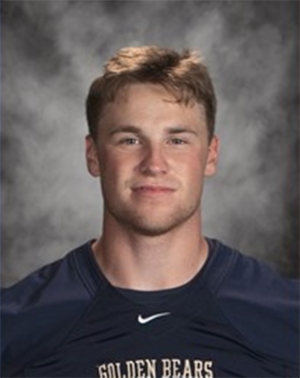 Corey Cole
Concordia University has officiallynamed Corey Cole as their starting quarterback for the 2015 season.
Their opening game will be Thursday, September 3rd on the road against St. Cloud State University.
One year ago Cole was named the starting quarterback to open the 2014 season, earning Concordia Offensive Player of the Week honors in the opener at Minnesota Duluth, rushing for 177 yards and a touchdown on 18 attempts with a long of 33 and completed 12-25 for 130 yards with a long of 21 without committing a turnover. He completed 6-9 for 44 yards and rushed four times for 11 yards in week two at Northern State before leaving the game with a broken footwhich ended his season. The NCAA awarded Cole a medical redshirt.
Prior to being named the starting quarterback in 2014, Cole earned NSIC Special Teams Player of the Week Honors was named CU Offensive Player of the Week and was ranked second in NSIC South in kick return average (30.6). Cole also tied an NCAA record with a 100-yard touchdown return.
He is a 2011 graduate of Fillmore High School and is the son of Craig and Lynn Cole.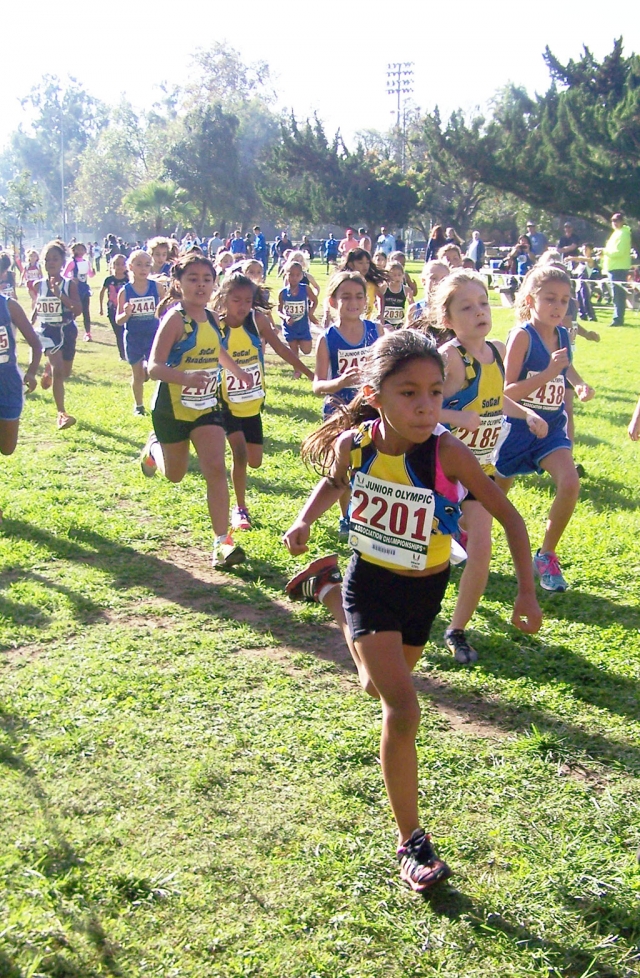 Niza Laureano (bib #2201) leads the pack at the 2014 USATF Southern California Association Junior Olympic Cross Country Championships in Arcadia, California.
Enlarge Photo
By Gazette Staff Writer — Wednesday, August 26th, 2015
A local Fillmore youth athlete will be the subject of a nationally televised story. Niza Laureano, age 8, was interviewed at the Fillmore High School Track on Thursday, August 20th for a news sport report to be featured on Telemundo the American Spanish language broadcast television network that is owned by the NBCUniversal Television Group. The segment is scheduled to be aired on Telemundo channels locally on Thursday, August 27th at 5:30pm.
Ms. Laureano is a member of the Fillmore Condors Youth Cross Country team. Last year, as a 7 year old she was the 2014 Southern California Youth Track and Field Conference (SCYTFC) Gremlin Girls Cross Country Champion. After capturing the title, she moved on to national postseason competition where she earned a 5th place medal and title of "USA Track and Field Jr. Olympic All American" running as a Southern California Roadrunner at the 2014 National Junior Olympic Cross Country Championships in Myrtle Beach, South Carolina.
After the Cross Country season concluded, she moved on to the sport of Track & Field where she continued to excel. Running for the Ventura Tigres, she was the 2015 Ventura County Youth Track Conference (VCYTC) Varsity Finals Gremlin Girls 800 meter and 1600 meter champion. She broke the 1600 meter Gremlin Girls Ventura Country record with a time of 6:12.17 besting the record from 2013 set by her cousin Andrea Laureano of Heritage Valley Blazers (6:27.77).
She also earned championship titles and set records at the 2015 SCYTFC & VCYTC Co-Conference Championships in the Gremlin Girls 1500 meter race with a time of 5:33.69 (prior record 5:46.62) and in the 800 meter race with a time of 2:52.56 (prior record: 2:59.37).
Her success story reached the office of Telemundo television journalist Ariana Jabaz who came to Fillmore from Orange County to interview Ms. Laureano, her coach/uncle Rafael Laureano and her coach/father Cuauhtémoc Laureano for the report.
Ms. Laureano is a 3rd grade student of Ms. Ferguson at San Cayetano Elementary. Representatives of the Fillmore Unified School District were also on hand for the filming including principal Ms. Tricia Gradias who stated, "On behalf of the San Cayetano staff, we are all very proud of Niza and her athletic accomplishments. Not only is Niza an outstanding athlete, she is an outstanding student at San Cayetano School who has a strong work ethic and a fantastic attitude. She is an outstanding example of an all-around student leading a balanced life due to the support of a wonderful family."
By Gazette Staff Writer — Wednesday, August 26th, 2015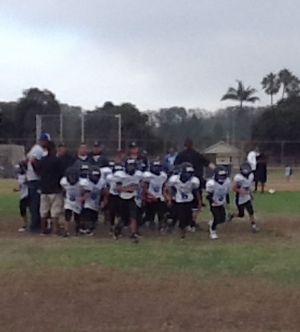 It was a busy week for Fillmore's So Cal Bears. The Bears took the field on Wednesday, August 19, for the first scrimmage of the year. The game was played at Ventura's Buena High School against the Ventura Packers. On Saturday, the annual Jamboree was held at Apollo field in Simi Valley, where the Bears played against Moorpark, Thousand Oaks, and Simi Valley.
By Gazette Staff Writer — Wednesday, August 26th, 2015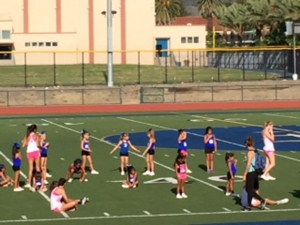 This Friday evening, August 28th is the First Home Football for our Fillmore High Flashes against Grace Brethren H.S. J.V. start time is 4:30, and the Varsity start time is 7:30PM. Let's all make an effort to support our Fillmore, Bardsdale, and Piru Kids, and show up to the games this year. GO FLASHES!!!! The next Home Football game is on Friday, September 11th against Oak Park. Same times as above.
By Gazette Staff Writer — Tuesday, July 14th, 2015
Anyone near the Memorial building this weekend may have stopped a moment to listen. Shouts of "hit" and "clean".
Accompanied by a loud 5,6,7,8 and a resounding clap could be heard from 9-2 Saturday and Sunday. No, it wasn't a karate competition or a seniors exercise group! It was the 2015 SoCal Bears Cheer Camp.
While coaches kept a watchful eye, four accomplished cheer/tumbling instructors lead the two-day camp. This years camp was attended by 96 girls, ages 4 to 14. The number of girls attending was almost double that of last year.
Coaches this year are: Katie
2015 SoCal Bears Cheer Camp
Aguilar, Director and Juniors Coach; Vivian Medina, Vice President; Brittany Cardona, Bantams; Jazzy Gonda, Gremlins; Leiana Sacolles, Midgets; Nicole Camarillo, Seniors; Shannon Pastorius, Midgets; Shantel Sierra Ponce, Peewees; Trina Tafoya, Peewees; Vanessa Aguilar, Juniors; Viv Calderon, Seniors; and Nicole Couch.
The event concluded with stunt and tumbling demonstrations by staff and all squads performing routines learned during camp for parents and friends. Also attending was Ram Medina, President & Founder of the SoCal Fillmore Bears.
MVP Yanely Lara, Best Dancer CeCe Vega, Hot Mess Myah Virto , Best Performer Monique Stone, Best Jumps Athena Merjil, Best Weave Aryanne Munoz, Best Motions Jacey Warren. Best overall cheerleader peewee team Morgan Ferguson. Best overall cheerleader bantam team Daisy Robledo. Overall spirit stick awards: Gremlins Azaria Aguilar, Peewee Presley Mc Lain, Bantam Addy Virto , Juniors CeCe Vega, Seniors Vanessa Lopez, Ages 5-13.
Thanks to Staff: Diego, Mariah, Vanessa, and
Amador.