By Gazette Staff Writer — Wednesday, October 28th, 2015
Photos courtesy Crystal Gurrola
By Gazette Staff Writer — Wednesday, October 21st, 2015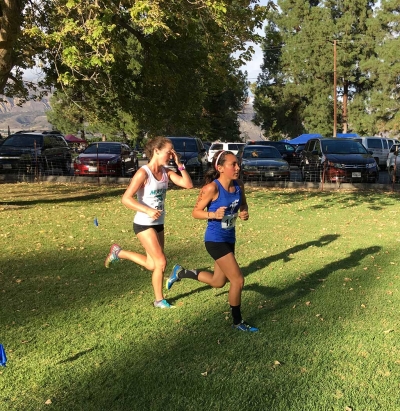 Carissa Rodriguez
Enlarge Photo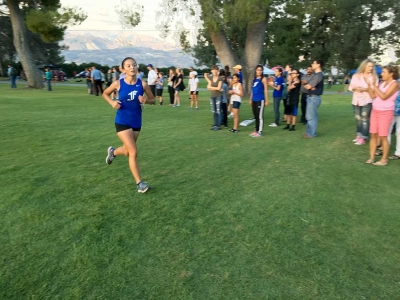 Julissa Martinez
Enlarge Photo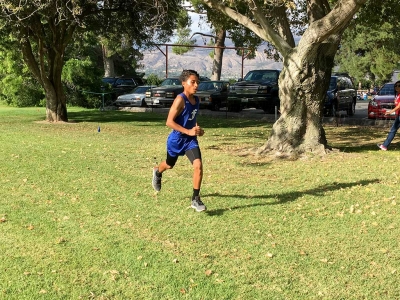 Juan Ramirez
Enlarge Photo
For the first time ever Elkins Golf Course hosted 13 TCAA teams in the second of 3 league meets. Running on this beautiful course proved to be a formidable challenge for all competitors as they had to navigate two major climbs. One of the climbs came early in the first mile and the final climb came in the last mile of this course. All 4 races will determine league championship teams and which boys and girls varsity teams will represent TCAA at the Southern Section CIF prelim meet on November 14th at the Riverside City Cross Country Course.
The first race of the day saw a powerful Foothill Technology boys JV team dominate the race by claiming the first 7 places followed by Fillmore claiming the next 4. Foothill won the team race scoring aperfect 15 points followed by Fillmore 52 points and Thatcher rounding out the top 3 with 103 points. Top runner for Fillmore was Juan Ramirez 8th in 19:21.51, followed by Nick Villela 9th in 19:27.11, John Chavez 10th in 19:48.02, Everardo Garcia Magana 11th in 19:48.31, Sergio Perez 14th in 20:13.67, Steven Valencia 18th in 20:42.54, Dean Lomeli 21st in 20:45.79, Mario Hurtado 23rd in 20:50.15, Jorge Acevedo 30th in 21:18.38, Roberto Magana 31st in 21:25.58, Jaime Malagon 49th in 22:22.32, Misael Ponce 53rd in 22:46.81, Andrew Hernandez 66th in 24:09.40, Eric Hernandez 69th in 24:51.03, Daniel Cruz 70th in 24:53.49, Antonio Villalobos 71st in 24:55.82, and Luis Leon 82nd in 26:34.94.
The most exciting race of the day was the girls' varsity race. This race feature two determined competitors, 11th grader Abby Blackwood of Malibu High School and 9th grader Carissa Rodriguez of Fillmore High School. These ladies battled side by side and traded a slight lead multiple times before Abby Blackwood was able to pull away and win in a time of19:04.65, Carissa followed finishing in 19:06.29. The team battle was claimed by Foothill Technology with 46 points, Fillmore claimed 2nd with 69 points, and Malibu was 3rd with 96 points. Top scorers for the Flashes were Lupita Perez 11th in 20:34.86, Andrea Marruffo 17th in 21:40.31, Irma Torres 19th in 21:47.75, Erika Ruiz 20th in 21:55.92, Jackie Chavez 26th in 22:20.95, and Kimberly Vazquez 29th in 22:32.21.
In the boys varsity race Foothill Technology again claimed the top spot winning the team competition with 34 points. Fillmore finished in 4th place with 119 points. The top individual winner in this race was Isaiah Lozano from St. Bonaventure in an excellent time of 15:34.12. Fillmore was led by senior Jose Rodriguez 11th in 17:34.26, followed by Adrian Orozco 19th in 17:58.41, Curtis Ponce 20th in 17:59.42, Johnny Martinez 32nd in 18:48.96, Michael Sanchez 37th in 18:58.23, and Jesus Castro 38th in 19:00.72.
The final race of the day was the girls JV race. The winning team was Foothill Technology taking the first 5 spots and scoring a perfect score of 15 points. The runner up position went to Fillmore who was led by Susie Garcia 6th in 22:35.73, followed by Julissa Martinez 7th in 22:.57.90, Cecilia Cisneros 9th in 23:04.66, Lauren Magdaleno 11th in 23:36.24, Emma Orozco 12th in 23:38.62, Marisol Martinez 14th in 24:07.29, Maria Rubalcava 17th in 25:01.24, Briana Lopez 26th in 26:13.28, Yakeline Magana 28th in 27:05.63, and Maria Lopez 50th in 31:20.93.
Fillmore coaches were proud to host this meet on a perfect day and on such a wonderful venue that provided spectacular views and a challenging course for all competitors. It was great to see so many Fillmore fans and family come out and support the teams on this great day. A special thanks goes out to the Elkins Golf Course Board of Directors, staff, and Fillmore Rotary. Thanks for working with us to make this meet a great success.
The Flashes will next compete on Friday at the nations largest cross country meet at Mt. San Antonio College in Walnut, California. You are invited to visit our cross country website at Fillmorecrosscountry.com and peruse additional team information including our schedule.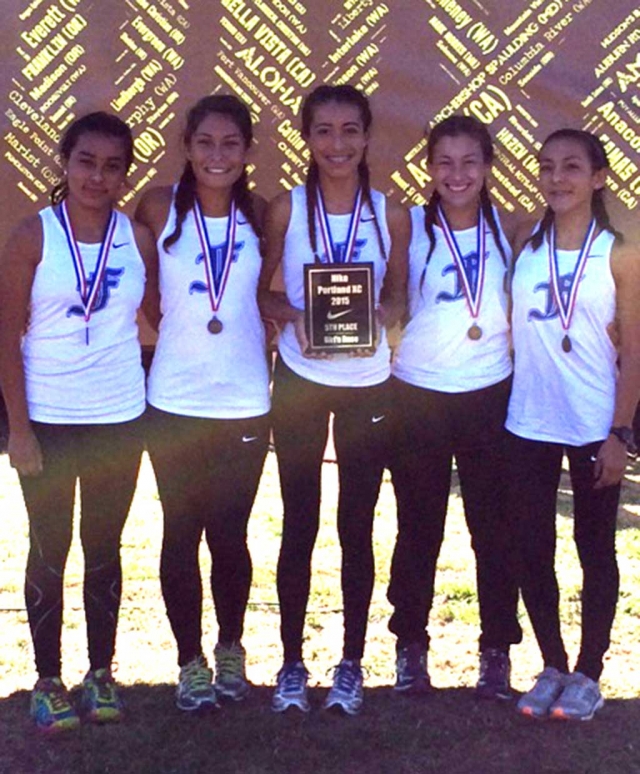 Lady Flashes at The Nike Portland Invitational. (l-r) Jackie Chavez, Erika Ruiz, Lupita Perez, Kimberly Vazquez and Carissa Rodriguez.
Enlarge Photo
By Gazette Staff Writer — Wednesday, October 7th, 2015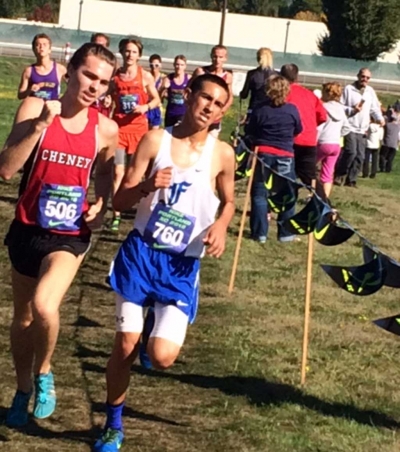 The Boys Varsity finished in third place behind Foothill Technology and Thatcher. Leading the Flashes for the first time this season was Jose Rodriguez 8th in 16:41.53.
Enlarge Photo
On Thursday the Fillmore Cross Country teams competed in the 1st of 3 league meets. This meet was held at El Camino Real Park in Ventura and was co-hosted by Foothill Technology High School and Saint Bonaventure High School. A total of 13 schools competed in this 4 division meet that will be used to determine league standings and who will represent the TCAA at CIF post season competition.
The first race of the day JV Boys was dominated by Foothill Technology with a perfect score of 15 points. Fillmore was second with 64 points. Leading the Flashes was first year runner Juan Ramirez 9th in18:21.75, followed by Josue Baez 13th in 18:39.1, Jesus Castro in 22nd in 19:03.99, Sergio Perez 25th in 19:28.04, Nick Villela 28th in 19:34.71, Roberto Magana 30th in 19:38.51, Steven Valencia 33rd in 19:47.97, Christian Andrade 34th in 19:48.34, Everardo G. Magana 35th in 19:48.80, Mario Hurtado 44th in 20:12.85, Gustavo Valdez 47th in 20:13.79, Jorge Acevedo 66th in 21:03.84, Louie Rodriguez 81st in 21:58.07, Misael Ponce 83rd in 22:01.06, Jaime Malagon 94th in 22:29.81, Andrew Hernandez 100th, Daniel Cruz 106th in 23:49.24, Antonio Villalobos 110th in 24:38.06, and Luis Leon 116th in 25:18.68.
The second race of the day featured the girls' Varsity team. Leading the team to a second place team finish was Sophomore Carissa Rodriguez who finished second over all in a time of 19:01.58, followed by teammate Lupita Perez 3rd in 19:11.66. A cluster of Fillmore girls finished next with Irma Torres 18th in 20:52.67, Erika Ruiz 19th in 20:55.51, Kimberly Vazquez 20th in 20:56.11, Andrea Marruffo 21st in 21:03.29, and Julissa Martinez 28th in 21:30.18.
The boys Varsity finished in third place behind Foothill Technology and Thatcher. Leading the Flashes for the first time this season was Jose Rodriguez 8th in 16:41.53, followed by Michael Sanchez 10th in 16:51.05, Johnny Martinez 12th in 15:56.03, Curtis Ponce 20th in 17:29.43, Adrian Orozco 26th in 17:48.91, Jonathan Ordaz 29th in 17:56.26, and John Chavez 34th in 18:12.94.
In the final race of the day the girls JV team finished in second. They were led by Jacqueline Chavez in 3rd place in a time of 20:50.08. She was followed by Susie Garcia 8th in 21:45.45, Lauren Magdaleno 15th in 22:38.10, Cecilia Cisneros 17th in 22:46.93, Emma Orozco 19th in 22:53.85, Marisol Martinez 20th in 23:12.83, Maria Rubalcava 24th in 23:26.76, Brianna Lopez 26th in 23:39.33, Cynthia Alvarado 28th in 23:46.19, Allison Recancoj 33rd in 24:06.20, Yakeline Magana 49th in 25:45.22, and Adanari Rosales 74th in 28:19.89.
Personal best times for the season were run by Jackie Chavez, Daniel Cruz, Cynthia Hurtado, Mario Hurtado, Luis Leon, Everardo Garcia Magana, Lauren Magdaleno, Juan Ramirez, Allison Recancoj, Louie Rodriguez, and Antonio Villa. Special recognition goes to Misael Ponce and Steven Valencia who ran their fastest time ever.
Five members of the girls team and two members of the boys team followed their league performances by competing out of state at the highly competitive Nike Portland Oregon Pre-National Meet on Saturday.
The girls team ran well enough to claim a podium spot and win a 5th place team plaque and individual medals. Leading the girls to this fine team performance was Senior Lupita Perez who led the race into the final 100 meter before finishing in second overall in the Division 2 race in a time of 19::04.48. Not to be outdone, Freshman teammate Carissa Rodriguez finished 4th in 19:18.78, followed by Kimberly Vazquez 40th in 21:19.63, Jacqueline Chavez 43rd in 21:21.22, and Erika Ruiz 45th in 21:26.26.
The two boy representatives also earned medals. Jose Rodriguez was the top runner for the Flashes finishing in 29th place in a time of 17:07.8 and Michael Sanchez 35th in 17:23.75.
The team also enjoyed a tour of the Nike World Campus, a coaches presentation by Coach Rob Conner at the University of Portland, a trip to Multnomah Falls and the Columbia Gorge, and a 7 mile run on the hilly Leif Erickson Trail.
The next competition for the Flashes will be a split squad competition with some athletes competing on October 7th in the Ventura County Twilight Invite at Lake Casitas. Another group will be traveling to the State Cross Country Course in Fresno to compete at the Clovis Invitational at Woodward Park on October 10th. Additional information and highlights can be found at Fillmorecrosscountry.com
By Gazette Staff Writer — Wednesday, October 7th, 2015
By Gazette Staff Writer — Wednesday, October 7th, 2015
By Gazette Staff Writer — Wednesday, September 30th, 2015
Part 1 of 2
By Gazette Staff Writer — Wednesday, September 30th, 2015
Part 2 of 2
By Gazette Staff Writer — Wednesday, September 30th, 2015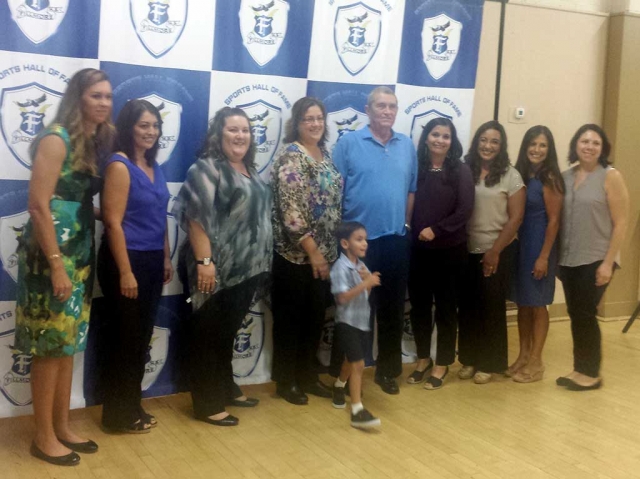 1993 Fillmore High School Softball Team with their coach at Hall of Fame night on Saturday at the Veterans Memorial Building.
Enlarge Photo
By Gazette Staff Writer — Wednesday, September 30th, 2015
Part 1 of 2
By Gazette Staff Writer — Wednesday, September 30th, 2015
Part 2 of 2
By Gazette Staff Writer — Wednesday, September 23rd, 2015
By Gazette Staff Writer — Wednesday, September 16th, 2015
By Gazette Staff Writer — Wednesday, September 16th, 2015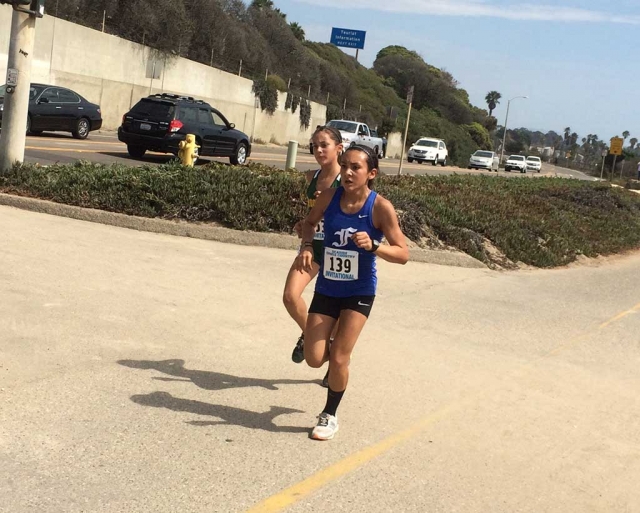 Carissa Rodriguez at Seaside Invitational
Enlarge Photo
By Gazette Staff Writer — Wednesday, September 16th, 2015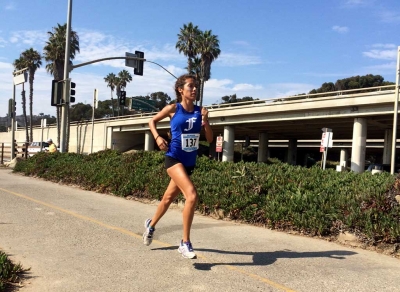 Lupita Perez at Seaside Invitational
Enlarge Photo
The Fillmore boys and girls cross-country teams competed in their first two meets of the season racing in the UCSB Gaucho Invitational on September 5th, and running at the Buenaventura Seaside Invitational on Friday.
At the UCSB Gaucho Invitational all grade levels were combined into a single all boys or an all girls race. In this meet the Flashes garnered 7 medals in the girls' race and finished in 4th place among 12 multi-divisional teams. They were led by the overall race winner, freshman newcomer Carissa Rodriguez. Carissa was also awarded the inaugural Becky Baker Award given in honor of the late teacher, coach, and friend of students at Indio High School. The Lady Flashes finished as follows Carissa Rodriguez 1st in 19:01.19, Lupita Perez 3rd in 19:18.3, Kimberly Vazquez 26th in 21:00.96, Erika Ruiz 34th in 21:27.1, Jackie Chavez 39th in 21:39.39, Andrea Marruffo 43rd in 21:50.41, Julissa Martinez 44th in 21:50.74, Maria Rubalcaba 74th in 23:03.82, Susie Garcia 76th in 23:10.05, Marisol Martinez 78th in 23:13.71, Cecilia Cisneros 85th in 23:34.92, Lauren Magdaleno 88th in 23:36.39, Emma Orozco 96th in 23:49.96, and Briana Lopez 107th in 24:37.35.
The boys team was lead by Captain Johnnie Martinez the lone medal winner. He finished in 45th place in a time of 17:30.14. Other finishers were Jose Rodriguez 48th in 17:43.18, Michael Sanchez 57th in 18:00.08, Curtis Ponce 58th in 18:01.6, Adrian Orozco 60th in 18:04.13, Jonathan Ordaz 84th in 18:39.45, Jesus Castro 86th in 18:40.48, Christian Andrade 94th in 19:00.51, Juan Ramirez 96th in 19:03.37, Nick Villela 98th in 19:05.08, John Chavez 104th in 19:18.61, Gustavo Valdez 109th in19:34.37, Sergio Perez 116th in 19.50.05, Everardo G. Magana 128th in 20:06.54, Roberto Magana 135th in 20:18.95, Mario Hurtado 164th in 21:08.48, Josue Baez 165th in 21:11.61, Richard Cadena 170th in 21:18.67, Jorge Acevedo 176 in 21:57.65, Misael Ponce 177th in 22:03.25, Jaime Malagon 180 th in 22:28.47, Andrew Hernandez 187th in 22:54.6, Antonio Villalobos 194th in 26:04.56, Daniel Cruz 195th in 26:04.84, Allen Inda 196th in 28:21.51, and Luis Leon 197th in 28:23.22. The boys finished in 8th place among the 13 competing teams.
This past Friday the Flashes participated in the Seaside Invitational held at the San Buena Ventura Beach. All races were run based on gender and grade level. Unfortunately, competitors in the boys' division 10th-12th grade were not allowed to compete due to extreme heat.
The first race of the day featured Fillmore's outstanding Freshman girls team that place 4th overall in a deeply talented field in which 36 schools were represented. Four of these athletes were medal winners. The harriers were led by Carissa Rodriguez who finished in 4th place in her fastest time of the season of 18:24.65. This was also the fastest time recorded by the Lady Flashes on the day, and qualified her to be recognized by Dyestat California as one of the top performances by a freshman harrier in California. Other competitors in the Girl's Freshman race were Andrea Marruffo 21st in 20:30.77, Julissa Martinez 27th in 21:05.51, Susie Garcia 38th in 21:47.18, Emma Orozco 51st in 22:30.77, Cecilia Cisneros 59th in 22:45.57, and Briana Lopez 72nd in 23:26.22.
The Sophomore girls followed with 4 competitors led by Jackie Chavez 37th in 20:50.45 and the only medal winner in this division, followed by Maria Rubalcava 93rd in 23:26.11, Yakelin Magana 115th in 24:07.78, and Allison Reconcoj 118th in 24:18.05.
In the Juniors' race, Marisol Martinez 93rd place was the top finisher for Fillmore in 22:36.28, followed by Lauren Magdaleno 107th in 23:13.99, and Maria Lopez 214th in 29:55.40.
The first 3 girls in this division were medal winners. Leading the Seniors for the second week in a row was Lupita Perez 12th place in a time of 18:52.15. Lupita's time qualified her to be recognized by Dyestsat California as one of the fastest times in California for a Senior runner. Other top finishers were Erika Ruiz 49th in 20:43.48, Kimberly Vazquez 50th in 20:45.04, and Irma Torres 74th in 21:56.23.
The final race of the day was the Freshman Boys. They were led by Nick Villela 33rd in a time of 18:23.76, followed by Sergio Perez 61st in 19:21.61, both Nick and Sergio were medal winners, next was Roberto Magana 74th in 19:31.16, Jorge Acevedo 124th in 20:52.27, Richard Cadena 128th in 20:58.59, Louie Rodriguez 160th in 22:08.31, and Andrew Hernandez 196th in 23:58.13.
The Flashes will next travel to Irvine, California and compete in the prestigious Woodbridge Invitational. You are invited to follow us on our web page, it can be found at fillmorecrosscountry.com.
By Gazette Staff Writer — Wednesday, September 9th, 2015
Part 1 of 2
By Gazette Staff Writer — Wednesday, September 9th, 2015
Part 2 of 2
By Gazette Staff Writer — Wednesday, September 2nd, 2015
Part 1 of 2
By Gazette Staff Writer — Wednesday, September 2nd, 2015
Part 2 of 2
By Gazette Staff Writer — Wednesday, September 2nd, 2015
Part 1 of 2
By Gazette Staff Writer — Wednesday, September 2nd, 2015
Part 2 of 2