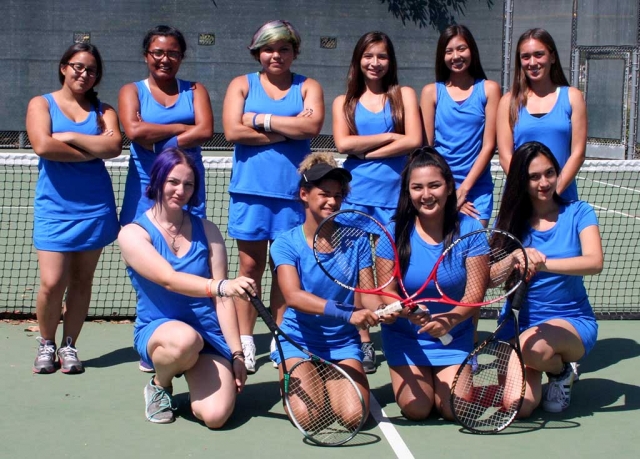 (l-r) (back row) Karime Renteria, Mariah Gonzalez, Hayley Martinez, Julissa Martinez, or "Ace" Adanari Rosales, Briana Lopez, (front row) Teresa Rossi, Michaela Boniti, Elizabeth Castaneda, and Ivette Huerta.
Enlarge Photo
By Lolita Wyche-Bowman — Friday, September 16th, 2016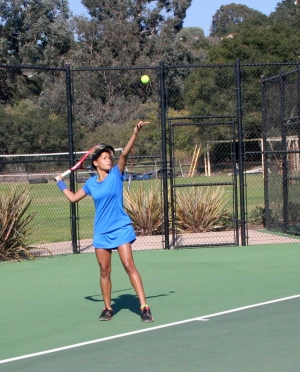 This is my first year coaching, but following in my father's footsteps as he was the tennis and basketball coach in Fillmore for about ten years. I am privileged to be chosen to coach the girls tennis team as Fillmore hasn't had a team for (?) years. We have had two matches so far this year. The first match was against Villanova and two days later we played against Laguna Blanca in Santa Barbara. After our match with Laguna Blanca, I asked my number one player, Michaela Boniti, what her favorite part of the match day was for her. She replied, "When I won two matches today!"
This response from Michaela is incentive for me to coach the girls in Fillmore including watching them improve their skills and techniques every day. For most of the girls on the team, tennis is a new sport. We are ten girls strong this year, and I hope to inspire more girls to play for the team next year. Tennis is a social sport a person can play for most their lifetime and I am happy to be a part of teaching the girls at the high school.
Thank you to the high school principal Mr. Ito for introducing tennis again to Fillmore High School.
Last weeks Scores: (This score is total sets won)
(9-6-16) Fillmore 0 vs. Villanova 18
(9-8-16) Fillmore 4 vs. Laguna Blanca 14
Upcoming Match is Thursday Sept. 15th, against Carpinteria at 3pm.
By Gazette Staff Writer — Monday, September 12th, 2016
JV won against Providence 25-17, 25-8
Varsity lost, 21-25, 26-28, 25-19, 25-16, and 14-16
Key players were; Grace Topete with 3 serving aces, 2 kills, and 5 digs, Reylene Martinez had 6 kills and 10 digs, Gisselle DeLaPaz with 3 aces, 4 kills, and 5 digs
Varsity record is 0-5
By Gazette Staff Writer — Thursday, September 8th, 2016
Kevin Galvan turns in great defensive performance
By Gazette Staff Writer — Thursday, September 8th, 2016
By Gazette Staff Writer — Thursday, September 8th, 2016
By Gazette Staff Writer — Thursday, September 8th, 2016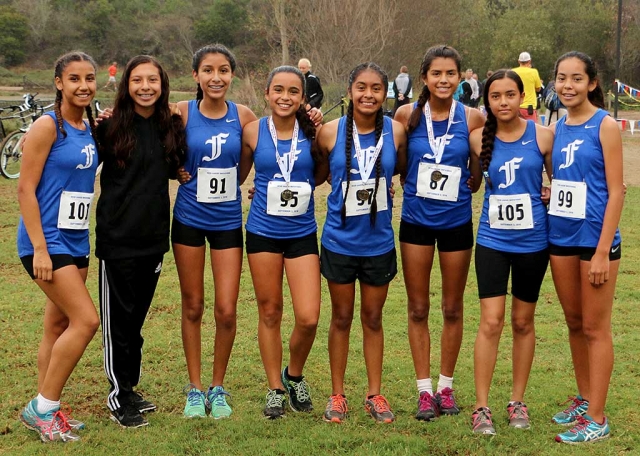 (l-r) Michelle Reyes, Arielle Estrada, Nicole Gonzalez, Valerie Hernandez, Anahi Pascual, Vanessa Avila, Eva Vieyra, and Giselle Perez.
Enlarge Photo
By Epi Torres — Thursday, September 8th, 2016
On September 3, the Fillmore Harriers traveled to the University of Santa Barbara to compete in the UCSB Gaucho Invitational. A total of 15 teams toed the line in 4 different races featuring high school students plus a Community/Alumni race.
Several of the top teams in this year's CIF Southern Section CIF ranking competed at this years meet. Leading the list was Foothill Technology ranked number one in the boys division 4 and the Foothill Technology girls ranked number 2 in the same division. Mayfield girls of Pasadena also competed and are ranked 7th in Division 4.
The first race of the day featured novice athletes or athletes not ready to compete the full distance at this early date. Even though it is a shorter race, it is highly competitive as some school chose to run their full teams in these races. The Fillmore newcomers started the day off right by capturing 3 medals in the first race of the day on the girls short 1.41 mile course. Leading the charge was Vanessa Avila placing 5th and posting a time of 9:10.3, she was closely followed by Valerie Hernandez in 13th place in 10:01.3, Anahi Pascual in 14th running a 10:01.7. Other finishers were Nicole Gonzalez 24th in 10:28, Giselle Perez 30th in 10:48.2, Michelle Reyes 41st in 11:22.1, and Eva Vieyra 66th in 12:41.9. This was the best team finish of the day for the Flashes, a third place finish overall.
Fillmore had 3 boys, all newcomers compete in the second Short Course Race of the day. Leading the Flashes was Andrew Otineru 43rd in 9:53.02, followed by Samuel Kafka 60th in 10:41.31 and Pete Alvarado 65th in 11:20.14.
The first full race of the day 2.98 miles featured the top girl runners from 15 schools. Top runner for Fillmore for the second year in a row was Carissa Rodriguez who finished in 4th place in 19:02.36. She was followed by first year runner Diana Perez 36th in 21:06.33. Both Carissa and Diana were award winners. Next to finish was Jackie Chavez 53rd in 21;48.72, Lauren Magdaleno 60th in 22:11.19, and Emma Orozco 72nd in 22:36.99. This rounded out the top 5 Runners for Fillmore's team score and 7th place finish. Also competing were Cecilia Cisneros 83rd in 22:59.39, Maria Rubalcava 90th in 23:11.02, Allison Recancoj 98th in 23:42.70, Yakeline Magana 128th in 25:53.77 and Cynthia Hurtado 130th in 26:01.01.
The final race of the day saw a determined boys team compete against some of the top teams in California. Fillmore was led by Senior Johnny Martinez who finished in 21st place in 16:52.07. He was followed by Michael Sanchez 39th in 17:27.35, Jonathon Ordaz 44th in 17:30.14, Adrian Orozco 56th in 17:46.39, Everardo M. Garcia 57th in 17:52.71. Other finishers included: Sergio Perez 64th in 18:02.28, Juan Ramirez 79th in 18:38.99, Nick Villela 80th in 18:39.27, Gustavo Valdez 91st in 18:50.12, John Chavez 99th in 19:08.45, Jesus Castro 113th in 19:26.88, Mario Hurtado 126th in 19:42.99, Jorge Acevedo 138th in 20:09.05, Luis Leon 151st in 20:33.34, Antonio Villalobos 177th in 21:32.08, Andrew Hernandez 180th in 21:43.71, Erik Hernandez 184th in 21:54.49, and Daniel Cruz 187th in 22:15.19. This team also finished 7th overall and had the best gap between the 1st and 5th runner, about a minute gap..
The Flashes will next compete at the Rosemead Invitational on Friday, September 9th. First race starts at 5:10 pm.
By Gazette Staff Writer — Thursday, September 1st, 2016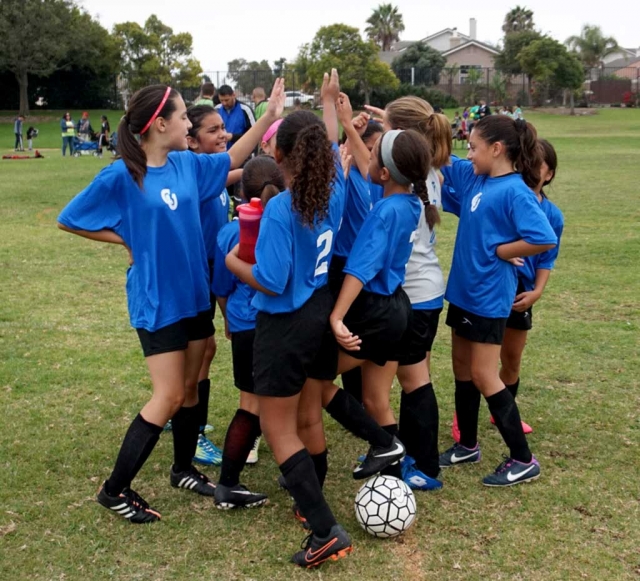 Fillmore's 10U Girls Soccer Club Team; California United finished their season this past Saturday August 27th, losing to number 2 seed Oxnard Pal Soccer Club. The Girls placed 3rd seed this season, among very tough opponents. Although more than half the team are below age, they gained respect among teams in the 10U division. Nine-year-old Jadon Rodriguez scored off an assist by teammate Lexis Pina. This was the only goal allowed by the outstanding Oxnard Pal Team. Fillmore's California United FC will be growing, expanding with teams from 8U- 17U in the near future. We hope to bring, quality training for our community youth in a competitive environment.
Enlarge Photo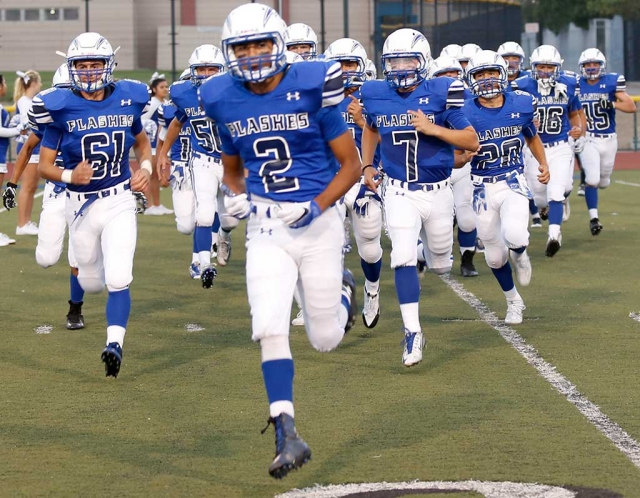 Friday August 26th The Fillmore Flashes kicked off the season playing against Eagle Rock. Highlights from the game: Hector Sanchez was 10 of 18 for 106 yards, one touchdown pass and one rushing touchdown and Kevin Galvan had 11 tackles. Final Score Eagle Rock 19 - Flashes 13. Over all Coach Dollar had this to say about last Friday's game, "As a team we played hard, but 4 turnovers cost us the game." This Friday September 2nd is at Home, Flashes take on Channel Islands High School J.V. game starts at 4:30pm, Varsity game starts at 7:30pm. [Photos by Crystal Gurolla and Charles Morris]
Enlarge Photo
By Gazette Staff Writer — Thursday, September 1st, 2016
By Gazette Staff Writer — Thursday, September 1st, 2016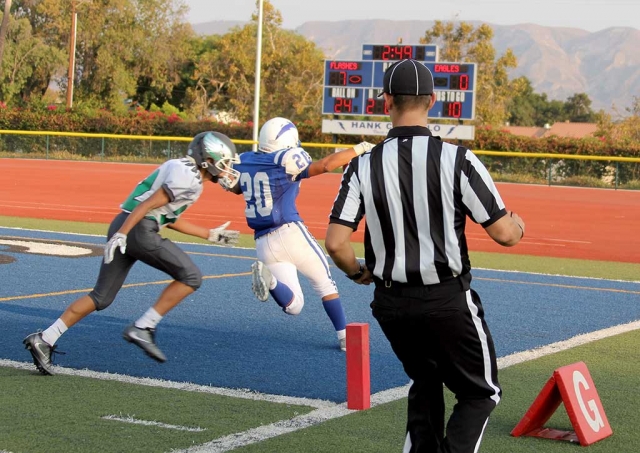 Fillmore JV-13 vs Eagle Rock JV-0. Flashes were lead by Hugo Virto who scored both touchdowns. On defense Abraham Garza, Gabriel Gonzalez, Trevor Scott, Bryce Nunez, David Julian, David Rivas, Juan Gallegos, and Garrett Dollar led the defense to a shut out of Eagle rock. The flashes play Channel Islands next week at home at 4:30. Fillmore JV record is 1-0.
Enlarge Photo
By Gazette Staff Writer — Thursday, September 1st, 2016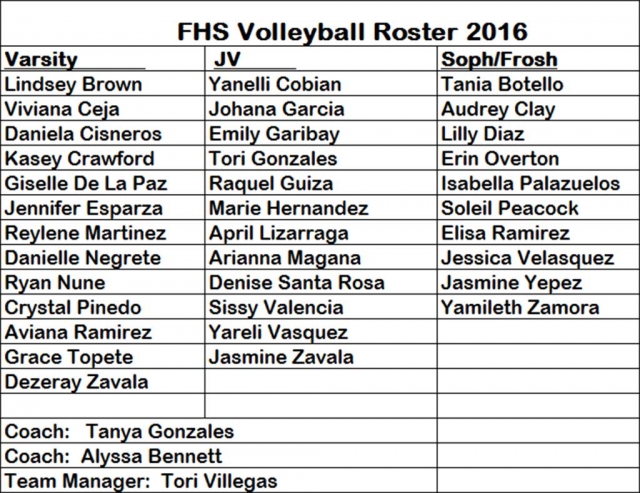 2016 Fillmore Flashes Volleyball Roster
Enlarge Photo
By Gazette Staff Writer — Thursday, September 1st, 2016
08/25/16 - Flashes Vs. Hueneme High School Final Scores:
Frosh/Soph Match: 15 - 25, 25 - 19, 10 - 15
J.V. Match: 9 - 25, 3 - 25
Varsity Match: 16 - 25, 5 - 25, 12 - 25
08/30/16 - Flashes Vs. Channel Islands Final Scores:
Frosh/Soph Match: 25-18, 17-25, 13-15
J.V. Match: 19-25, 8-25
Varsity Match: 13-25, 17-25, 30-28, 12-25
Next Schedule matches will be Thursday September 01, 2016 at home against Channel Islands High School.
Frosh/Soph starts at 4pm, J.V. 5pm, Varsity 6pm.
Tuesday September 6, 2016 will be home against Providence. J.V. starts at 5pm, Varsity 6pm.
By Gazette Staff Writer — Thursday, August 11th, 2016
Tryouts for our Fall Team will be held on : August 21 & August 28
Location: Rancho Community Park, Fields 2 & 3 1765 Royal Street • Simi Valley, CA 93065
Time: 8:15 am Registration & Check-In 8:30 am - 1:30 pm Tryouts (with a 30 minute lunch break)
Web site : http://www.eteamz.com/CaWaves-Ives18U
For more information or toreserve a tryout opportunity, please contact: Robert Ives • 805.657.5142 • xtree23@aol.com
The 18u California Waves, based in Simi Valley, California, is comprised of high achieving student athletes from some of the finest High Schools in California. Harvard-Westlake, Buckley, Oaks Christian, Viewpoint, Flintridge Sacred Heart Academy, and Chaminade are just some of the schools our players attend.
With an average team G.P.A. of 3.8, the California Waves players have been and are actively being watched, tracked, and recruited by top tier Colleges and Universities throughout the country, including: Harvard, Hamilton, Amherst, UCSD, Holy Cross, Boston College, Boston University, Emory, Kenyon, Wellesley, Trinity, Rhodes, DePauw, Seattle University, Bucknell, Dartmouth, Colgate, Tufts, Utah State, to name a few.
If you have a G.P.A. over 3.0 and want to play softball for a top tier D1, D2 or D3 university, the California Waves are who you want to play for.
Established in 1980, The California Waves is one of the oldest organizations in travel ball. The Waves have a proven track record of obtaining exposure, access and scholarships for its athletes.
The Waves play in the major showcases against the best teams in the country, and we are currently scheduled for several prominent Fall Showcases in both Northern and Southern California. And ( 2 ) in Las Vegas.
If you want to play softball in college, and you are willing to work as hard in the classroom as you do in the field, the California Waves want you on our roster!
By Gazette Staff Writer — Monday, July 18th, 2016
This year Fillmore has been chosen to host the annual youth football all star game. Players from Los Angeles, Santa Barbara, and Ventura County will be playing 4 all star games on November 26th 2016. There will be vendors from the tri county area as well as high school coaches to watch the up and coming best football players from around the area. The stadium will be packed and we hope to see many of our community members watch our local Fillmore players compete and play along side the best youth football players in Southern California!!!
Ram Medina
By Gazette Staff Writer — Wednesday, June 29th, 2016
Congratulations to the Fillmore Girls Softball 12U Division on becoming Western District Champions. Players: (l-r) Amber Cervantez, Zoie Isom, Ebony Venegas, Alexis Sanchez, Lily Murillo, Kayleen Jacinto, Alyssa Ocegueda, Anika Lopez, Jordyn Blankenship, Emma Ocegueda, Jazalyn Ramos, Aaliyah Arias. Coaches: Tim Isom, Beany Venegas, Pokey Sanchez and Rudy Murillo.
Enlarge Photo
By Gazette Staff Writer — Wednesday, June 22nd, 2016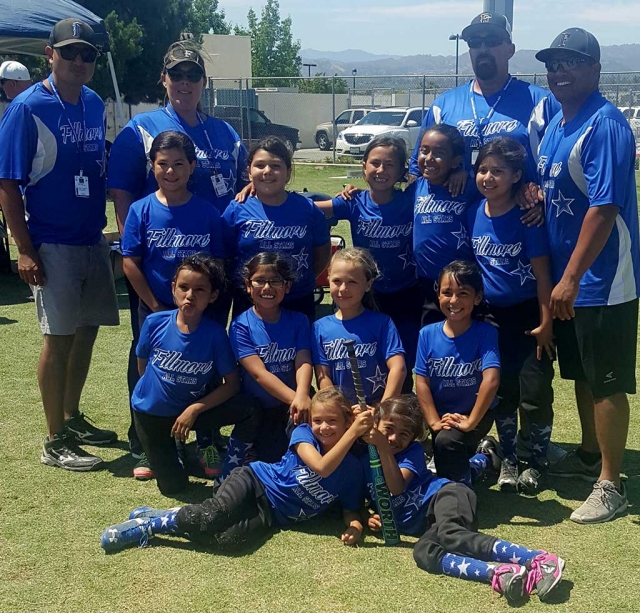 8U Fillmore Softball Girls place top four in El Rio District Tournament, after winning in the June 2016 event. Next they are going to State Championship, July 1-3, 2016.
Enlarge Photo
By Gazette Staff Writer — Wednesday, June 1st, 2016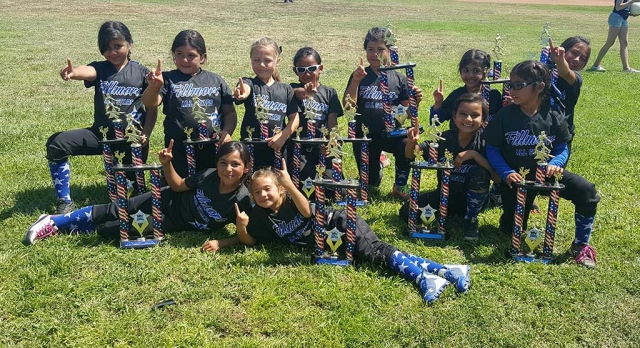 Fillmore Softball Girls 8U Division won 1st place in Thousand Oaks Championship 2016 Memorial Day Tournament. Pictured are Viviana, Ebony, Nakaomi, Delaney, Sophia, Leah, Arianna, Leilani, Natalie, Haley, and Livia.
Enlarge Photo
By Gazette Staff Writer — Wednesday, June 1st, 2016
Congratulations to all the participants!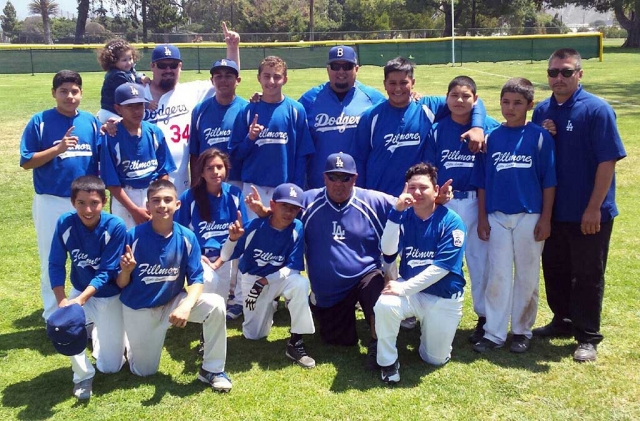 Players: Jose Avila, Alex Avila, Andy Becerra, Nicholas Jiménez, Santos Cortez, Adam Zavala, Alex Serna, J.P. Alfaro, Angel Ruiz, Bobby Moreno, Vanessa Avila, Isaiah Vellego. Coaches: Dave "Mucho" Morales, Sergio Becerra, Isaac Nuno, Albert Luna.
Enlarge Photo
By Gazette Staff Writer — Wednesday, June 1st, 2016
After an exciting season of pinnacles and pitfalls, the Fillmore Little League Dodgers Intermediate Division Squad of twelve clenched two hard-fought playoff wins over the undefeated Saticoy Little League's Dodgers to capture the District 63 Title.
Fillmore's streak started in the first round of playoff competition vs. the Montalvo Dodgers at Montalvo. Going into the top half of the seventh inning, Fillmore was down 6-5. Not about to surrender, Fillmore's bats erupted, showering the Ventura team with four runs. With some clever coaching strategy and key defensive plays, Fillmore hung on to the lead and ended the game with a 9-6 victory over Montalvo.
In the second round, Fillmore was up against the Saticoy Little League Dodgers who were undefeated in regular season play. Fillmore's bats were on fire as they exploded through a seven-run second inning. Santos Cortez dominated on the mound and Angel Ruiz performed valiantly in relief, with a final score of 9-2, handing Saticoy their first upset of the season.
As tournament play would have it, Fillmore had to prove themselves once again in the championship game against the Saticoy Dodgers. On a sunny Saturday morning when most of the town was enjoying the May Festival Parade in Fillmore, our Dodgers were at the Saticoy Little League Intermediate Field fighting for the title. With Nick Jimenez on the mound, Fillmore burst out of the gates and started the game with the lead. Saticoy came back and tied the game. The lead was exchanged back and forth until Fillmore was up 8-5 going into the top of the sixth inning. With two outs, Saticoy pulled away and loaded the bases. With a shot out to right field, Saticoy cleared the bases and tied Fillmore 8-8. After Jimenez fanned off the last batter, Fillmore was facing their last at-bat. Andy Becerra started the inning with a walk. Up next, Bobby Moreno connected for an infield grounder that forced Becerra out at second. With one home run already under his belt, Pitcher Nick Jimenez was at the plate. With an attempt to put the runner in scoring position, the coaches took a chance and sent Moreno to steal third. In a close call, Moreno was tagged out, leaving Jimenez up against two outs. Playing like a scene out of "The Natural," Fillmore wasn't going to let this one slip away. With one powerful swing, Jimenez lifted a shot over the fence and walked off into the arms of his teammates with a game-winning home run and the District 63 Intermediate title.
Fillmore's Manager, Dave "Mucho" Morales, was elated. "Our team gelled at the right time. Nick had the game-winning home run, but every last player contributed and came together when it counted." He went on to give credit to his coaches, "I want to thank Sergio Becerra, Isaac Nuno, Albert "Toro" Luna, and team parent, Rosa Felix, for never giving up on these kids. We had a slow start to the season, but our team clawed their way back and came away with a championship."
Fillmore Intermediates conclude their season on a high note and will select an All-Star team to represent Fillmore. This team of All-Stars will represent Fillmore in tournament competition with the ultimate goal of competing in the 2016 Little League Intermediate 50-70 World Series in Livermore, California.
Players: Jose Avila, Alex Avila, Andy Becerra, Nicholas Jiménez, Santos Cortez, Adam Zavala, Alex Serna, J.P. Alfaro, Angel Ruiz, Bobby Moreno, Vanessa Avila, Isaiah Vellego. Coaches: Dave "Mucho" Morales, Sergio Becerra, Isaac Nuno, Albert Luna.
By Gazette Staff Writer — Wednesday, May 25th, 2016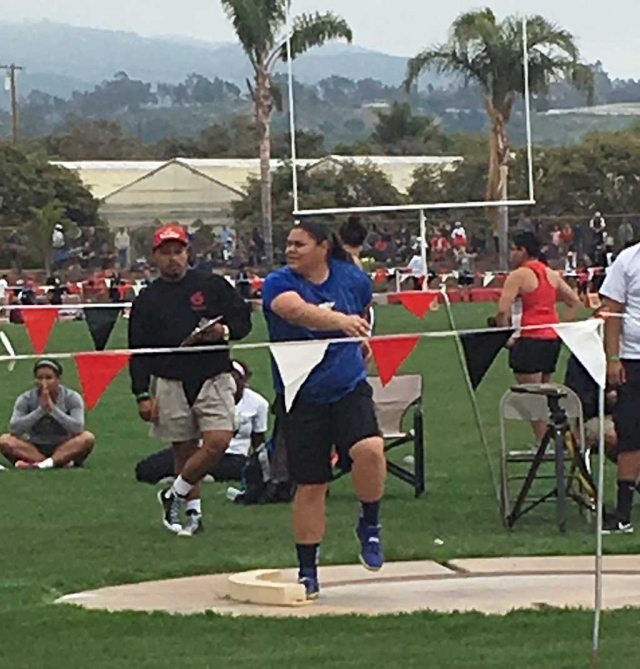 Fillmore High School had a very successful CIF Track and Field Prelims this past weekend. They had two personal records set by freshman Carissa Rodriguez in the 1600m with a time of 5:16.88, and sophomore Gisselle De La Paz in the discus throwing 103 feet and 1 inch. In addition. Junior Mariah Gonzalez qualified for the CIF Finals this Saturday at Cerritos College where she will compete in the shot put. Above, Mariah Gonzalez at CIF Prelims in Shot Put.
Enlarge Photo