FHS - Citrus Coast League Basketball Coach of the Year, MVP & Team Honors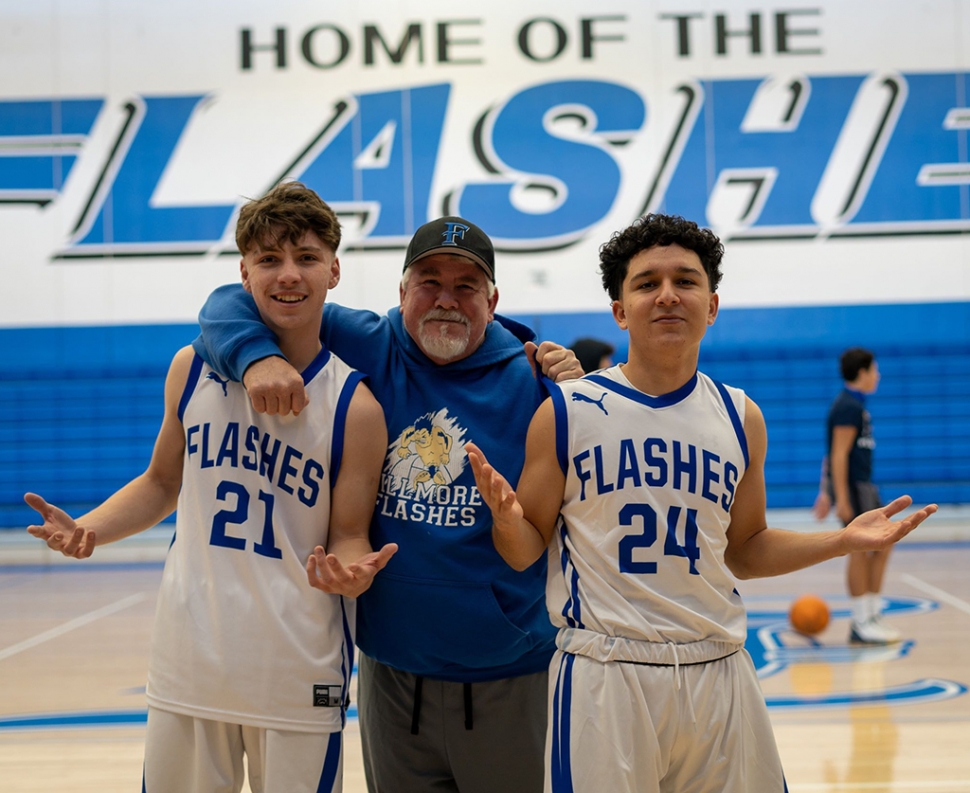 Pictured is Flashes #21 Jack Morris, named MVP for the Citrus Coast League, FHS Varsity Basketball Coach Mark Blankenship, named Coach of the Year, and #24 Jacob "Archie" Munoz, named Citrus Coast League Honorable Mention.
By Gazette Staff Writers — Wednesday, March 15th, 2023
Fillmore Varsity Basketball Team and Coach is recognized for a great season. The Flashes were picked to finish fifth in Citrus Coast league, but after a sluggish start the Flashes blossomed and finished in second place.
Coach Mark Blankenship was honored with Citrus Coast Coach of the year after ending the seasons 13-12 and 8-4 in League and taking the team to the second round of CIF 5AA playoff.
The team started slowly after losing their first two league games against Nordhoff and Channel Islands. You could see the team gel after an early January loss to Rio Mesa. The team then won six straight league games to propel them to 2nd place in the Citrus Coast League.
Jack Morris was named Most Valuable Player for the 2022-23 Citrus Coast League season. He was also named 2nd Team All Ventura County. Jack led the county in assist (7.9) and steals (4.9) for the third straight season, while averaging 15.1 points per game, shooting 48% from the field. Jack also holds FHS records for 305 Career Steals (4th all-time in Ventura County), 556 Career Assist (5th all-time in Ventura County), 80 Career three pointers, 15 Assists in a single game, 10 Steals in a single game and 123 Steals in one season.
Nate Delgadillo was named First Team Citrus Coast League. Nate also holds the FHS single game record with rebounds, 21. Nate led the county in rebounding. Nate averaged 12.8 rebounds a game and 12.9 points per game on 53% shooting -- Averaged a double-double, Incredible!
Named to the Second Team is Isaac Weslow. Isaac will be hunting down the FHS 3pt career record next year as he holds the current FHS record for most threes in a game, 8.
Earning honorable-mention honors were Ray Curiel, Jacob Munoz and Anthony Tafoya of Fillmore.
The Team (Anthony Tafoya, Eugenio Serna, Isaac Weslow, Nathan Delgadillo, Johnny Cardenas, Octavio Orozco, Raymond Curiel, Mahki Hooker, Jack Morris, Joey Osegueda, Jacob, aka Archie, Munoz) was gritty and fought to the end. Thanks to assistant coach Luis Herrera and FHS Varsity Basketball 2022-2023 for a great season.