By Gazette Staff Writer — Wednesday, October 24th, 2012
Part 1
By Gazette Staff Writer — Wednesday, October 24th, 2012
Part 2
By Gazette Staff Writer — Wednesday, October 24th, 2012
Perce's Kenpo Karate Studio of Fillmore had it's annual karate tournament October 6, 2012 at Fillmore Middle School. The karate tournament had over 129 students competing from Ventura county, and Arizona. The results from Perce's Kenpo Karate students are as follow: forms divisions: 4-5 yrs. White belt 1st place Brody Addison, 2nd place Edward Sumaran, 3rd place Gabrielle Perce, 4th place Diego Ibarra. 6-7 yrs. White-Yellow belt participation Juan Castro, and Eugena Serna. 7-8 yrs. Yellow-Orange belt participation Ariana Benson.
10-11yrs. White-Yellow belt 4th place Alex Serna. 8-10 yrs. Orange-Purple belt 4th place Julie Vasquez. 7-8 yrs. Purple-Blue belt 3rd place Ty Morris. 8-9 yrs. Purple-Blue belt 4th place Aaron Carranza, participation Zackary Addison. 11-13 yrs. Purple-Blue belt 3rd place Crystal Pinedo, participation Cesar Lopez, 6-8 yrs. Green belt participation Austin Gunter. 8-9 yrs. Green-brown belt 3rd place Justice Rodriguez, 4th place Erasmo Salazar, participation Dave Bustos. 10-12 yrs. Green belt 4th place Samantha Gunter, participation Emiliano Pinedo, Gabriel Meza.
11-13 yrs. Green-brown belt 1st place Faith Bustos, participation Michael Morris. 16-21yrs. brown-black belt 3rd place Anthony Murray, 4th place Marcos Meza. Showmanship division results: 1st place Austin Gunter, 3rd
place Gabriel Meza, 4th place Emiliano Pinedo. Sparring results: 8-9 yrs. White-Orange belt 4th place Camilio Torres. 8-10 yrs. Green-Brown belt 1st place Justice Rodriguez, 3rd place Dave Bustos. 9-12 yrs. Green-Black belt participation Emiliano Pinedo. 12-14 yrs. Blue-Jr. Black belt 3rd place Angel Rodriguez, 4th place Michael Morris. Adults all belts 4th place Javier Rodriguez. For more information on training call Perce's Kenpo Karate at 524-6870.
By Gazette Staff Writer — Wednesday, October 17th, 2012
By Gazette Staff Writer — Wednesday, October 17th, 2012
By Gazette Staff Writer — Wednesday, October 10th, 2012
By Gazette Staff Writer — Wednesday, October 10th, 2012
By Gazette Staff Writer — Tuesday, October 9th, 2012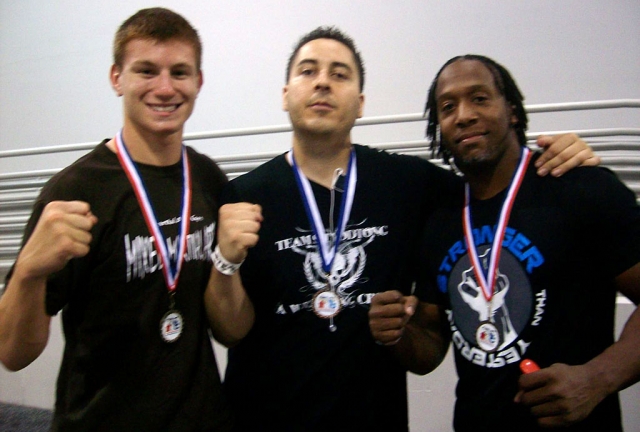 Fillmore Boxing Club's Eric Escoto wins bronze medal in 2012 NKC Muay Thai Kickboxing National Championship. Eric competed in the NKC National Championship at The Las Vegas Convention Center in Las Vegas , NV on Sept.28-29, 2012. More than 30,000 spectators were at the competition and expo. Eric would like to thank his family, friends, teammates, coaches and everyone that help him along the way. The Fillmore Boxing Club is a member of USA Boxing and offers adult and youth boxing classes For more information call (805) 443-8501.
Enlarge Photo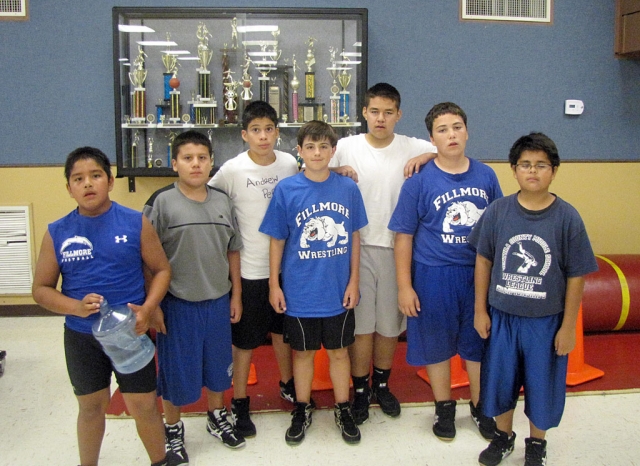 (l-r) Adrian Bonilla (4-0), Abraham Cervantes (1-1), Andrew Perez (4-1), Ian Overton (3-1), David Estrella (1-1), Jake Palacio (1-1), Juan Perez (1-1), and not pitured is Johnny Martinez (1-1)
Enlarge Photo
By Gazette Staff Writer — Tuesday, October 9th, 2012
The Fillmore Middle School wrestlers are Coached by Manuel (Chicken) Ponce (not pictured). They have wrestled Frank Intermidiate Middle School and Freemont Middle School, both in Oxnard. They will be wrestling Isbell Middle School on October 10 at Isbell (Santa Paula). Other Middle Schools in the leauge are Balboa (Ventura) and Matilija (Ojai). These boys have been working real hard, Their goal is to get to the league championships and do well.
By Gazette Staff Writer — Wednesday, October 3rd, 2012
Athletes of the Week (l-r) Melissa Nunez, Justin Beach, Laura Garnica, Jose Almaguer.
Enlarge Photo
By Gazette Staff Writer — Wednesday, October 3rd, 2012
Melissa Nunez
Melissa Nunez is the JV Girl athlete of the week because of her constant improvement. Melissa has shown a great effort during workouts and meets. She is a positive athlete, and a very hardworking runner. Melissa is a first year runner and a Junior at FHS. Way to go Melissa!
Justin Beach
Justin Beach is the JV Boy athlete of the week. He has placed second for the Fillmore High School Boys' team for the past two races. At the last race, the Dos Pueblos Invitational he was in the top 20 of which earned him a medal. Justin is a Junior and a three year runner. He is a dedicated and hardworking athlete. Awesome work Justin!
Laura Garnica
The FHS Athlete of the week is Laura Garnica. She has been through a rough first couple of weeks, but now is back on track. Laura ran a season best of 20:38. It was only her third race of the season due to injury. Laura is the only four year runner on the Varsity Team. She has been a varsity runner since her freshmen year. Laura is also the captain for the 2012 season. It is exciting to see what she will do during her last few months running for Fillmore High School. Keep it up Laura!
Jose Almaguer
The FHS Athlete of the week is Jose Almaguer. Jose Almaguer is the athlete of the week because of his great showing at Stanford Invitational and the workouts to the week prior. Jose had been fighting sickness and slight injury coming into the season. He is now back and ready to get his senior year rolling. He was the number one finisher at Stanford clocking at a 16:28 for the 5k and finishing 11th out of 235 athletes. We are all looking forward to what is next for Jose! Great work Jose!
By Gazette Staff Writer — Wednesday, October 3rd, 2012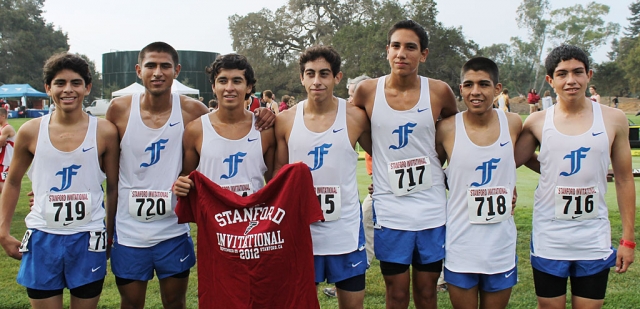 Varsity (l-r) Anthony Rivas, Hugo Valdovinos, Jose Almaguer, Alexander Frias, Isaac Gomez, Adrian Mejia and Nicolas Frias.
Enlarge Photo
By Gazette Staff Writer — Tuesday, October 2nd, 2012
With visions of large trees in their minds the boys' varsity team traveled north to Palo Alto over the weekend with plans on competing in the prestigious Stanford Invitational. Promises were made to go to Ghirardelli square if they ran well or Alcatraz if they did not. The team took to the 5k college course and left it all on the field. They placed 1st in Division 4 and 5th overall against California schools. Once again tight group running allowed them to surge to the forefront. Jose Almaguer, the varsity runner of the meet, led the pack this time around with his finish of 16:28. This was fast enough for eleventh place. Alexander Frias, Hugo Valdovinos and Anthony Rivas were next, finishing 15th, 18th and 19th respectively. Isaac Gomez was the final scorer for the team at 22nd place and Adrian Mejia and Nicolas Frias held off the competition and kept the other teams at bay. This was truly an impressive feat for the team, the likes of which has not been seen in 10 years.
11 Jose Almaguer 16:28
15 Alexander Frias 16:29
18 Hugo Valdovinos 16:31
19 Anthony Rivas 16:32
22 Isaac Gomez 16:37
28 Adrian Mejia 16:41
59 Nicolas Frias 17:12
Surfs Up for the Flashes at the Dos Pueblos Invite
The thundering crash of the surf and the howling wail of the wind didn't deter the team from an impressive showing at Shoreline Park and Lead Better Beach on Friday. The three mile race included one hill of note and was a relatively fast course. The competition was run by class.
Stand performers on CONTINUED »
By Gazette Staff Writer — Tuesday, October 2nd, 2012
Elections are currently being held for the upcoming 2012-2013 year. All positions are open and anyone interested in participating is welcome to run for office. The meeting will be held on Thursday October 25, 2012 at 7:00 p.m. at Faith Community Church corner of Central Ave and 1st St in the social hall.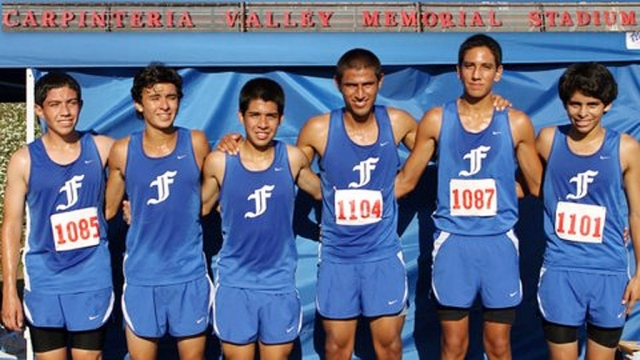 TVL # Varsity Boys (l-r) Nicolas Frias, Jose Almaguer, Adrian Mejia, Hugo Valdovinos, Isaac Gomez and Anthony Rivas. The boys took first place last Thursday in Carpinteria at the Tri-Valley League meet #1. Currently the Varsity Boys' team is ranked #1 in Division 4 for both CIF Southern Section and in State.
Enlarge Photo
By Gazette Staff Writer — Wednesday, September 26th, 2012
In an amazing day of intense cross country action the fan favorite team of Fillmore managed to play off their incredible abilities to power through the line and place high in the results for all divisions.
The boys' varsity in a spectacular effort finished 3rd through 7th and 9th letting only two runners finish ahead of them and only one runner to break up the group. They once again had tight grouping and managed to finish within 5 seconds of each other to earn the first place slot in the meet. This week's runner of the meet for the boys' varsity Adrian Mejia led the effort with a 17:04.6. Over the next 5.08 seconds the remaining boys Isaac Gomez, Hugo Valdovinos, Anthony Rivas and Jose Almaguer would cross the line. Nico Frias in an impressive effort finished in 17:27.48. The boys' have now gotten an early lead with their first place team victory.
The girls' varsity was led by the charge of this week's runner of the week Alexis Tafoya. The girls managed to hang on for a respectable 1:35 difference between scorers. Despite being banged up a bit with some injuries the girls surged for a fourth place overall finish.
The girls' junior varsity also had a great race, finishing 3rd overall with Briana Segoviano and Amber Wilmot leading the charge finishing within seconds of each other and anchoring a 1:48 spilt difference between the first 5 scorers. Amber had such a superb performance that she earned runner of the week for the JV girls.
The junior varsity boys rounded out the day finishing 2nd overall with all 5 scorers in the top ten and all 7 placers in the top 20. Thirty four seconds separated the first place finisher Frank Chavez from 10th place finisher Sammy Martinez. Javier Rodriguez was the stand out performer of the day earning a coveted week in the spotlight with his JV boy runner of the week accomplishment.
Up next the boys' varsity team will head to the Stanford Invitational on Saturday while the rest of the team will travel to the Dos Pueblos Invitational in Santa Barbara on Friday.
Full results:
Boys Varsity
3 Adrian Mejia SR 17:04.06
4 Isaac Gomez SR 17:04.07
5 Hugo Valdovinos SR 17:06.11 CONTINUED »
By Gazette Staff Writer — Wednesday, September 26th, 2012
J.V. Flashes defeat Desert H.S. 48,6
Fillmore hit the road as they traveled out to Edwards Air Force base for their contest vs. the home team of Desert High school. The Flashes were led by Joseph Magana who scored 3 touchdowns that day, Also scoring for the Flashes was Michael Luna, Dominick Gonzalez, Jorge Andrade who had 2 touchdowns one on defense. The defense played a solid game led by Daniel Flores, Michael Castro, and Rafael Hernandez. The Flashes travel to Carpenteria next week.

(l-r) Alexis Tafoya, Adrian Mejia, Amber Wilmot, Javier Rodriguez.
Enlarge Photo
By Gazette Staff Writer — Wednesday, September 26th, 2012
Alexis Tafoya
The FHS Varsity Girl XC athlete of the week is Alexis Tafoya. Alexis has shown much improvement from the 2011 season to now. She has become a key scorer for the Lady Flashes. She was second to cross the line at Seaside Invitational, and led the Flashes to a 4th place finish at Tri Valley league number one with a 5k time of 21:31. Alexis Tafoya is a sophomore. There is more success to come! Keep it up Alexis!
Adrian Mejia
The FHS Varsity Boys XC athlete of the week is Adrian Mejia. Adrian Mejia has come a long way since his freshman varsity year. Adrian was an instant impact to the Fillmore Cross Country program as a freshman boy. Flash forward three years later and he is still leading the races, Adrian was the top finisher in an amazing group effort at League Meet 1. Adrian is a 4 year varsity and CIF runner. Amazing work Adrian!
Amber Wilmot
The FHS JV Girls' XC athlete of the week is Amber Wilmot. Amber Wilmot has been leading the JV flashes for the past couple weeks. She has shown experience and leadership. She went out like a veteran and led for most of the race. She has had a consistent cross country career. She is a senior and a three year runner. Way to go Amber!
Javier Rodriguez
Javier Rodriguez is the JV Boys' XC athlete of the week because of his great racing in the first of 3 TVL meets. He was the sixth scorer for the flashes and ran a time of 18:48 for the flat and fast 5k race. His three mile time was roughly around 18:00. Javier is also part of the 4x400 team during track season. He is a 4 year veteran. Great work Javier!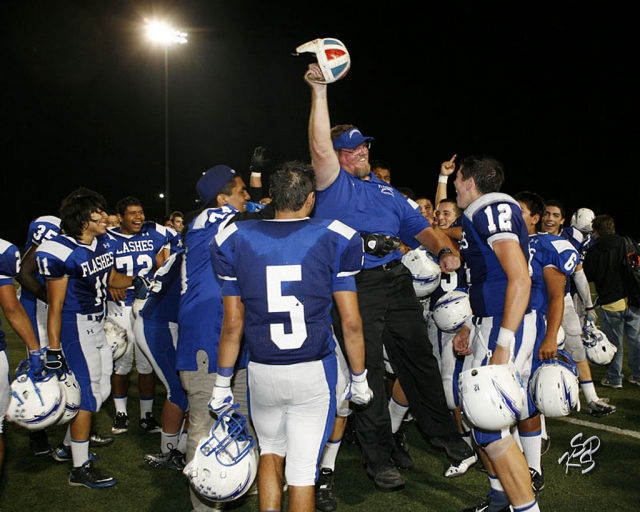 Last Friday, the Fillmore Flashes beat Santa Paula 35-18. It was an exciting game and the bleachers were full. (above) Coach Matt Dollar and the team celebrate bringing the Helmet home. Collin Farrrar had 32 carries for 181 yards and three TDs. Carson McLain was 8of 13 for 117 yards and two Touchdown passes. Joseph De La Mora had 14 tackles. Jeremy Martinez had 8 tackles. Both Tyler Esquivel and Joseph Wilmot caught touchdown passes. Photo courtesy KSSP Photographic Studios.
Enlarge Photo
By Gazette Staff Writer — Wednesday, September 19th, 2012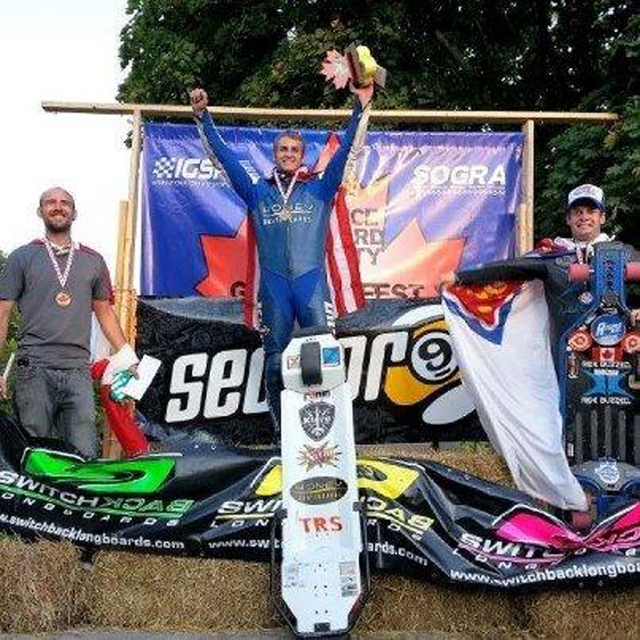 Christian Conaway takes 1st at Prince Edward County Gravity Fest. Conaway broke the track record with his qualifying time of 1:23.548 besting Louis Bouchard's 2011 record by over 4 seconds. Photo credit Joey Marion.
Enlarge Photo
By Gazette Staff Writer — Wednesday, September 19th, 2012
Following his 2nd place finish in Calgary Canada two weeks ago, Christian Conaway flew to Eastern Canada to compete in the Prince Edward County Gravity Fest, which was held in Picton Canada on Sept 15 & 16. PEC was the 6th race in the IGSA NorAM Series. The race was promoted by Classic Luge Canadian Champion Kolby Parks. Parks and his entire family organized a wonderful race which was held in the middle of town. According to Conaway, "it seemed like the entire town came out to help set up the race course, move hay bales and help run the event". It was great to see so many people watching and encouraging the racers on both days".
Conaway broke the track record by over 4 seconds with his qualifying time of 1:23.548 besting Louis Bouchard's 2011 record by over 4 seconds.
On race day most of the racers participated in a Flag Run, with each rider displaying their native flag.
"Part of the course was recently repaved which resulted in faster speeds over last year due to the smooth grippy road surface" said Christian.
On this course the start was critical due to a long flat roll-in prior to the first steep drop on the road. Conaway used his ability to gain advantage at the top of the run. Nick Kinnish said, "The man has the most insane push, he was miles in front of the pack". Conaway advanced through the race heats to the Street Luge Finals. When asked how the race went he said "The race was fun, my runs felt smooth and clean from the beginning to the finish line".
Christian will next complete in the IGSA NorAm Championship in San Dimas California on October 6 & 7. Last year Conaway won the event and claimed the title of US National Champion. He is also working to earn the IGSA North American Street Luge National Championship which will be award based on the top 5 finishes in the NorAm series. After the NorAm Championship Christian will take a two year leave from racing to serve an LDS Mission in Bogota Columbia beginning in November.
By Gazette Staff Writer — Wednesday, September 19th, 2012