By Gazette Staff Writer — Friday, February 1st, 2013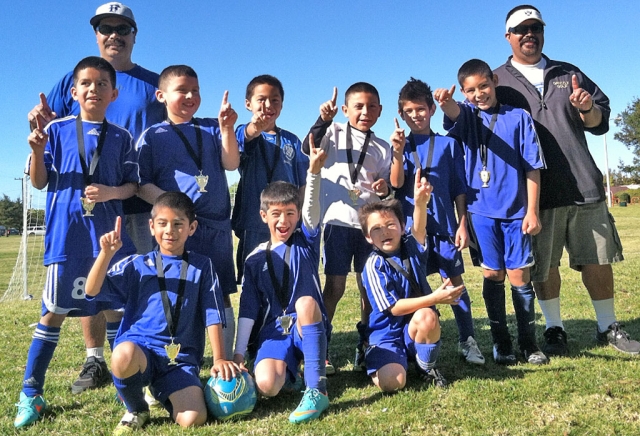 Fillmore Soccer U-8 played in an Oxnard tournament the weekend of January 19th. Fillmore took First Place. Pictured but not in order are: Angel Castorena, Ivan Becerra, Alfredo Cardenas. Dante Reyes, Diego Alcaraz Armando Manriques, bottom row Mathew Magana, Jathan Magana, Adrian Vasquez. Not pictured:Julio Negrete, Sebastian Navarete. Coaches: Joe & Damian Magana.
Enlarge Photo
By Gazette Staff Writer — Wednesday, January 30th, 2013
Fillmore Little League Sign-Ups Happening Now
When: 1/26/2013 & 2/2/2013
Where: Fillmore Middle School
Time: 10am to 2pm
More information at: www.fillmorelittleleague.com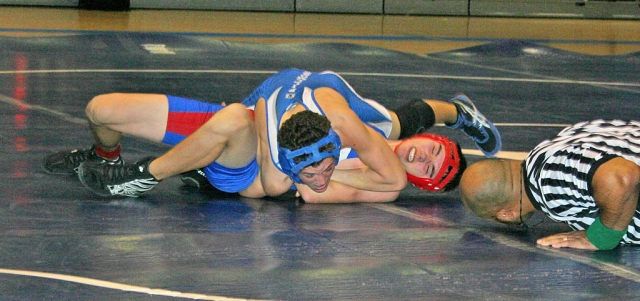 Flashes wrestler pins his opponent
Enlarge Photo
By Gazette Staff Writer — Wednesday, January 23rd, 2013

Fillmore warms up on the mat with Faith Baptist in the background.
Enlarge Photo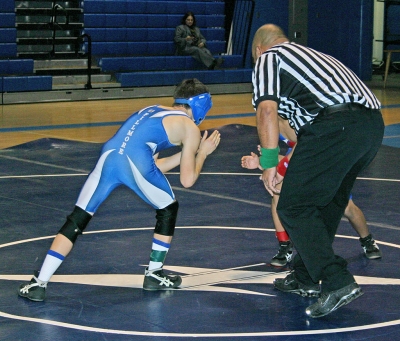 Match gets under way
Enlarge Photo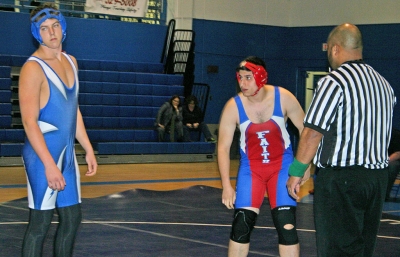 Cameron Riley getting last minute instructions
Enlarge Photo
The Flashes welcomed Faith Baptist, who traveled from Canoga Park, for the Tri-Valley League wrestling match. Following weigh in the match got under way at 5:30 PM.
First to take to the mat was David Cadena who wrestled at 108. He built a quick lead on points with a 5 – 1 lead before he pinned his opponent with a "tombstone" deep in the 1st period. Faith Baptist forfeited at the 112 and 120 classes. Giving the Flashes an 18 – 0 team lead.
Nick Stehly wrestled at 128. Stehly got down to business and pinned his opponent with 20 seconds remaining in the 1st period. Faith Baptist forfeited at the 134, giving Fillmore a 30 – 0 team lead.
Xavier Bobholz wrestled at 138 pounds. After the 1st period of action Bobholz was up 4 – 1 on points. He continued to rack up points in the 2nd period with a score of 14-4. As the match continued into the 3rd period the match took a turn for Faith Baptist when, with 41 seconds remaining, Xavier was pinned. Team score Fillmore 30 – Faith Baptist 6.
Andrew Bonilla wrestled at 145. The match started with a flurry of action. Faith Baptist gained control of the pace and pinned Bonilla at the end of the 1st period. Team score 30 – 12.
The Flashes produced Jamie Valdovinos at 152 pounds. This was another fast paced match with both wrestlers fighting for control of their opponent. Valdovinos fought his way out of several near pins by showing his strength and determination with some impressive bridging techniques but ultimately was overcome by his opponent and was pinned. Team score 30-18.
The Flashes forfeited at 160, 170 and 182. Team score now 30 – 36 with Faith Baptist in the lead.
George Orozco took to the mat at 195 and made quick work of his opponent with a pin in the 1st period. With Orozco's win the team score was tied at 36 – 36.
Michael Castro wrestled at 222 where he over powered his opponent and closed his match down with a pin midway through the 1st period.
Cameron Riley, Heavyweight, got down to work and built a points lead at the end of the 1st period of 5 -0. Riley stepped up his effort and threw a cradle on opponent for the pin.
Final Team score Flashes 48 – 36 over Faith Baptist.
The Flashes will next travel to Santa Paula on 1/24/13 for the always hotly contested match up. Coach Ponce said that the annual match against Santa Paula "is always a tough contest". "We'll need to start fast and be aggressive against the Cardinals" said Coach Ponce. When asked about tonight's victory Coach said, "We have a young team, with holes in several weight classes, but for a young team we hold our own. Tonight we needed our team leaders to step up and they did. They kept their cool and got the job done".
Go Flashes.
By Gazette Staff Writer — Tuesday, January 22nd, 2013
Fillmore Youth Football and Cheer Organization is accepting applications for New Board Members. Board elections will be held at Mountain Vista Elementary cafeteria Thursday February 7th at 6:30 P.M. It is mandatory that all applicants be present to accept nomination.
Applications are available for printout on our website at fillmoreyouthfootball.net
Applications must be received to our Secretary Kristen Dollar or mailed to our PO Box( #34 Fillmore, Ca 93015) by February 5th 6:30 P.M. Kristen may be contacted at 805-216-9027
By Gazette Staff Writer — Wednesday, January 9th, 2013
By Gazette Staff Writer — Wednesday, December 19th, 2012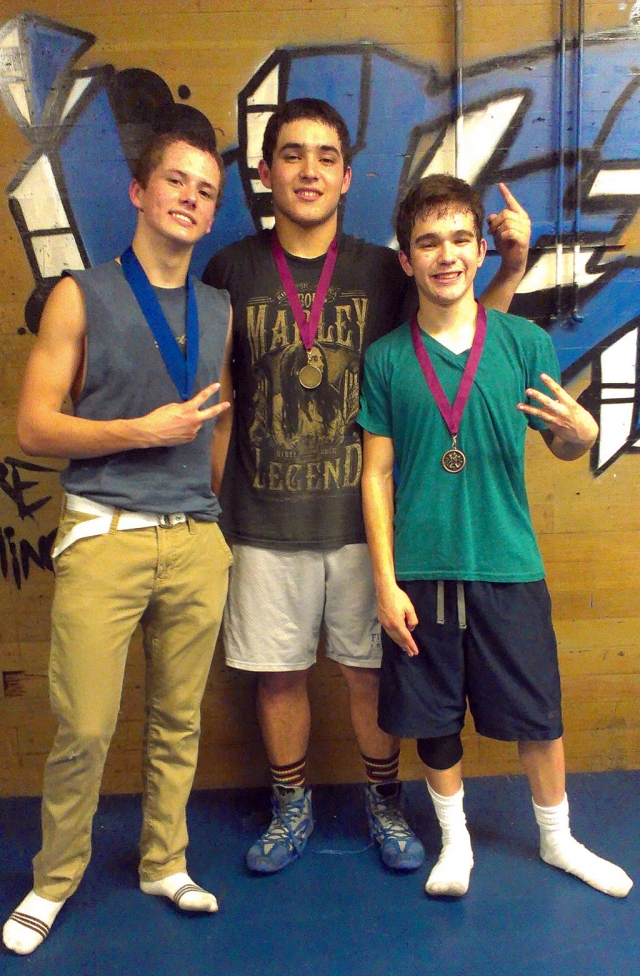 Fillmore Flashes Wrestling Team participated in a 10-way tournament on Dec.8, Held at Alemany High School, We had numerous wrestlers participate and did a good job. Fillmore had three wrestlers that placed in the tournament. From left to right Nick Stahley 2nd place 126lbs, George Orozco 1st place 220lbs, and David Cadena 3rd place 112lbs.
Enlarge Photo
By Gazette Staff Writer — Wednesday, December 12th, 2012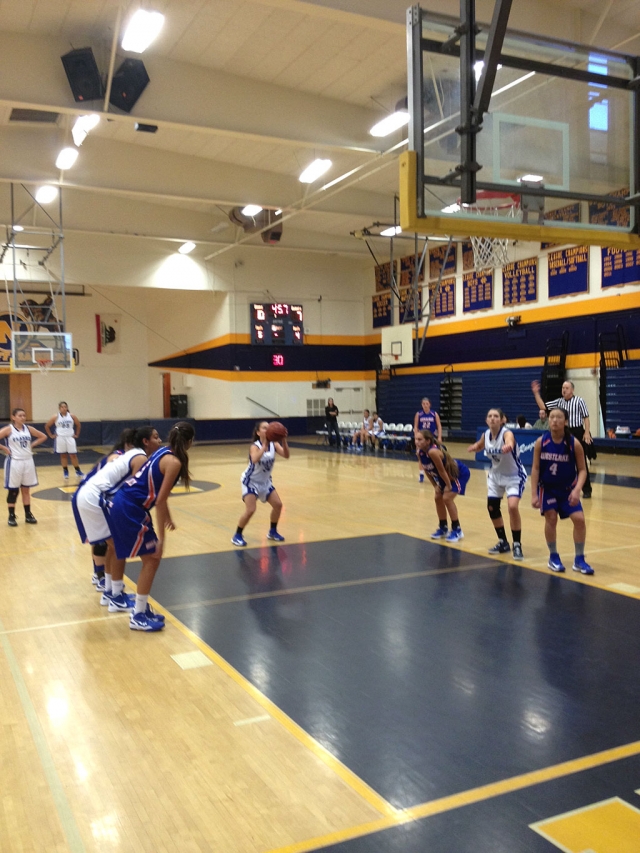 Saturday, December 8, Fillmore girls basketball played against Westlake. Pictured above Fillmore's Hannah Vasquez shoots a free throw; teammates Briana Garcia and Grace Riley set for the rebound. Fillmore beat Westlake 35-32.
Enlarge Photo
By Gazette Staff Writer — Wednesday, November 28th, 2012
By Gazette Staff Writer — Tuesday, November 27th, 2012
Fillmore High School Athletic Boosters Club will be having their first drive thru BBQ meal on Friday, December 7th from 4 to 7 p.m. in the horseshoe at the high school. Pre sale tickets are $30 and include a whole tri tip, beans and salad for a family of four, and a loaf of garlic bread. All meals are packed to go. Tickets sold the day of the event will be $40. If interested in tickets please contact Ernie Ortiz at 524-0537. Fillmore High School Athletic Boosters Club offers financial support to every sport offered at Fillmore High School and 100% of our profit goes back to our athletes and their programs.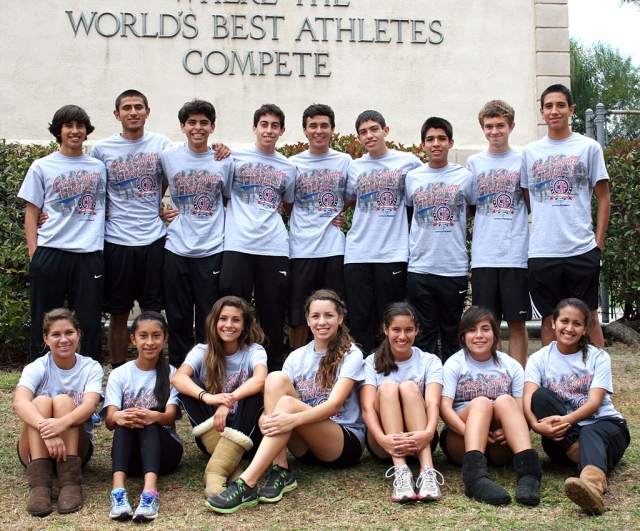 (l-r) (top) Frank Chavez, Hugo Valdovinos, Anthony Rivas, Alexander Frias, Jose Almaguer, Nicolas Frias, Adrian Mejia, Justin Beach and Isaac Gomez. (bottom) Jordyn Vassaur, Irma Torres, Kiana Hope, Laura Garnica, Alexis Tafoya, Sofia Gallardo and Maria Villalobos. The Fillmore Cross Country team, both boys and girls, competed at the CIF Finals this past Saturday. The boys finished 3rd in the Southern Section Finals Division 4 and advanced on to the State Finals in Fresno this Saturday at Woodward Park. Way to run flashes!
Enlarge Photo
By Gazette Staff Writer — Wednesday, November 21st, 2012
By Gazette Staff Writer — Wednesday, November 14th, 2012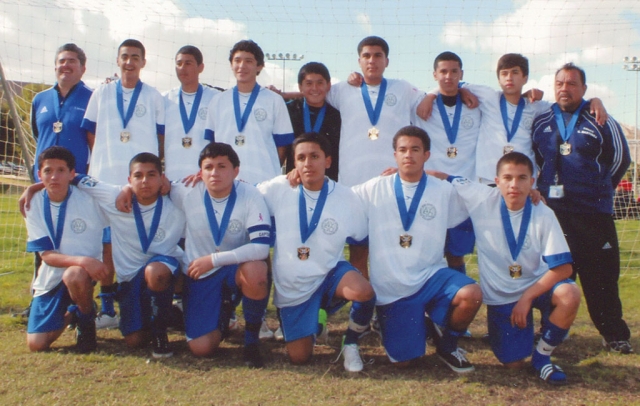 The Fillmore United U16 boys bring home the Section AYSO League Cup Championship. The boys played in Bakersfield this past weekend and beat Santa Barbara 1-0 for the Championship, and in March of 2013 will be playing in the state games. Congratulations to the boys. Pictured top row (l-r): Assistant Coach Cipriano Martinez, Juan, Diego, Miguel Martinez, Emilio Martinez, Juan Garcia, Issac Torres, Anthony Castaneda, and Coach Gonzalo Martinez. Bottom row (l-r) Chava Zepeda, Jose Lopez, JR Martinez, Govani Arellano, Leonel, and Miguel.
Enlarge Photo
By Gazette Staff Writer — Wednesday, November 14th, 2012
The Fillmore Raiders Junior 2 won the Championship game 46-14, last Saturday against Valley. Top row (l-r): Brandon Castillo, Cameron Maina, Alex Vargas, Sammy Dominguez, Carson Davis. Second row (l-r): Coach Chad, Tyler Bode, Christian Barajas, Tyler Stump, Will Boucher, Vincenzo Granatelli, Daniel Gonzales, Coach Mark Zone. Third row (l-r): Coach's Keith Gurrola, Rj Stump, Dylan Satterfield, Fernando Gonzalez, Michael Smith, Michael Zone, Coach's Cliff Zone and Joe Granatelli. Bottom row (l-r): Angel Velez, Cesar Leiva, Chepes Perez, Nick Walker, Christian Teixeira, and Joshua Sandoval. Not pictured Christian Cisneros.
Enlarge Photo
By Gazette Staff Writer — Wednesday, November 14th, 2012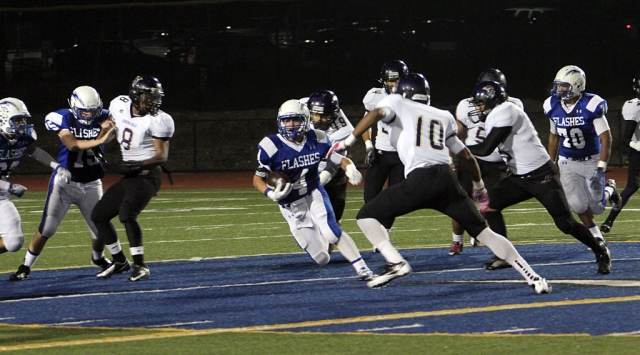 Collin Farrar #4 (above) ran a total of 186 yards against Jurupa High School. Farrar also added a touchdown. Andrey Sanchez ran for a total of 133 yards, and Josh Valenzuela had an interception and a 63 yard fumble recovery for a touchdown. Unfortunatley Fillmore lost 49-19 in the first round of play-offs.
Enlarge Photo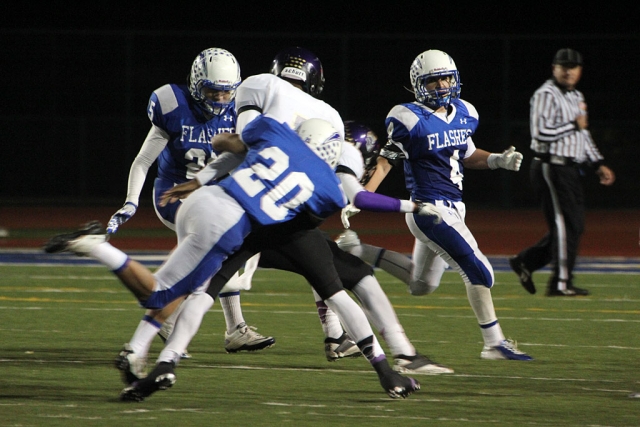 Adam Jimenez #20 makes a great tackle against his opponet. According to Coach Matt Dollar, "They were a very good team and have a chance to win the division title. It was a great season, the team should be very proud of their efforts".
Enlarge Photo
By Gazette Staff Writer — Wednesday, November 14th, 2012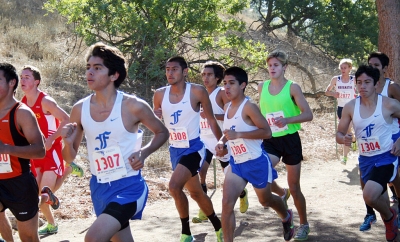 CIF Prelims (L to R): Anthony Rivas (12th), Hugo Valdovinos (12th), Adrian Mejia (12th), Nicolas Frias (11th) and Isaac Gomez (12th).
Enlarge Photo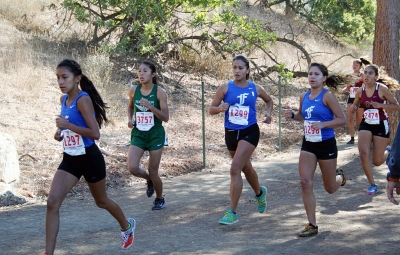 CIF Prelims (L to R): Irma Torres (9th), Maria Villalobos (12th) and Jordyn Vassaur (11th).
Enlarge Photo
Congratulations to both the boys and girls cross country teams for advancing to the CIF Finals. The boys easily advanced to the next round of competition this past Saturday with a strong finish in the preliminary round of the post season.
Boys in Heat 1 DIV 4 CIF Prelims
4 Valdovinos, Hugo 15:58
8 Rivas, Anthony 16:12
13 Mejia, Adrian 16:24
18 Frias, Nicolas 16:33
23 Chavez, Frank 16:44
37 Beach, Justin 17:17
The girls' race was much closer as The team tied for the final qualifying spot in their heat. It came down to which 6th place runner was ahead at the finish line. Luckily Irma Torres Morro Bay's 6th place runner by 5 places and 10 seconds to earn the 8th place finish and the qualifying berth.
9 Hope, Kiana 19:12
39 Tafoya, Alexis 20:45
48 Garnica, Laura 21:07
49 Villalobos, Maria 21:08
52 Vassaur, Jordyn 21:16
63 Torres, Irma 21:54
66 Segoviano, Briana 21:59
Both genders will travel back to Mt. SAC on Saturday to compete in the CIF Division 4 Southern Section Finals. IF they do well enough there they will advance to the State Meet.
By Gazette Staff Writer — Wednesday, November 14th, 2012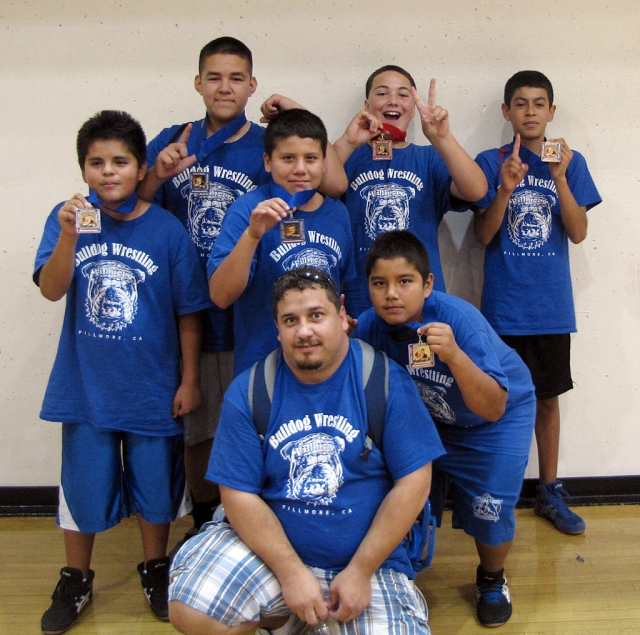 Six Fillmore Middle School Wrestlers placed at the Ventura County Middle School Wrestling Championships on Sunday, November 4. The Championships were held at Santa Paula High School. Schools that participated were Fillmore Middle School, Isbell (SP), Balboa (VEN), Matilija (OJAI), Frank Intermediate Middle School (OX), Freemont Middle School (OX). Pictured are Fillmore Wrestlers Adrian Bonilla 1st place 135lbs, Abraham Cervantez 1st place 130lbs, Juan Martinez 1st place 110lbs, Juan Perez 1st place 140lbs, David Estrella 1st place 195LBS, Blake Palacio 2nd place 175lbs and Coach Manuel (chicken) Ponce. This was a great season for these boys, they accomplished what they worked so hard for.
Enlarge Photo
By Gazette Staff Writer — Wednesday, November 7th, 2012
The Fillmore Condors Youth Cross-Country team is having one of it's most successful years to date! With over 35 athletes competing from the communities of Fillmore, Santa Paula and Piru, the Condors team are out-running teams from much bigger towns throughout Southern California. October 27th the Condors competed at the Conference Championships at Oak Canyon Community Park and came home with 5 team plaques! Our Bantam Girls (ages 9-10) took 1st place, Bantam Boys took 2nd. Our Midget Girls (ages 11-12) took 2nd place. Our Youth Girls (ages 13-14) took 3rd place and our Youth Boys team took 2nd. Quite an impressive accomplishment!
With such a great team of talented and hard-working youth athletes under the guidance of our dedicated coaches Rafa Laureano, Temo Laureano, and Victor Rodriguez, we are looking forward to having many of our athletes qualify for the AAU National Cross-Country championship race in Rock Hill, South Carolina on December 1st. Please consider supporting our fundraising efforts for this cause by attending our car wash to be held at El Pescador on Novermber 10, 2012 between 8:00 – 12:00. Cars are $5.00 and trucks are $10.00. We will also be holding a BBQ drive-thru dinner at the Fillmore Fire Station Thursday November 15, 2012 between 5:00 - 7:00. Plates are $8.00. Thanks for all your support... GO CONDORS!
By Gazette Staff Writer — Wednesday, November 7th, 2012
By Jeremiah Mac Mahon — Wednesday, November 7th, 2012
In a race at the vaunted Lake Casitas that was almost too close to call the coursers of the boys varsity give it their all and narrowly miss claiming a league title while the girls ride the shoe leather express to clinch fourth place in the league. In a phenomenal effort all but one member of both varsity teams set personal course records and gave it their all to qualify for CIF prelims.
The surge of the boys was led by break out sensation Hugo Valdovinos with a 1:06 PR to finish in 3rd overall at 16:04. Anthony Rivas was 5th overall with a 54 second PR to earn a clocking of 16:14. Close on his heels was Alexander Frias in 6th with a 16:21, this was enough for a 49 second improvement this year. 8th place was Issac Gomez's for the taking as he improved by 59 seconds over the year to clock a 16:33. Adrian Mejia rounded out the top 10 and was the fifth Flash as he improved by 31 seconds to record a 16:38. Displacing the competition was 11th place Jose Almaguer and 13th place Nicolas Frias. Jose had a 44 second improvement while Nico improved by 27 seconds. The boys finished 10 seconds apart with a 16:39 and 16:49 respectively. There was a 34 second spread 1st to 5th and a 45 second spread 1st to 7th both very commendable. In another rarity Fillmore put all 7 runners ahead of Oak Parks 5th scoring man but it was not quite enough to beat the newly crowned league champions who won by 4 points. The team did retain its number one ranking for division 4 in the State.
The femme fatales of the girls cross country charge was headed up by Kiana Hope who ran her fastest time on the course and finished 6th with a time of 19:18. This better this season time of 20:41 run at county and is her fastest time on the course. 21st overall and 2nd for the Flashes was Maria Villalobos. She completed the course in 20:52 which was a 38 second improvement. Alexis Tafoya hit 21:00 with a 50 second improvement to finish in 22nd overall. In 25th was Irma Torres who completed the 3 mile course in 21:14 which is a 1:39 second improvement. Laura Garnica continues to make huge gains as she finishes 27th in 21:28 a 2:13 second improvement this year. The break out sensation of the meet was freshman Briana Segoviano who in her first year made the varsity squad and finished 31st overall with a time of 21:45 a 1:15 second improvement over last week. To complete the varsity team was Jordyn Vassaur who finished in 22:40 at 38th place.
Up next the team will travel to Mt. SAC for the CIF prelims on Saturday morning. Good Luck Flashes!
By Gazette Staff Writer — Wednesday, November 7th, 2012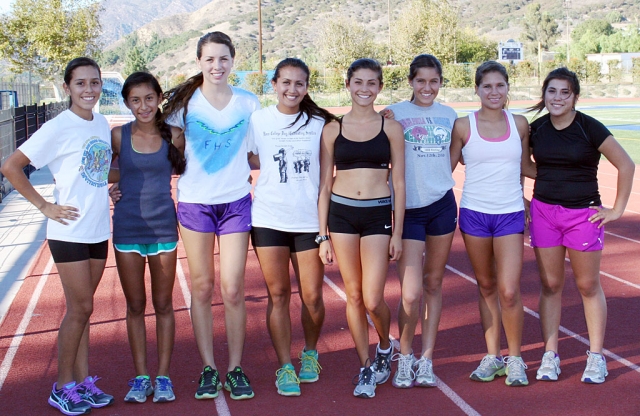 Fillmore Girls XC (l-r) Briana Segoviano, Irma Torres, Laura Garnica, Maria Villalobos, Kiana Hope, Alexis Tafoya, Jordyn Vassaur and Sofia Gallardo. The lady flashes advanced to CIF Prelims last Thursday. They are scheduled to race at Mt. San Antonio College on Saturday.
Enlarge Photo
By Gazette Staff Writer — Wednesday, November 7th, 2012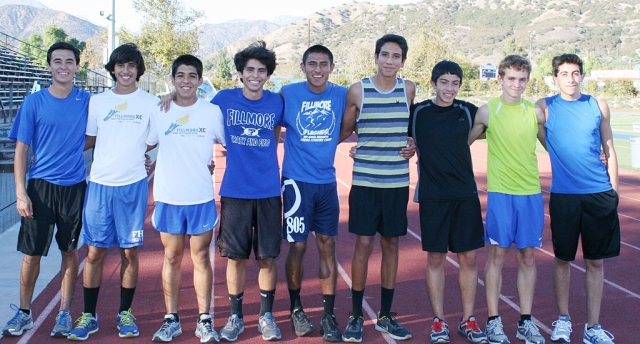 Boys XC CIF Team 2012 (l-r) Jose Almaguer, Frank Chavez, Adrian Mejia, Anthony Rivas, Hugo Valdovinos, Isaac Gomez, Nicolas Frias, Justin Beach and Alexander Frias. The flashes will compete at Mt. San Antonio College this Saturday in the CIF Prelim competition. Currently the Flashes are ranked #1 in division 4 for both CIF Southern Section and State.
Enlarge Photo