By Gazette Staff Writer — Monday, February 13th, 2012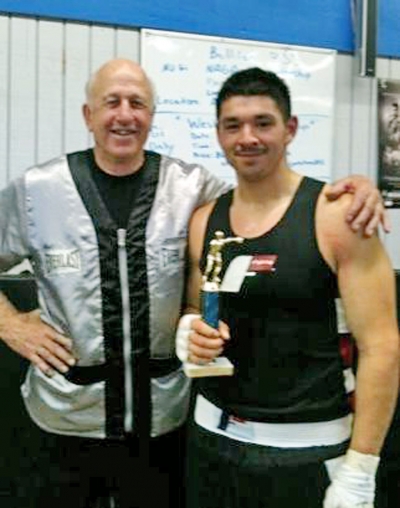 Richie Cardenas with with Ventura County Hall of Fame boxer/trainer Ray 'Windmill' White
Enlarge Photo
The Fillmore Boxing Club's Richie Cardenas competed at the Ventura KO Boxing Club's Warzone Boxing Show in Rancho Cucamonga on Saturday Feb. 11th 2012. Cardenas made his heavyweight boxing debut a victorious one as he defeated Jorge Solis who entered as an "Unattached" fighter. Cardenas won the three round amateur bout via unanimous decision. Fillmore Boxing Club is a member of USA Boxing and conducts group classes for children and adults on Tuesday afternoons from 4:00 - 6:00 pm at Body Image Gym. For more information call: 805-443-8501 or 805-524-0891, or email: fillmoreboxingclub@yahoo.com.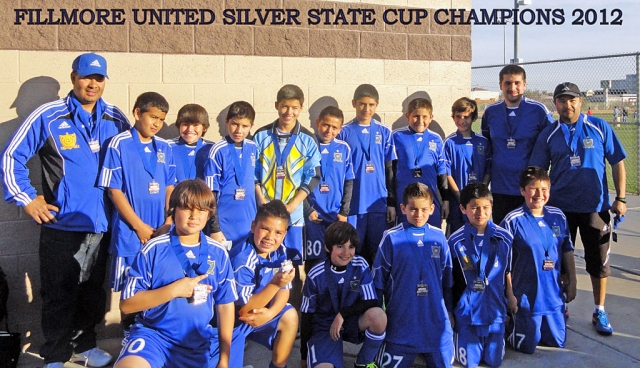 (r-l) Assistant Coach Octavio Hernandez, Jose Valdez, Cristian Rosales, Edgar Rea, Saul DelaRosa, Alejandro Rodriguez, Enrique Gutierrez, Michael Garcia, Ethan Aguilera, Assistant Coach Javier Candelario, Coach Ignacio Calderon. Bottom row: Julian Calderon, Christian Hernandez, Jaime Gonzalez, Brendan Verano, Joel Garza, Cristian Candelario. Not in picture team moms Alyssa Calderon and Lebe Candelario.
Enlarge Photo
By Gazette Staff Writer — Wednesday, February 8th, 2012
On January 28th and 29th Fillmore United Soccer Club participated on the Silver State tournament, Las Vegas' longest running Soccer Tournament. The final game was played against the 3 time defending champions from Nevada with a score of 1 to 0. Others teams in our division that also participated were from Colorado, Arizona, Nevada, Oregon and California. We are proud to say that Fillmore United won the championship undefeated without a single score against them. Coaches and team administrator would like to thank the player's parents for their support and efforts to make this successful trip possible. Fillmore United would like to invite players under 12 years of age that would like to be part of Fillmore United Soccer club to the open tryouts on Monday February 13th please call (805)746-2911 for more info. We are all proud of our boys for their excellent behavior and sportsmanship during the tournament. JOB WELL DONE BOYS!!!!!! One more in the bag.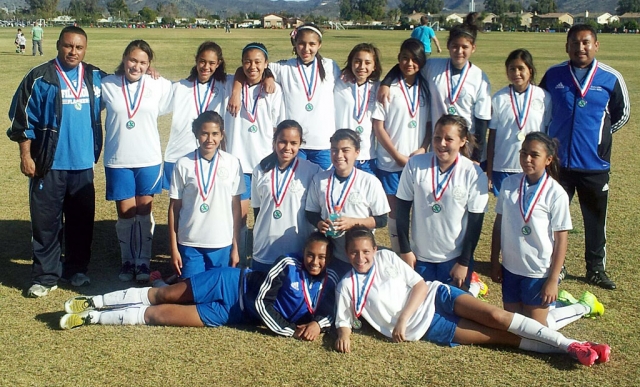 (l-r) top row: Coach Omero Martinez, Rachel Rivera, Jada Avila, Yuliana Magaсa, Emily Garnica, Taylor Flores, Esmeralda Murillo, Brianna SantaRosa, Jocelyn Muсoz, Coach Arnold Muсoz. bottom row: Grace Topete, Fernanda Magaсa, Caroline Esquivel, Calista Godfrey-Vaca, Ana Rincon, Reylene Martinez, and Yaneli Enriquez.
Enlarge Photo
By Gazette Staff Writer — Wednesday, February 8th, 2012
Fillmore AYSO U-14 Girls All-Star Team for winning the AYSO Area 10W All-Stars Tournament in Camarillo on Saturday, Feb 4th. After beating Santa Barbara Team A in semifinal 2-1 and Santa Barbara Team B in the Final 2-1. Great Team Work Special thanks to Fillmore Rentals for letting us use the lights and Valley Growers Nursery for the sponsorship. The Girls are the Ventura and Santa Barbara County Champions and will be attending the California State finals on March 3 & 4 in Bakersfield.
By Gazette Staff Writer — Wednesday, February 8th, 2012
Tuesday , February 7, Fillmore Vs. Villanova. 3-1 Fillmore. Viillanova was ahead 1-0 when Andrea Robles scored the tieing goal, which put the teams into overtime. Fillmore came out ahead by scoring 2 goals in the first half of overtime. Golas contributed to Jasmine Medina and Liliana Becerra.
By Gazette Staff Writer — Wednesday, February 1st, 2012
By Gazette Staff Writer — Wednesday, February 1st, 2012
By Gazette Staff Writer — Wednesday, February 1st, 2012
Wednesday, January 25, Fillmore played against Oak Park and lost 4-1. Alexis Barajas scored the goal. On Friday, January 27, Fillmore beat Santa Clara 6-0. Goals were scored by: Robert Martinez (2), Yoni Murillo (1), Alexis Barajas (1), Jaime Gallegos (1), Ruben Camarena (1). Francisco Zepeda got the shut-out.
By Gazette Staff Writer — Wednesday, January 25th, 2012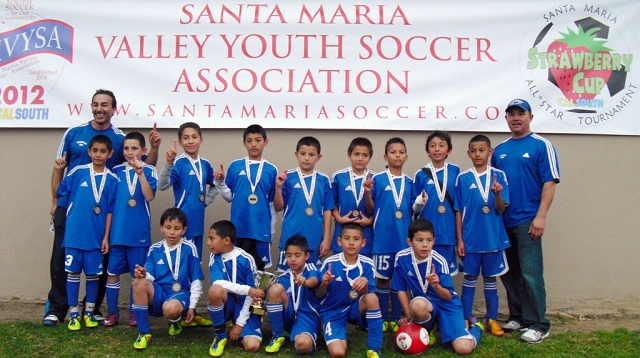 Fillmore Dream (Boys 10 )Soccer Team "DID IT AGAIN" winning the CHAMPIONSHIP in Santa Maria the weekend of the 14th. The team went undefeated winning the championship against Santa Maria 6-1. The Team has been invited to a Galaxy game where they will be recognized as Champions and also have the opportunity to walk around the Galaxy stadium. WAY TO GO FILLMORE BOYS! Pictured: Coaches: Sal Navarro & Juan Cruz. Players: Reny Navarro, Luis Sosa, Juan Rodriguez, Yobany Figueroa, Sergio Ramos, Mathew Hernandez,Octavio Rodriguez, Brayan Arevalo, Eric Torres, Jonathan Perez, Cesar Lopez, Carlos Vargas, Jose Gallegos, Brayan Ramos and Marcos Cardenas.
Enlarge Photo
By Gazette Staff Writer — Wednesday, January 25th, 2012
By Gazette Staff Writer — Wednesday, January 25th, 2012
On Wednesday Jan. 18, 2012 JV boys hosted Oaks Christian in a hard fought game that ended up in a 1-1 tie, will our only goal scored by Jaime Gallegos assisted by Juan Magana. Friday we hosted our long time rivals Santa Paula in a game where both teams played well, but you knew that the game was going to end up in a tie or a one goal win. Well it did with about 2 minutes left in the second half Flashes had a corner kick that resulted in a winning goal scored by Victor Garcia assisted by Gera Rodriguez and Juan Magana for the win over Santa Paula. JV boys played their hearts out I'm proud of our Team they did not stop fighting and got what they wanted, the Win. Upcoming games Tuesday Jan. 24, 2012 @ Malibu and Wednesday @ Oak Park Go Flashes.
Friday 1/20 Friday January 20, Fillmore played against Santa Paula that resulted in a 0-0 tie. Defense played well. Oscar Alferez, Gonzalo Gutierrez, Bobby VĂĄsquez and Isai Valencia .Varsity played a great game against Santa Paula last Friday. The game ended in a tie. Defense played an aggressive game and stopped Santa Paula from scoreing.
Girls Soccer
On January 19th Fillmore played at Villanova, Fillmore played a good game and came home with a win, 5-1. Goals were scored by Vanessa Villagomez (2), Veronica Laureano (1), Yesenia Garcia (1), and Evelyn Alfarez (1). Fillmore will play at home Thursday, January 26, and Tuesday January 31.
By Steve Conaway — Thursday, January 19th, 2012
Flashes Wrestlers have strong showing against Nordoff in League Match
On Wednesday 1/18/12 the Flashes hosted Nordoff for a League Wrestling Match. After a strong showing at Chaminade the Flashes looked focused yet loose and relaxed for the 5:00 PM match up. The evening started with 3 JV matches and came away with 2 wins and 1 loss. Jonathon Minero, recovering from an injury, stepped back into the ring and won on points. Andrew Bonilla, a freshman, gave it his all but ultimately pinned by his opponent. Alexis Ramirez matched up against a Nordoff's lone female wrestler and was able to pin her in the 2nd period.
Varsity wrestling started off at the 126 pound weight category. Reporting for Fillmore was Micah Chumley who won by forfeit. Team Captain Robert Bonilla came out fast and strong overwhelming his opponent quickly showing his aggressive technique. Bonilla won by pin. Mark "the man behind the mask" Zavala, also a Team Captain, went into the 3rd period and found his opportunity to pin his man for the win. Alex Rivera won by points in what was the lowest match score of the night 2 – 0. Rudolfo Lopez wrestled well but was pinned by his opponent. Gilbert Murillo a relatively new wrestler gave it 100% and was able to make correction during the match while Coaches Ponce and Estrada calling in the moves, but he was ultimately pinned by Nordoff. Joseph "Beast" DeLaMora showed his sheer physical dominance and pinned his man for the win. Michael Castro lost by pin in the 2nd period. George Orozco won by forfeit. Sammy "They Bull" Orozco, Team Captain, put on a points clinic and decided to win by technical default rather than by pin as is his usual preference. Marco Vega, Team Captain, won by forfeit as did David Cadena. Nic Stehly and freshman on the Varsity Team, lost to a Senior from Nordoff but not before showing great promise. Joseph Rojas, a freshman for the Flashes, also lost by pin.
The final match score was Fillmore 44 – Nordoff 30.
Next week Fillmore hosts two matches. On Tuesday 1/24/12 LA Baptist travels to Fillmore for a 5:00 start time. This match will be held in the High School Gym.
On 1/25/12 the Santa Paula Cardinals travel to Fillmore. This match will be held in the Middle School Gym. Santa Paula has been the reigning league champions for 3 years in a row. The Flashes fielding a full squad hopes to change that record this year. If can only see one Flashes Wrestling Match this year this will be the one you'll want to see. Come prepared because this will be off the hook good.
By Gazette Staff Writer — Wednesday, January 18th, 2012
By Gazette Staff Writer — Wednesday, January 18th, 2012
Boys J.V. Soccer Highlights
On Friday 1/13/2012 JV boys soccer hosted Carpinteria witch resulted on a 2-2 tie. It was a great game played by both teams, Flashes opened up the score with a penalty kick by Jaime Gallegos to go up 1-0. Carpinteria responded with a penalty kick in the second half to make it 1-1 the Flashes responded back with a goal by Juan Magana that put them ahead 2-1. Carpinteria came back and tied the game with 6 minutes left, the team's continued
to fight but ran out of time. Next week we host Oaks Christian on Wednesday 1/18/12 at 4:30pm and Friday 1/20/12 we host Santa Paula at 4:30pm come out and support Flashes Soccer.
Girls Varsity Soccer Highlights
On Tuesday, January 10th the Lady Flashes beat Santa Clara High School 2-1. Veronica Lauriano was credited with the goals. Jasmine Medina had one assist. The Flashes also played against Grace Brethern on Tuesday, January 17th but lost 2-0.
By Gazette Staff Writer — Wednesday, January 11th, 2012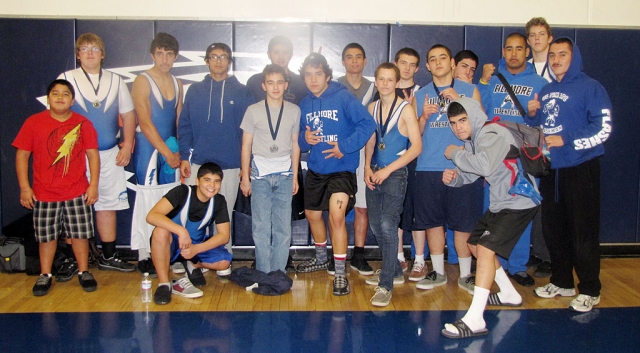 JV and Varsity Wrestlers
Enlarge Photo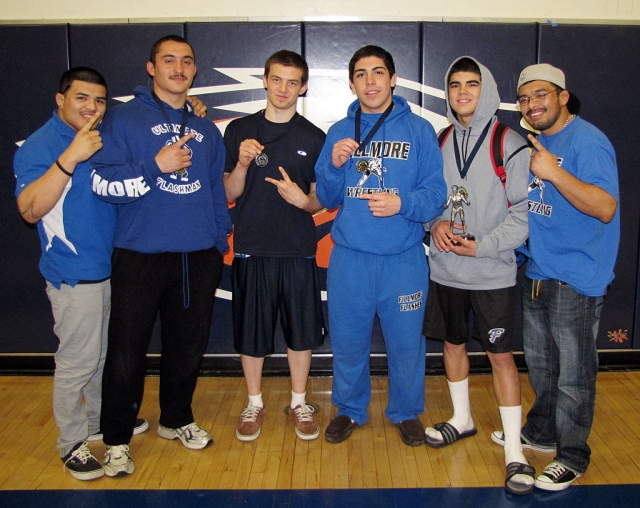 Varsity (l-r) Coach Froggy, Sammy Orozco 220lbs 1st place, Mark Zavala 145lbs 2nd place, Joseph DeLaMora 170lbs 1st place, Robert Bonilla 138lbs 1st place and Middle Weight MVP, and Coach Turtle.
Enlarge Photo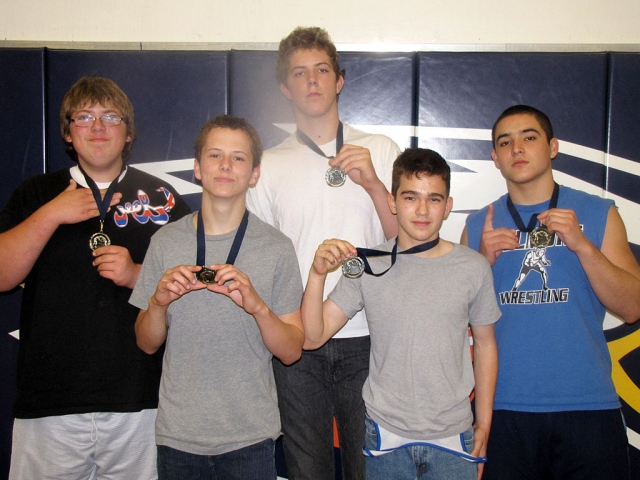 JV (l-r) Andy Vasquez 1st place heavy weight, Nic Stehly 113lbs 1st place, Cameron Riley 220lbs 2nd place, David Cadena 106lbs 2nd place and George Orozco 195lbs 1st place.
Enlarge Photo
By Gazette Staff Writer — Wednesday, January 11th, 2012
Boys Varsity Soccer Highlights
On January 4, Fillmore lost to Oak Park in their first league game. 1-0, Oak Park scored on a penalty kick. January 6th, Fillmore beat Santa Clara 6-0, Eduardo Gomez had two goals. Ricardo Rodriguez and Francisco Zepeda had a shutout. Friday at 6:00 p.m. at home we play Carpinteria defending champs and DIV 5 runner ups.
Girls Varsity Soccer Highlights
On January 10, Fillmore played against Santa Clara beating them 2-1. Both goals were scored by Veronica Lauriano with the assistants of Jasmine Medina and Patricia Vasquez. There next home game is January 17.
Boys J.V. Soccer Highlights
Last Wednesday Jan. 4, 2012 JV Boys soccer opened up the season League vs. Oak Park at home. Flashes won 2-0 with two great goals by Victor Garcia one in the first half and the second goal came with about 20 min. left in the game to put Oak Park away. The Team had a great opener to start the league with a win. Goal keeper Valente Ayala had a shut out in the first half and was replaced by Francisco Zepeda who also finished with a shut out. The entire Team played great and dominated the game, great job guy good luck Friday 1/13/12 vs. Carpinteria at 5:00pm.
By Steve Conaway — Sunday, January 8th, 2012
On Saturday 1/7/12 the Flashes traveled to Chaminade High School in North Hills for the annual Chaminade Tournament. Chaminade always hosts a great tournament which is attended by big wrestling schools such as St. John Bosco and Bishop Alemany. After Saturday's matches the Flashes can be added to the list of tough wrestling schools.
The Flashes fielded both JV and Varsity team for the match. Coach Calderon and Coach Ponce split their efforts with Coach Calderon taking the Lady Flashes to the Santa Paula All Girls Tournament. Coach Ponce had his hands full running both JV and Varsity squads, but as always Coach Ponce delivered the goods.
Standout JV Flashes wrestlers include: Nic Stehly at 113 pounds who took 1st place, David Cadena at 106 took 2nd place, George Orozco wrestled at 195 and took 1st place, Cameron Riley wrestled at 220 pounds and took 2nd place and Andy Vasquez matched up in the heavyweight division and came home with a 1st place. Great job JV Flashes.
As for the Varsity they meant business and they let their wrestling speak for them.
Robert Bonilla, Flashes Team Captain, wrestled at 138 pounds and went 5 – 0, with 4 pins and 1 bye, taking 1st place. He was voted on by all Coaches and was awarded Tournament Middle Weight MVP.
Sammy "The Bull" Orozco wrestled at 220 pounds and took 1st place with a record of 5 – 0, 4 by pin and 1 bye. Sam missed being awarded Tournament Heavy weight MVP by one vote.
Joseph DeLaMora wrestled at 170 pounds and took 1st with 3pins and 2 byes.
Mark Zavala took 2nd place with a record of 4-1, 3 wins by pin, 1 by points.
The Lady Flashes wrestled at the Santa Paula All Girls Tournament on Saturday. If you're not aware of it the sport of wrestling is exploding with girls taking up the sport. Schools from as far south as San Diego and as far north as Santa Maria were in attendance. The Flashes have 9 female wrestlers in the program this year, unfortunately only 6 were able to attend the tournament. The wrestling was fierce and very competitive. Felicity Zavala placed 5th in her weight category. Blanca and Brenda both had 2 wins and Megan and Daisy were unable to get a win but got lots of mat time and gain valuable experience.
Stay tuned for video highlights of the tournament.
Upcoming Matches:
Thursday 1/12/12: Flashes travel to New Jewish Community 4:00 PM
Friday and Saturday 1/13 & 14: Flashes travel to Palmdale for the Highland 10 way.
Action starts promptly at 1:00 PM on Friday and 9:00 AM on Saturday.
Saturday 1/13/12: JV travel to Hueneme for a JV 10 Way. 9:00 AM.
By Gazette Staff Writer — Wednesday, January 4th, 2012
Come join Raiders football and cheer organization
Fillmore Youth Football and Cheer Organization is accepting applications for New Board Members. Board elections will be held at Mountain Vista Elementary cafeteria Wednesday January 18TH at 6:30 P.M. It is mandatory that all applicants be present to accept nomination.
Applications are available for printout on our website at fillmoreyouthfootball.net
Applications must be received to our Secretary Kristen Dollar or mailed to our PO Box( #34 Fillmore, Ca 93015) by January 16th 6:30 P.M. Kristen may be contacted at 805-216-9027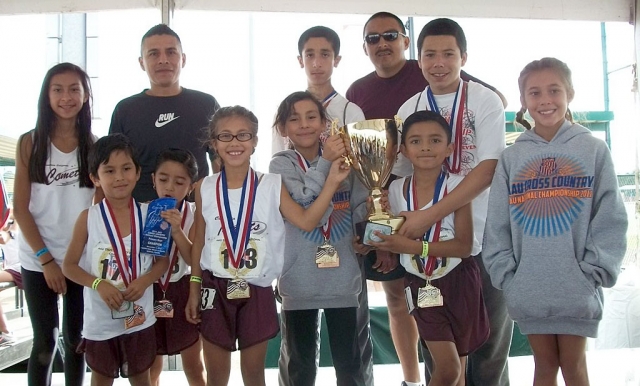 Back Row (l-r) Irma Torres, Coach Rafael Laureano, Alan Marquez, Coach Victor Rodriguez and Andrew Strader. Bottom Row (l-r) Camilo Torres, Andrea Laureano, Jordyn Walla, Carissa Rodriguez, Rey Laureano, and Naveah Walla.
Enlarge Photo
By Gazette Staff Writer — Wednesday, December 28th, 2011
After a great season, the Fillmore Youth Condors achieved their goal by taking nine athletes to the AAU National Cross Country meet, it took place in Orlando, Florida. After competing against eight other teams from the Southern California Youth track and Field Conference the Condors were able to qualify eight of their runners on the A-team. They represented Southern California as Comets in Orlando. To qualify on the A-team the runners needed to place on the top eight in their own divisions and each division had approximately forty athletes per division. The following runners qualified on the A-team and represented the SCYTFC as Comets: Jordyn Walla, Rey Laureano, and Camilo Torres were on the sub-bantam division in which both the boys and girls took first place as a team and were All American runners, which means they place in the top 25. Andrea Laureano was part of the B team in the sub-bantam team. The bantam girls Carissa Rodriguez and Naveah Walla also took first place as a team and were also All American. In the youth girls division, Irma Torres placed 52nd out of 117 runners and place fifth as a team. For the youth boys division, Andrew Strader placed 45th out of 137 runners and place third as a team. Alan Marquez ran as an individual and placed 60th in the boy's intermediate race. The Southern California Comets as a team were the AAU National Youth Cross Country Champions for 2011! The team moms Judith and Viviana and coaches Temo, Victor and Rafa are very proud of everyone in their team for their hard work and discipline for the sport. The Condors also want to thank everyone that helped them with fundraising for the post season athletes: El Pescador, thank you Chuy, The Fillmore Rotary Club, we cannot thank you enough for helping us every year and finally thanks to all the parents from the Fillmore Condors. "PAIN IS TEMPORARY PRIDE IS FOR EVER'' unknown source.
By Gazette Staff Writer — Tuesday, December 27th, 2011
Registration for the 2012 Fillmore Girls Softball, Mini-sox and T-Ball Recreation Season will be happening soon! Registration dates are: Saturday, January 7th and 14th at the Fillmore Middle School Pavilion from 9:00am to 12:00pm; and Wednesday, January 11th and 18th at San Cayetano Elementary School Cafeteria from 6:00pm to 8:30pm.
Registration fees are $110 for Softball, and $95 for T-ball and Mini-Sox. Each player will be required to sell $40 in raffle tickets which will be PRE-PAID at registration. Boys T-Ball age requirements are 4 œ to 6 years as of April 30, 2012; Girls Mini-Sox ages 4 œ to 6 years as of January 1, 2012, and Girls Softball ages 6 to 14 years as of January 1, 2012. A copy of your child's birth certificate is required at registration to show proof of age.
By Gazette Staff Writer — Wednesday, December 21st, 2011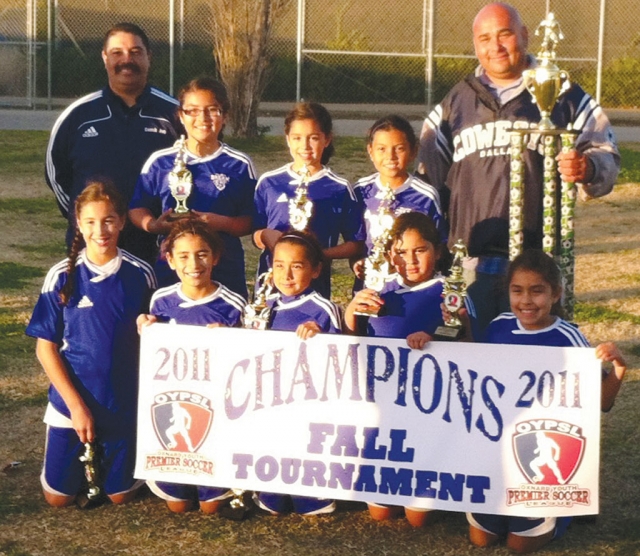 Congratulations to Fillmore Dream 10-U girls for winning the Championship vs Cruz Azul 5-0!!! Also for having an unstoppable season with a record of 10-0, having 83 goals in favor and 0 against...... Top Row: Asst.Coach Joe Magana, Nariah Alcaraz, Lola Ruvalcaba, Anahi Andrade and Coach Ram Tobias. Bottom Row: Esther Ruvalcaba, Jaylene Magana, Valerie Tobias, Aaliyah Lopez, Anika Lopez. Not pictured above, Alexis Mejia, Isabella Vaca and Aaliyah Alfaro.
Enlarge Photo