By Anonymous — Wednesday, October 7th, 2015
10/24/15
ChannelAire Chorus (female a capella barbershop harmony), Presents their FALL 4 HARMONY show on Saturday, October 24, at 2 PM, at the CAMARILLO BURNLEY CENTER, 1605 Burnley St, Camarillo, Tickets: $15, children 12 and under are free. Call 805 482-5557 for tickets or visit: ChannelAire.org
By Anonymous — Tuesday, October 6th, 2015
Classical program features innovators, forgotten gems
THOUSAND OAKS, CA - California Lutheran University faculty member Eric Kinsley will present a recital at 7:30 p.m. Saturday, Oct. 24, in Samuelson Chapel.
The pianist will perform solo works from the classical period and the time of transition leading into it. The program will highlight innovators and examine forgotten gems. The free concert will feature music by J.S. Bach and his sons, Carl Philipp Emanuel Bach and Wilhelm Friedemann Bach. Kinsley will also perform works by Domenico Scarlatti and Joseph Haydn.
In addition, jazz bassist Phil Mallory will join Kinsley in pieces composed by Mallory based on familiar classical themes. Well-known as a performing artist and an educator, Mallory played for years in the Page Cavanaugh Trio that also featured Al Viola.
Kinsley has taught piano at Cal Lutheran since 2009 and also writes, records and performs music. The Thousand Oaks resident has been a member of the New York Contemporary Music Band, Pacific Classical Winds and the Manhattan Chamber Orchestra. He has soloed with the Los Angeles Baroque Orchestra, Manhattan Chamber Orchestra, Pasadena Orchestra, Santa Barbara Symphony and Santa Barbara Chamber Orchestra.
He has performed and recorded at the Discoteca Di Stato in Rome, has broadcast on public radio and television and has worked with and performed premieres of the music of John Cage, Milton Babbitt, Morton Feldman and others. He has recorded works by J.S. Bach on the Cantaur label and has recorded works for duo portative organ.
He holds a doctorate from the Manhattan School of Music and has received grants in early and contemporary music from the National Endowment for the Arts, the New York Harpsichord Society and the Sylvia Marlow Foundation.
Donations will be accepted.
Samuelson Chapel is located at 165 Chapel Lane on the Thousand Oaks campus. Additional parking is available at the corner of Olsen Road and Mountclef Boulevard.
For more information, call the Music Department at 805-493-3306 or visit CalLutheran.edu.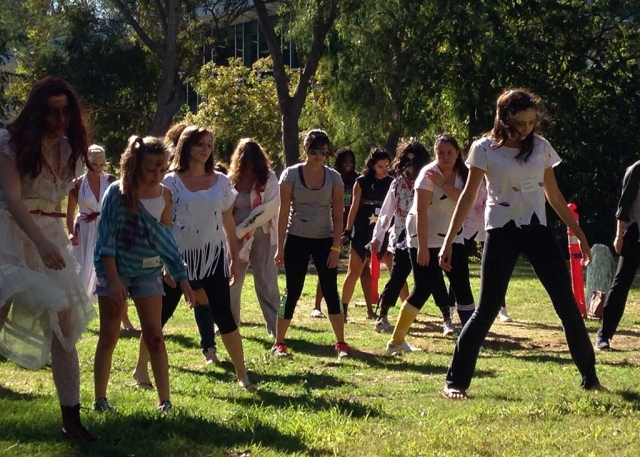 Photo from the 2014 Thrill The World Thousand Oaks at Cal Lutheran. Photographer: Stacy Gross.
Enlarge Photo
By Anonymous — Tuesday, October 6th, 2015
Public invited to join worldwide simultaneous event
THOUSAND OAKS, CA - Zombies will invade the California Lutheran University campus on Saturday, Oct. 24.
The public is invited to dance to Michael Jackson's "Thriller" during Thrill The World Thousand Oaks, one of hundreds of synchronized performances held annually throughout the world. All participants are tallied in an effort to set world records for the largest simultaneous dance.
The music for the official performance will cue at 3 p.m. in Kingsmen Park, but the party will begin at noon. Dance instruction and zombie makeup will be available. Participants are invited to come dressed as zombies.
The event is part Michael Jackson tribute and part charity fundraiser. It is being presented for free by Cal Lutheran's Theatre Arts Department, but donations will be accepted for World Dance for Humanity. The Santa Barbara–based organization supports community and small business development in Rwanda and contributes relief funds to disaster areas.
The first Thrill the World took place in Toronto in 2006 with 62 dancers. The next year it spread to five continents. Cal Lutheran first participated last year. The global event is both a celebration of Jackson's talent and a push to inspire people to connect with people of all religions, races, political persuasions and economic levels.
Kingsmen Park is located along Memorial Parkway west of Mountclef Boulevard. Parking is free.
For more information, contact Barbara Wegher-Thompson at wegher@callutheran.edu or 805-241-8515.
"Horizontal Snag" by Photographer Phil Harvey
Enlarge Photo
By Letitia Grimes — Monday, October 5th, 2015
October 10 and 11, 2015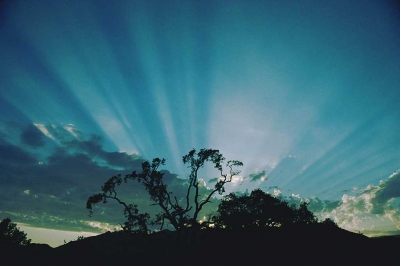 "Heavenly Rays" by Photographer Phil Harvey
Enlarge Photo
"Ojai Meadow" by Photographer Phil Harvey
Enlarge Photo
Legendary photographer Phil Harvey will open his house for the 2015 Ojai Art Detour on Saturday and Sunday, October 10 and 11, from 10:00 a.m. to 5:00 p.m. This will be the fourth year of his participation in the Art Detour, and he will be collaborating with three photographers, Myrna Cambianica, Sally Carless, and Les Dublin.
On a late summer day in September, in the middle of a heat wave, Harvey sat down in his patio for an interview about his work in photography. Unfazed by the heat, or his 94 years, he spoke exuberantly about the stories behind his iconic shots of Ojai and reflected on the art of photography and of life. It was close to noon; a majestic California live oak threw dappled shade on the table, and birds were chirping contentedly. This rustic patio will be the setting where he will welcome guests on the Art Detour.
With his rich baritone voice, and the lively gestures of someone half his age, Harvey sketched in the unlikely story of his introduction to photography. After a career in singing and acting, including opera and Hollywood movies, Harvey moved to Ojai in 1980. He worked as the music director for the Ojai Presbyterian Church and in 1987 founded the Ojai Community Chorus. During this time he took a job at the Ojai branch of Dexter's Cameras. His outgoing personality made him a successful salesman, selling so many cameras that people would come back to the shop and ask for instruction and advice on how to take pictures. Harvey's response to their needs exemplifies his community spirit. He founded the Ojai Camera Club in 1984 to help educate people in photography. Now renamed the Ojai Photography Club, it is still going strong.
Taking up watercolors as a hobby, Harvey became frustrated with the limitations of the medium as he tried to capture fleeting colors of the landscapes. When a friend suggested using a photograph of the TopaTopa mountains as the model for a painting, he had a moment of deep insight that would guide his art from that point onward: "I found that I was more interested in the light of life, and when you reverse it, it's the life of light as well - they are intertwined."He was interested in convincing his camera to capture the light that he saw. This was the beginning of a long love affair with the"light of life"in the Ojai Valley as seen through the lens of his camera.
Bringing into photography the discipline and persistence demanded by his careers in music and acting, he returned again and again to the same well-loved places.The Ojai Post Office tower, the TopaTopa range, and an ancient California valley oak, now in the Ojai Meadows Preserve, are among his most studied subjects. For fifteen years, Harvey went back to the oak, from the time that it still had green leaves to its eventual death, leaving only a bare snag. Pulling out his image of the tree's silhouette against a brilliant red sunset, he said, "I have a story about this tree, that when it died it still kept its arms pointing to the sky –part of it is still there reaching to the sky."The oak is in another of his signature photos, "Heavenly Rays."This extraordinary shot involved the kind of happy accident that only a devoted photographer might experience. Harvey had been shooting avivid sunset, and when the colors had faded, he said, "I packed my camera, finished, started to go, looked up, and there were the rays – the glow of sunset had changed to distinct rays. I shot half a roll to get that image. I've never seen anything like that since."
Although he now has a digital camera, Harvey's greatest images were taken with a film camera. Preferring the depth and natural quality of color film, hehas never manipulated his photos: "This is as it was –real in real time."Explaining his approach further, Harvey drew on science and philosophy: "We're in life, in time/space. Part of the illusion of our whole world scientifically is that what we see, what we hear, what we breathe, is not what is really there –it's really vibration, and our whole life is vibration. But the wonderful part about this is that those images give you a vibration even though it is only an image. It has an emanation if you look at it –a certain emanation from it.But to sense that emanation, there must be composition and impact."
One of his most famous images shows the post office tower in a diffuse lavender-grey evening light with an almost full moon riding beside it. Harvey's careful tracking of the seasonal light in the valley captured the exact moment: "To get the light correct, you need the right time of year, and in April the full moon is beside the tower. The actual night of the full moon doesn't work because you need enough light for the tower. I had to catch the moon the day before it was full, because the next night would be fifty minutes later and too dark."His many shots of the tower sought its essence: "My passion was for the identity of the tower in different kinds of light."
The wind chimes on the patio began to ring softly as the weather shifted to a cooling breeze. In answer to a question about his recommendations to people just starting out in photography, he replied, "First, get a good camera, and a regular lens for flowers and people, then just go out and start shooting. Don't go in the middle of the day - after 10 or before 4 - and always look for the light. It's not necessary to take a course - there are many good books to learn from. And come to camera club!"
When asked forthe secret of his longevity, Harvey did not miss a beat before answering, in his strong baritone voice, "Joy, peace, and love of community. Devotion and love - that's the important ingredient."Like the oak tree in his garden, he is long-lived, sturdy, resilient, with branches reaching out to life and providing nourishment for others.
Art Detour for Harvey is a part of the ongoing community involvement that has been the hallmark of his life since coming to Ojai, and he views it as a way "to meet people and show them how much fun we're having doing this and how much we have enjoyed being not only just photographers but artists, doing things that are appealing to people who want to see color and light in different aspects. I think it's mainly a community project where we love to meet the community, show them what we have, with decent prices."
Everyone attending Art Detour Stop 31, Fine Art Photography - Phil Harvey and Friends - will receive a free poster of an iconic image of Ojai by Harvey. For full information on Ojai Art Detour go to: http://www.ojaiartdetour.com
By Anonymous — Wednesday, September 23rd, 2015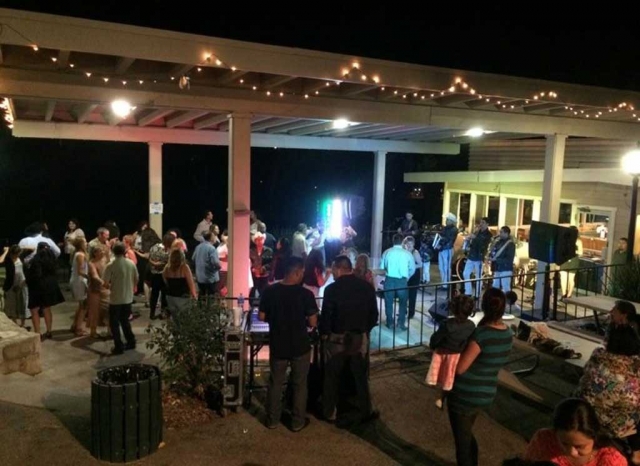 Hermanos Herrera play to a happy crowd at Elkins Ranch Golf Course, Friday night. The group has established themselves as the future of Regional Mexican music.
Enlarge Photo
By Anonymous — Wednesday, September 23rd, 2015
Learn to Dance on Santa Paula's Oldest Dance Floor, Saturday, Sept. 26, 7:30 pm
The Museum of Ventura County's Agriculture Museum celebrates its fourth anniversary on Saturday, September 26, 2014, from 7:30 – 9:30 pm, with an old-fashioned family-friendly barn dance. Led by Ventura County's skilled square dance and line dance caller, Wyane Simpson, celebrants from ages 8 to 88 will learn how to bow to the corner, allemande left, shuffle and slide. Wyane will be teaching in a way that allows both experienced and new dancers to enjoy themselves, on the Museum's original maple, fir and pine floors, installed in 1887.
Now four years old, the Ag Museum has a lot to celebrate! Its education program, which offers vital information on food growing and nutrition, tours over 2,500 schoolchildren per year. The permanent and special exhibitions tell the stories of the rich agricultural history of Ventura County. Now on view are "The Dirt on Tractors" a vintage tractor display, and "Ag Air" about the role of aviation in agriculture in the past century. See these great exhibits at the barn dance.
Admission to the Harvest Moon Barn Dance is $10 for the general public, $5 for Museum members, and kids under 18, with an adult. Bring a partner or come on your own and meet people who like to dance! By evening's end, everyone will be getting the hang of the reel, promenade, bump and strut.
Wyane Simpson calls and teaches square dancing and line dancing throughout Southern California, and has performed at square dance conventions in California and in several other states.
The Museum of Ventura County Agriculture Museum is located at 926 Railroad Ave. in Santa Paula. Hours are 10 a.m.–5 p.m. Wednesday through Sunday. Paid events include free admission to the galleries, and the first Sundays of every month are free general admission for the public. For more museum information go to www.venturamuseum.org or call 805-525-3100.
By Anonymous — Wednesday, September 16th, 2015
Ojai, CA – Eight exceptional new artists were juried into OSA this year, including two world-class practitioners in media not seen that often, at least not at the level of mastery demonstrated by Carol Shaw-Sutton (fiber art) and Gail Hercher (paper art).
Carol Shaw-Sutton is a sculptor and installation artist specializing in poetic fiber and textile work. Often inspired by nature and its cycles of growth and decay, she also describes being moved by an exhibition at a convent in France of the personal effects of the nuns who had lived there including the single set of sheets used and re-used by each during her lifetime. For Shaw-Sutton, the sheets took on the imprint of the owner's very essence. Her own work is often deeply felt and similarly laden with meaning. Deep human concerns for harmony and release, longing, repairing and empathy are recurrent themes in her work.
Her list of honors and museum exhibitions is long. Among the honors: two National Endowment of the Arts Fellowships, the Young American Award from the American Crafts Council, a United States / Japan Fellowship and United States / France Fellowship and the Fine Art Award from the International Textile Biennale in Kyoto, Japan.
Museum shows include important exhibitions in Switzerland, Germany, Italy, France, Japan and Canada, as well as New York, San Francisco and Los Angeles. Her work is also to be found in corporate and private collections around the world. She chaired the Fiber Program at Cal State University-Long Beach for most of her thirty year tenure and remains Professor Emeritus today.
Gail Hercher's fascination with paper began when she learned how to make an origami boat at the age of 8 from a missionary to Asia. Since then she has explored many paper paths (media) in which paper is a major component—including printmaking, papermaking, bookbinding, paste papers, boxmaking, surface design, etc. She is especially interested in the paper crafts of other cultures such as origami, orizomegami, suminagashi (Japan), paper cutting (Mexico), papyrus (Egypt), tapa (Hawaii), and marbling (Europe). She also weaves, using brown paper from grocery bags, in patterns from the South Pacific.
Her work is in several public and private collections in New England and Hawaii and is featured in her book Crafting With Handmade Paper (Rockport, 2003). Making Monoprints with a Gelatin Plate (Handbooks Press, 2002), and Craft Project Book (Quarry, 2000). Her unusual mosaic work can be seen in the recent book American Mosaic Today (Schiffer, 2012). She has received many awards and grants including a Fulbright Fellowship to study in Europe.
Hercher received her B.F.A. (painting) and M.F.A. (printmaking) from the University of Hawaii, after which she taught in schools and colleges for 20 years. Later she completed coursework for a PhD in Art History at Boston University and earned a certificate in Museum Education from the Museum Collaborative (NYC). She has worked in museums and taught Museum Studies at several colleges and from 2000 to 2007 Gail owned The Paper Crane, a paper making studio & paper art gallery in Beverly, MA.
The Ojai Studio Artists are proud to present two singular artists, each a master in her unique new field, and each new to Ojai. Their studios and their life and art-stories – along with fifth other OSA artists - will be open to all during the 2015 Ojai Studio Artists Tour on October 10, 11 and 12, 10 to 5 each day. Ticket prices are $30 in advance, available at OjaiStudioArtists.org and – on Tour Days – at the Ojai Art Center, 113 S. Montgomery St.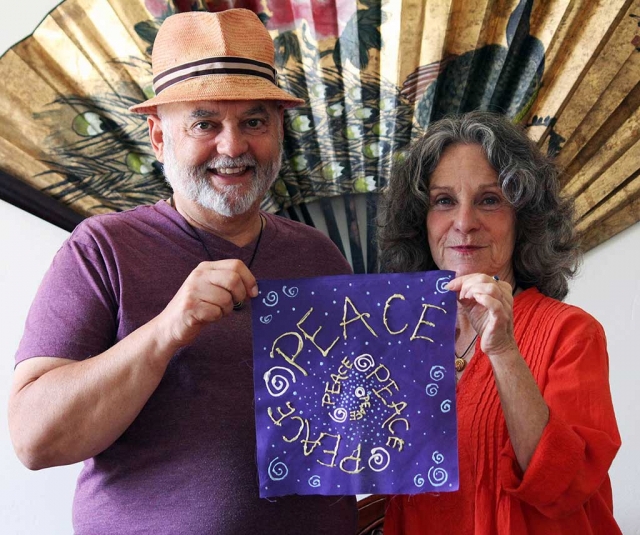 (l-r) Brian Berman and Julie Heyman. Photograph by Ray Powers.
Enlarge Photo
By Myrna Cambianica — Wednesday, September 16th, 2015
Celebrate the 2015 International Day of Peace on Monday, September 21, at the Ojai Art Center, 113 So. Montgomery St., Ojai. The event will be held from 9:00 a.m. to 4:00 p.m. with a full lineup of presentations, activities, music and reflection. Everyone is invited to drop in at any time during the festivities. Admission is free and donations are welcome.
The International Day of Peace began in 1981 with a resolution by the United Nations General Assembly dedicating one day in September of every year to world peace. In 2001 the UN designated September 21 as an annual day of non-violence and cease-fire. Each year the United Nations Peace Bell is rung at UN headquarters in New York City to inaugurate the day. This historic bell, a gift from the Japanese people, was cast from medals and coins donated by delegates from 60 nations and collected by children. Each year the day has a focus. In 2013 the focus was on Education; in 2014 it was the Right of Peoples to Peace; this year, 2015, it is "Partnerships for Peace – Dignity for All."
Ojai Day of Peace is an event for all ages that includes music, art, speakers and interactive discussion. Chumash Elder Julie Tumamait-Stenslie will open the Day of Peace with a Chumash blessing. There will be morning meditations and movement, spoken word and song, and in the afternoon the annual presentation of Ojai's Noble Peace Prize. A Feast for Peace from noon to 2:00 p.m. will link to similar events world wide, from Argentina to Switzerland to Uganda and many more countries. The Ojai Art Center patio will be open for participants to bring a picnic lunch while enjoying a program of music, song, and storytelling.
The day features a group of intergenerational luminaries who will share their personal stories and insights and explore practical approaches to peace for our community. A partial list of presenters includes Evan Austin, David Baker, Brian and Lisa Berman, George Christie, Julie Heyman, Connor Jones, Tony Khalife, Amanda Lezra, Anahata Pomeroy, NuriRonaghy, with performances by akka b., Beautiful Chorus, David Henderson, Vera Long (live art), Ray Powers, and John Slade.
To encourage viewing peace from diverse perspectives, thought-provoking topics of discussion will be open for question and answer sessions. Among the many titles presented will be: "The Art of Reconciliation,""The Unrecognized Peace of Law Enforcement,""The Joy of Internal Peace and Its Outward Reflection,"and "Living Peace from the Center of Battle."
Brian Berman and Julie Heyman, members of the Ojai Peace Network, recently facilitated the designation of Ojai as an International City of Peace. They have been involved in peace building for many years.
Berman is an internationally recognized Ojai based artist and sculptor whose work focuses on peace and reconciliation. "My joy in peace building is my inspiration for creating this event for all of Ojai and beyond,"Berman says. "As the Peace Ambassador for the Ojai Art Center and an Artist for Peace, I thought that this event at the Art Center would make a great program. After Mayor Lara issued our proclamation in April, that Ojai is an International City of Peace, our team began coordinating events to help build greater awareness. It's inspirational sharing the good news that Ojai is a city of peace, and after the celebratory response to our award winning July Fourth parade float, the next event we decided to focus our attention on was this one. Planning this event has been a joy, as so many people have volunteered to partake in this celebration."
Heyman has been involved with peace activities most of her life, and when she heard about the International Cities of Peace program, she knew that Ojai was a perfect fit. She says, "Now that we are an ICP, it feels wonderful to be connected to so many other communities around the world promoting peace consciousness in their localities as well as having opportunities to be part of global events, such as International Day of Peace. I believe that the peace efforts we put forth here have a positive influence far beyond our Valley."
The full schedule and list of presenters for Ojai International Day of Peace is available online at http://ojaipeace.net/day/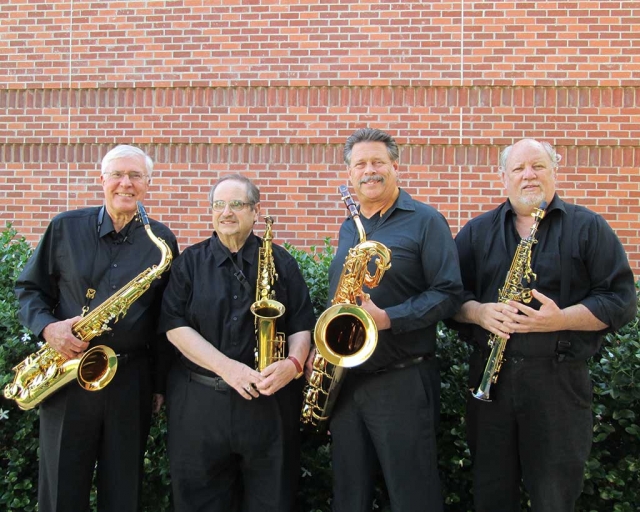 Saxomania. (l-r) Daniel Geeting, Don Nardone, Patrick Ingram and Richard Bunter.
Enlarge Photo
By Anonymous — Tuesday, September 15th, 2015
Quartet will play classical, jazz selections on Sept. 25
Saxomania will perform a range of music from classical to jazz at 7:30 p.m. Friday, Sept. 25, at California Lutheran University.
The saxophone quartet featuring Richard Bunter, Daniel Geeting, Patrick Ingram and Don Nardone will play selections from the classical "Introduction and Variations on a Popular Ronde" by Gabriel Piernù as well as the jazz-tinged "Diffusion for Saxophone Quartet" by Gordon Goodwin in Samuelson Chapel.
Bunter plays soprano saxophone. The Oxnard resident studied under Bill Cain at California State University, Northridge. He is a member of The Palace Hot Society Orchestra, an Oxnard group that performs Roaring '20s music, and the Harry Selvin Big Band.
Geeting, who plays the tenor saxophone, has been a member of the Cal Lutheran music faculty since 1984. The Simi Valley resident conducts the University Symphony and teaches music history and music appreciation in addition to saxophone and clarinet. He earned a master's degree in music from the University of Southern California and a doctorate in musical arts from the University of Oregon. He received an institute certificate from the Mozarteum in Salzburg, Austria, and previously held professorships at Cornell College and the University ofWisconsin Oshkosh.
Ingram plays the baritone saxophone and studied with Don Raffell. The Thousand Oaks resident performs with the Harry Selvin Big Band, Ventura County Concert Band, The Palace Hot Society Orchestra and The Unforgettables big band.
Nardone, who plays alto saxophone, studied clarinet with George Jones at Princeton University while earning a degree in electrical engineering. The Oxnard resident performs with the Conejo Pops Orchestra and the Cal Lutheran Wind Ensemble.
Samuelson Chapel is located at 165 Chapel Lane on the Thousand Oaks campus.
Admission is free, but donations will be accepted.
For more information, call the Music Department at 805-493-3306 or visit CalLutheran.edu.
By Anonymous — Tuesday, September 15th, 2015
On September 10, 2015, the Ventura County Air Pollution Control District launched its new exhibit AIRtropolis at the Gull Wings Children's Museum in downtown Oxnard. According to APCD public information manager and creator of the exhibit, Barbara L.Page, "We've been working on this project with Gull Wings for over two years and we are so excited that it is now officially open and ready for Ventura County children to enjoy. It is our hope that they will learn about the importance of clean air, how air can become polluted, and what they can do to protect it."
The 235-square foot exhibit is the place children can go to learn about air quality with a "hands on" experience. The focal point of AIRtropolis is the A-mazing Airways maze, created by MindSplash of Naperville, Illinois. It's a pneumatic air system that engages children and adults to explore the properties of air. Inspired by work curated in partnership with the National Science Foundation, the maze is currently inspiring visitors of all ages in 42 museums across the world. Air Pollution Control Officer Mike Villegas adds, "The District is proud to partner with the Gull Wings Children's Museum on this important project. The museum serves about 30,000 visitors annually from all areas in the County. We are thrilled to share this exhibit with the future environmental stewards of our air and hope they will see air as a precious natural resource."
The exhibit also consists of the AIRtropolis mural, the clean air wheel, and the Pyramid of Pollution. It will be the newest of the many exhibits housed at the museum with topics thatrange from medicine, art, archaeology, geology, animals, health and many others. According to Gull Wings Children's Museum Board President Julia Chambers, "Gull Wings Board Members and staff are so happy for the children and families of Ventura County, who have the privilege to enjoy this wonderful new exhibit and learn so much about preserving our environment."
AIRtropolis will also be the backdrop of continuing environmental education activities at the Museum. The museum is open to the public Tuesday through Sunday.
Tuesday: 9 am –1 pm
Wednesday: 9 am –4 pm
Thursday: 9 am –4 pm
Friday: 9 am –4 pm
Saturday: 10 am –4 pm
Sunday: 10 am –4 pm
Adults: $6
Children & Seniors: $5
Under 2 yrs: Free
418 W. Fourth Street
Oxnard, CA 93030
(Downtown Oxnard, on the corner of Fourth and C Streets–about 5 minutes from the 101 freeway)
(805) 483-3005
gullwings.org
-end-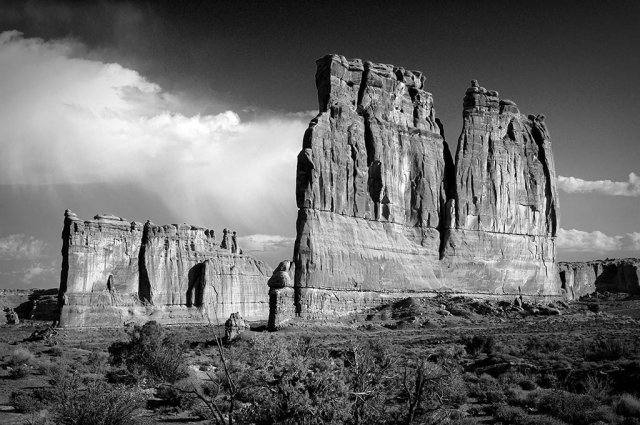 "Arches" by Photographer David Baker
Enlarge Photo
By Myrna Cambianica — Wednesday, September 9th, 2015
The Ojai Photography Club welcomes Ojai based photographer David Baker to their September 15 meeting. The program begins at 7:00 PM, at Kent Hall, located at Help of Ojai's Little House, 111 Santa Ana Street, in Ojai.
Baker will speak on "Seeing in Black & White." This will be a highly informative presentation for anyone interested in branching out of digital color into the dramatic world of black and white photography. Using his own award-winning photographs as examples, Baker will demonstrate how to select color images and convert them into black and white artwork. Presented in an interactive setting, the talk will provide the audience with many opportunities to ask questions and receive answers from the expert. Images from his "Musicians in Monochrome" series can be viewed at: http://ojaiacphoto.org
Baker is internationally known for his creative website and graphic designs. He is best known in the United States as the designer of websites for the 1995 Academy Awards, Super Bowl XXX, Microsoft Windows NT site, and the California State Legislature.
In the early 1970s, after seven years as a deputy sheriff for the L.A. County Sheriff's Department, Baker worked as a professional photographer for the Monterey Park Progress newspaper. In 1980 he left the photography profession to become a successful software engineer and graphic designer.
He was founder and president of Real Time Computer Science, the first firm to install Intel's iRMX Multitasking operating system on the IBM Personal Computer. Later, he founded Beverly Hills Software, an internationally known website design firm. He has served as Director of Development for Symantec/Peter Norton and as Computer Architecture Specialist at Intel Corporation.
In 1998 Baker relocated to Ojai, California, and rekindled his lifelong passion for photography. Then In 2004 he took a four-month assignment in Arkansas to update a website for the RV industry. That assignment turned into five new websites taking five years to complete. Back in Ojai since 2011, he is semi-retired and enjoys doing photography his way. He serves as the chair of the Photography Branch at the Ojai Art Center and acts as the Ojai Art Center Staff Photographer and Website Architect. Active in the Ojai Photography Club, he recently became a core member of the club's central team that oversees the organization. Visit his website for images and extended information: http://www.ojaiimages.com/
After his presentation, Bakerwill review images submitted by club members. Monthly presentations are part of the Ojai Photography Club's community service outreach and visitors are welcome to attend.
The Ojai Photography Club, which is devoted to education, inspiration, and camaraderie, meets on the third Tuesday of each month, February –November. Only members may submit images for review. For additional information please visit: http://www.ojaiphotoclub.com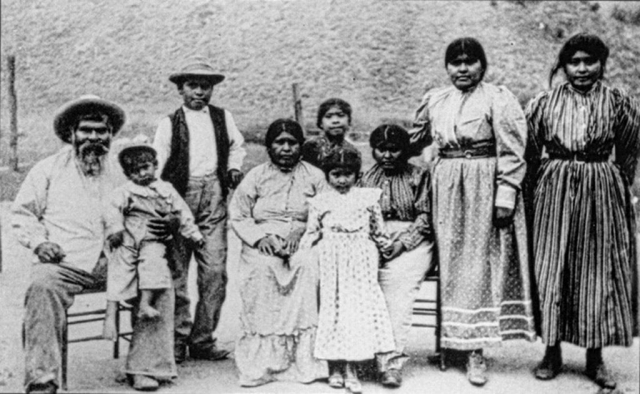 The myserious Tataviam: Original inhabitants of Camulos.
Enlarge Photo
By Anonymous — Wednesday, September 9th, 2015
October 3, 2015 - 4:00 P.M. at Rancho Camulos Museum
This enlightening free presentation by Dr. John Johnson, the Curator of Anthropology, at the Santa Barbara Museum of Natural History will be followed by a reception in our future visitor's center. Donations welcomed. Reservations are not required but are appreciated (info@ranchocamulos.org). Rancho Camulos Museum, a National Historic Landmark, is on Highway 126, 2 miles East of Piru and 10 miles west of the I-5 at the Santa Clarita Newhall Ranch Road exit (5164 E. Telegraph Rd. (Highway 126), Piru, CA 93040). Details at www.ranchocamulos.org.
By Anonymous — Wednesday, September 9th, 2015
2 p.m. Sunday, September 13th will see the resumption of regular meetings of the Santa Paula Society of the Arts and the return of a monthly art demonstration. The artist this month will be Patty Van Dyke and her medium will be watercolor on canvas. She indicates that with proper sealing the image will be more well preserved than the usual matting and under glass. Information sheet on the process and materials.
Guests are always welcome and there is no charge for attending, come join the fun...
For more information call 805-525-1104
By Anonymous — Wednesday, August 26th, 2015
Monday, September 7th, 10:30am to 1:30pm Following the Santa Paula Labor Day Parade
The Museum of Ventura County's Agriculture Museum is proud to present its 3rd Annual Labor Day Vintage Tractor Fair on Monday, September 7, immediately following the Santa Paula Labor Day Parade. More than two dozen classic farm tractors from decades past will be displayed by their proud owners on Railroad Avenue adjacent to the Museum on Monday, September 7, 2015, from 10:30am to 1:30p.m. This celebration also features live music, food trucks, and tractor-themed kids' activities, as well as agriculture-themed exhibitions and items for sale indoors. Admission to the fair and the museum is free. The Labor Day Vintage Tractor Fair is sponsored by the Limoneira Company and Ventura County's Topa Topa Flywheelers.
Visitors can get close-up views of rare tractors and talk to the tractors' owners, as well as view a working vintage engine demonstration. This year, we will have a special display of a working 1/3rd scale model Case 65 steam engine that will be making mini hay bales.
Delicious food options will be available for sale at food trucks located throughout the event, and a seating area will be provided. Santa Paula's favorite rock and roll band, Cruise Knights, will play classic tunes. Don't miss the pie eating contest that will be held at 12:00pm, sponsored by Marie Callender's.
A Kids' Fun Zone will be onsite, accessible with the purchase of a $5 wrist band. In the Fun Zone, children can compete in or watch pedal tractor races, or bounce in a supervised, super-sized Jolly Jump. They can also ask for a balloon character or creation of their choice from our balloon artist Cookie the Clown, and have a chance for kids and adults to get close and personal with several farm animals from chickens to alpacas in the petting zoo area by Aloha Animal Experience. And don't forget to get your face painted by Fancy Pantz Face and Body Art.
Inside the Museum, visitors can view new exhibits about agriculture and vintage equipment in the air-conditioned historic building. Current exhibits are AG Air: Aviation in Agriculture, The Dirt on Tractors, which portrays the history of tractor evolution, and paintings of Santa Paula artist Wendell Dowling. Kids can climb on a real Oliver tractor and visit the Museum's transparent, real beehive. Also, visit the Museum's General Store and shop our local vendors for special items. Many store vendors will be present throughout the event giving great deals on some of the finest merchandise.
For more information, call (805) 525-3100.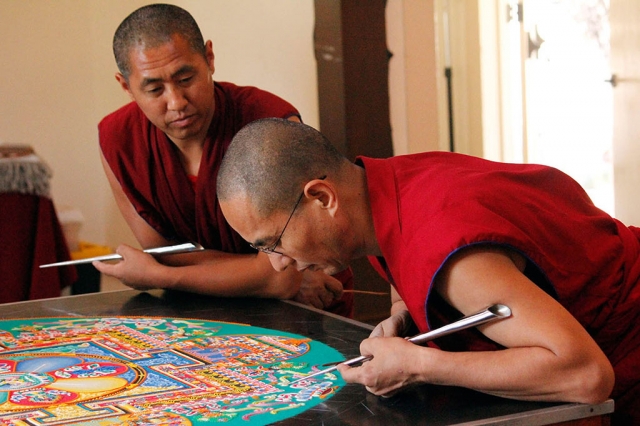 Photograph by Ray Powers.
Enlarge Photo
By Letitia Grimes — Tuesday, August 11th, 2015
Tuesday, August 18, 2015
Ray Powers, Ojai's multitalented composer, songwriter and photographer, will present "Monks and Mandalas" at the August meeting of the Ojai Photo Club. The meeting will take place on Tuesday, August 18, 2015, at 7:00 p.m. at Help of Ojai's Kent Hall, 111 Santa Ana Street, Ojai, CA.
A fusion of images, music and storytelling, the presentation documents the visit of the Tibetan monks of the DrepungLoselingMonastery to Ojai in May of this year. Powers follows their meditative construction of a sand painting of the Buddha of Compassion and then its ceremonial destruction.
His original score accompanies the images, interweaving the ancient chants of the monks with contemporary synthesizers. This multimedia approach is rooted in Powers' unitary concept of art: his perspective embraces, as he expresses it, "all art forms as extensions of one another, sharing the same wellspring of creative thought. With sound, words, and images similar attributes are shared: the contrasting tension of opposites, provocative storytelling and the conscious interpretation of perception."
Before the presentation, Powers will outline the history of the monks, their spiritual lineage, their monastery in the Tibetan diaspora community in India, as well as their commitment to peace. Documenting the monks' visit to Ojai was especially meaningful to Powers because of an earlier encounter with them: "I first made acquaintance with the Tibetan Monks from the DrepungLoseling monastery in New Mexico in1989. The occasion was the first Rainbow Warrior Festival, a multicultural arts and music gathering to promote peace, encourage tolerance and celebrate diversity. I was flown from California to photograph and document the event. Fast forward to 2015 and I have the honor to share a week with the next generation of monks from the same lineage as they teach, provide ceremony and create a sand painting mandala of the Buddha of Compassion for the city of Ojai."
Because of the stillness needed to immerse the meeting into the world of the monks, Powers will play his cedar flute to bring calm and silence into the room. Then the images will reflect, as he says, "what my eyes perceived, my mind understood and my heart experienced."
A resident of Matilija Canyon, Powers has had a long career in a variety of artistic media, and is best known for his pioneering work in East/West fusion music, most recently for his "Valley of the Moon Suite."This groundbreaking composition is the first orchestral work written about the Ojai Valley; it had a world premiere in Aprilwith a performance by the Ojai Youth Symphony.
After his presentation, Powers will review images submitted by club members. Monthly presentations are part of the Ojai Photography Club's community service outreach and visitors are welcome to attend.
The Ojai Photography Club, which is devoted to education, inspiration, and camaraderie, meets on the third Tuesday of each month, February –November. Only members may submit images for critique. For additional information please visit: www.ojaiphotoclub.com/ and www.raymondpowers.com
By Anonymous — Tuesday, August 11th, 2015
Enhance Your Knowledge of Santa Paula at 2 Upcoming Events at the Ag Museum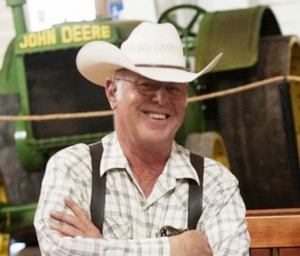 Friday, August 14, 4:00 - 5:30 pm
A Taste of Santa Paula History: Discover the History and Architecture of Santa Paula
Accompany famed local historian Mitch Stone on a one mile (more or less) stroll around Santa Paula, visiting architectural wonders, and hearing local lore. Tour includes a stop for beer tasting at Garman's Pub and a famous beignet from Rabelais Bistro.
Tour participants meet at the Agriculture Museum at 4:00 pm and proceed to the Depot, the St. Francis Dam Disaster Memorial, the Art Museum, the Oil Museum, Garman's, the Oddfellows Temple, and finish up at Rabelais Bistro.
You have to be rewarded for all that learning with a dessert!
Cost is $35 per person; $30 for members.
To reserve your spot, please call the Museum of Ventura County (805)653-1323, x315. The tour is limited to 20 persons.
Saturday, August 15 at 2 pm
Gallery Talk with collector Jim Bushong, "Jim's Dirt on Tractors"
Our monthly gallery talk at the Ag provides insight into our current popular exhibit "The Dirt on Tractors." Jim Bushong, a local collector who lent three pieces to the exhibition, tells us about his passion for antique farm equipment. A Vietnam vet who was raised on a farm in the Midwest, Jim settled in Oxnard almost 40 years ago and founded Southland Sod Farms. His training as a mechanic early in life gave him an appreciation and an "eye"
for exceptional engines and vehicles. Two of the tractors he loaned to the Ag Museum are rare: A 1930 John Deere Model D, the first to bear the John Deere name; and a 1931 Allis-Chalmers Rumely 6, the last of the Rumely line of tractors.
Jim's interest in these machines lies in the stories they tell. How did these inventors bring their ideas to life? What permanent influence did these dreamers have on the tractors of today? Can these tractors keep pace with the food demands of a growing population? Jim will tell you he has many of the answers!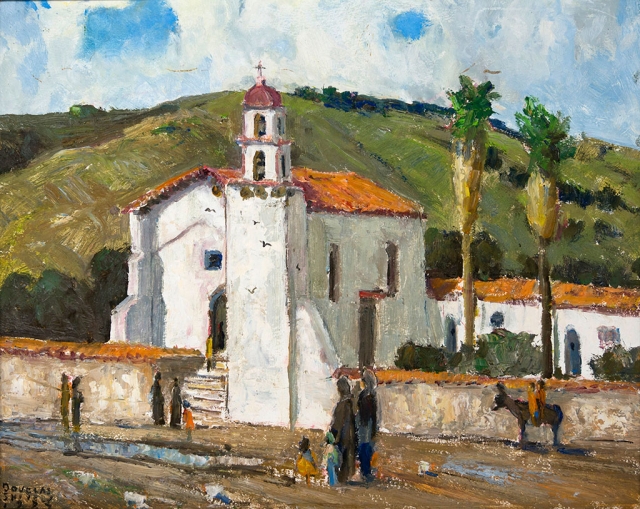 "San Buenaventura Mission" by Douglas Shively, 1987, oil on board, 16x20
Enlarge Photo
By Anonymous — Tuesday, August 4th, 2015
Saturday, August 22, 2015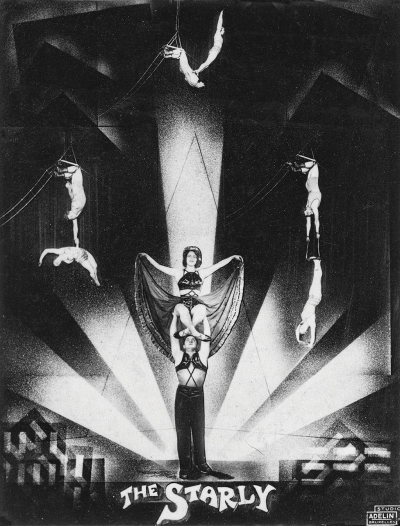 "The Starly" by Studio Adelin, Belgium, c. 1930, vintage photograph, 6x4.5 inches
Enlarge Photo
SANTA PAULA, CA – Browsers are welcome at the Santa Paula Art Museum's Vintage Art Fair on Saturday, August 22, 2015 from 10:00 a.m. to 4:00 p.m. Admission to the event is free. Guests will be able to browse and buy vintage fine art and historic photographs from some of the top dealers in California and Ventura County. A wide variety of dealers will be displaying and selling a huge selection of quality paintings and photographs. This is the first event of its kind in Ventura County.
This unique event will allow visitors to view and examine close up hundreds of high quality vintage paintings and photographs and gain experience and insights across a broad range of subject matter from knowledgeable dealers with decades of experience. All this and more in the beautiful setting of the architecturally significant Santa Paula Art Museum.
Some of the highlights to look forward to are early California plein air paintings including works by Ventura County artists like Douglas Shively, photographs of Georgia O'Keeffe by Todd Webb, and daguerreotypes and ambrotypes including a full plate "Washington Crossing the Delaware"Union case. There will be a wide selection of historic California photographs and other works of art on paper. There will also be a display of painting conservation. Doors open from 10:00 a.m. to 4:00 p.m. Admission is free and visitors will also be able to view the Museum's current exhibitions.
The Santa Paula Art Museum is located at 117 North Tenth Street in downtown Santa Paula. The Museum's regular hours are Wednesday through Saturday from 10:00 a.m. to 4:00 p.m., and Sundays from 12:00 to 4:00 p.m. Regular admission is $4.00 for adults, $3.00 for seniors and is free for museum members and students. For more information, please contact the Museum at (805) 525-5554 or info@santapaulaartmuseum.org.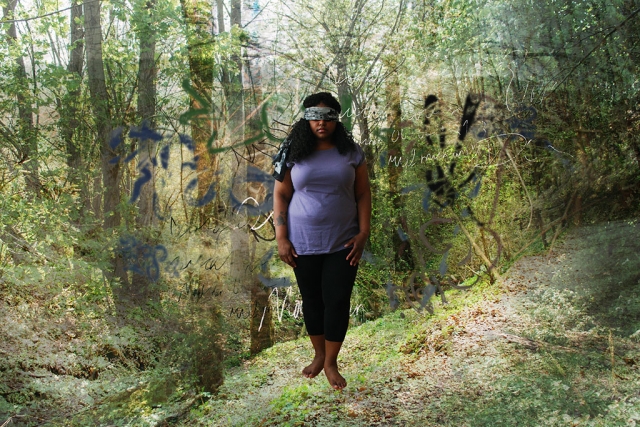 "No One Else" is a digital photo collage archival pigment print by Glynnis Reed.
Enlarge Photo
By Anonymous — Tuesday, July 28th, 2015
Group show includes video, performance, sculpture
THOUSAND OAKS, CA - Art that combines elements of history, biography and myth will be on exhibit at the William Rolland Gallery of Fine Art at California Lutheran University from Aug. 13 through Oct. 16.
The opening reception for "Biomythography: Secret Poetry and Hidden Angers" will be held from 6 to 8 p.m. Saturday, Aug. 29. Artist Thinh Nguyen of Los Angeles will perform "White Out History," which questions our way of documenting and disseminating history and culture.
The exhibit's other featured artists are Zenia Baltagi, Crystal Z. Campbell, Chris Christion, Kenyatta A.C. Hinkle, Abdul Mazid, Dan Taulapapa McMullin, Juliana Paciulli, Glynnis Reed, Rachelle Rojany, Yoshie Sakai, Monica Sandoval and Jessica Wimbley.
Biomythography as a literary term is a style of composition that weaves myth, history and biography in epic narrative. It was coined by poet Audre Lorde to describe "Zami: A New Spelling of My Name," her narrative of self-discovery and growing up black and lesbian during the 1950s.
Guest-curated by Wimbley/Christion Curatorial, the exhibit investigates biomythography as an interdisciplinary visual arts practice. As both artists and curators, Wimbley and Christion believe that effective visual arts and critical historical practices must be inclusive of differing cultural, social, political and anthropological perspectives.
The display will include video, performance, installation, sculpture, photography and two-dimensional mixed media works in which artists juxtapose historical facts, life experiences, pop culture, ritual, mythology, anthropological conjectures and notions of identity. "Biomythography: Secret Poetry and Hidden Angers" was first featured in 2014 at Claremont Graduate University.
Other events scheduled in conjunction with the Cal Lutheran exhibit include a walk-through with Christion and Wimbley at 1 p.m. Sept. 5, a multidisciplinary panel discussion at 6 p.m. Oct. 1 in the Lundring Events Center, a reading and discussion by poet and nonfiction writer Jacqueline Lyons at 4 p.m. Oct. 7 in the gallery, and the premiere of McMullin's appropriation art piece "100 Tikis" at 7 p.m. Oct. 14 in the Preus-Brandt Forum.
The gallery is located in William Rolland Stadium at 160 Overton Court on the Thousand Oaks campus. It is open from 10 a.m. to 4 p.m. Tuesday through Friday and 11 a.m. to 3 p.m. Saturday. Admission to the gallery and all events is free. For more information, call 805-493-3697, email rollandgallery@callutheran.edu or visit CalLutheran.edu/rolland.
By Anonymous — Monday, July 27th, 2015
The Museum of Ventura County relies on dedicated volunteers to support the museum's events and educational programs, and is currently seeking new volunteers. Opportunities abound for men and women interested in history or art and working with the public in a fun and educational setting. Help is needed in the following areas: school tours, special events, programs and in the research library. All prospective volunteers are invited to attend our upcoming training workshops on Wednesdays, August 5, 12, 19, 25, and September 2 & 9 from 10:00-3:00 pm. The workshops will offer an overview of Ventura County history, museum history & collections, with training for tours and working with the public.
For more information, contact Director of Education & Outreach, Megan Gately, at mgately@venturamuseum.org or (805) 653-0323 ext. 300.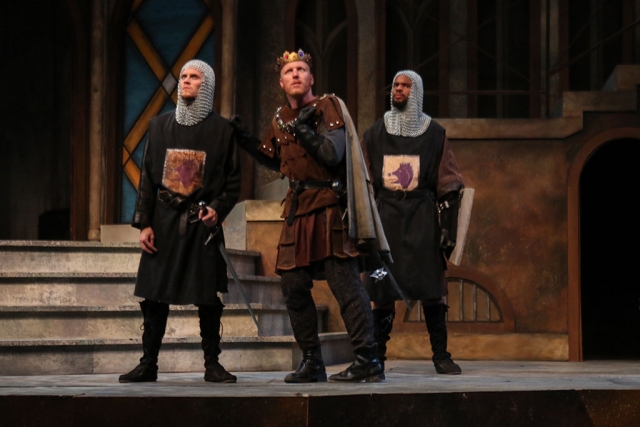 Jason McBeth as Richard (center). Photo by Brian Stethem
Enlarge Photo
By Anonymous — Tuesday, July 21st, 2015
Kingsmen Shakespeare Festival adds 2 Thursday shows
THOUSAND OAKS, CA - After rain cancelled Kingsmen Shakespeare Festival performances for the first time in the event's 19 years, two additional shows have been added at discount rates.
Performances of "Richard III" have been added on Thursday, July 23, and Thursday, July 30, to replace shows that were cancelled on Saturday and Sunday because of rain. Two-for-one tickets for the new shows will be available at the door for $20. General admission tickets for the already scheduled performances on July 24 through 26 and July 31 through Aug. 1 are still $20 each at the door. Everyone under 18 is admitted free to all performances.
Shows begin at 8 p.m. in Kingsmen Park on the Thousand Oaks campus of California Lutheran University. The festival grounds open at 5:30 p.m. for picnicking and entertainment.
One of Shakespeare's earliest plays, "Richard III" was written around 1592 about the final chapter in the Wars of the Roses. The Kingsmen Shakespeare Company last presented the tragedy a decade ago. After the official burial this year of the monarch's rediscovered body and given the popularity of the HBO series "Game of Thrones," which is based on the Wars of the Roses, the time seemed right to revisit the play.
Director Ryan Lee lives in New York City, where he most recently directed acclaimed productions of "The Winter's Tale" and "A View from the Bridge." He last appeared on the Kingsmen stage in 2004 as Berowne in "Love's Labour's Lost."
Cast members include several newcomers to the Kingsmen stage: Jason McBeth as Richard, Angela Sauer as Queen Elizabeth, Gillian Doyle as Margaret, Jamey Hecht as the Duke of Clarence and Seta Wainiqolo as Richmond. McBeth has appeared in "King Lear," "Much Ado About Nothing," "King Henry VI, Part I," "Richard III" and "Dr. Faustus" at the Oregon Shakespeare Festival. Sauer's credits include regional productions in Los Angeles, New York City and Chicago as well as television. Doyle received a Stage Scene LA Outstanding Comedy Award for Grace in "Pterodactyls" and an LA Weekly nomination for "Mrs. Warren's Profession." Hecht is an actor with the Porters of Hellsgate. Wainiqolo, a Moorpark resident who has performed as summer stock with Theatricum Botanicum, graduated from Cal Lutheran in May with a bachelor's degree in theater arts and will begin the Master of Fine Arts acting program at Yale University in the fall.
The cast also includes familiar faces. Rachel Seiferth, who plays Lady Anne, previously appeared at the festival as Juliet in "Romeo and Juliet." Ross Hellwig plays Buckingham, Marc Silver portrays Hastings, and Harold Dixon is Stanley.
The Kingsmen Shakespeare Company is the professional theater company of Cal Lutheran. For more information, visit kingsmenshakespeare.org or call 805-493-3014.