Cal Lutheran hosts zombie 'Thriller' dance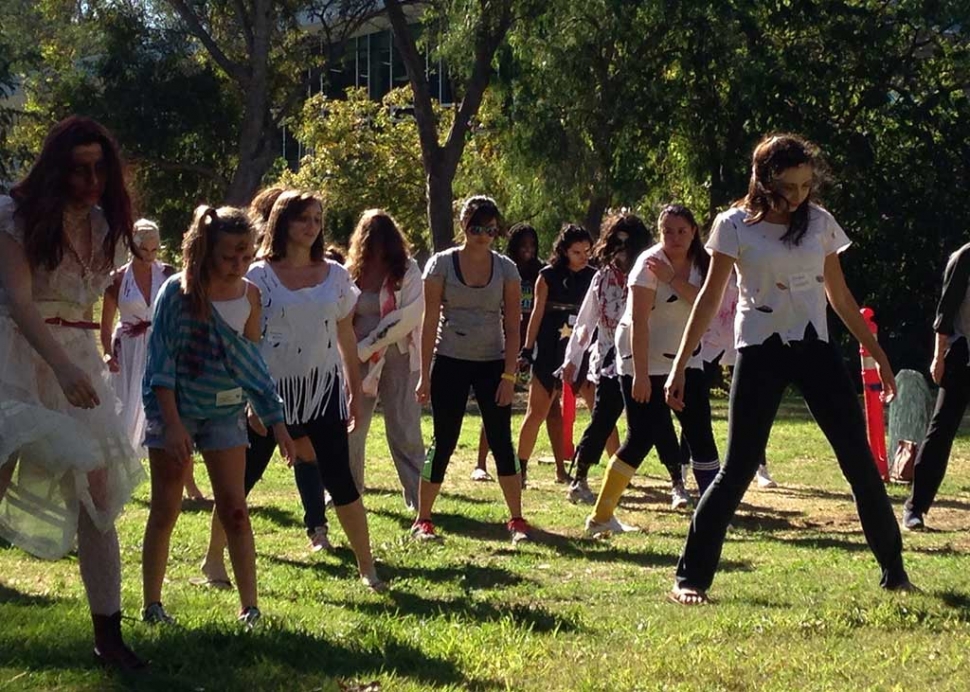 Photo from the 2014 Thrill The World Thousand Oaks at Cal Lutheran. Photographer: Stacy Gross.
By Anonymous — Tuesday, October 6th, 2015
Public invited to join worldwide simultaneous event
THOUSAND OAKS, CA - Zombies will invade the California Lutheran University campus on Saturday, Oct. 24.
The public is invited to dance to Michael Jackson's "Thriller" during Thrill The World Thousand Oaks, one of hundreds of synchronized performances held annually throughout the world. All participants are tallied in an effort to set world records for the largest simultaneous dance.
The music for the official performance will cue at 3 p.m. in Kingsmen Park, but the party will begin at noon. Dance instruction and zombie makeup will be available. Participants are invited to come dressed as zombies.
The event is part Michael Jackson tribute and part charity fundraiser. It is being presented for free by Cal Lutheran's Theatre Arts Department, but donations will be accepted for World Dance for Humanity. The Santa Barbara–based organization supports community and small business development in Rwanda and contributes relief funds to disaster areas.
The first Thrill the World took place in Toronto in 2006 with 62 dancers. The next year it spread to five continents. Cal Lutheran first participated last year. The global event is both a celebration of Jackson's talent and a push to inspire people to connect with people of all religions, races, political persuasions and economic levels.
Kingsmen Park is located along Memorial Parkway west of Mountclef Boulevard. Parking is free.
For more information, contact Barbara Wegher-Thompson at wegher@callutheran.edu or 805-241-8515.