Saxomania to perform at Cal Lutheran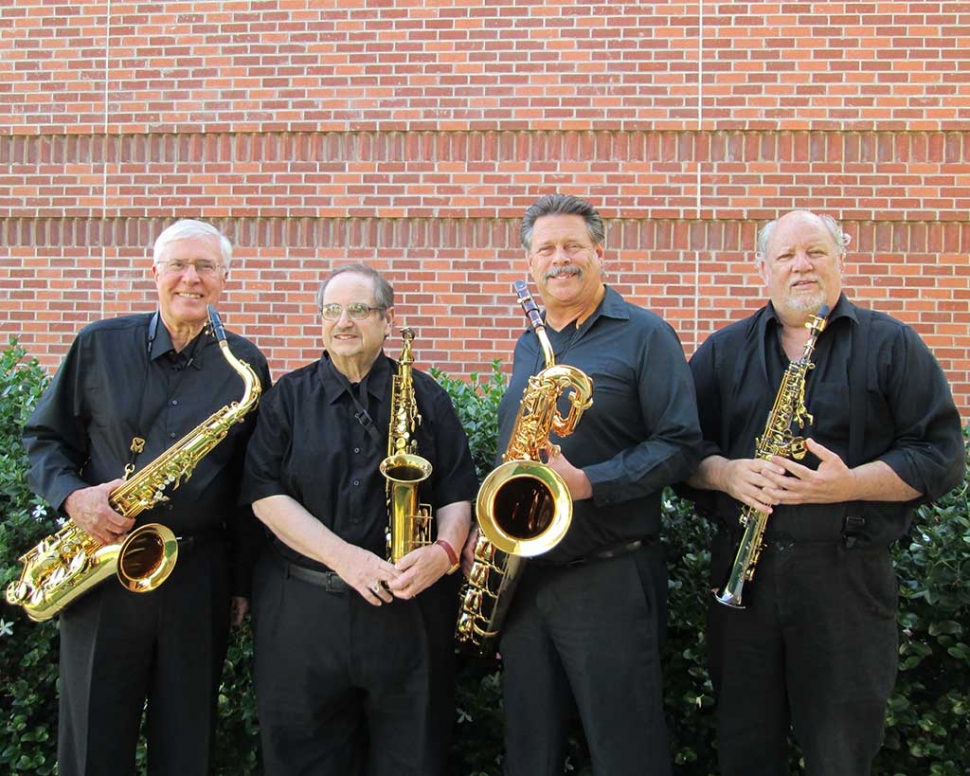 Saxomania. (l-r) Daniel Geeting, Don Nardone, Patrick Ingram and Richard Bunter.
By Anonymous — Tuesday, September 15th, 2015
Quartet will play classical, jazz selections on Sept. 25
Saxomania will perform a range of music from classical to jazz at 7:30 p.m. Friday, Sept. 25, at California Lutheran University.
The saxophone quartet featuring Richard Bunter, Daniel Geeting, Patrick Ingram and Don Nardone will play selections from the classical "Introduction and Variations on a Popular Ronde" by Gabriel Piernè as well as the jazz-tinged "Diffusion for Saxophone Quartet" by Gordon Goodwin in Samuelson Chapel.
Bunter plays soprano saxophone. The Oxnard resident studied under Bill Cain at California State University, Northridge. He is a member of The Palace Hot Society Orchestra, an Oxnard group that performs Roaring '20s music, and the Harry Selvin Big Band.
Geeting, who plays the tenor saxophone, has been a member of the Cal Lutheran music faculty since 1984. The Simi Valley resident conducts the University Symphony and teaches music history and music appreciation in addition to saxophone and clarinet. He earned a master's degree in music from the University of Southern California and a doctorate in musical arts from the University of Oregon. He received an institute certificate from the Mozarteum in Salzburg, Austria, and previously held professorships at Cornell College and the University ofWisconsin Oshkosh.
Ingram plays the baritone saxophone and studied with Don Raffell. The Thousand Oaks resident performs with the Harry Selvin Big Band, Ventura County Concert Band, The Palace Hot Society Orchestra and The Unforgettables big band.
Nardone, who plays alto saxophone, studied clarinet with George Jones at Princeton University while earning a degree in electrical engineering. The Oxnard resident performs with the Conejo Pops Orchestra and the Cal Lutheran Wind Ensemble.
Samuelson Chapel is located at 165 Chapel Lane on the Thousand Oaks campus.
Admission is free, but donations will be accepted.
For more information, call the Music Department at 805-493-3306 or visit CalLutheran.edu.