Rained-out 'Richard III' replaced at discount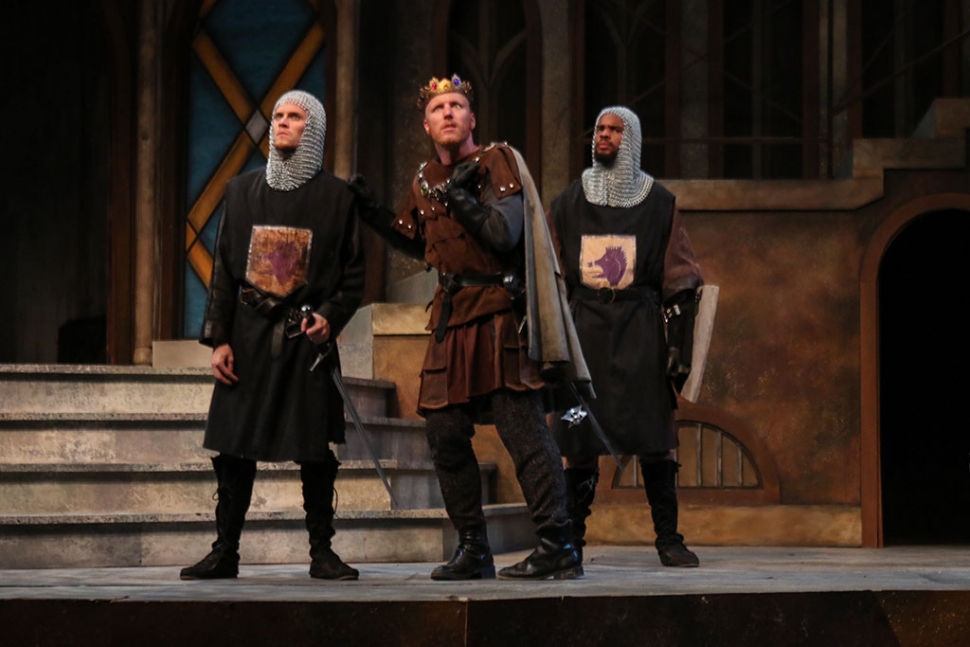 Jason McBeth as Richard (center). Photo by Brian Stethem
By Anonymous — Tuesday, July 21st, 2015
Kingsmen Shakespeare Festival adds 2 Thursday shows
THOUSAND OAKS, CA - After rain cancelled Kingsmen Shakespeare Festival performances for the first time in the event's 19 years, two additional shows have been added at discount rates.
Performances of "Richard III" have been added on Thursday, July 23, and Thursday, July 30, to replace shows that were cancelled on Saturday and Sunday because of rain. Two-for-one tickets for the new shows will be available at the door for $20. General admission tickets for the already scheduled performances on July 24 through 26 and July 31 through Aug. 1 are still $20 each at the door. Everyone under 18 is admitted free to all performances.
Shows begin at 8 p.m. in Kingsmen Park on the Thousand Oaks campus of California Lutheran University. The festival grounds open at 5:30 p.m. for picnicking and entertainment.
One of Shakespeare's earliest plays, "Richard III" was written around 1592 about the final chapter in the Wars of the Roses. The Kingsmen Shakespeare Company last presented the tragedy a decade ago. After the official burial this year of the monarch's rediscovered body and given the popularity of the HBO series "Game of Thrones," which is based on the Wars of the Roses, the time seemed right to revisit the play.
Director Ryan Lee lives in New York City, where he most recently directed acclaimed productions of "The Winter's Tale" and "A View from the Bridge." He last appeared on the Kingsmen stage in 2004 as Berowne in "Love's Labour's Lost."
Cast members include several newcomers to the Kingsmen stage: Jason McBeth as Richard, Angela Sauer as Queen Elizabeth, Gillian Doyle as Margaret, Jamey Hecht as the Duke of Clarence and Seta Wainiqolo as Richmond. McBeth has appeared in "King Lear," "Much Ado About Nothing," "King Henry VI, Part I," "Richard III" and "Dr. Faustus" at the Oregon Shakespeare Festival. Sauer's credits include regional productions in Los Angeles, New York City and Chicago as well as television. Doyle received a Stage Scene LA Outstanding Comedy Award for Grace in "Pterodactyls" and an LA Weekly nomination for "Mrs. Warren's Profession." Hecht is an actor with the Porters of Hellsgate. Wainiqolo, a Moorpark resident who has performed as summer stock with Theatricum Botanicum, graduated from Cal Lutheran in May with a bachelor's degree in theater arts and will begin the Master of Fine Arts acting program at Yale University in the fall.
The cast also includes familiar faces. Rachel Seiferth, who plays Lady Anne, previously appeared at the festival as Juliet in "Romeo and Juliet." Ross Hellwig plays Buckingham, Marc Silver portrays Hastings, and Harold Dixon is Stanley.
The Kingsmen Shakespeare Company is the professional theater company of Cal Lutheran. For more information, visit kingsmenshakespeare.org or call 805-493-3014.