Ojai Celebrates International Day of Peace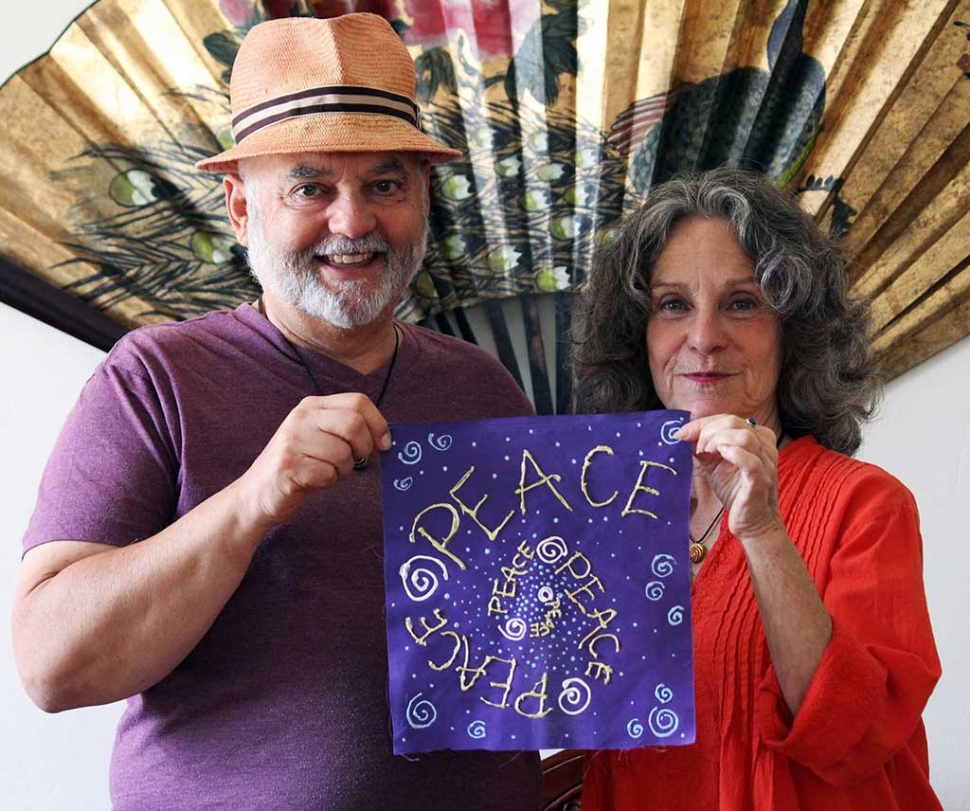 (l-r) Brian Berman and Julie Heyman. Photograph by Ray Powers.
By Myrna Cambianica — Wednesday, September 16th, 2015
Celebrate the 2015 International Day of Peace on Monday, September 21, at the Ojai Art Center, 113 So. Montgomery St., Ojai. The event will be held from 9:00 a.m. to 4:00 p.m. with a full lineup of presentations, activities, music and reflection. Everyone is invited to drop in at any time during the festivities. Admission is free and donations are welcome.
The International Day of Peace began in 1981 with a resolution by the United Nations General Assembly dedicating one day in September of every year to world peace. In 2001 the UN designated September 21 as an annual day of non-violence and cease-fire. Each year the United Nations Peace Bell is rung at UN headquarters in New York City to inaugurate the day. This historic bell, a gift from the Japanese people, was cast from medals and coins donated by delegates from 60 nations and collected by children. Each year the day has a focus. In 2013 the focus was on Education; in 2014 it was the Right of Peoples to Peace; this year, 2015, it is "Partnerships for Peace – Dignity for All."
Ojai Day of Peace is an event for all ages that includes music, art, speakers and interactive discussion. Chumash Elder Julie Tumamait-Stenslie will open the Day of Peace with a Chumash blessing. There will be morning meditations and movement, spoken word and song, and in the afternoon the annual presentation of Ojai's Noble Peace Prize. A Feast for Peace from noon to 2:00 p.m. will link to similar events world wide, from Argentina to Switzerland to Uganda and many more countries. The Ojai Art Center patio will be open for participants to bring a picnic lunch while enjoying a program of music, song, and storytelling.
The day features a group of intergenerational luminaries who will share their personal stories and insights and explore practical approaches to peace for our community. A partial list of presenters includes Evan Austin, David Baker, Brian and Lisa Berman, George Christie, Julie Heyman, Connor Jones, Tony Khalife, Amanda Lezra, Anahata Pomeroy, NuriRonaghy, with performances by akka b., Beautiful Chorus, David Henderson, Vera Long (live art), Ray Powers, and John Slade.
To encourage viewing peace from diverse perspectives, thought-provoking topics of discussion will be open for question and answer sessions. Among the many titles presented will be: "The Art of Reconciliation,""The Unrecognized Peace of Law Enforcement,""The Joy of Internal Peace and Its Outward Reflection,"and "Living Peace from the Center of Battle."
Brian Berman and Julie Heyman, members of the Ojai Peace Network, recently facilitated the designation of Ojai as an International City of Peace. They have been involved in peace building for many years.
Berman is an internationally recognized Ojai based artist and sculptor whose work focuses on peace and reconciliation. "My joy in peace building is my inspiration for creating this event for all of Ojai and beyond,"Berman says. "As the Peace Ambassador for the Ojai Art Center and an Artist for Peace, I thought that this event at the Art Center would make a great program. After Mayor Lara issued our proclamation in April, that Ojai is an International City of Peace, our team began coordinating events to help build greater awareness. It's inspirational sharing the good news that Ojai is a city of peace, and after the celebratory response to our award winning July Fourth parade float, the next event we decided to focus our attention on was this one. Planning this event has been a joy, as so many people have volunteered to partake in this celebration."
Heyman has been involved with peace activities most of her life, and when she heard about the International Cities of Peace program, she knew that Ojai was a perfect fit. She says, "Now that we are an ICP, it feels wonderful to be connected to so many other communities around the world promoting peace consciousness in their localities as well as having opportunities to be part of global events, such as International Day of Peace. I believe that the peace efforts we put forth here have a positive influence far beyond our Valley."
The full schedule and list of presenters for Ojai International Day of Peace is available online at http://ojaipeace.net/day/