By Gazette Staff Writer — Wednesday, July 8th, 2009
You are invited to the Ventura Film Festival beach party celebration.
Come join everyone in celebrating the end of the 2009 Ventura Film Festival.
WHEN:
Saturday, July 11, 2009
12/noon-3pm
WHERE:
RSVP for location
See you all there!
Bring your own food/drinks, towel, surf board, toys.
By Gazette Staff Writer — Wednesday, July 1st, 2009
If you're looking for the serenity and beauty of mountains, lakes and meadows, consider joining the Museum of Ventura County's five-day motor coach tour through the Sierras this summer, August 26 - 30. See Yosemite National Park, Mammoth Mountain and the Mammoth Lakes Basin, Tioga Pass and Tuolumne Meadows, June Lake and the Devils Postpile.
Beginning from a free-parking departure point in Ventura, the trip includes three nights at Mammoth Mountain Inn and one night at Yosemite View Lodge, plus admissions and park fees, two meals and sightseeing with a professional tour director. The tour cost is $655 per person for double occupancy, $855 for single, $550 for triple.
For information and reservations, contact Danielle Martell at the Museum of Ventura County, (805) 641-1876, ext 305; or membership@venturamuseum.com. For a detailed itinerary and trip insurance information, go to http:/www.californiadiscovery.com
By Gazette Staff Writer — Wednesday, July 1st, 2009
Website Announces Complete Musical Line-up
June 24, 2009 (VENTURA COUNTY) The Ventura County Fair has launched it's new website at www.venturacountyfair.org. Visitors to the site are immediately greeted by a slideshow of the 2009 Grandstand Entertainment series and a twinkling fireworks display.
"We are proud of our new website and think visitors will find it enjoyable and easy to navigate," said Barbara Quaid, CEO of the Ventura County Fairgrounds, adding "we hope folks will spend time enjoying all of the news and information about how to enter in the different departments, how to save money with the Special Admission Days and of course to find out what performers will be playing in our popular entertainment series!"
Grandstand Entertainment brings thousands of fairgoers together every year to sing, dance and see their favorite performers live in concert. This year the Ventura County Fair lineup is presented by Best Buy and includes a variety of live performances in several different musical genres. CONTINUED »
By Gazette Staff Writer — Wednesday, July 1st, 2009
9am-4pm, Saturday and Sunday, July 18 & 19, 2009
The 25th Annual Ojai Peddler's Fair is being held from 9am-4pm, Saturday and Sunday, July 18 & 19, 2009. Located in the Chaparral Auditorium at 414 E. Ojai Ave., in downtown Ojai CA. Parking is free in the adjacent Municipal parking lot, and admission is always free.
Held rain or shine, the Peddler's Fair is chock-full of quality antiques, collectibles, handcrafts and international crafts.
This is a benefit for the Mira Monte PTO.
Vendors are sought.
For more information, please contact Pat at 805-964-8915.
By Gazette Staff Writer — Wednesday, July 1st, 2009
Ventura, CA. - The Ventura Film Festival has announced that the Ventura County premiere of the highly anticipated documentary film, Bustin' Down the Door, will take place at this year's festival, on July 5th at 2pm, at the Majestic Ventura Theater. The film features narration by Academy Award Nominee Edward Norton and a period soundtrack that includes The Rolling Stones, David Bowie, Queen, Leonard Cohen and others.
In attendace at the even will be Ian Cairns, founder of surfings ASP and OP Pro, and Surfing's first World Champion Peter "PT" Townend. They will be available for QA and signing autographs at the VIP party at the Riviera Bistro.
Also screening at the Ventura Film Festival are films such as The Endless Summer, Riding Giants, Waterman, The Women and the Waves, Mango Tango, 400 Years of the Telescope, MOMz Hot ROCKs, From River To Sea, Blue Green, Playing For Change: Peace Through Music, Fierce Light, Live: A Music And Surfing Experience, and other top features, documentaries, and shorts from all genres. CONTINUED »
By Gazette Staff Writer — Tuesday, June 30th, 2009
playing at the Ventura Film Festival - July 5th
Visually stunning and deeply moving, "From River To Sea" is an emotional, heartfelt story about journeys, decisions and modern life – a story not unlike that of many women we know...
As a small glimpse into the realities of what it means to be a mother in our times, we follow Susan Fink, a filmmaker, whose life after a devastating divorce is at a crossroads. She is 36, without a home of her own, and living with her daughter in her mother's one-bedroom apartment. Her spirit is broken and the relationships with her mother and daughter have been harmed by despair and neglect. While on a trip to Eastern Europe, attempting to film the realities of post-war Jewish life, she confronts her own demons and decides to repair the damage with her mother and daughter. She transforms the journey into one of discovery and fulfillment --seeking advice from friends and family including the famous musician Peter Himmelman who also composed part of the film's score.
Shot on location in Slovakia, Russia, Germany, Ukraine, and Los Angeles, the film follows Susan, her mother, and her daughter on their travels. Using their shared Jewish tradition and her heart as a guide, Susan struggles to heal and reconnect the three generations -- searching for a way to heal herself, and bring them all back together once again.
From River to Sea will be playing in the Ventura Film Festival on Sunday July 5th at 4pm at the Majestic Theater. The director is Susan Fink. Below are links to a few pictures and the film's trailer as well as a brief synopsis.
http://www.secretgardenfilms.com/galleries/features_slide16.html
Director Susan Fink on the road in Eastern Europe in From River to Sea
http://www.secretgardenfilms.com/galleries/features_slide5.html
Famous musician Peter Himmelman interviewed in From River to Sea
By Gazette Staff Writer — Monday, June 22nd, 2009
Southern California's finest artists to participate in two July and August outdoor festivals
OXNARD, Calif.—Channel Islands Harbor will hold the 8th Annual Fine Arts and Craft Show series 10 a.m. - 5 p.m. July 11 – 12 and Aug. 15 – 16 at the Channel Islands Harbor, on the corner of Channel Islands Blvd. and Harbor Blvd. The outdoor festival is free and open to the public.
The event will feature original works of art consisting of acrylics, etchings, photography, oils, watercolors and sculptures. Visitors will also be able to choose from a number of high-quality crafts, including ceramics, stained glass, woodcrafts, jewelry and gift items.
This event is produced by West Coast Artists, which has presented fine art shows throughout Southern California, Arizona, and Nevada since 1983.
For more information about the 8th Annual Fine Arts and Crafts Show series, visit the Channel Islands Harbor's Web site, www.channelislandsharbor.org.
The Channel Islands Harbor Fine Arts and Crafts Show Series is presented for the benefit of the community by the Channel Islands Harbor Foundation, Inc., a California nonprofit corporation.
Channel Islands Harbor serves as a center of recreation, boating, shopping and water sports activities. The harbor is home to three yacht clubs and nine full-service marinas that provide berths for 2,150 boats. It also hosts the Ventura County Maritime Museum. Located at Fisherman's Wharf, the museum is a cultural center dedicated to the interpretation of maritime history through interactive exhibits and educational outreach.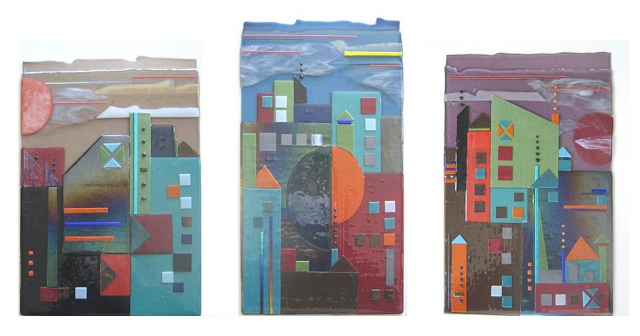 "Cityscape Triptych", fused glass by Frances Elson
Enlarge Photo
By Gazette Staff Writer — Wednesday, June 17th, 2009
"Fusion: The Art and Craft of Warm Glass," a solo exhibit by Frances Elson will be at the Buenaventura Gallery from June 23 through July 18, 2009. A reception for the artist will be held on Saturday, June 27 from 4 – 7 pm.
Elson has always loved any art form involving glass and has been working with glass for five years. Elson has fabricated plenty of tableware, tiles and gift items, but for her first solo exhibit at the Buenaventura Gallery, she is utilizing her skills to create sculptures and two-dimensional scenic work as well. Her Cityscape Triptych has recognizable forms, yet Elson playfully verges on abstract with shapes and color. Elson calls her work "a world of color and design: solid and fluid," and Cityscape Triptych defines her statement.
Elson has her Masters Degree in Social Work and worked as a clinical therapist. After a move to California, she taught Social Work at UCSB extension while doing clinical work.
She had always had in interest in architecture and design and decided to pursue interior design. In 1975, she opened her own design studio and became a professional member of the American Society of Interior Designers.
A move to Somis led Elson to pursue glass art. As Elson notes, "Twenty-five years in the profession of interior design has afforded me exposure to many fine art disciplines and to countless beautiful examples of the blending of fine art with excellent craftsmanship."
The Buenaventura Gallery is located at 700 E Santa Clara St. in downtown Ventura. Hours are Tues – Friday from noon – 5 pm and Saturday from 11 am to 5 pm. For more information, visit their website at www.BuenaventuraGallery.org. Buenaventura Art Association is celebrating 55 years of great art!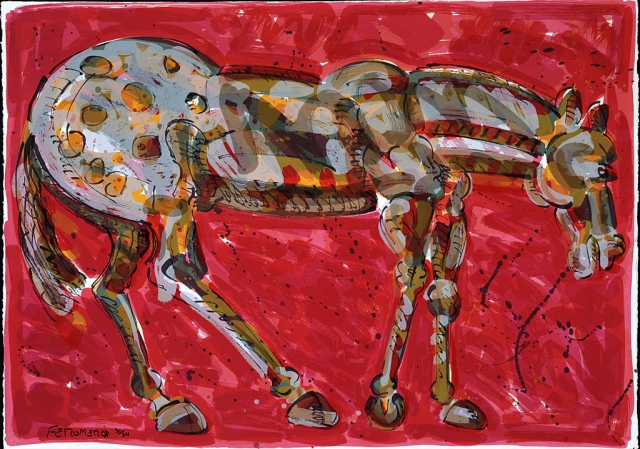 Appaloosa, lithograph by Frank Romero. From the Collection of John and Sylvia White. Art photographed by Bill Dewey.
Enlarge Photo
By Gazette Staff Writer — Wednesday, June 3rd, 2009
Equine Exhibit Features Work by 14 Contemporary American Artists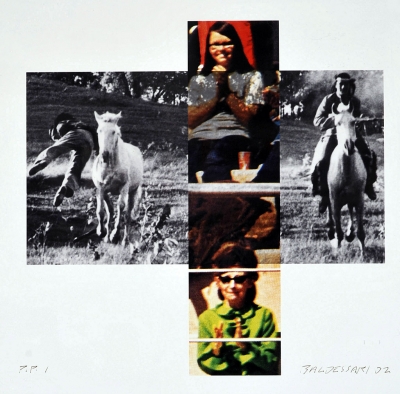 Person on Horse and Person Falling From Horse(With Audience),2002, print by John Baldessari. From the Collection of John and Sylvia White. Art photographed by Bill Dewey.
Enlarge Photo
Museum of Ventura County - July 18-September 7
Horses are viewed from unexpected perspectives by 14 contemporary American artists in the exhibition They Paint Horses, Don't They? at the Museum of Ventura County, from July 18 through September 7. An opening reception, free to the public, is on Friday, July 17, from 6:00 to 8:00 p.m. RSVP (805) 653-0323 x 10.
The works by John Baldessari, Squeak Carnwath, Steve Galloway, Pamela Joseph, Charles Marburg, Leticia Ortega, Judith Palmer, Joseph Piccillo, Curtis Ripley, Frank Romero, Denny Ryus, Alexis Smith, John M. White, and William Wiley are from the personal collection of John and Sylvia White, and include paintings, lithographs, prints, monoprints, mixed media, drawings and collages.
On Saturday, August 1 at 4:00 p.m., artist advisor, gallery owner and equestrian Sylvia White will do a gallery walk and talk about her collection.
An accompanying exhibition, Amazing Horses A to Z, includes historical photographs and artifacts related to horses, from the museum's collection. It also runs through September 7.
Museum of Ventura County is at 89 South California Street, Ventura. Open Friday 11 a.m. to 8 p.m., Tuesday -Thursday, Saturday, Sunday 11 a.m. to 6 p.m. Free admission, except for some events. (805) 653-0323 or go to http://www.venturamuseum.org.
By Gazette Staff Writer — Wednesday, June 3rd, 2009
Incredible Classics To Modern Marvels
The California Oil Museum is pleased to announce the exciting new exhibit, "Italian Motorcycles: Incredible Classics to Modern Marvels" opening July 3rd and will run through September 27th. Opening Reception will be Friday, July 3rd from 4-7pm at the California Oil Museum 1001 E. Main St., Santa Paula, California. Admission is $4 for adults, $3 for seniors, $1 for students ages 6-17 and 5 and under are free.
The motorcycle exhibit is a collaboration of two collectors, Guy Webster and Daniel Shoenewald, whose collections are extensive. Picked from these collections are classic beauties such as a 1959 Moto Morini Corsa, a 1956 Mondial, a 1955 Ducati Silverstone Super, a 1954 Bianchi Tonale, and a 1953 MV Augusta, . In the modern selection we will be displaying a '97 Moto Guzzi Daytona RS, a Ducati 999 Fila, a Donna Karen special '98 Ducati 748L as well as many others.
These Italian motorcycles will take your breath away and inspire you to get the wind in your hair! CONTINUED »

Libbey Bowl rendering.
Enlarge Photo
By Gazette Staff Writer — Wednesday, June 3rd, 2009
Sunday Gathering at the Ojai Valley Museum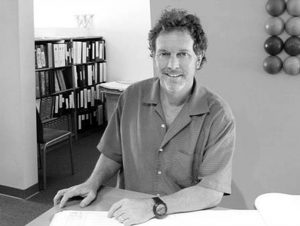 Architect David Bury.
On Sunday, June 14th the Ojai Valley Museum will offer the first public presentation of final design drawings for the Libbey Bowl reconstruction by Ojai architect David Bury. The event, organized in collaboration with the 63rd Ojai Music Festival, takes place from 1:00 to 3:00 p.m. at the museum. Reservations are suggested, as space is limited. Please call (805) 640-1390. The cost for this event is $6 for museum members or $8 for non-members.
Mr. Bury will present renderings of the proposed new design, share historic photos, and offer a question and answer session regarding this important community project. The rebuilding is designed with sensitivity for the Bowl's natural surroundings, its symbolism of the Ojai creative spirit and the unique qualities of the venue's events and gatherings. CONTINUED »
By Gazette Staff Writer — Tuesday, June 2nd, 2009
Families can enjoy free musical performances in outdoor twilight setting; wide range of genres scheduled, with fine restaurants nearby for a complete evening
SIMI VALLEY – Simi Valley Town Center announces its third-annual outdoor concert series, "Summer Concerts al fresco," featuring 15 musical performances from June 4 to September 10 ranging from Latin jazz to swing, zydeco and rock.
Added this summer is a beer garden, to raise funds to support local nonprofit organizations in the community.
The shows are scheduled from 6 to 8 p.m. each Thursday starting June 4, in Center Court at Town Center , 1555 Simi Town Center Way . Each performance is free, and visitors can bring their own blankets and chairs.
"Late-week, nighttime gatherings are a neat way to kick off summer weekends," said Leticia Wilson, director of marketing for Simi Valley Town Center . "All the scheduled musical acts are family-friendly, and each week we present a totally different genre of music to enjoy." CONTINUED »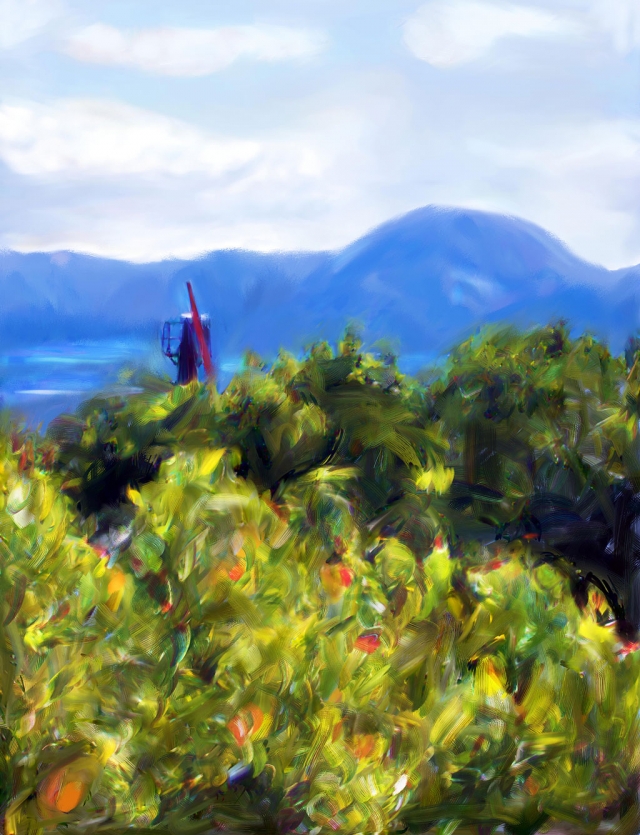 landscape, digital painting by Lois Freeman-Fox
Enlarge Photo
By Gazette Staff Writer — Wednesday, May 27th, 2009
Celebrated Ventura County artist Lois Freeman-Fox's exhibit of digital paintings and drawings runs from May 26th through June 20th at the Buenaventura Gallery. The words "digital paintings" are two words that intuitively seem as if they don't belong together. However, Freeman-Fox, an Emmy-awards winning film editor (who was one of the first in the industry to edit films digitally) proves herself at the forefront again with digital paintings that are not only expressive, but tactile as well.
"Historically, artists traditionally incorporate the latest technological advances or ideas into their artwork," says Freeman-Fox. "The Renaissance introduced perspective; paint in tubes made art created by Impressionists more portable; and Pointillism encompassed scientific discoveries of the time relating to optical effects and the perception of color." My work simply is incorporating the computer to create digital paintings.
"I paint traditional subject matter, portraits and landscapes with modern tools while exploring the art of the masters creating dynamic tension between the old and the new" says Freeman-Fox.
"The pieces in my show are drawn from both my family environment and my real environment," says Freeman-Fox.
Vintage portraits of family members are vividly brought to life in a colorful celebration of the artist's past, while the real environment Freeman-Fox calls home, the inspiring vistas of Ventura County's glorious landscapes, serves as a natural backdrop of beauty as seen through this talented artist's eyes. CONTINUED »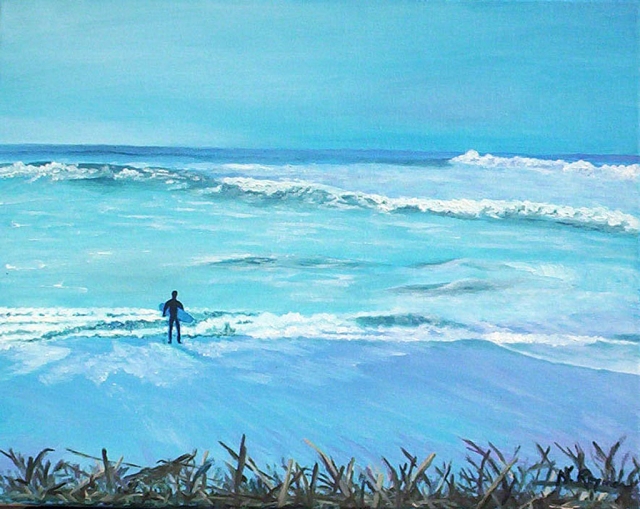 "After the Storm" by Nancy Raymond.
Enlarge Photo
By Gazette Staff Writer — Wednesday, May 27th, 2009
Paintings By Nancy Raymond At The Discovery Gallery
Nancy Raymond's "Inspirations", an exhibition of original oil paintings will be at the Discovery Gallery from Friday, June 5 to Wednesday, July 1, 2009. There is an opening reception on Friday, June 5 from 5 – 8 pm. for First Friday's Ventura Gallery Crawl.
Vast blue oceans, peaceful Sunday walkers on the promenade or a frequent feathered visitor to her backyard are what inspire Raymond to create the images of her first solo show. These are simple pleasures in life we sometimes over look when hurried with our day to day scheduled activities or appointments. At a place in her life with time to reflect on what brings her calm and a sense of peace, Ventura's beauty, a place she has called home for 30 years, is a muse.
Raymond began painting when she joined the Newport Art Association in Rhode Island. Always interested in scientific illustrations in school, she paid attention to details in her drawings, but did not fully dive into her artistic tendencies until her husband was deployed with the Navy in 1970. Raymond didn't have a lot of time on her hands. A new mother of two kept her busy, but this was a creative outlet she could enjoy at home as well a way to meet some new friends with similar interests. CONTINUED »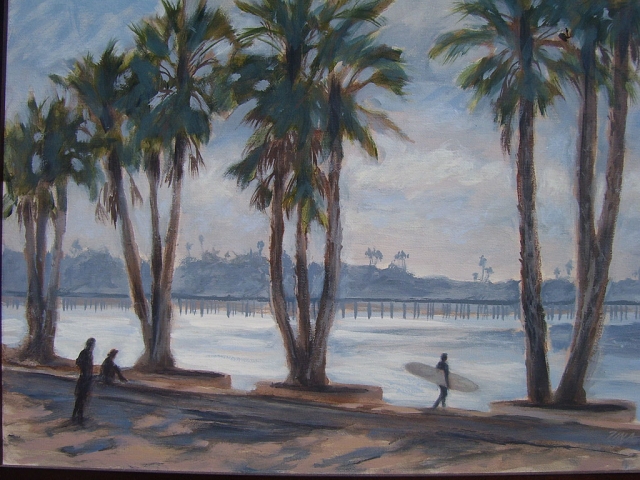 "Surfer's Point" by Tina O'Brien
Enlarge Photo
By Gazette Staff Writer — Wednesday, May 27th, 2009
Original Paintings By Tina O'brien At The Harbor Village Gallery
Tina O'Brien's "Ventura by the Sea" solo show at the Harbor Village Gallery runs from June 18 to July 20, 2009. Artist Reception is Friday, June 19, 2009 from 5 – 8pm.
O'Brien "hangs ten" and then paddles out to the next set with the best of 'em. This local surf girl rides her waves right onto her canvas. The surreal feeling when human experience connects with the energy of the ocean is hard put into words, so O'Brien turns epic waves into peaceful visuals. They carry an aura of paradise, a place beyond reach, but alas we are here in Ventura, a place O'Brien calls home.
Images of a familiar walk way lined in stoic palms and miles of dreamy blue and green oceans are found in her most recent collection. O'Brien's traditional realist style, interpret surfers as poetry in motion and her paintings as poetic realism. Her sonnets are romantic views of islands in the distance, floral arrangements in a window sill and fresh spring fields, ballads of wistful and simple times. CONTINUED »
By Gazette Staff Writer — Wednesday, May 20th, 2009
Saturday May 30th
Richard Lyons and Friends will be performing the "Ezra Clay Project" at the Santa Paula Theater Center, 125 South Seventh Street, Santa Paula,
This just in! The Friends joining Richard Lyons has just been announced:
Backing Vocals: J.B. White and Candace Delbo
Base: Jack Joshua
Drums: Ken Delbo
Fiddle: Mark Parson
Guitars: Lee Rollag
Steel Guitar, Dobro, and Button Accordion: Bill Flores
Ukulele: Peter Bellwood
This will be a one of a kind concert and family friendly.
Reserve your tickets now at our website for Sat., May 30, 2009,
Doors Open 7:00 PM
Show begins 7:30 PM
Tickets $15.00
Richard Lyons lives in Upper Ojai/Santa Paula with his wife Laurie. He took up residence there after spending years in Los Angeles, where he wrote movie and TV music for a living. His musical styles range from classical to Jazz and R&B.
Other than a few formative years in Europe, he spent most of his youth in Kentucky, where story telling comes naturally. And, though he claims to have tried, he couldn't escape the bluegrass and country music that inundated him at every turn. It left a deep and lasting impression on his memory, as did the natural beauty of that state. And, now, learning about the history of Santa Paula and Ventura County, and working with his hands on his land, has gotten him back in touch with his roots, and he has written a collection of songs that somehow combines both.
Please join us for a wonderful evening of music, friends, and family!
Reserve your tickets at http://www.santapaulatheatercenter.org/concerts.html
By Gazette Staff Writer — Wednesday, May 13th, 2009
Visions of Change-Images of Transition
A Photography Exhibit at the Ojai Center for the Arts
Visions of change is the theme of this year's photograph exhibition at the Ojai Center for the Arts. The sixth annual juried show opens June 6 and runs through July 8, 2009. The exhibit will explore photographers' visions of people and things in the process of change.
Last year more than 40 works by nearly as many photographers were displayed at the Art Center. This year it is expected that many more artists will compete to have one or more of their works in the show.
Photographers are invited to submit their work on June 4 or June 5. Detailed submission information can be found on the Photography Branch page of the Art Center website (www.ojaiartcenter.org).
Gallery hours are Tuesday through Sunday from 12 to 4 pm. Admission is free. There will be a reception Sunday, June 7 from 1 to 3:30 pm. Refreshments will be served. The Art Center is located in downtown Ojai at 113 South Montgomery Street.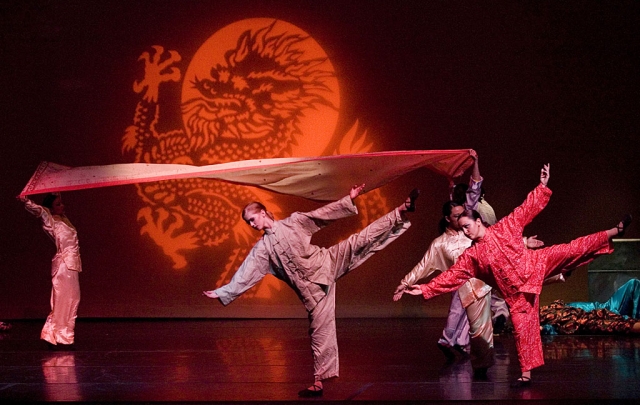 The Ventura College Dance Department spring concert brings dance genres of all types for an exciting show suitable for all ages.
Enlarge Photo
By Gazette Staff Writer — Wednesday, May 13th, 2009
VENTURA: The Ventura College Dance Department's spring show, Now Playing: A Dancer's Perspective, celebrates all forms of dance, music, and narrative. A Dancer's Perspective will please all dance lovers with a full range of genre, including ballet, modern, jazz, hip hop, ballroom, and tap..
Now Playing: A Dancer's Perspective will be in the main theater at Ventura College Friday May 15th at 8:00 pm, Saturday May 16th at 3:00 p.m. and 8:00 pm and a 3:00 pm matinee performance on Sunday May 17th.
This original dance production is the artistic creation of the students in Dance 30, a course offered at Ventura College to give students real experience in choreography and performance. Now Playing: A Dancer's Perspective is directed by Becky Contreras of Santa Paula.
Guest artists participating in the show include the Moorpark College Dance Department under the direction of Robert Salas, Devin Fulton, a member of the Los Angeles Contemporary Dance Company, MacKinnons Dance Company and Connor Casavan, a principle dancer of Dance Prism, a Boston area teaching company that prepares young dancers for professional careers.
Students from around the county will be participating in this series of performances: Nathan Burdine and Emily Martinez of Camarillo, Fernando Ayala, Noemy Barboza, Yardira Barboza, Isaias Castillo, Martin Garcia, Glacy May Guijo Shynna Harper, Rudy Larrazolo, Jennifer Lemons, Ixchel Lopez, Heather Landry, Carolyn Luu, Ashley Martinez, Rafael Ramirez, Henry Vargas, Jr., and Louis Wicke all of Oxnard; Stephanie Banks, Michelle Iniguez, Sierra S. Marble, Nicole Morgan, Lindsay Winegar of Ventura, and Eddie Mendoza and Jessica Mayorga of Santa Paula.
All tickets at the door will be $10.00. Pre-sale tickets are $10.00 for general admission, $8.00 for students, seniors, and faculty members. For more information, or to order tickets contact Becky Contreras at 805-207-5877.
By Gazette Staff Writer — Wednesday, May 6th, 2009
Mary Kolada Scott and Joyce Lombard will present a poetry reading at 4 p.m. May 16 in the Buenaventura Gallery, 700 E. Santa Clara St., Ventura. The event is in conjunction with Scott's current solo exhibit, "Between the Lines: Paintings, Prints and Poems," on display April 28 through May 23 at the gallery.
Scott and Lombard are Ventura poets, artists and friends who have participated in readings together over the years, including in the atrium at Ventura City Hall. They were in a group of women artists whose deconstructed fashion dolls were exhibited at Artists Union Gallery in 2007. They have published two poetry collections, "Sage" and "Only This Moment." Their poems appear in "Her Mark 2009," a journal of poetry and art published by Woman Made Gallery in Chicago.
The Buenaventura Gallery is located at 700 E Santa Clara St. in downtown Ventura. Hours are Tues – Friday from noon – 5 pm and Saturday from 11 am to 5 pm. For more information, visit their website at www.BuenaventuraGallery.org. Buenaventura Art Association is celebrating 55 years of great art!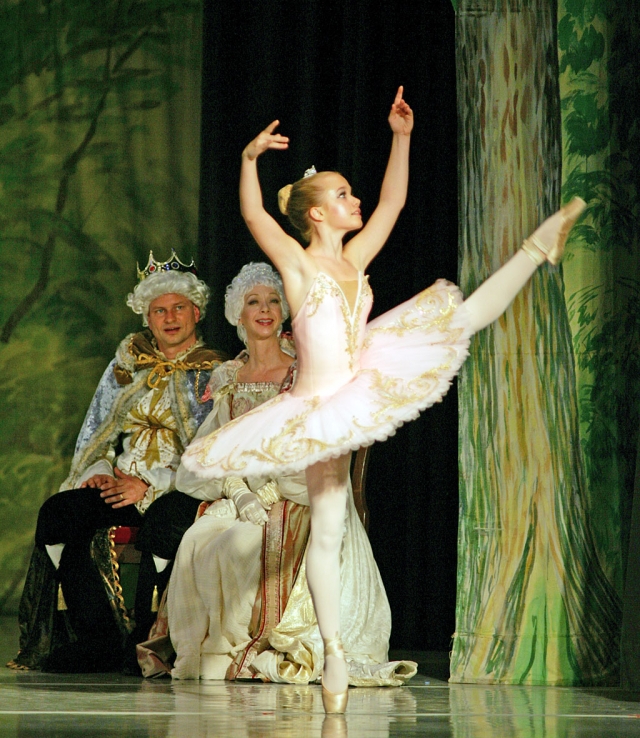 Emily Van Dolah, age 15, performing in All American Ballet's 2008 production of The Sleeping Beauty
Enlarge Photo
By Gazette Staff Writer — Wednesday, April 29th, 2009
Ventura, CA. All American Ballet Company (AAB) will present a Spring Gala dance concert with exciting new choreography in classical, neoclassical and contemporary highlights on Sunday, May 17 at 2:00 p.m. at the Buena High Auditorium at 5670 Telegraph Road in Ventura.
The concert will feature performances by All American Ballet School's young dancers, along with professional guest artists, Enton Hoxha and Maria Tikhomirova. "Our Spring Gala will delight audiences with dancing that showcases what our young dancers have accomplished in their years of dedicated training," says Camille Wallace, Board President. Performing both classical and modern dance solos in the show is Emily Van Dolah, age 15, whose goal is to dance professionally. In the past four years, Emily has received more than a dozen acceptances to prestigious summer programs such as San Francisco Ballet, Pacific Northwest Ballet and Houston Ballet, including this summer with the Pittsburg Ballet Theatre on a full scholarship. "This show is fun to dance and will be fun to watch because it's a little different and has variety," says Emily. CONTINUED »