Rancho Camulos Museum National Historic Landmark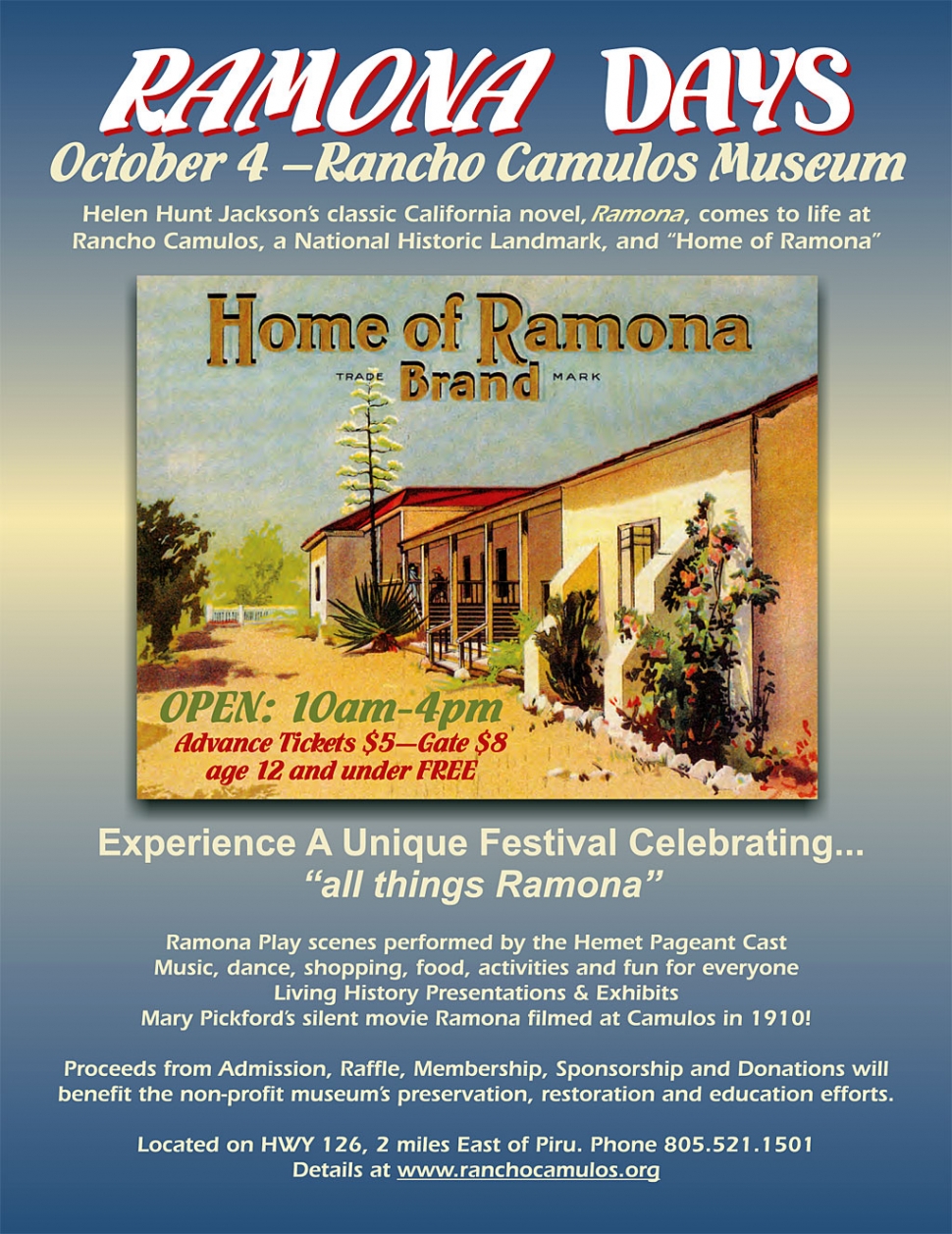 By Gazette Staff Writer — Monday, August 24th, 2009
Ramona Comes Home Again
Performances by more than 30 actors and dancers from the world famous Hemet Ramona pageant will highlight the second annual "Ramona Days" - October 4, 10-4 at Rancho Camulos Museum National Historic Landmark, Piru, CA. Helen Hunt Jackson's 1884 classic California novel, Ramona, will come to life at the "Home of Ramona" as we celebrate all things Ramona. In addition to seeing vignettes from the play, visitors can watch the 1910 Mary Pickford movie filmed on location at Camulos, view unique memorabilia and historic displays, experience living history and attend presentations by Ramona experts such as "Ramona Memories " author Dydia Delyser, Ramona pageant historian Phil Bergandi, and film maker Hugh Monroe Neely. There will also be food, music, dance, art and craft sales and demonstrations, museum and garden tours, free children's activities and more. Visitors are encouraged to come in costume and character for a true immersion experience.
In order to encourage wide community participation, admission fees will be reasonable with advance tickets for $5, and gate admission $8. Children aged 12 and under will be free. Advance tickets will be available in person at our gift shop and the Camulos fruit stand, via email, phone, mail, and at will call. Additional details will be posted at www.ranchocamulos.org as available. Vendor, volunteer, and sponsorship opportunities are also available for this unique event.
A limited number of tickets at $50 each will also be available for a "Sneak Preview," VIP fundraiser October 3, 3PM-6PM. The event will feature wine-tasting, food, unique entertainment and opportunities to interact with the Ramona cast. Contact the Museum at ranchocamulos@earthlink.net /805-521-1501.
SHORT PROMOS
"Ramona Days" - October 4, 10-4: Rancho Camulos Museum National Historic Landmark, Piru, California - Helen Hunt Jackson's 1884 classic California novel, Ramona, comes to life at the "Home of Ramona". Celebrate all things Ramona. Experience more than 30 members of the world famous Hemet Ramona pageant cast perform vignettes, watch the 1910 Mary Pickford movie filmed on location, view unique memorabilia , historic displays and presentations, and watch living history. Enjoy food, music, dance, art and craft sales and demonstrations, museum and garden tours, free children's activities and more. Come in costume and character if you choose. Advance Tickets: $5 / at Gate: $8; Age 12 and under free. Details at www.ranchocamulos.org / 805-521-1501
"Ramona Days" – October 4, 10-4: Rancho Camulos Museum, Piru. Helen Hunt Jackson's novel comes to life at the "Home of Ramona". Celebrate all things Ramona: Hemet plays, 1910 Pickford movie, memorabilia, living history, presentations, music, dance, vendors, children's activities, etc. Advance Tickets: $5 / Gate: $8/ age 12 and under free. Visit www.ranchocamulos.org / 805-521-1501