"Sally Miller Retrospective" At The Harbor Village Gallery Joined By Former And Current Plein Air Students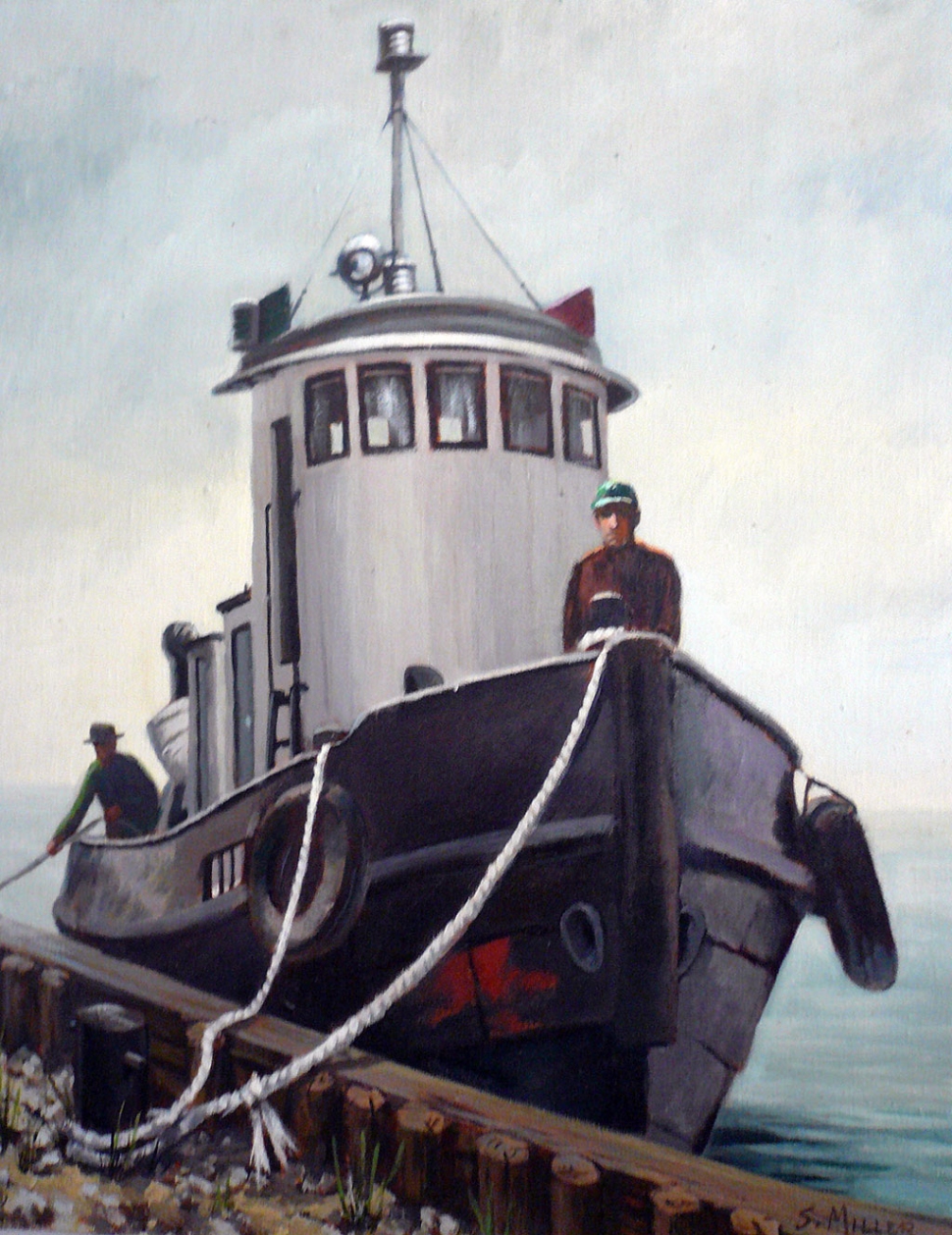 "Tugboat" oil on canvas by Sally Miller.
By Gazette Staff Writer — Wednesday, August 19th, 2009
The growth of an artist can be seen in Sally Miller's Retrospective opening on August 26 at the Harbor Village Gallery. Miller's 60+ year career has spanned various subjects as well as mediums. She is equally agile in oils as well as watercolor. A reception for the artist will be Friday, August 28 from 5 – 8 pm. Miller will be joined by an exhibit of present and former plein air students.
Miller was documented by Donna Granata and Focus on the Masters (FOTM) in 2008 and according to FOTM:
Sally Miller is painter par excellence, compassionate critic and inspiring teacher. Josef Woodard, writing in the Los Angeles Times, calls her work serenely beautiful and timeless. Her earliest foray into teaching came when, as a seventh-grader, her teacher recognized Sally's superior talent and, in essence, turned the class over to her. The die was cast and, for the succeeding seven decades, Sally's life has involved drawing, illustration, watercolor, acrylics and oils, and teaching. An experienced sailor, Sally's subject often involves a marine environment, capturing the ever-changing play of light on water. After many years of teaching in Ventura's adult education programs, Sally organized plein air classes where her students focus on shapes and values, spaces and angles. Under her tutelage and with her encouragement, her students have grown artistically and formed a mutually supportive group. Sally's reputation as a local treasure whose influence will long be felt in the community is well-deserved.
She is in the City of Ventura and Affinity Bank's permanent collections. She has won numerous awards throughout the years including best of show with the Ventura County Watercolor Society; awards at the Ventura County Maritime Museum; and more. Her work has been shown in galleries throughout the United States.
The Harbor Village Gallery is located at 1591 Spinnaker Dr. Suite 117C in the Ventura Harbor Village. Open everyday except Tuesday from 12 to 5 pm. For more information, call the gallery at 805-644-2750 or visit their either website at www.harborvillagegallery.com . The Harbor Village Gallery is an art space of the Buenaventura Art Association who is celebrating their 55th Anniversary. Come join in the celebration!