Life and Earth: Acrylic, Colored Pencil and Watercolors by Linda Cowell at the Discovery Gallery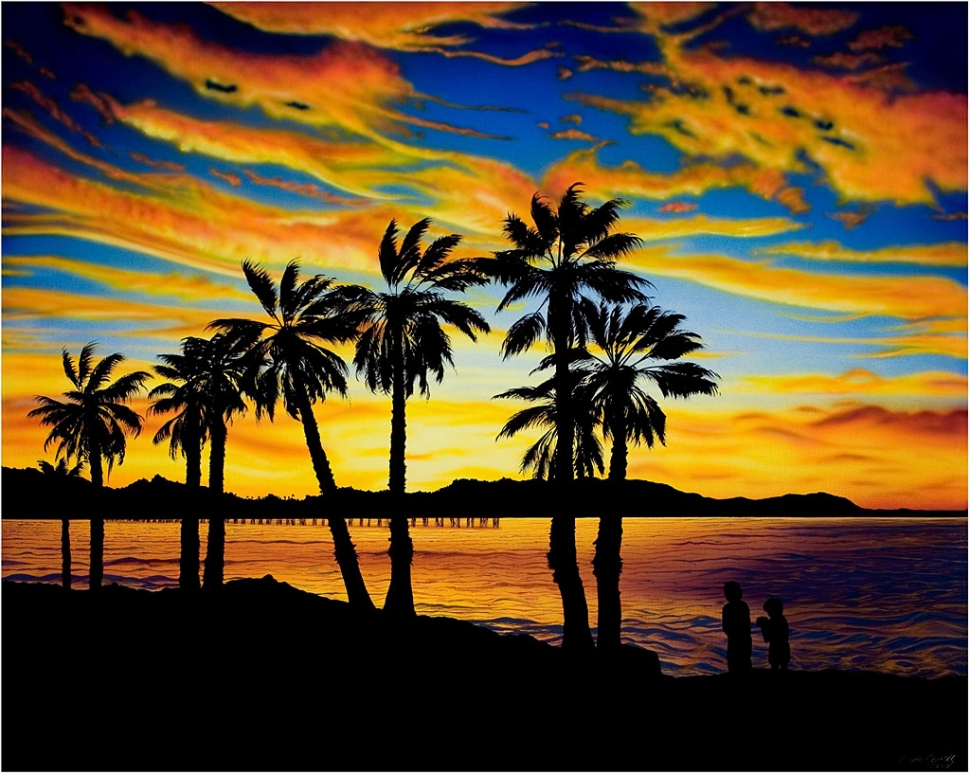 "Ventura Sunrise"
By Gazette Staff Writer — Monday, September 21st, 2009
An exhibit of original artworks by Linda Cowell, titled Life and Earth, will be at the Discovery Gallery from Friday, October 2 through Wednesday, November 4, 2009. There is an opening reception on Friday, October 2 from 5-8 pm. during the First Friday Ventura Gallery Crawl. The artist will also be at the Discovery Gallery for Ventura's Harvest ArtWalk on Saturday, October 24 from 1-3 and 5-7 pm, and again on Sunday, October 25 from 12-2 pm.
The bold, beautiful, eye catching images of Cowell's "Life and Earth" might cause a double take, but it's worth the second look. Cowell's realistic creations, in a variety of media, range from acrylic airbrushed animals on nontraditional surfaces to classic and poetic colored pencil drawings. Cowell's interest in contrast and color give her an edge of super-realism. Local scenes, still life, and nature studies are expressions of shape, contour and texture – aspects of composition that are most intriguing to Cowell.
Showing creativity and enthusiasm for art from a young age, Cowell's parents fully supported giving Cowell the outlets and opportunities she needed to help develop her talent. A desire to create with her older sisters also was a source of early interest in the arts. High School teachers were a large inspiration and encouraged various nontraditional media, planting seeds that would become the basis for Cowell's endeavors down the road. Choosing the path most taken, and not the one her parents had hoped she would, Cowell did not study fine art in college but did came back to drawing and creating after her schooling was finished.
Cowell began airbrushing in the early 90's and has covered everything from banners and t-shirts to surfboards and taxi cabs! In 2007 Cowell won the opportunity to design and paint Yellow Cab's first "Cali Cab", a mobile piece of artwork that is still transporting tourists and locals around the city of Ventura.
This is Cowell's first solo exhibition with the Buenaventura Art Association.
The Discovery Gallery is located at the Ventura Visitor's Bureau, 101 S. California St in downtown Ventura. Hours are Monday through Friday from 8:30 am to 5 pm, Saturday 9 am to 5 pm and Sunday from 10 am to 5 pm. Receptions during the First Friday Ventura Gallery Crawl are held from 5-8 pm. For more information, call the Buenaventura Art Association at 805-648-1235 or visit their website at www.BuenaventuraGallery.org