"Art at the Islands" exhibition of photographs at the Harbor Village Gallery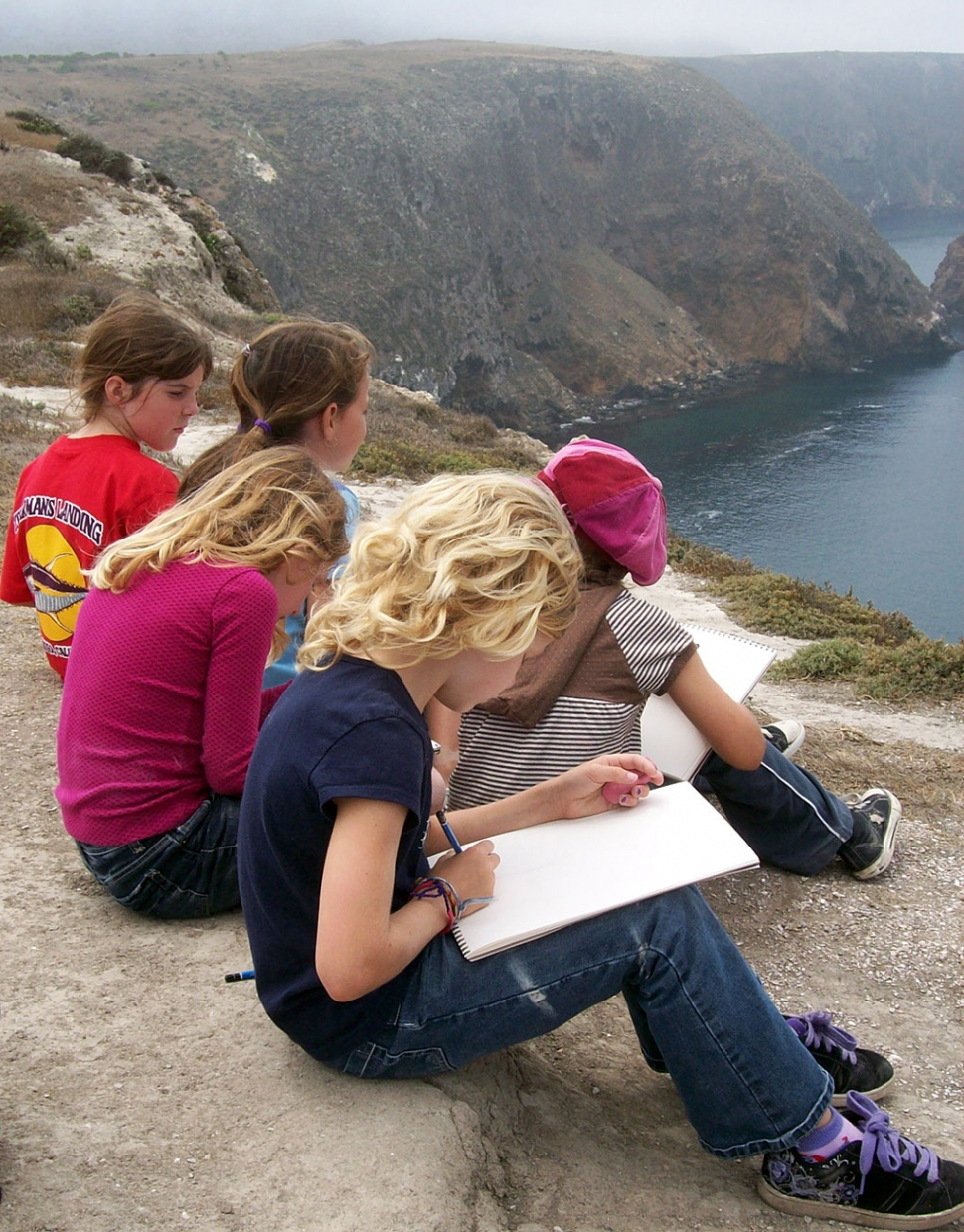 Sketching at Inspiration Point.
By Gazette Staff Writer — Monday, August 31st, 2009
"Art at the Islands," an exhibit of photographs, drawings and sketches by the Girls Club of Ventura County Assistance League, will be at the Harbor Village Gallery from Wednesday, September 29 through Monday, November 8, 2009. A reception for the artists will be on Friday, October 9 from 5 – 8 pm.
Emily Thompson created a drawing and photography class for children, to increase awareness of the beauty and diversity of life in The Channel Islands. Thompson wanted to give the opportunity to more children to experience the class that she applied for, and won a grant from ArtLIVE, a three-year initiative from the Ventura County Community Foundation in partnership with the James Irvine Foundation. The grants were distributed through the Ventura County Arts Council through their Artist in the Community Partnership Grants Program.
Thompson has been able to open the class to 20 girls from the Assistance League of Ventura County's Girls Club to participate in 3 days of creative lessons about the Channel Islands National Park and a day trip to Santa Cruz Island, Scorpion Ranch.
"I've met many Ventura residence of all ages who have never been to the islands. I was surprised this national treasure and natural resource was unknown to so many in our community," explains Thompson, a non-native who became aware and acquainted with the islands upon moving to Ventura from Vermont in 2003. "When I share with young people new ways to "see" and record the island's natural beauty through their own perspectives, they take home and share these memories with pride and a newly found sense responsibility for this protected wilderness."
Two organizations in the community partnered with Thompson for this program, the Girls Cub and Buenaventura Art Association (BAA). The Girls Club, supplied the eager young artists who participated in the classes and BAA offered the gallery space as well as promotional services for the final exhibit. Executive Director Christine Beirne states, "We are a co-op of local artist and we support artists at all levels of their artistic goals. By offering these young artists the experience of having their own show, we celebrate a collaboration of a local inspiration with a group of artists whose creations usually have a limited audience. Their pieces will be shared with hundreds who visit the gallery in the weeks of their show."
The Art at the Islands exhibit will feature sketches, drawings, photographs and writings created by 20 young ladies enrolled in the Girls Club, as well as photos taken by Thompson during her classes with these girls.
The Ventura County Arts Council is a nonprofit public benefit corporation committed to supporting and strengthening the art through out Ventura County by championing artistic excellence, accessibility, communication, awareness and mutual support of the arts within the broader community and serving Ventura County artists, arts organizations and arts in education by forming strong partnerships with arts supporters, businesses, foundations and community leaders.
Assistance League of Ventura County, a chapter of National Assistance League®, is a non-profit volunteer organization dedicated to the enrichment of the lives of children in Ventura County and the betterment of their future.
Buenaventura Art Association is a non-profit group of local artists, in all stages of development, united to exhibit and sell art.
The Harbor Village Gallery is located at 1591 Spinnaker Dr. Suite 117C in the Ventura Harbor Village. Open everyday except Tuesday from 12 to 5 pm. For more information, call the gallery at 805-644-2750 or visit their either website at www.harborvillagegallery.com or www.buenaventuragallery.org