Painter and sculptor featured in exhibit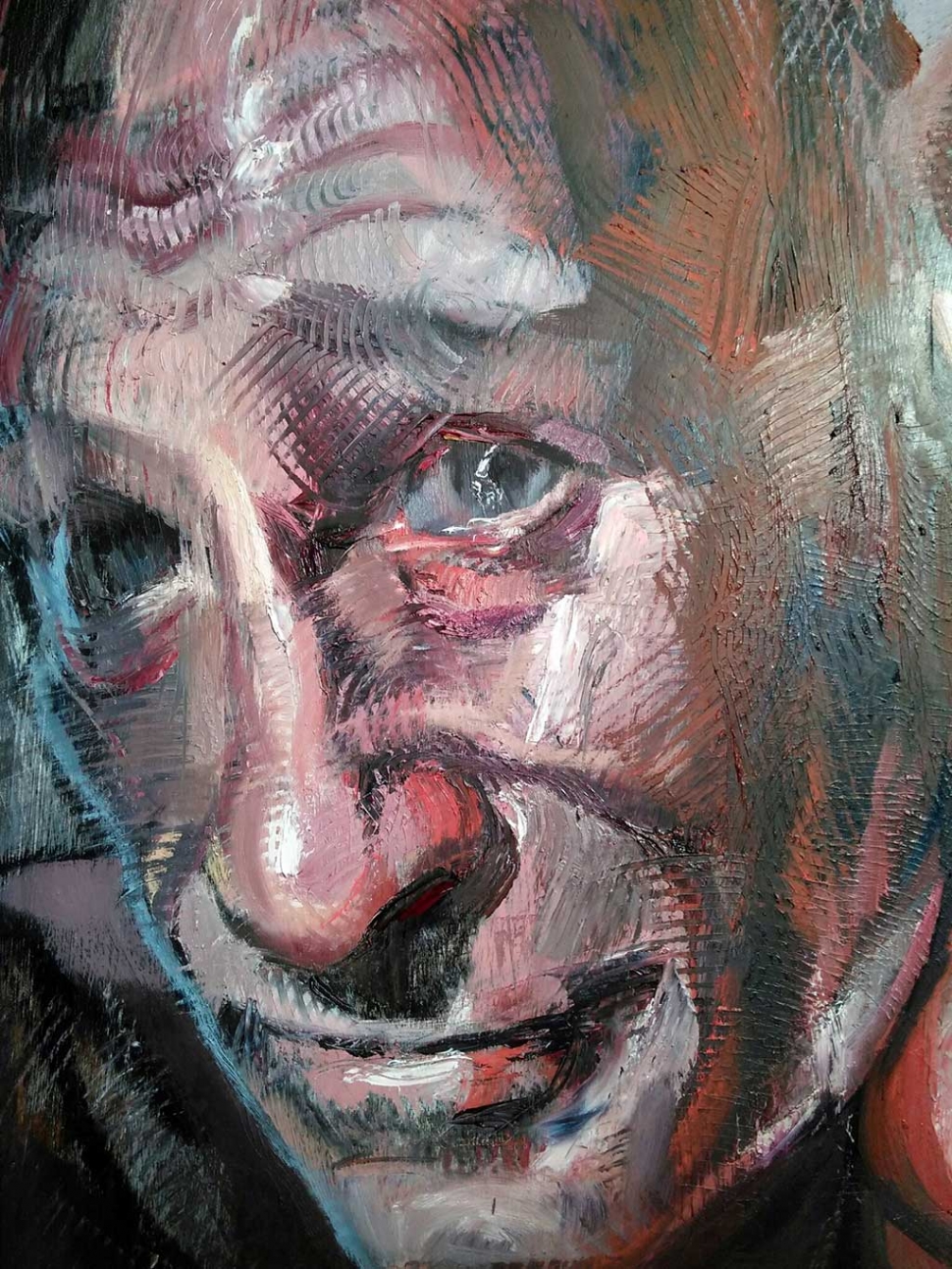 "Engraved," a painting from the "Marks" series by Zhenya Gershman.
By Anonymous — Wednesday, December 23rd, 2015
Artists' contrasting styles highlighted at Cal Lutheran
THOUSAND OAKS, CA - Two artists who explore personality through different media will bring their contrasting styles to California Lutheran University in January.
"Pretty People," featuring works by painter Zhenya Gershman and sculptor Lynn Christopher, will be on exhibit from Jan. 9 through Feb. 26 in the Kwan Fong Gallery of Art and Culture. A reception will be held at 7 p.m. Jan. 30.
Gershman's portraits of her muse, Los Angeles model Mark Snyder, are painted in intense colors on an epic scale. Christopher adds more muted colors to poignant character studies of ordinary people, which she sculpts in bronze.
Gershman, whose studio is in Los Angeles, was selected to create iconic portraits of Bruce Springsteen and Bob Dylan for the MusiCares GRAMMY Foundation, and her numerous awards include the ALEX Award in Visual Arts. Various media including "Entertainment Tonight," "Extra" and the New York Post featured her exhibition "Larger Than Life." Born in Russia, Gershman held her first solo exhibition in St. Petersburg at the age of 14. The youngest student to be admitted to Otis Art Institute, she graduated with honors and later received her Master of Fine Arts degree from Art Center College of Design.
Christopher began her career as a set designer at Universal Studios. The Los Angeles resident went on to become an art director and, over the span of 30-plus years, worked on films and television shows as both a set designer and art director at major film studios. She has studied painting and sculpture at art academies in the Los Angeles area. She currently works full time in her studio, focusing on the nude figure and portraits. She emphasizes rhythms, subtle gestural notes and facial expressions to create a presence. She won the Gold Medal Awards for Best Sculpture at the 2012 and 2014 California Art Club Gold Medal Exhibitions.
The Cal Lutheran Art Department is sponsoring the free exhibit. Located in Soiland Humanities Center, the Kwan Fong Gallery is open to the public 8 a.m. to 8 p.m. Monday through Saturday. Visitor parking is available in the parking lot on Mountclef Boulevard south of Olsen Road. For information, call curator Michael Pearce at 805-444-7716 or visit callutheran.edu/kwan_fong