Fillmore Condors at USA Junior Olympics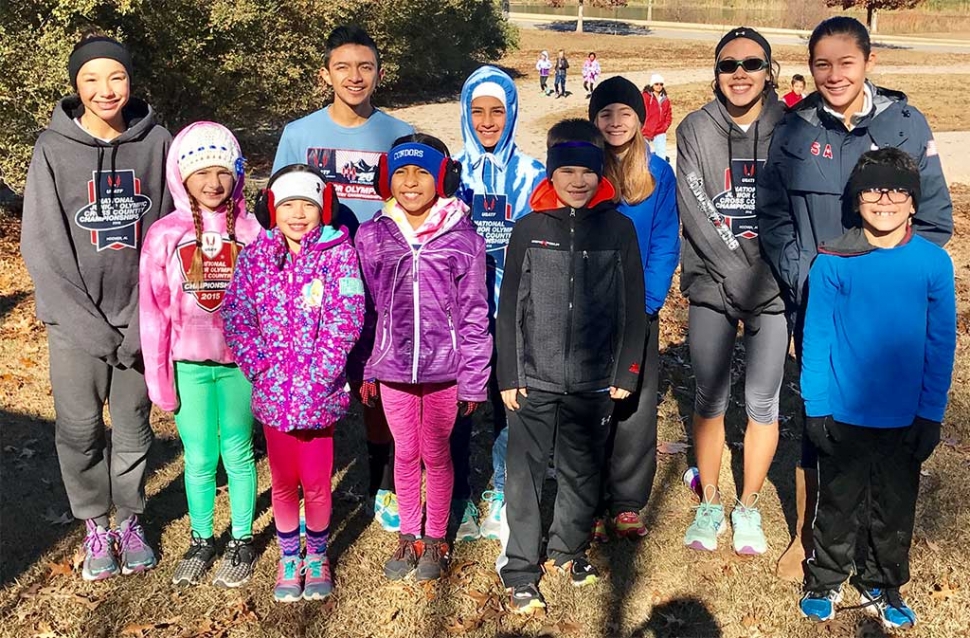 (l-r) (back row) Vanessa Cabral, Rey Laureano, Lindsey Ramirez, Audrey Cunningham, Jordyn Walla and alumni Nevaeh Walla (front row) Leah Barragan, Paola Estrada, Niza Laureano, Joshua Estrada, and Diego Feliz.
By Gazette Staff Writer — Wednesday, December 14th, 2016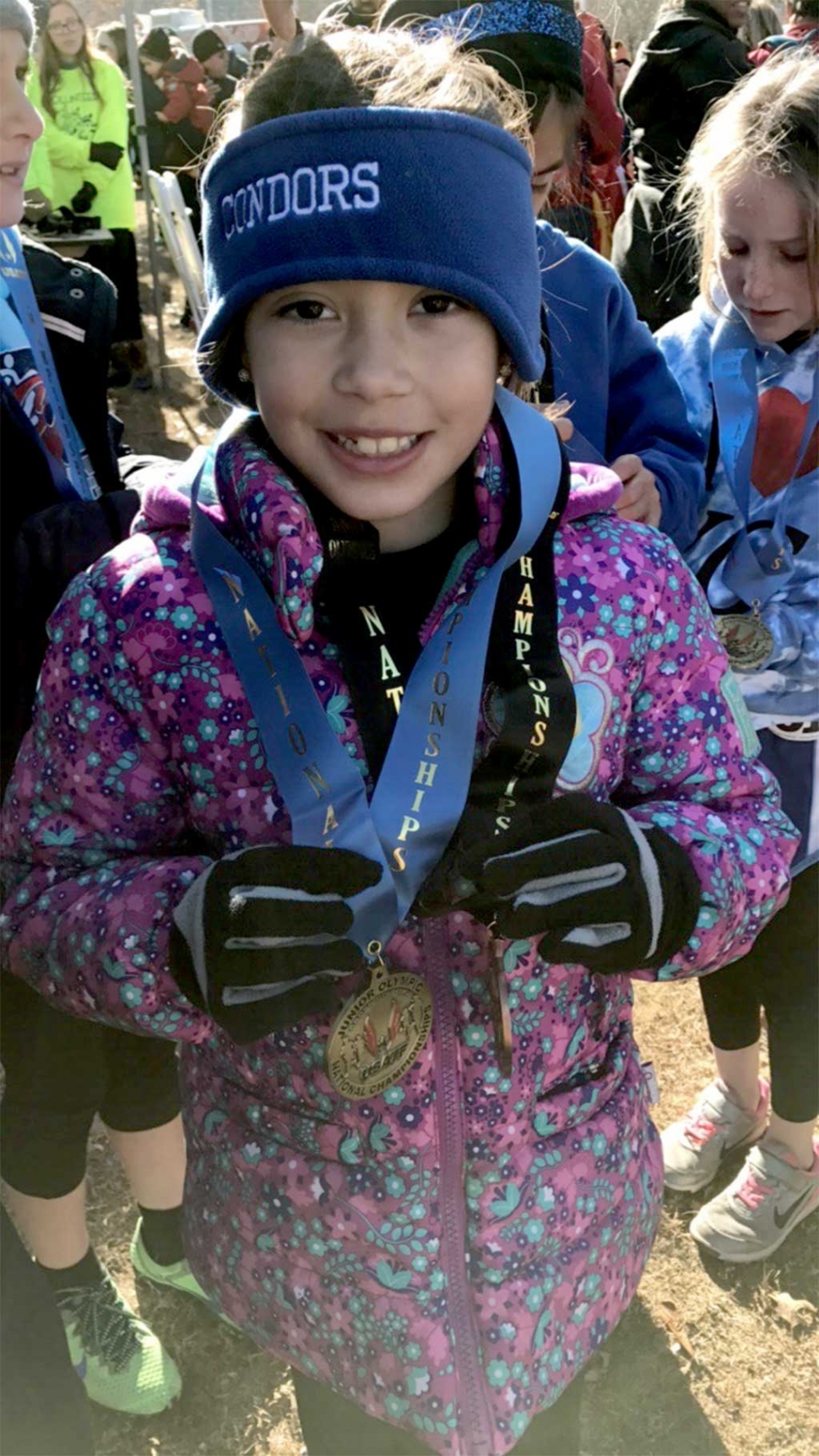 Seven year old Paola Estrada received medals for placing 9th out of 120 runners in the 8 & under division in Alabama.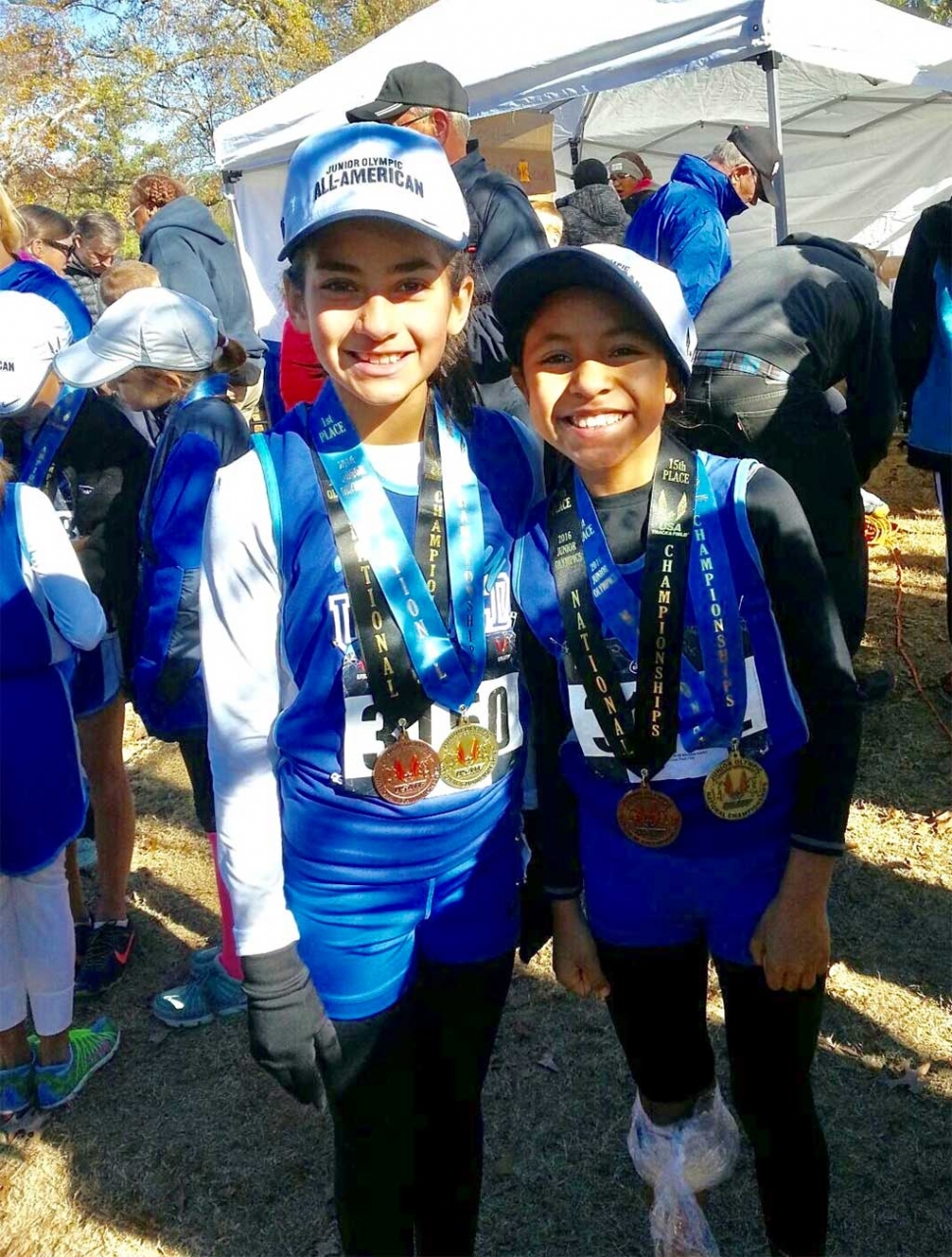 Lindsey Ramirez placed 14th and teammate Niza Laureano placed 15th out of 341 runners in the 9 & 10 year old division
The Fillmore Condors Youth Cross Country team concluded their 2016 season by participating in the USA Track and Field Junior Olympics National Cross Country Championships on Saturday, December 10th. Fillmore Condors Cross Country is a non-profit organization under Heritage Valley Blazers Inc. Ten local athletes from Fillmore, Santa Paula and Oxnard ranging in ages 7-13 traveled across the country to the cold winter 30 degree temperatures of Hoover, Alabama to compete at the scenic Veterans Park. The cross country runners began their course races on a spacious open park before winding down between the tall wooded trees. The younger runners raced over a long bridge alongside a beautiful lake before coming through the finish line. The older runners entered the oak-brown forest racing through a tight, hilly and whinny dirt trail surrounded by trees as spectators waited patiently for runners to come out of the woods.
The athletes qualified for the event by finishing in the top eight of the Valley Youth Conference and finishing in the top 25 individually or being a member of the top three teams of the USATF Jr. Olympics Region 15 Championship race that was held on November 20th in Kit Carson Park, Escondido. The Condors joined other area runners to form Valley United Striders. Condor representatives were Leah Barragan, Vanessa Cabral, Audrey Cunningham, Paola Estrada, Joshua Estrada, Diego Felix, Niza Laureano, Rey Laureano, Lindsey Ramirez, and Jordyn Walla.
The team's highest honors this season were won by Paola Estrada, who earned a ninth place finish and title of "USATF Jr. Olympic All American" in the National Championship which included 120 runners in her division. She was the number two runner for her team and earned a 1st place team championship along with her teammate Leah Barragan. The girls 8 & under divisions ran 1.24 mile (2,000 meter) races.
First time runner Lindsey Ramirez was Valley United Striders top runner to cross the finish line with a 14th place finish. Her teammate Niza Laureano who was the girls 9 & 10 years old Valley Youth Conference Champion was right behind her with a 15th place finish. Both girls earned a 1st place team championship and the title of "USATF Jr. Olympic All American" in the National Championship which included 300 runners in their division. Diego Felix also a first time runner and teammate Joshua Estrada both helped their "B" team snag a 6th place team finish with 341 runners in their 9 & 10 year old division's. Both groups ran 1.86 mile (3,000 meter) races.
In the girls 11 & 12 year old division, Audrey Cunningham not only fought off her opponents but also a stomach virus to help her teammates earned 3rd place team medal. She ran 1.86 mile (3,000 meter) in a race of 389 runners. Condor Michael-Camilo Torres also made the "A" team but unfortunately could not participate at Nationals due to an ankle injury.
375 runners were in the girls 13 & 14 year old division with Fillmore representatives Vanessa Cabral and Jordyn Walla. The largest group competing that day, was the boys 13 & 14 division where Rey Laureano found himself in a stampede of 429 runners. Both groups ran 2.48 mile (4,000 meter) races. These three Condors are aging out this season to begin their high school running careers; Remember to run with purpose!
The Condors are coached by Jared Perez, and Brothers Rafael and Temo Laureano who stated, "We are very happy and proud to be able to continue to help mold these kids and accomplish great things. They are all winners in our eyes. Months of training were well worth the sweat and tears." The Condors Team President Erika Arana would like to thank the parents for helping daily throughout the season and the following for sponsoring the Condors and making the team's dreams become reality: Taft Electric Company, Sunny Smiles Dental, Gigante Trucking Inc., Fro-Yo, Fillmore Lions Club, Fillmore Rotary Club, and Heritage Valley Blazers Track & Field.